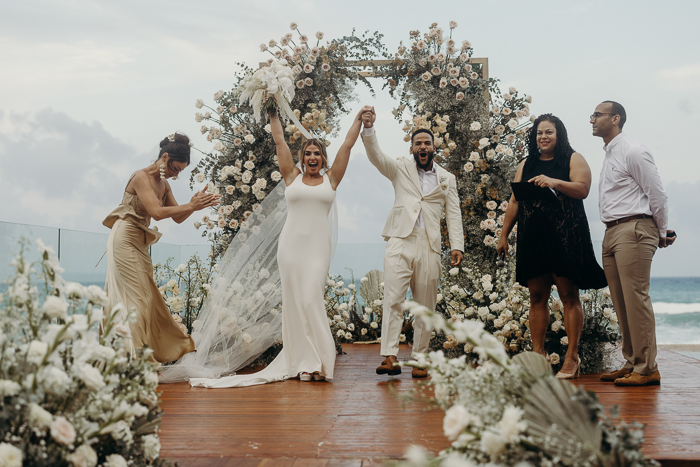 At first, Alex and Marcus dreamed of having their wedding in a faraway, exciting place. But then they had a realization. They wanted their closest loved ones to be there, so they needed a spot that had a relaxed, tropical feel and was easy for both their Colorado and Kansas families to get to. Luckily, Marcus had been to Playa Del Carmen before, and they knew it was just the right spot for a timeless celebration. Playing off the natural and beautiful scenery, their Grand Hyatt Playa Del Carmen wedding balanced coastal vibes, a classic color palette, and modern style. It was everything they had ever dreamed of–a true tropical fairytale come to life.
They went all in, choosing the resort's pool deck for their ceremony. Just imagine it: a flower-covered aisle leading to a lush arch while the ocean served as a stunning backdrop for their vows. After they became Mr. and Mrs., a private courtyard reception followed, where all-white tables with low centerpieces took center stage. Adding a touch of magic were glimmering disco balls and twinkling string lights. But the excitement didn't end there. They set the right party vibe with confetti, marking the start of the all-night festivities.
If you're all about achieving that effortless elegance in a tropical paradise for your wedding, don't stop scrolling! These captivating images, beautifully captured by Junebug member Memorybox, are sure to inspire your special day.
The Couple:
Alex and Marcus
The Wedding:
Grand Hyatt Playa Del Carmen, Mexico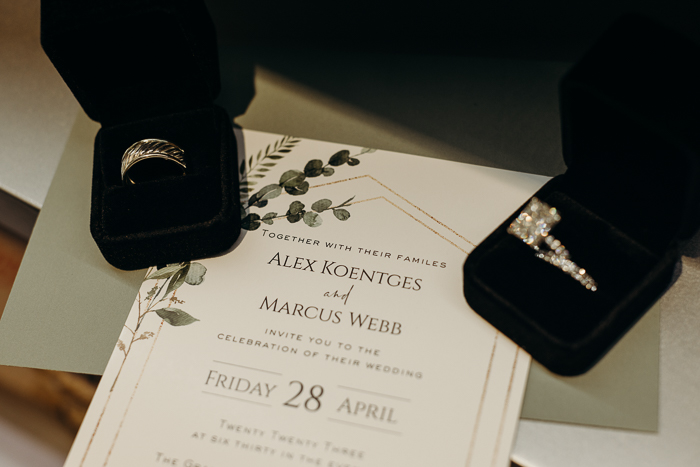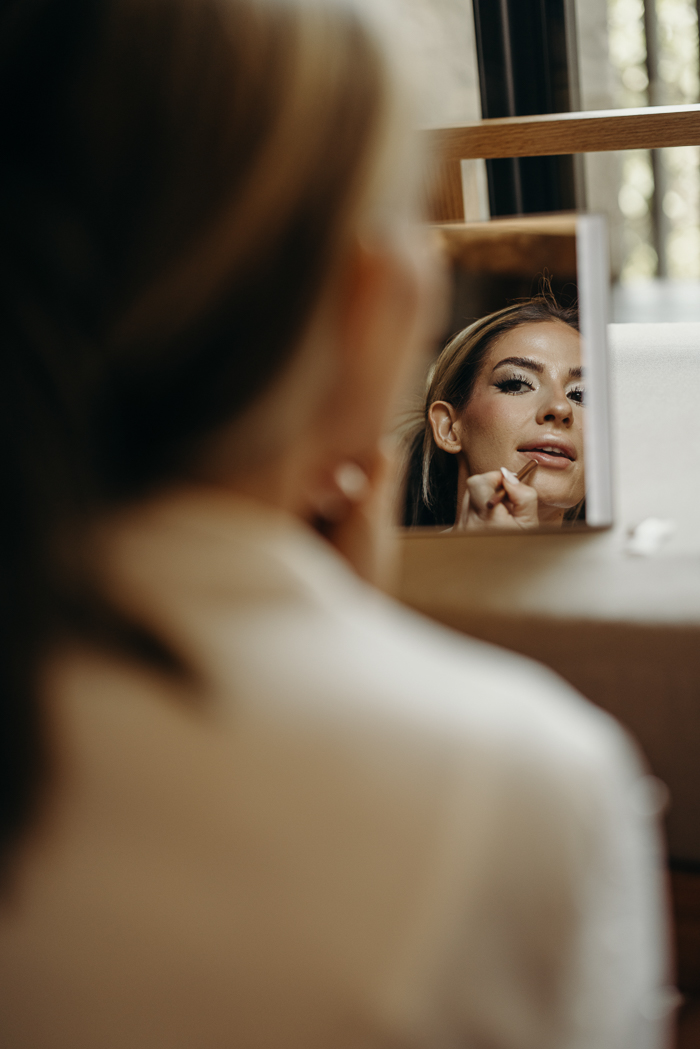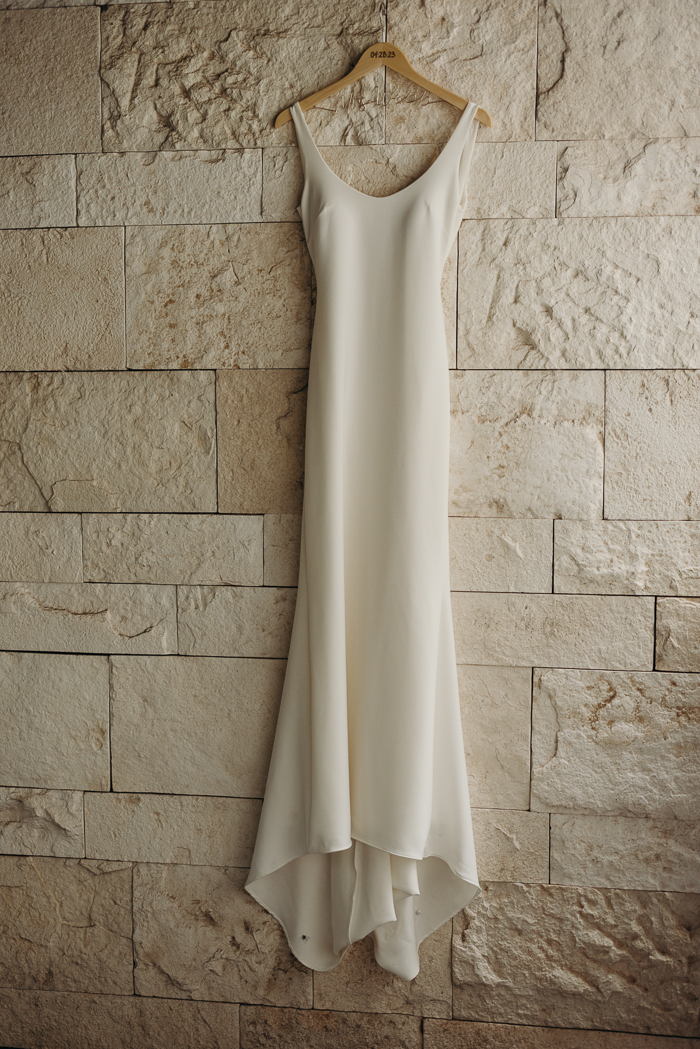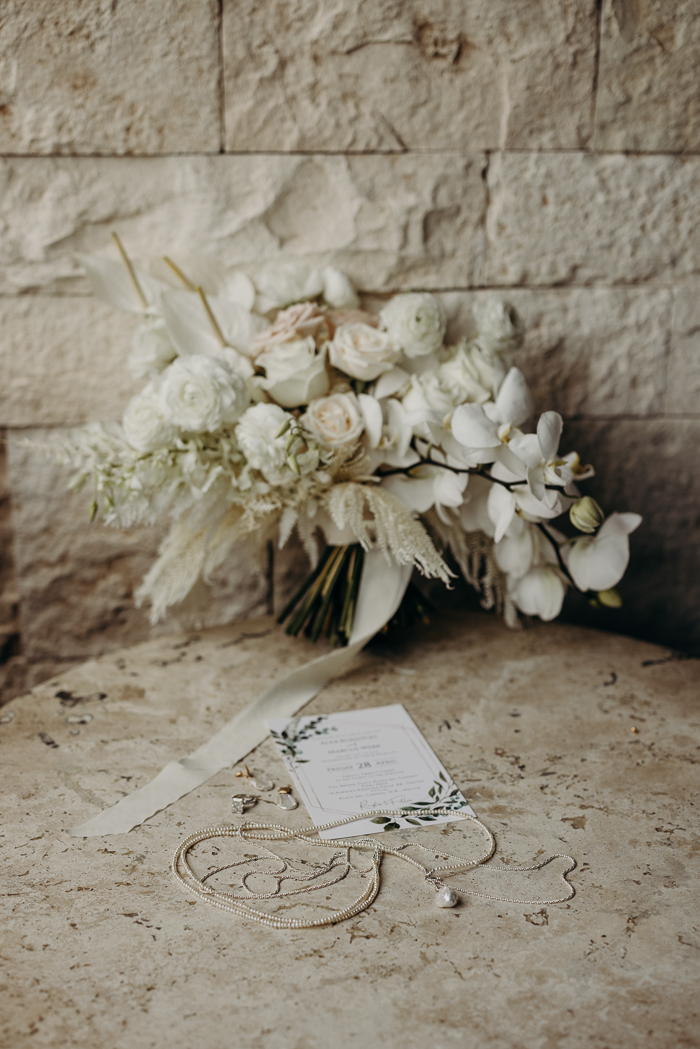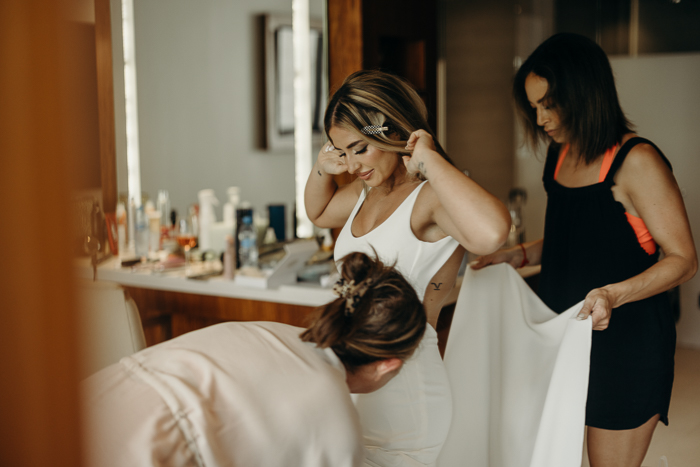 The Intimate Morning Vows That Set the Tone to Their Grand Hyatt Playa Del Carmen Wedding Day
Marcus and I began our wedding day uniquely. We woke up together in our PJs, brushed our teeth, brewed some coffee in our hotel room, and met his sister, Ashley, our officiant, at sunrise on the beachside deck. With our self-written vows and Ashley's sermon, we had an intimate ceremony just for each other, free from cameras and onlookers. While it marked the start of our best day, our mornings usually start this way—comfy and quiet with coffee. We shared emotional vows that grounded us for the busy wedding day ahead. This private moment will forever hold a special place in our hearts as we reminisce about our wedding day.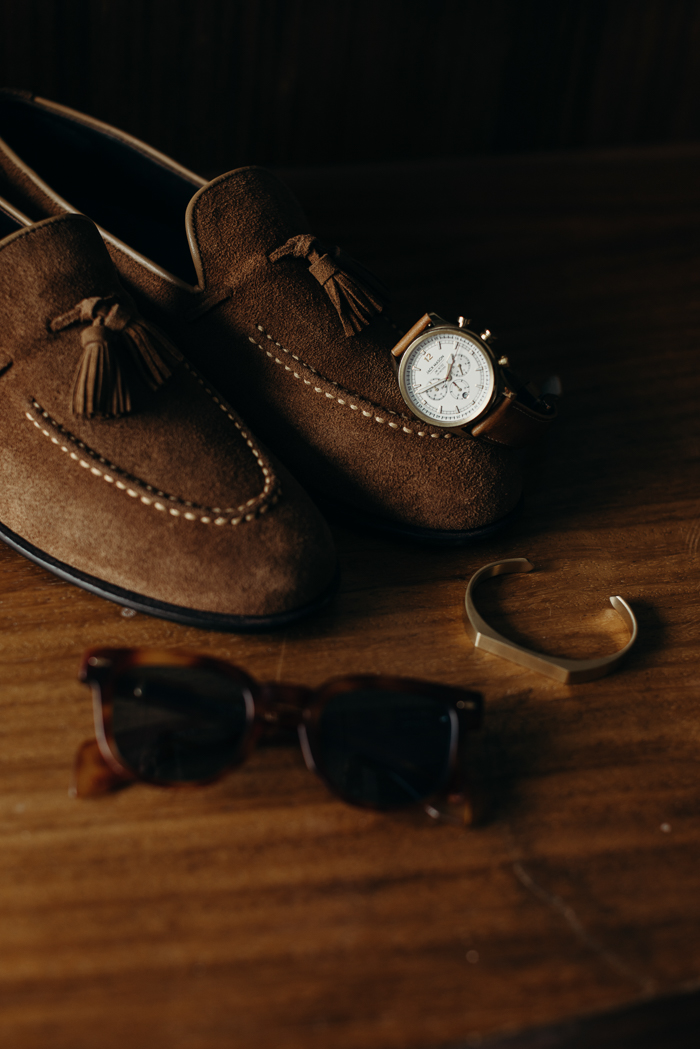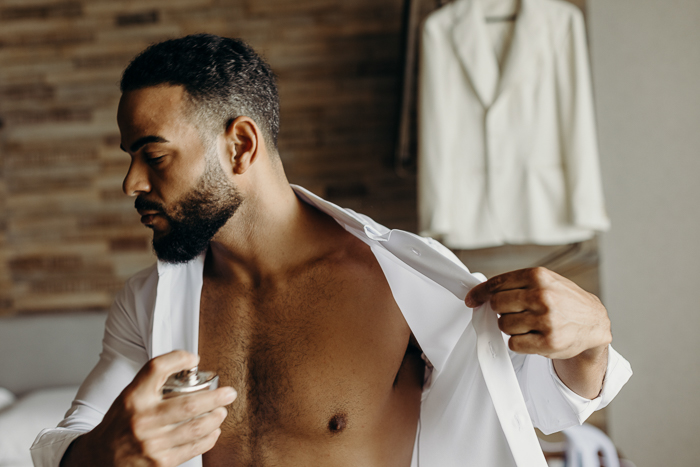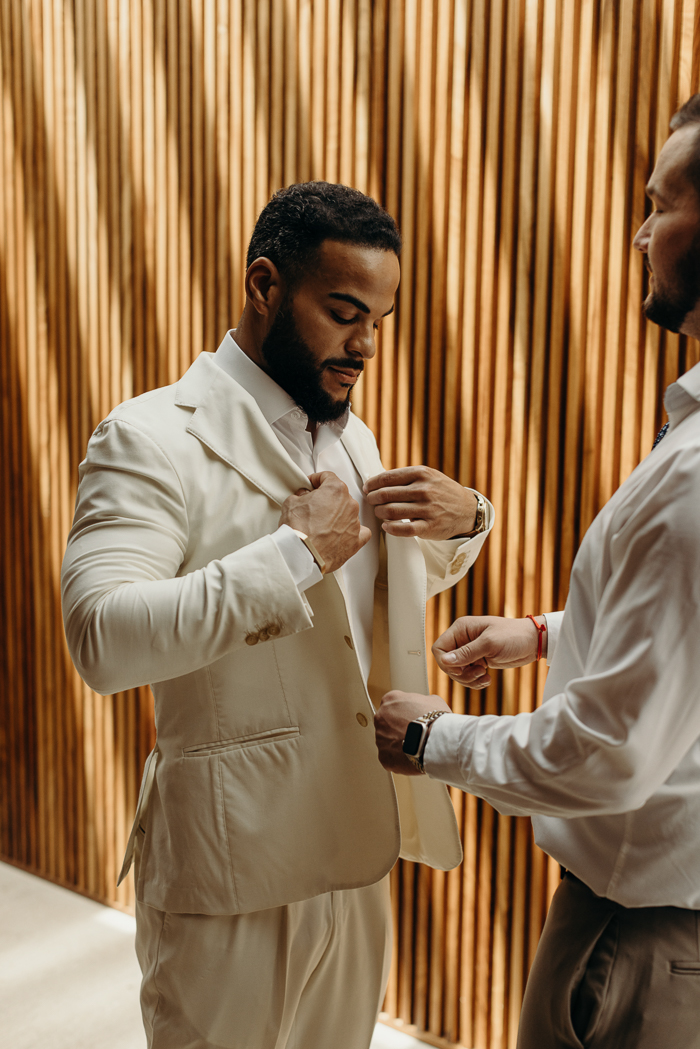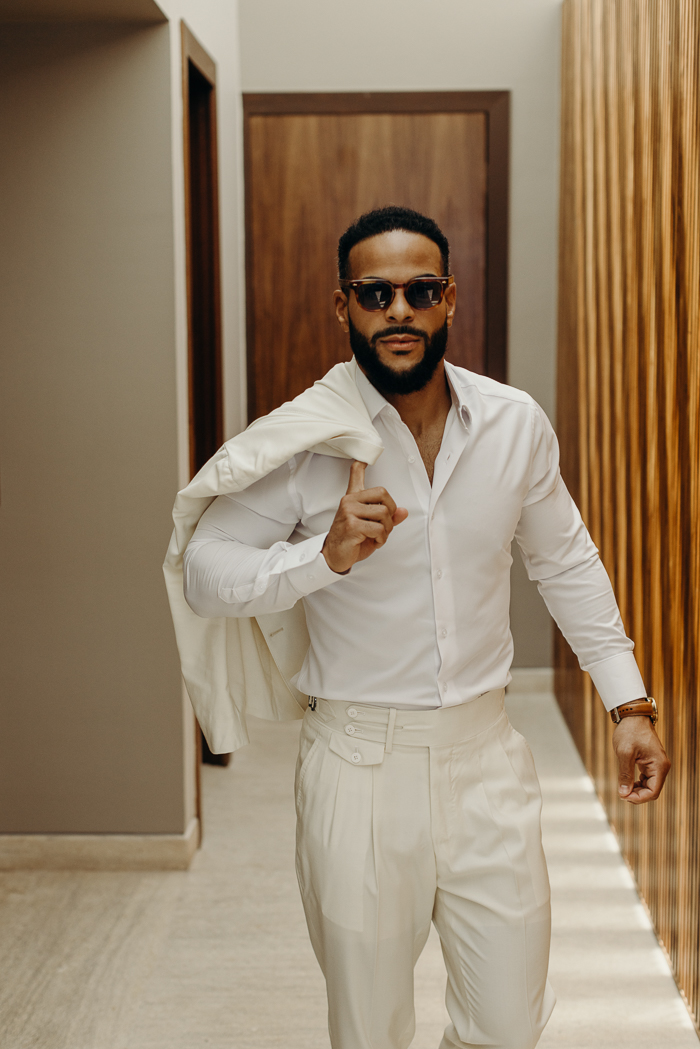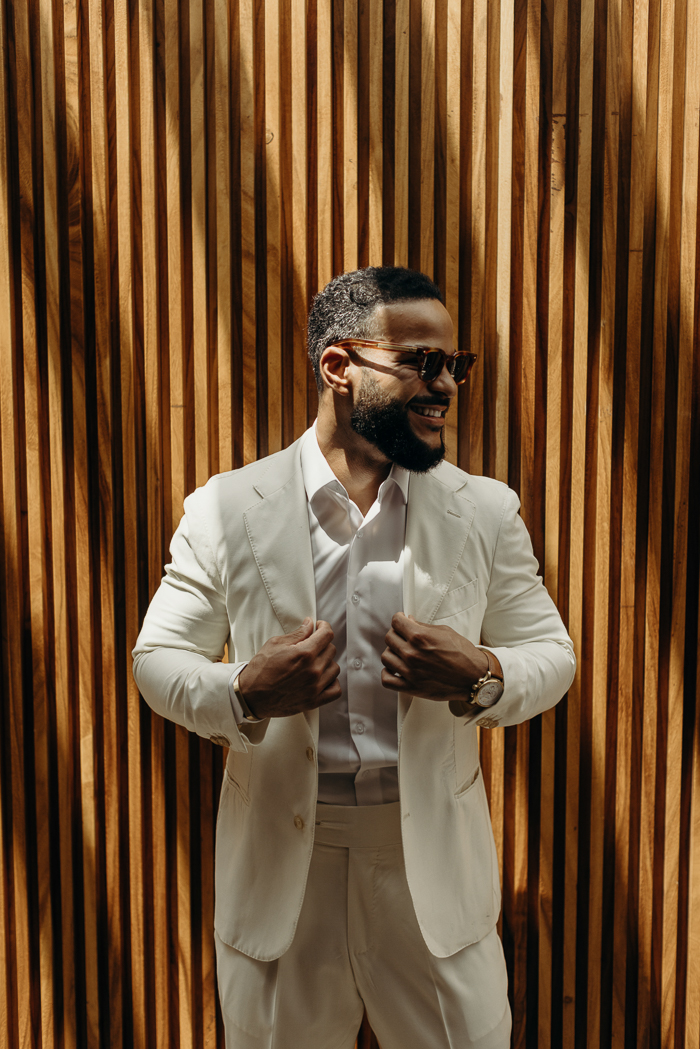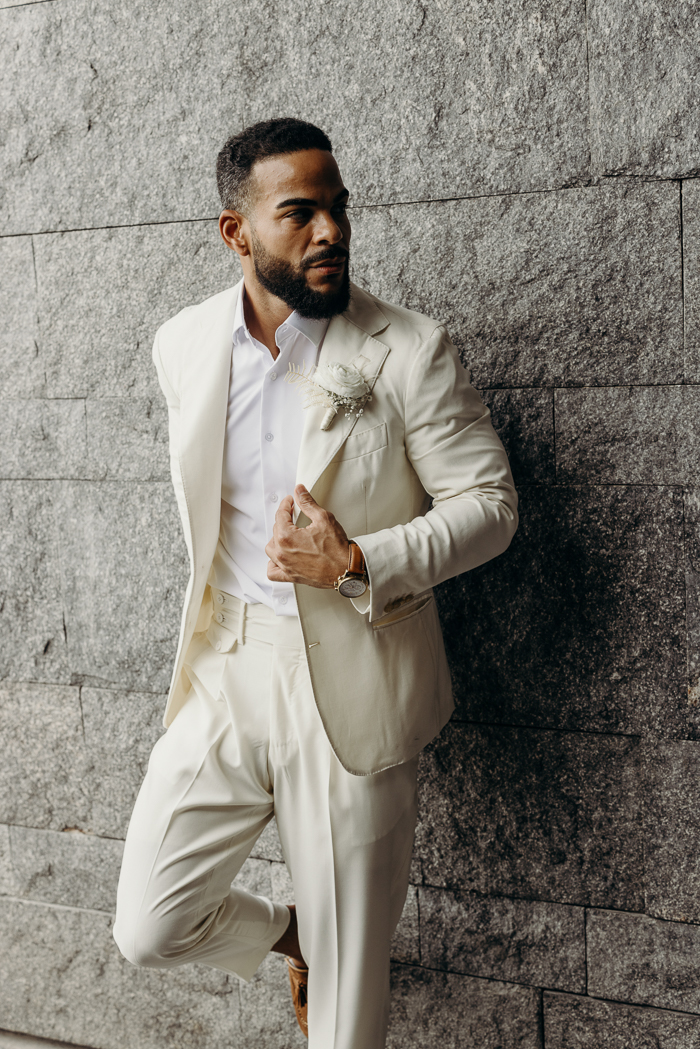 Chic and Effortless Wedding Fashion Choices Complete With Dior Air Force Ones
I visited several bridal shops but had a clear vision: a simple, classic gown with minimal frills or embellishments, a low back for a touch of elegance and allure, and a square or high neckline. I found my perfect gown at Grace Loves Lace, paired with a cathedral-length veil. While considering changing into a reception dress, I decided my wedding dress was meant for that special day. My gown was so comfortable without any boning, and I added a hair change after the ceremony, opting for a bubble braid, a style I love, and some back jewelry. As for Marcus, he designed his custom wedding suit in Milan, Italy, by Virum Napoli. He wanted a light cream suit with a high-waisted side belt, aiming for a timeless, classic, and effortless look that would never go out of style. We both switched into our Dior Air Force Ones for the reception, ready to dance the night away.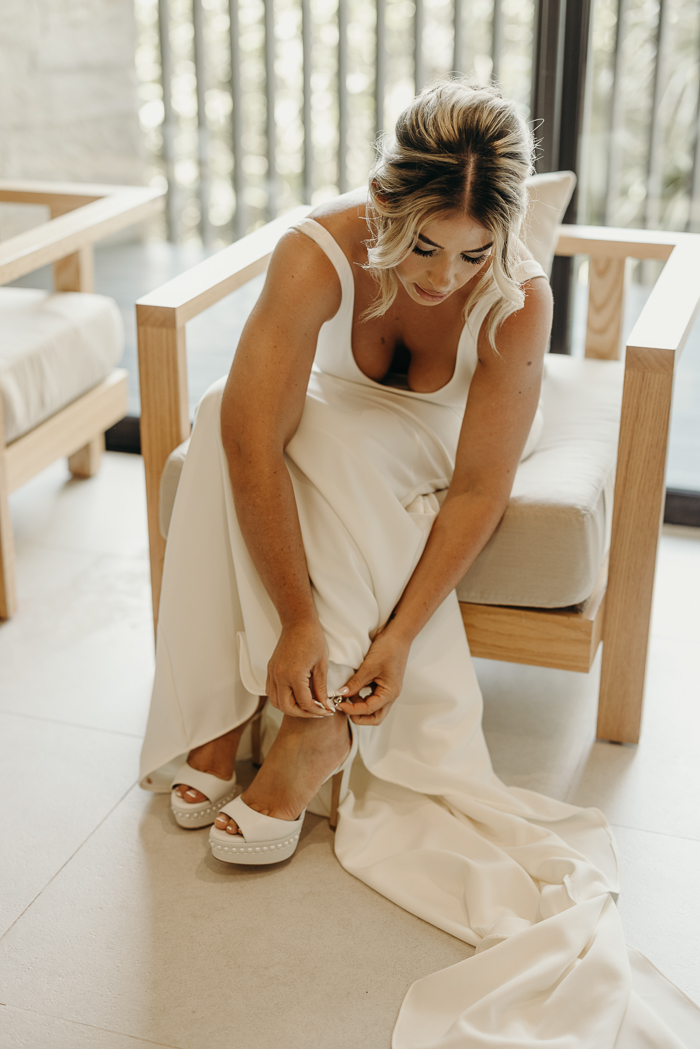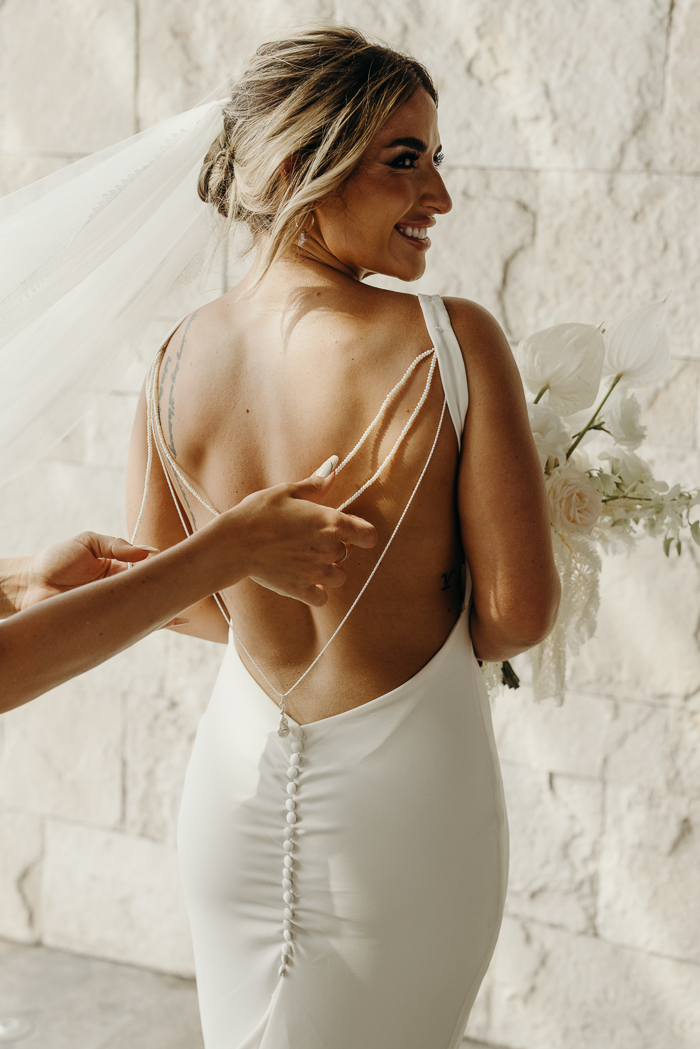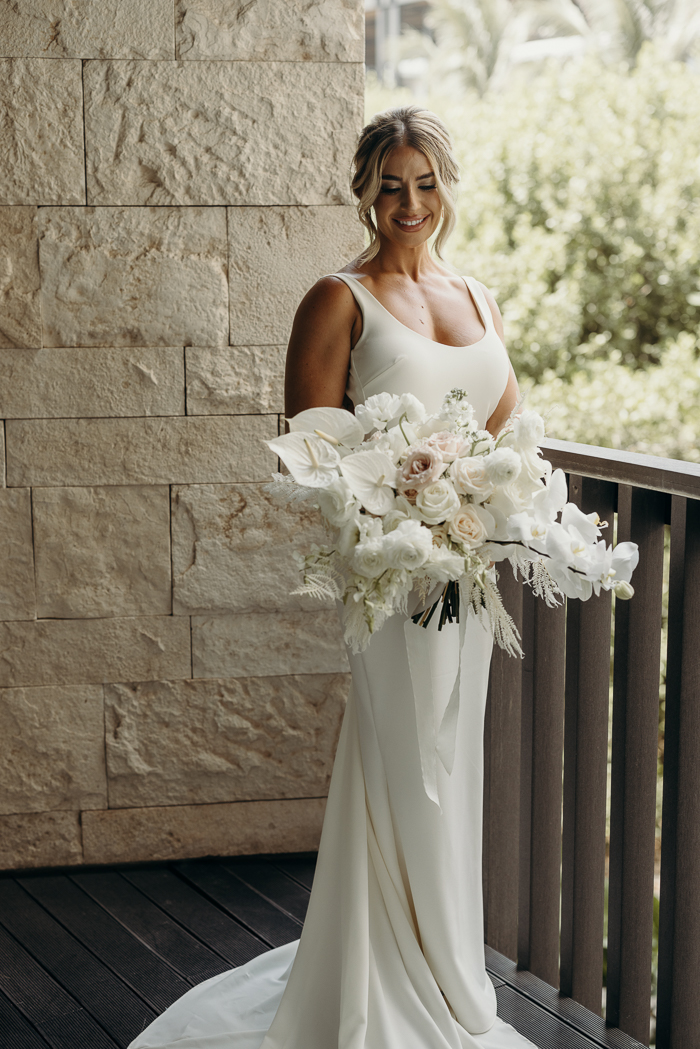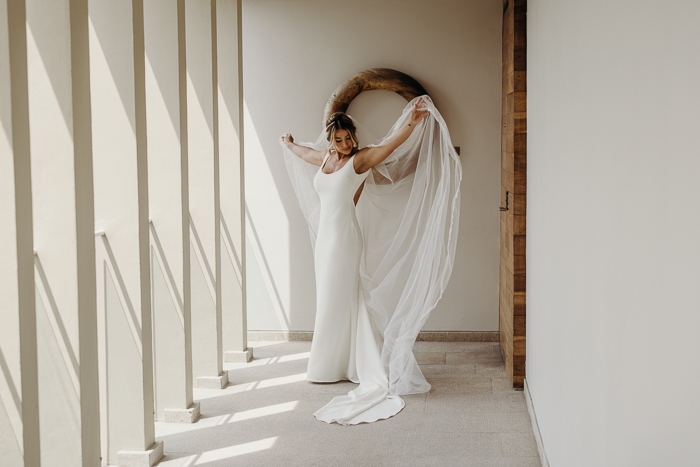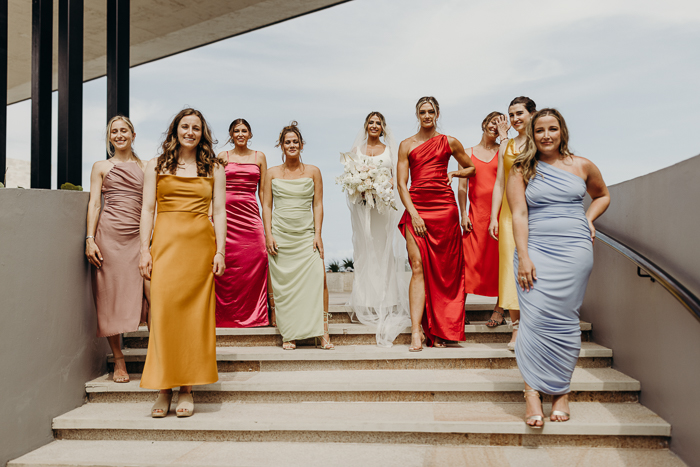 How Setting Wedding Priorities Shaped Their Venue Search
Marcus and I took a moment to identify our top three wedding priorities. For me, it was marrying the love of my life, guest logistics, and creating a memorable party. On the other hand, Marcus valued having a stress-free wedding day, ensuring guest happiness, and having awesome music and fun. With these priorities in mind, we embarked on our venue search. We both wanted a resort catering to our core needs—easy access for our guests, a smooth journey from the airport to the venue, and a fantastic hotel and vacation experience. We found it all in The Grand Hyatt, offering a personalized, 5-star wedding experience without breaking the bank. Its modern bridal aesthetic, a departure from the typical beach or boho vibe, immediately resonated with me. This choice allowed us to make the most of our Mexican adventure.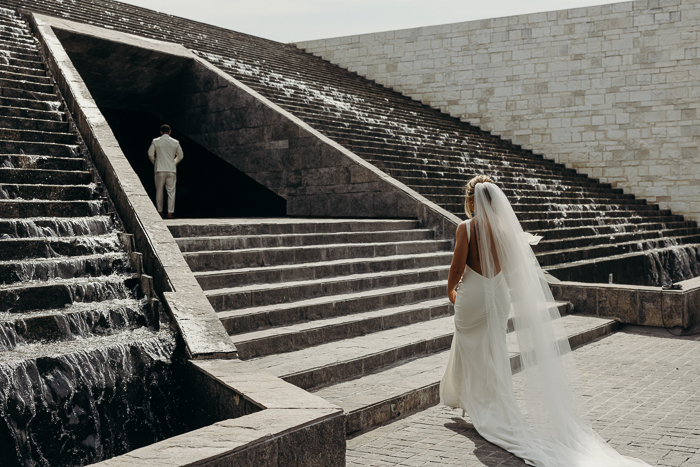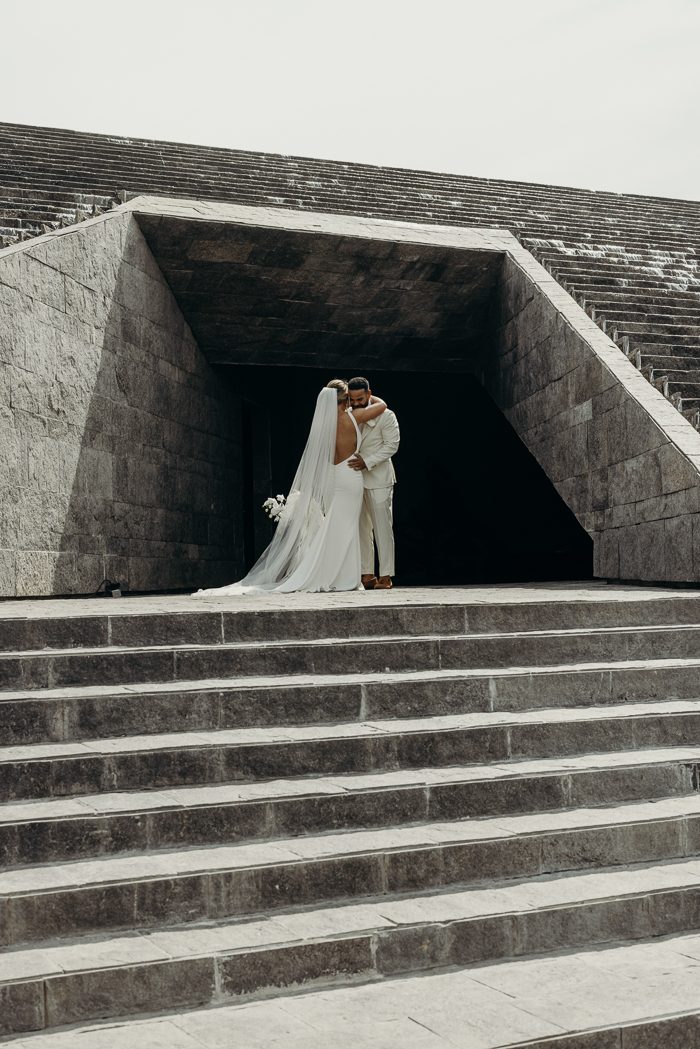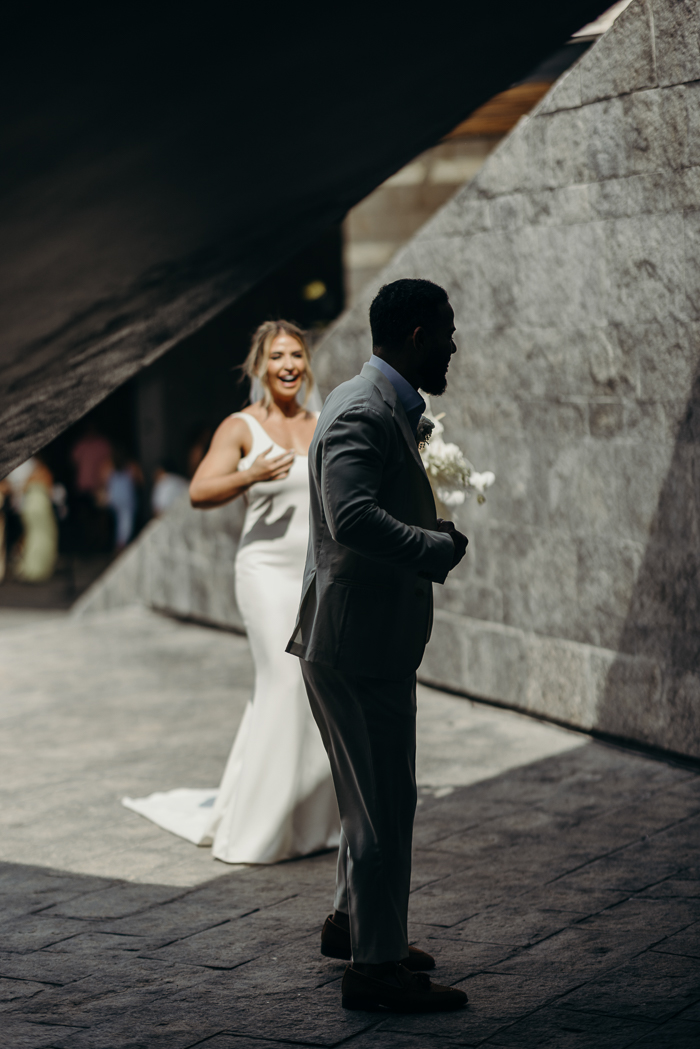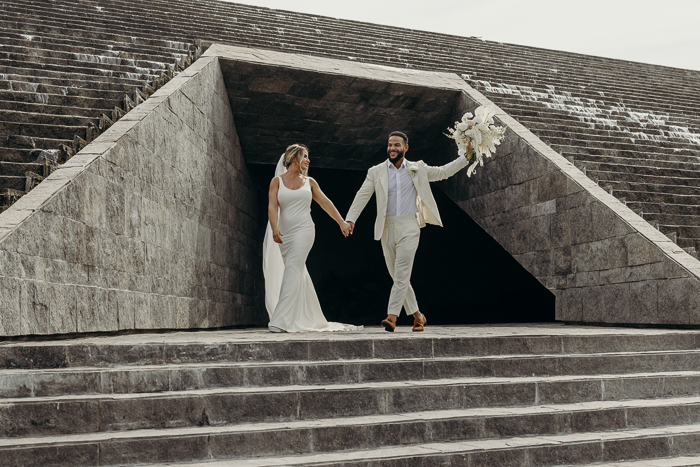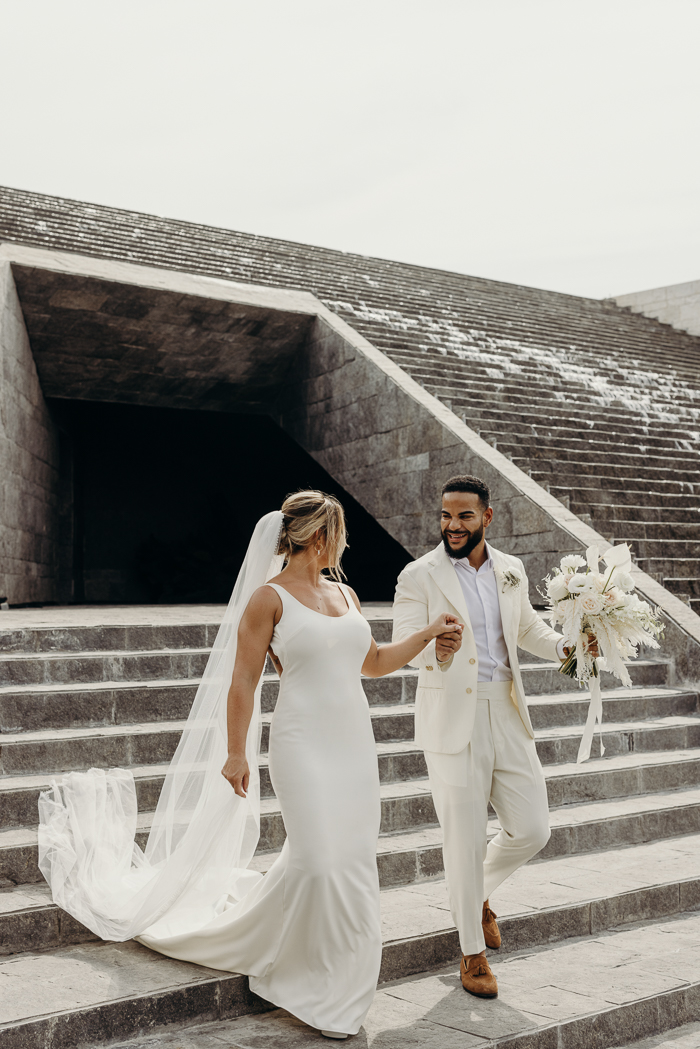 Crafting Moments and Choosing Music to Personalize Their Grand Hyatt Playa Del Carmen Wedding Ceremony
Our ceremony was highly personalized. Marcus's older sister, Ashley, our officiant, crafted a beautiful sermon just for us. Marcus and I exchanged written vows, which I highly recommend for a personal touch. Music choice was another critical element in personalizing our ceremony. Our wedding parties and friends walked down the aisle to "Sweet Child Of Mine" by Vitamin String Quartet. Our wedding party sat in the second row of the guest seating on opposite sides of us, so we could easily see our favorite people in the crowd. I walked down the aisle to "Simply The Best" by Tina Turner. During the ceremony, my dear friend Kait read a chosen passage about marriage, love, and our journey ahead. Her husband and stepdad, Richard Simmons, escorted my mom down the aisle. Marcus and I's processional song was "She's So High" by Tal Bachman. There are countless unique ways to personalize your ceremony.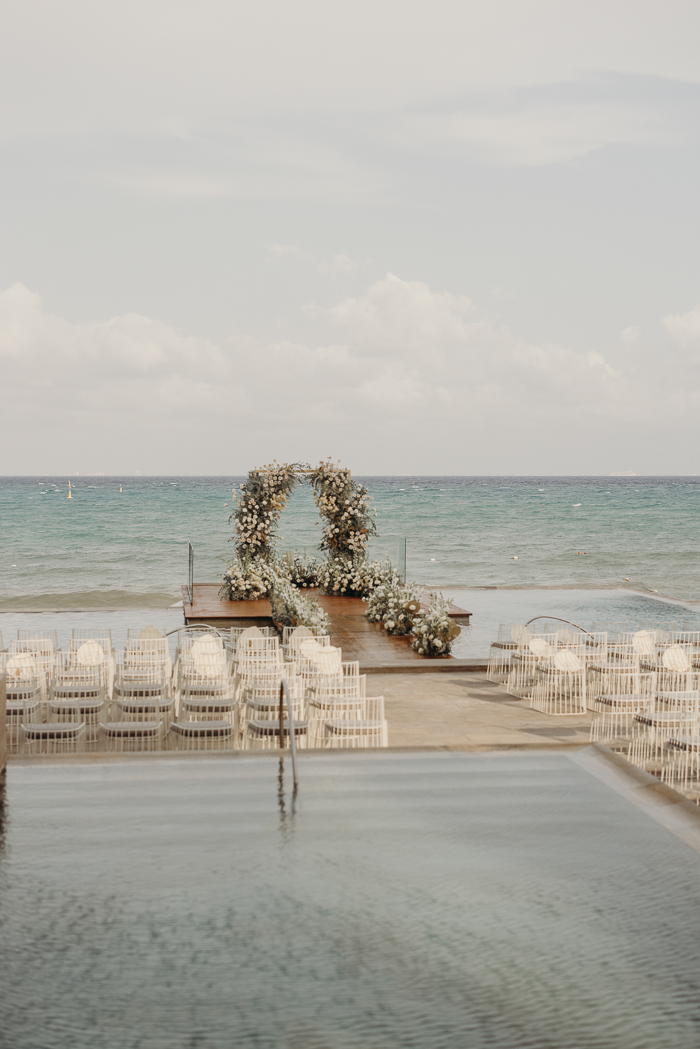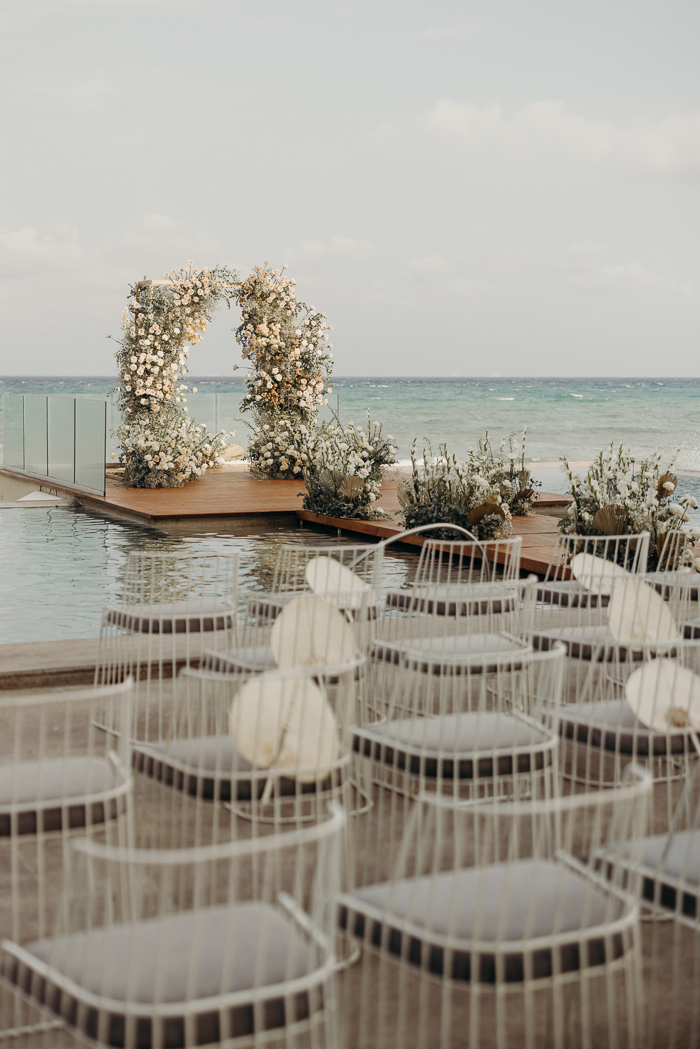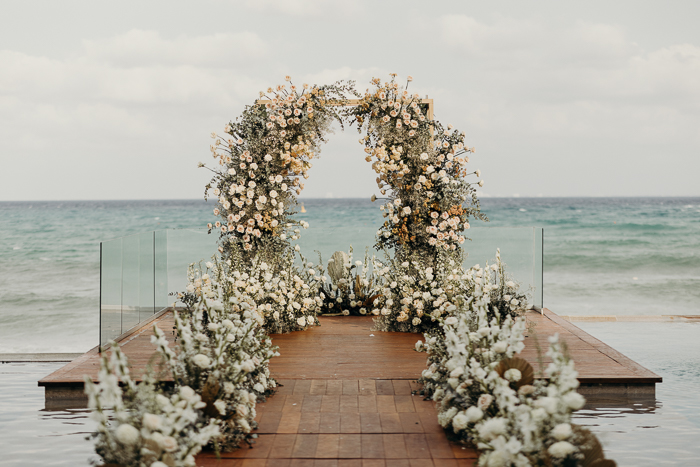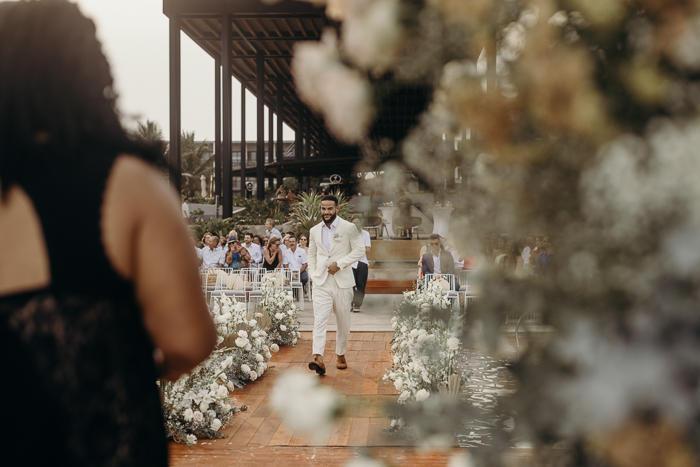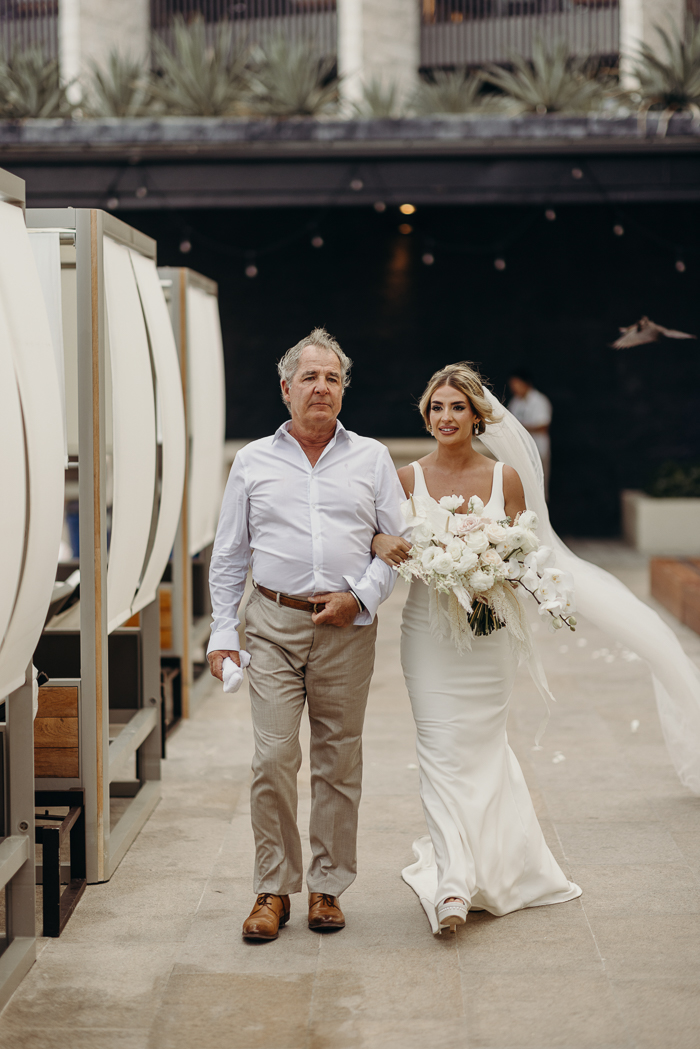 Intentional Decor, Food, and Music Choices That Made a Fun Grand Hyatt Playa Del Carmen Wedding Reception Vibe
For our reception, we initially set up three columns of tables in a zig-zag style, but we quickly pivoted to a farm-style arrangement, which we ended up loving. We aimed to make the dance floor the focal point of the reception, a lively hub for everyone to enjoy an authentic fiesta. The day was full of joy, but when we hit the dance floor, it was time to let loose and dance the night away. Music and an energetic dance floor were top priorities for us. We brought in a unique hybrid DJ and instrumental band, making the dance experience even better than we imagined. The service was exceptional throughout the week and on our wedding day, and we indulged in a delicious 5-course dinner. The floral arrangements on the reception table were stunning, tastefully running the length of the farm table. Marcus was particular about avoiding tall, eye-level floral arrangements that might hinder conversation, so we maintained height with disco balls, up lights, and string lights over the reception area.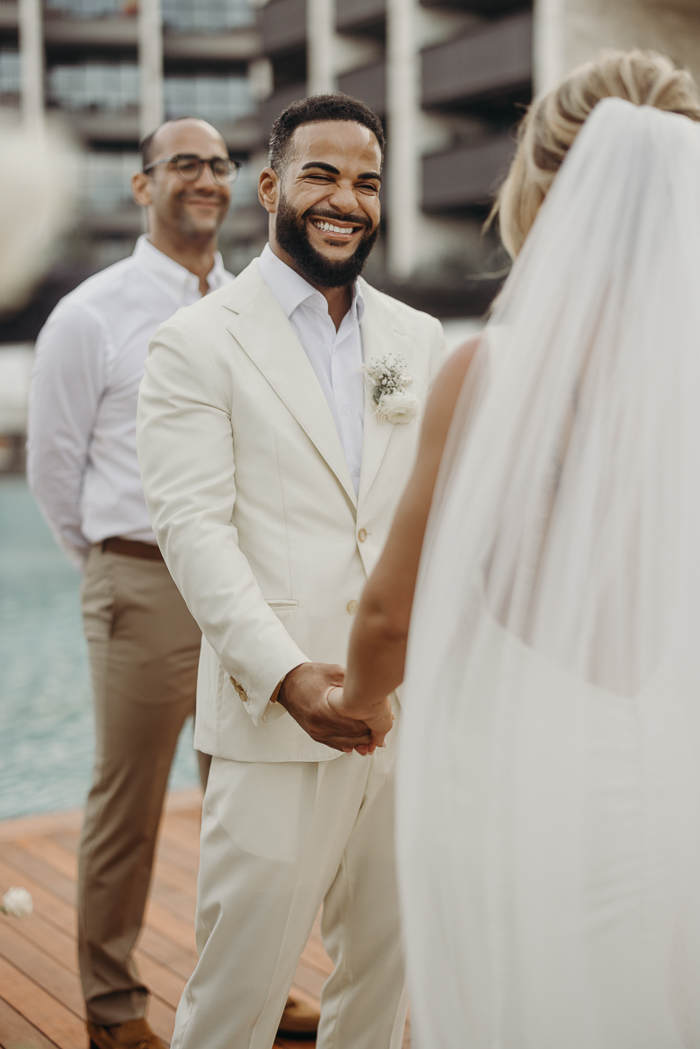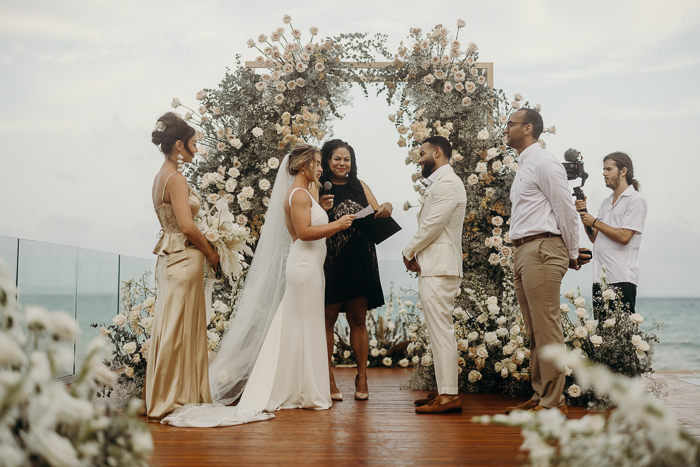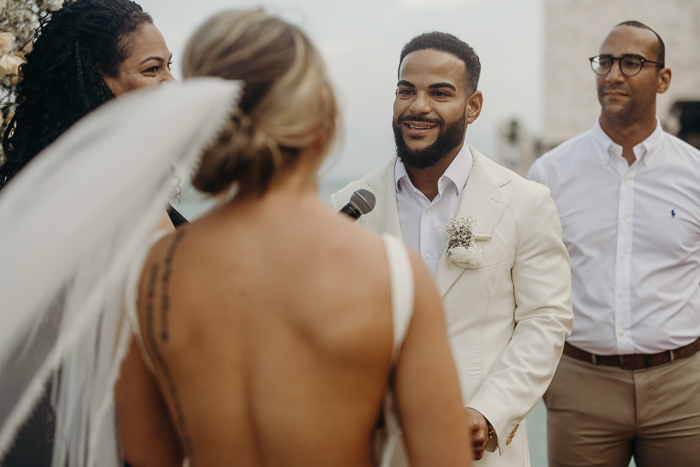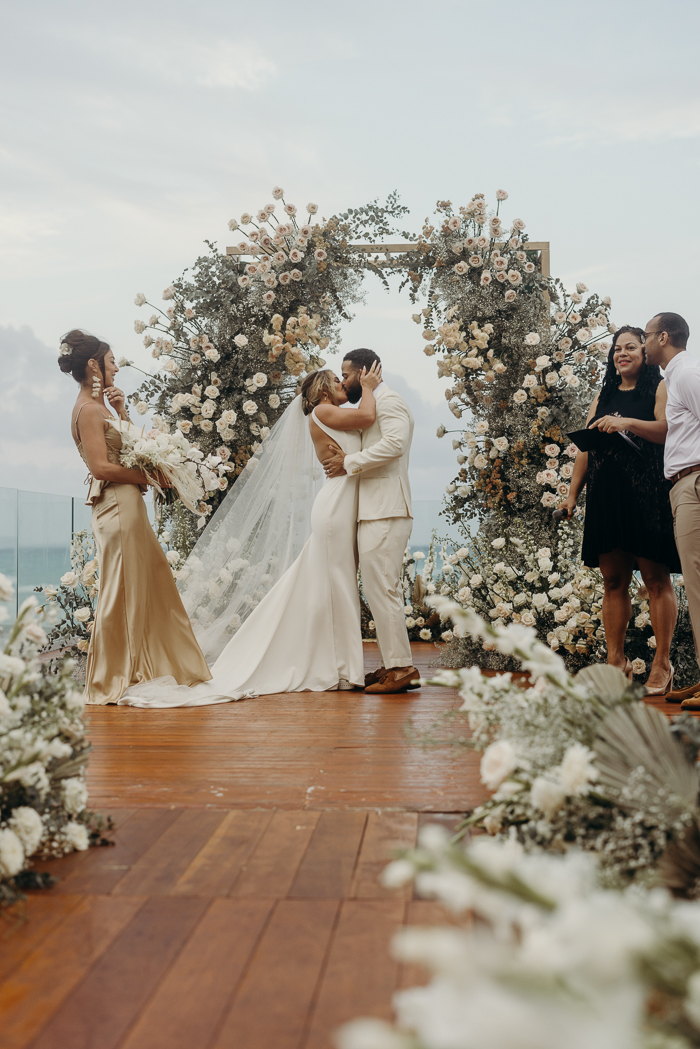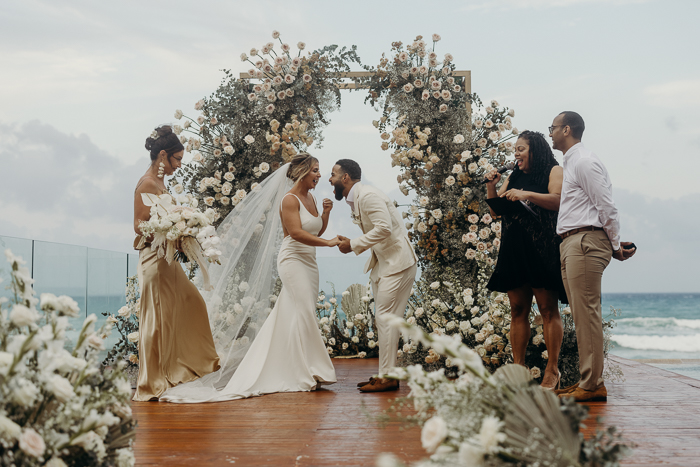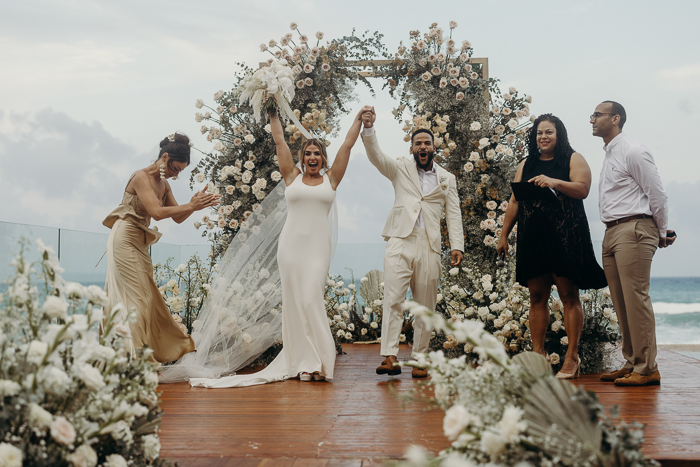 Tips for a Successful Destination Wedding
Here's some unsolicited advice for those planning a destination wedding. First, hire a local wedding planner; they're worth every penny for saving your sanity and bringing your dream wedding to life. Next, prioritize your wedding goals as a couple and focus on what truly matters to you. Budget wisely, then choose vendors that align with your design preferences, emphasizing what's most important to you. Avoid going into debt, stick to your budget, and don't stress over minor details. While social media can inspire, don't get too caught up in trends. Design a wedding that reflects your personality. After the big day, watch out for the post-wedding blues and plan a honeymoon or a fun trip to look forward to. Most importantly, enjoy the process, have fun, and remember that it all comes together in the end, even if it feels like it's over in the blink of an eye.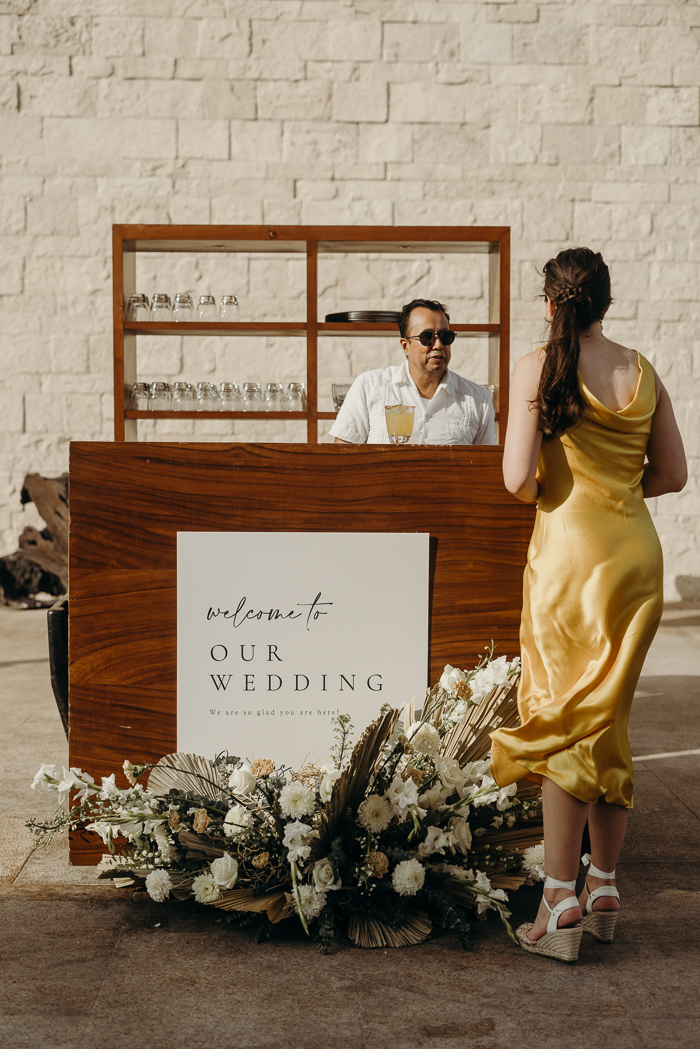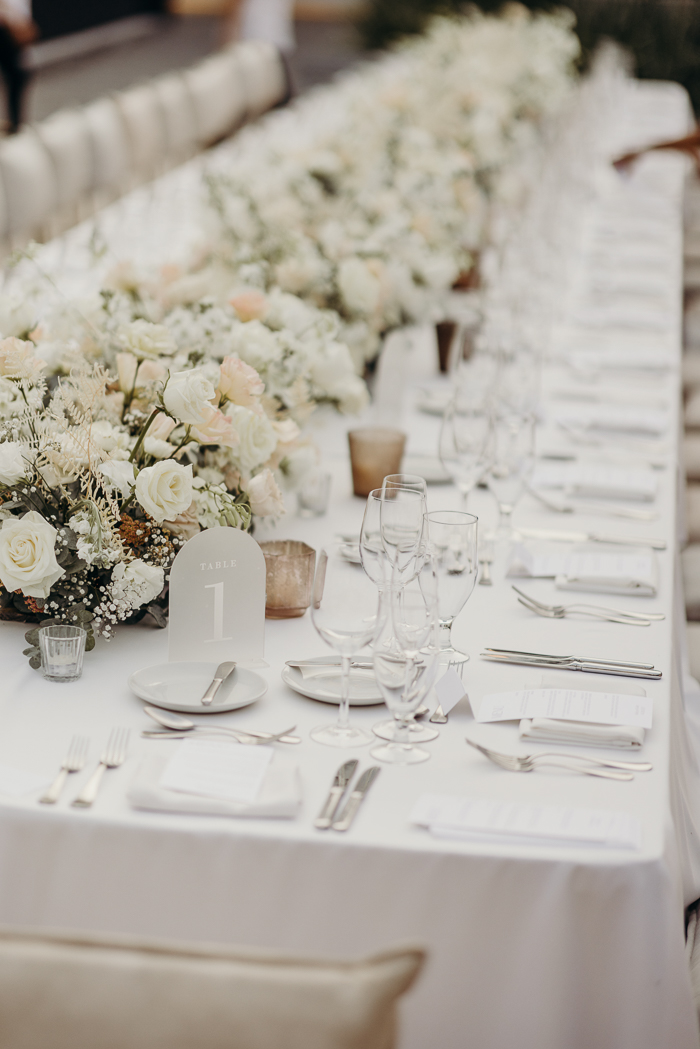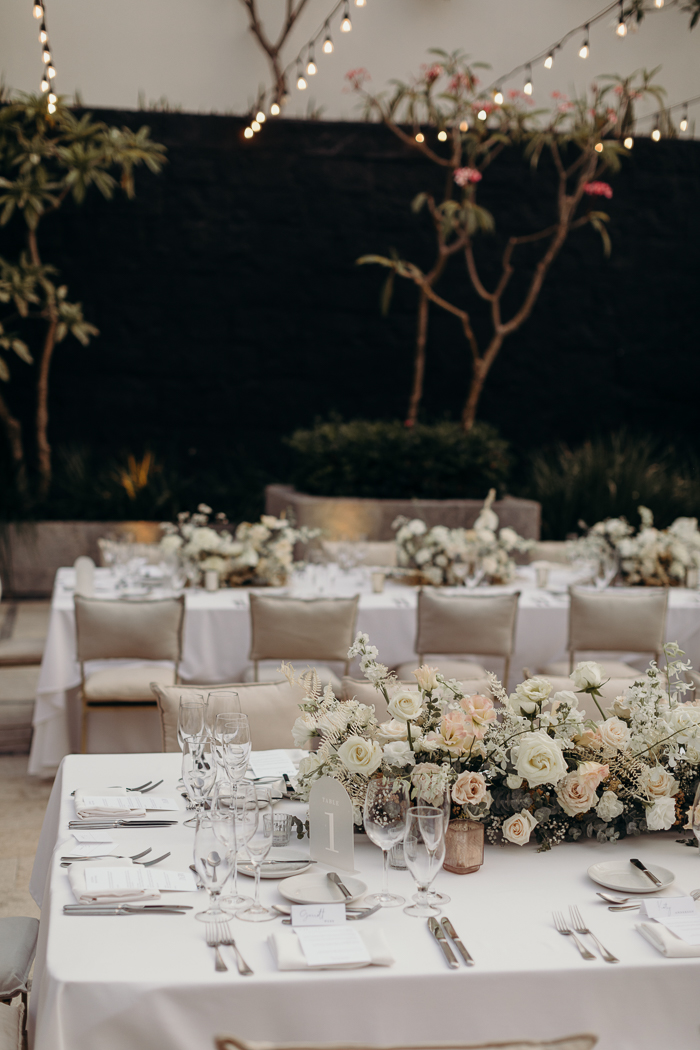 Creating a Memorable Arrival Through Useful Welcome Bags
We gave out welcome bags to our guests who stayed at the hotel and handed out the rest to those who stayed at alternate hotels during our welcome party. We put our wedding week itineraries with a QR code to our wedding website, a hotel map in the bag, water, snacks/gum, etc. Favors usually get left behind. So got items the guests would really like, use, and find beneficial to the week.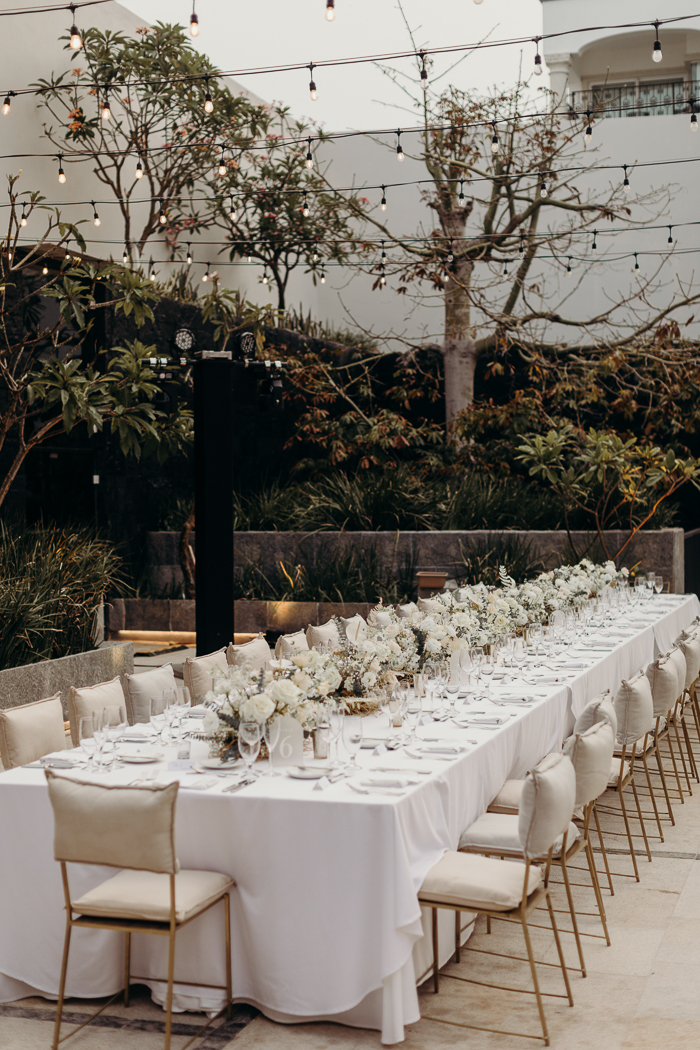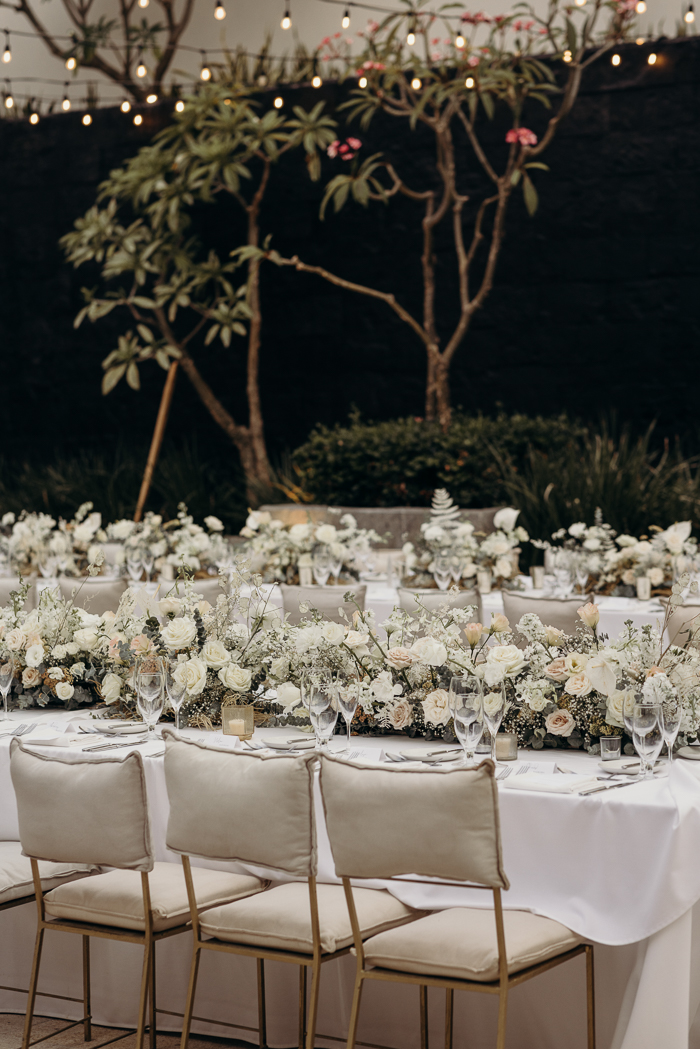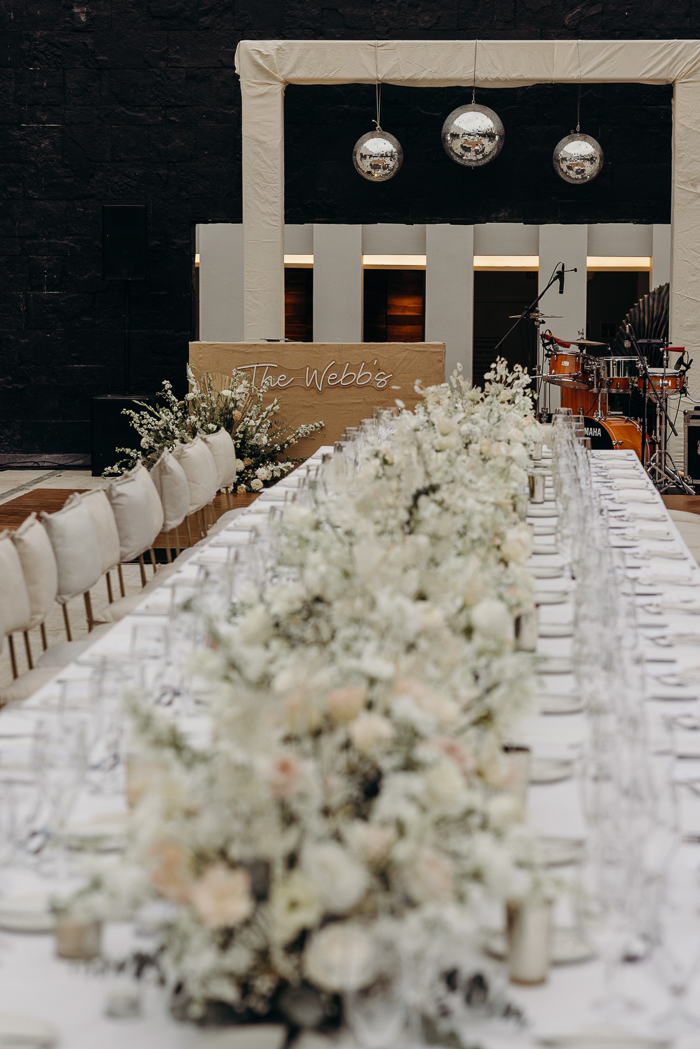 How They Created Their Grand Hyatt Playa Del Carmen Wedding Budget by Making Smart Money-Saving Choices
We had a wedding budget of around $80,000-$100,000. So we splurged on the venue for the food, DJ and band, and the florals and production to create the wedding of our dreams. We cut out a larger live band. I did my makeup and had my sister-in-law do my wedding hair. The wedding dress was also on the more cost-effective side.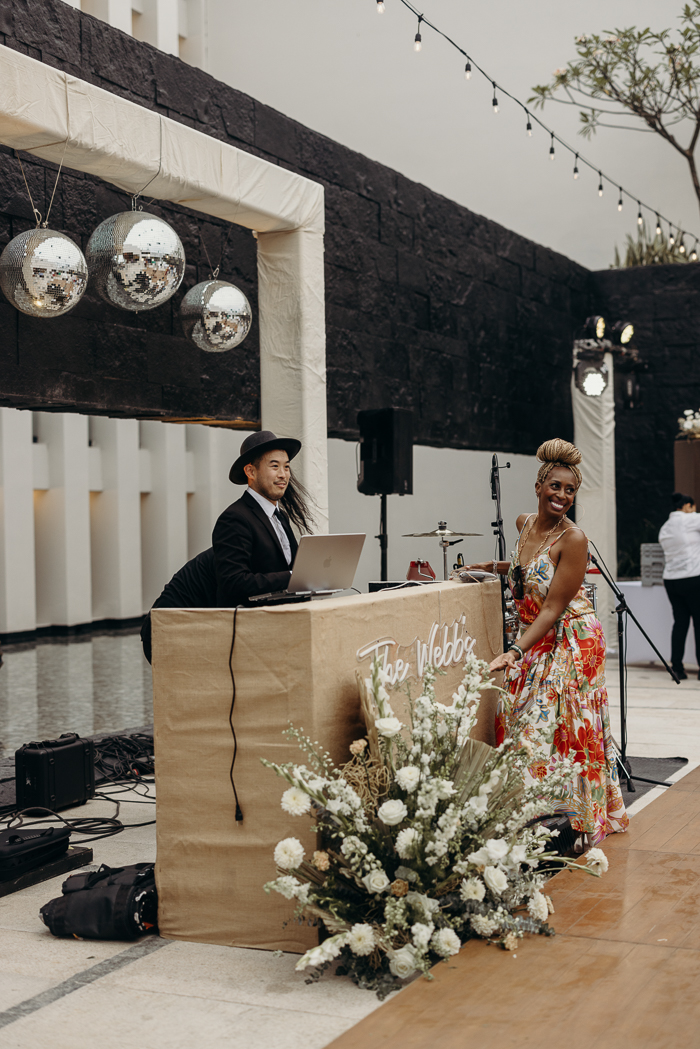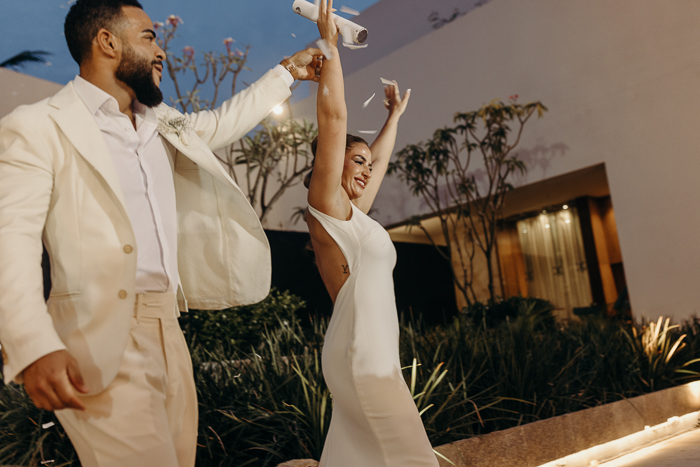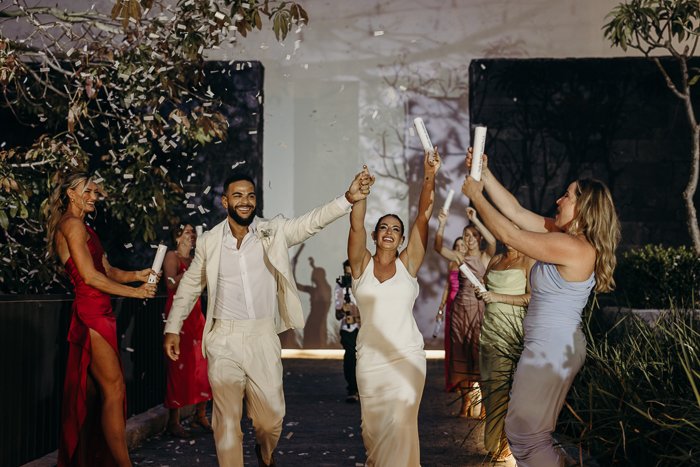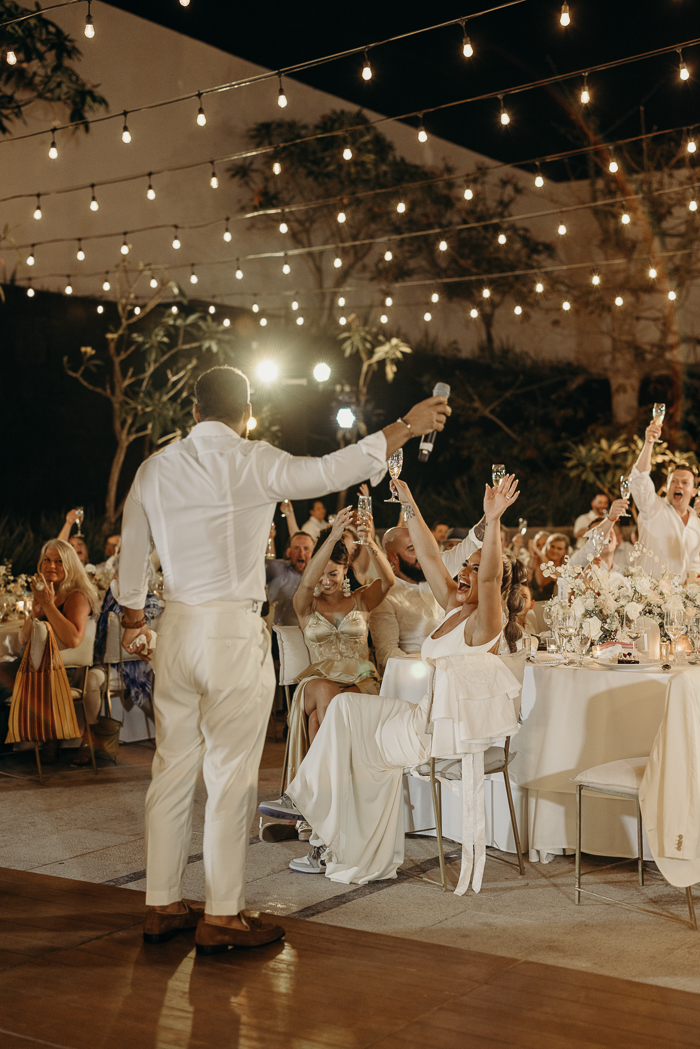 Ensuring Their Guests' Travel was Worth It by Hosting Events Throughout the Wedding Week
We aimed to provide our guests with an effortlessly relaxing vacation while celebrating our wedding, almost as a delightful bonus to their trips. This was a shared priority for Marcus and me, with our guests at the heart of our location choices. Creating a memorable wedding week experience was important, including a themed white welcome beach party, an intimate rehearsal dinner, and a post-wedding sailboat excursion for our closest friends. We wanted the day to accurately reflect Marcus and me. Which meant being selective with our guest list. We had 98 attendees out of approximately 150 invitations sent out. Every guest was personally meaningful to us.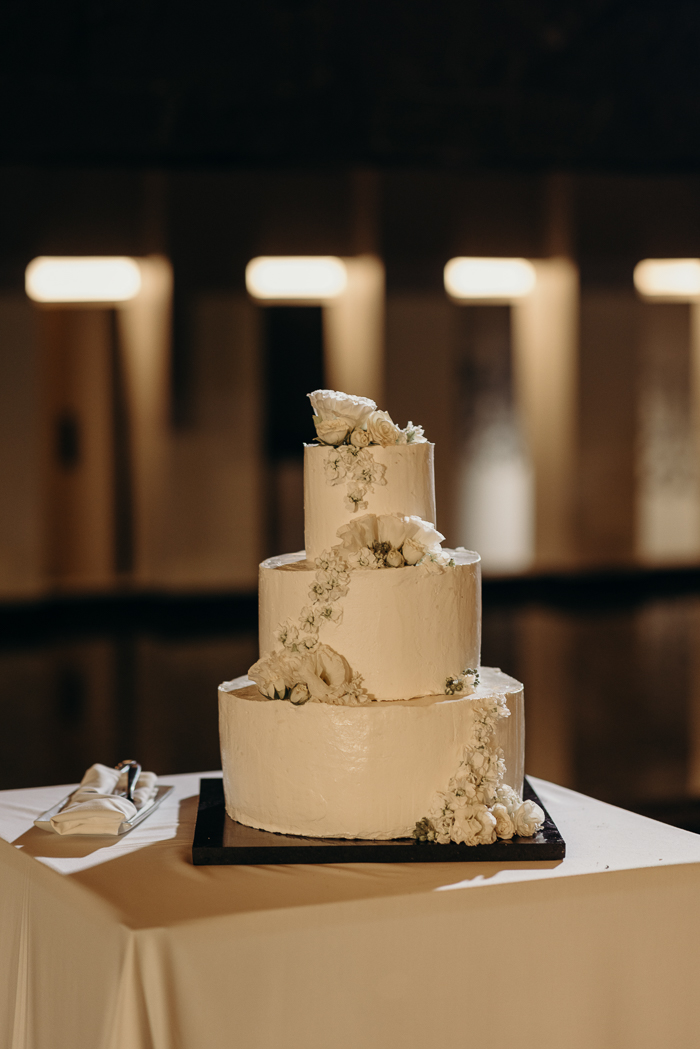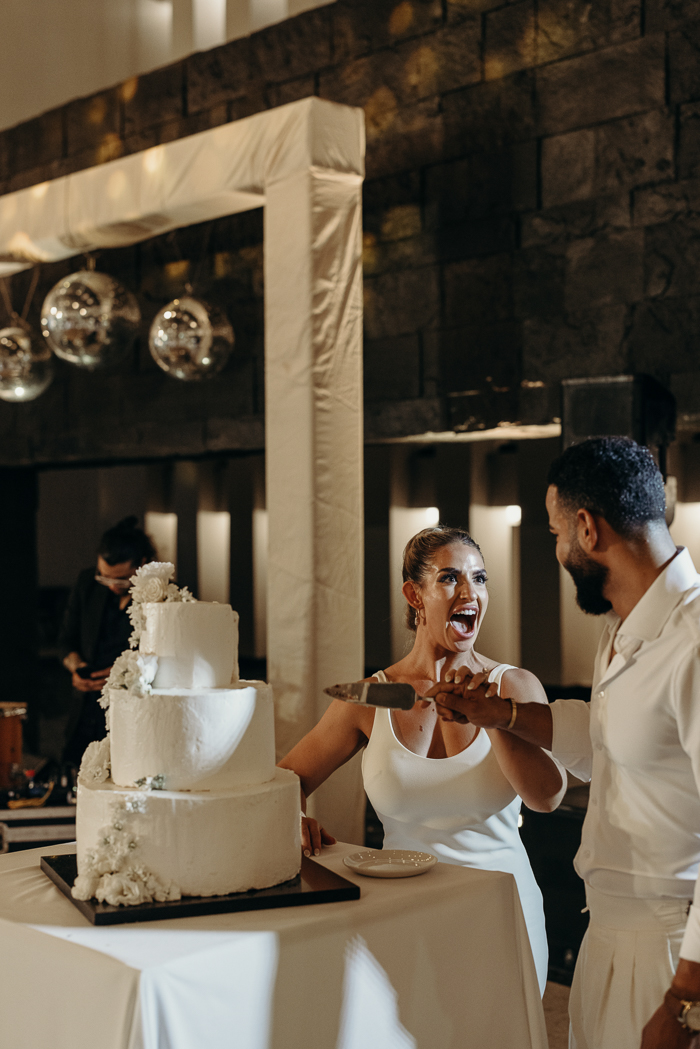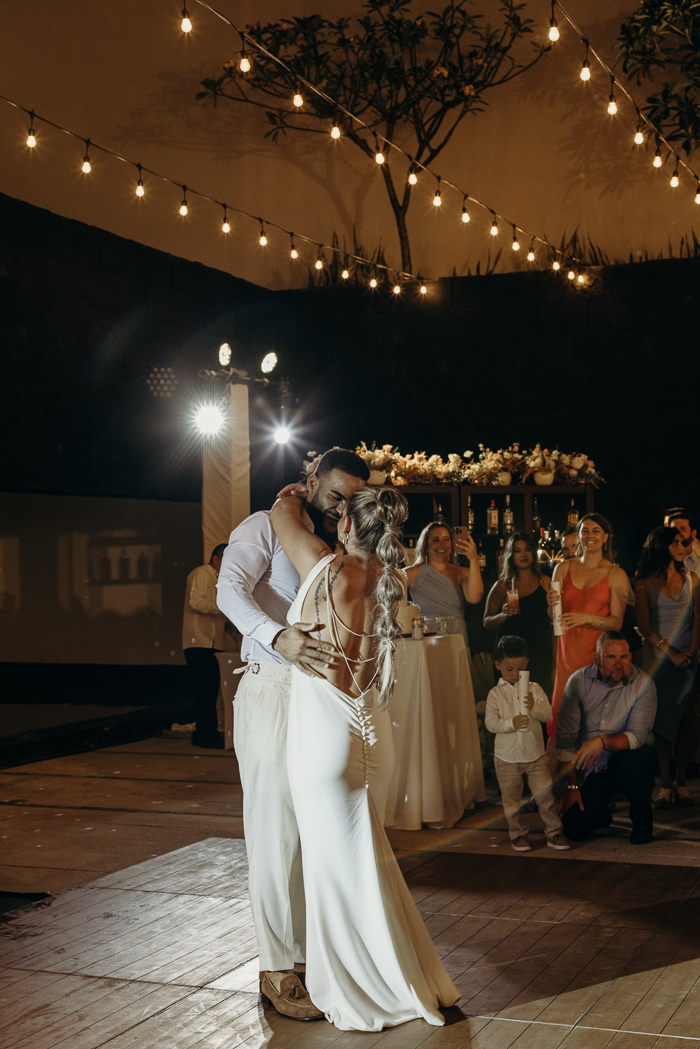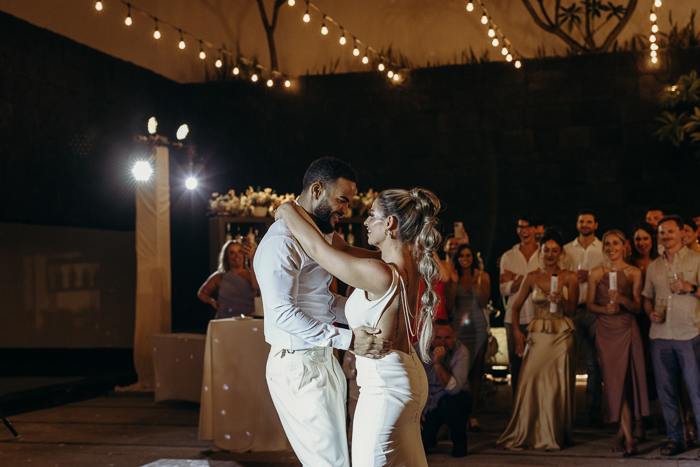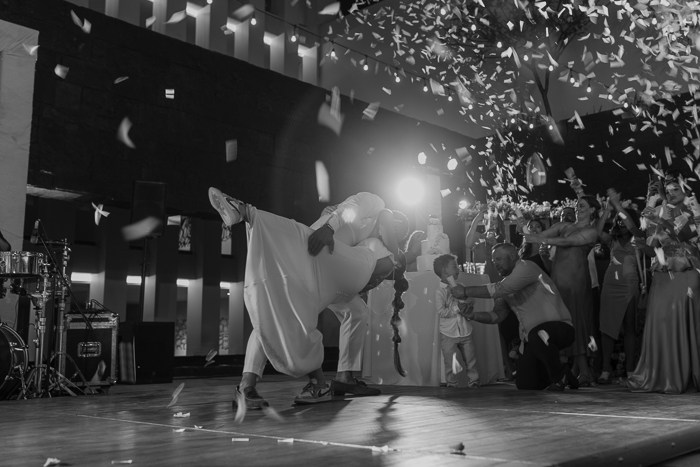 Congratulations to Alex and Marcus on their effortlessly beautiful Grand Hyatt Playa del Carmen wedding. And a big thank you to Junebug members MemoryBox for capturing every stunning detail and magical moment this couple will cherish for the rest of their lives. To see more of their talent, check out their profile in our directory of the best wedding photographers from around the world.
These breathtaking photos might just ignite your desire to say "I do" in Mexico, following in the footsteps of this lovely couple. And who can blame you? Mexico is a truly gorgeous destination! If you're ready to take the plunge, be sure to explore our handy planning guide to tying the knot there and a list of the most dreamy venues in Mexico. It's the perfect way to kick-start your wedding journey!