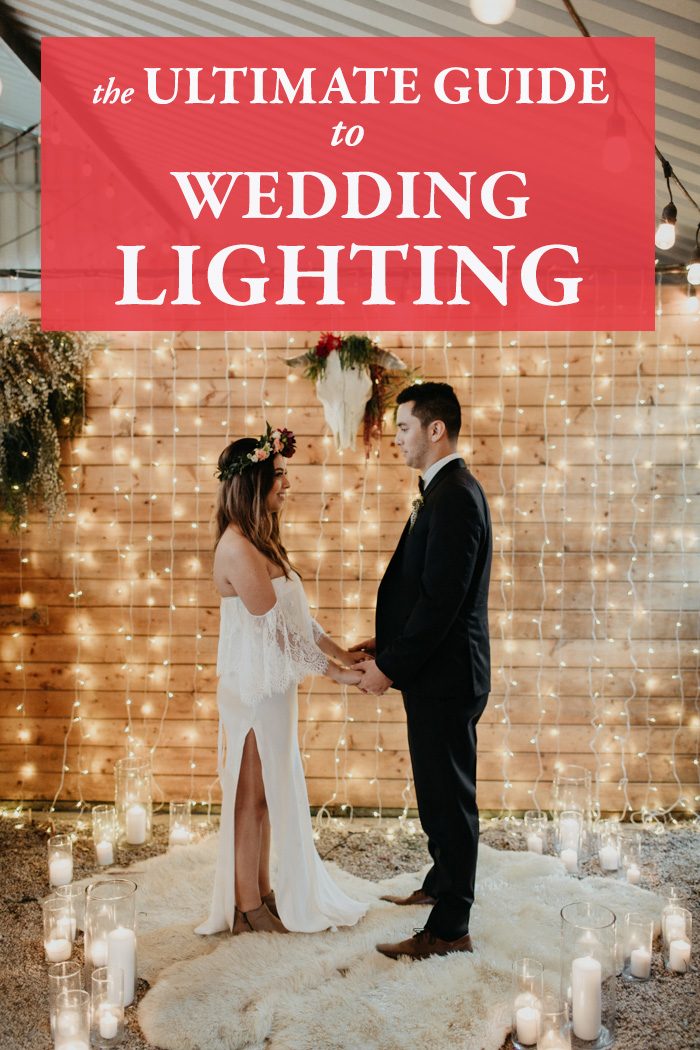 photo by Elizabeth Lauren Photography; see more from this wedding inspiration here!
When it comes to wedding design, wedding lighting is undoubtedly one of the most underrated elements. So, we're here to remind you just how important lighting really is! It sets the overall mood for your wedding and allows you to show off all the pretty details you've spent months thinking about. Plus, you'll want your guests to be able to properly enjoy their food and the dance floor, and you'll want your photos to be exquisite. You can't do any of those things with poor or insufficient lighting! If you're not sure where to start, don't know what to ask a lighting designer, or just need some inspiration to fit your wedding style, this handy guide will help you every step of the way.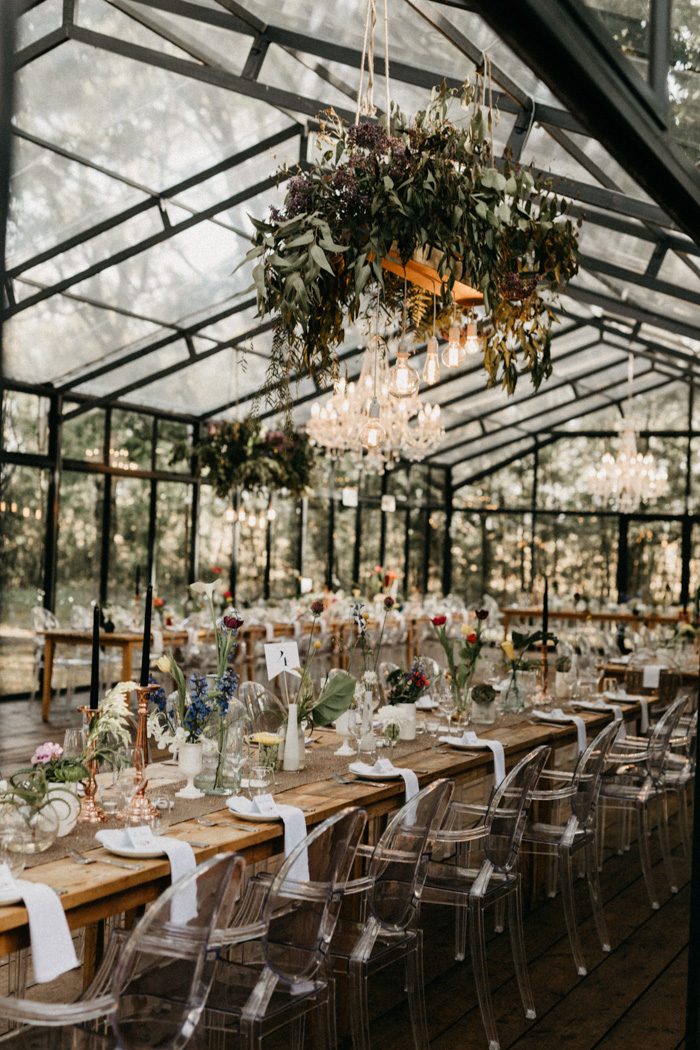 photo by The Le Sueurs; see more from this wedding here!
Get to Know the Lighting Lingo
Before you start looking for lighting ideas or reaching out to vendors for quotes, you'll want to know these key wedding lighting terms so you'll know what you (and the pros) are talking about:
Uplighting – lights that are placed on the floor and shine up the walls in various colors
Gobo light – a template that light shines through to create a pattern, monogram, or motif on the floor, ceiling, or wall
Texture lighting – the same as a Gobo light but with a preset pattern, such as leaves or a starry night sky
Spotlight – a lamp that projects a narrow beam of light on one particular area or object
Pinspot – a tiny light used to illuminate a small area, such as a centerpiece on a table
String lights – also referred to as twinkle, fairy, bistro, or cafe lights, these strands of lights are the most versatile and cost-effective way to light up any space
Pendants – also known as drop or suspender lights, these are single fixtures that hang from the ceiling
LED light – type of bulb that is cost-effective, long-lasting, and provides more vibrant color than a traditional bulb
Color wash – a general fill of color used throughout an entire room that doesn't highlight any particular area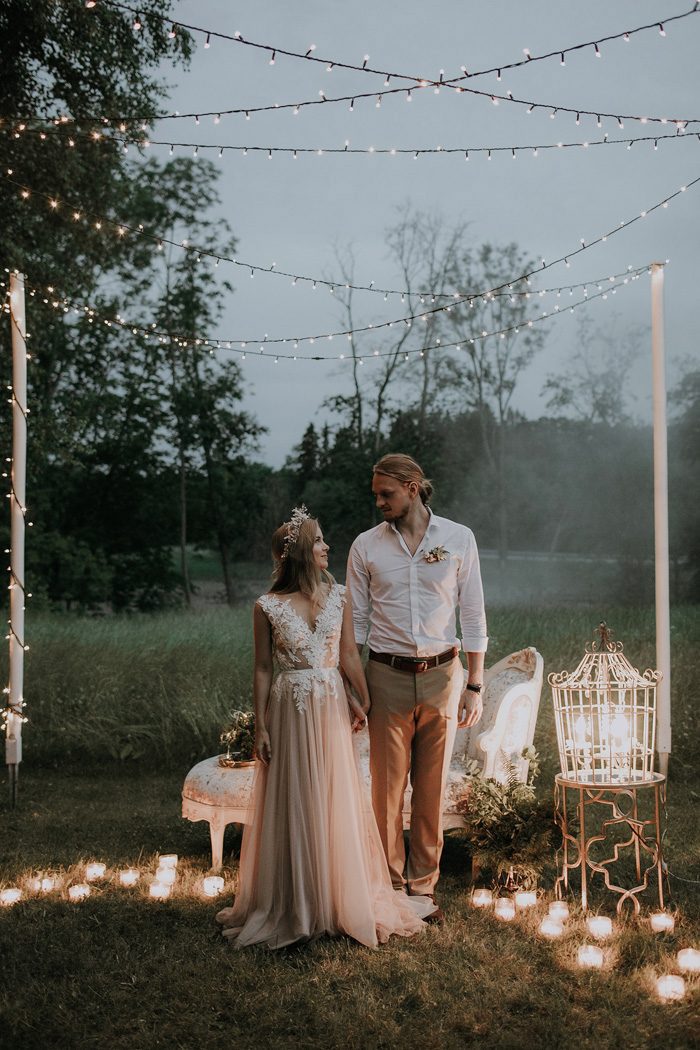 photo by Linda Lauva Photography; see more from this wedding here!
Wedding Lighting Cost
Wedding lighting cost will vary drastically from event to event, based on wedding size, venue, and style. So, it's hard to put an exact number on how much you should budget. Some couples decide to do lighting on their own, and other couples decide to bring in a professional. If you're going with a lighting designer, here are the average prices you can expect to pay for wedding lighting, excluding labor and delivery, according to industry experts:
Uplighting for an entire ballroom: $700-$2500
Gobo light: $200-$500
Texture lighting: $50-$75 per light fixture
Spotlight: $30-$100
Pinspot lighting: $25-$45 per light/table
String lights: $3-$5 per linear foot
Chandeliers: $150-$300
Pendants: $15-$25 per
Projector, Computer, and Screen: $200-$600
Talk to your wedding planner or ask your venue coordinator for lighting designer recommendations to help find a pro that can bring your vision to life. When getting a quote or interviewing designers, be sure to ask if labor/delivery is included in the price quote and don't forget to ask for images of weddings they've done so you can see their work in action!
If you're going the DIY route, consider buying lights and candles in bulk and repurposing them at events leading up to the wedding, such as the rehearsal dinner or bridal shower, as well as in your home after the wedding day.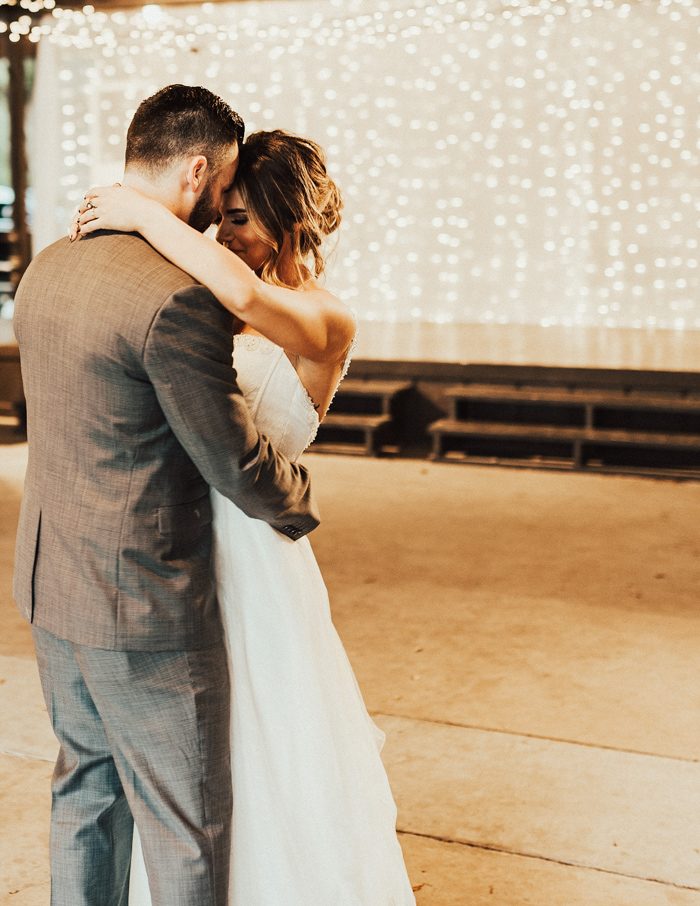 photo by Aperture Photos; see more from this wedding here!
Questions to Ask Your Lighting Designer and Venue
It's important to do a walk-through of your wedding venue with your lighting designer so they can create a custom plan for the specific space. If you're getting married in the daytime, try to schedule your walkthrough around the same time as your event so you can get a sense for the natural lighting. If you're getting married or your reception will be at night, schedule a nighttime walkthrough so you know how much light needs to be added to properly illuminate the space. During this walk-through, don't forget to ask your lighting designer and venue coordinator the following questions.
For the lighting designer:
How much time do you need to set up and take down?
How much power will you need for the entire lighting setup?
Will the designer be on-location during the wedding for operation and/or maintenance concerns?
For the venue:
Where are the outlets located?
How much power can the built-in outlets accommodate?
What type of lighting is already provided?
Are there any types of light sources that are prohibited, such as open-flame candles?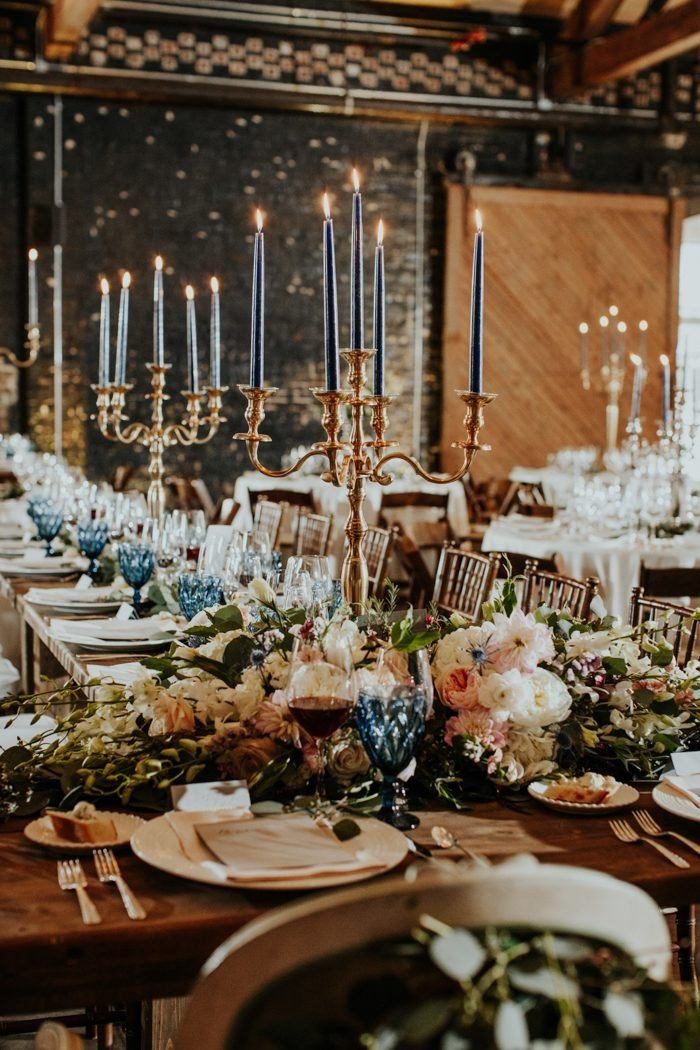 photo by Texture Photo; see more from this wedding here!
Wedding Lighting Ideas by Style
Romantic – If your style is romantic and classic, you can't go wrong with tons of candlelight, string lights, and crystal chandeliers. Keep the glow soft and warm to create a cozy ambiance that makes guests feel welcome and relaxed.
Rustic – If your style is more rustic, antique lanterns, paper lanterns, Edison bulb pendant lights, and marquee lights can help you bring a raw, natural feel to your wedding design. Your mood should have an at-home feel, which requires simple lighting with a hint of charm.
Modern – If your style is modern and minimal, hurricane vases with floating candles, spotlights, and color washing can provide drama without too much fuss. You'll probably want to opt for LED lights because they provide more vibrant colors than traditional bulbs.
Glamorous – If you love a glamorous style, you'll want to go for more dramatic lighting sources, such as crystal chandeliers, candelabras, lit topiaries, and curtains of lights. Since nothing says glam like a little glitz, make sure to add sparkly details near the lighting sources so they reflect and add a glow to the room.
In addition to your wedding style, you should also think about what elements of your wedding are most important to you. If you invested a large portion of your budget into the flowers, you'll want to be sure they're sufficiently lit with pin spots or candles so your guests can see every detail. If you're more interested in getting everyone on the dance floor, consider disco balls and gobo or texture lights to keep the party vibe up all night long.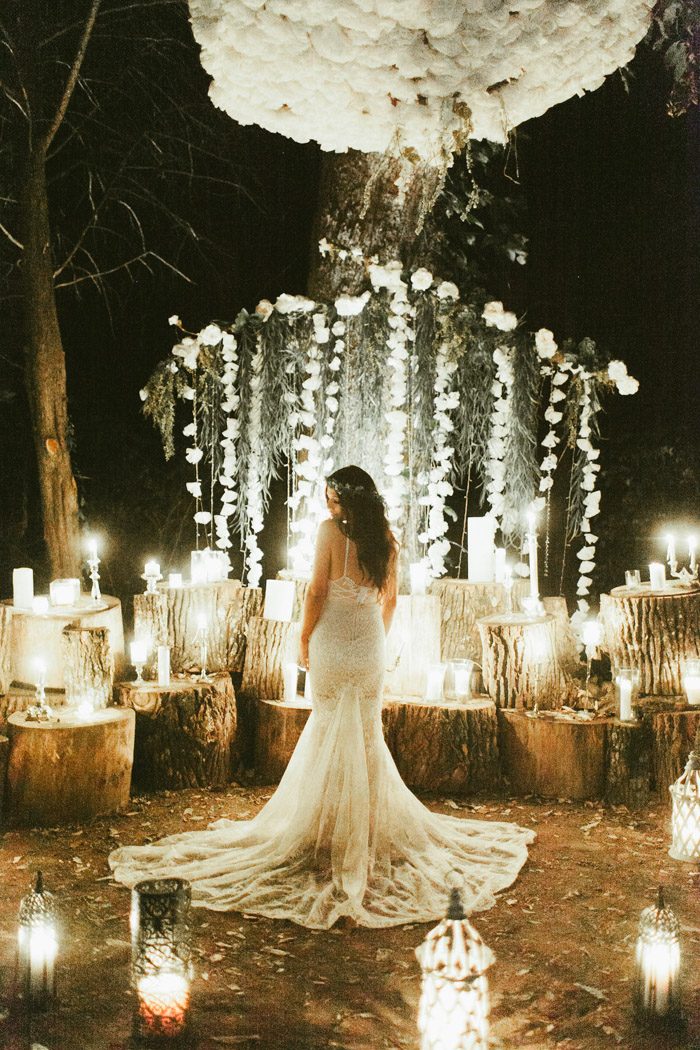 photo by Stephanie Sorenson; see more from this wedding here!
Tips for Indoor and Outdoor Wedding Lighting
Indoor Lighting
For an indoor wedding, you'll need to know what lighting is already in the venue so that you can simply add to it or work around it. Uplighting is great for accentuating architectural features or changing wall colors to match your palette, and color washing can help create different moods in different rooms throughout the venue. This is where a lighting design pro will be your best friend! They can help figure out what existing fixture will work and what to add to get the look you want.
Outdoor Lighting
For an outdoor wedding, power sources will likely be your biggest roadblock. If you're getting married at night, you'll also want to make sure all pathways to the venue, to the parking lot, and to the bathrooms are lit. For a small backyard wedding, you will likely be good with simple string lights in and between trees and votive candles on every table. But, if you're having a big outdoor celebration in a courtyard or tent, you'll want to call in the professionals! They might need to bring in generators for more power and will save you the hassle of trying to hang lights in high places.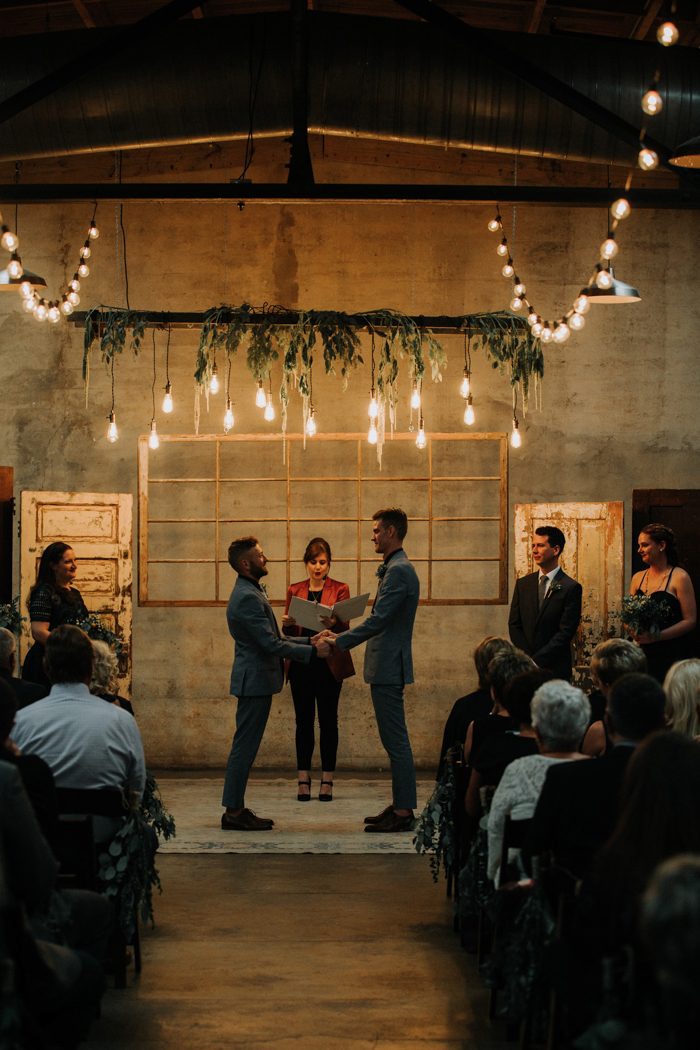 photo by T&K Photography; see more from this wedding here!
Wedding Lighting Checklist
Not sure where to add lighting? Here's a list of all the places you could add light to your special day:
Reception Tables
Overhead/Ceiling
Dancefloor
Ceremony Backdrop
Ceremony Aisle
Sweetheart Table Backdrop
Food Station Backdrop
Cake Table
Guestbook Table
Bar
Photo Booth
Lounge Areas
Cocktail Tables
Outdoor Walkways
Trees
Reception exit (sparklers, glow sticks, etc.)
PIN THIS WEDDING LIGHTING CHECKLIST FOR REFERENCE

Now that you've got your wedding lighting lingo, inspiration, and plan down, it's time to think about the wedding signage that will show your guests the way! Check out these clever and punny wedding sign ideas for every part of your day!