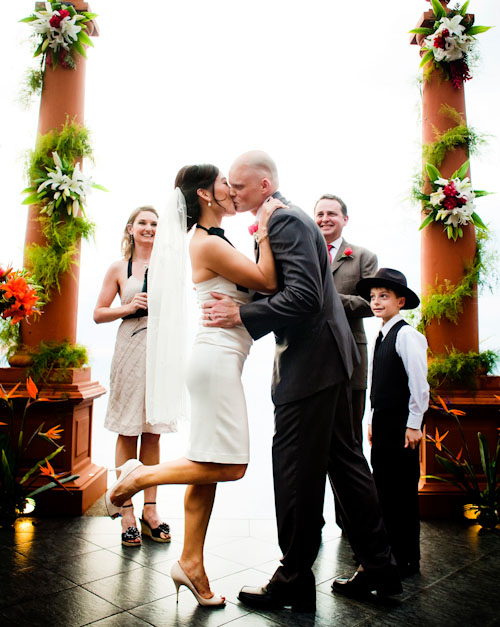 A destination wedding can be a wonderful opportunity to get away with a group of your close friends and family, to spend true quality time together. In this week's Real Wedding, photographed by Ben Chrisman Photography, that is exactly what the bride and groom, Kay and Thomas, decided to do. The couple and their loved ones jetted off to Costa Rica in February for this colorful tropical celebration!
The Goals: Besides having a dream destination wedding, Kay and Thomas wanted their day to be a personalized and memorable affair that really brought people together. By doing special things like writing personal and funny vows, and incorporating both Taiwanese and Norwegian traditions, the couple got the unique wedding they were hoping for.

The Design: For her color palette, Kay chose to simply use red for its traditional meaning of good luck in Chinese culture. The invitations, from Wedding Paper Divas, had a casual tropical theme to match the feel of the venue, the Zephyr Palace at Villa Caletas. In honor of Kay's Taiwanese heritage, the couple released beautiful flying wish lanterns. A bit like a miniature hot air balloon, they are traditionally used at celebrations to symbolize the hopes, dreams and wishes for the bride and grooms' new life together as a couple. For Thomas' Norwegian heritage, they served guests Aquavit, a special flavored spirit made in Scandinavia.
For their ceremony, Kay and Thomas wrote touching and humorous personal vows in a wonderfully unconventional way – for each other! First, Kay presented Thomas' vows to Thomas: "You Thomas, take me, Kay, to be your wife. To have and to hold from this day forward, you will do my laundry and give me most of the closet space. For better or for worse, you will believe in my parking karma. For richer, for poorer, you will manage my 401K. In sickness and health, you will love and cherish, any misfit dog I bring home. So long as we both shall live."
Next, it was time for Thomas to present Kay's vows to Kay: "You, Kay, take me, Thomas, to be your husband. To have and to hold, from this day forward, you'll eat pork at Christmas and make curly dumplings on my birthday. For better or for worse, you won't mock my spreadsheet models. For richer or for poorer, we will visit our parents every year. In sickness and in health, you will kick snoring dogs out of the bedroom. To love and to cherish, and to put away the laptop during dinner. From this day forward, as long as we both shall live." How cute is that?!
The Look: Kay's fabulous wedding dress was "self-made." After selecting a dress off-the-rack, she made alterations to it, creating her ideal wedding look, complete with a handmade veil she made herself, and gorgeous Christian Louboutin shoes. She also made necklaces for her bridesmaids using antique watch faces decorated with birds that she found at a Parisian flea market, symbolizing "time flies." They were a lovely addition to their cream and black bridesmaids' dresses from Anthropologie. Thomas wore a dashing custom made suit from JC and Son Tailoring Co.

The Moments: Despite being the dry season in Costa Rica, it was pouring down rain the day of the wedding. Thomas says, "It actually worked out perfectly, we planned to start the ceremony at 4:30pm, but our guests were late because they stayed at a small boutique hotel in Jaco that ran out of water since everyone was showering at the same time. Our guests arrived at 4:45pm, and as soon as they sat down it started to rain. They all rushed inside and soon it started pouring. There are many tense pictures of us – Kay trying to pray the rain away, and Thomas trying to figure out a Plan B. Just after 5pm, the rain subsided and the clouds parted for our wedding ceremony. According to Kays dad, the word rain in Taiwanese is a homonym for good luck. Indeed, it was a lucky day all the way around."
Later, during the reception, a family member surprised the couple (who weren't planning on having a first dance) with a song he had written just for them, leading to an impromptu and meaningful first dance for Kay and Thomas after all.
As the night ended, guests headed outdoors to light their wish lanterns. Both the bride and groom fondly remember hearing everyone's wishes as they prepared to release them, and as Imagine by John Lennon played in the background, the lanterns floated up into the beautiful Costa Rican sky.
The Pros: To learn about all of the incredible wedding professionals who helped to make this wedding a reality, please visit our Real Weddings section.
Thank you so much for sharing your sweet wedding with us Kay and Thomas! What a lovely event!
If you're planning a wedding in Southern California or Seattle, don't miss our trusted Plan Your Wedding Hotlist!