RECENTLY ENGAGED?
here are some of our best tips + advice to help you plan your big day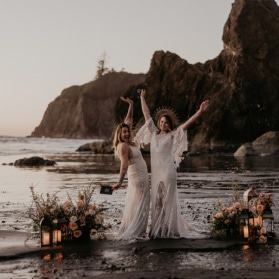 After hearing that Caitlin and Alexa's wedding day didn't go to plan, Henry Tieu Photography turned an already stunning styled shoot into a real beach vow renewal that took our breaths away! The team at Rain and Pines put together a gorgeous ceremony spot on the shoreline using lush pink floral arrangments created by Rusted Vase Floral Co. and lanterns. Then they created the coziest sweetheart table with rugs, pillows, black table decor, and an incredible black wedding cake from Sift & Gather.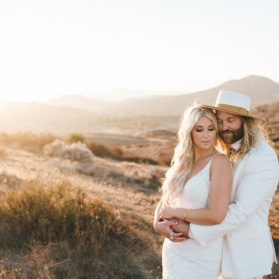 Danae and Travis' all-white wedding at Wolf Feather Honey Farm was total summer wedding goals! The couple took their guests out into the desert for a carefree day full of food, fun, and laughter. Their mix of bohemian textiles, rustic wooden accents, and vintage details were as whimsical as they were beautiful, and the all-white attire of everyone in attendance gave the entire event a desert chic vibe. The DeLauras were on hand to capture every moment of this unique summer wedding!
WEDDING INSPIRATION BOARD
Filter thousands of wedding images by color, category, and more to find inspiration for your wedding