RECENTLY ENGAGED?
here are some of our best tips + advice to help you plan your big day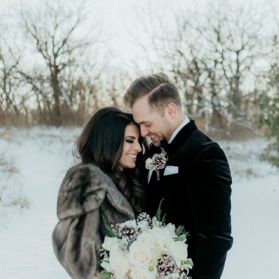 Between the glamorous gowns, the snow-covered farm, the reindeer, and all the desserts a sweet tooth could hope for, Jennifer and Bradley's NYE wedding at The Pavilion at Orchard Ridge Farms was pure winter magic! When this sweet couple wasn't romping through the snow, they were exchanging vows and toasting to the New Year in the glow of twinkle lights, candles, and sparklers.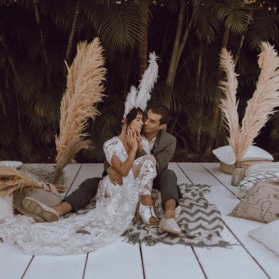 Set in a villa in Miami, this elopement shoot used neutral colors and pampas grass in the most stunning ways! The planning team at The Creative's Loft brought cozy elopement vibes to life with brilliantly designed nooks, dimensional and earthy decor, and a full day affair that followed the couple from getting ready to poolside to "I do." Every element was about romance and multidimensionality, from the installations to the bride's incredible headpiece.
WEDDING INSPIRATION BOARD
Filter thousands of wedding images by color, category, and more to find inspiration for your wedding