RECENTLY ENGAGED?
here are some of our best tips + advice to help you plan your big day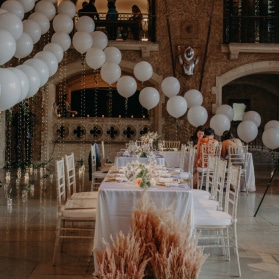 Whitney and Brian's Fairmont Banff Springs wedding was as elegant as it was artistic. With loads of space in their reception hall, the couple got creative with the decor and designed an architectural balloon installation that can only be described as a masterpiece! They also treated their guests to lots of DIY personalizations and made their Banff weekend feel like a true getaway rather than just a wedding.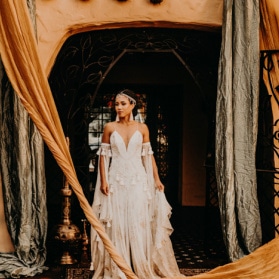 Luxurious linens, rich colors, and boho-chic style were the name of the game in this wedding inspiration shoot at Miami's Curtiss Mansion. The planning team at Pink Wasabi brought the mysterious beauty and whimsical elegance of Morocco to Florida, and Boote Photography Studio captured every angle in stunning detail. From leather poufs to ornate tablescapes to textural floral designs created by Flower Fanatic Miami, this styled shoot had everything you could want in a Moroccan elopement.
WEDDING INSPIRATION BOARD
Filter thousands of wedding images by color, category, and more to find inspiration for your wedding