RECENTLY ENGAGED?
here are some of our best tips + advice to help you plan your big day
When it comes to elopement planning, there are far fewer details to worry about than traditional wedding planning. But, there are still a few things you'll need to figure out before your big day! From location and accommodation to attire to actually making your marriage legal–each are equally important pieces of your elopement. We've put together this elopement planning checklist to help you through it all.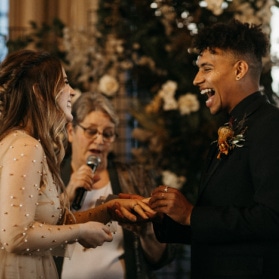 Imagine this: your wedding photographer texts you with the news you've been waiting for—"your gallery is ready!" You sit down with your spouse, start scrolling through all of the lovely images, and then it happens. The ceremony photos start to appear on your screen, and you see rows of lifted cell phones—guests witnessing that special moment through a tiny screen. Did your heart sink thinking about that scenario? Ours did, too.
WEDDING INSPIRATION BOARD
Filter thousands of wedding images by color, category, and more to find inspiration for your wedding