RECENTLY ENGAGED?
here are some of our best tips + advice to help you plan your big day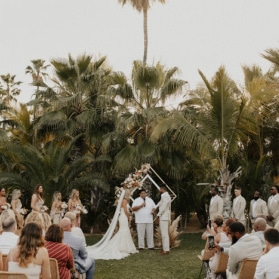 Marlana and Dean's boho Acre Baja wedding had everything we love about tropical destination weddings: killer style, neutral tones, and all the good vibes! This couple brought an extra punch to the day with their wedding attire. We're obsessed with Marlana's choice to add rhinestone bobby pins to her bridal hairstyle, and her groom looked perfect in his tan linen suit that's oh-so-perfect for any tropical climate.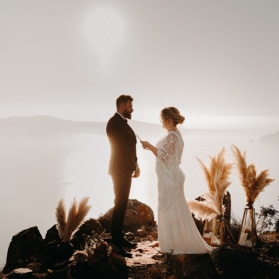 Give us a golden Greece sunset and lovely couple, and we're smiling ear-to-ear! We couldn't be more in love with Katie and James' private Santorini cliffside elopement. Laurene and The Wolf beautifully captured Katie and James' special weeding with honesty — capturing the two snuggled up at their villa, saying their "I do's" before a breathtaking view, and dining under the stars! We are obsessed with the styling Julia and Evita created, which was the perfect mix of boho and simplicity.
WEDDING INSPIRATION BOARD
Filter thousands of wedding images by color, category, and more to find inspiration for your wedding