Designing your wedding can feel a little overwhelming, especially when your venue is a blank slate. There are so many different decor elements that go into your special day and we know it can be hard to remember them all. That's why we decided a checklist was in order to help you nail every detail. No matter what you choose to include or omit, this wedding decor checklist will help you stay on top of your wedding planning game.
Wedding Decor Checklist
Wedding Ceremony
While your wedding ceremony is arguably one of the most important aspects of your wedding, it's also one of the shortest. This means that your guests aren't going to be spending a lot of time here–aka no need to blow your budget on ceremony decor. The most important aspects are the chairs. Your guests need a place to sit, after all. From there, you want to think about the backdrop, aisle runners, and more:
Cocktail Hour Decor
While you may think that most of the socializing occur during the reception, it actually takes place during cocktail hour. Between dinner, dancing, and drinks, the reception is usually jam-packed with events. This is why allocating money to your cocktail hour decor is a wise choice. Focus on the bar, the snack table, and lawn games.
Wedding Dinner Table Decor
It's no secret that your reception is the place where your guests are going to be spending most of their time so it's arguably the most important when it comes to the design. This is especially true for the dinner table. Personalize it with centerpieces, unique chargers, elegant linens, or mismatched glassware.
Wedding Reception Decor
Last, but certainly not least, is your wedding reception as a whole. As we mentioned earlier, this is going to be the place where guests spend their evenings, so this is where it makes the most sense to splurge on decor. It's also the place where you can flex those creative muscles and personalize the decor to who you are. From monogram lighting to epic seating charts and everything in between, this is the perfect time to express yourself.
Keep this Wedding Decor Checklist Handy by Pinning it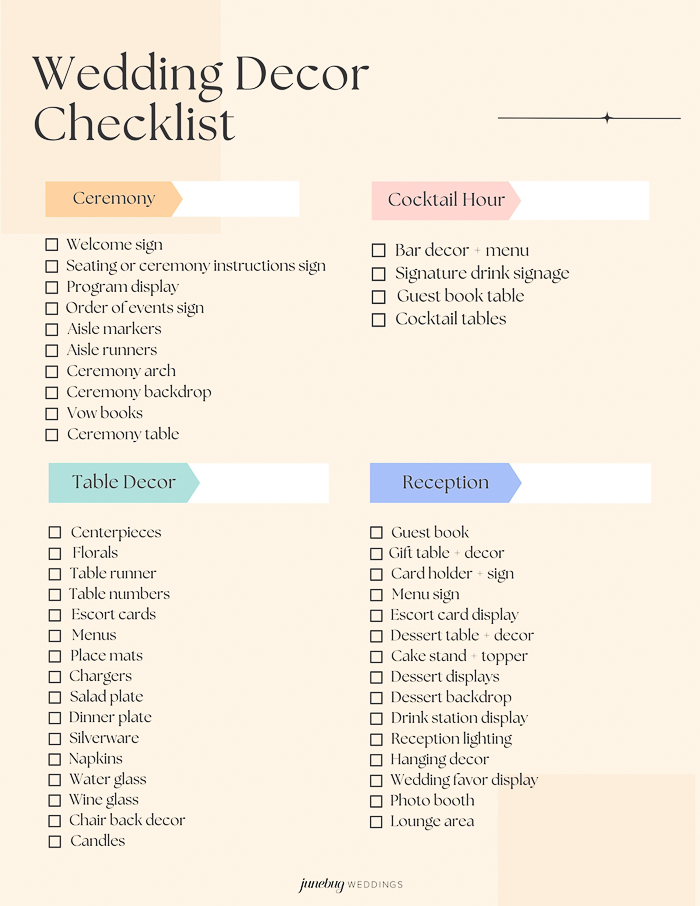 If you need more help in crafting the wedding of your dreams, check out our list of planner & designer recommendations. Looking for more checklists to prepare for your big day? Our wedding planning checklist is perfect for you!