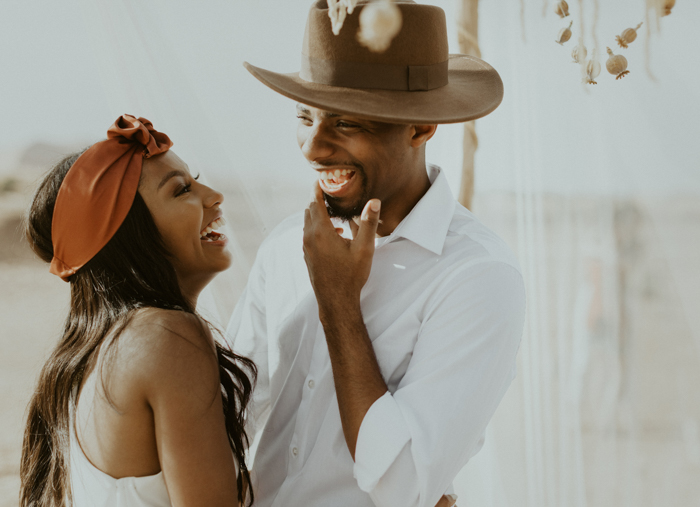 photo by Anni Graham Photography
We know, we know…nobody likes talking about money. But, when it comes time to set your wedding budget, we want you to feel totally confident so you can walk away from your spreadsheet knowing that you nailed it! That's why we put so much time into creating wedding budget advice, tips, tricks, and tools. (Psst. You can find them all right here.)
One question we hear most frequently, whether from couples or from friends who are planning their wedding, is how to even get started creating a budget. That's what we're answering today! Every couple is different and every budget is different, but there are some fool-proof steps you can take to create the best wedding budget for you and your partner. Let's get started!
Set Your Priorities
Before you do anything budget-related, you and your partner have to decide your top priorities for your wedding day. Chances are you won't be able to throw an unlimited amount of money at everything you both want, so it's important to decide together what areas will get the most attention. We recommend you each make a list of priorities, from highest to lowest, and then share. From there, choose the top three areas you both think are most important, and plan to spend a good chunk of your budget on those areas. If you realize that none of your top three priorities matches, maybe switch to a top-two or top-four list, where each of you gets to choose one or two must-haves. Then list out the other areas below those top priorities, from highest to lowest, so you know how to allocate the remaining budget.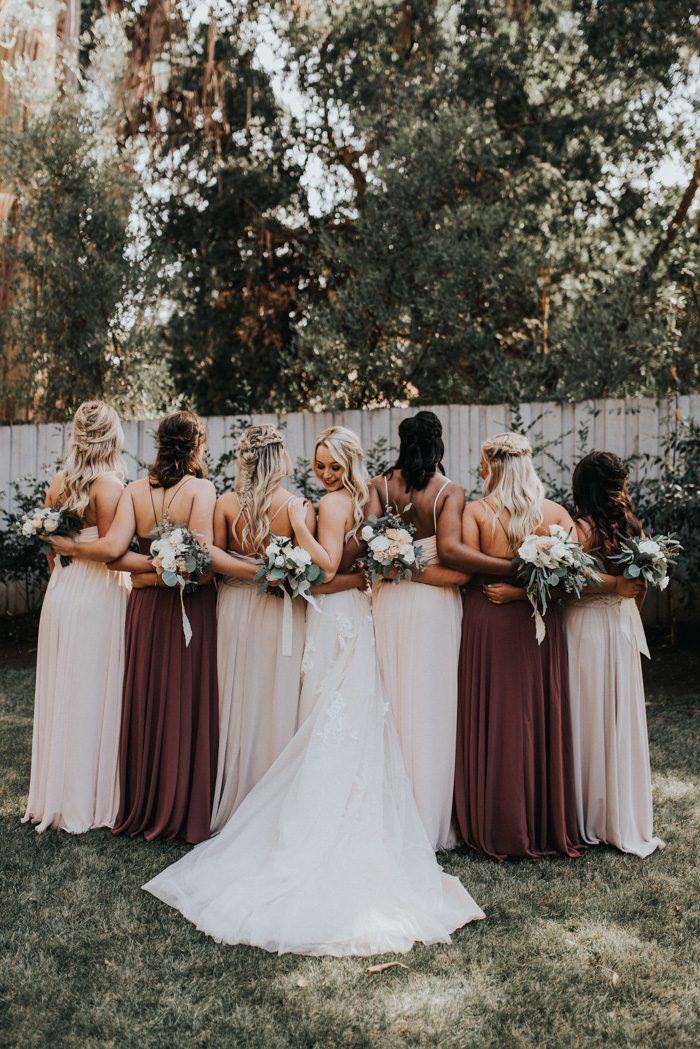 photo by Jonnie & Garrett
Talk to Anyone Who Is Contributing
Say you and your partner are planning to pay for the majority of your wedding yourselves but your parents or grandparents want to chip in or pay for certain elements of the wedding, such as the dress or the bar. Before you and your partner set your final all-in number, talk to anyone who has expressed interest in helping you out and figure out exactly how much they want to contribute. That way, you can either subtract that number from you and your partner's contribution (meaning, you'll pay less than you originally thought) or you can allocate the money you're saving into another area of the wedding.
If your parents or grandparents haven't brought up the money subject by the time you're ready to start creating your budget, don't be afraid to ask in a polite and respectful way! If you approach the subject out of curiosity rather than with the expectation that they pitch in, they will totally understand. (Just prepared for the possibility that they might not be able to contribute anything.)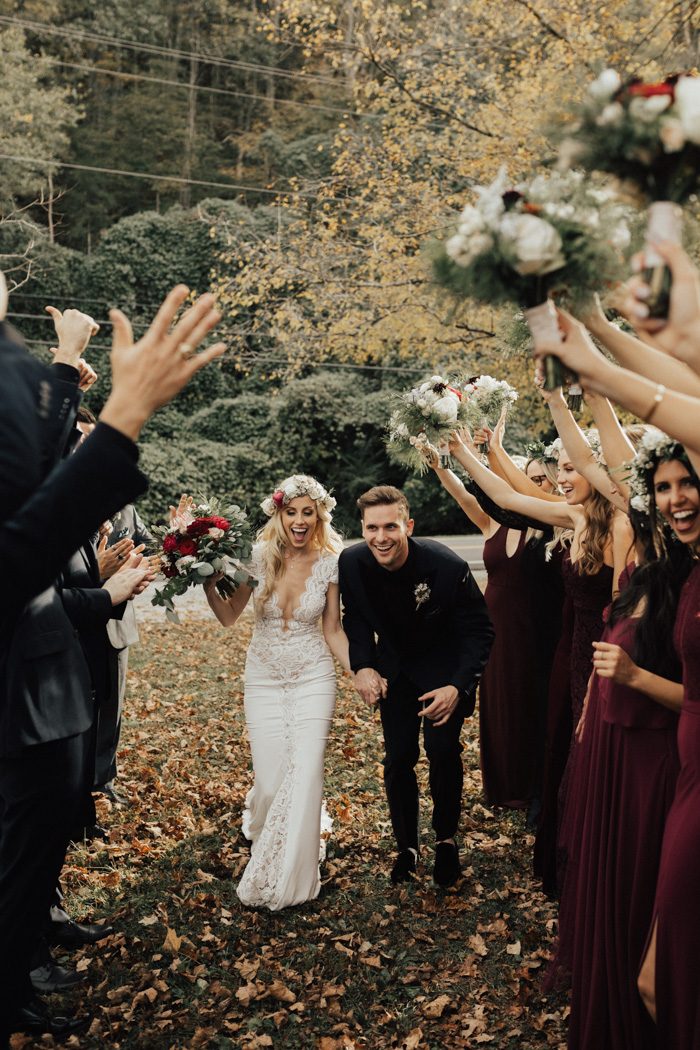 photo by Katherine Joy Photography
Crunch the Numbers
Now that you know your priorities and you know who is contributing money to the wedding, it's time to figure out exactly how much you and your partner are willing and able to spend. This number will be different for every couple, but one thing we always tell couples is that this number should be realistic. Meaning: it needs to fit your personal finances and long-term goals, not the other way around. Start by figuring out how much you can comfortably pull from your everyday budget without taking away from your other expenses. Then look ahead and figure out how much you can realistically put into a wedding savings account. Lastly, determine if you can responsibly take money from other savings accounts and how much that could be.
Once you have your personal numbers, combine them with any contributions you'll be getting from family members, and you've got a budget to start working with!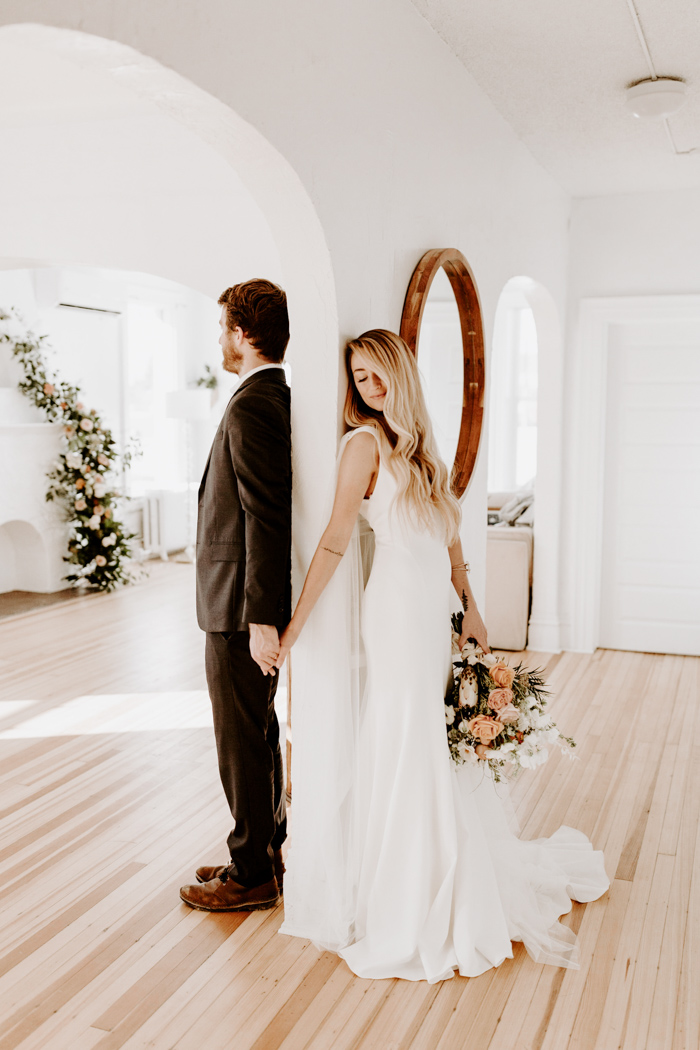 photo by Karra Leigh Photography
Determine Your Guest Count
Unless you've decided to elope, the one thing that will have the greatest impact on your budget is, in fact, your guest count. It will determine your venue size and your food and alcohol budget since you'll be paying per-person for both of those. If you're on a really tight budget, this is where it's most important to be strategic and follow these tips to help you narrow down your wedding guest list. Even if you're not on a tight budget, take some time to think about what size wedding you really want. Then think about the financials in terms of how much you and your partner want to allocate to food and beverage and how that breaks down per-person. From there, you should be able to budget out multiple scenarios (with varying guest counts) and choose the one you like the most.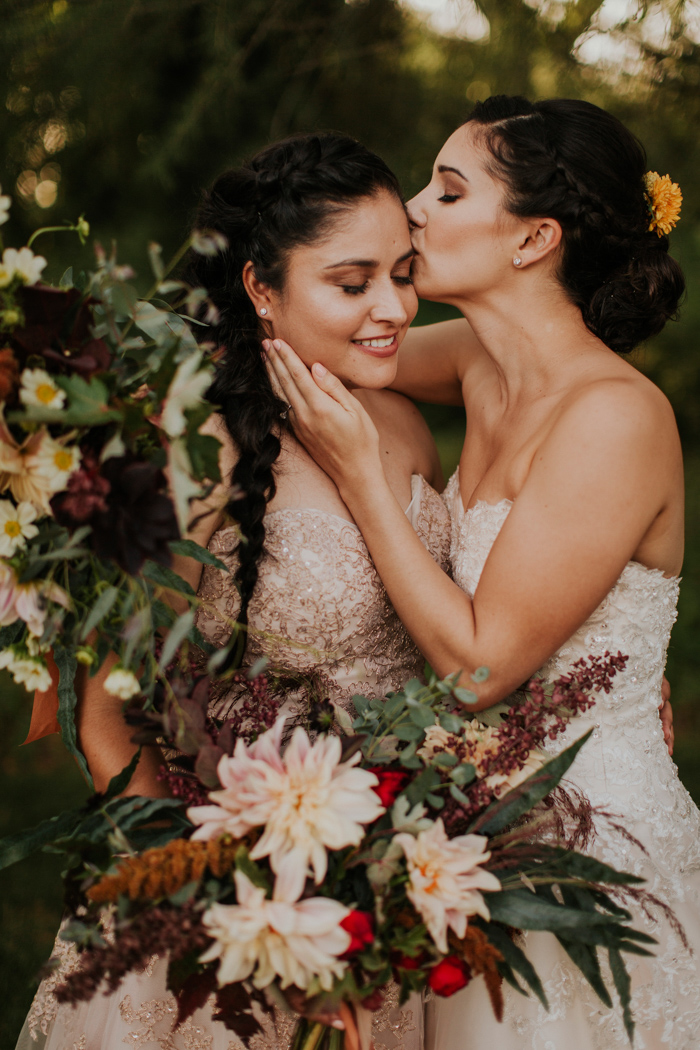 photo by Victoria Carlson Photography
Research, Research, Research
One thing couples tend to forget when setting a wedding budget is that location is everything! Weddings vary in cost depending on geographic location, which is why researching the costs in your specific area (or wherever your wedding will take place) is so important for keeping you and your partner on budget. While doing your research, also note the price differences for getting married during the week versus on a weekend and the prices differences for each month of the year. There are so many clever ways to save money on your wedding, so do as much research as you can!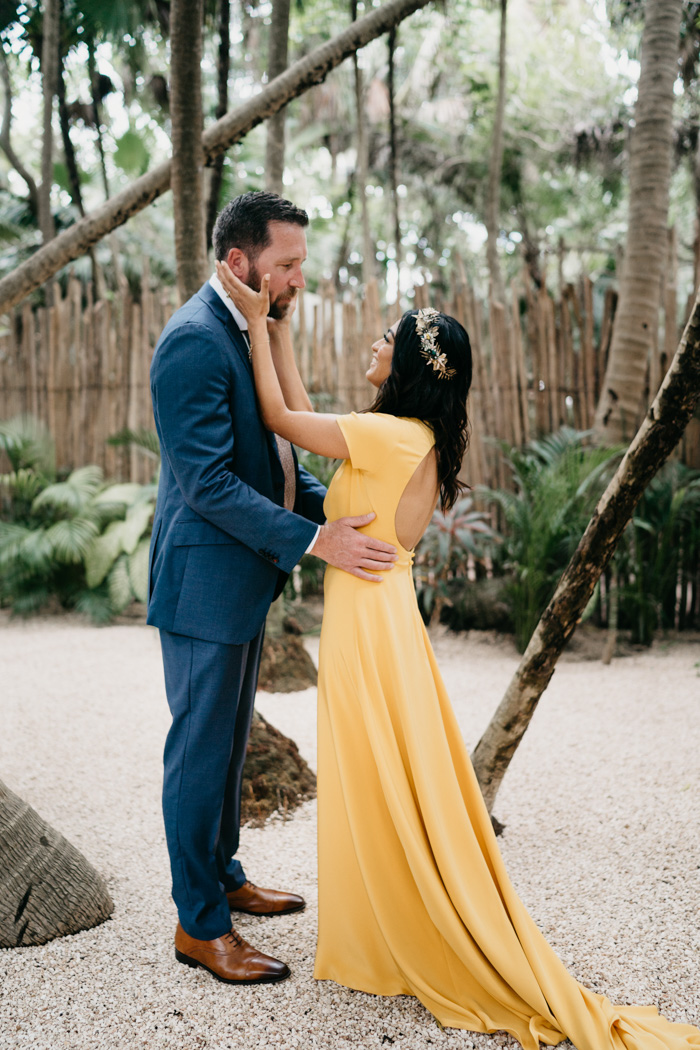 photo by The Times We Have
Prepare for the Unexpected
Whenever wedding planning is concerned, unexpected things will come up, or not everything will go exactly to plan. It just a fact and it's totally okay! Some things you'll be able to rework, some things you might just have to let go. But, one way to stay ahead of the game, is to prepare for wedding expenses that aren't on every wedding budget planning list!
For example, did you know that some hotels will charge you as much as $7 per unit to deliver welcome bags to your guests' hotel rooms?? (Yeah, that one caught us by surprise, too!) It's the little things that can really start to add up over time, which is why we've created a list of 10 unexpected wedding expenses to keep in mind when creating your budget. It covers everything from postage to taxes, tips, and fees. Trust us, you'll be so glad you built those into your budget from the very beginning!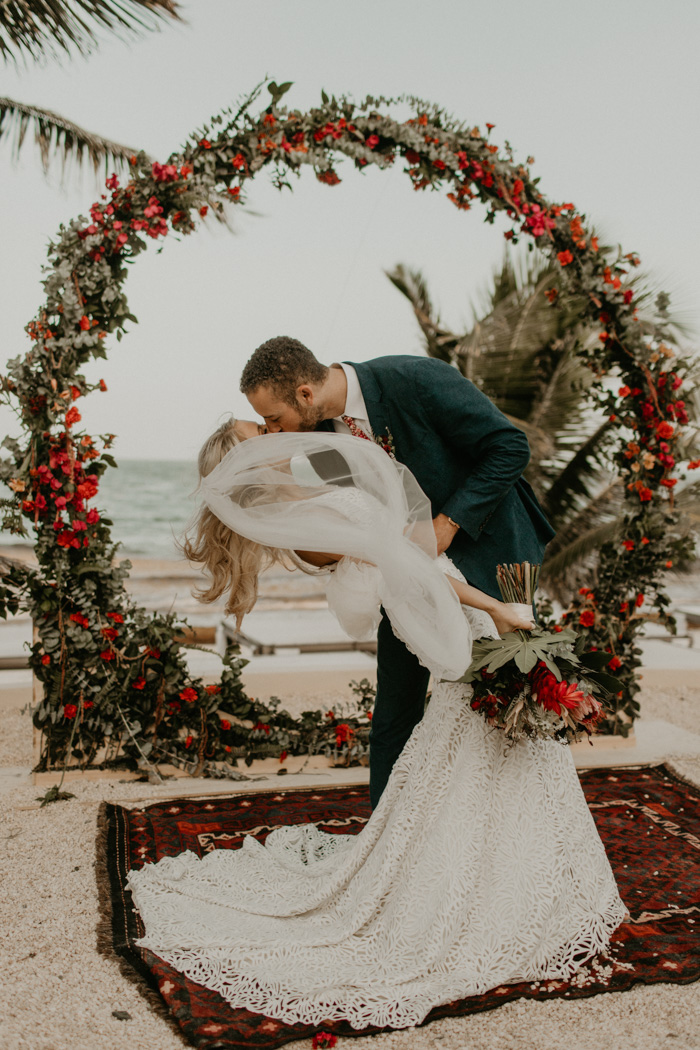 photo by Surveyor Creative
Decide Whether the Honeymoon Is a Separate Budget
Now, for the best part of wedding planning: the honeymoon! Some couples include the honeymoon in their overall wedding budget, while some couples choose to create a separate budget altogether. It all depends on what seems most logical to you and your partner. Perhaps you have money in your everyday budget set aside for travel, and the honeymoon would come out of that so it makes sense to keep them separated. Or, perhaps it's easier to set one budget and make sure everything wedding and honeymoon related fits into that budget. There's really not one right way to do it. Just be realistic and decide what works for your unique situation.
That's it! With these tips, you should be well on your way to creating the best wedding budget for you and your partner. Now, be sure to check out our 12-month wedding planning timeline to help you stay on track with all your wedding planning to-dos!