I've got the travel bug! I'm heading off to New York tonight to visit some amazing wedding businesses and friends (more reporting on that next week, I promise!) and all this packing and travel prep has got me thinking about you lucky soon-to-be-weds out there planning your honeymoons. If you're looking for honeymoon inspiration and incredible destination suggestions, Blair recently wrote a fabulous feature for 425 Magazine and our own Groombug section about the 25 Most Romantic Locations on Earth, and let me tell you, it will get you itching to pack that bag and get out the door! Check it out…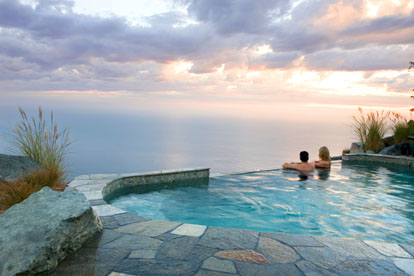 Gorgeous bedrooms, sensuous bathrooms, spectacular scenery, exciting activities, exquisite cuisine, and a feeling of secluded privacy are just a few of the features that make great destinations into outstanding honeymoon getaways. After all, honeymoons are first and foremost romantic adventures and no matter where they happen, the best ones have two things in common – beauty and a healthy dose of hedonism. With that in mind, here are Junebug's picks for the 25 most outstanding honeymoon destinations around the globe. Choose the spot that's perfect for the two of you and revel in romance!
Situated along a dramatic shoreline the serene One&Only Palmilla is a masterpiece of stunning Old World Mexican architecture and natural beauty. Pristine beaches combine with swaying palms trees and blooming vegetation to offer a romantic paradise unlike any other, where you'll find world renowned customer service ready to sweep you away to honeymoon bliss.
Super secluded with breathtaking accommodations, The St. Regis Punta Mita is a slice of heaven for the luxury-loving, privacy-seeking couple. With two Jack Nicklous golf courses, never-ending white sand beaches and world-class cuisine, this majestic resort promises a memorable, romantic experience.
.
Comfortably opulent and aesthetically divine, Hacienda San Angel is a hidden jewel in Puerto Vallarta's crown. 5 villas that are all linked together (one of them previously owned by Richard Burton), comprise an unparalleled choice of accommodations in a city full of history and romance. Viva Amour!
in lush tropical gardens on 1,500 acres of pristine tropical paradise, featuring stunning ocean views from every room, a first-class restaurant, and a guest to butler ratio that will make you feel like a movie star. Enjoy access to the air conditioned beachfront gym, lighted tennis courts, horseback riding, and an unparalleled array of other activities and amenities.
Perched on top of a rugged red-lava cliff overlooking one of the most incredible white sand beaches in the world, you can't get any closer to paradise than the Four Seasons at Manele Bay. World-class cuisine, impeccable accommodations and a gracious and welcoming staff await at this romantic, luxurious resort.
The renowned Lodge at Keole on the historically significant Island of Lanai, is a quiet, relaxed and incredibily charming resort in the old-world plantation style. No request is too challenging for the accommodating staff that caters to your every whim. Enjoy world-class golf, beautiful beaches, at a look at Hawaii that is off the beaten path.
Situated on 140-acres of pristine ocean-front property, The Breakers Palm Beach is simply stunning with its old-world charm and modern elegance, and makes for the perfect romantic getaway. Devoted staff cater to your every need as you enjoy incredible accomodations, a world-class spa and nine fantastic restaurants.
Perfectly serene and completely romantic, L'Auberge de Sedona exists in Arizona's Red Rock Country, with its cooler climate and lush, green surroundings. Situated along the Oak Creek, you'll experience pristine landscaped grounds, award-winning cuisine, and plenty of alone time in your charming and elegant private cottage.
Looking for the hippest place in New York to see and be seen? Then you absolutely must visit Gramercy Park! This world-renowned hotel is super chic and always fashionable, featuring museum quality art displays, a unique roof top deck with sweeping city views, incredible amenities and an amazing location in the heart of it all.
Floor to ceiling windows draw you to your view of pristine Chesterman Beach as you settle in to your large and super-cozy room, complete with fireplace, deck, and single or double soaking tubs (you'll want to reserve the double). Everything here including the hotel itself is in harmony with nature. Don't' miss the superb organic meals served at The Pointe restaurant where you can watch whales go by from your table mid-March to mid-July.
900 feet above the Columbia River with views from every room, this unique property enjoys 300 days of sunshine and four distinct seasons. Visitors have their choice of Cavern Rooms which are literally carved into the cliff side, or Cliffehouses which are beautifully appointed accommodations with stunning views, vine covered decks, high curved ceilings, luxurious king-beds, and deep soaking tubs.
Contemporary chic and super stylish, this ocean-front resort offers award-winning design and indulgence for couples seeking a mix of relaxation and fun. Get a massage in their closed-door cabanas or play blackjack poolside, and take advantage of their access to the attractions at neighboring Atlantis, featuring over 40 restaurants and lounges, a world-renown spa and the largest casino in the Caribbean.
With its neo-renaissance style and unparalleled views of Florence that span from the iconic il Duoma to the nearby Ponte Vecchio, Villa la Vedetta is the epitome of European romance. Sophistication reigns supreme here, where you can check into one of 18 incredible suites and live out your Italian honeymoon in European opulence and style.

22. Jean-Michel Cousteau Resort, Venua Levu, Fiji
Situated on 17 acres of private beachfront property on the idylicc island of Venua Levu, this incredible venue is made up of 25 locally made Fijian bungalows that offer private and luxurious set of options for your once-in-a-lifetime honeymoon. Spend your time snorkeling, boating and kayaking in this tropical paradise for a getaway you'll always remember.
Hip, impeccably designed, and ideally located in the most engaging city of earth, this upscale hotel exudes the wow factor. The huge floating bed and sensual bathroom make it difficult for couples to leave the room, where an integrated lighting and sound system creates the ultimate in romantic ambience.