Any vendor or couple who have been published on Junebug Weddings can use either of the Junebug Weddings badges to shout it from the rooftops. Congratulations on being featured! Once your business or wedding has been published on our site, grab one of these lovely badges to use on your own website or blog. Not sure how to put the image onto your own site? It's easy and there are two options to do so listed below.
How to Use the Junebug Weddings Badges
There are a few options that may be right for you to upload the Junebug Wedding badge to your website. Both options are easy! Regardless of which option you use, be sure to link back to your feature or to the Junebug Weddings homepage.
Option One: Right-click to save the image to your computer then upload it to your website
Option Two: Copy and paste the HTML code listed below to put the image on your own website
Large Junebug Weddings Badge
<a title="Published on Junebug Weddings – Wedding Style Blog, Wedding Photography Blog and Real Wedding Inspiration" a href="http://www.junebugweddings.com"><img src="https://junebugweddings.com/Scripts/tinymce/jscripts/tiny_mce/plugins/imagemanager/files/Published_On_Badges/2022/200px/Published-On-Junebug-Weddings-Badge.png" alt="" width="100″ border="0″ /></a>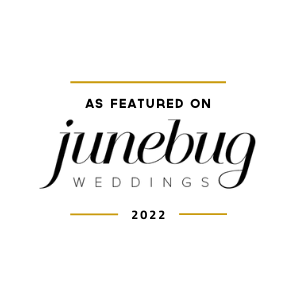 Small Junebug Weddings Badge
<a title="Published on Junebug Weddings – Wedding Style Blog, Wedding Photography Blog and Real Wedding Inspiration" a href="http://www.junebugweddings.com"><img src="https://junebugweddings.com/Scripts/tinymce/jscripts/tiny_mce/plugins/imagemanager/files/Published_On_Badges/2022/200px/Published-On-Junebug-Weddings-Badge.png" alt="" width="100″ border="0″ /></a>