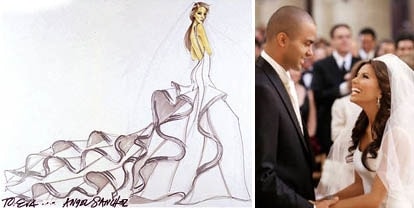 Sketch by Angel Sanchez, Image by la Storia foto
If you've been paying even the tiniest bit of attention to pop culture recently, you've certainly heard the buzz about Eva Longoria and Tony Parker's lavish red-themed wedding at the Chateau Vaux-le-Vicomte outside of Paris. From their celebrity friends in attendance to her Angel Sanchez dress, the first dance to The Book of Love by Peter Gabriel and the messages inscribed inside their Piaget wedding bands, fans and the press are clamoring for all the details! I can't wait to see a picture of the 5 tier red wedding cake created by Sam Godfrey of Napa Valley's Perfect Endings. Reported to be a vanilla-bean pound cake filled with crushed organic raspberry preserves and white buttercream, it sounds delicious! Godfrey is no stranger to creating press-worthy cakes, having worked with celebs like Oprah Winfrey, Jessica Simpson and Courtney Cox, so this one is sure to be a sight to see!
I love the idea of having fun with color in your wedding cake like Eva and Tony did by carrying their red theme through to their cake's raspberry filling and red outside. Here are some beautiful ways that local bakers have used rich red and blushing pink in their wedding cake designs.


Red cakes: left and center by Creme de la Creme, right by Mike's Amazing Cakes

Pink cakes: left by New Renaissance Cakes, center by Jen's Desserts, right by Tallant House Fine Sweets and Other Eats