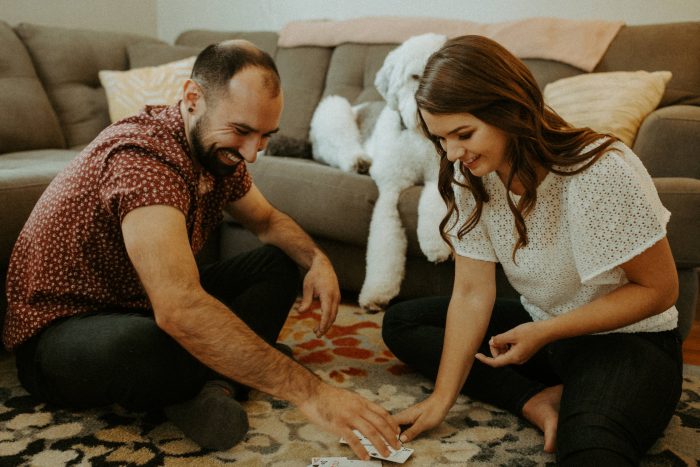 photo by Dawn Photo
We love a good Netflix binge—but, after awhile (and after you've watched every series imaginable), sitting in front of the TV screen can get a little old. Especially if you've been spending all your days at home in quarantine with The Office running in the background while you work. We may or may not be speaking from experience on that one! If you've been searching for at-home date night ideas that are more creative than "Netflix and chill," you've come to the right place. We've put together the ultimate list of ideas for you and your boo to try!
Before we jump in, we have a few important tips that will help you make the most out of any of these at-home date night ideas:
Read on for our in-home date night ideas that don't involve Netflix!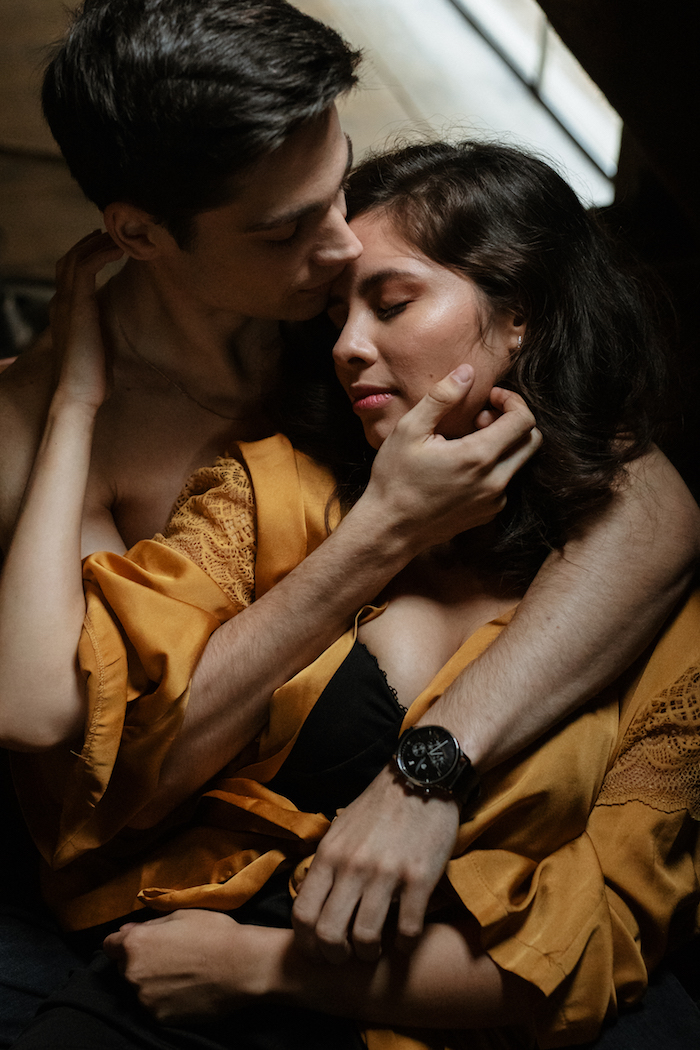 photo by The Archivers
1. Take a trip down memory lane
Reminiscing on your past can be both fun and sentimental. Call your family and ask them to send any old home videos or funny photos, and spend the evening talking about your past memories. Not only are you sure to be cracking up with laughter at some embarrassing moments of your past, but you'll bond talking about your life's story with each other.
2. DIY a couple's spa day
While you may not be able to go to an actual spa, creating your own spa at home can be a romantic and sexy activity to do together. Set the mood with by ordering cozy robes, turn on calming music, dim the lights, and take turns giving each other massages, facials, foot rubs, etc. We're sure this date night will leave you feeling your best!
3. Sightsee via a virtual museum or art gallery
Expand your knowledge of culture and art with a museum or gallery tour like never before! Many museums and art galleries are currently offering virtual tours, and we love the idea of grabbing your favorite bottle of wine and setting up for an at-home museum experience.
We think these virtual tours might pique your interest:
4. Attend a virtual concert or show
We are loving the ability to tune into our favorite artist's concerts and shows! Whether you're tuning in to someone big or supporting a local musician, put on your best concert wear and get ready to rock in the living room. Want to take your at-home concert to the next level? We love these speakers that you can connect to your TV or mobile device for a little extra "umph."
5. Learn about your personality types
There are tons and tons of personality quizzes out there, and we realize a test cannot define everything about a person, but taking the time to be a little introspective can be fun. Once you take the test, discuss your results together and what it means for how you interact with each other.
Not sure which test to take? The Enneagram Institute Assessment is one of our faves!
6. Plan your wedding (for engaged couples, of course)
If you're on our blog, changes are you might be planning a wedding. We're so happy you are here! We are here to help every step of the way, especially if you're planning your wedding from home right now. Some of our couples have told us that when they were planning their wedding they would make it a date night — with wine, cheese, fancy dinner, dessert, you name it! This helps keep wedding planning joyful and ensures you're making the time to plan together.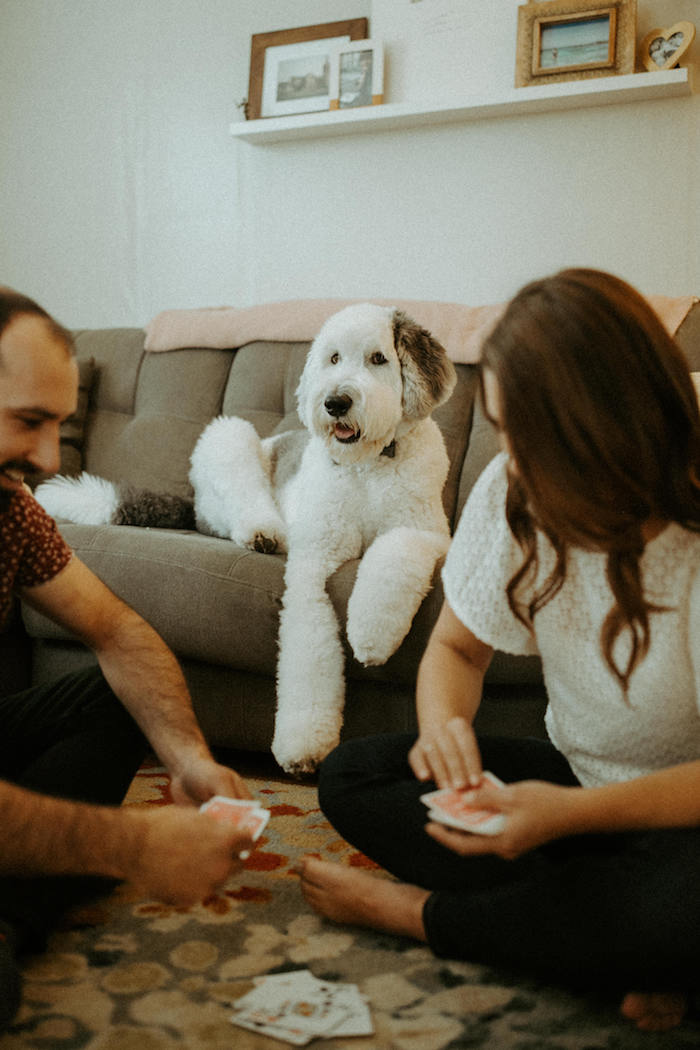 photo by Dawn Photo
7. Play a game
What was your favorite childhood board game? Take turns picking your all-time favorite games to play all night. If you're not into board games, that's ok! Things like dice, cards, and dominoes are easy to pick up from your essential business stores and can provide a little entertainment that also challenges to engage different parts of your brain. We're all about keeping our minds fresh during all this time at home!
Here are some of the Junebug team's favorite games to play:
8. Create your own wine or beer tasting
You don't have to live close to a winery or brewery to have your own tasting! On your next grocery store run, pick up a few craft beers or wines to taste. There are a lot of free resources online that you can print out to make your tasting totally official.
And if you need something to pour your beverage into, we've got you covered! Check out these beer tasting glasses or wine tasting glasses that are available for quick delivery on Amazon.
9. Create something
The possibilities are endless with this one! Maybe you want to DIY some new art for your home, build a new piece of furniture, invent the latest-and-greatest IKEA hack, whatever it might be we encourage you to create together. Every time you look at the thing you made will remind you of how you work well together as a team!
10. Sing karaoke all night long
Wanna know the best thing about karaoke at home? You can belt out your most off-pitched note and only your person is there to judge you. Well, hopefully they're just laughing and singing right along with you! Letting your guard down and singing your favorite tunes can be the perfect way to release some endorphins with your person. You can find pretty much any popular karaoke song on YouTube by searching the name + karaoke.
Ready to level up? We love this rose gold wireless Bluetooth karaoke microphone.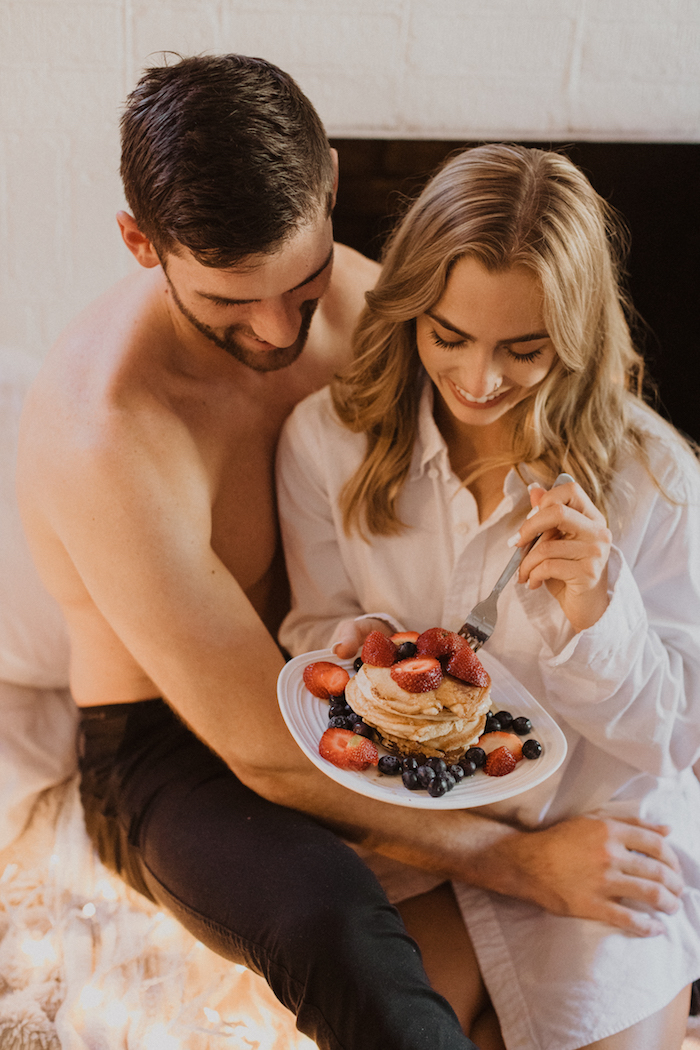 photo by Lyndsey Anne Photography
11. Put on a cooking show for your friends and family
If you really want to spice things up (pun intended), have your friends and family tune in while you and your boo teach them how to make your favorite dish. We're sure you'll all be laughing along, plus your crew will appreciate a new meal idea! It's a win-win.
12. Color in coloring books
Coloring books are proven to help adults relax and can also even improve focusing, problem solving, and organizational skills. Plus, they're just a lot of fun! We think you and your partner will love the bonding experience a simple coloring sheet can bring.
13. Work on a puzzle together
Just like coloring, puzzles can be a great avenue to enjoy while also boosting your brain. Clear off the kitchen table and get ready for a night of finding each piece's perfect match (we had to be a little cheesy with that one). Bonus tip: You can even get a custom puzzle made from a favorite photo and turn it into a piece of art for your home!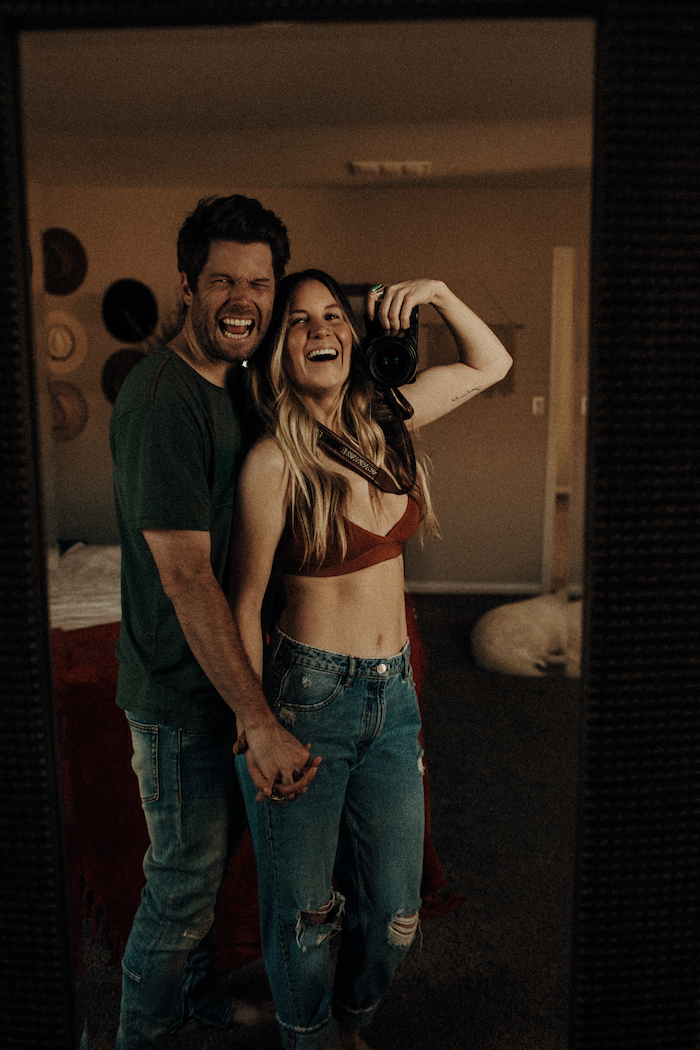 photo by The Light and the Love Photography
14. Have a photoshoot
Can you tell we love photos around here? Even if you don't have one of our rockstar photographers there to capture every moment, we encourage you to snap some photos of each other on your own! You'd be surprised how much fun you can have playing photographer with each other. Pro tip: Print the photos! Even if you just took them with your iPhone.
15. Ask 20 thought-provoking questions
It's so easy to get lost in the day-to-day of our relationships that we forget to dig into the other person's mind. If you're in an intimate relationship, exploring each other's thoughts can be an extremely powerful bonding activity. Taking the time to ask deep, meaningful questions can help you and your partner connect. You can even purchase decks of cards to help prompt these questions, like We're Not Really Strangers.
Want some ideas right now? Here are three questions to get your juices flowing:
If a crystal ball could tell you the truth about your life, the world, or anything else, what would you want to know? Why?
What's one thing you can do to better take care of yourself? How can I support you in doing that?
Tell me about something creative you did when you were younger that you no longer do. Why don't you do it anymore?
16. Try a new at-home exercise class
Getting your blood pumping is one of the best ways to release endorphins and boost your mood. So why not do it together? Trying a new style of workout might be the perfect bonding activity for the two of you. Search for things like, at-home yoga, pilates, cardio kickboxing, dance cardio, etc. and choose one to do together!
Here are some favorite virtual exercise classes from the Junebug team:
17. Re-arrange a room in your home
Read up on feng shui and re-arrange one of the rooms in your home! Changing up your environment (especially if you are spending a lot of time in it) can be an awesome way to get inspired be your space again. Plus, we love the idea of doing it together. You may have to work on your compromising skills with this one — but we know you can do it!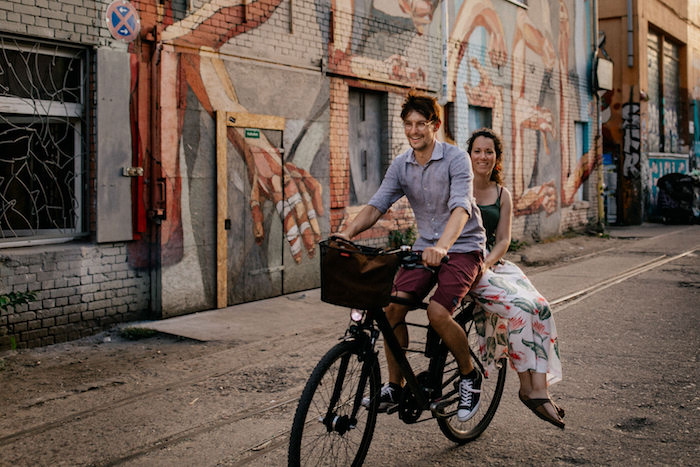 photo by Maria Luise Bauer
18. Picnic in the backyard or nearby park
When is the last time you had a picnic? Getting some fresh air and enjoying some homemade sandwiches might be just what your soul needs! Pro tip: This can also make an awesome photo opportunity for your memory books.
19. Journal
Journaling together might sound strange at first, but it can be a powerful way to connect with each other. First, decide on a prompt. If you don't know where to start, a simple Google search of couple's journaling prompts can provide lots of recommendations. Then, write. That's it! You don't even have to share out loud. Maybe you journal together for a week and then have a dinner date on Saturday night to discuss some of the thoughts you wrote about. Make it your own!
We love these couples' journals that come pre-made with prompts for both of you.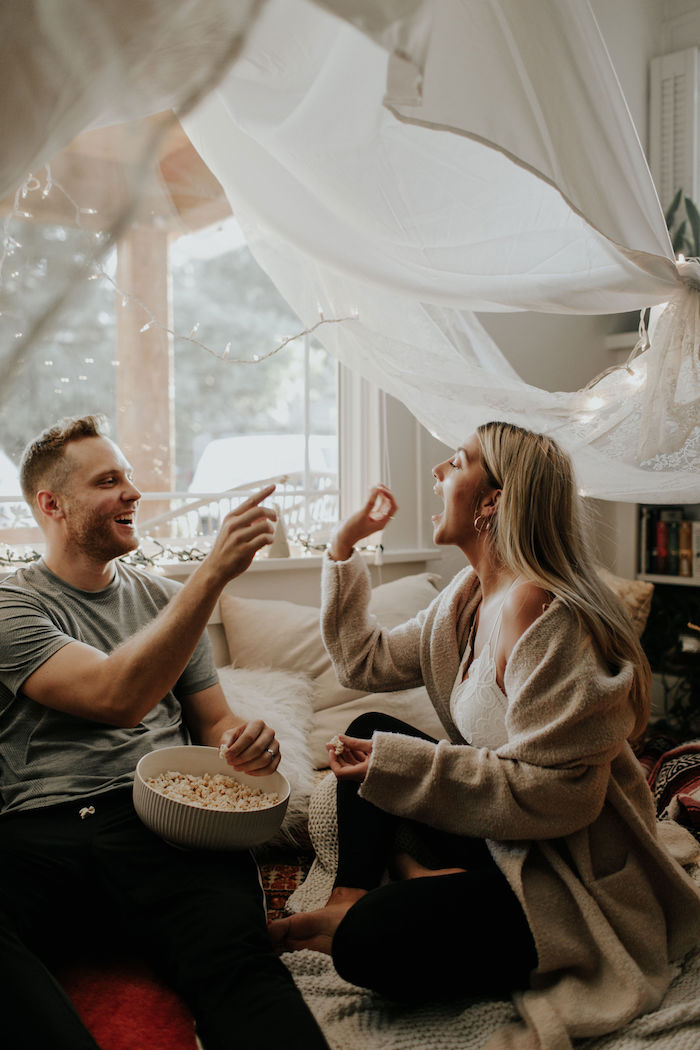 photo by Melissa Marshall
20. Build a fort in the living room
There's nothing better than a living room fort. Really, though. What's better? Tune into your playful side and build an awesome fort to snuggle in with your person. Even if you are tuning into Netflix, this can take your game to the next level! P.S. Don't forget the popcorn and string lights!
21. Plan a white elephant gift exchange
Alright. Hear us out on this one. We know it's not the holidays, and you're not sitting in a circle with friends, but who's to say you can't have a little fun as a duo on this one? Determine a dollar amount for each of you to spend, then you each try to come up with the most clever idea for a gift, wrap it (go all out), and have an opening date night. The person who bought the best gift gets a back massage!
22. Play truth or dare
Are you having middle school flashbacks? Same! Feel free to take this game wherever you want. We recommend adding cocktails (it's OK to combine some of these at-home date night ideas, after all), which can be a tasty addition to this date!
Not quite the mixologist? Here are some at-home cocktail kits you can order online:
23. Interview each other
If you're one for reminiscing and dreaming about what your grandkids will admire about your marriage one day, this is for you. Interview—and record—your love story! Take turns asking each other about when you met and what you liked (or maybe didn't like) about the other person. Create a memory for the generations!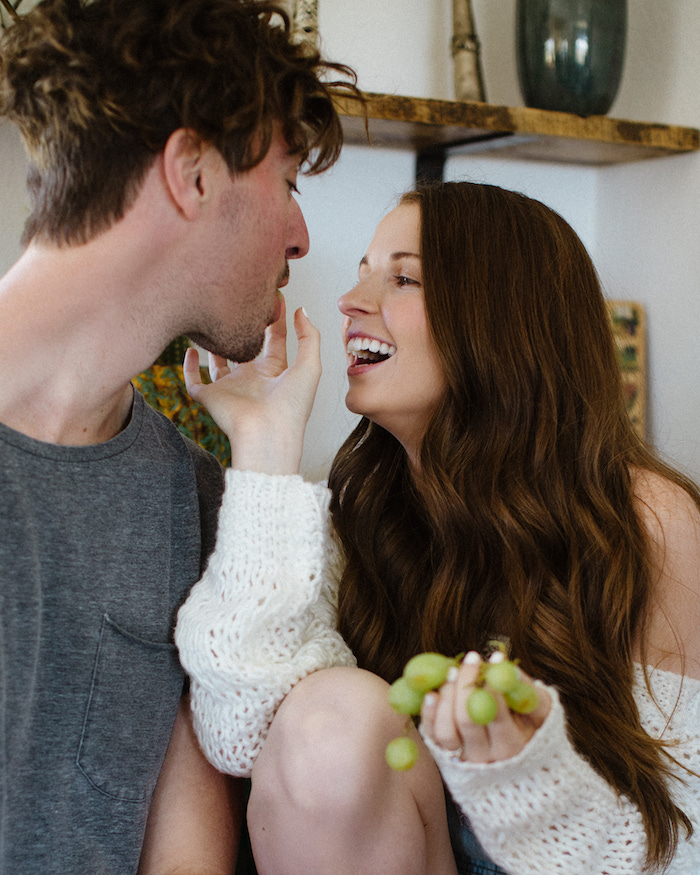 photo by Chelsea Fabrizio
24. Make a new meal, dessert, or cocktail
Couples who cook together, stay together! The key to this one is to go all-in together from the beginning. Spend some time searching on Pinterest for the perfect recipe (or five-course meal), make your grocery list, head to the store, grab some matching aprons, and start cooking like the chefs you are!
25. Go on a walk around the neighborhood
We all might be doing this a little more than often during quarantine times, but if you haven't done it yet — give it a try! You can even use your iPhone (put away in your pocket, of course) to map your route and track your heart rate along the way. Try and pick a path you haven't done before or even adventure to a different neighborhood!
26. Stargaze from home or a nearby area
Have you ever Googled "best places to stargaze + your town?" Give it a try! You might be surprised at the places you can go nearby to see some awesome constellations. We also recommend you Night Sky app that can assist you in finding all the star patterns!
27. Write letters to your family and friends
Snail mail is the best mail! Are we right? Take a trip back in time and write your family and friends sweet (or funny) notes. Pro tip: Since you're already collecting their addresses, go ahead and put them in an address book so you have them on hand the next time you want to send a letter or gift!
28. Read the same book
Even if you might not both be totally into reading, we encourage you to at least give this one a try! Bonding over a book can be similar to bonding over a favorite Netflix show, but it's a little more hands-on than sitting in front of the screen. We know this can be a little intimidating, so our team came up with a few suggestions to ease you in: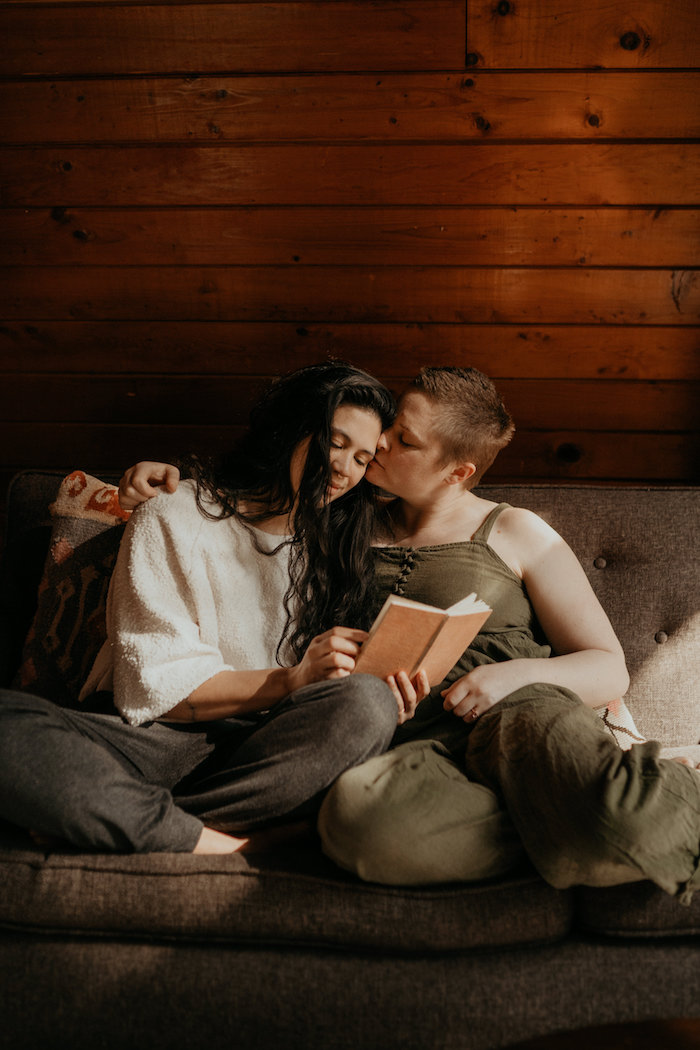 photo by Henry Tieu
29. Get a virtual tarot card reading
If you regularly get your tarot cards read, you may know of someone local who is offering these services for free! There are also many small boutiques and venues offering these via Instagram Live. Simply do a search on Instagram or Google to see what you might find. You can also purchase your own tarot card reading kit for those looking to take it to the next level!
30. Laugh with a round of MadLibs
This game never gets old! And yes, you can still purchase MadLibs online. If you're looking for a last-minute date activity, there's also an Adult Mad Libs app that's sure to be tons of fun!
31. Go on a scavenger hunt
Involve your family and friends in this one! Ask them to put together a scavenger hunt for the two of you and send it an hour before your date. That way, it will be a total surprise and you know you'll have people waiting to hear where you end up!
32. Dig into your family trees
If you're looking for at-home date night ideas that you can get lost in for hours, this one is for you. First, call up your relatives and ask them questions about your ancestry to see what knowledge you can gather on your own. Then, you can use a resource like Ancestry.com to dig even deeper!
33. Make your own waterpark
Do you have a backyard? Is the weather starting to warm up where you live? If so, we've got you covered with number thirty-three of our list of at-home date night ideas! DIY your own waterpark in the backyard. You can go the easy route with a simple watering hose and tarp, or be a little extra with some of these backyard water games:
34. Become master of a foreign language
Learning a new language together can be an awesome bonding activity. You'll be able to speak to each other in another language—and we don't know what's sexier than that. Plus, after we can all travel freely again, this will be incredibly useful for your next international vacation (just make sure you align the language with the destination).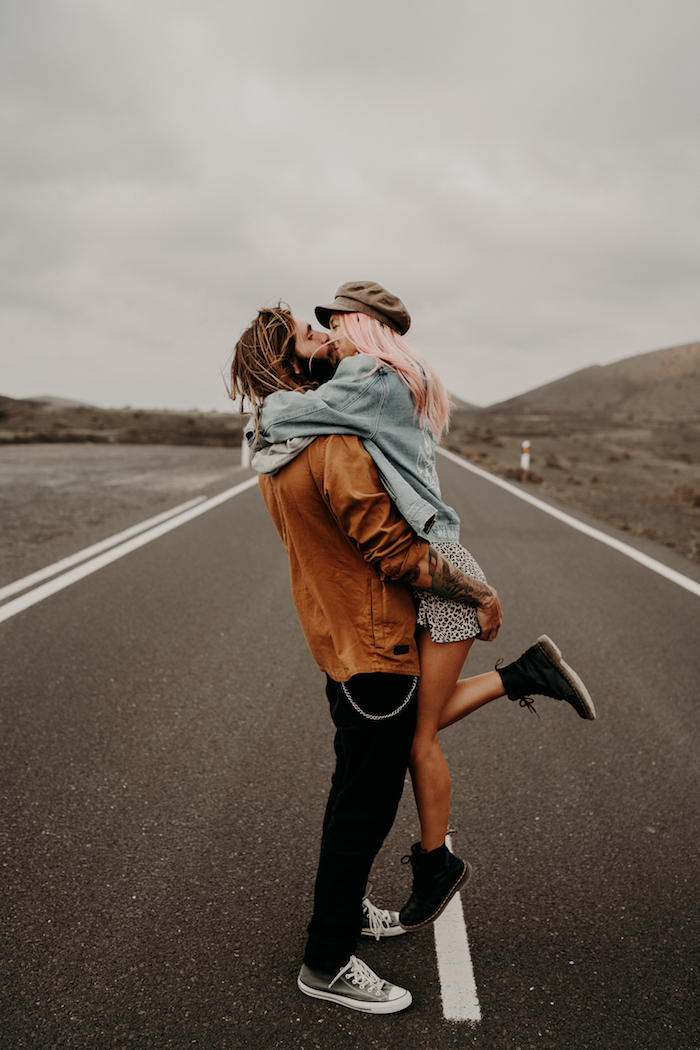 photo by The Quirky
35. Hit the open road for a drive
Okay, we know. This isn't exactly an at-home date idea, but we think it's pretty rad and wanted to sneak it in here anyways. Before you jump in your car and hit the road we have a few suggestions! Pick a destination you've never been before. Ideally, this is a bit of a longer trip (between 1 – 2 hours) and somewhere you can get out and walk around when you arrive. Maybe it's a state park or even a rest stop on the side of the road you can picnic at! Make sure to also pack your fave road trip snacks and curate the ultimate playlist.
36. Create an ultimate playlist
We love music around here. So, if you're anything like us, making a new playlist can be as exciting as getting a present! Come up with "your" mix together and then spend the night listening to it!
37. Play "Would You Rather?"
You've probably played this game at a party with friends or maybe on Instagram Stories. Take some time separately to come up with a few "Would You Rather?" prompts. You can take this to the next level by writing them all down so you remember what each person answered! It could even make a fun wall art print.
38. Throw a party. Yes, a party!
Usually when we think "party" we imagine dancing, balloons, drinks, fun outfits, etc. Who's to say you can't throw a party for just the two of you? And we love a good party—which is why this is one of our favorite at-home date night ideas. Grab some streamers and decorations and set up your atmosphere. Maybe you even grab supplies for beer pong or prosecco pong!
Here are some of our favorite house party items you can buy on Amazon:
39. Write down a bucket list
If you've never actually written down a bucket list, now is the time. You might be surprised to find out some of the things your partner dreams of doing together one day. No idea is off limits!
40. Just talk
When's the last time you sat down to talk? You know, like when you first started dating and would sit on the couch, look into each other's eyes, and just get to know who the other person is. No technology going in the background. Just undistracted one-on-one conversation. If it was yesterday—good job! Seriously, give yourselves a pat on the back for investing in your relationship in that way. But, if it's been a while, we encourage you to make this space for the two of you to connect and enjoy each other again.
We hope these at-home date night ideas have you excited and adding some fun to your relationship! Looking for more things to do at home?
Bridal Loungewear for Comfy Wedding Planning At Home
10 Wedding Planning Tasks You Can Tackle from Home
Cancelled Wedding? These Wedding Alternatives Will Help You Celebrate Your Love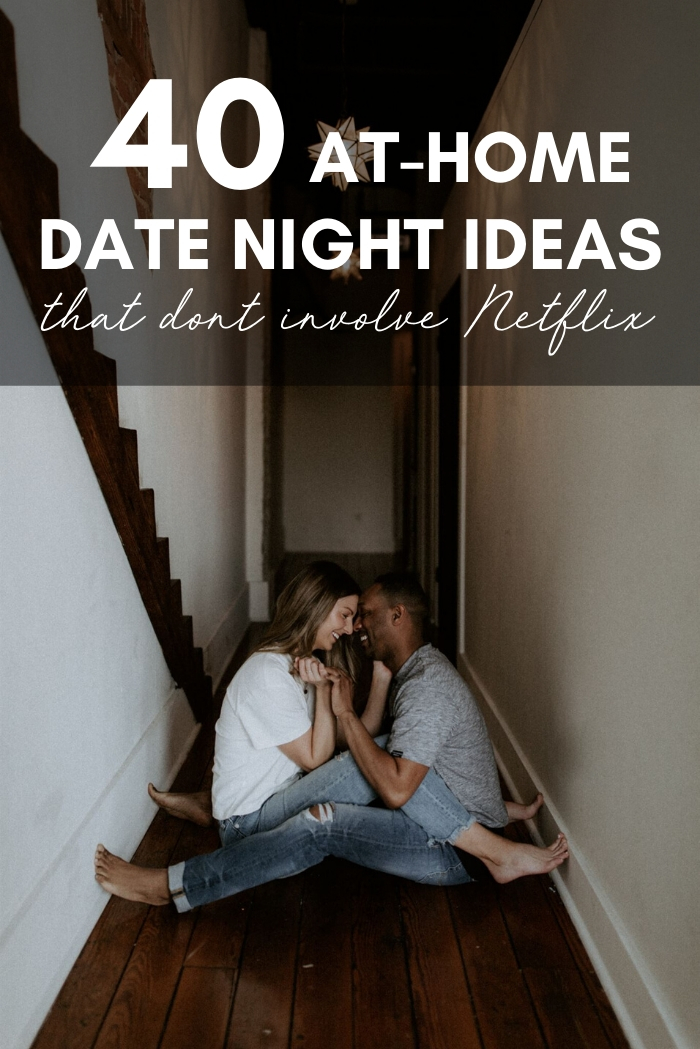 photo by The Dogwood Collective