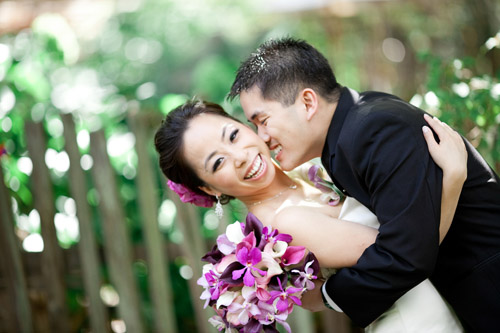 Leave it to top Southern California photographer Caroline Tran to bring us a wedding that's packed full of the prettiest wedding colors, decor details, and happy, happy people! Tina and Alan's Menlo Park, California wedding is a true treat!

The Goals: Tina and Alan wanted an outdoor garden wedding with a fun atmosphere, and they really found what they were looking for in a venue with the Allied Arts Guild in Menlo Park, California. "The Allied Arts Guild was a gorgeous venue and it was love at first sight. In the ceremony area, we loved the hydrangeas that surrounded the fountain, and the tree we stood under as we said our vows. It allowed us to have a perfect September afternoon wedding."

The Design: Wedding colors of pink, purple, fuchsia and ivory were chosen to decorate this modern, romantic wedding, and were woven throughout many, many details of the day. Tina and Alan wanted their colors to contrast with the greenery of the garden venue and really make the ceremony and reception areas pop. Another sweet recurring wedding detail they loved was the pair of custom Kokeshi caketopper dolls they used not only on top of their wedding cake, but also on their invitation's RSVP return envelope stamps, and as magnet wedding favors. And to beat the late summer heat? A Pinkberry frozen yogurt truck at the reception!
To honor Tina and Alan's Chinese heritage their wedding invitations were written in both English and Chinese, and they held a traditional Chinese tea ceremony to honor their elders and receive their blessings. Love that meaningful addition!
The Look: Tina wanted a modern and clean yet romantic bridal look, so she wore a trumpet shaped wedding dress with ruffles by Alvina Valenta along with fresh flowers in her hair, and most importantly a diamond-encrusted necklace that was designed and hand-made by Alan's father, a jeweler.

The Moments: When Tina looks back on their wedding day, she loves thinking of their ceremony under that big, beautiful tree, "Even though we were surrounded by our friends and family, it felt like it was just the two of us in the whole entire world. It was so emotional for us. When we said our vows to each other, it was the happiest moment of my life."
Another moment that must have been so sentimental for everyone in attendance (it makes me tear up just imagining it!) was when Tina and Alan honored their families in such a respectful and wonderful way. "Both our families immigrated to the US and they sacrificed a lot to get to where we are today. We wanted them to know how much we love them and appreciate everything they have done for us, so we called them up to the "stage" in front of all of our friends and family and told them how much we loved them and thanked them for raising us. It was an extremely emotional and sentimental moment for all of us." What a wonderfully love-filled day!
The Pros: To lean about all of the extremely talented wedding professionals who contributed to this wedding, be sure to visit Tina and Alan's page in our Real Wedding section!

Thank you for sharing your beautiful wedding with us Tina and Alan!
To plan your own Southern California or Seattle area wedding, browse our Plan Your Wedding Hotlists! And to find a dream wedding photographer for your wedding anywhere in the world, be sure to check out Junebug's World's Best Wedding Photographers Hotlist!
And see more purple wedding color ideas in our wedding photo gallery!