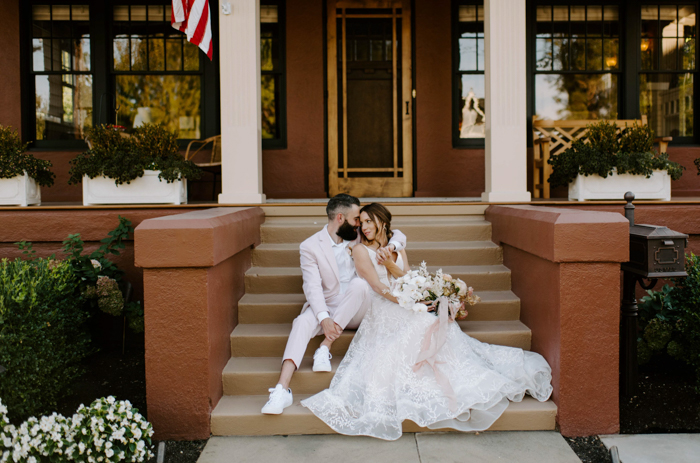 photo by Peyton Rainey Photography
Wedding planning is stressful. Trying to get married in the middle of a global pandemic is even more difficult. Our hearts truly go out to all the couples who are enduring the 2020 wedding planning battle, especially those who are preparing for their 2021 nuptials! We want you to know how much we are thinking about you during these unprecedented times. Rather than fret, our team decided to find incredible wedding alternatives to help celebrate your love without COVID ruining your special day!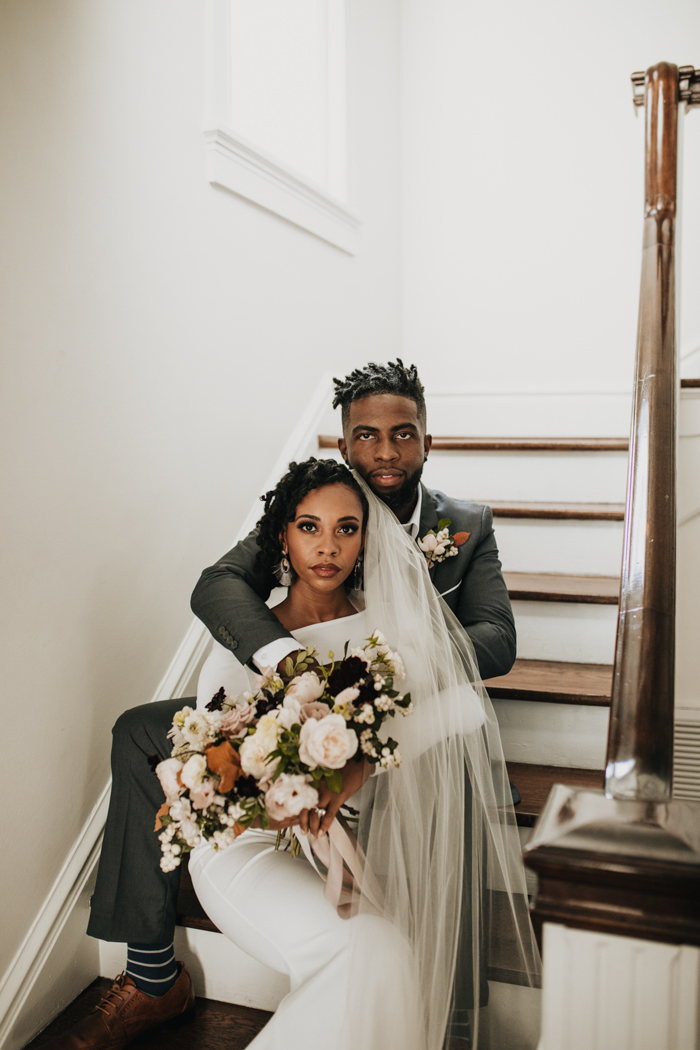 photo by Avonné Photography
1. Host A Virtual Wedding
With work, school, and even many sports being moved to online, the idea of hosting a virtual wedding is one of the safest options. Imagine your wedding taking place virtually so that your family and friends can watch from home as you marry your true love.
There are so many options for you to showcase your wedding with some familiar video conferencing options like Zoom, FaceTime, Skype, Google Hangouts, Facebook Messenger, Facebook Live, or even Instagram Live! You, or your expert wedding planner, will want to make sure that wherever you choose to say your I do's has a strong wifi connection, outlets, and that you're using good quality recording equipment like a laptop or cell phone. We also recommend sending out instructions to go with your virtual wedding to make sure that everyone mutes their microphones—we've heard the stories!
This Virtual Wedding Proved Love Is All You Need
Take Jennifer's experience from her own virtual wedding. Her heartfelt message about their experience proves how a simple virtual wedding can still be a beautiful and intimate affair.
My fiancé and I planned our dream wedding and looked forward to what was supposed to be the best day ever. Like many couples around the world, we were forced to postpone due to the COVID-19 pandemic. We went through plan A, B, and finally C with all the restrictions and rules changing daily. Despite all the stressful cancellations and postponements we still wanted to get married and celebrate our love. With a limited but amazing team, we made it happen and shared our moment virtually through a Zoom conference call. The day was so beautiful, special, and intimate. Love is all that we need.
2. Elope Now, Party Later!
Eloping may seem underwhelming and you might be picturing celebrity Vegas elopements that ended poorly. While there is nothing wrong with getting married by Elvis, you can elope anywhere you want.
Many couples elope in places that are COVID-19-free such as their homes, at Airbnbs, or even places like the desert—the list goes on and on. Elopement locations are endless! Grab someone to officiate the ceremony, an expert photographer—who can capture your love while also acting as your witness—and let your love be the focus. When the pandemic has settled down, grab all your family and friends for the party of the century.
3. Get Married In Your Backyard—With Pets As Witnesses
Okay, you do actually need a human witness, but being at home means you get to celebrate with all of your pets—every single one. Since you're at home, you might as well throw the ultimate backyard wedding in your very own backyard.
We're suckers for an intimate wedding and obviously a pup-of-honor. Check out this East Texas backyard wedding and this backyard wedding in Manitoba to get inspired by other real backyard weddings.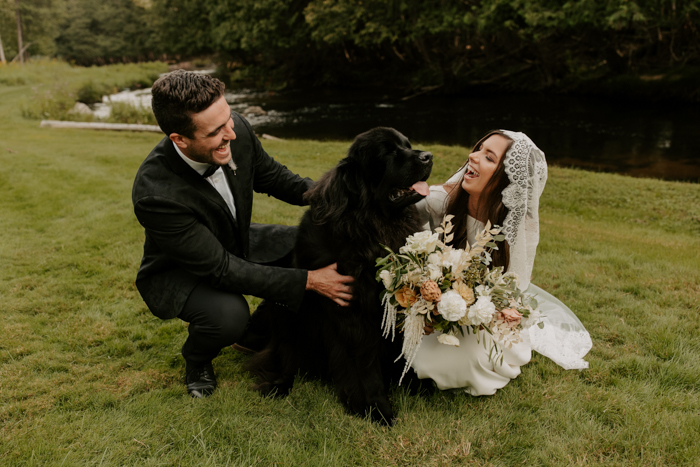 photo by Autumn Nicole Photography
4. Host A Microwedding With Social Distancing And Matching Masks
If your heart is set on throwing a wedding, do it safely. Consider a microwedding with less people, social distancing, and an outdoor ceremony. Every country and state is different, so check group sizes for weddings in your local area—and these national recommendations.
Not sure where to start? We've got guides to help you host a microwedding and figure out how to trim your guest list. You can also send your guests a custom wedding mask or provide them when they arrive. Some masks can be worn over N-95s, which is a big plus to keep guests extra safe!
SHOP WEDDING MASKS
5. Organize A Car Parade
Use a car parade to celebrate your marriage. Invite friends and family who live a drivable distance to drive down your street while you and your spouse wave. Let guests know they can still dress for the occasion, since you'll be in your wedding outfits.
Junebug Tip:
6. Start Planning The Greatest Dinner Party Of All Time
If you've made the difficult decision to postpone your reception until a later date, you can opt for something a little less "traditional" while you're at it. Guests love a good dinner party and it's a brilliant way to host a more intimate gathering with your closest loved ones at a later date. Plus, if you've already booked a catering team, they will likely let you roll over your deposits to host a dinner party!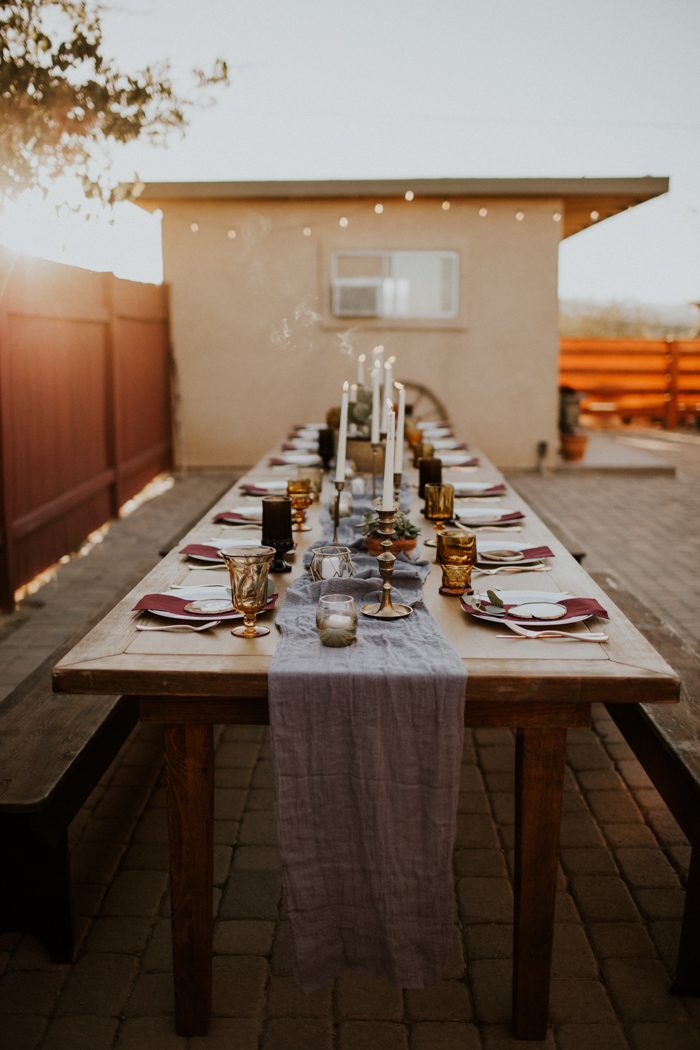 photo by Brooke Miller Photography; location: Secluded High Desert Homestead
7. Create An At-Home Sweetheart Table—With Cocktails, Sweets, And Eats
Stay at home orders don't have to dampen your spirits. We encourage you to take advantage of the time to create an extra-special sweetheart tablescape that will have you forgetting you're even in your own house! Order-in a fancy meal—or make one yourself—get a beautiful flower arrangement from a florist, and don't forget the cake!
Junebug Tip:
If cake isn't your thing, you can always opt for a less traditional dessert like crème brûlée, donuts, or even pies!
8. Request Letters from Guests To Read On Your Wedding Date
Handwritten letters will never go out of style. If your loved ones are far away, consider asking them to send letters to read on the morning of your original wedding date. Not only will these make you cry, laugh, and everything in between, but they will be an extra sentimental keepsake to hold on to forever. You will feel all the love and well-wishes in the world rather than feeling canceled.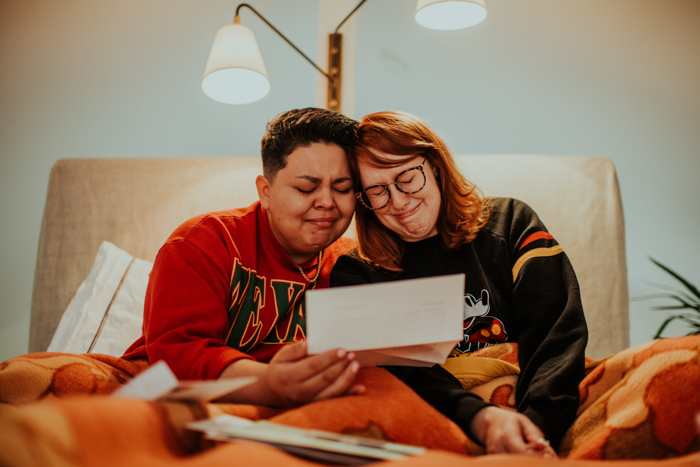 photo by Maggie Grace Photography
9. Play The Newlywed Game Via Houseparty
Have you heard of the app Houseparty? It's a way for you to get together virtually with your friends— it even has games like trivia and heads up. In addition to the pre-loaded games, have your friends come up with some newlywed questions and games to be interactive with your guests. Celebrate your love and make it fun—playing games in your pjs with your friends and the new spouse is a lot of fun.
10. Plan A Staycation Honeymoon
It may not be the honeymoon of your dreams, but a staycation with your new spouse is exactly what you need. A pandemic won't stop you from spending some special quality time doing bubble baths, massages, or mani/pedis. Whether it is in your own home, an Airbnb, or a local bed and breakfast, a staycation honeymoon is the perfect opportunity to create your own wedding alternative.
We know how difficult planning and replanning a wedding can be. At Junebug, we're here for you every step of the way. If you're searching for more COVID-19 related posts, we've got you covered with all the advice to tackle planning from home and how to keep your relationship stronger than ever. Keep your chin up, it will get better and we'll celebrate your love along the way.
If you're ready to put one of these amazing ideas into motion, reach out to one of our expert wedding planners to get started.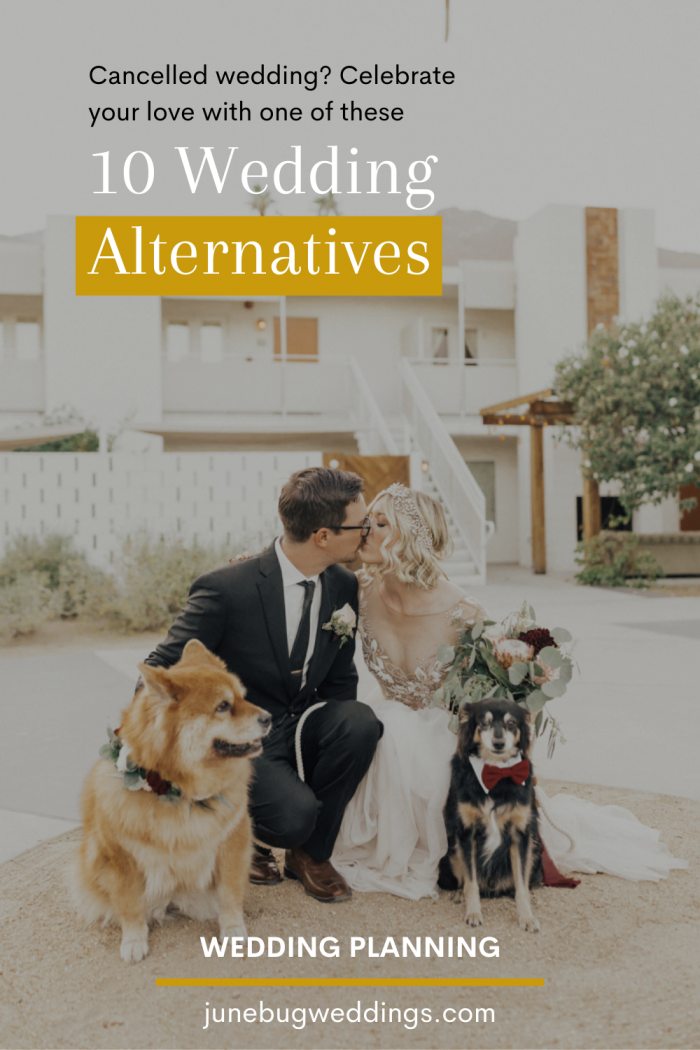 photo by Kaylee Chelsea Photography