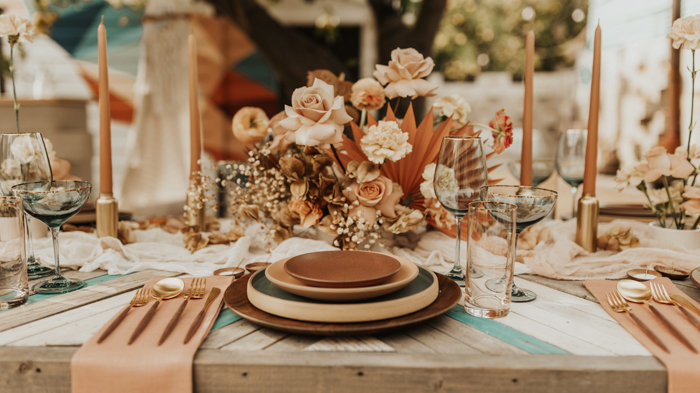 photo by Sydnee Marie Photography, design & styling by Mae&Co Creative
If you're feeling overwhelmed by wedding planning during COVID-19, you're not alone. The global coronavirus pandemic is affecting us all and couples planning their weddings in 2020 and 2021 are faced with unique challenges that are totally unprecedented. Our mission at Junebug is to help take the stress out of wedding planning so you can create a celebration worthy of your love. While we don't have a magic wand to transport your guests safely to your ceremony (wouldn't that be cool right about now?), we do want to offer some expert wedding planning advice for navigating this complicated experience. Let's take a deep breath (whew, that felt good!) and dive in.
Safety measures during COVID-19
While we may be experts in wedding planning, we are certainly not medical experts! For information on staying safe and preventing the spread of COVID-19, we recommend following up with the Centers for Disease Control and Prevention (CDC) and World Health Organization (WHO). Stay informed and avoid misinformation by checking in with WHO's COVID-19 myth buster page.
I'm planning a spring 2020 wedding — what do I need to know right now?
If you are planning a wedding for March, April, or May 2020, postponing is the safest and recommended choice. As of March 16, the White House is advising that gatherings of more than 10 people postpone for the next two weeks and the CDC has asked the United States public to comply with postponing gatherings of more than 50 people for the next eight weeks starting March 15.
Planning a wedding is stressful enough without a global pandemic changing your plans. Please know that it is okay to grieve your original wedding plans in the event that you must postpone or even cancel your wedding. So many hours, emails, decisions, and dreams went into the day you thought would be happening in the next couple of months. Feeling disappointed or frustrated by the lack of control you have in the situation is normal. This is a great time to lean on your family, wedding party, and your partner as you make difficult decisions about what to do next.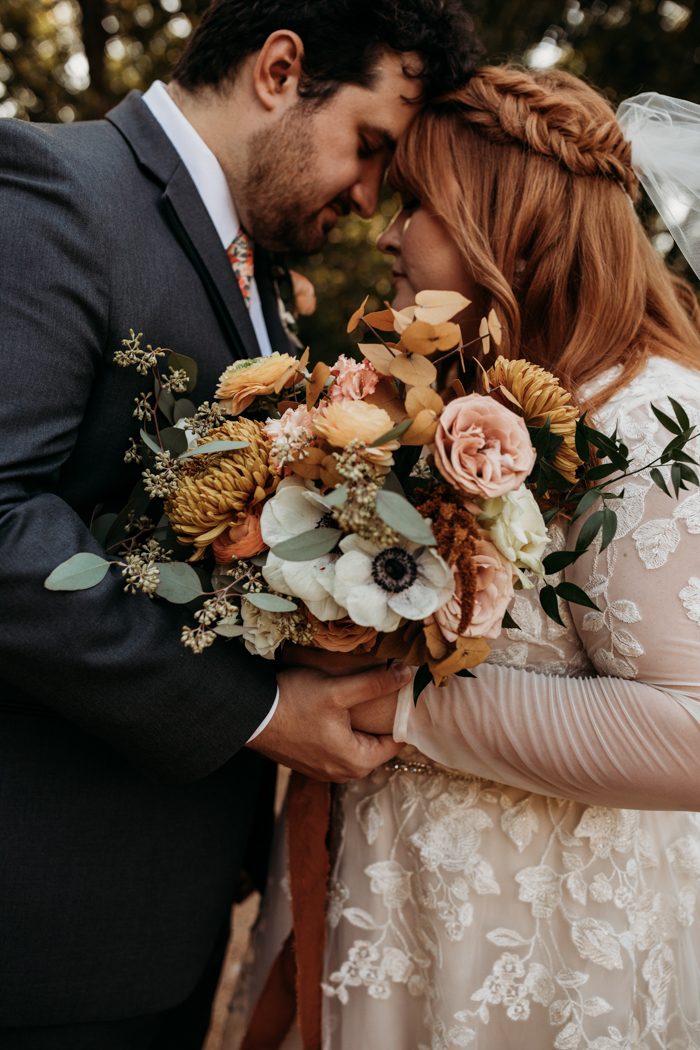 photo by Brittany Gilbert Photography
How do we choose a new date for our wedding?
Choosing your wedding date the first time may or may not have been an easy task, but this time around there is even more to consider. Here are the first people you should check in with before setting a new wedding date:
Your partner (duh!)
Your immediate and must-have family members
Your wedding party
Your vendors
After you've gotten any absolutely-not weekends out of the way with must-have family and friends, it's important to get in touch with your vendors as soon as possible. If you are hoping to keep a 2020 date, you may need to be open to another day of the week as many vendors have filled up their Saturdays for the year. You will also want to consider the season of your new wedding date. If you're moving to a fall 2020 wedding, the style of your day may change with different weather conditions, color trends, and in-season florals. If a spring wedding is what you've always dreamed of, talk to your vendors about moving to a spring 2021 date.
Once you've made a decision to cancel or postpone, send your guests Change the Date cards to alert them of need-to-know information. This may include your new wedding date or a simple announcement that your plans have changed and to keep an eye out for more information. If you haven't already, this would be a great time to set up a wedding website (which you can link on your Change the Date card!) where you can provide updates to guests as they happen. Most wedding websites also allow you to contact your guests all at once through your site, which is just another great reason to have one. Our friends at Minted have some helpful tips for wording your postponement cards as well!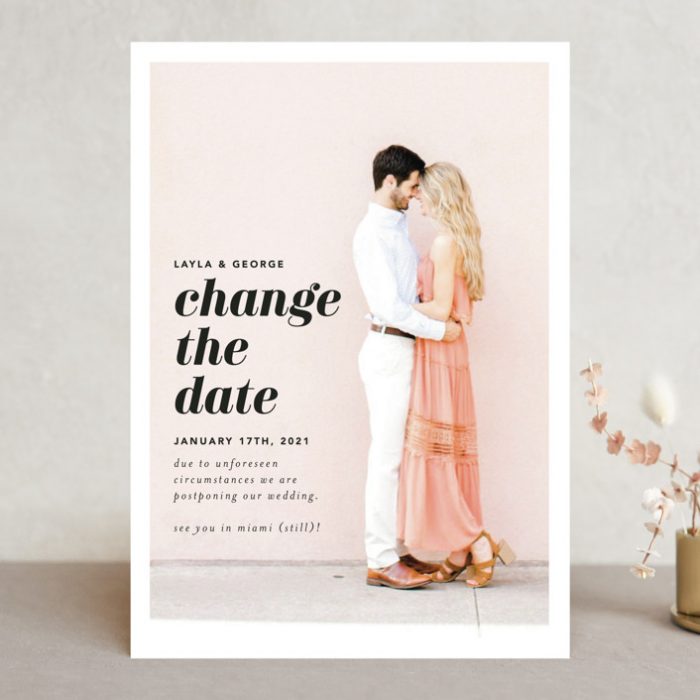 Meet Us In Miami card via Minted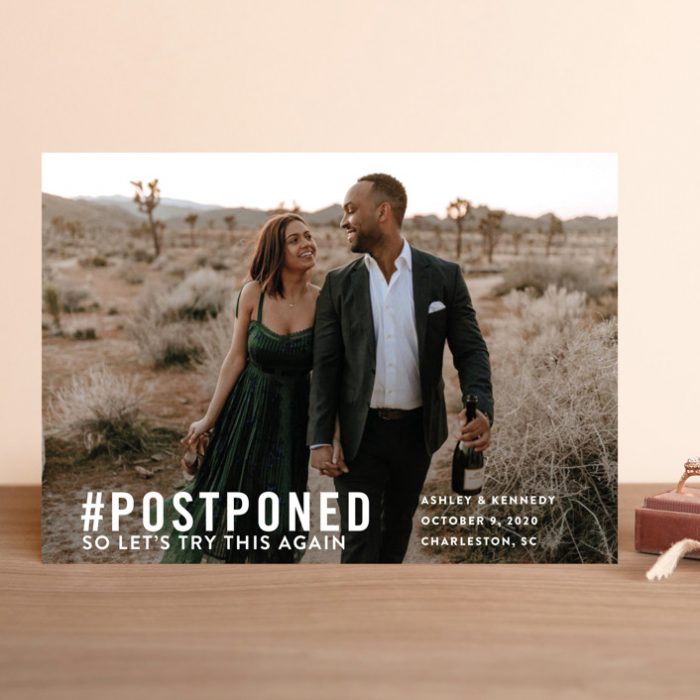 Free Drinks card via Minted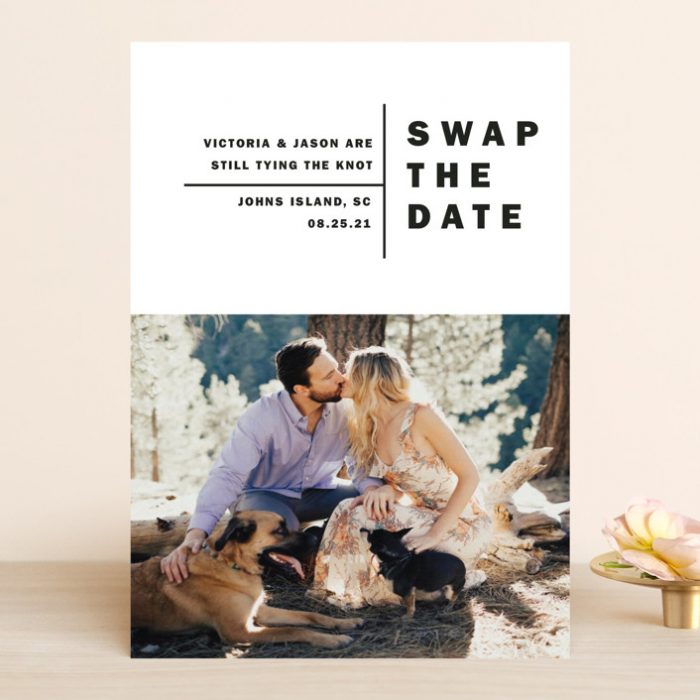 Baseline card via Minted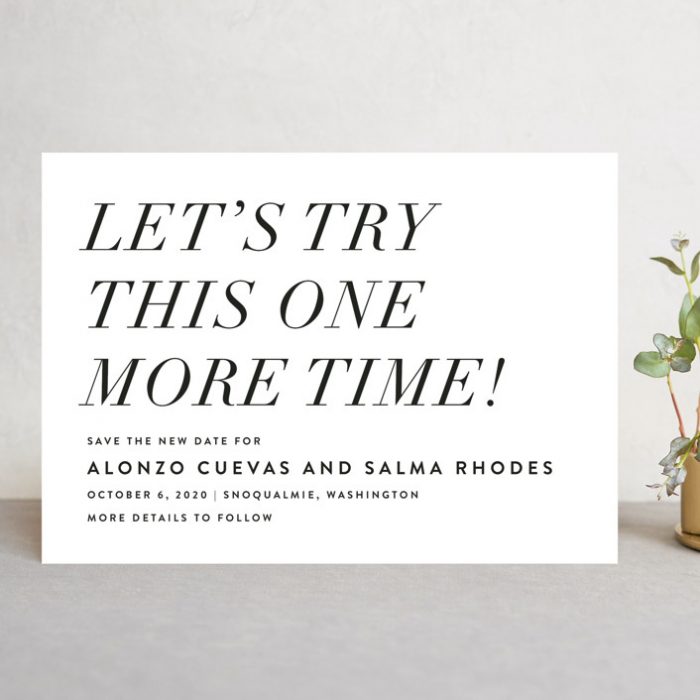 Bad Dancing card via Minted
RECOMMENDED READING: Change the Date Cards + Tips for Announcing Your Wedding Postponement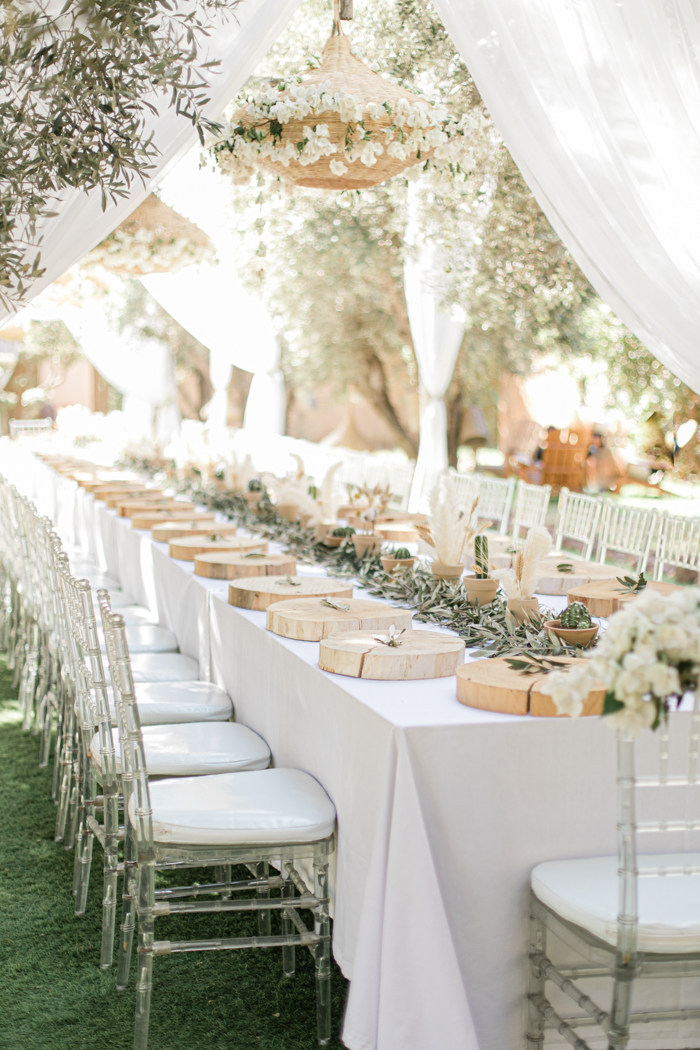 photo by Maddy Christina
What do I need to know about dealing with vendors and contracts when deciding to postpone or cancel our wedding?
The first step of managing your vendors is to take a look at your contracts. Each vendor you've hired will have different stipulations around postponing or canceling, so it's important to read the fine print before getting in touch. You especially want to check out the contract you have with your venue, as many will have a rescheduling clause that may help you avoid major costs due to canceling.
Speaking of canceling, we absolutely advocate for postponing your wedding date if at all possible. Canceling your wedding altogether can be a hit to your finances as well as your heart with losing hefty deposits, etc. Due to the weight of the circumstances, some vendors are allowing date changes without an additional fee, but be aware that dates outside of the financial year may come with additional fees for rate increases.
Keep in mind that wedding vendors are small businesses and they are greatly impacted by the affects of COVID-19. Many vendors are offering to credit your existing payments for a transferred date or towards other services (photo sessions, floral arrangements, etc.) if you ultimately decide not to move forward with a new wedding date.
We got in touch with Valentina Ring, the owner of London-based wedding planner The Stars Inside (check out her portfolio in our vendor directory!), to get a little more insight into how couples can communicate with their vendors through coronavirus. Here are the questions she recommends asking when contacting your vendors:
Discuss possible alternative dates right away so that you have a back-up plan ready and don't need to make a decision without knowing where your suppliers and venue stand in terms of availability. By looking at weekdays instead of weekends, and off-season dates instead of peak dates where you live, you're more likely to be able to move all your plans smoothly. Find out whether your deposit (or any other fees paid to date) are transferrable should the wedding be postponed.
Ask your suppliers whether there is a cut-off point for certain costs – for example, when your florist or caterer need to place their final order. They will work with you on a one-to-one basis and be as flexible as they can, but there may be a deadline beyond which certain costs have to be recovered if the event does not go forward as planned.
Find out what their policy as of one day, one week, or one month before the wedding if you end up needing to cancel or postpone at the last minute.
Discuss what their policy would be in case you end up needing to significantly reduce the scale of the wedding and just invite close family, or choose to hold the wedding ceremony but delay the reception. Would there be financial penalties for this?
Ask what would happen if postponing or cancelling is triggered as a result of the government or local authority banning social gatherings.
It's ok to ask if they have any contingencies in place in the case that they cannot fulfill their product/service due to illness. Do they know of other suppliers who may be able to help? They will more than likely be part of a wider network and can recommend an alternative for your date if they become unavailable.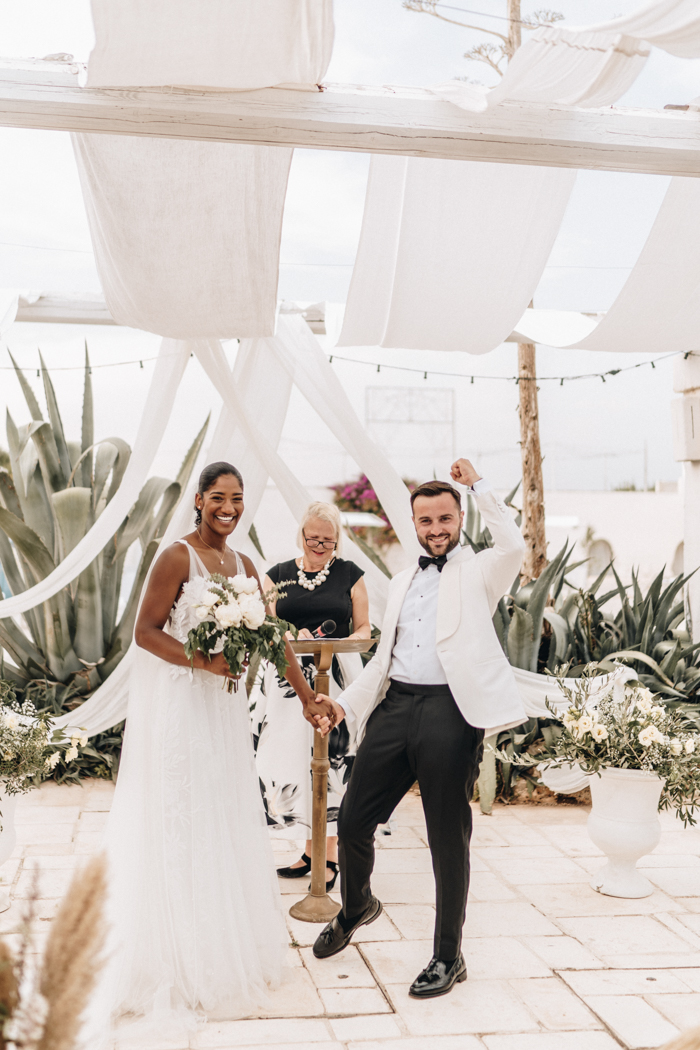 photo by Elina Upmane Photography
What steps do I need to take to postpone my wedding?
Thanks to The Stars Inside, we've got all the steps you need to take in order to postpone your wedding:
Take a deep breath and remind yourself that you can do this. With some patience, courage, ingenuity, and flexibility, you'll still be able to have the wedding you've always dreamed of. Treat this as an opportunity to prioritize the things that mean the most to you. And if you need to take some time to process, that's absolutely fine. No one could have anticipated something like this affecting your wedding, and you are not alone in fighting the emotions that have resulted from it. It's okay to feel the way that you're feeling.
If you have a wedding planner, contact them to let them know of your decision, and start tackling the to-do list proactively together.
Start by confirming the new date with your venue and all the suppliers that are able to accommodate it, with a clear overview of financial ramifications (whether any additional costs will be incurred or if all money paid/due is transferrable). Review the new payment schedule with them, and make sure to get agreements in writing. The goal is to disturb as little of the pre-set wedding plans as possible, and just shift the date – which means having a candid conversation with your whole team about how to make that happen.
For any suppliers that are definitely unable to make the new date, review the cancellation policies together and speak to your insurer about covering those costs. Ask these suppliers (or your wedding planner) for recommendations for other local vendors able to provide a service of similar type/style.
Send out your Change the Date cards

.

Contact your guests to let them know of the new plan, and what your revised date will be.

Don't worry about upsetting people; some may be disappointed for you, but the majority of your guests will actually be relieved that they don't have to make the decision themselves. I would recommend sharing the details that you are sure of, and leave out the ones you don't know yet. For example, if you are certain that you'll be postponing your wedding, but you're not sure when, don't give your guests the potential new dates. Just communicate candidly what you know and give them details about how they can stay up-to-date on information in the future.

Review the procedures needed for the legal part of your marriage. If you have given notice, it may be that this will have expired by the time your new date comes around, so you'll need to do that again. Speak to your officiant, your local council, and your wedding planner about navigating the new deadlines that may be triggered.
If you do have wedding insurance, make sure to contact them to update the details of your event. There may be a fee for this and you'll need to discuss whether the insurance covers postponed events. If you do not have insurance, don't beat yourself up about it. Many people don't think of it as a necessary expense and there is no way you could have predicted this. Now is the time to cover your new wedding date (you should be able to still do this provided your new wedding date is more than six months away). Be very careful of what policy you purchase and what you are covered for – be thorough and take your time speaking to experts.
Rethink your wedding details. Do you want this new celebration to look the same, even if you're celebrating in a different time of year? If so, that's fine – but if not, embracing this new seasonality can be a fun way to get excited about giving your celebration a new visual identity.
Once you've made your decision, try not to look back! Your experience will be more positive if you try to embrace the change and treat it as an opportunity to refine your plans and have an even more amazing celebration than you would otherwise have had.
Here's a handy checklist you can use as you work your way through the process!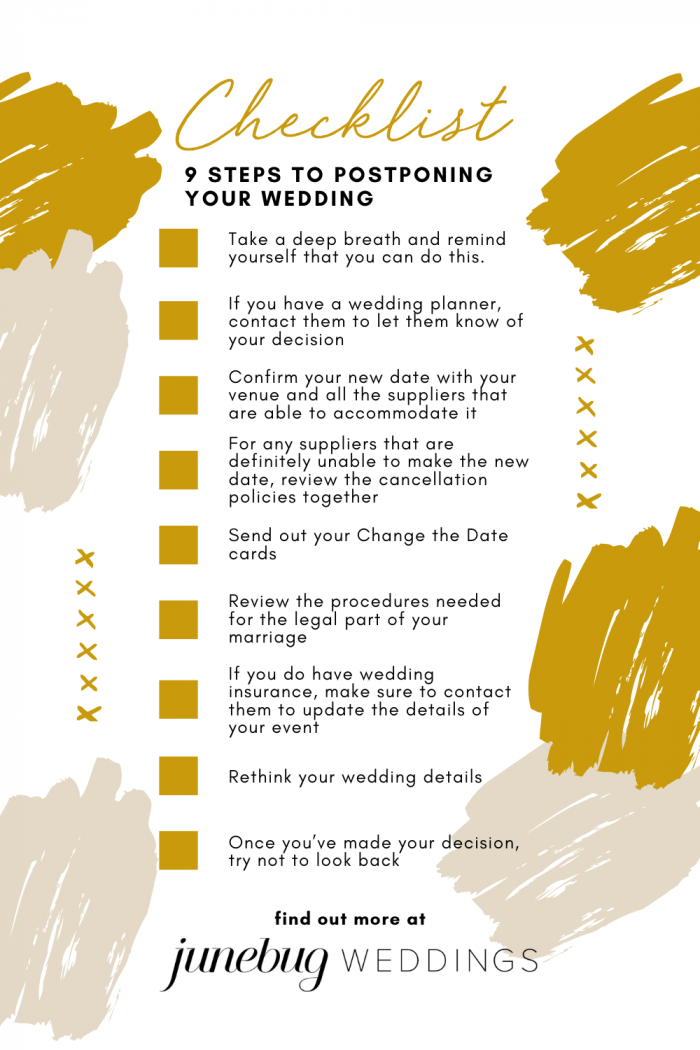 RECOMMENDED READING: Everything You Need to Know About Wedding Insurance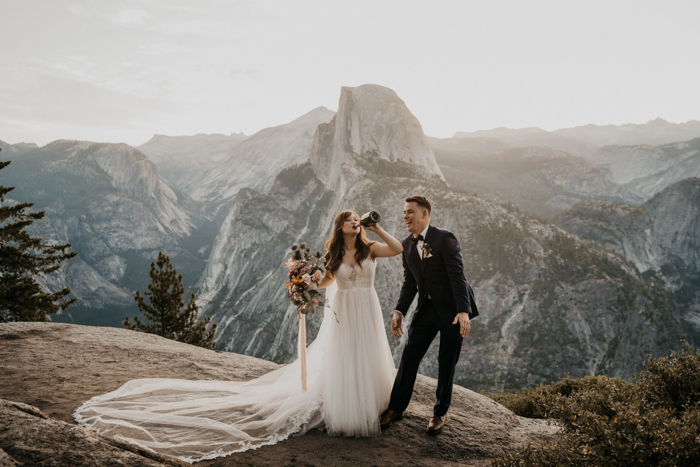 photo by Henry Tieu Photography
Can I get married now while social distancing?
If you've ever considered eloping, now is the time! There are no rules when it comes to weddings and shifting your plans to an elopement can allow you to celebrate your love as planned without risking the safety of your loved ones.
Couples around the world are transitioning their weddings online with a livestream of their ceremony or using Zoom or Google Hangouts to invite guests to a digital reception. Everyone can pour their own glass of champagne, your Maid of Honor and Best Man can give their toasts, and you can enjoy an at-home dance party using our reception playlist!
If you do choose to elope, remember that you can always throw the reception of your dreams at a later date when it's safe to gather in large groups again. Planning a reception for the future can also be a good way to work with the vendors you've already hired as your deposit and payments may be used towards the new event.
A massive thanks to Valentina of The Stars Inside for her insight on wedding planning during COVID-19! Do you have more questions about safely moving forward with your wedding in the time of coronavirus? Leave a comment or join our Facebook group to get in on the discussion with Junebug staff, other couples, and the vendors from our directory!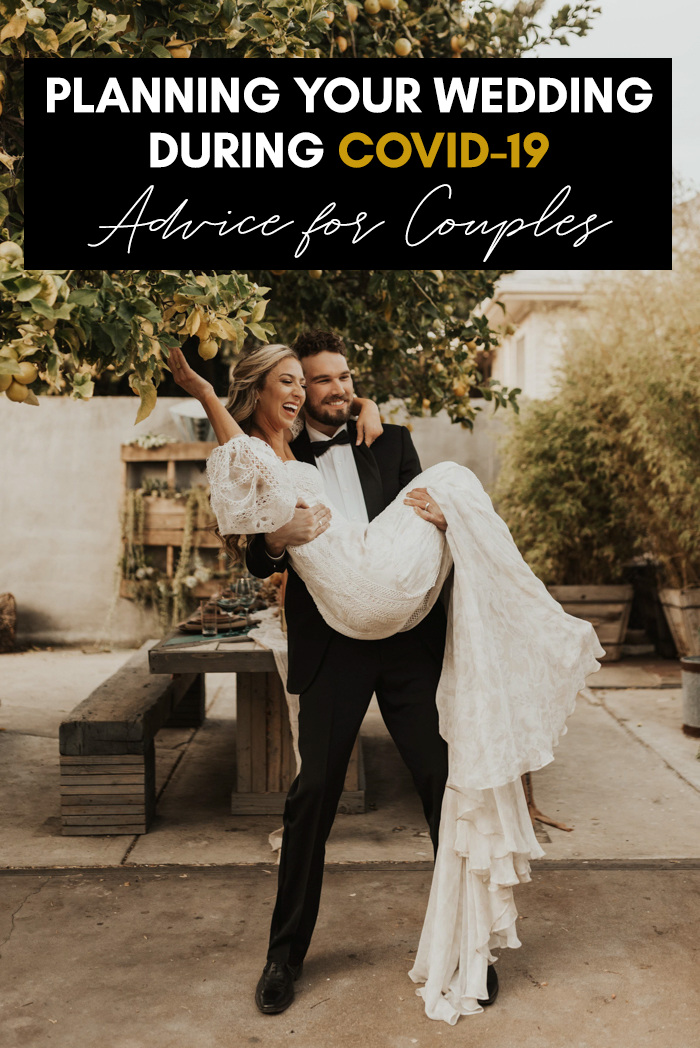 photo by Sydnee Marie Photography