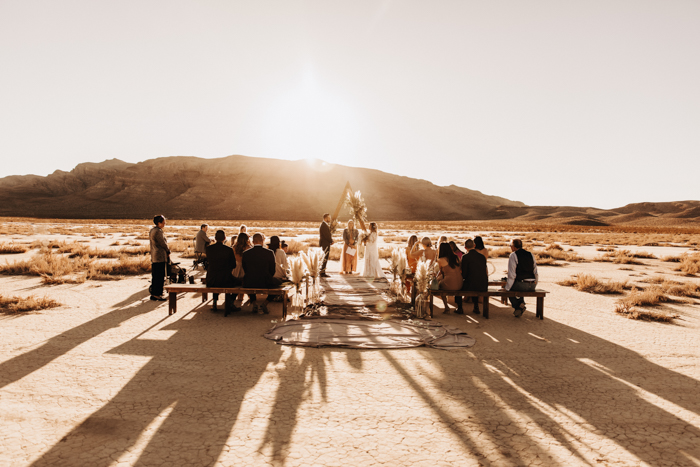 micro wedding photo by the light & the love photography
Have you heard the buzz about micro weddings? If you're planning a wedding in 2020—we know you have. It's no secret that COVID-19 changed the wedding industry. From forcing couples to change their wedding plans to a surge of new terms such as "micro wedding" and "virtual wedding," couples are navigating uncharted territory while planning a micro wedding.
We're here to help.
Lucky for you, we have access to a carefully selected bunch of the world's best wedding photographers, planners, florists, DJs, and more, who were eager to provide answers to all the burning questions about planning a micro wedding.
Planning A Micro Wedding:
A micro wedding gives couples the ability to keep similar elements of a traditional wedding with a much smaller guest count.
Invite the people who are closest to you both—the ones you see or talk to on a regular basis.
Get creative with decor ideas and pamper guests with a delicious treat or surprise entertainment.
Wear something fun—or totally traditional. It's up to you!
Plan a timeline with plenty of room for enjoying memories with your loved ones.
Hire a rockstar vendor team to achieve your dream wedding.
What is a Micro Wedding?
There's a lot of confusing and conflicting information about micro weddings online, especially since they're so closely related to what we'd refer to as an intimate wedding. In fact, micro weddings are intimate by nature. So, what gives? To start, micro weddings typically have less than 30 people—often less than 10, including vendors.
As the couple planning the wedding, however, you have the power to define what micro means to you. It's more about a mindset than a precise number of seats at the dinner table. The flexibility and intimate experience is exactly why we love it!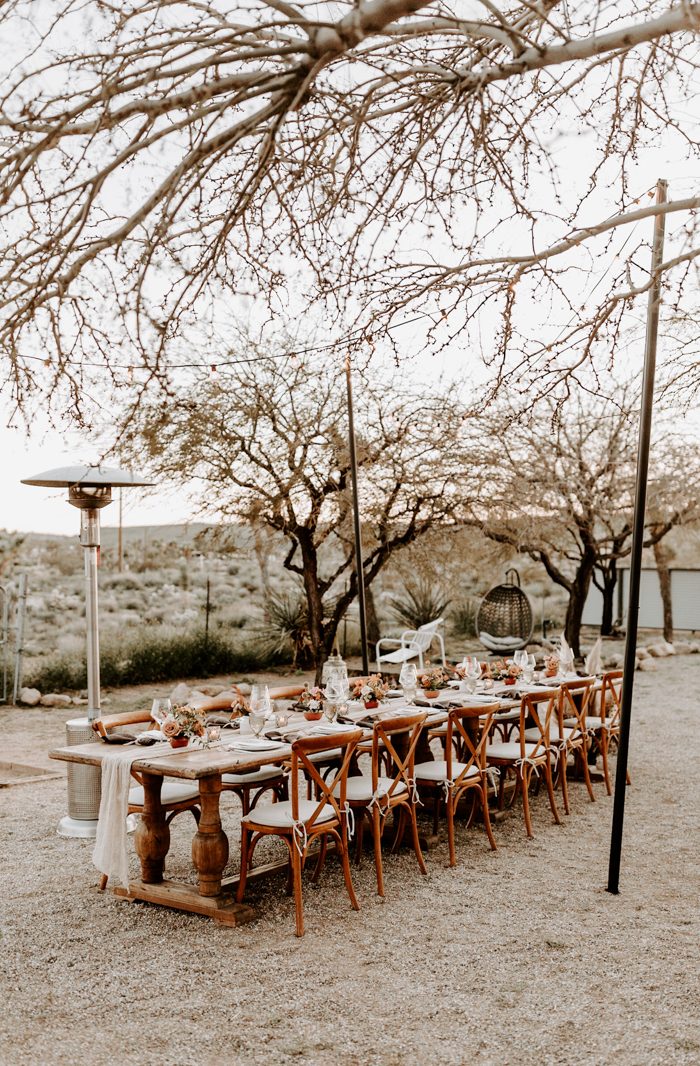 photo by Karra Leigh Photography; see more of this real wedding here
Junebug Wedding Experts Break Down Micro Weddings:
We mentioned our expert wedding vendors above. Not only are they great to work with, but they are also always willing to share their advice with our readers. We asked them if they had worked on micro weddings and why they are popular right now.
Here's what they had to say:
The Archivers have worked micro weddings and we loved what they had to say about the experience, "In our experience, a micro wedding is a way for people to keep some of the traditions of a traditional wedding but with a very small guest list. It's a way to live the experience they always imagined but in a more meaningful, intimate, and peaceful way. It's saying goodbye to the stress of hosting a large event. It's spending your money in a more intentional way. It's about wanting a wedding more respectful to the environment. It's wanting to spend quality time with the people that truly matters to you on your wedding day."
Madeline Barr Photo broke down the functionality of micro weddings and said, "Micro weddings seem to function as just that: a smaller, pared down version of a "regular" wedding day. While the guest list is generally refined to a more intimate number, the day unfolds as a full wedding would. A micro wedding seeks to keep the traditional flow and vibe of a "regular" wedding."
Nikk Nguyen Photo mentioned vendor count doesn't change for micro weddings. He said, "A micro wedding is a wedding with all the vendors but with 20 or less guests. Intimate weddings have less vendors. Maybe an officiant, planner, and photographer. While a micro wedding has all the vendors that a big wedding has, just accommodated to less guests."
Benefits of Hosting a Micro Wedding
Micro weddings are perfect for daring, creative ideas. "Although you can go as big or small with a micro wedding as you want, there's no reason you can't have all the amazing details—like stunning flowers—and also splurge a little on photography or videography because you're saving money on the food bill," said Lauren of LIT Photography NI.
We completely agree.
Hosting a micro wedding also allows for more organization, venue possibilities, and more time spent with each guest. As Beatrice, owner of The Quirky, said, "There are only benefits when considering a micro wedding."
Guests Benefit from Micro Weddings Too
Alessandra Zanoni for Alberto e Alessandra Fotografia Italiana provided a valuable perspective regarding micro weddings. The smaller guest list means you can host in more personal locations, and take the time to create an experience that you and your guests will remember fondly forever. She wrote, "Having fewer guests means being able to invest a good part of the budget in other aspects, such as the set-ups, the photo/video service, the dresses, and the entertainment of the guests. You can 'pamper' your guests more by organizing some surprises for them (for example a tourist visit, a welcome dinner, a brunch, a tasting) during the days before or after the wedding. Also, you can really choose any location, which would be impossible to achieve for a classic wedding."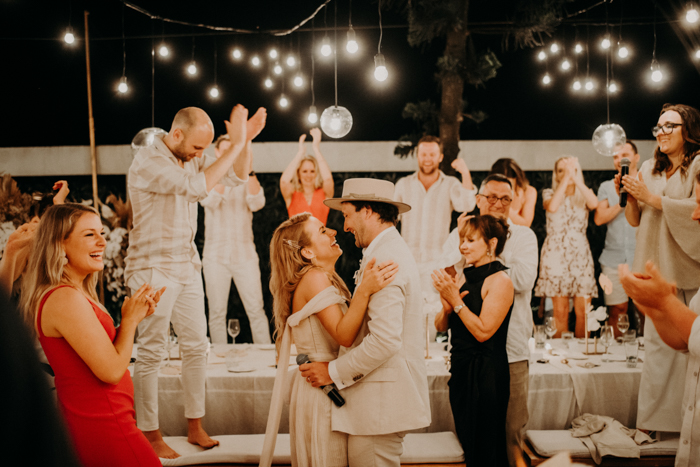 photo by Diktat Photography; see more of this real wedding here.
Tips for Creating Your Micro Wedding Guest List
Whether you're trimming your wedding guest list because of COVID-19 or planning a micro wedding from the get-go, we know it might be difficult to choose a small number of guests. There is also beauty in only having the people who are closest to you celebrating the special day together.
As Hannah McMaster told us, "You will never regret investing in the people that you Iove the most. At the end of the day, a wedding is just the day, that signals the start of your marriage. Enjoy it, with those you love the most."
Now that most everyone is comfortable using Zoom, you can live stream your ceremony for family members and friends who aren't on the guest list.
Advice from a Junebug Expert and COVID Bride:
Lauren from LIT photography NI recounted her experience for us, "As a COVID bride myself who had to look at cutting guest numbers, I organised everyone in circles. Immediate family, bridal party, closest/lifelong friends, extended family, etc. When I had numbers for each circle, I could figure out how many circles I could include. If you can't include the whole circle, then that's your cut off point."
What to Wear to Your Micro Wedding
While you're in a mindset to break tradition, it might be fun to think about wedding outfits that would best reflect your personal styles. We love a great backyard wedding dress or jumpsuit—and any outfit can be made unique to your day. Dress in a lime green suit or choose to thrift your entire wedding look. We can't wait to see your creative wedding outfits!
Shop a Few of Our Favorite Wedding Dress Alternatives:
How to Personalize Your Micro Wedding
Micro weddings were created for couples who were forced to forgo any traditions or "must-haves" due to COVID-19. The change has created a beautiful opportunity for all couples going forward to focus only on the things that best represent their love. Whether you choose to make your day special with catering from your favorite restaurant or a scavenger hunt for your guests (we love this idea), it's sure to be a day where you make extraordinary memories spending quality time with those you love most.
We Love These Micro Wedding Ideas from The Archivers:
Have a destination micro wedding.
Make your micro wedding last longer than a day (for example you can rent a house and have all your favorite people stay with you for a week to make the love and fun last longer).
Plan a fun adventure or activities with your guests like a boat ride, helicopter ride, hiking, fire camp, karaoke—of course, that will depend on your budget, number of guests, and what you enjoy doing.
Have people write you letters of what they wish for you in the future in a sealed box for you to read on one of your anniversaries.
Make a spiritual ritual during your ceremony.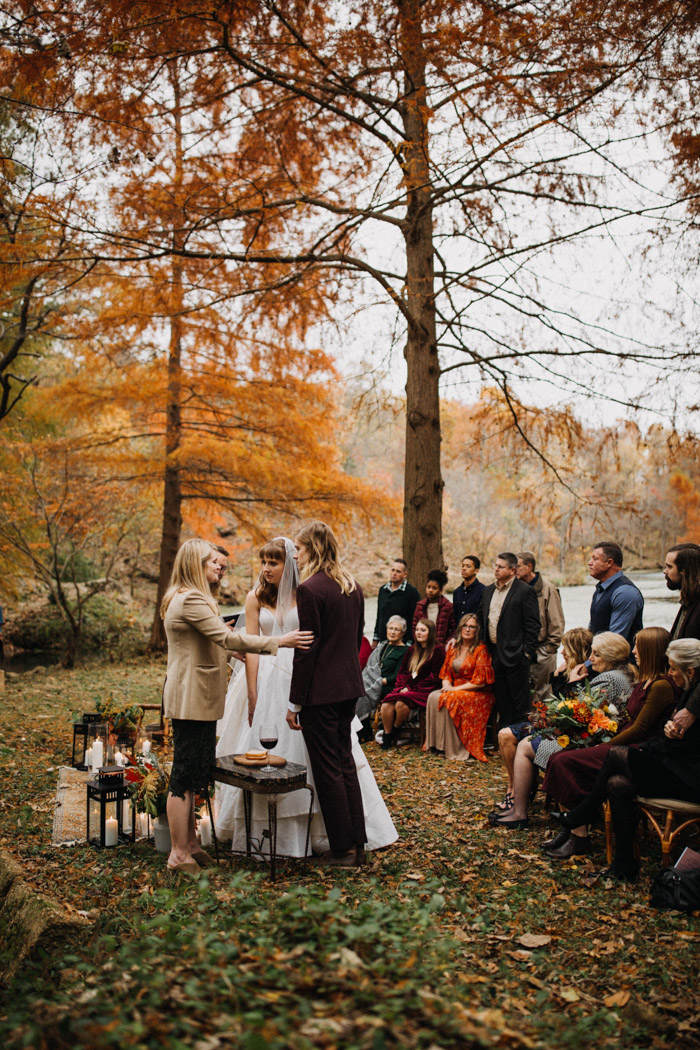 photo by Inner Images Photography; see more of this real wedding here.
Planning a Micro Wedding? Advice from Junebug Wedding Professionals
After reading the benefits of hosting a micro wedding, it's normal to have ideas running through your mind and a beat of excitement in your chest. We asked our pros what they're been hearing about micro weddings from their couples who have done it. When you're ready to start planning, keep their advice in mind.
It's 100% okay to break the "rules." You don't have to do, or not do anything. Hannah McMaster
Some couples feel the "guilt" of not having all the people they know at their wedding and are scared of what uninvited people are going to feel. First, we want to say that if it's the only thing holding you back you can always have a bigger party later to celebrate with them. Second, if people don't understand your priorities and why it's simply "not you" to have a large wedding then too bad for them. This is YOUR wedding day. People having large weddings made that decision and nobody blamed them for it, everyone is entitled to make their own decisions when it comes to their wedding day, period. The Archivers
Questions from Junebug Readers
Question: How do we entertain guests when there aren't many guests?
Answer: Good news. There are many amazing solutions to your problem! As we mentioned before, a smaller guest count means you can spend a little more on other areas of your wedding. Consider ending your evening after a delicious meal. Hire special entertainment such as a band—or even a magician. A smaller guest count means you can think outside the box for entertainment opportunities.
Above all else, however, we want you to simply enjoy the company of your closest family and friends. Release the pressure to entertain them—they just want to spend quality time with you on your special day.
Question: Is a micro wedding better than a normal sized wedding?
Answer: There's no "better or worse"—pun intended—when it comes to choosing a style of day that's right for you and your partner. Whether you decide to wait until you can safely host hundreds of guests in a large venue or go the micro wedding route, your day will be incredibly special in every way.
Question: How do you arrange ceremony chairs to be safe but beautiful?
Answer: This will depend on your venue and the space you have available. There are lots of options that range from spacing the rows out to not having rows at all, like this real couple. Couples can opt to create various chair arrangements that will still photograph beautifully and ensure your guests are safe. We recommend hiring a wedding planner who can help you navigate seating arrangements and everything in between.
There is a lot of conflicting information online about how to host a micro wedding. We hope this post helped cut through some of the noise and stress. Micro weddings don't have to be dull and they are certainly anything but small. These opulent celebrations may have started because of COVID, but this is one trend that will be sticking around.
Still have unanswered questions about how to plan your micro wedding? Join our Facebook group where you can interact with the same wedding experts from this post—and more!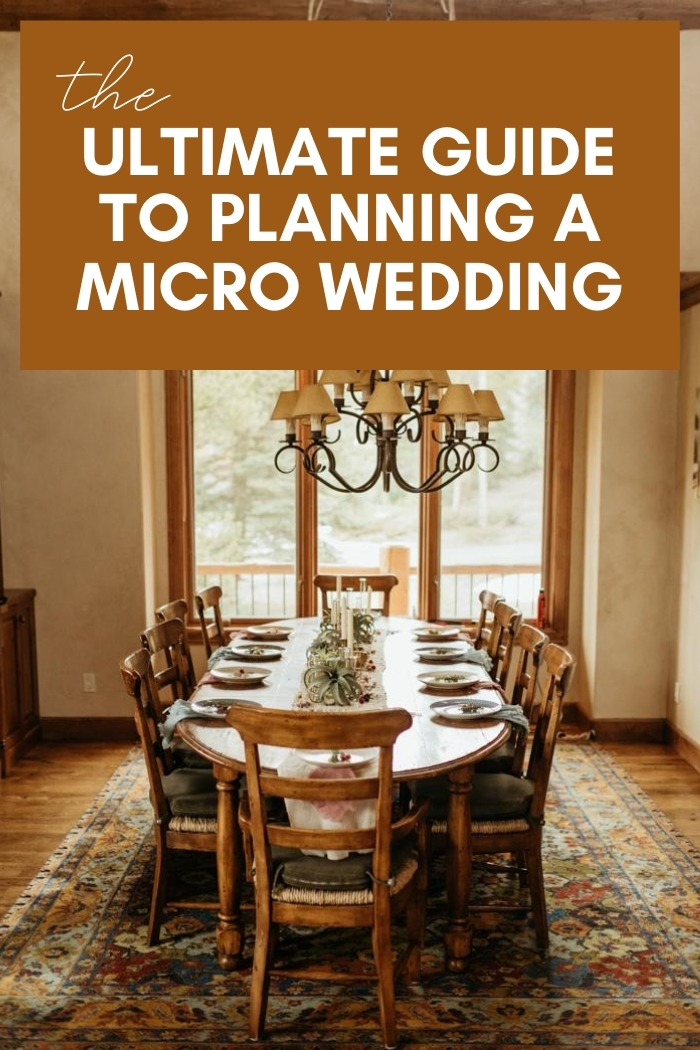 photo by Inner Images Photography