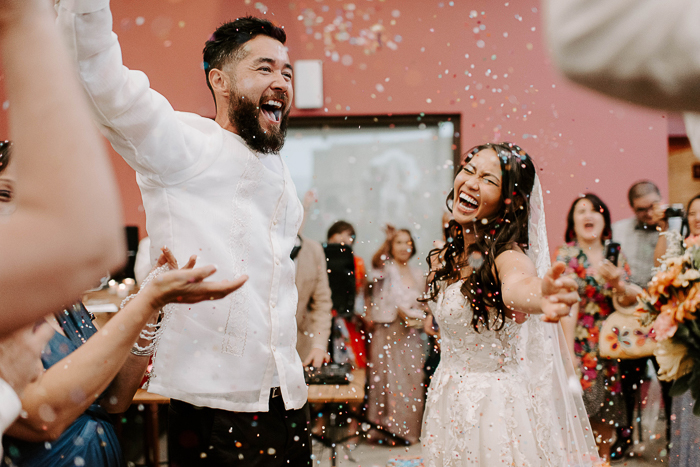 photo by Peyton Rainey Photography
If you've explored Junebug Weddings, you know we cheer on couples who decide to skip wedding traditions and say goodbye to all the "have to" checklists to do things their way. We've featured a feminist wedding that ditched language like "you may kiss the bride," countless adventure elopements to destinations near and far, a California wedding with a marajuana bar, and many more.
Nothing is off-limits in our book. And—quite frankly—the more unique, the better.
So, you might be wondering, "What wedding traditions should we skip?" Let's dig in.
Wedding Traditions Aren't Bad
Before we continue, it's important to note that wedding traditions aren't inherently "bad." In fact—if you love traditions, you should absolutely keep every one of them. That's the beauty of it being your wedding after all.
As we discuss a few of the most common wedding traditions and why some couples choose to ditch them, keep in mind that you might decide you really want to keep a few of them.
We'll cheer you on either way. That's our thing.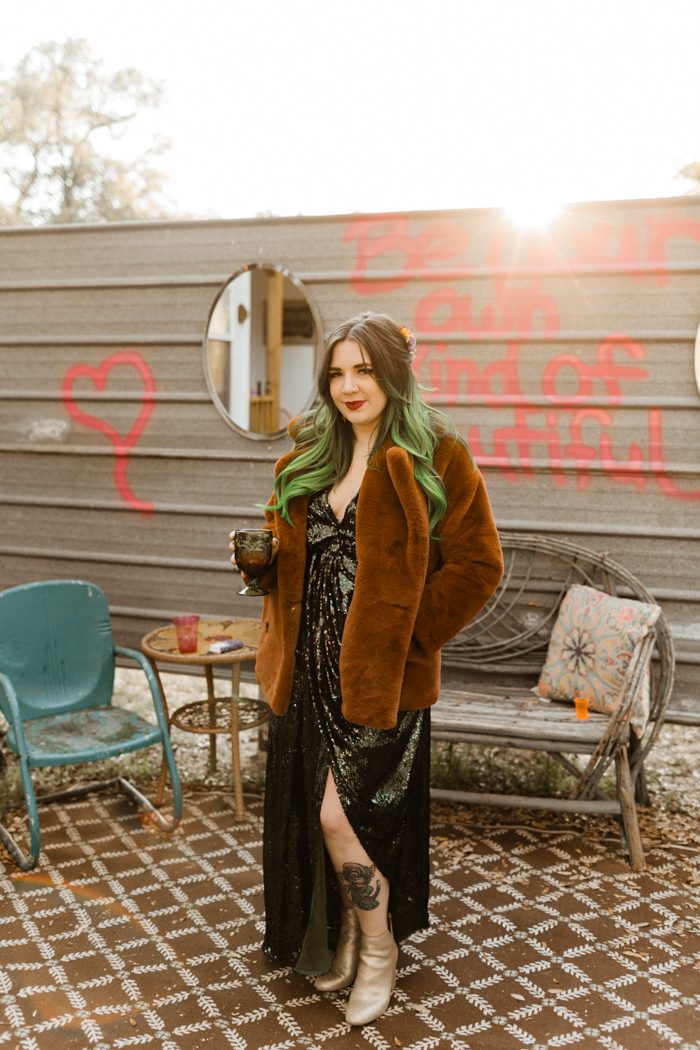 photo by Brooke Taelor; see more of this real wedding here.
1. Wearing White
The Tradition: Wearing white was originally intended to be a symbol of innocence and purity.
Why Some Couples Skip It: "Innocence and purity" might not be the first words that come to mind describing your wedding vibe. Plus, wedding designers are continuously playing with colorful wedding gowns. Changing up this tradition can be a fun way to wow your guests—and your partner.
SHOP NON-TRADITIONAL WEDDING DRESSES
2. Waiting Until the Ceremony to See Each Other
The Tradition: Arranged marriages were very common everywhere until the 18th century. During that time, the bride and groom were forbidden from seeing each other before they were at the altar. This is also where the tradition of the wedding veil comes from. Some still say that a sneak peek before the ceremony is "bad luck."
Why Couples Skip It: In recent years, the "first look" has become increasingly popular—even for couples who consider themselves "traditional." A first look allows couples to spend more time together on their wedding day, can make your photography timeline flow more smoothly, and helps ease pre-ceremony jitters.
Trying to decide if a first look is for you? Check out these heartfelt first looks to help you visualize your own special moment.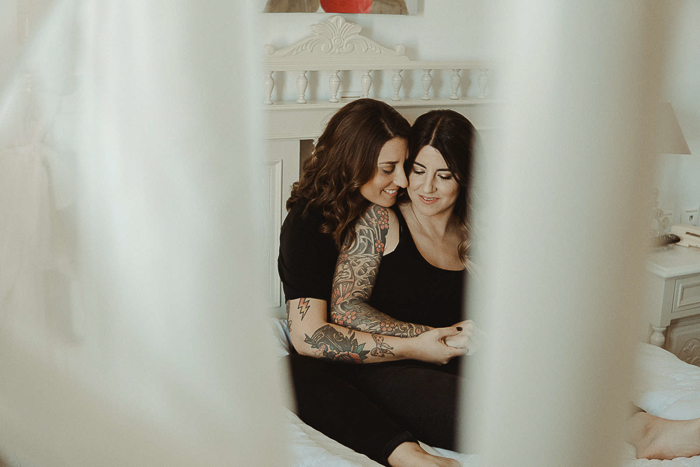 photo by Eye Witness Stories; see more of this real elopement here.
3. The Bridal Party
The Tradition: A bridesmaid's traditional purpose was to attend to the needs of a bride on her wedding day—from primping hair and makeup to bustling her dress and holding bouquets of flowers. In some areas of the world, bridesmaids were also said to protect the bride from evil. 'Maids would even wear similar dresses to confuse dark spirits. Did you just discover a newfound love for bridesmaids? Us, too.
Why Couples Skip It: While the original intention of a bridesmaid was pretty hardcore, the responsibilities—and cost—of having 'maids has drastically changed. Some couples prefer to skip the traditional wedding party altogether and have their best friends attend as guests.
Junebug Weddings Tip:
Ask your friends to wear similar mismatched colors and snag a few group photos together.
4. Flower Girls
The Tradition: Flower girls are lovely, adorable, and many times provide comic relief as they make their journey down the aisle. Historically, the flower girl was meant to represent a young, innocent version of the bride and would often be a close relative who resembles the bride.
Why Couples Skip It: Again, it's unlikely you have "innocence" written on your wedding mood board. Even if you do—you might not have a close relationship with someone you'd want to adorn the aisle you walk down on the big day. Instead, consider a flower boy, or flower groomsmen, flower pup, or a flower granny. We've had our hearts melted by incredibly creative flower people of all ages, genders, and even species!
5. Bouquet and Garter Toss
The Tradition: While the bouquet and garter toss are most commonly performed as fun reception games, the tradition dates back to the Middle Ages. Men would rush the bride to steal her garter as a prize and symbol of luck. Similarly, women would try and steal pieces of a bride's dress or flowers to bring them good fortune in marriage.
Why Couples Skip It: Since the person who catches the bouquet or garter is said to be "the next to marry," you may want to skip this if you won't have single friends in attendance. Many couples also choose to skip this tradition for the sake of not interrupting their reception party—and we love a good dance party.
Now that we've spilled the tea on wedding traditions, you can feel confident when you choose which ones to keep—or ditch. Has this post inspired you to also forgo traditional wedding vows? Read these vow writing tips from wedding experts.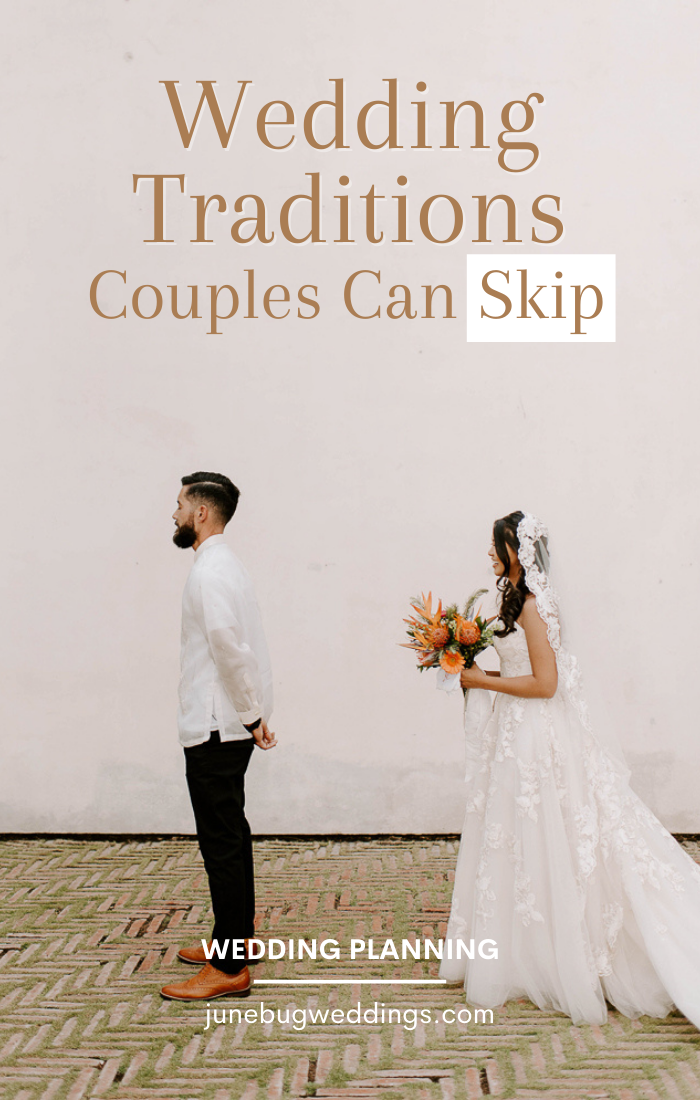 photo by Peyton Rainey Photography