Talk about a bad-a$$ couple! Adam and Diana's killer wedding at The Houdini Estate is everything we love about Old Hollywood and Havana vibes. We imagine their guests were already feeling special receiving the most rad, themed invitations, and every other detail Tasteful Tatters planned blew us away! If specialty entertainment is on your wedding checklist, you'll definitely want to see these incredible photos Joe + Kathrina captured of The Budtenders (when in California, are we right?), Mursuli Cigars, Got Paella food truck, and even more. Bonus tip: Rent a vintage convertible for the most epic bridal party and ceremony getaway photos ever! We can't wait for you to get inspired by every ounce of creativity Adam and Diana's wedding at The Houdini Estate has to offer. Get scrolling, babes!
The Couple:
Adam & Diana
The Wedding:
The Houdini Estate, Laurel Canyon, California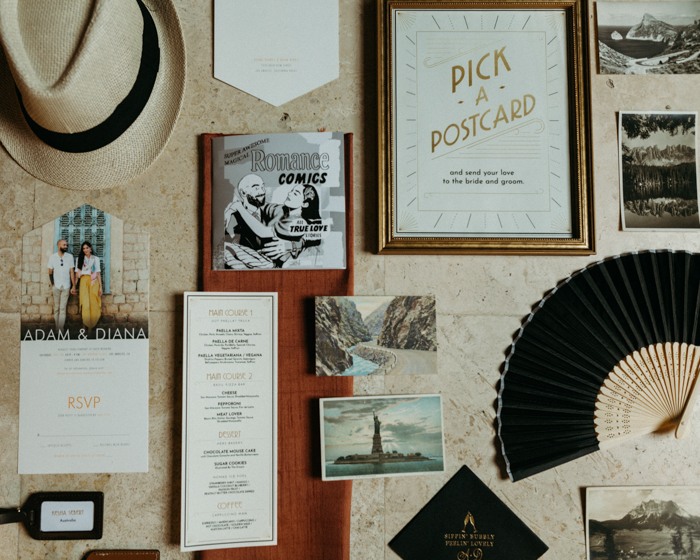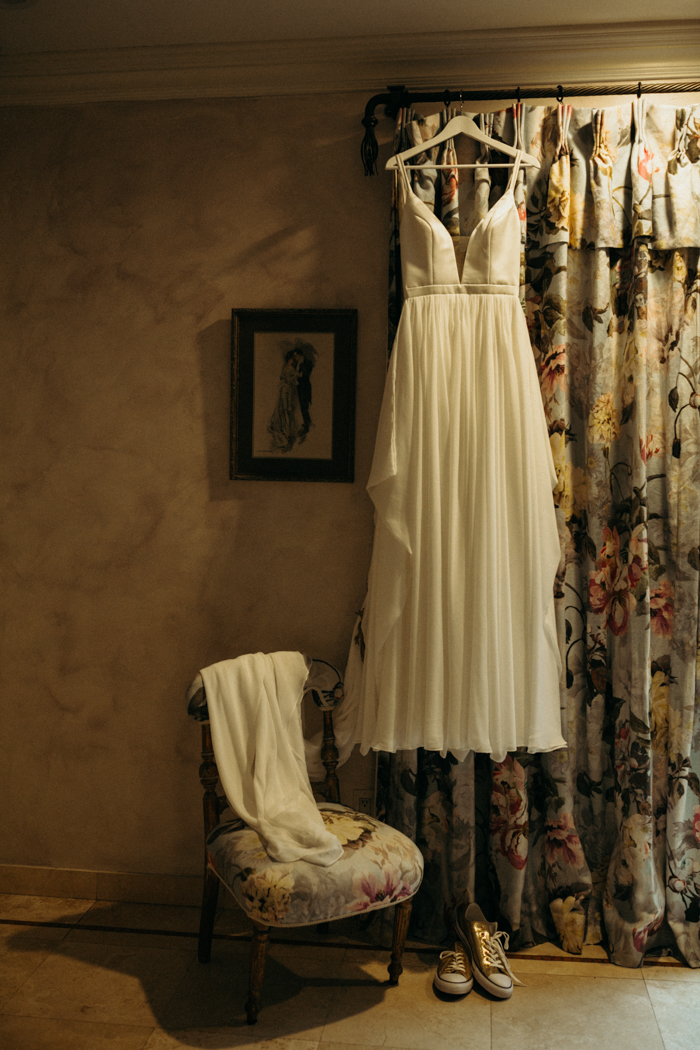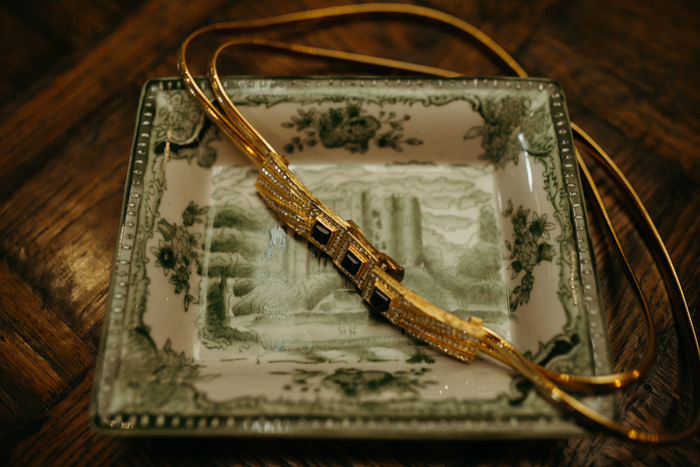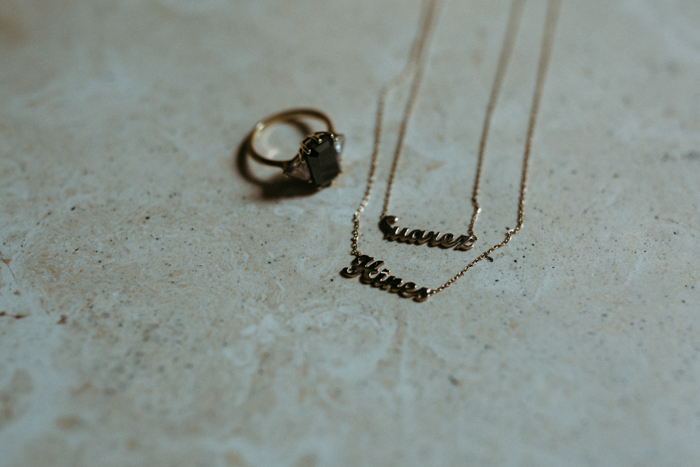 SHOP THIS LOOK: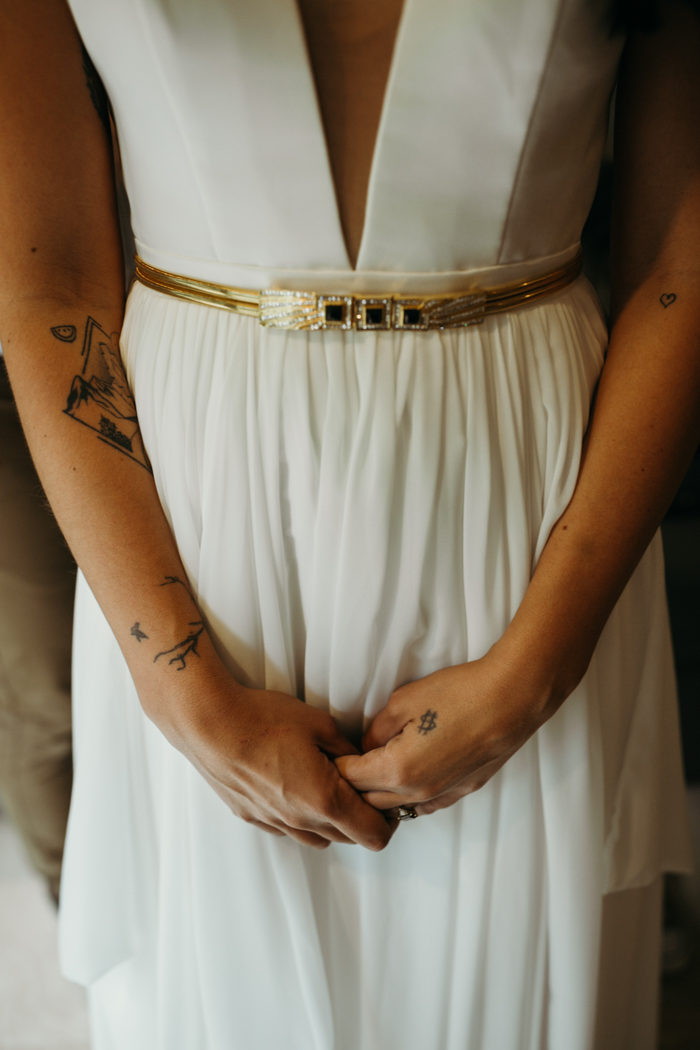 I was very fortunate to have an incredible makeup and hair professional. He helped me create a beautiful classic Cuban look. He put waves in my hair and pinned a gorgeous deep red flower on the side. My makeup was a flawless "dewey" look. My dress was custom made at Lace & Liberty. I fell in love with a skirt they had at their boutique. A beautiful vintage inspired, draped, romantic chiffon skirt. I had ideas for the top that they designed for me and combined with the skirt to make a dress. Then I found a killer vintage gold belt with black gems in the center that coordinated with the black diamond engagement ring my husband gave me.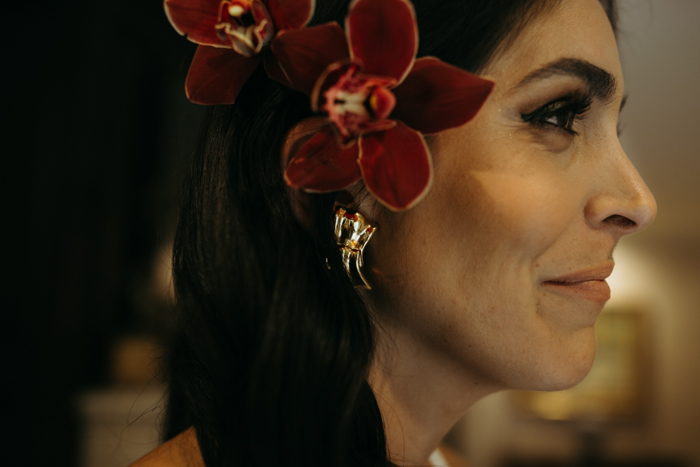 For the ceremony I wore a little vintage inspired caplet I found at BHLDN and for the shoes… it doesn't get more personalized than this.. I found sparkly gold Converse! I am 6'2″ and my husband is a little over 6'3″, not only do I love comfortable shoes but I also did not want to add any height. They were perfect.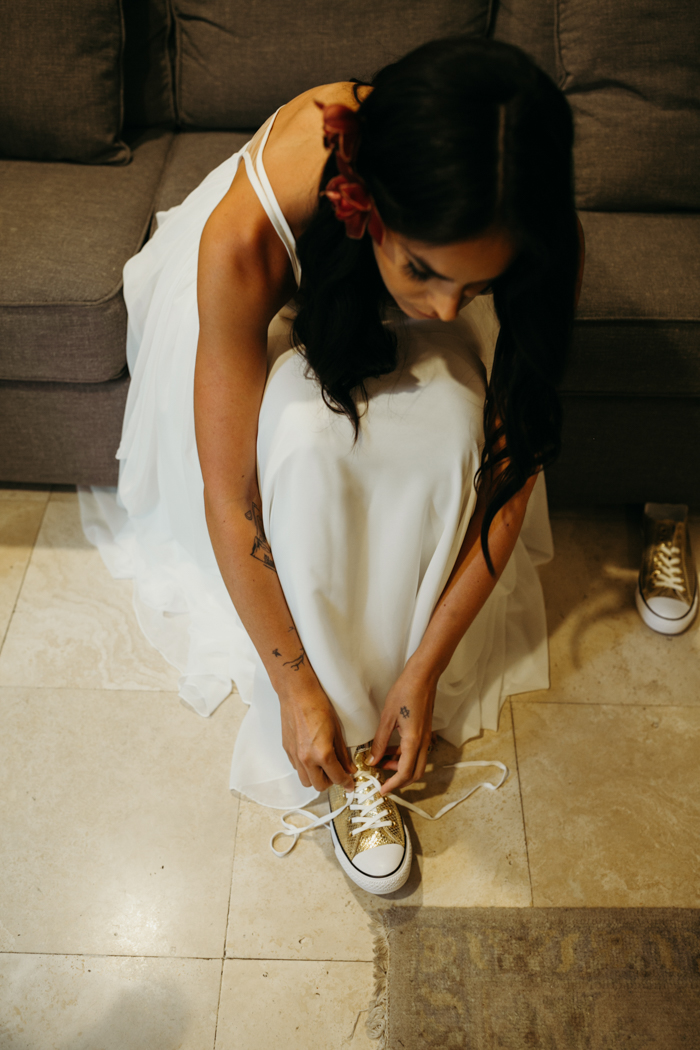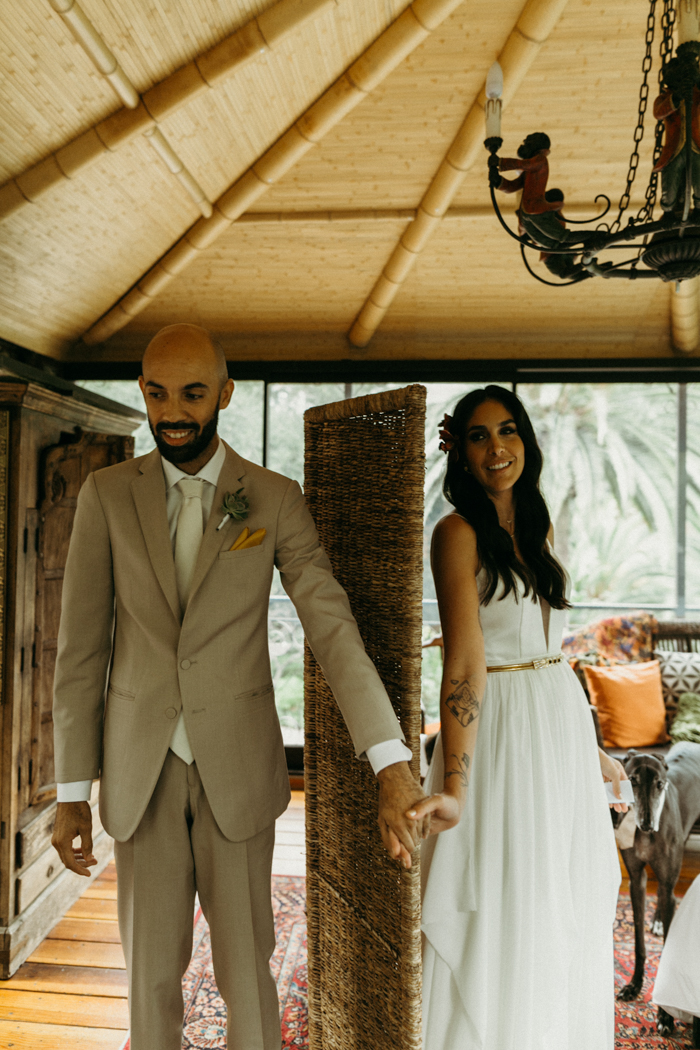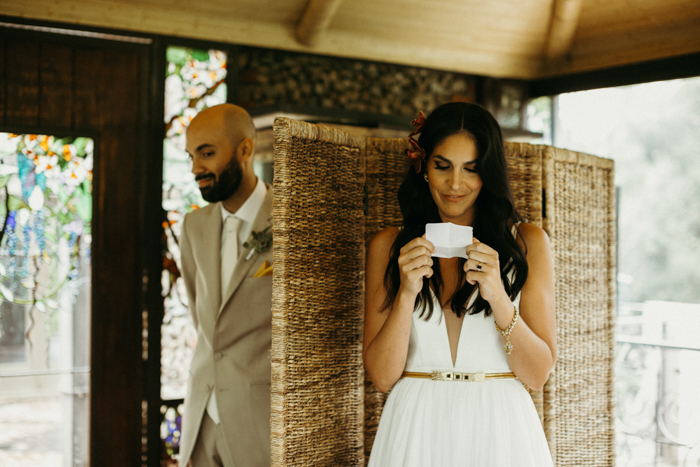 We had so many family and friends coming from all over the world. We wanted to give them a party they'd never forget that was very "us" but also true to California's uniqueness. The Houdini Estate is absolutely magical, and a perfect homage to old Hollywood. The second we walked up we knew this was it.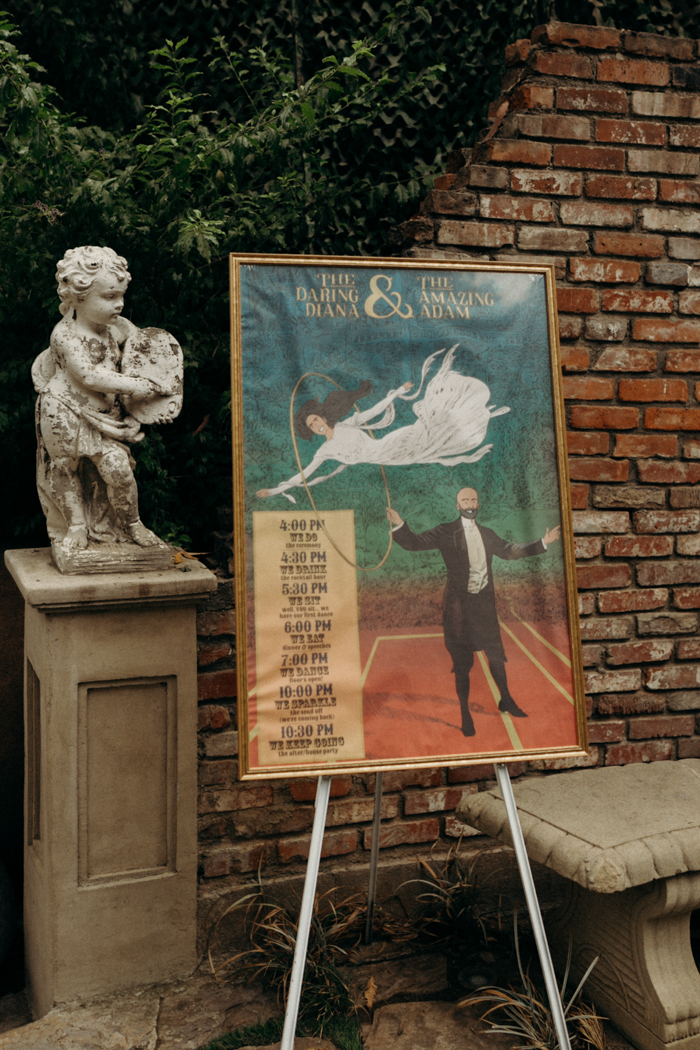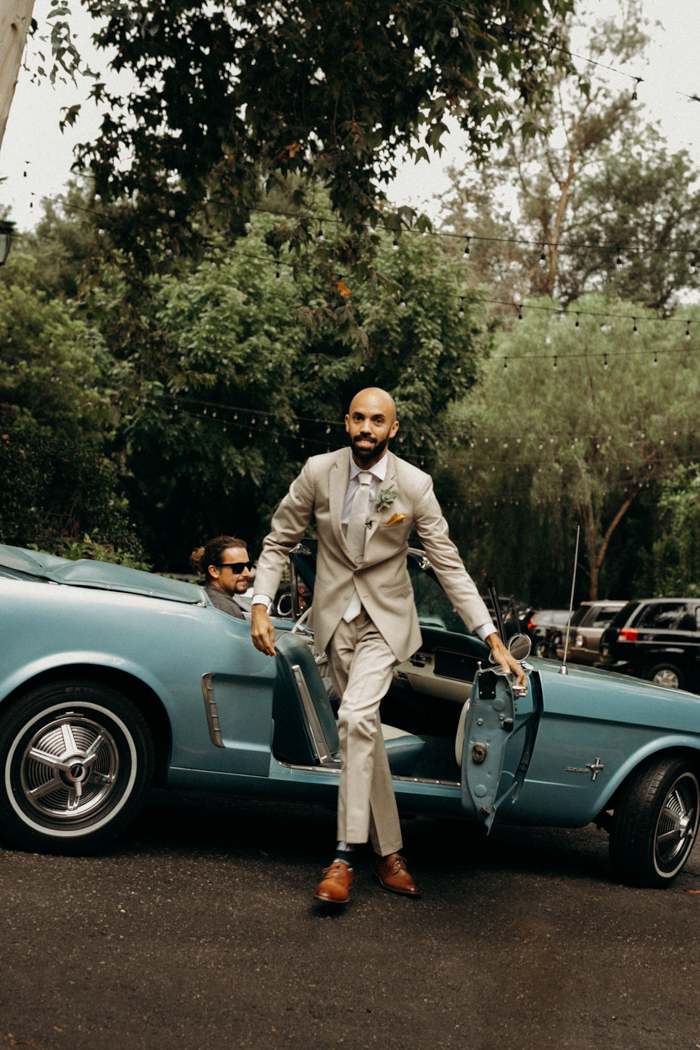 Adam exited a classic car and walked into the ceremony to "Welcome To The Terrordome" by Public Enemy. Then our friend did an acoustic live version of Madonna's "Cherish" as the bridal party walked down. I walked down to Fleetwood Mac's "Songbird."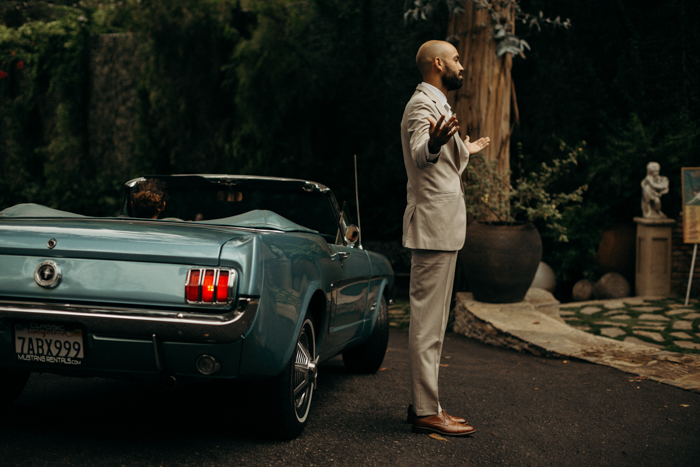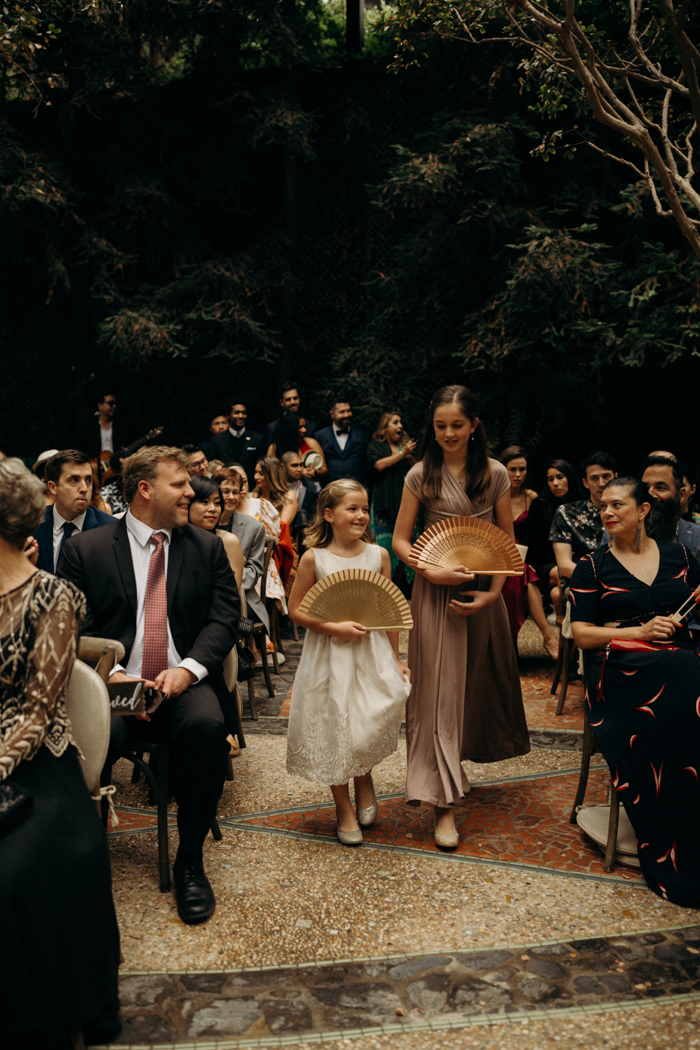 The bridesmaids carried Spanish fans instead of bouquets. Fans that I bought when Adam and I went to Spain for our engagement photos.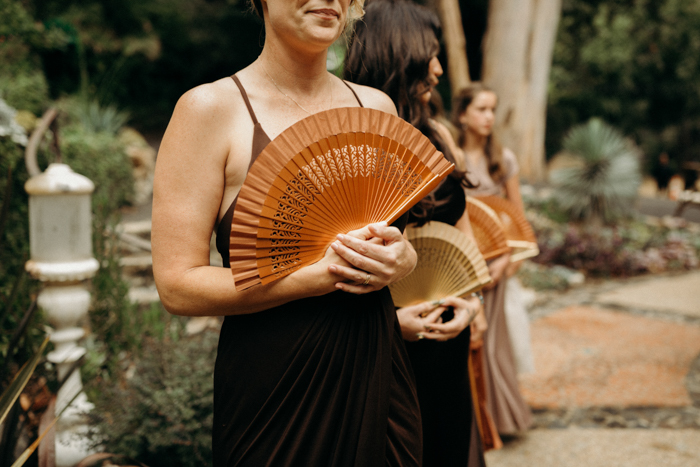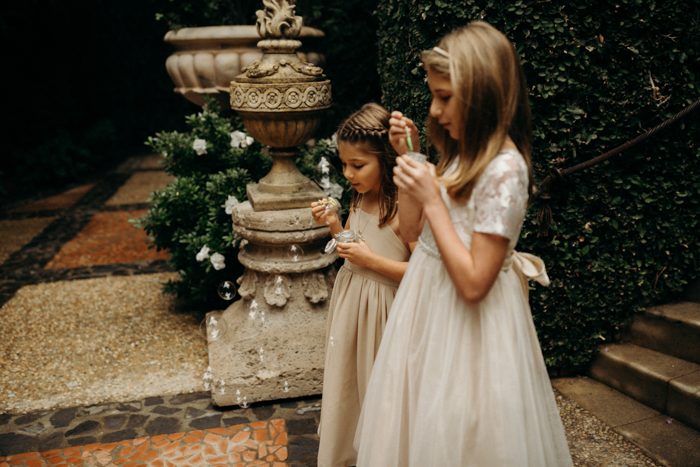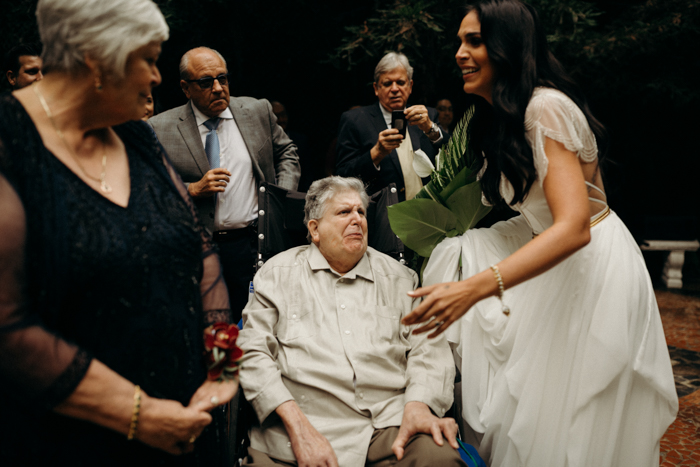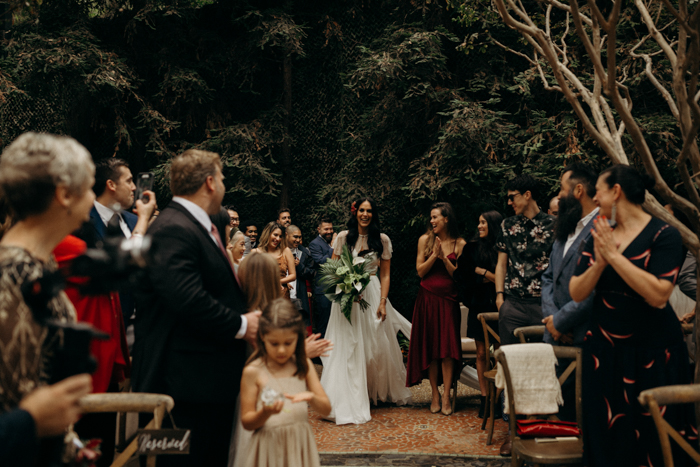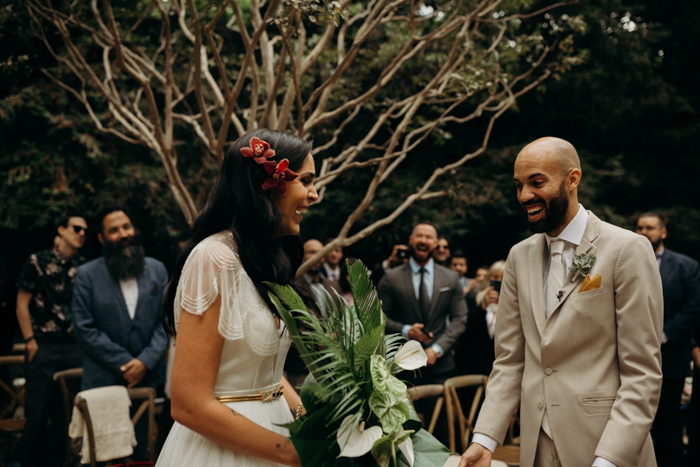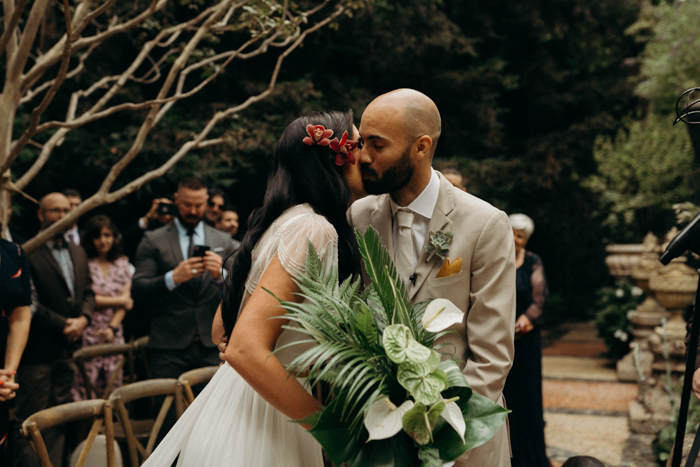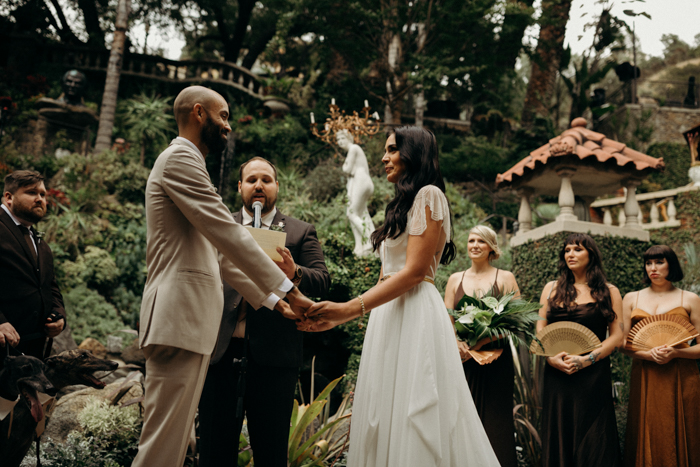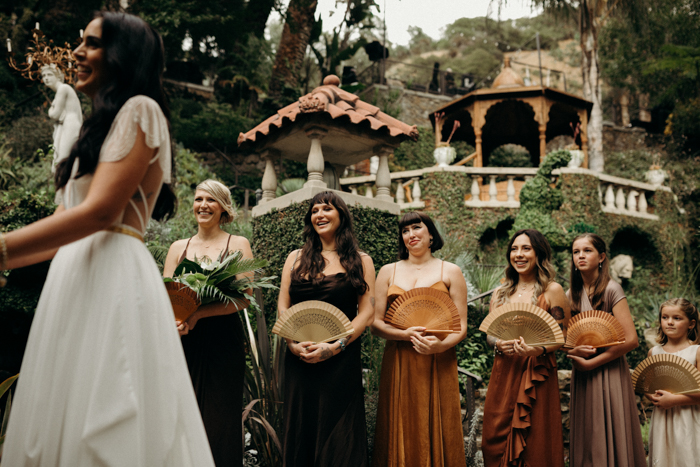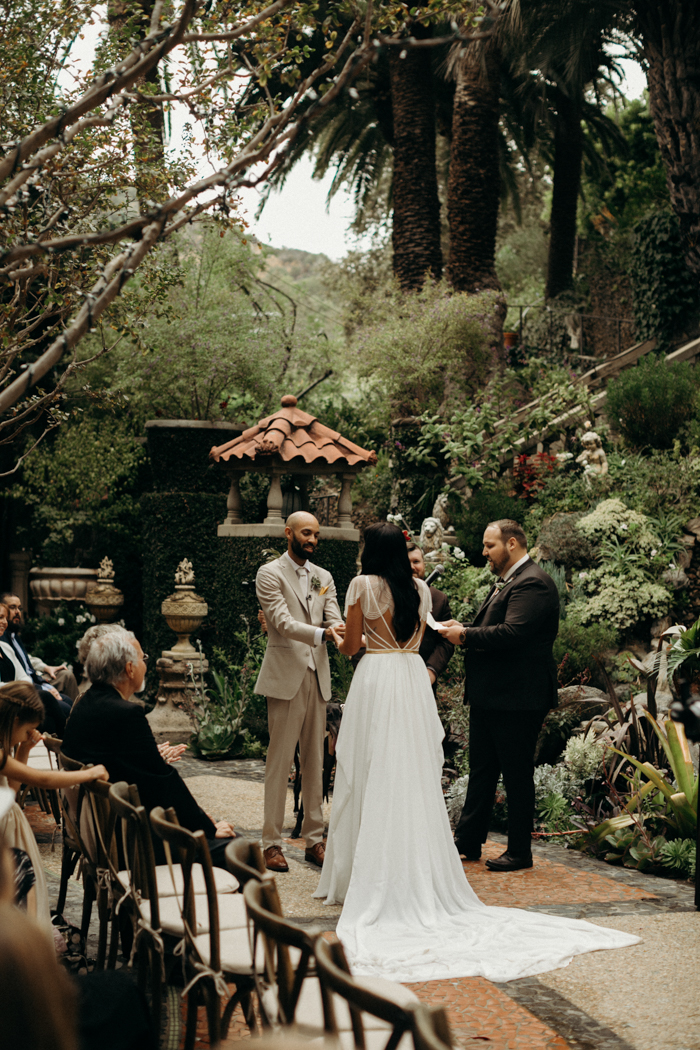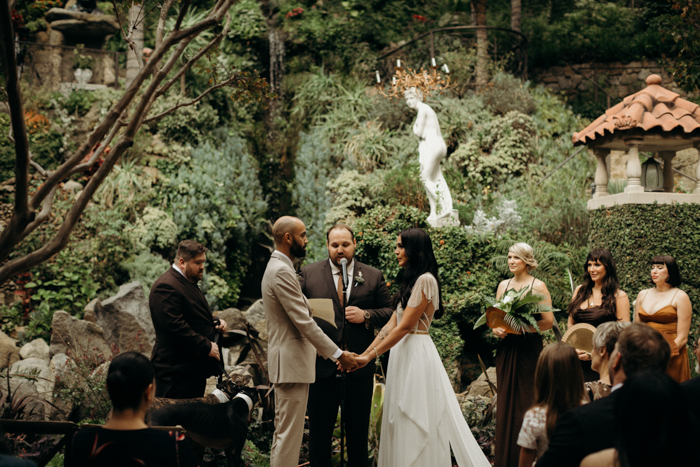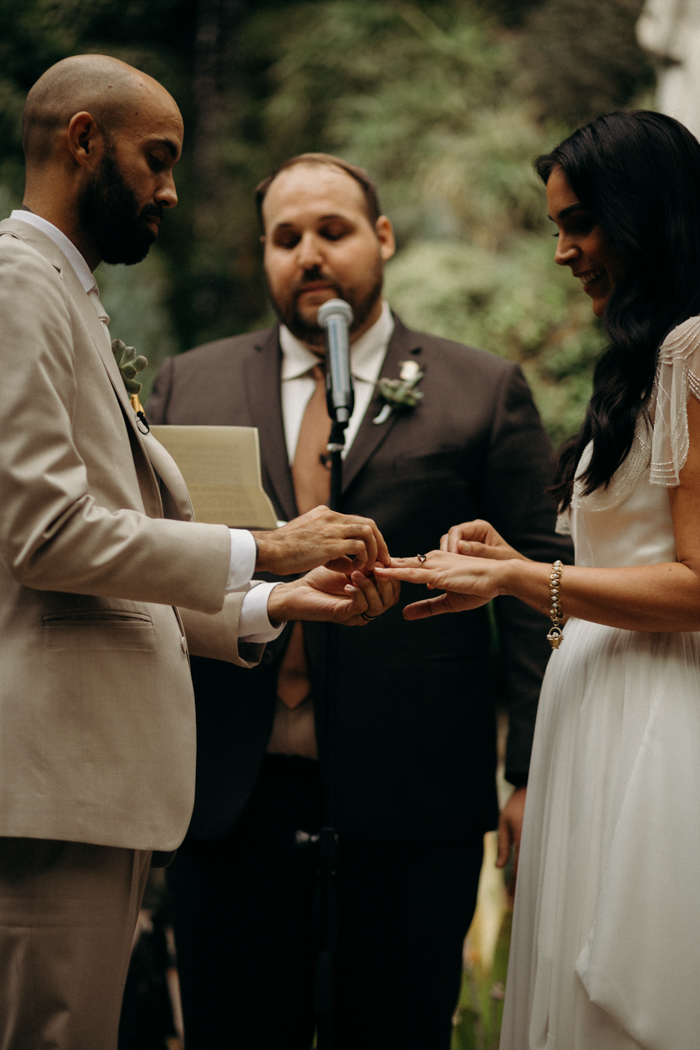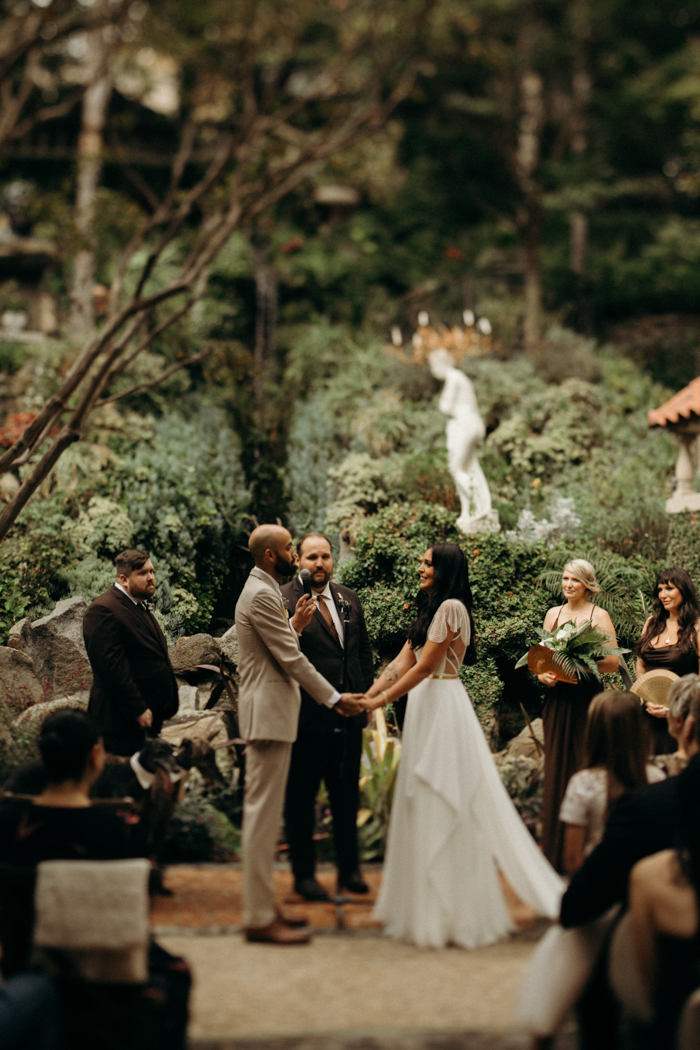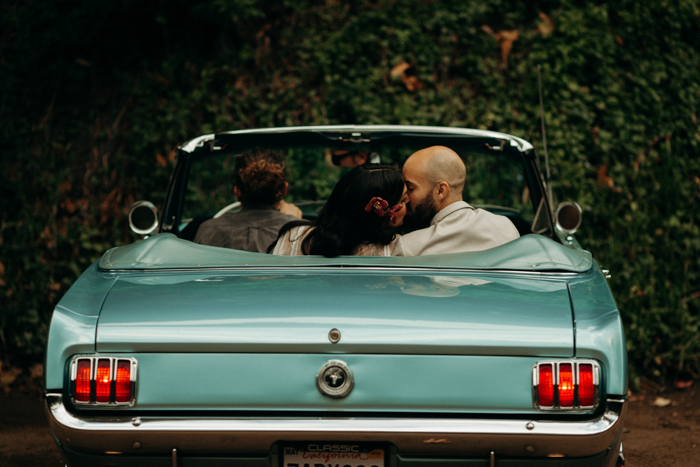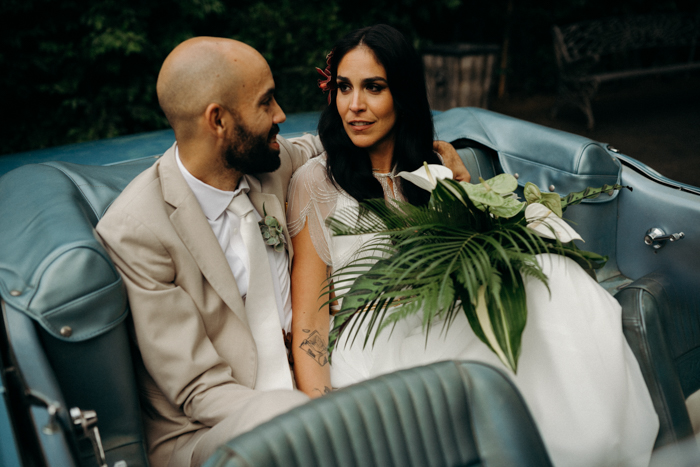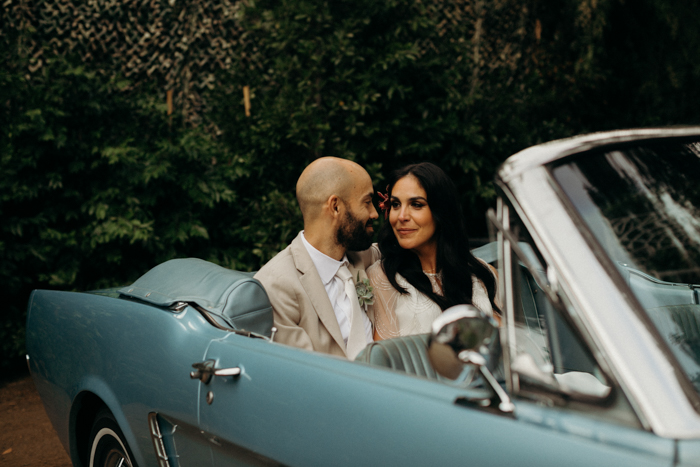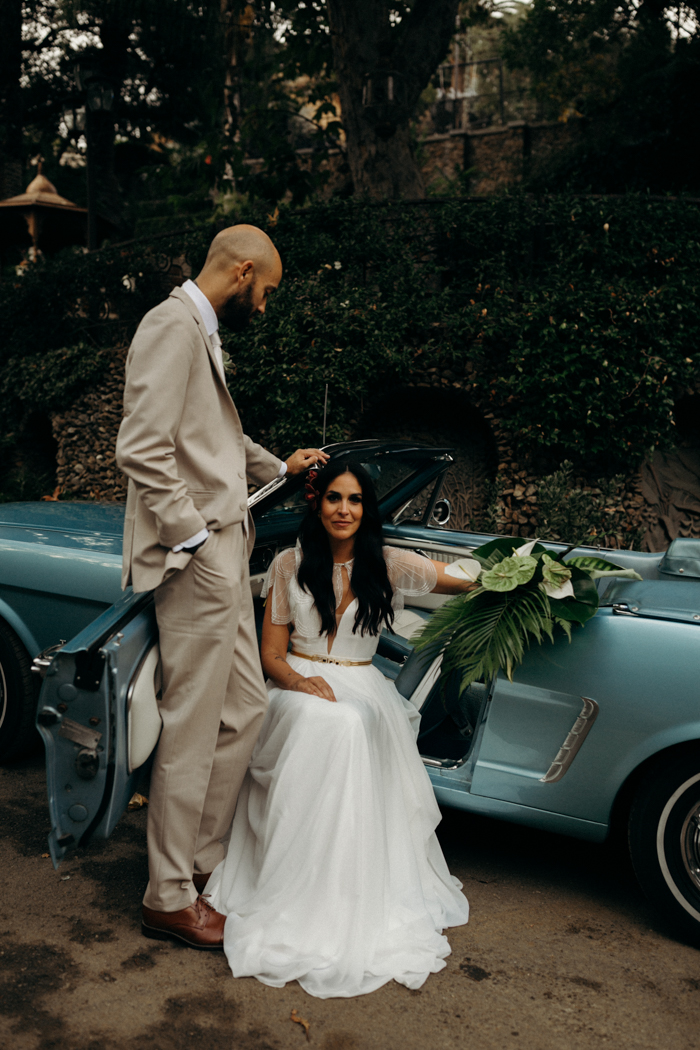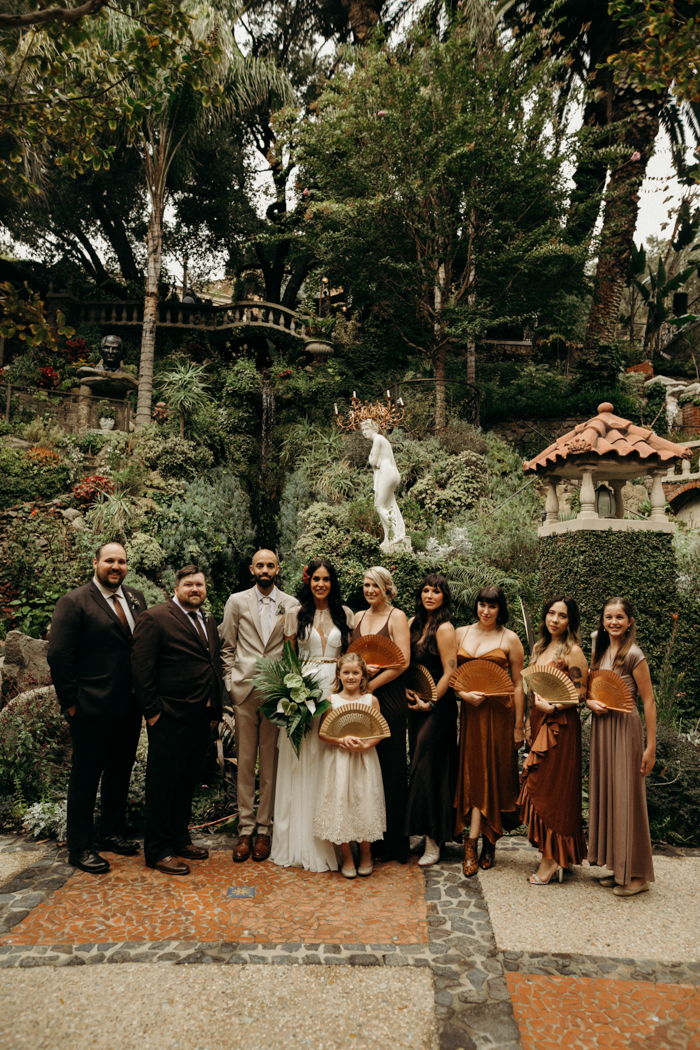 My bridesmaids were stunning! I gave them color swatches and let them find their own dresses. I wanted them to find something they loved and was uniquely them. The tallest bridesmaid started with a chocolate brown and the shortest (my 7yr old niece) ended with a light almond color. This was inspired by different shades of coffee, another big thing in Cuban culture. As I mentioned before, they held Spanish fans that I bought in Spain that were gold and copper, they matched perfectly.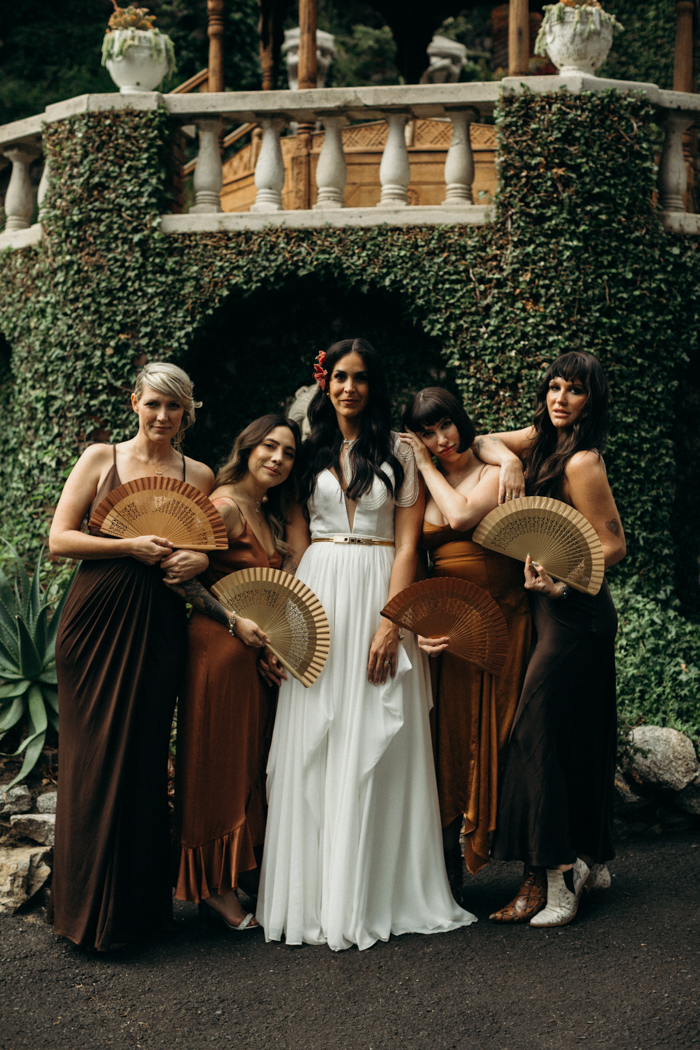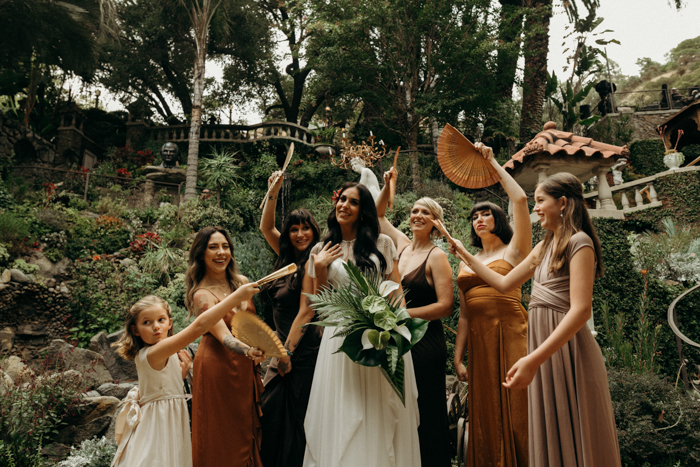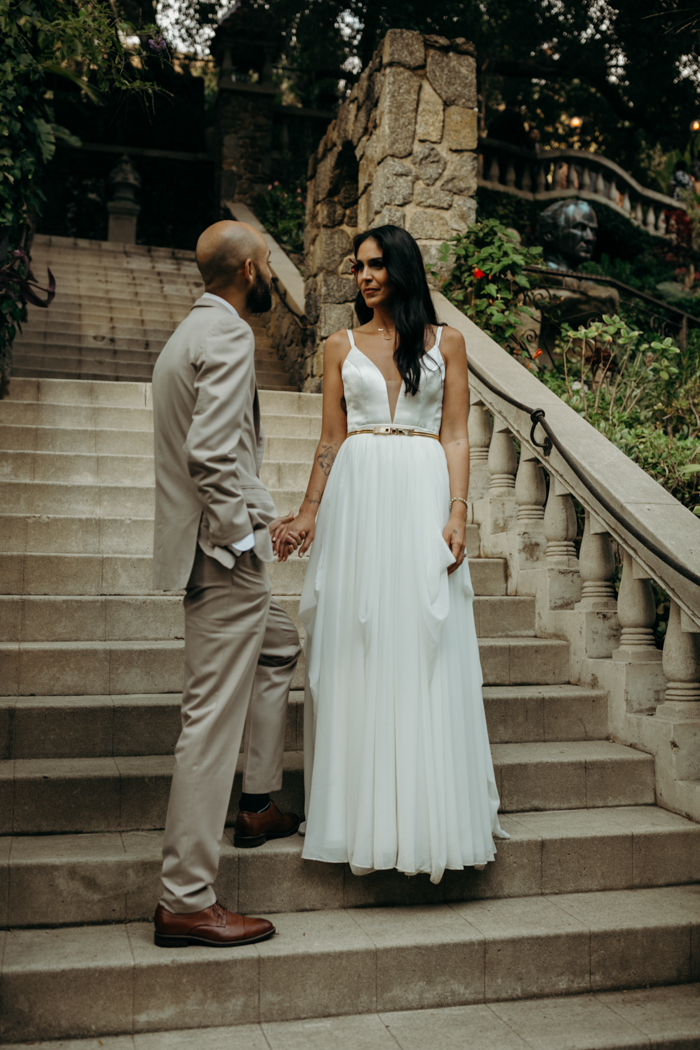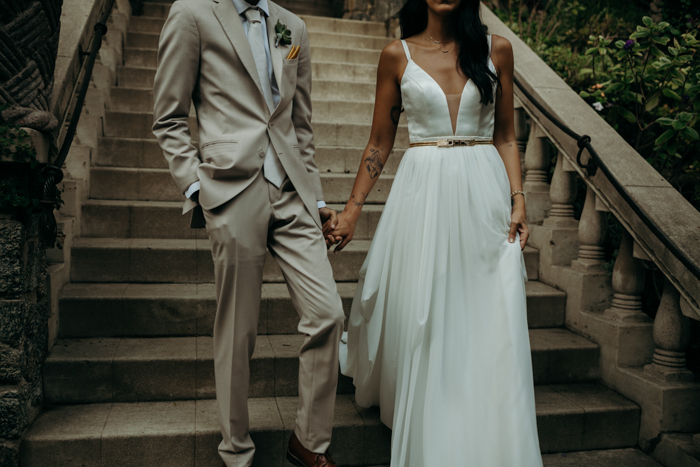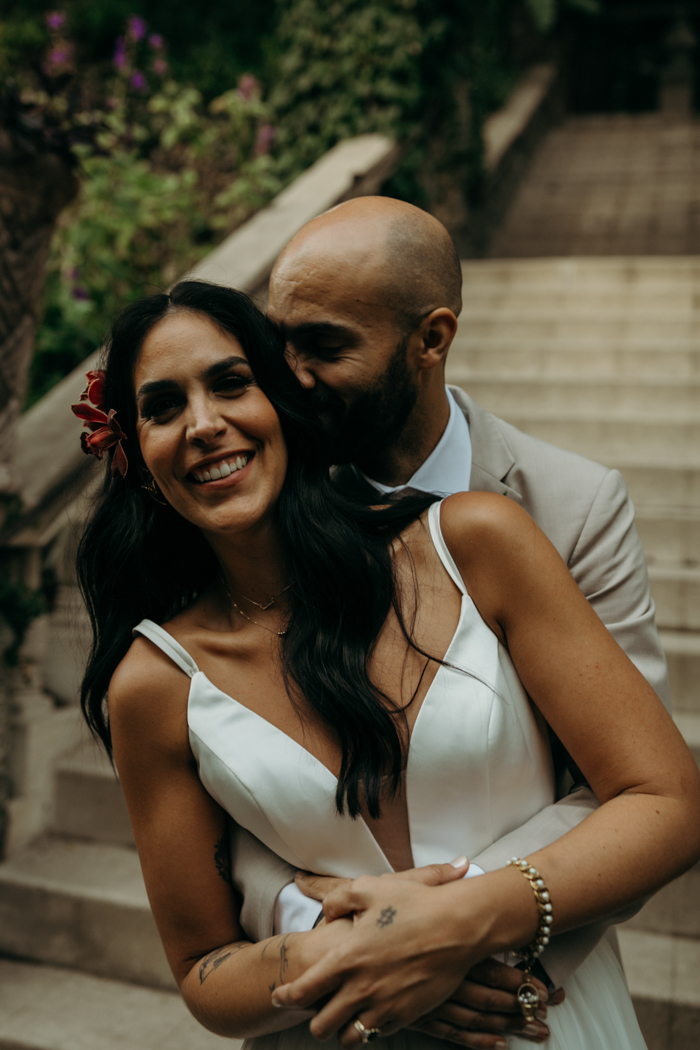 Wedding planning advice from the bride: ENJOY EVERY MINUTE OF IT. The stress is not worth it. The major thing I wish I would have done differently is start small and grow as the date gets closer. My problem was that I was so excited I planned all these huge things early on and insisted on sticking to them. We ended up blowing our budget and had way more to deal with than we needed to.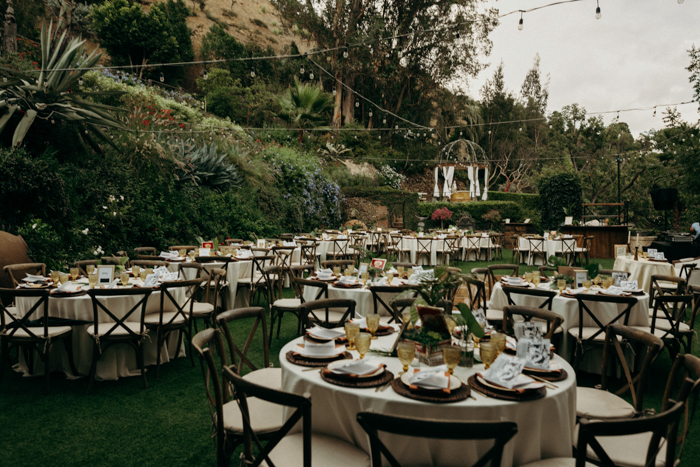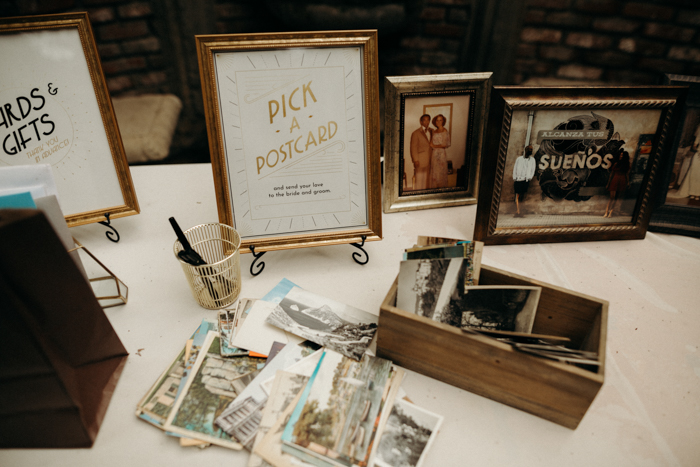 When guests arrived to the ceremony they were greeted with champagne and a choice to grab a Panama hat or Spanish fan giveaway. Really wanted our guests to feel like they were stepping into Old Havana. Then each got a custom luggage tag that told them which table, or I should say country, they were sitting at. We love to travel and really wanted that to show in our wedding.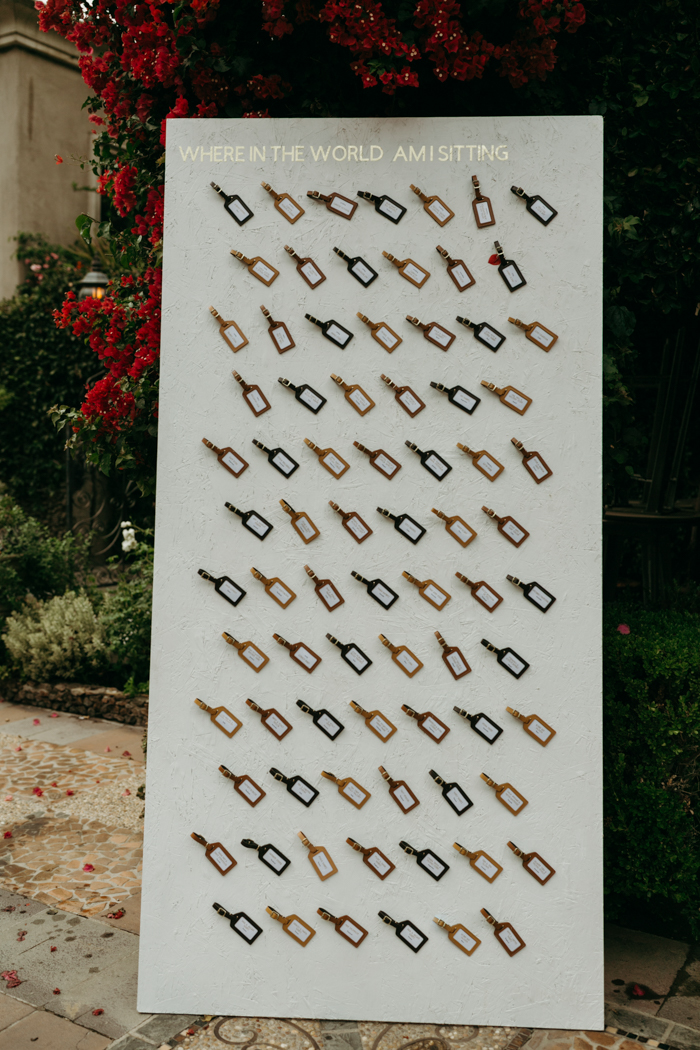 SHOP THIS LOOK: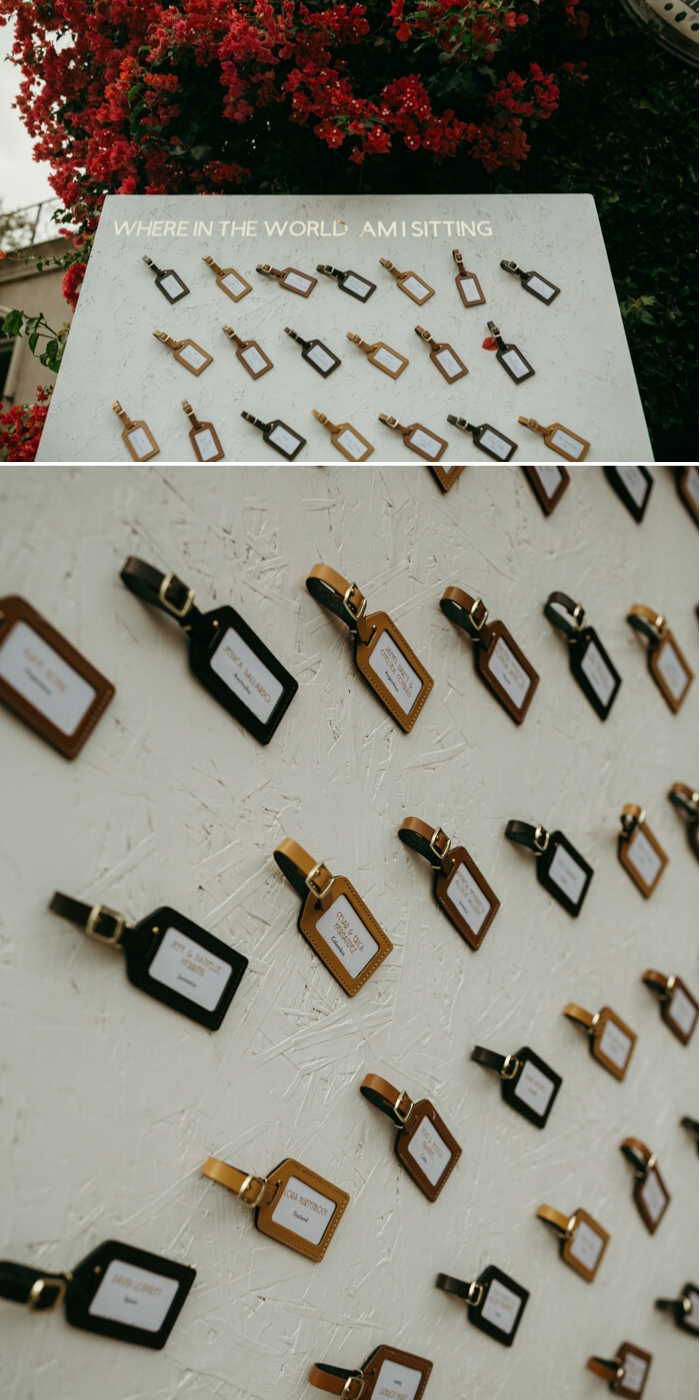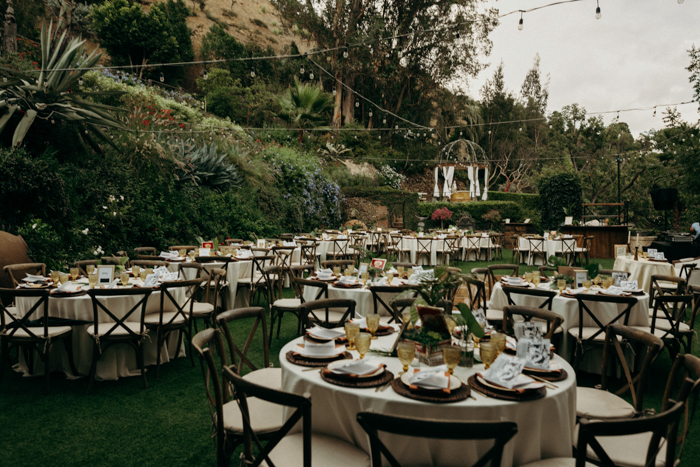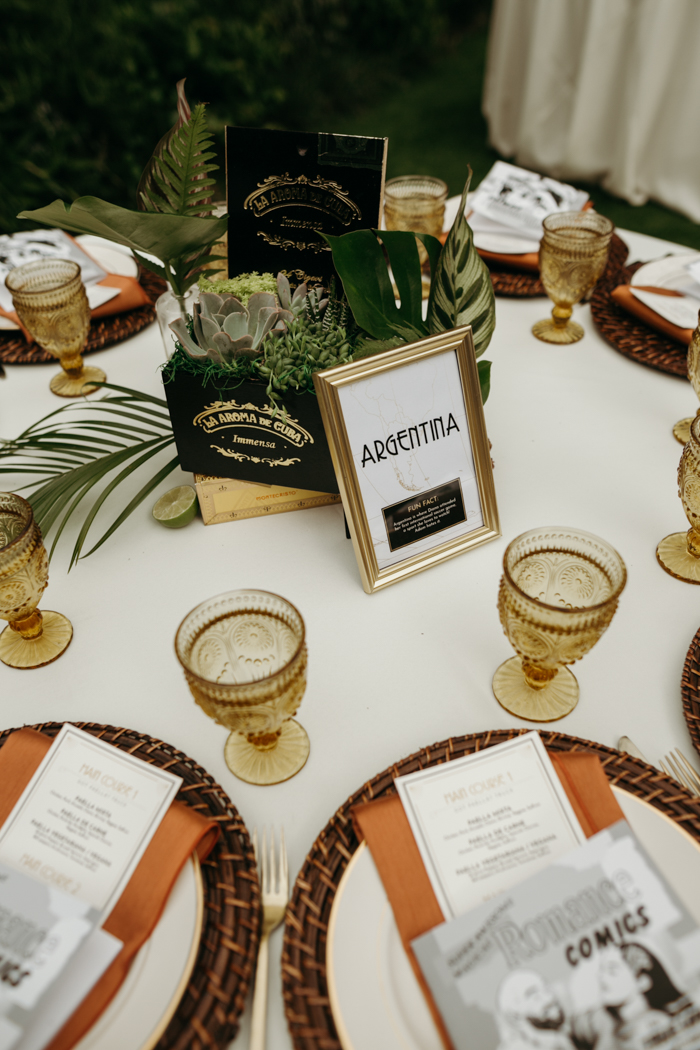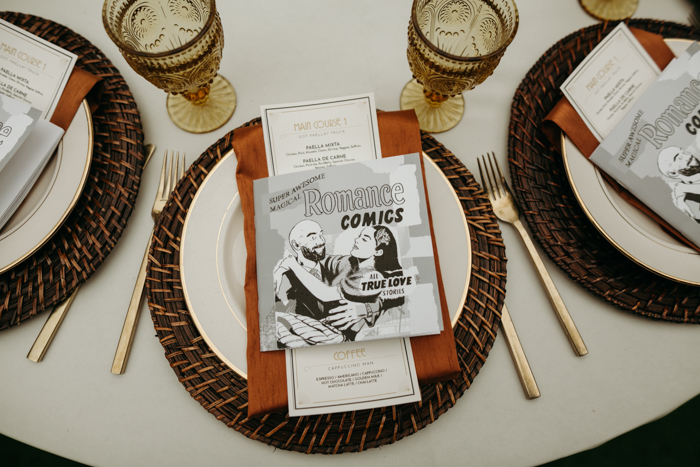 I feel like our wedding vibe chose us! My family is Cuban (so I was born into good taste), and Adam is a huge movie buff. I loved combining the feel of Old Havana with Old Hollywood. It was the perfect mix of the two of us.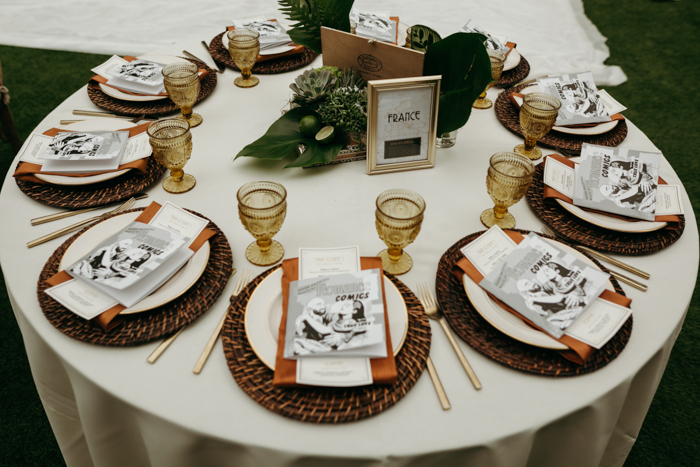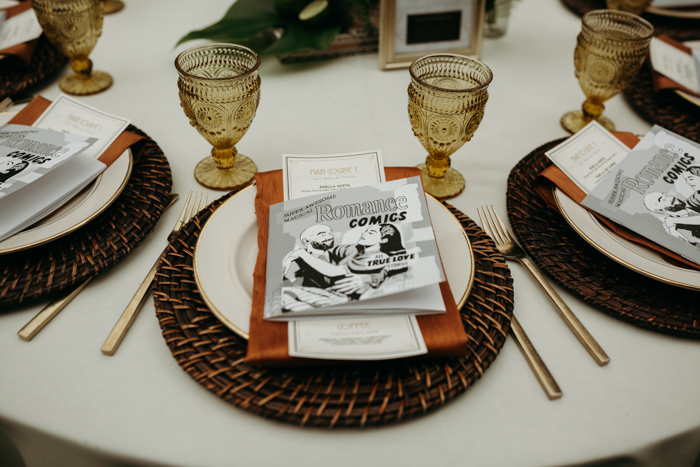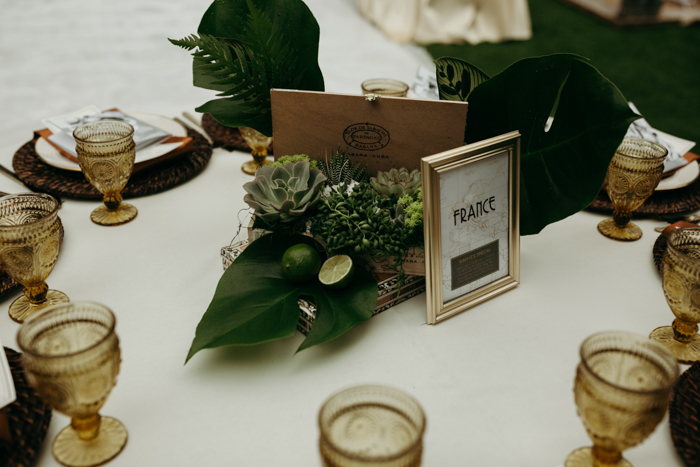 I feel like every inch of our wedding was personalized! I am a Graphic Designer and Adam is a Creative Director / Illustrator. The tables were named after countries where we have visited, either together or before we met. I designed all the table "numbers" myself explaining why each country was special to us. I also designed all the signage placed throughout the venue. Our welcome sign was a beautiful work of art Adam created of us in an old Houdini inspired poster design. Each place setting also had a mini comic book of our love story that Adam illustrated and designed.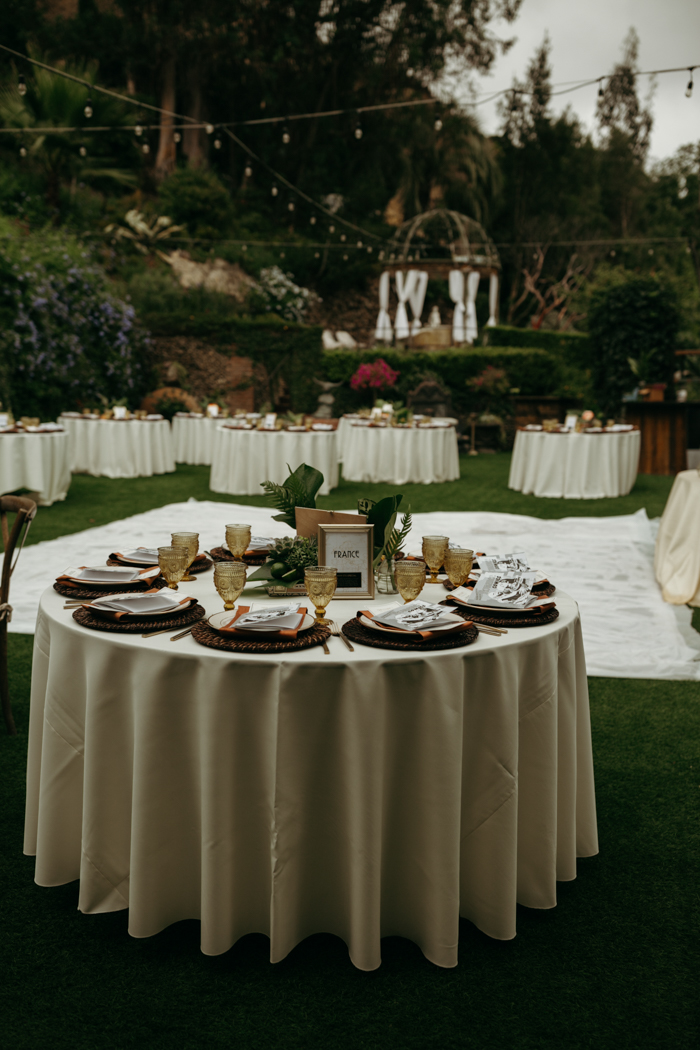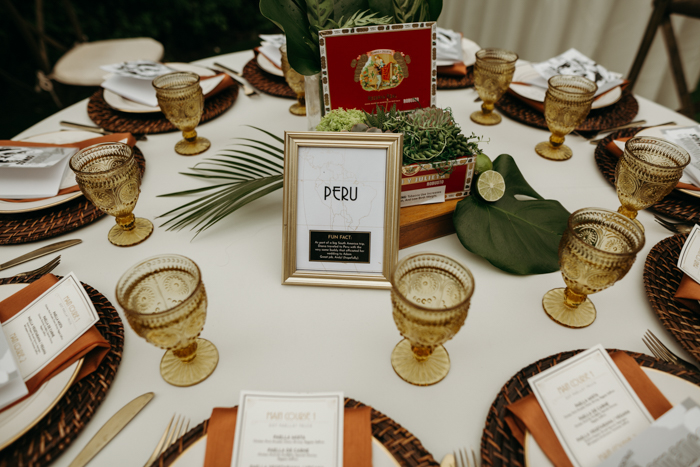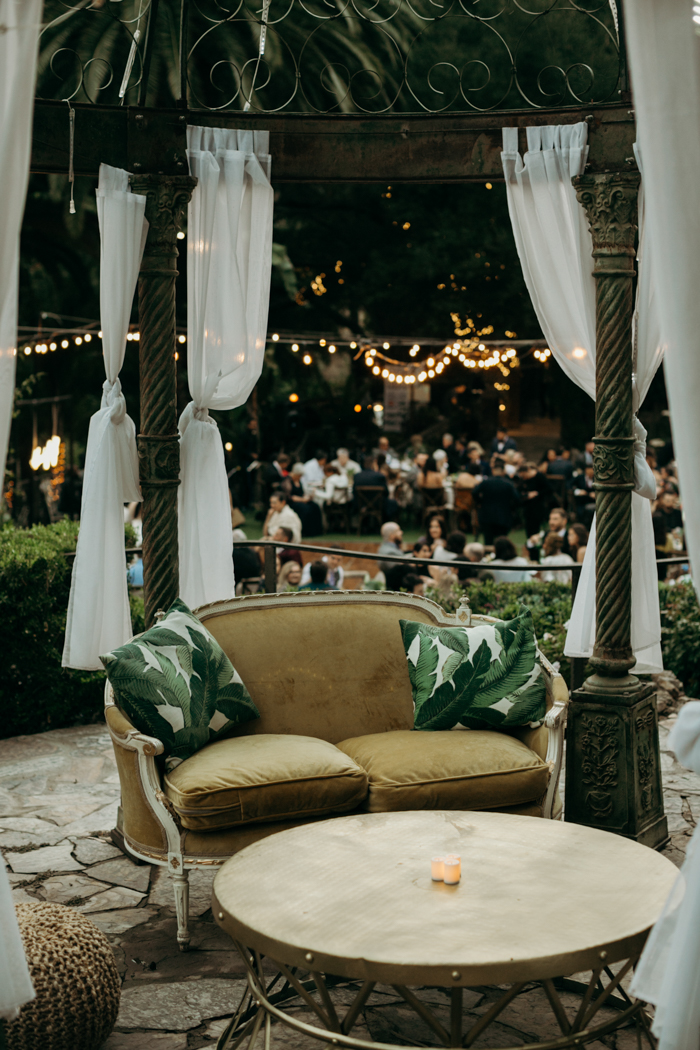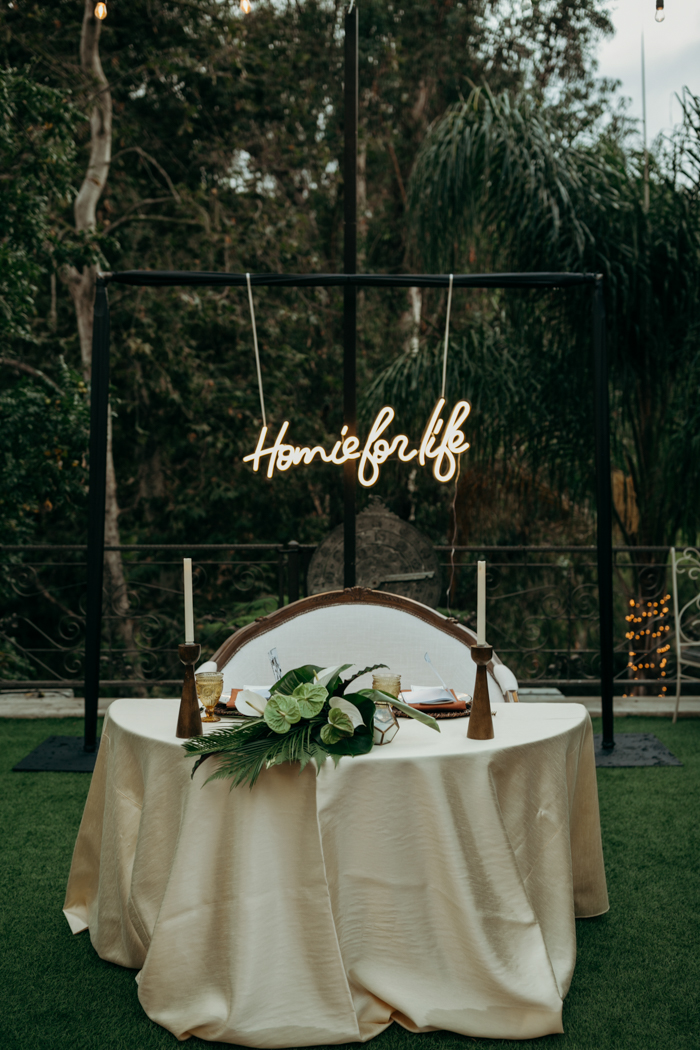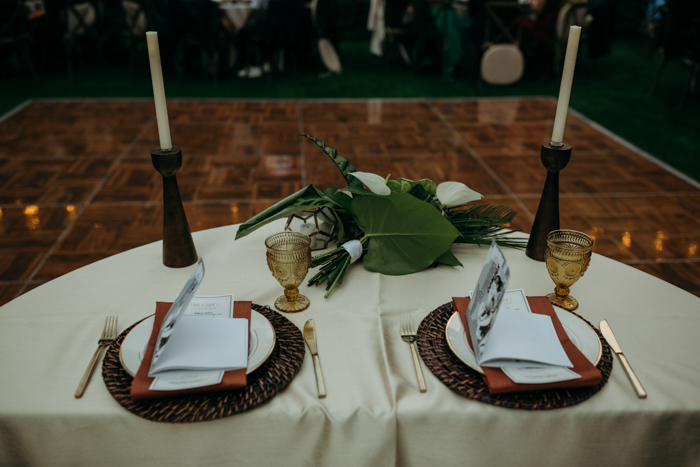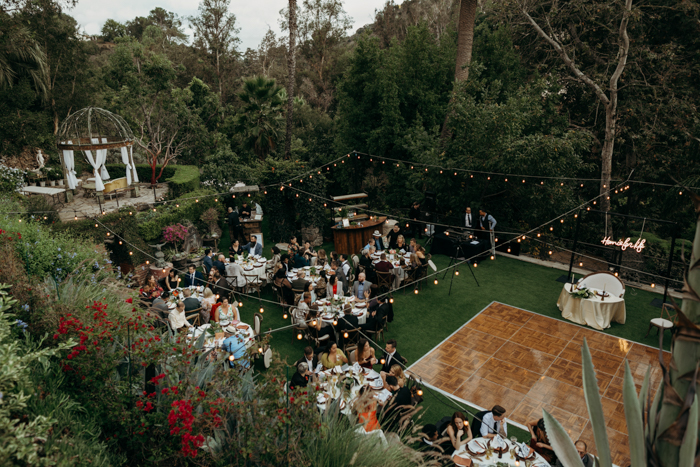 We nailed our dance routine. I have never been so proud of us as a couple! On a serious note, my dad is handicap and very ill. We went through a lot to get him to Los Angeles from Houston so he could be with me on our day. I will never forget our Father/Daughter dance. I tear up every time I think about his happy face looking up at me from his wheelchair.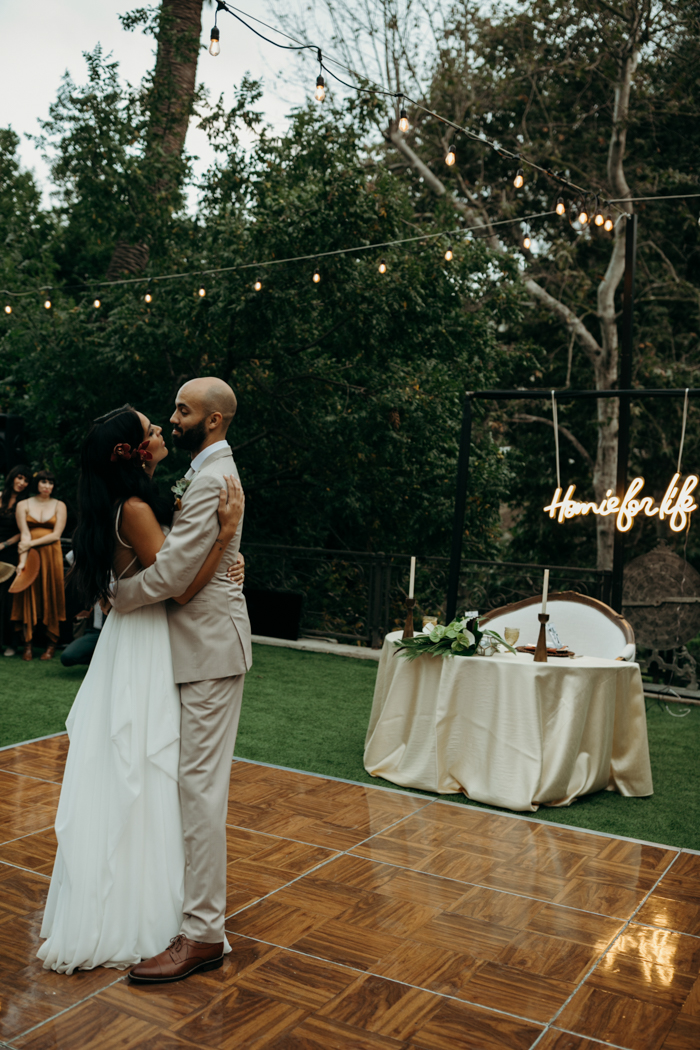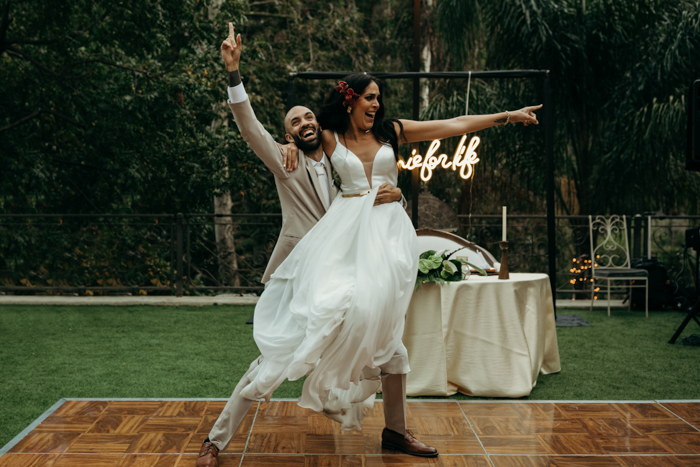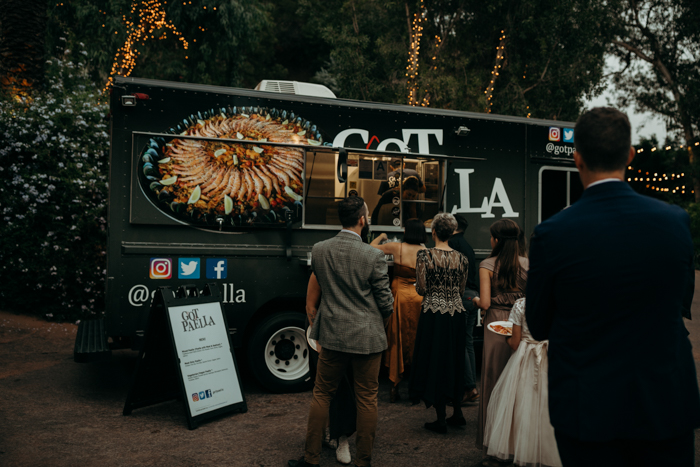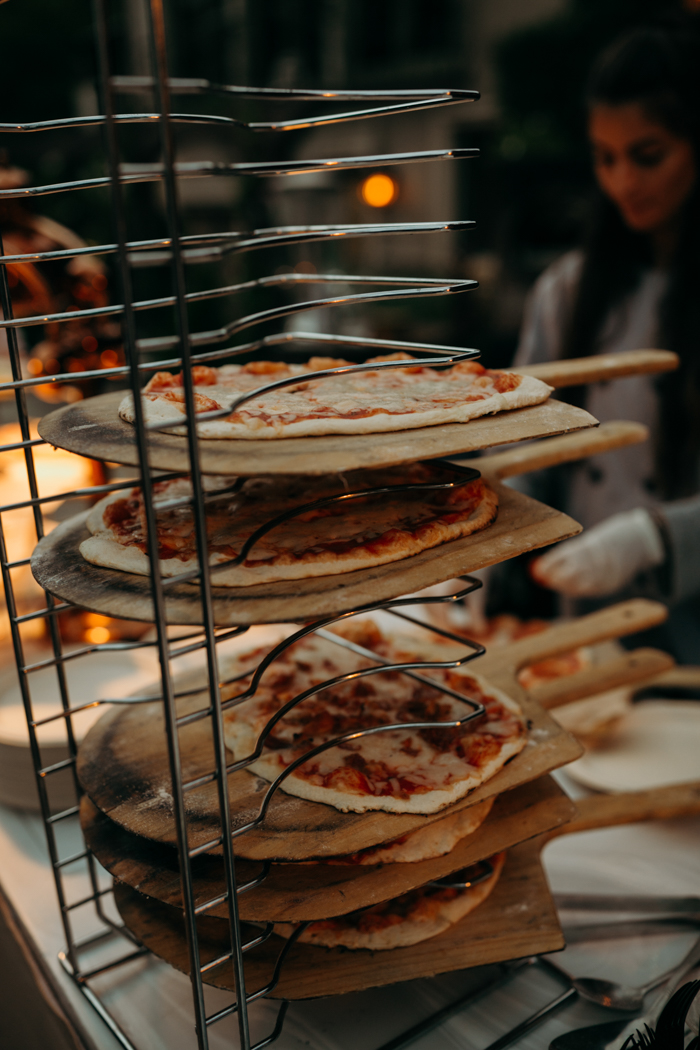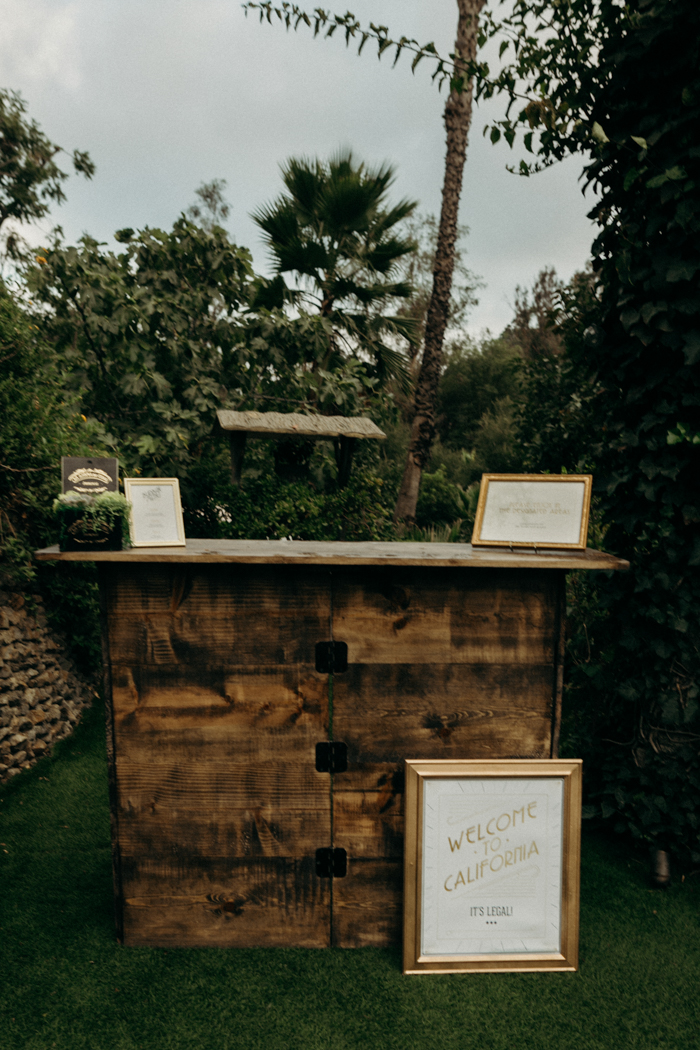 The Budtenders were so unique and huge hit with our guests. We were their first event and they were fantastic!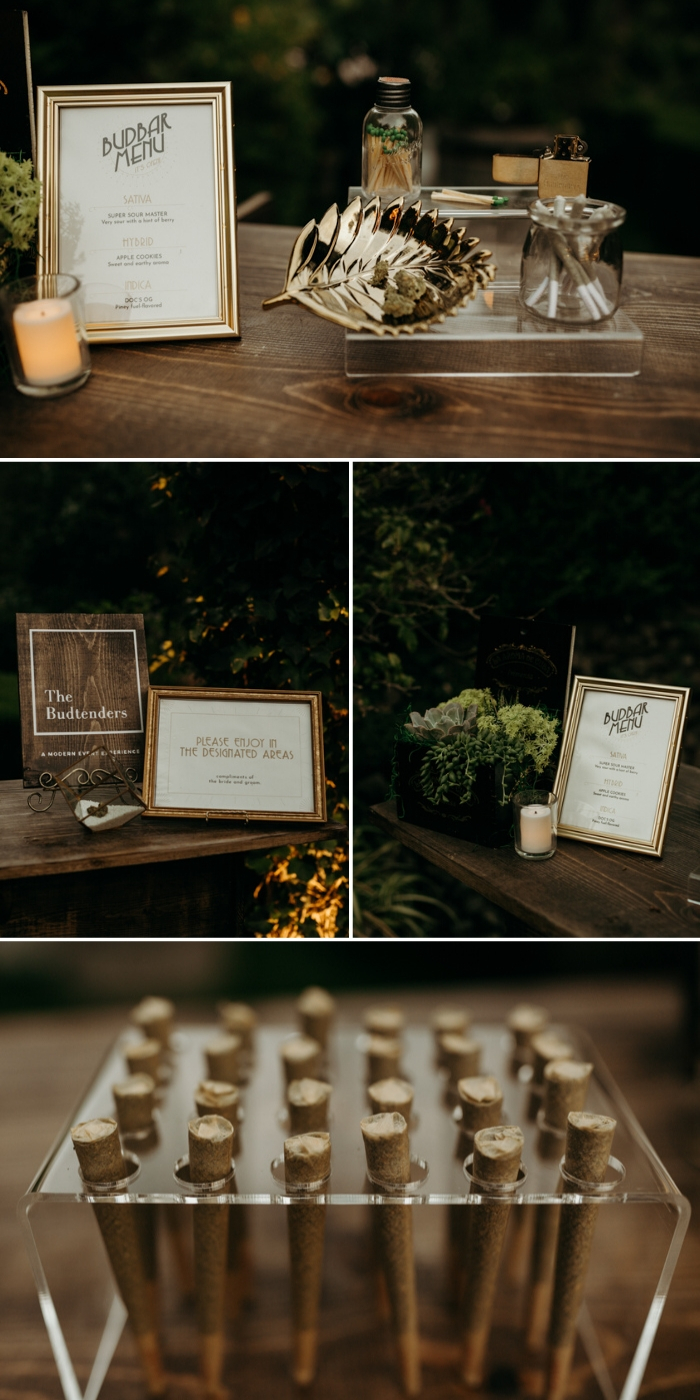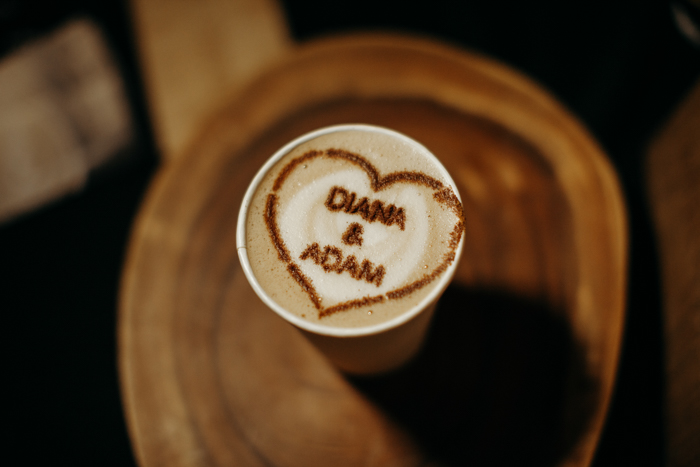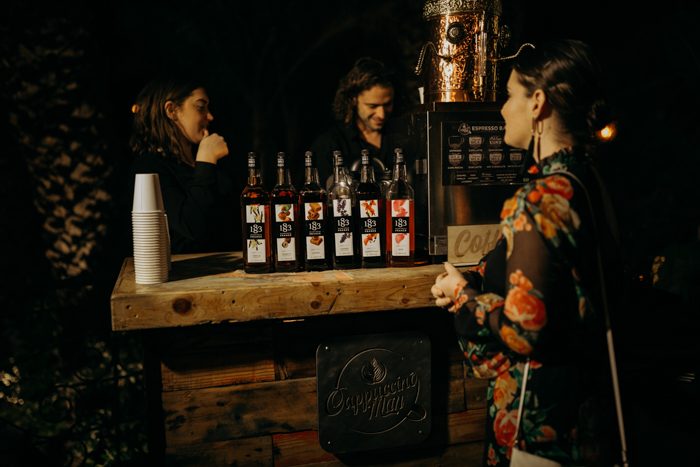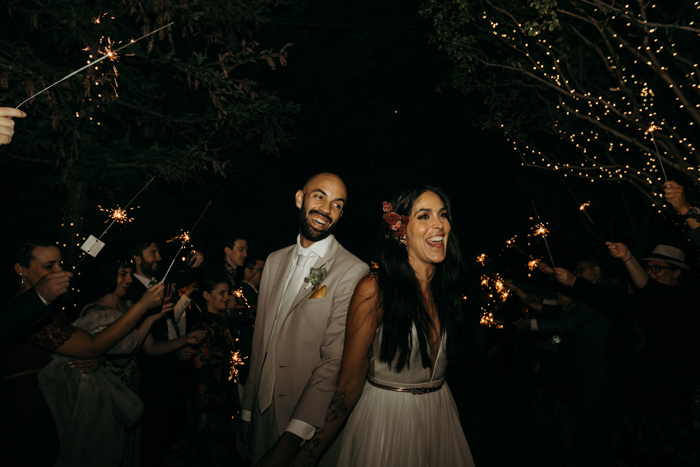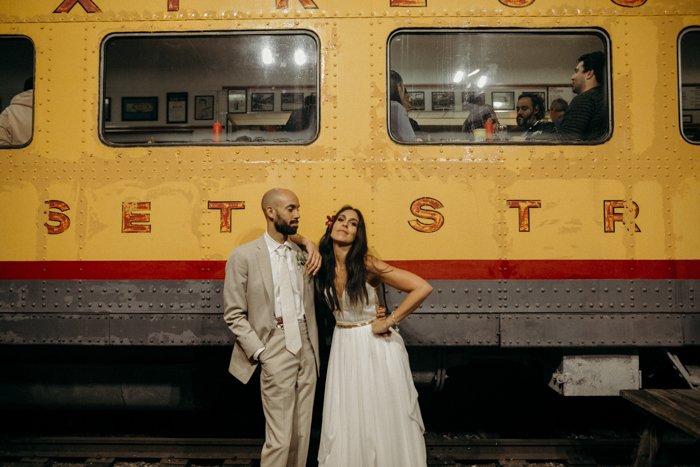 Our photographers were absolutely amazing. Honestly, I truly believe they saved the day. We had put so much money and effort into planning this gorgeous wedding and of ALL days, Los Angeles decided to rain on OUR day. It never rains in September! I was mortified. If I could go back and change my attitude I would do it in a second, but when you're in it you really don't have much control over your emotions. Or at least I didn't. Joe and Kathrina, from the second they arrived, calmed me down, made me laugh, got those photos that when I look back make me completely forget about the rain. I had my ups and downs during the day but they stuck it out with me. They even drove us down Sunset after the reception to get some photos in our wedding attire at a local classic diner. We ate burgers and drank champagne, they captured our true selves…relaxed and a little tipsy.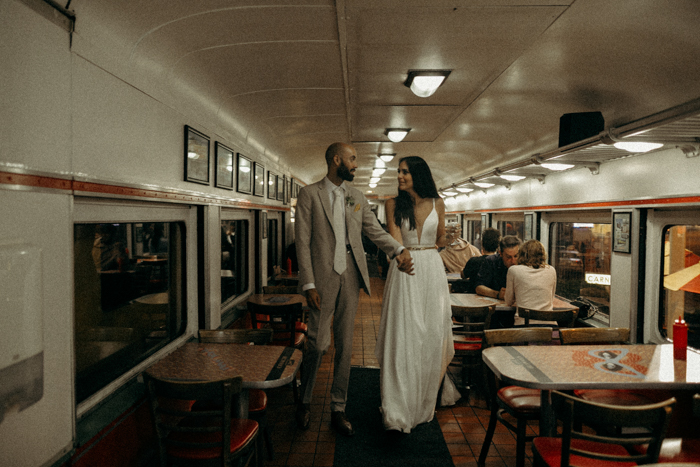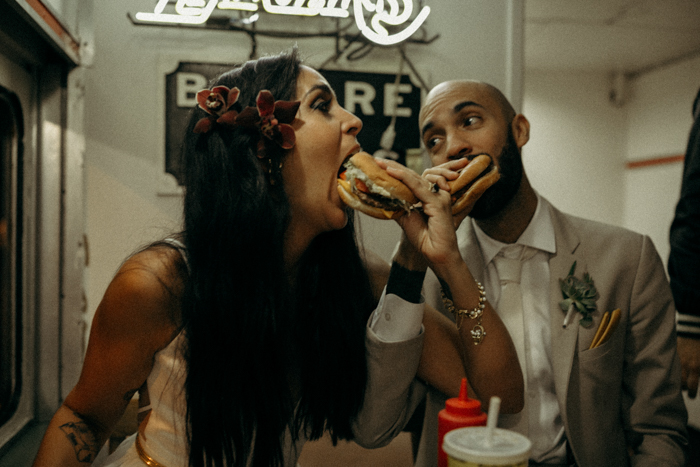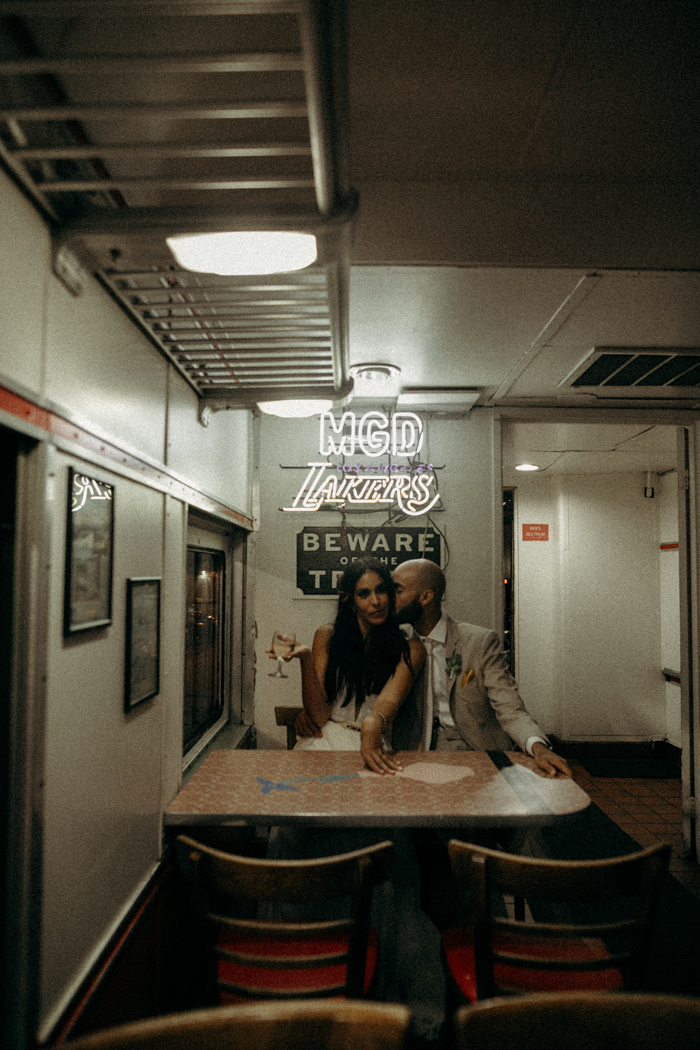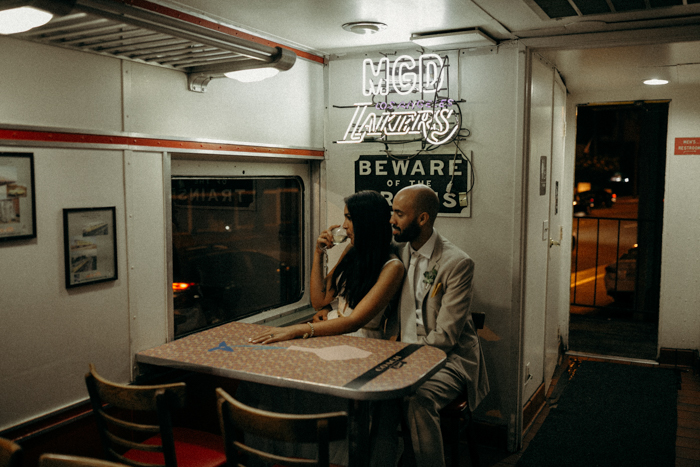 Cheers and congrats, Adam and Diana! We're grateful Junebug member Joe + Katrina shared your stellar wedding at The Houdini Estate with Junebug! For more of the 2020 California cool wedding trend, you've got to check out this rock 'n' roll glam California wedding at Wolf Feather Honey Farm.