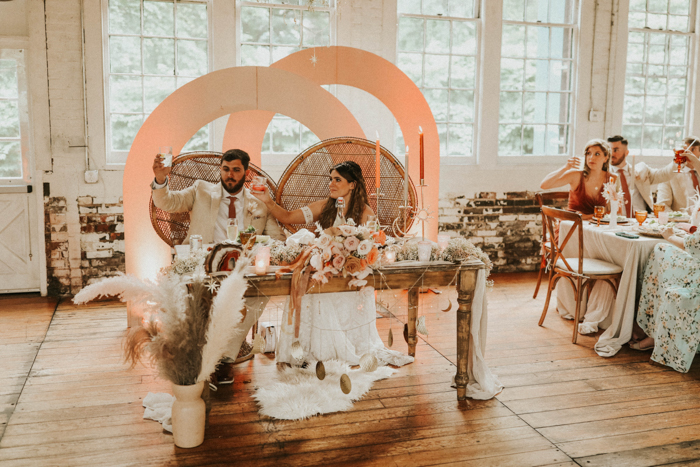 When Victoria and Michael thought about their wedding and what they wanted it to look like, they knew that astrology would play a big part. With that in mind, they set their sights on all of the details that would make up the astrology-inspired wedding of their dreams.
With the help of Junebug planner Brehant Creations, that's exactly what they had. From the crystal seating chart and the moon ukulele guestbook to the perfectly terracotta color palette for it all, these are gorgeously boho nuptials you won't want to miss. And thanks to the gorgeous photos captured by Abigail Renee Photography, you won't. So keep scrolling and get your Pinterest boards ready for lots of star sign inspiration.
The Couple:
Victoria and Michael
The Wedding:
The Lace Factory, Deep River, Connecticut, United States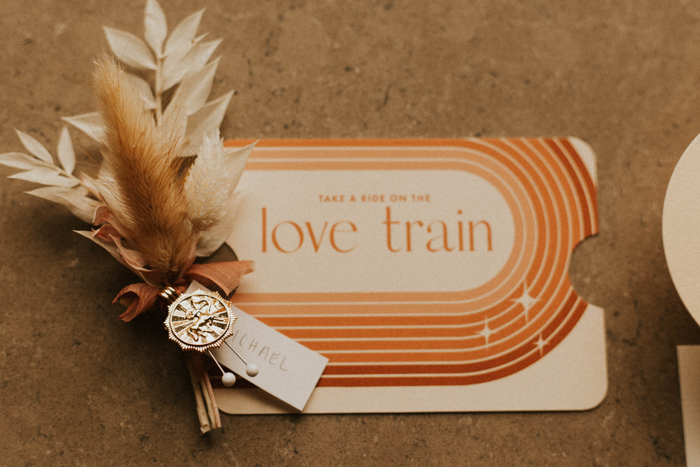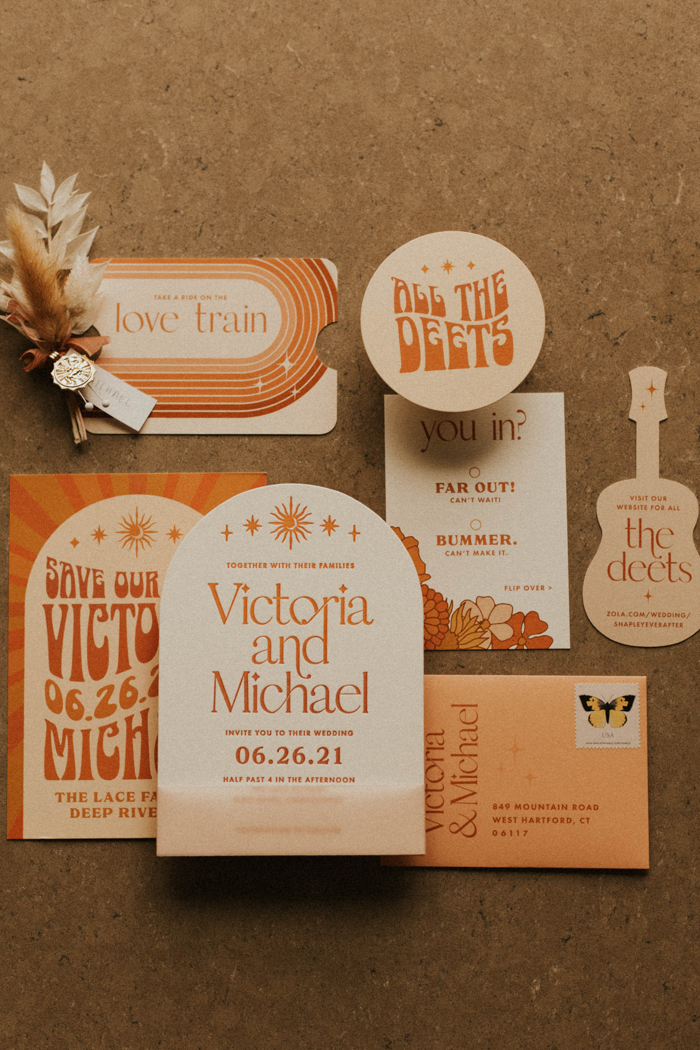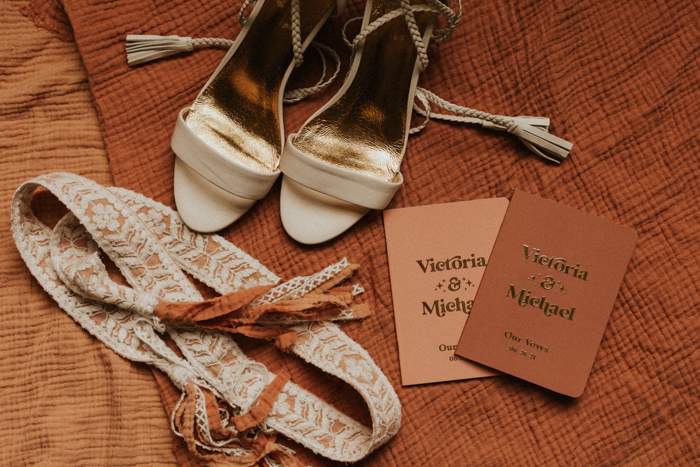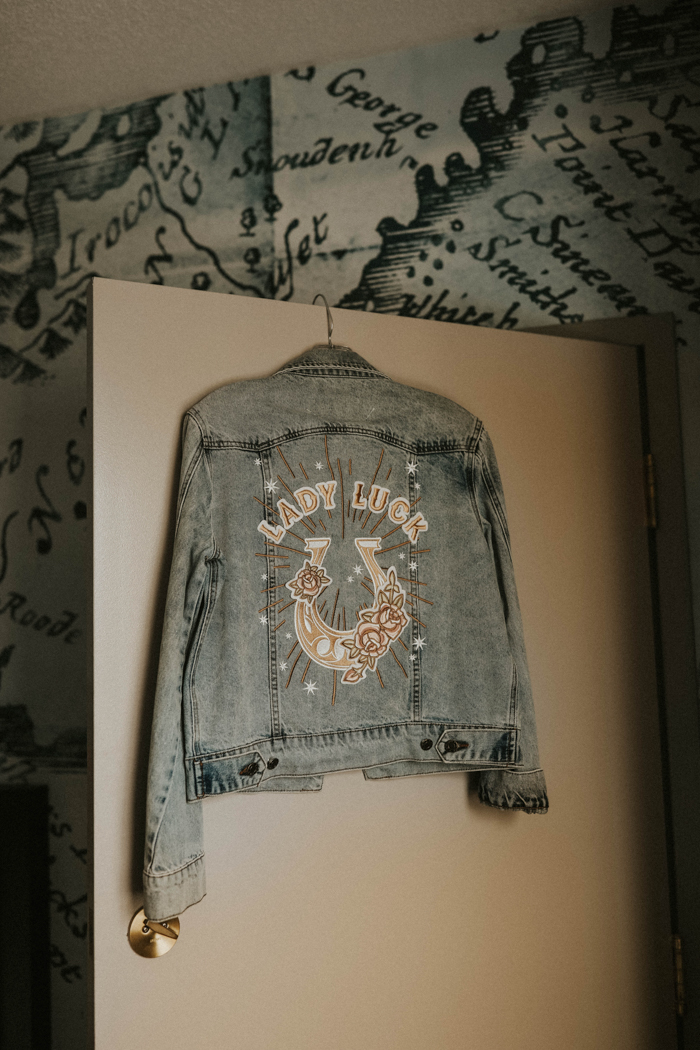 Recommended Reading: Denim Jackets For Any Wedding Style


Astrology Inspired Wedding Vision
We spent a lot of time thinking about the smallest details to make our day special and really curate an entire vibe. We were so lucky that our vendors were so on board with this vision and just as excited about it as we were. My vision from day one was to have a seating chart using crystals for each guest. This was brought to life by our planner and calligrapher, who made the signs. I sourced all the crystals from Etsy and local shops. I specifically chose crystals within our color scheme. This display came out so cool, and the crystals were a really unique favor for guests.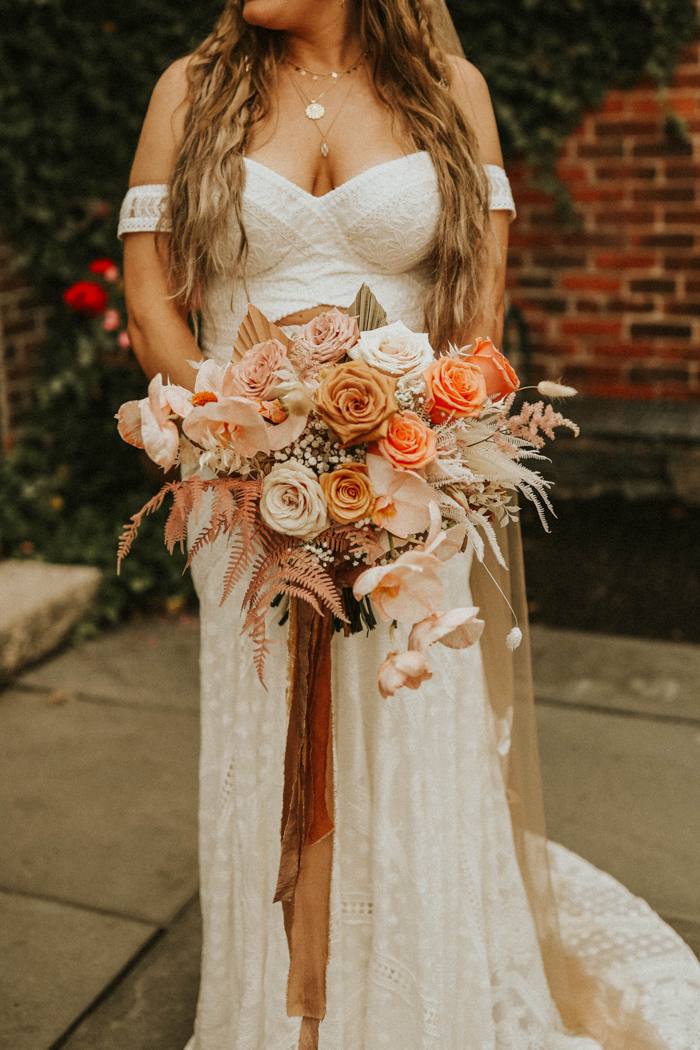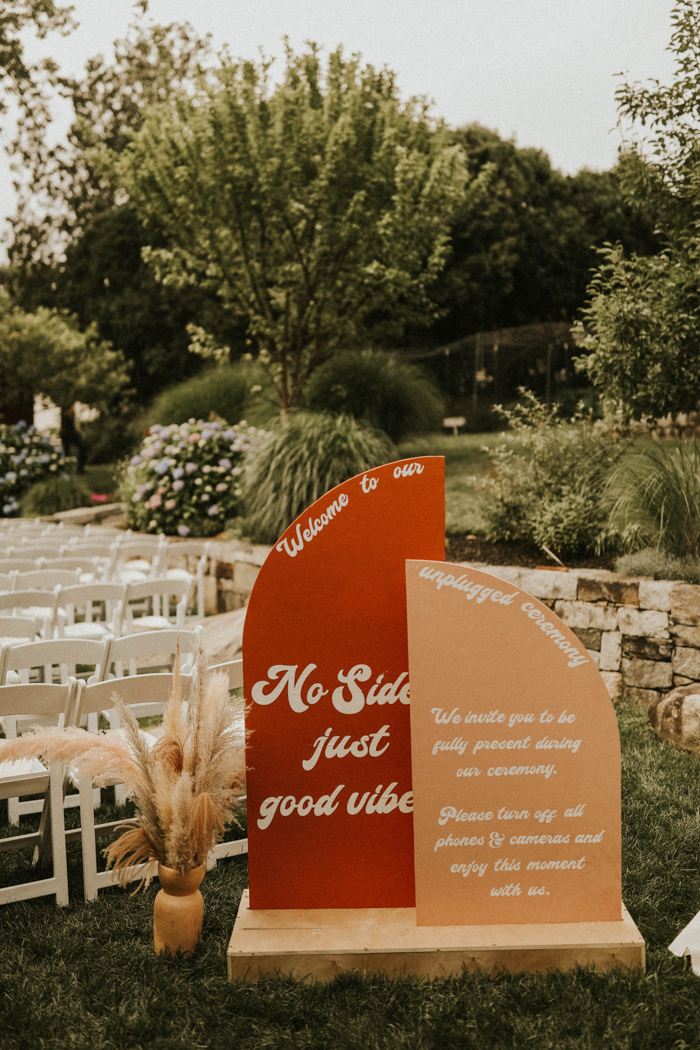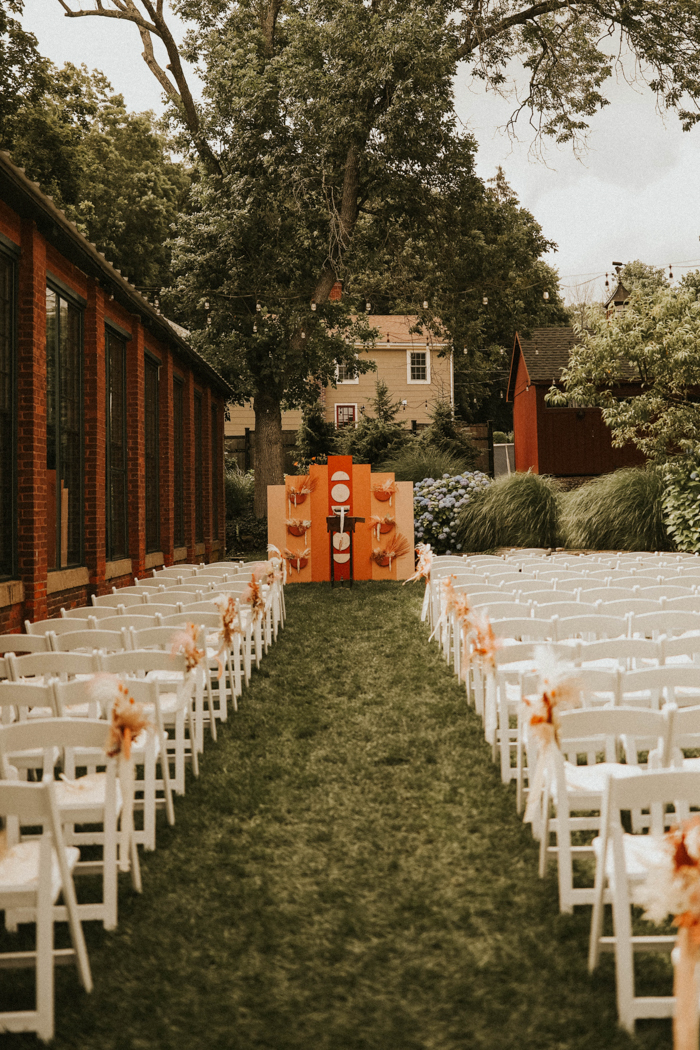 Special Zodiac Sign Details
With the help of Chrissy Marie Designs, we were also able to get zodiac sign necklaces and boutonniere charms for the whole bridal party. This was probably one of my favorite details. I also DIY'd the place cards, which included guest names and zodiac signs. This was such a fun detail for our guests, and it was fun for us to learn everyone's signs.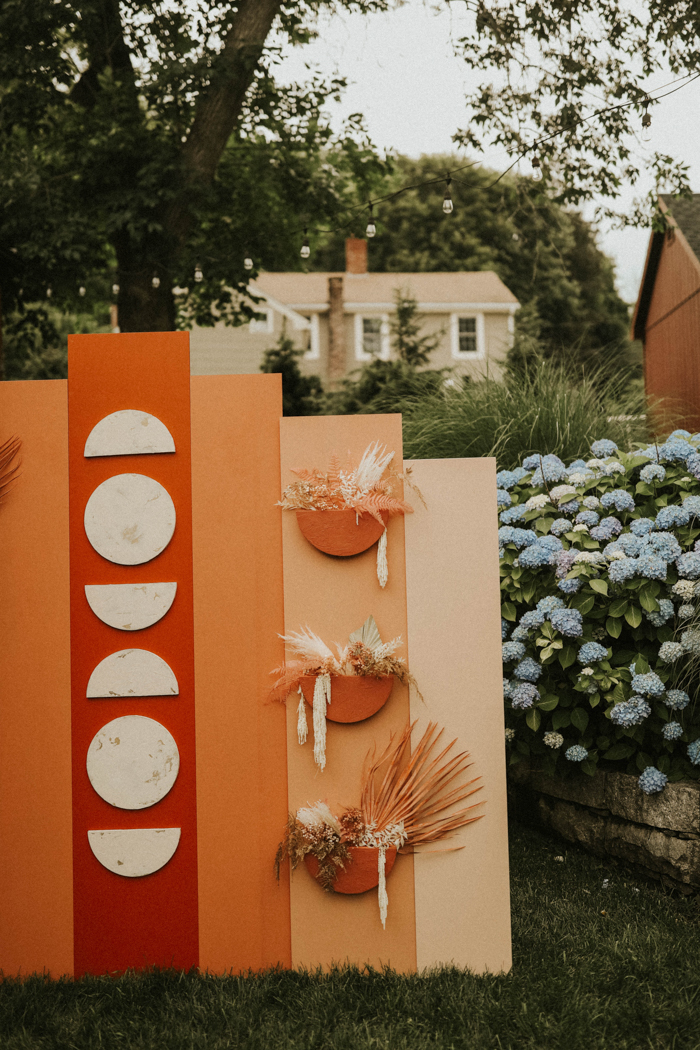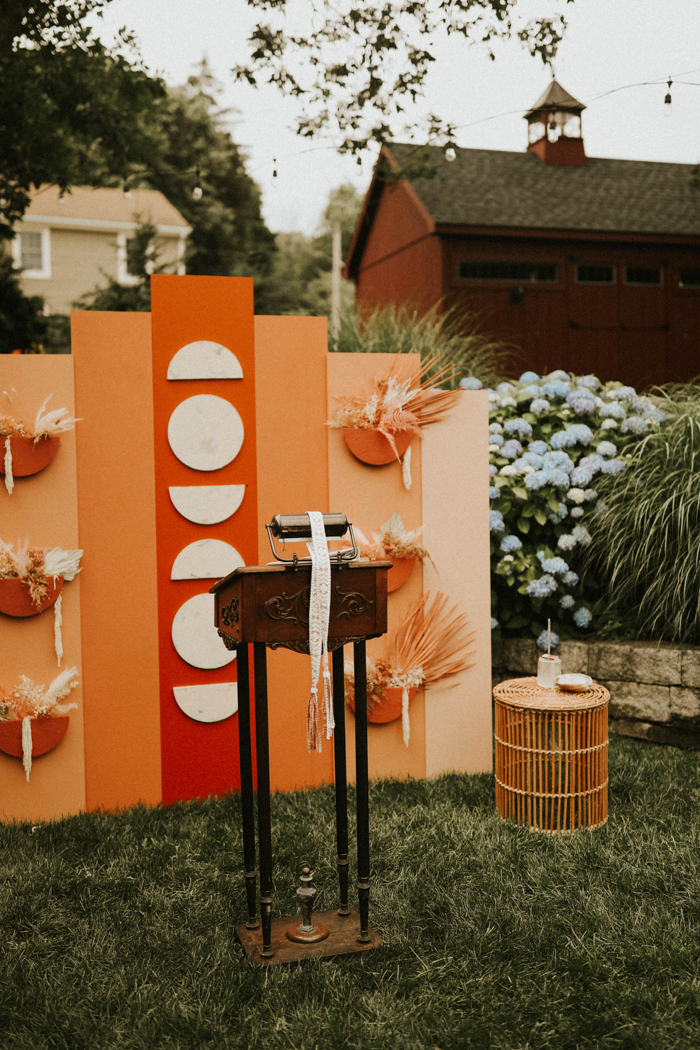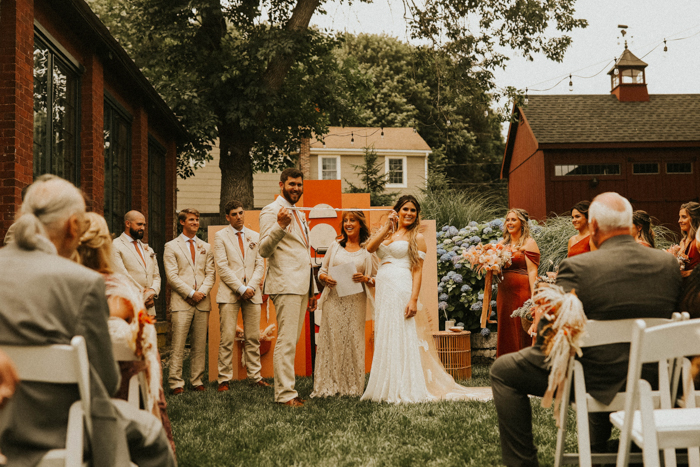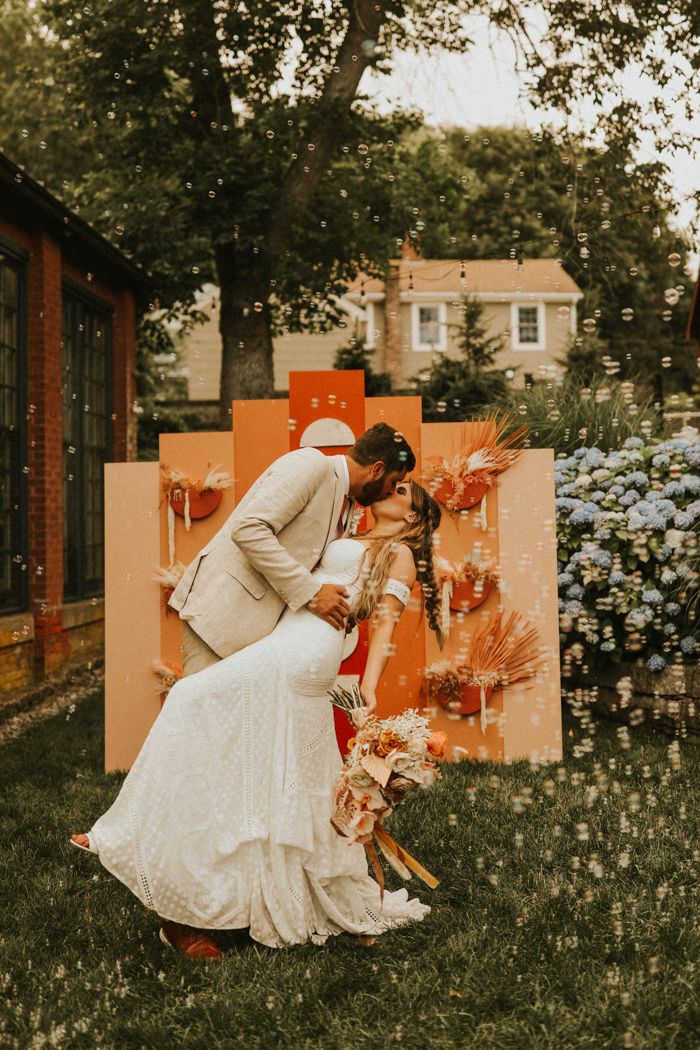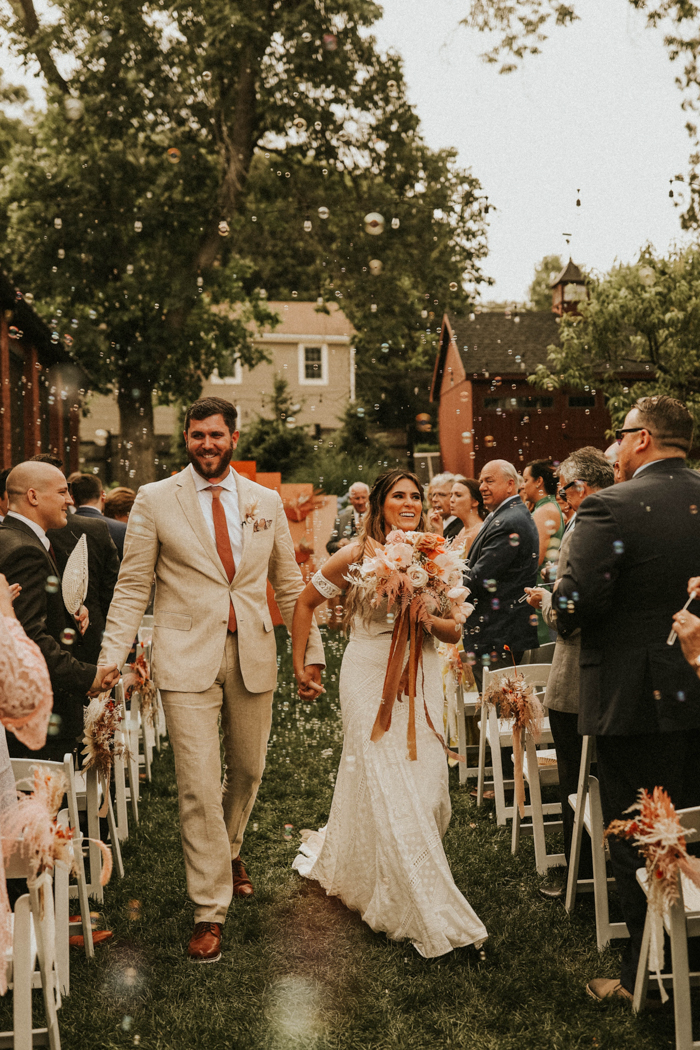 Choosing The Lace Factory As Their Venue
We pretty much settled on The Lace Factory before we were even engaged. We went there one day for brunch and then rode the Essex Steam Train. It was a blast. The Lace Factory had the vibe we wanted and it was so cool that our guests could take the steam train to our wedding. We didn't get to ride the train with our guests. But the train did come back after our ceremony to take some photos on it with our wedding party. Those ended up being some of our favorite photos so we're so glad they were able to come back.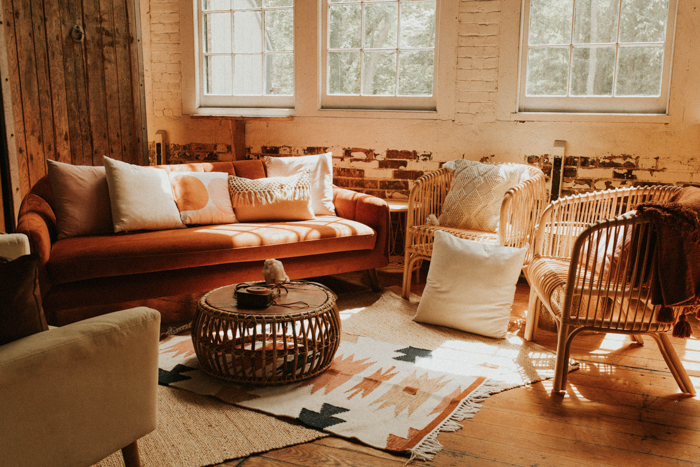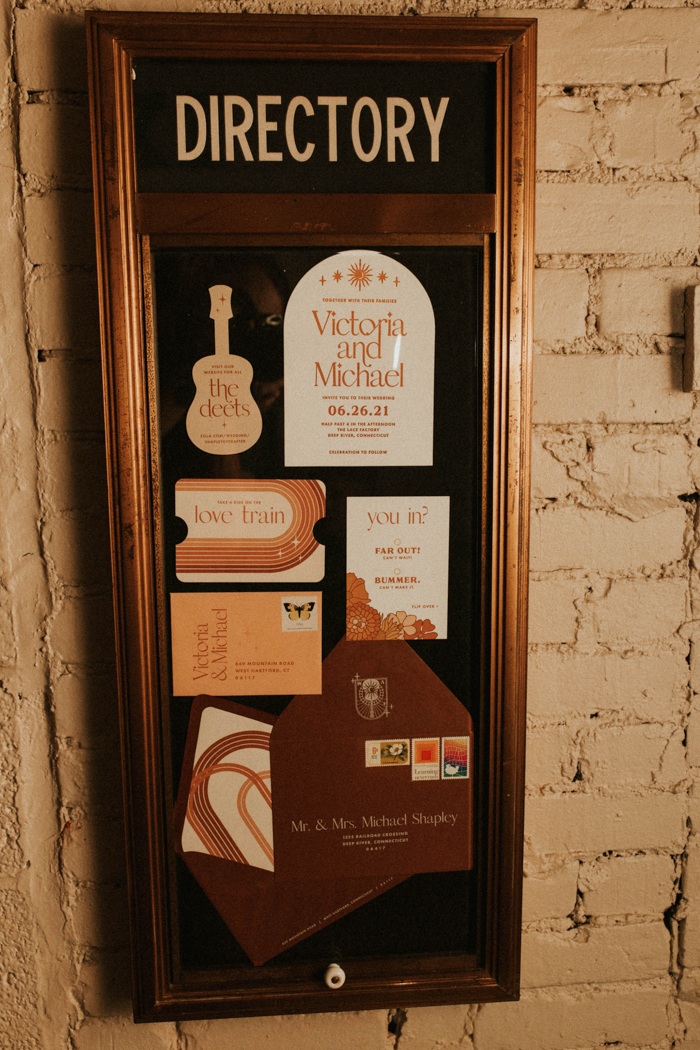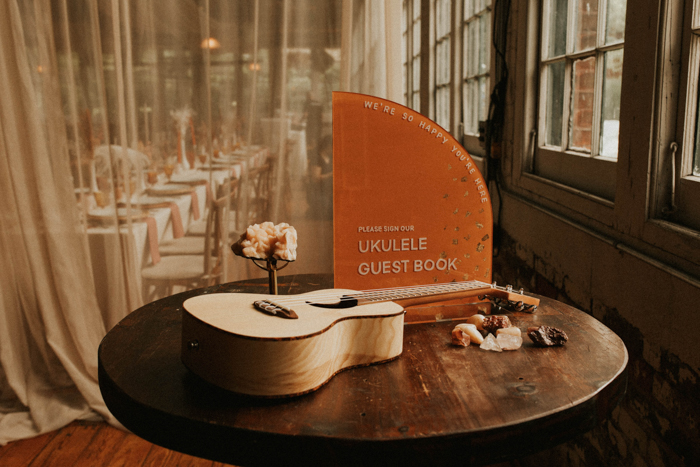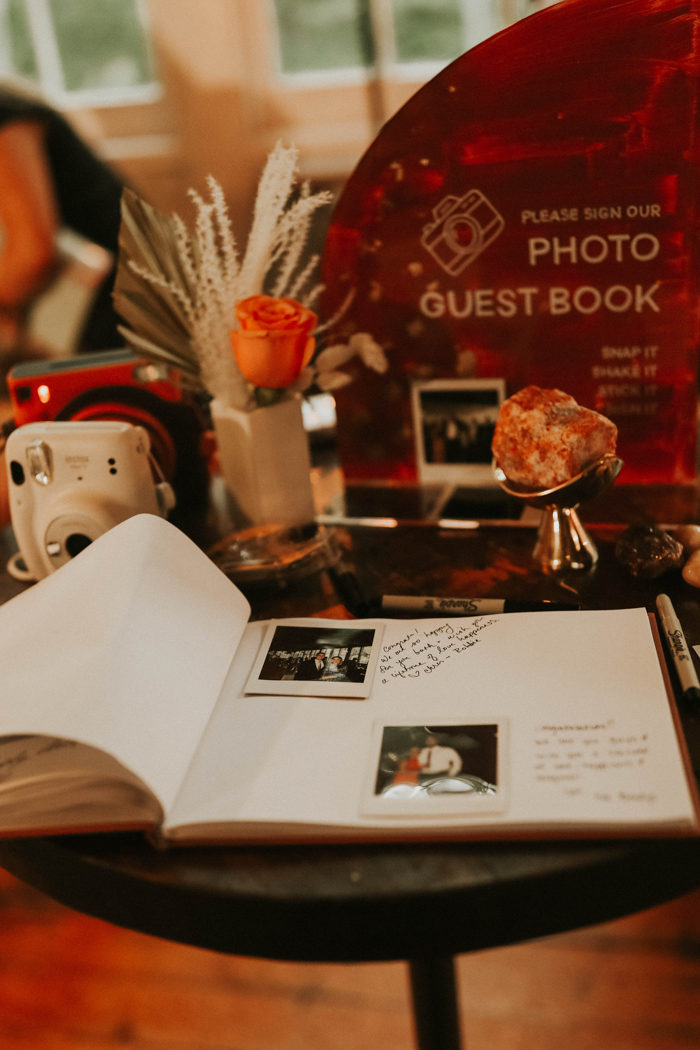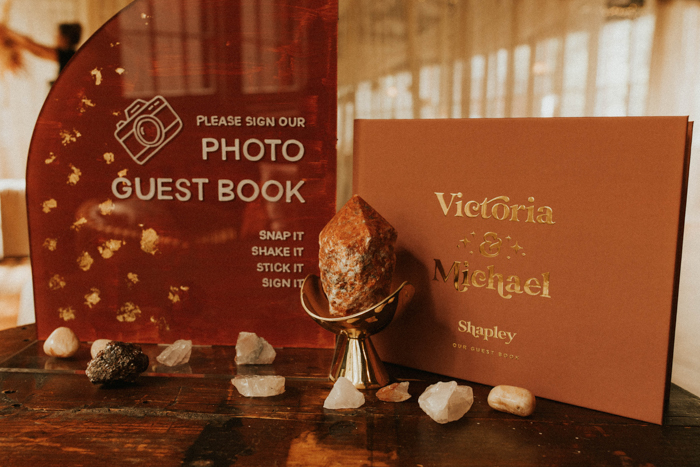 The Most Memorable Parts of the Day
There were so many memorable moments, but two definitely stick out for us. The first was the actual wedding ceremony. It was incredible to finally be there with all the people we love together in the same place. Our ceremony was officiated by a close family friend who took so much time to write a beautiful and personal ceremony. We had live music from our friends Rad and Kell, which also made the ceremony incredibly special. I walked down the aisle to "Crystal" by Fleetwood Mac, and our recessional song was "Everywhere" by Fleetwood Mac. The other most memorable moment was seeing our reception space. After months of working on all the decor and design, it was awesome to see it all come to life. It was so breathtakingly beautiful and even more magical than we ever could have imagined.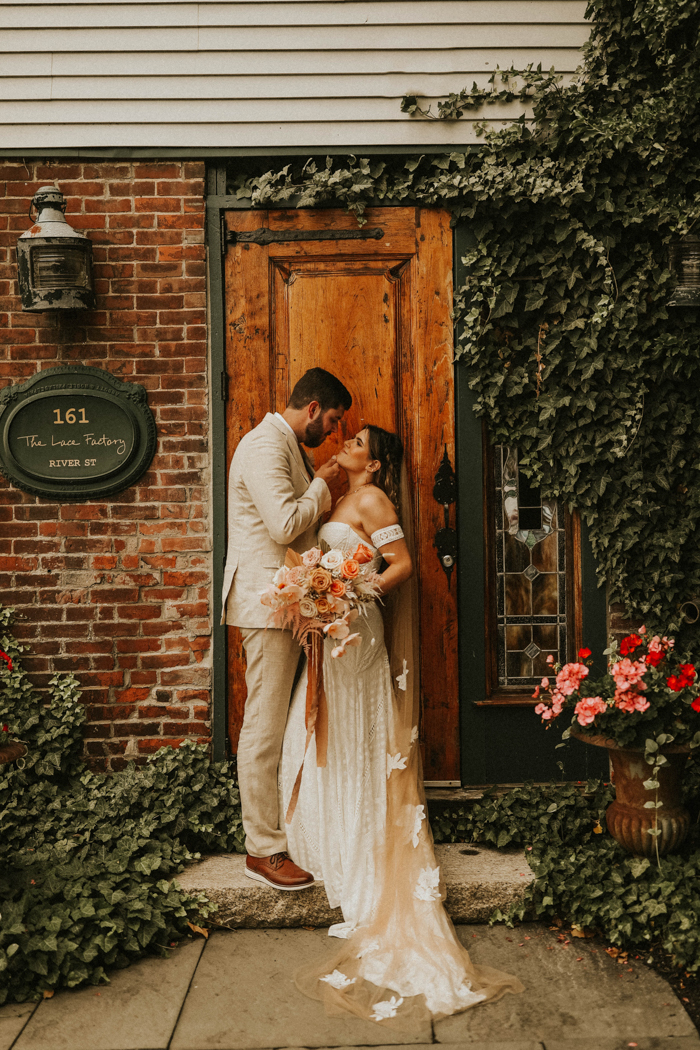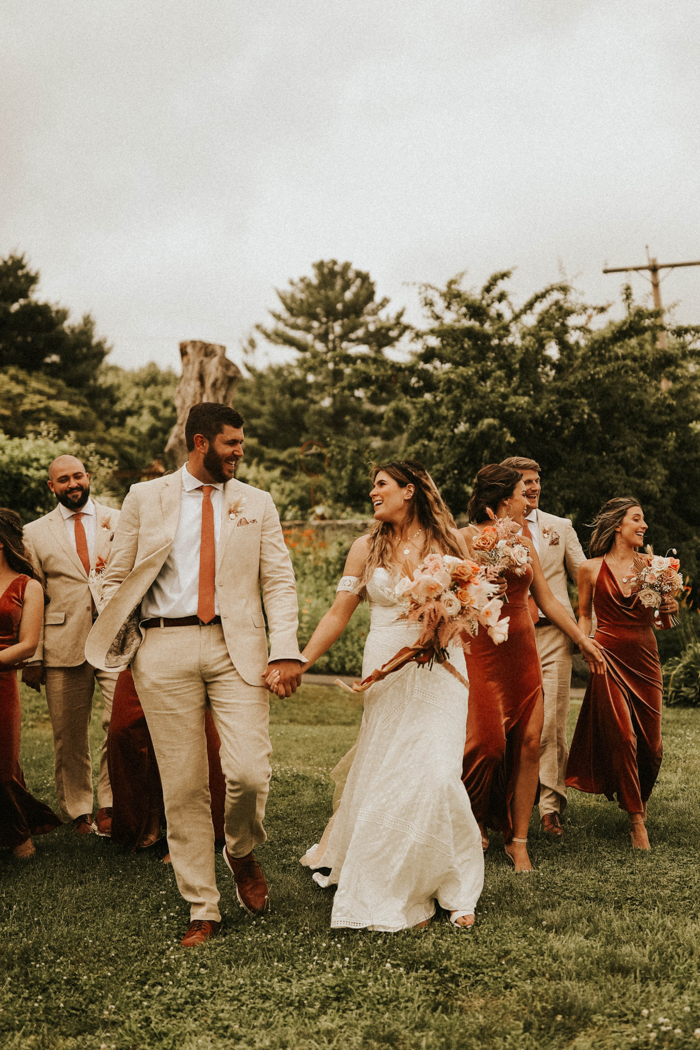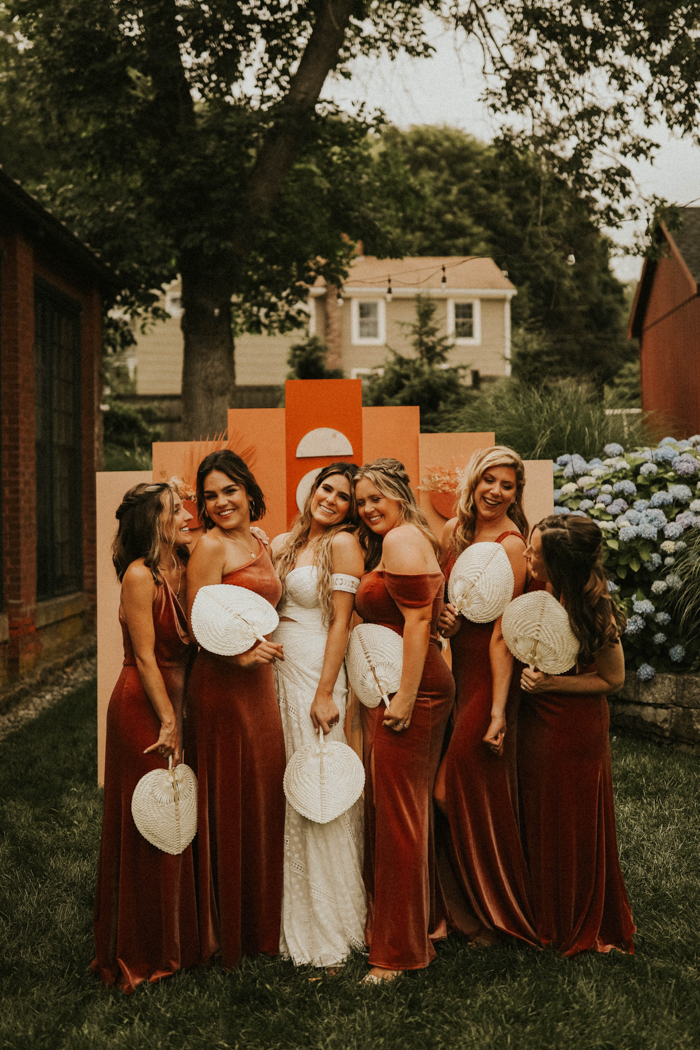 Shop Similar Bridesmaid Gowns:
Their Wedding Planning Advice
If it's within your budget, get a wedding planner! We hired our planner, Sarah Brehant of Brehant Creations, very early in the planning process. We had a very specific design vision that we knew we could not bring to life alone. Having Sarah kept us sane and on track with the wedding planning process. Wedding planners are especially helpful in those last few weeks leading up to the wedding when your head is spinning with all the final details. Also, having her and her team the day of the wedding allowed us to sit back and relax, knowing everything would go off without a hitch.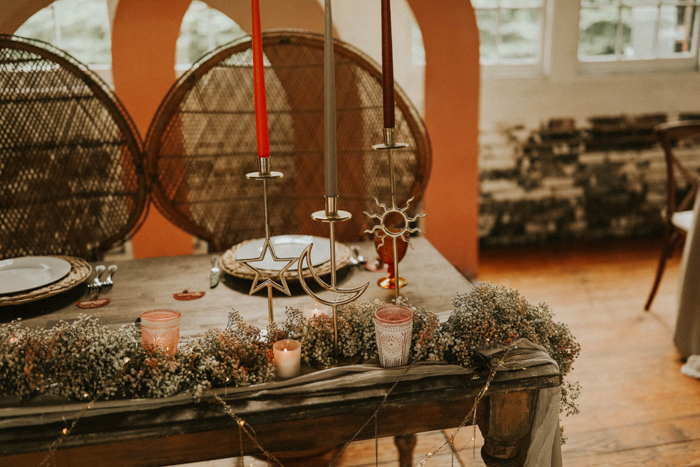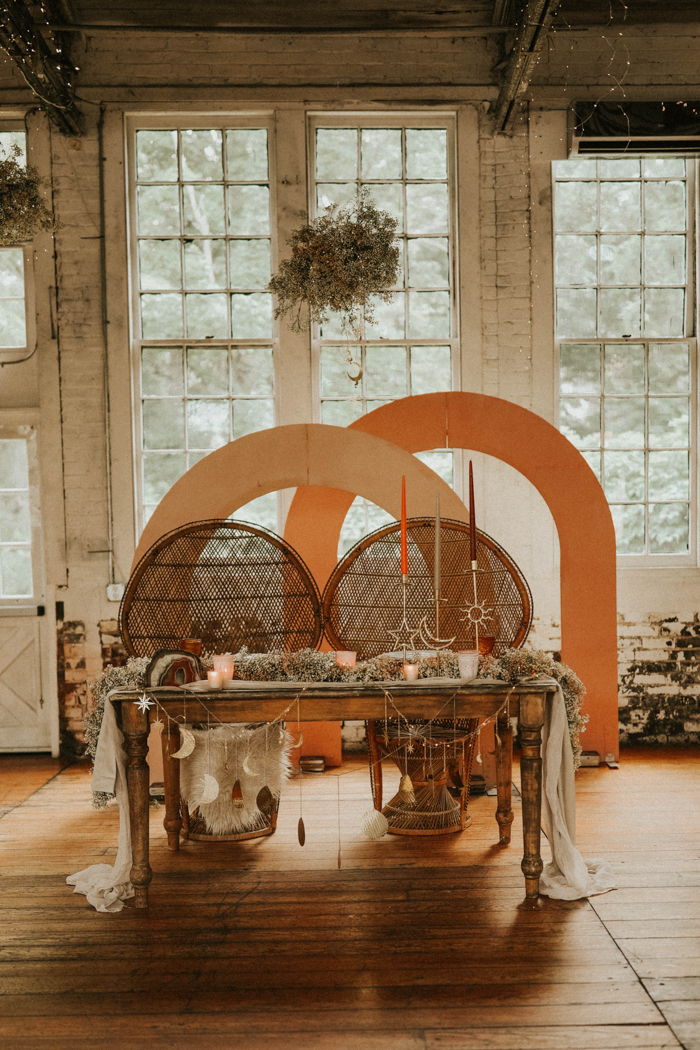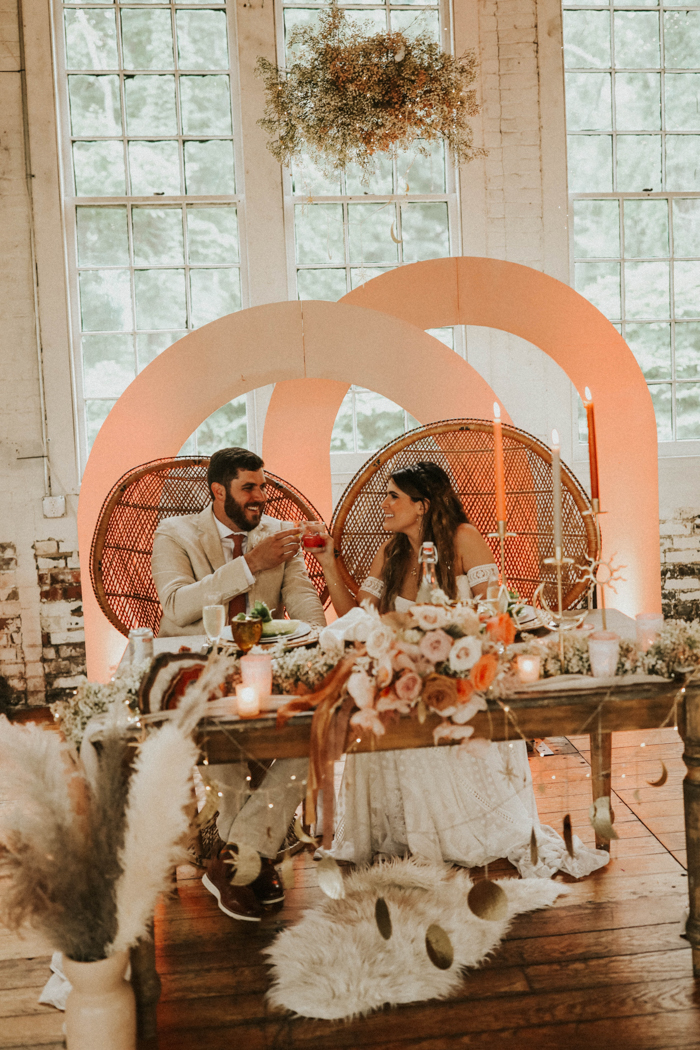 Personalizing This Astrological Ceremony
We had a close friend officiate our wedding, and she took the job very seriously. She sent us questions about things like our love story, our favorite things about each other, and where we see ourselves in the future. She also interviewed our family members and even contacted an astrologer that read our birth charts and the astrology of our wedding date to provide insight. Throughout her process, she met with us several times to go over the things we wanted to include, and she wrote rough drafts with different wording for us to choose from. We wanted the ceremony to be spiritual, meaningful, uplifting, and include a hand-fasting ceremony. She worked in everything for us. Before the ceremony, she even came early to cleanse the space with incense. Everything she did really made it such a beautiful sacred space and ceremony for us to share our vows.

DIY Details For The Astrology Inspired Wedding
I'm an avid DIY-er, but for my own sanity, the number of DIY projects I took on for my own wedding was small. Knowing that I would have enough on my plate as the bride, I didn't want to be overwhelmed with DIY projects. To keep it at a minimum I only did a few projects like DIY'ing the place cards using acrylic arches I got from Etsy. To do it I painted the backs, used my Cricut to add guest names and zodiac signs, and then fastened a tassel to each one. I also DIY'd the crystal cards for each guest. I made these on Adobe Illustrator and then printed and cut them with my Cricut. Then I sewed the handfasting cord we used during the ceremony using extra fabric from my wedding dress. For the card box, I bought a clear acrylic card box online, painted the inside, and then put our names on it using my Cricut. The last few things I DIY'd were our wedding weekend timeline and wedding welcome bags for the hotel guests. The majority of our guests were from out of town, so it was very important to us to have thoughtful welcome bags for them.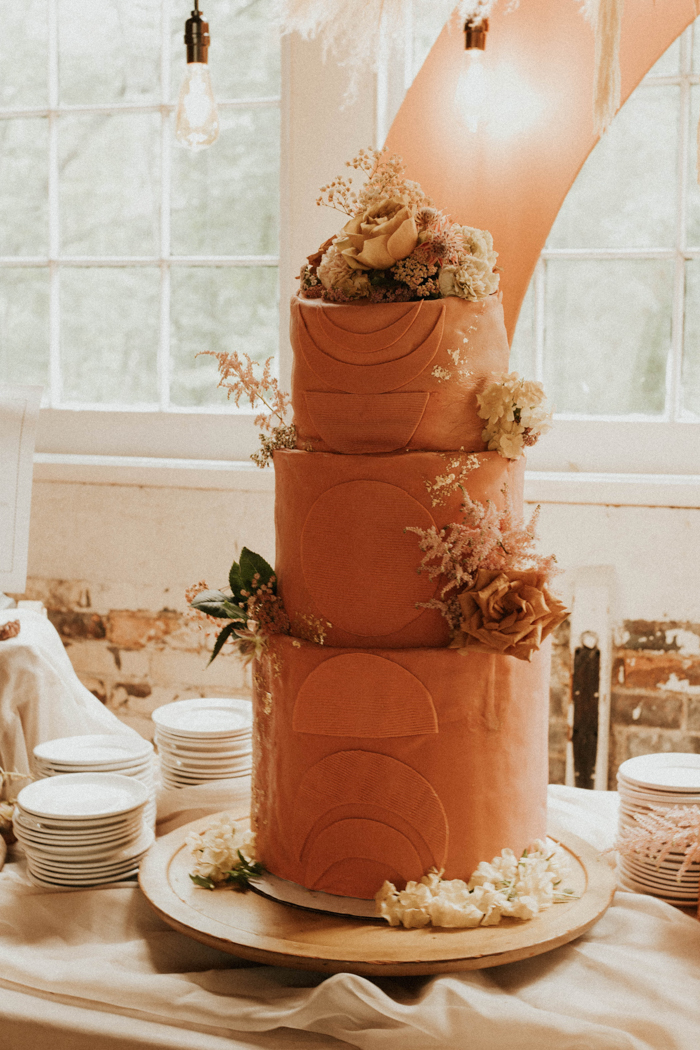 The Wedding Day Menu
Cloud 9 Catering served the most delicious meal. While we didn't do anything special for the menu, the way it was served was very special. When we first toured The Lace Factory, we found out they did family-style meals as a catering option which we loved the idea of. However, once COVID hit, they stopped doing family-style meals. It wasn't until our final walkthrough where we happened to ask that they told us that family-style dinners were back. We were so excited to have that option for our guests to try both entrees!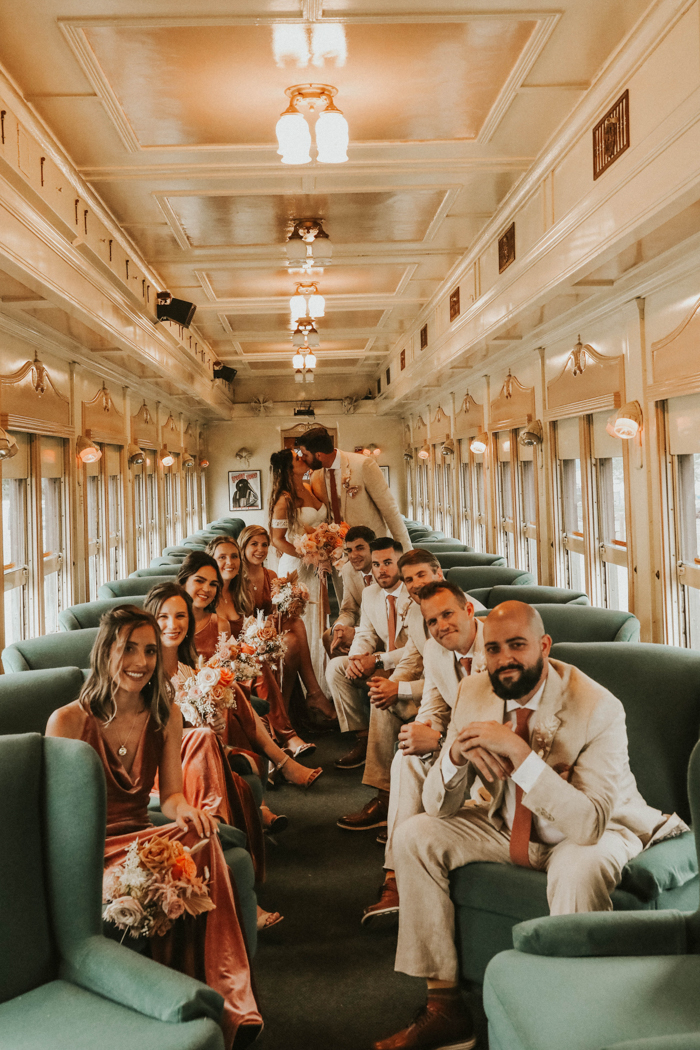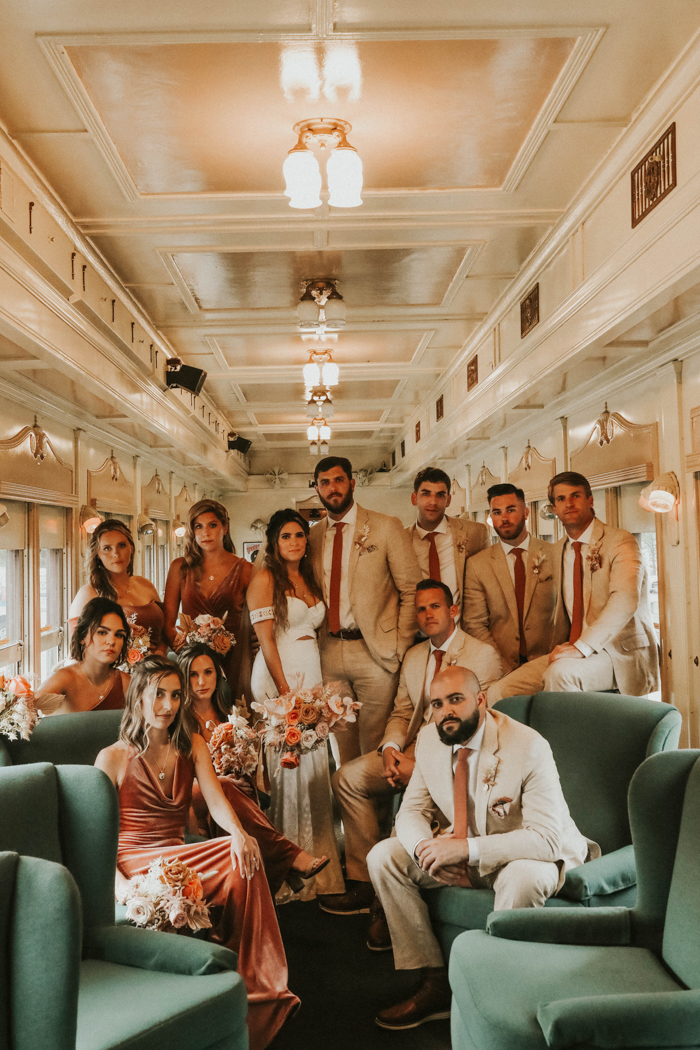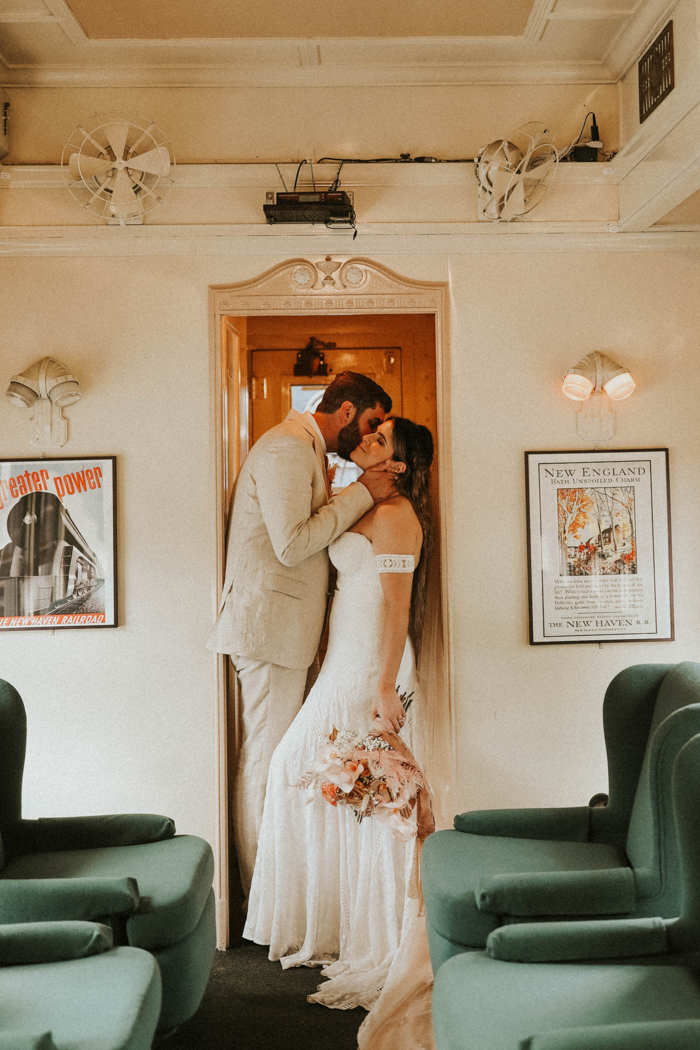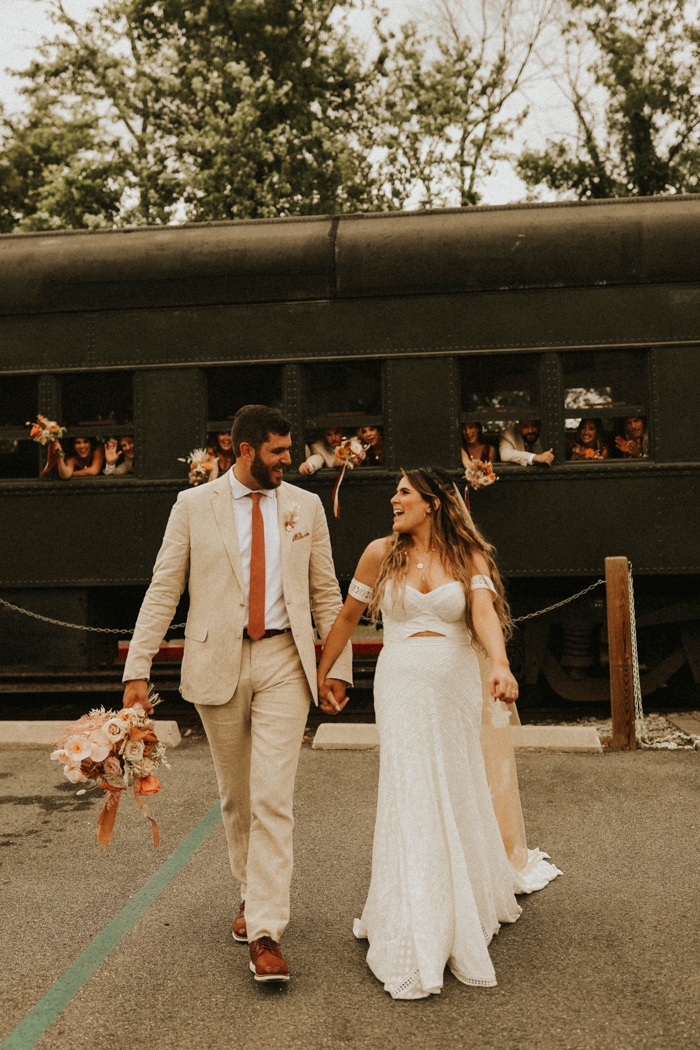 Especially Special Wedding Favors
We did give out wedding favors, but they were very non-traditional. We had an awesome crystal seating chart where each table was themed with a different crystal. There was a crystal with a card that said the crystal name and its properties at each place setting. This was a way for our guests to take a little magic home with them from our wedding. As an added bonus, they served as beautiful table decor and brought in good vibes.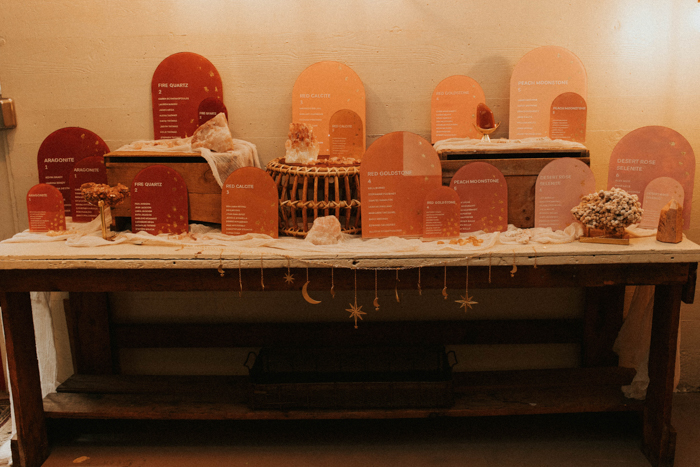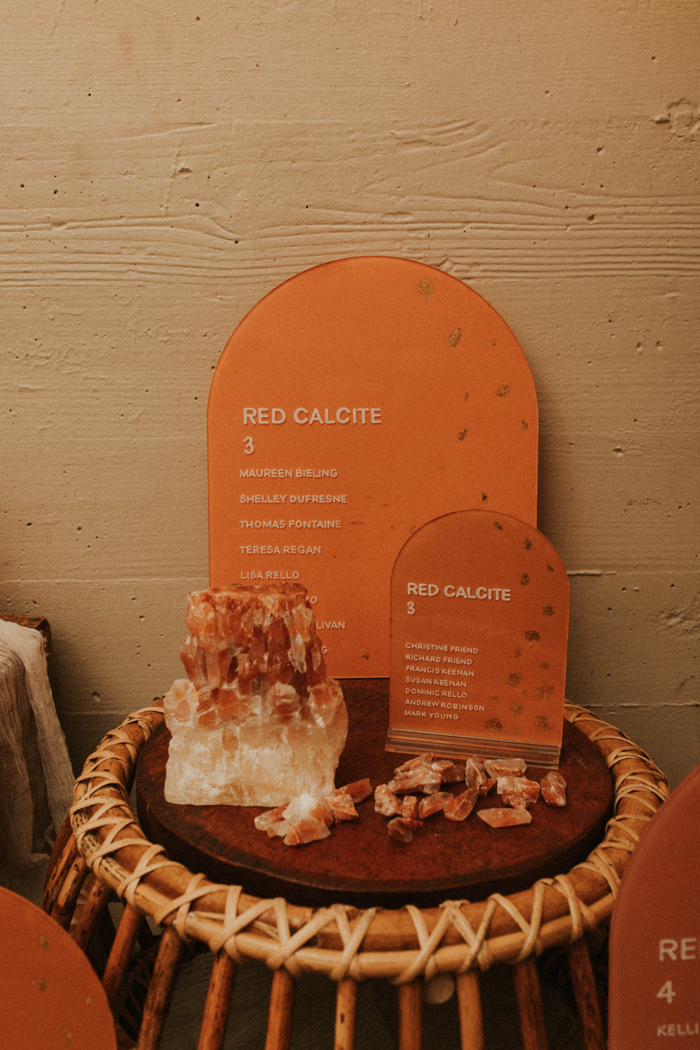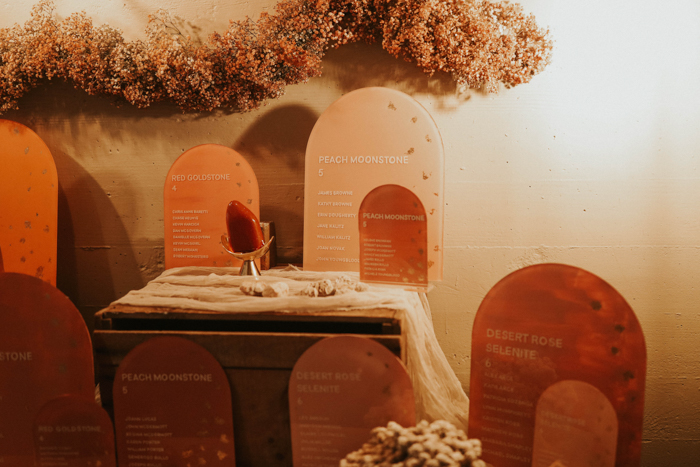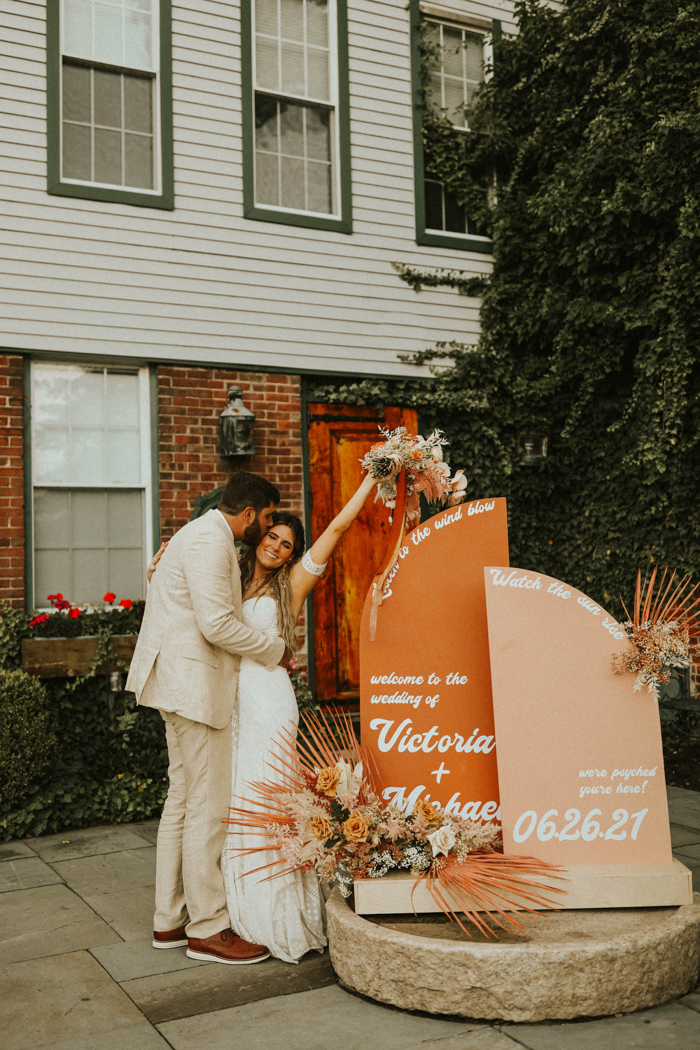 Congratulations to Victoria and Michael on their beautiful boho astrology inspired wedding. Special thanks to Junebug planner Brehant Creations for sharing it with us. To see more of their incredible work, check out their portfolio in our directory of vendors from around the world.
If you're feeling inspired to plan your own creative wedding, get started with our unique wedding planning guide!