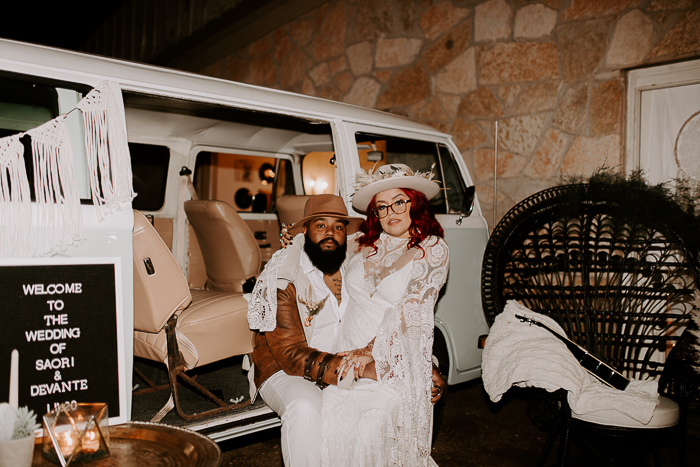 photo by T & V Photography
We see a lot of weddings. Every year, our team reviews thousands—yes, thousands—of real wedding submissions for Junebug Weddings. We know a thing or two about unique weddings.
If you're searching for unique wedding ideas in hopes to replicate them—we have news for you. You're not going to find the perfect unique wedding on Pinterest or even on this blog. The word 'unique' literally means "being unlike anything else." How could you be unlike anything else while copying someone else's day?
We're here to help you dig deep to create your day. Let us inspire you to discover your own unique, one-of-a-kind, original style. Then, we'll turn it into your wedding.
What Makes a Unique Wedding?
We're giddy with excitement when we open a real wedding submission and immediately feel like we personally know the bride and groom. Careful choices create a sense of personality. Examples of choices that show your unique tastes are a totally rad location, a choice to use only female vendors, or a replica of your favorite board game as a backdrop for photos.
How to Use Inspiration You Find Online
Finding inspiration is okay! In fact, we recommend finding photos to help guide decisions and spark creative ideas. For example, if you find a photo of stunning table arrangements, take that photo to your florist and explain why you like it.
Can you add a flower that represents you? Maybe you can source vintage vases to hold the flowers. Or keep the arrangements as-is and design napkins with fun facts about you as a couple.
Create a Mood Board of Inspiration vs. Replicating
Designing a wedding mood board can provide a centralized place to collect ideas and inspiration photos. Be sure to include a variety of photos—not just wedding photos. Including images of outfits, home decor, and graphic designs can help your wedding team brainstorm unique ideas for your day.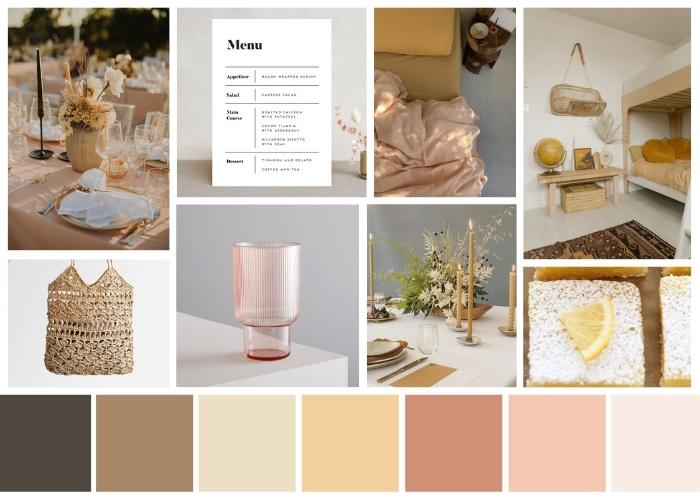 Download our Canva template to create your own mood board.
Let Go of Expectations
If you're dreaming of a unique wedding, it's important to let go of any preconceived notions about what a wedding "should be." Forget what you've seen at friends weddings or what your parents say you have to do. Your highest priority should be to create a day that makes you feel comfortable, present in the moment, and has thoughtful touches at every turn.
How to Communicate You're Breaking Tradition
Be blunt, honest, and communicate your desires clearly. We promise you'll feel empowered by doing so. Try using any of these options when you're communicating your unique ideas:
"We love how you did 'XYZ' for your wedding, but 'ABC' is more important to us."
"Thank you for the ideas, we're hoping to brainstorm things that will be unique to our story. We can't wait for you to see what we come up with!"
"That tradition makes us uncomfortable."
"We decided on mismatched dresses so each bridesmaid can choose a gown that represents their unique style."
Unique Wedding Ideas from Real Junebug Couples
Remember the thousands of weddings we review every year? When we choose to feature real couple's weddings on Junebug Weddings, we are careful to select the ones that are truly unique. When you see other couples break tradition, embrace quirky ideas, and rock their true style—we hope you feel free to embrace your truest selves, as well.
We've rounded up a few truly unique weddings to inspire you on your journey.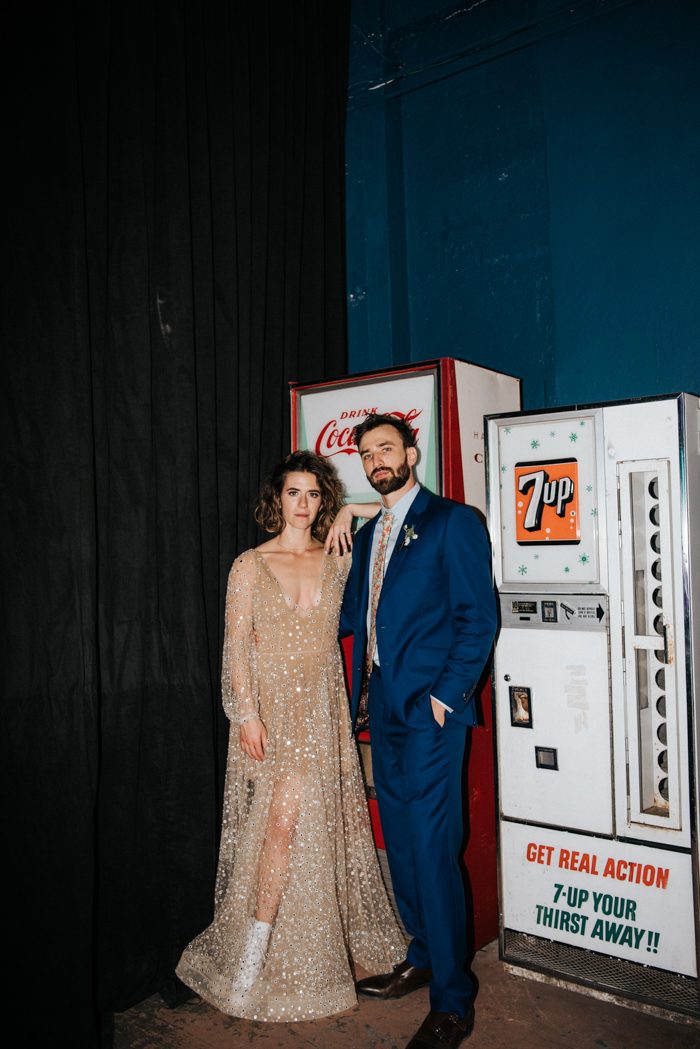 photo by Fox & Film Photography
The Couple: Steph & Bobby
Location: Miami, Florida
What Made the Wedding Unique: Steph and Bobby broke tradition in the most awesome of ways for their funky and feminine wedding in Miami, Florida. The couple hired all woman-owned businesses as their vendorstalk about a rockstar move! We're in awe with how they made an already fun venue even cooler with food trucks, disco balls, and floral creations.
How to Use This Wedding as Inspiration: Are small businesses important to you? Do you want to support Black-owned businesses? Do you want to hire an all-female team? Consider what you stand for and how you could incorporate social causes into your wedding.
The Couple: Courtney & Marcell
Location: Portland, Oregon
What Made the Wedding Unique: If you've ever dreamt of an interesting wedding, take this couple's advice: break as many rules as possible. Courtney nailed the non-traditional bridal look with a fabulous champagne-colored, beaded gown, and Marcell looked rad in all black attire. You could tell fashion style was important to this duo!
How to Use This Wedding as Inspiration: Take note of how each of you dress in "everyday" life. Is comfort important to you? Do you swoon over gold jewelry? How can your wedding outfits mimic your everyday style—or leave them in the dust with show stopping looks?
The Couple: Adam & Diana
Location: Laurel Canyon, California
What Made the Wedding Unique: Adam and Diana love Old Hollywood and Havana vibes—their wedding reflected it. Their guests were already feeling special receiving rad, themed invitations, and the party was only enhanced with a marajuana bar (when in Rome—right?), cigars, the couple's favorite food truck, and even more personal touches.
How to Use This Wedding as Inspiration: Specialty entertainment can be an awesome way to bring a touch of you into your wedding day. Whether it's your favorite coffee shop, a popsicle stand, food truck, or local band—give your guests a chance to experience something you love as a couple.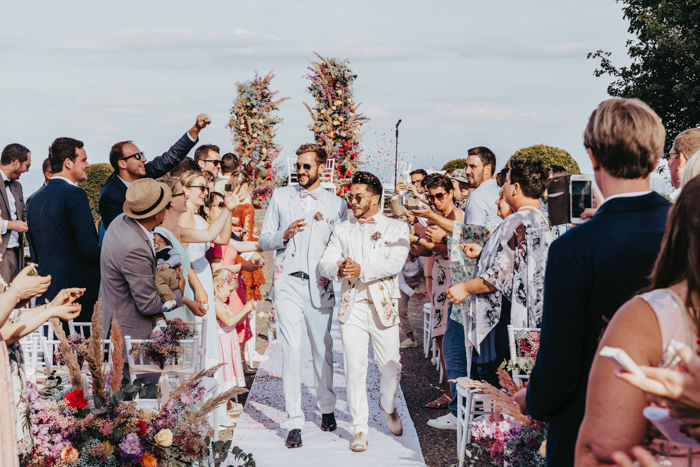 photo by Evren Türker
The Couple: Florian & Gustavo
Location: Zurich, Switzerland
What Made the Wedding Unique: Florian and Gustavo wanted their guests to feel their belief that "happiness is only real when shared." They created individual invitation cards that included curiosities, dates, and facts about them.
They wrote to us, "Continuing with the unique style of 'us,' we decided to avoid the basic male suit. Our suits matched the colors, flowers, and other decoration elements of the wedding day—as well as the surrounding elements of the venue and season. That's why we chose the top of Zurich as our venue, to also bring an excellent open air atmosphere to our guests, where they could enjoy the excellent view of our home."
How to Use This Wedding as Inspiration: Be like Florian and Gustavo—thoughtful and wholehearted in your planning. Consider the feelings you want to inspire for your guests and—most importantly—yourselves
Wedding inspiration can come from anywhere. While we hope to inspire you to create a perfectly unique wedding, we encourage you to follow your heart when it comes to planning. After all, the music will fade, the guests will go home, and you'll be left standing with your new spouse. Remember what makes that day the most special—start there.
Looking for the team to help pull off your unique wedding ideas? Visit our directory of carefully selected wedding professionals.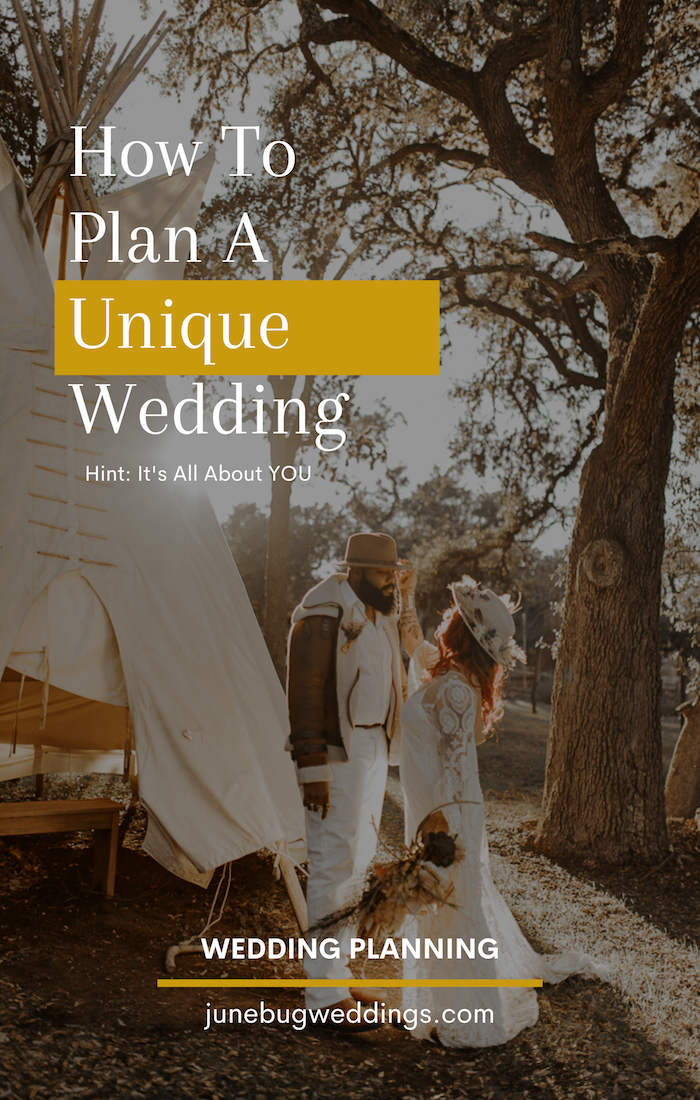 photo by T & V Photography