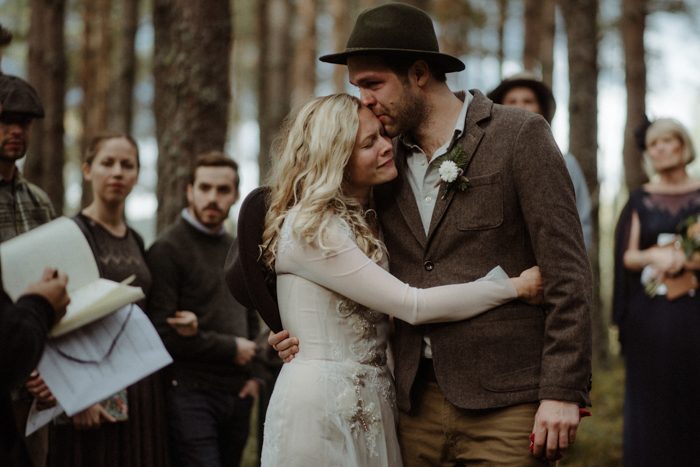 photo by The Kitcheners
If you're like most of us on the Junebug team, you've probably been dreaming about your wedding day since the age of five — I know I have, at least. When it's finally time for you to walk down the aisle and say your "I dos," we want you to feel it. Really, really feel it. Twenty years from now, we hope you can close your eyes and still remember the words that made salty tears roll down your cheeks and precious moments spent celebrating with loved ones who may be near or far.
The key to memories that will stand the test of time—aside from a stellar photography and videography team, of course—is the ability to be present. Being present on a day filled with many moving parts and emotions is no easy feat, so we've put together a list of things to help guide you along the way.
1. Skip the wedding countdown.
The key to being present on your wedding day starts well before your special day arrives. We know you are excited — we're excited for you, too! Remember you're in a special season already. Today. Instead of focusing on the days until "it's finally here!," practice mindfulness and cherish each day leading up to your wedding. This way, you'll be a pro on embracing the day when it arrives!
2. Visualize it.
While counting down the days isn't the best recipe for success, we understand it's only natural to daydream about your day. And we encourage it! Visualizing your day, your intentions and expectations, will help you prepare for those moments when they finally arrive.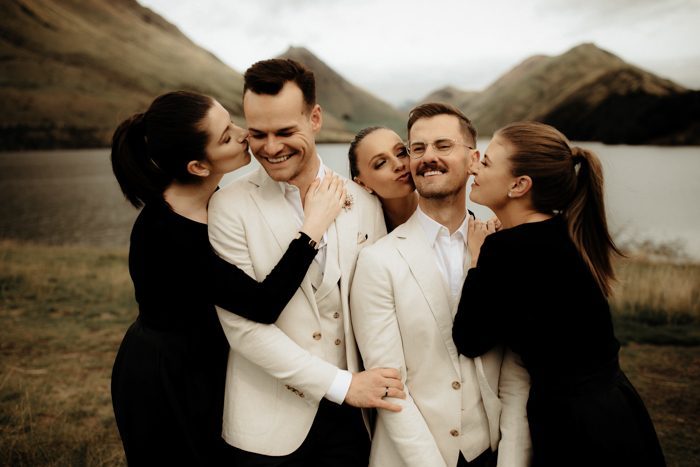 photo by Chasewild
3. Set expectations with family, friends and your vendor team.
Speaking of expectations…if one thing can throw off a wedding day, it's those people who you love so much. Let's face it, no one's circle is perfect. When you visualize your day, try to think about your family, friends and vendor team (psst you can find an awesome vendor team here). How can they contribute to your day in a positive way? Do they know your needs — both practically and emotionally? What's the vibe you're going for? It's important to communicate these things to your crew so everyone is aware of how you want your day to flow and what could potentially cause you stress.
4. Make sure your timeline has plenty of wiggle room.
If there's one thing we can't stress enough, it's planning your timeline with plenty of room for delays, pauses and alone time for the two of you. Wedding days can easily get off track by the smallest of things. It might happen — and it's ok! — as long as you've planned ahead. Staying on time is important, but we give you permission to confidently ask for a little time to breathe if you need it. You'd be surprised what five minutes of alone time before your first look can do. For more timeline planning tips, check out 8 Ways to Make Time for Yourselves on Your Wedding Day Timeline.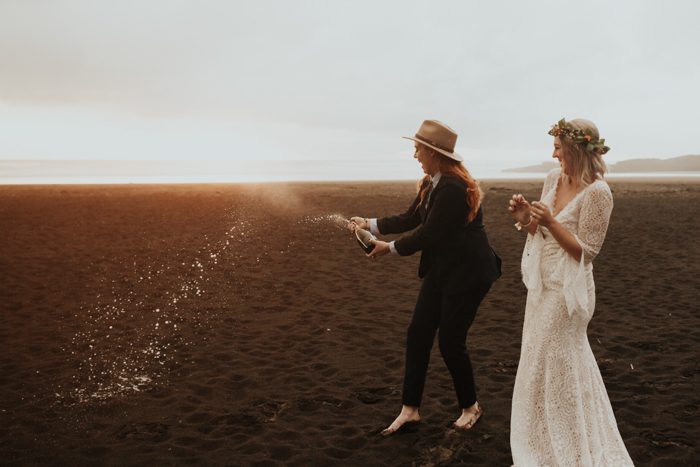 photo by Dawn Photo
5. Celebrate along the way.
Just booked your photographer? Pop the bubbly! Got all of your bridesmaids dresses picked out? Cue up that Lizzo playlist because it's time to dance! There's no need to save the celebrating for the big day. We want you to acknowledge every little milestone.
6. Turn off your phone.
We know, we know. You want to take selfies with your crew, a boomerang popping champagne, and maybe send a text or two to your partner letting them know you can't wait to see them. But of all the days to say yes to less screen time, your wedding day should be on the top of the list. Designate a few bridesmaids or groomsmen to take those behind-the-scenes photos and find a napkin to doodle that love note on. Pro tip: Make sure someone saves that handwritten note to frame later on!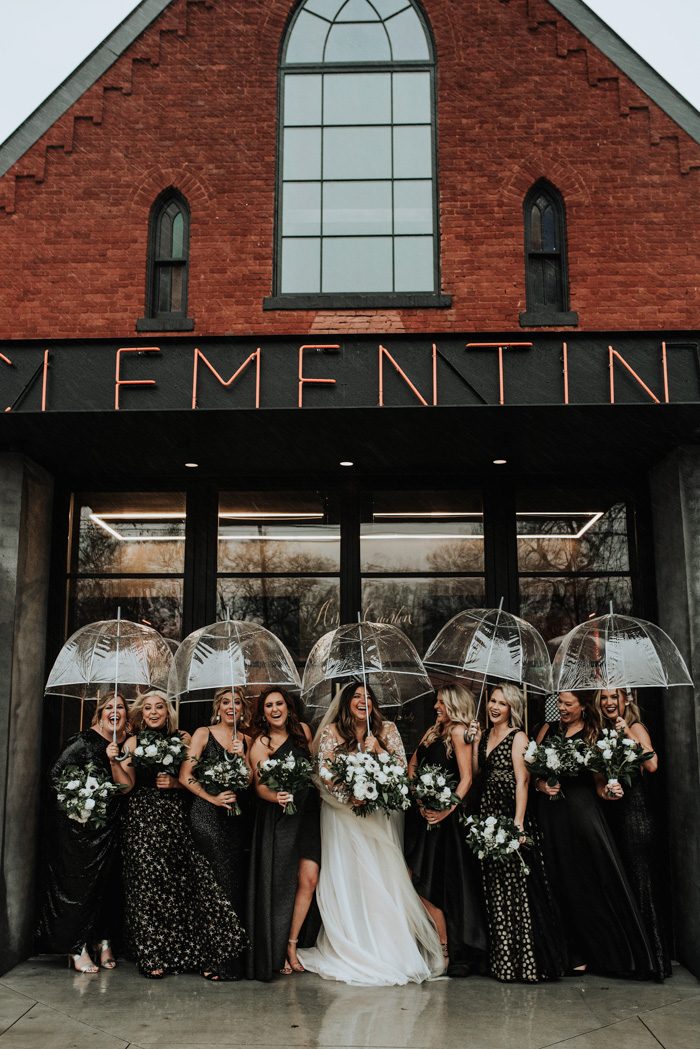 photo by Maggie Grace Photography
7. Accept that some things might go "wrong."
While you're probably scrolling through our blog googly eyed over all the "perfect" wedding days, we can guarantee most of those days didn't go exactly as planned. And that's OK! The little imperfections make your day authentic, real — and yours. Not to mention that the snafoos are sometimes the things you look back on year-after-year and laugh at the time Aunt Debbie knocked over the cake or when it started to rain and you had to run for cover with your babes.
8. Have a morning routine.
Most of us have a routine that helps us start our day on a positive note. Whether it's writing in your journal, pouring a cup of coffee, or practicing yoga, keep those habits on your wedding day. Side note: We're guilty of checking our phone first thing in the morning, too, go back and read tip #6.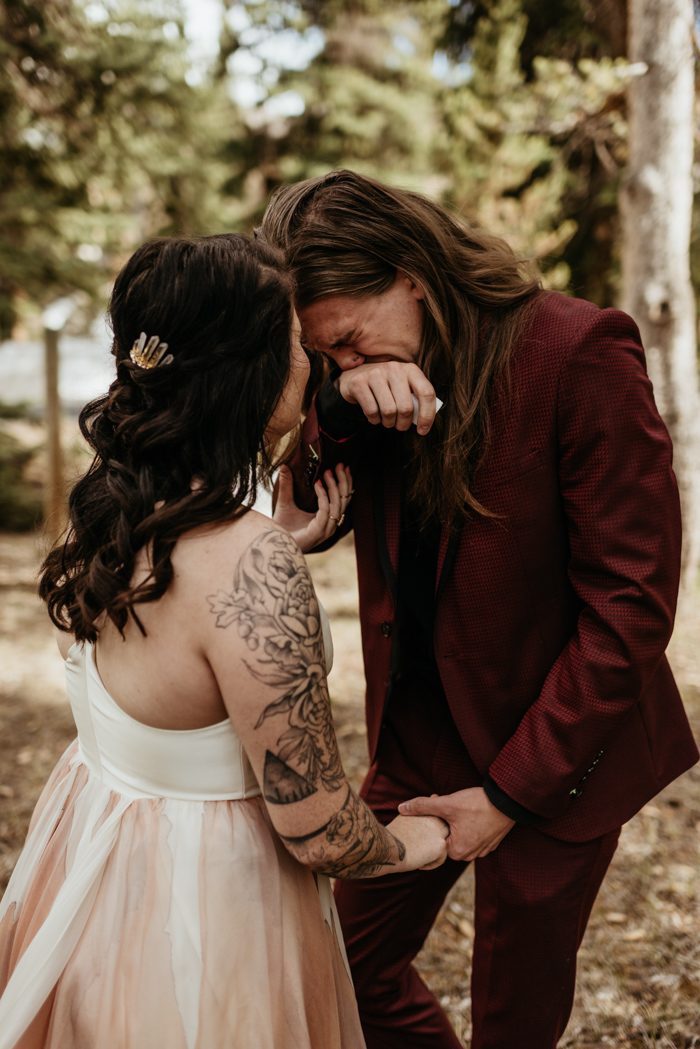 photo by Laurken Kendall
9. Forget the photographer and videographer are there.
Okay, don't actually forget about them — we hope you love your photographer dearly! If you're trying to get more natural, candid moments (you know, the ones that bring you back to the day every time you look at them), then pretend like they aren't there and ask your guests to do the same. Who cares if you're making a crying face. That's you! That's the moment. And we think it's beautiful.
10. Remember what your wedding day is all about.
After it's all said and done, you're getting married. Look into the eyes of your forever person and get lost in that moment. Really think about the words you're saying and listen to the ones said to you in return. This is the best day of your life because it's the start of eternity with your favorite person. And that's all that really matters.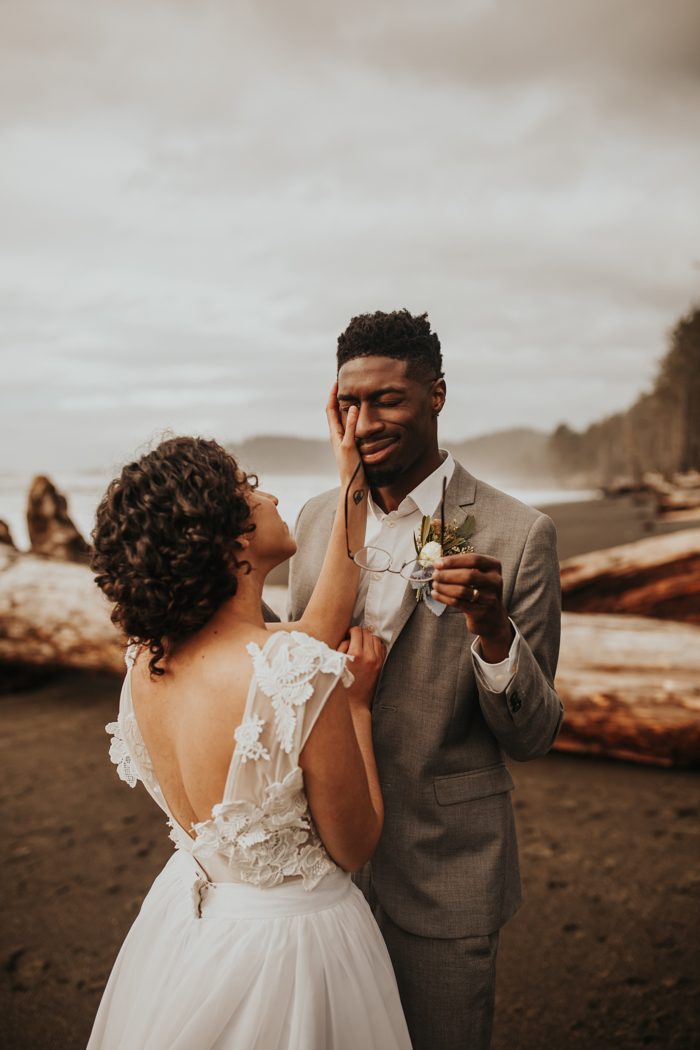 photo by Dawn Photo
We hope these tips set you on your way to being present on your wedding day. From the Junebug team you you and yours—we're wishing you a day filled with all the feels, joy and presence. For more wedding planning advice check out seven helpful tips for newly-engaged couples.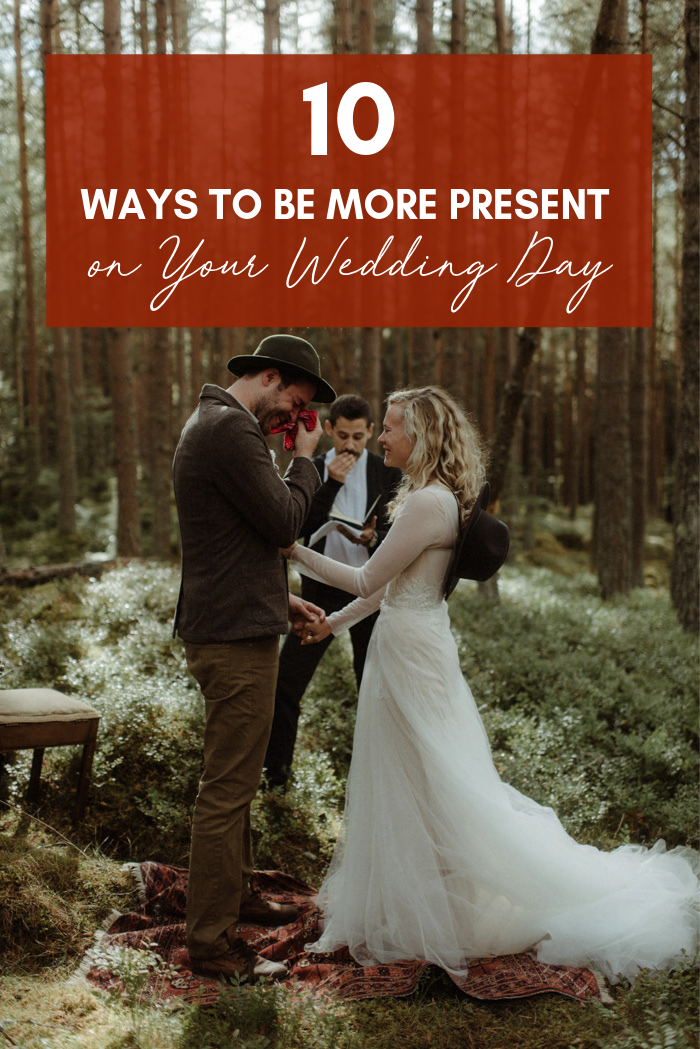 photo by The Kitcheners