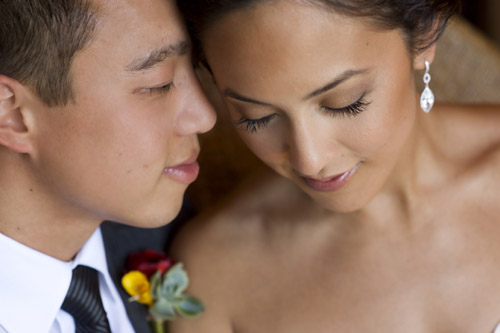 The Couple: Danielle and Benjamin
The Wedding: 3.20.10 – Villa Estrella Mar, Puerto Vallarta, Mexico
What three adjectives that best describe your wedding? Inviting, personal, romantic.
What inspired your personal wedding style, and how did you incorporate your style and personalities into your big day? Neither of us is very comfortable being the absolute center of attention, which is hard to avoid from when it's your wedding. Also, it was really important for our friends and family, who had traveled such distances, to feel cared for and be part of the entire experience. This led to us choosing to have a smaller and more intimate wedding, creating a warm and inviting environment that leaned more toward a lovely yet comfortable dinner party rather than a big traditional reception. We wrote our entire ceremony and had family members read and sing, and each guest offered a rock from the beach as a symbol of their blessings and well wishes. In the end, we wanted the night to be spectacular and personal without feeling overworked, and I think having the privacy of a villa perched up on a cliff set the tone for the entire night.
Ben and I weren't going for a "beachy" wedding. Instead, we wanted to embrace the energetic and familial culture of Mexico, so if we were ever at a loss for inspiration, that's where we'd look. The welcome cocktail reception and our rehearsal dinner played up the liveliness of Puerto Vallarta with oilcloth tablecloths, papel picado, tin can vases, loteria and string lights. The ceremony and reception each had a more rustic yet sophisticated feeling with copper lanterns, twinkling candles and lights, a warm color palette of reds and marigold, and potted agave plants.

Looking back, what are the moments, decisions or memories that you love the most about your wedding? All of the walls to our dining area were open to the ocean breeze. There was one point during the reception that we were standing there with my parents and brother, and each of us looked out to see a full moongiant and shining down onto the water and coloring the sky a deep dark blue. The previous night's had been a bit cloudy, but at that moment, we all stood there grinning at the perfect scene, taking the night in. It was such a cliché, but so simple and perfect at the same time!
Overall, deciding to get married in Mexico and handing over many of the details allowed both of us to actually enjoy every day of the wedding weekend. Of course, certain moments were harried, but we honestly feel like we sat down and enjoyed the moment with each guest,which was exactly how we wanted to remember the day.
Also, I really can't emphasize enough how important my *ladies* were during the entire process…My Dazzling Details and KLK Photography ladies, that is.
Kristi from KLK was planning for her own wedding just days after mine, so we went through all the steps together on opposite sides of the country, bouncing ideas off each other left and right – it was like having another bridesmaid along for the ride, except she was eventually behind the camera and it was a godsend having a photographer who we trusted so much. I think our comfort with Kristi and Paul made all the difference in being comfortable in front of the camera too.
As for Kristin and Michelle (and their entire behind the scenes crew), there are no words. They have wedding planning down to a science, yet make you feel like the only bride in the world. It is an uncanny ability. I think they excel when they have a bride who truly believes in them and their vision, and although control is not something I cede easily, I was so happy to give them the reigns. They followed any specific request that I made to a tee and then worked magic on every other detail that I hadn't envisioned (and didn't feel like thinking about!). Over and over everyone kept saying that the team had done such an amazing job and kept pointing out details that I hadn't even noticed (like having custom stitched bean bags for the Corn Hole game – which is a Midwest tradition – and a picture of our puppy sitting on our plates when we sat down). My uncle went on and on about how the entire night was an experience of a lifetime, and I couldn't agree more, thanks to Dazzling Details.
Wedding color palette: Poppy, marigold and a deep sangria-esque red.

The Wedding Team:
Photographer: Kristi Klemens – KLK Photography
Event Planner, Florist and Cake: The Dazzling Details
Ceremony Venue: Beach at the Villa Estrella Mar
Reception Venue: Villa Estrella Mar
Officiant: A family friend
Invitation Designer: Albertine Press
Catering: Plush Catering
Wedding Dress: Priscilla of Boston
Bridal Accessories: Shoes by Charles David, bracelet by Gerard Yosca, ring from the bride's maternal grandmother, bouquet cameo from bride's paternal grandmother and hair pieces by The Soil and Sea
Bridesmaid's Apparel and Accessories: Dresses by Amsale, Tadashi and J. Crew and sandals by Jack Rogers
Groom and Groomsmen Apparel and Accessories: Suits by Zara, shirts by J. Hilburn and ties by Calvin Klein
Hair and Make-up: Sebastian Salon, Puerto Vallarta
Wedding Favors: Pashminas and Cuban cigars
Rings: Barmakian Jewelers
To find more inspiration for your our personal wedding style, don't miss our all new and gorgeous Wedding Image Gallery! To plan your own Southern California or Seattle area wedding, browse our Plan Your Wedding Hotlists! And to find a dream wedding photographer for your wedding anywhere in the world, be sure to check out Junebug's World's Best Wedding Photographers Hotlist!