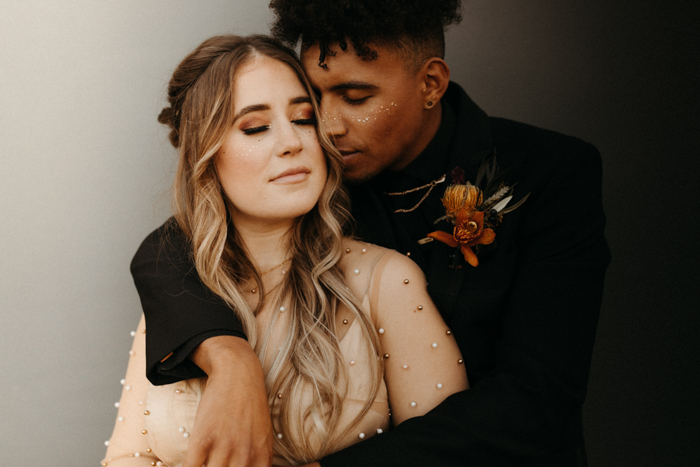 Calling all edgy, fashion-forward couples: Courtney and Marcell's Castaway Portland wedding is sure to drive you wild — in the best way! We're obsessing over all the little things that made this day equal parts stylish and cool. If you've ever dreamt of interesting wedding ideas, take this couple's advice: break as many rules as possible. Courtney totally nailed the non-traditional bridal look with a fabulous champagne-colored, beaded The English Dept. gown, and Marcell looked so rad in all back attire from The Black Tux. The duo chose classic "black and white" colors for their bridal party and reserved all the gold details for their looks. If moody decor and artistic photography is your jam, you're going to love every single image Naba Zabih Photography captured of this inspiring day at Castaway Portland!
The Couple:
Courtney & Marcell
The Wedding:
Castaway Portland, Portland, Oregon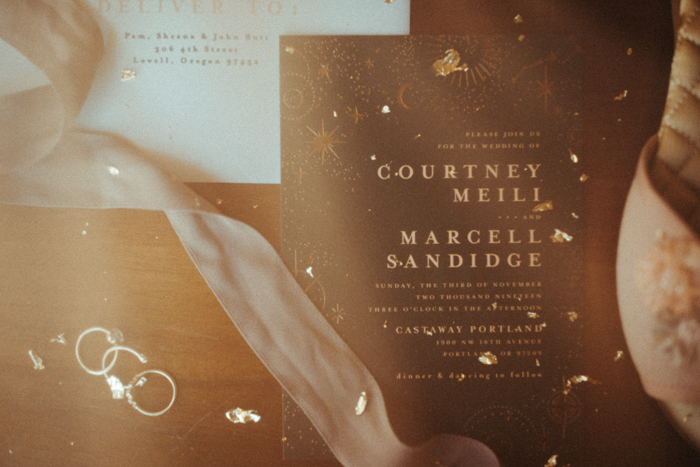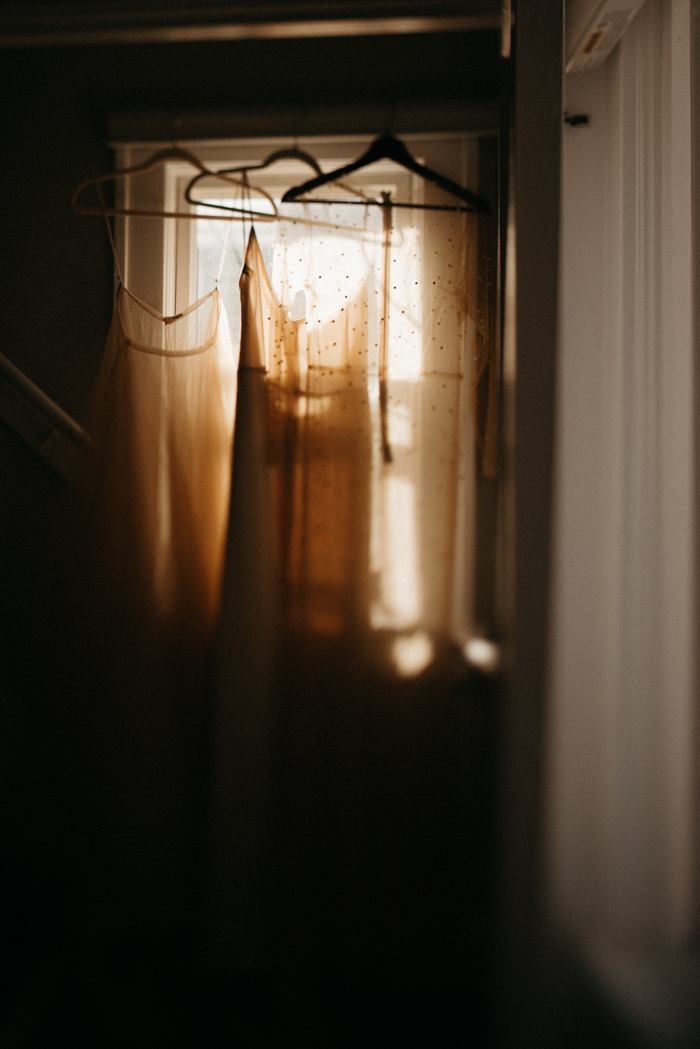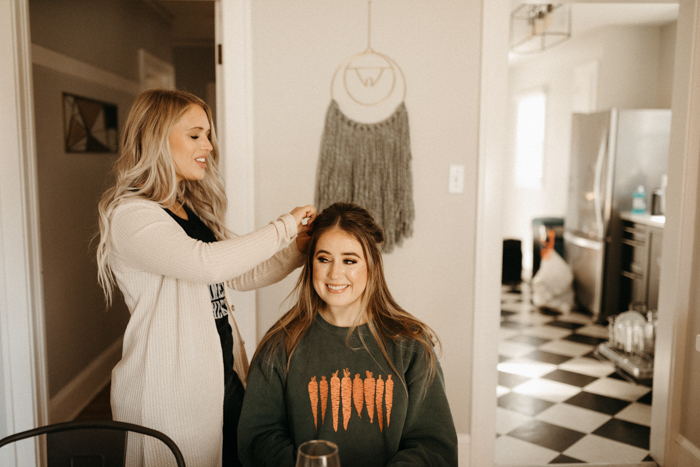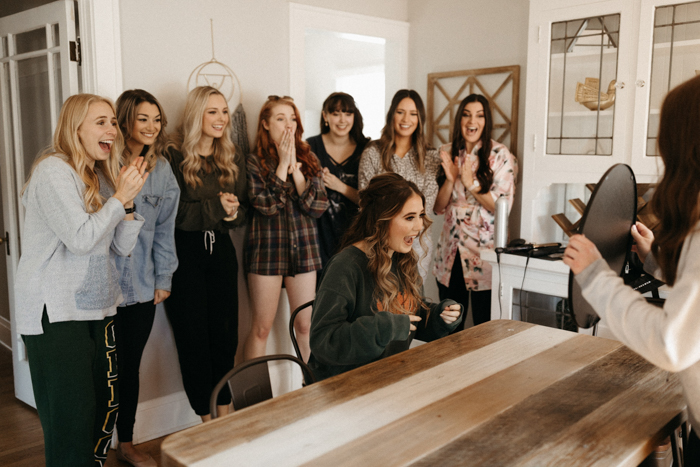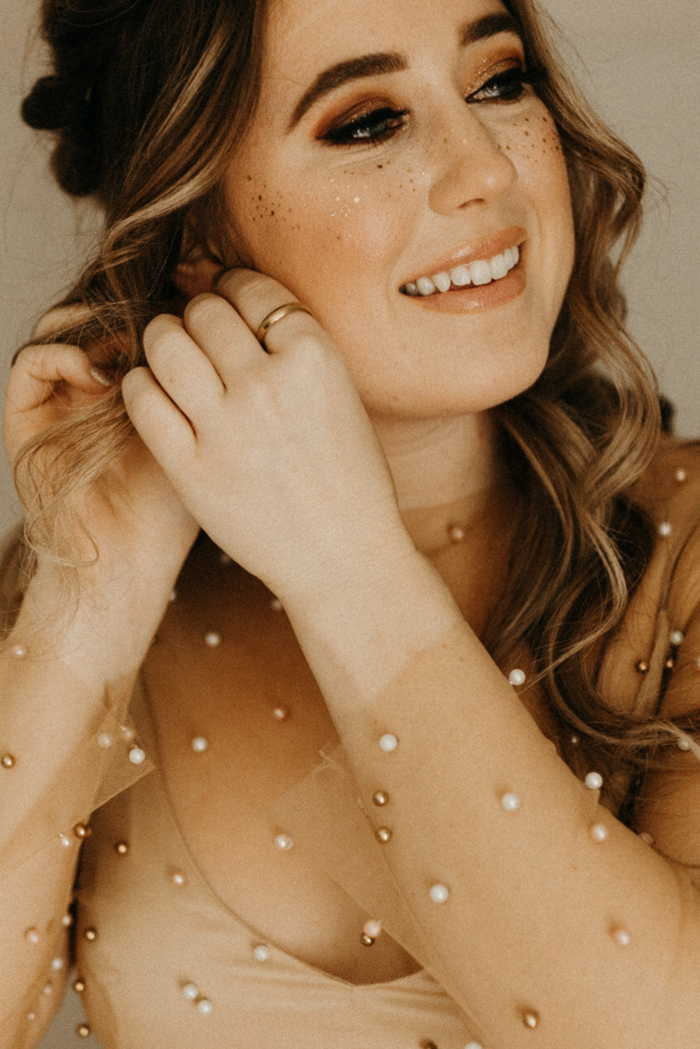 Shop This Look: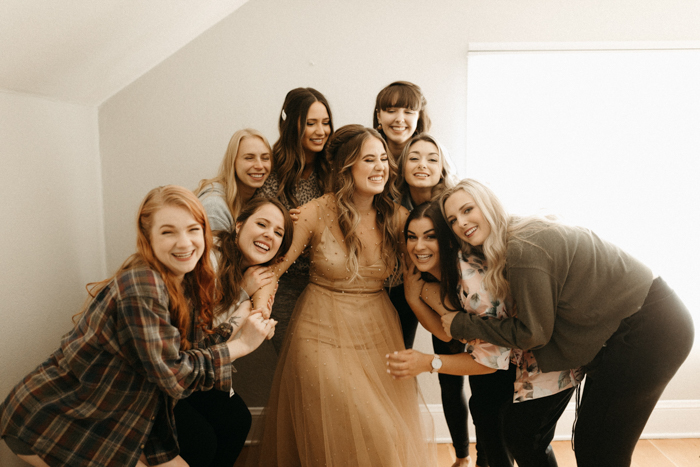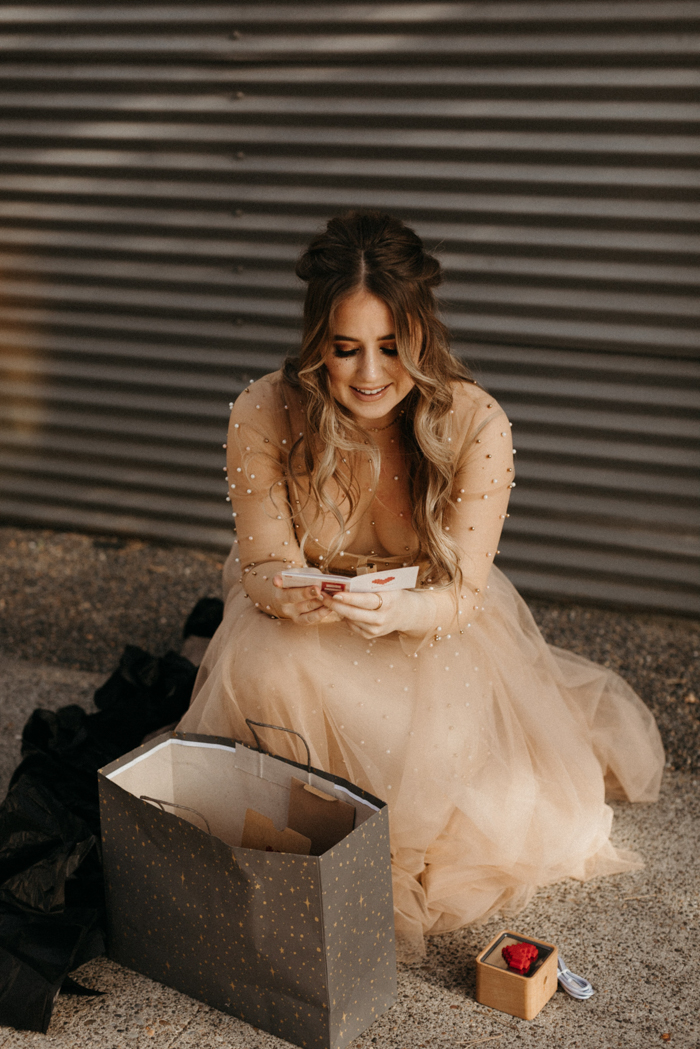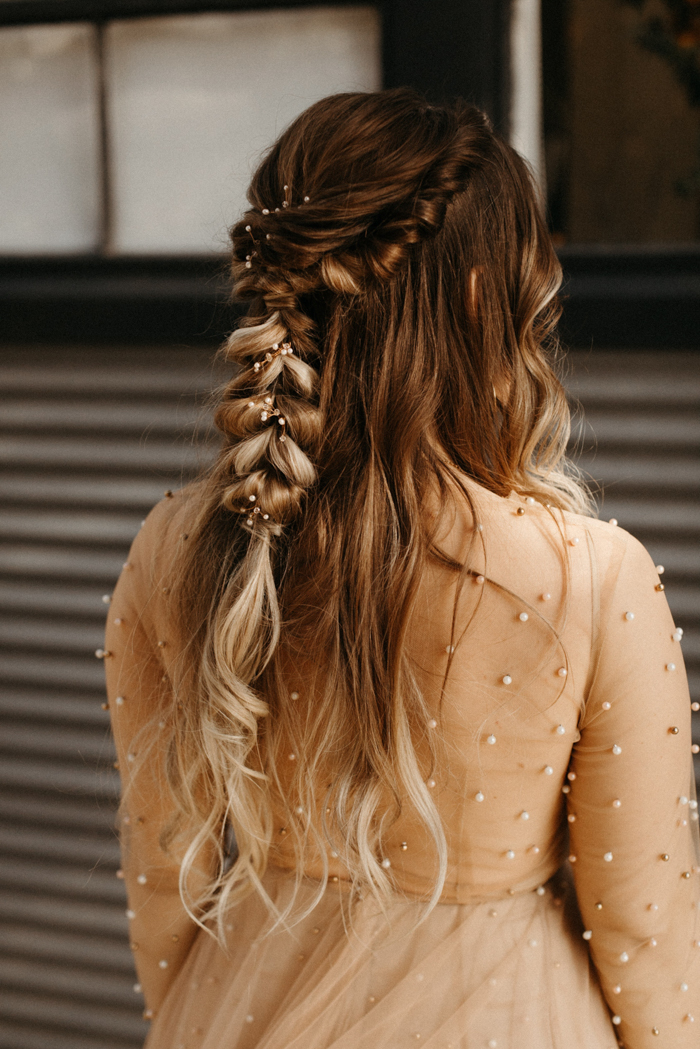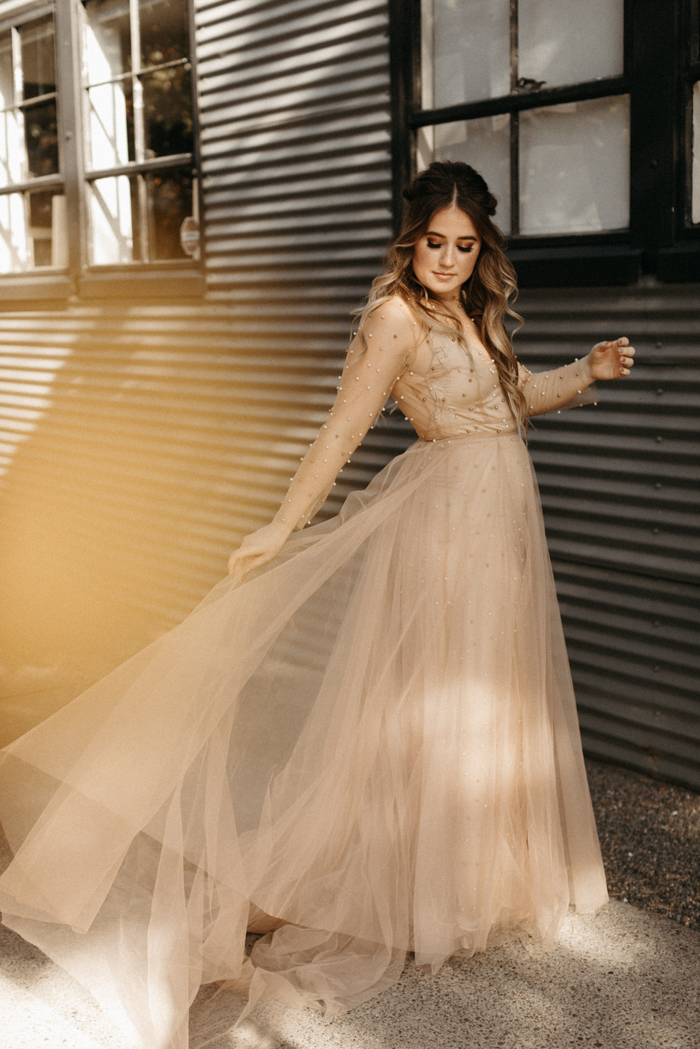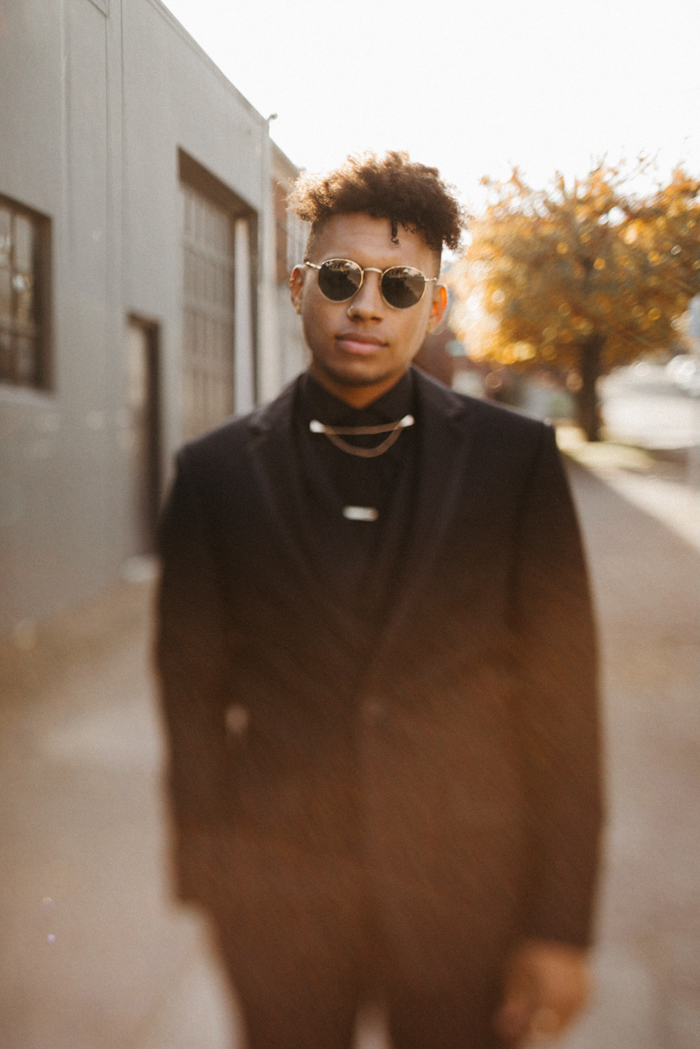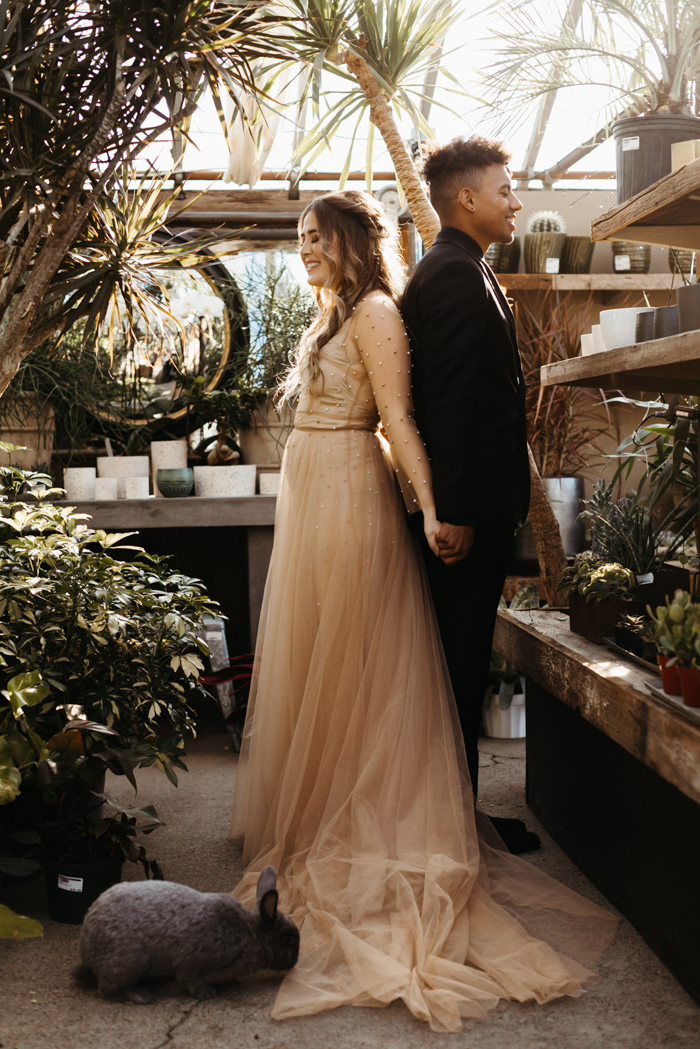 The most memorable part was probably our first look when we fist saw each other. We had no idea what the other would look like, and we hadn't spoken yet that day, so we were just sooo happy to be together. In that moment I just remember being more excited than ever before. Our first look was in a green house full of beauty, a little rabbit named Kevin, and sunshine. It was perfect.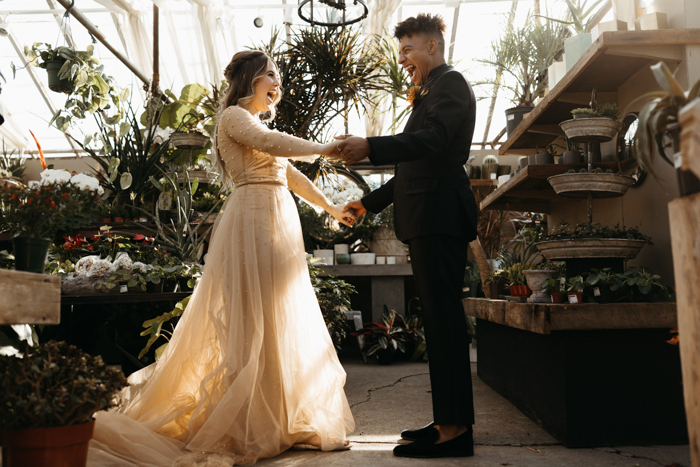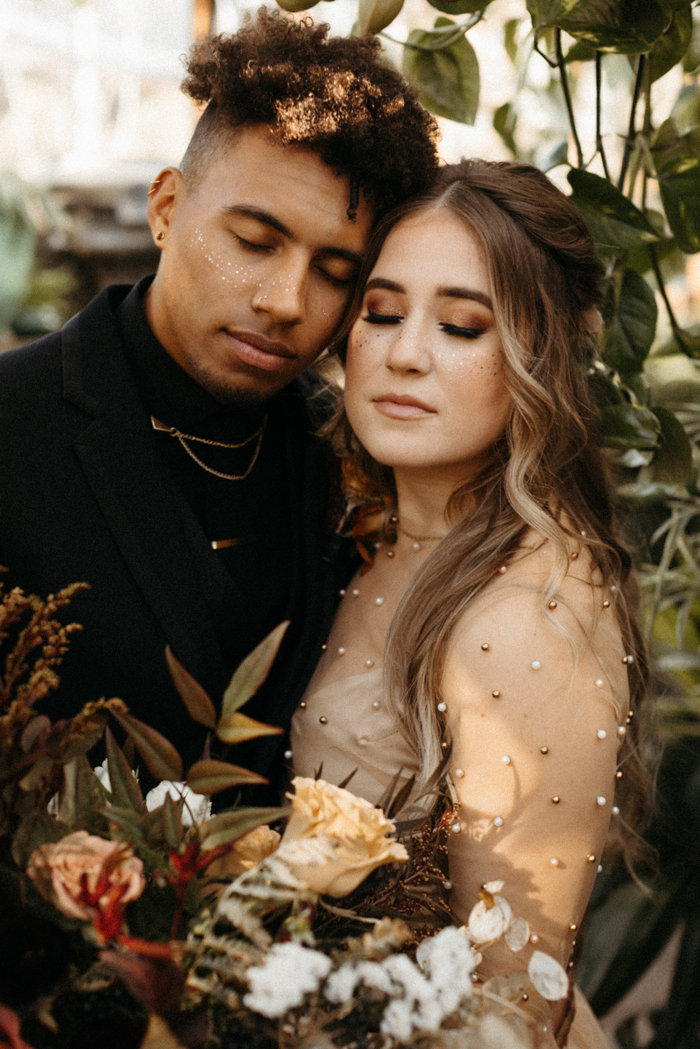 Shop This Look: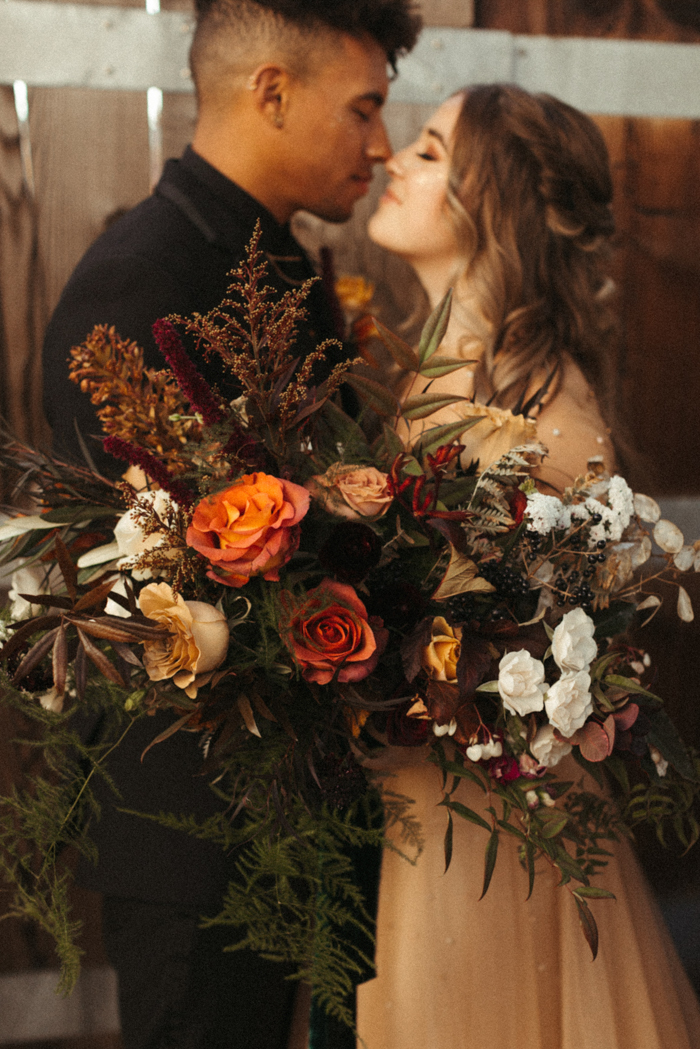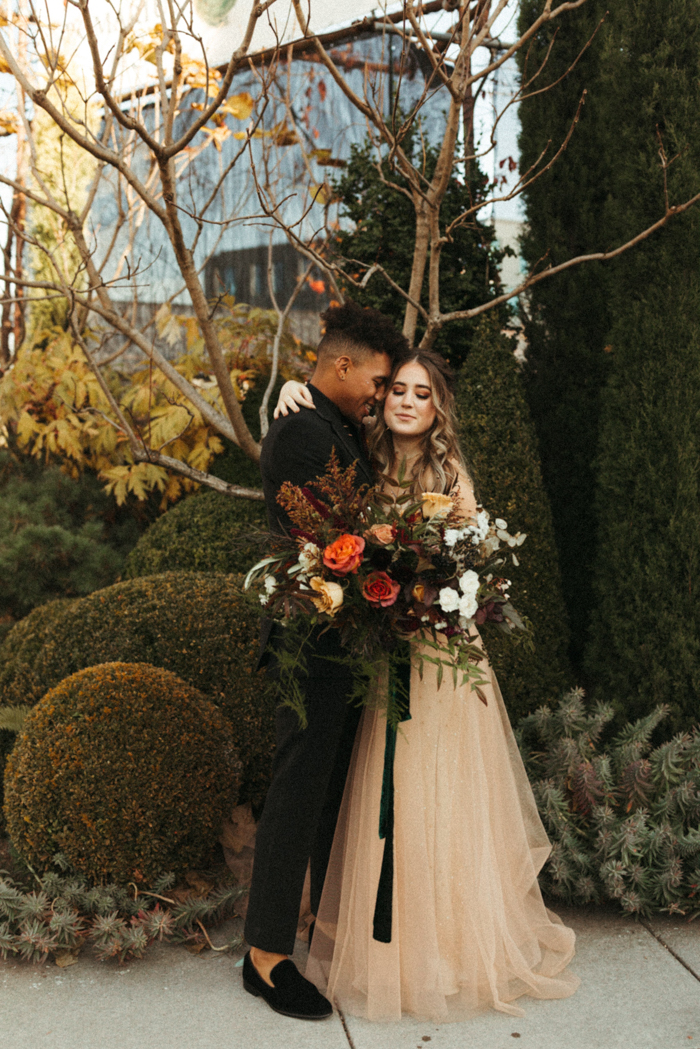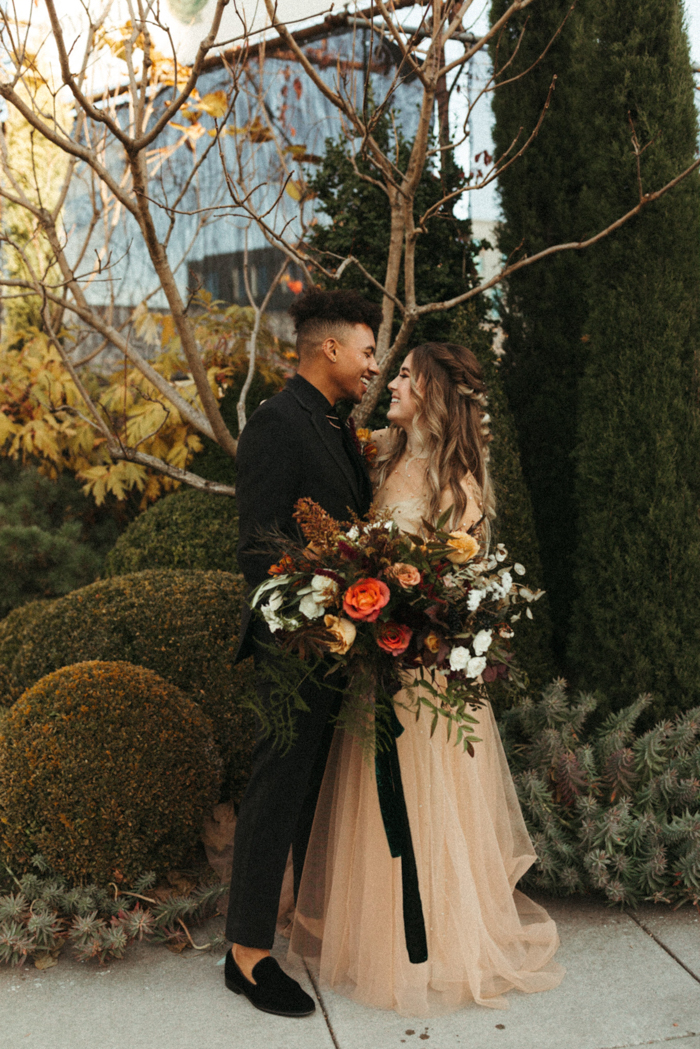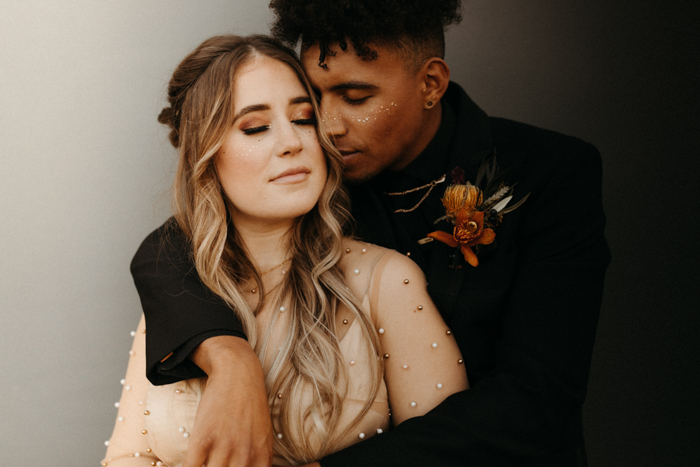 This sounds silly, but we were each other's most passionate ally. There was not one decision we didn't make together. Planning a wedding was unlike anything I have ever experienced, and who better to relate to how I was feeling than the one I was about to marry? It was important to us that no matter which direction our plans took us, that we were on the same page and happy overall with what was happening. Compromise is everything.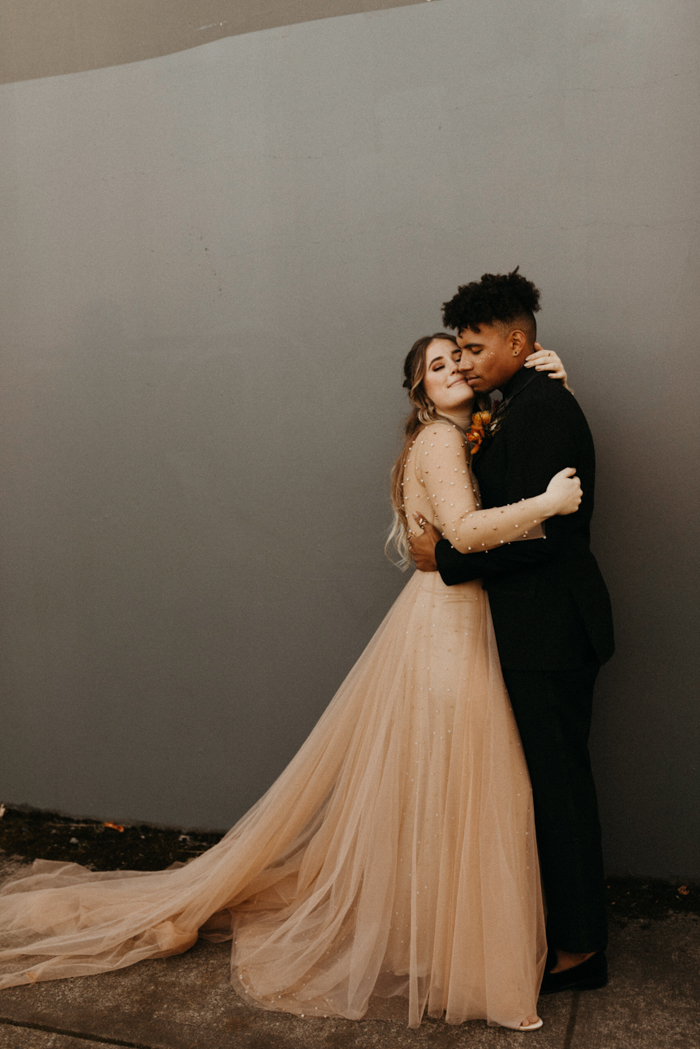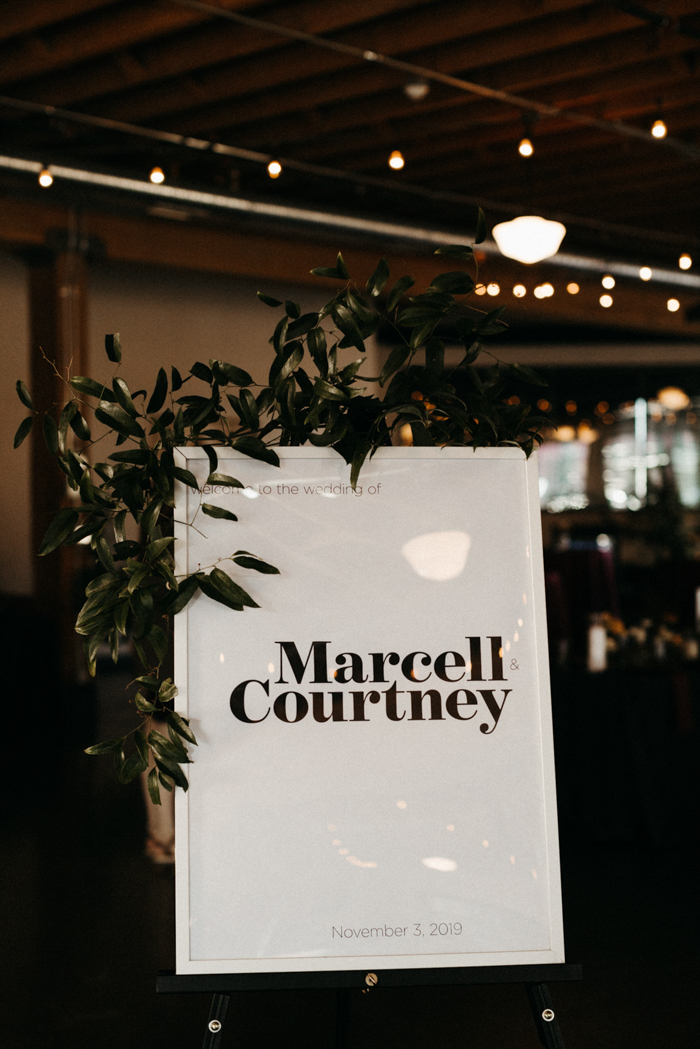 We knew we wanted an industrial vibe, and a downtown Portland location, and then the greenhouse on-site was the killer. Castaway Portland couldn't have been more perfect for what we were looking for.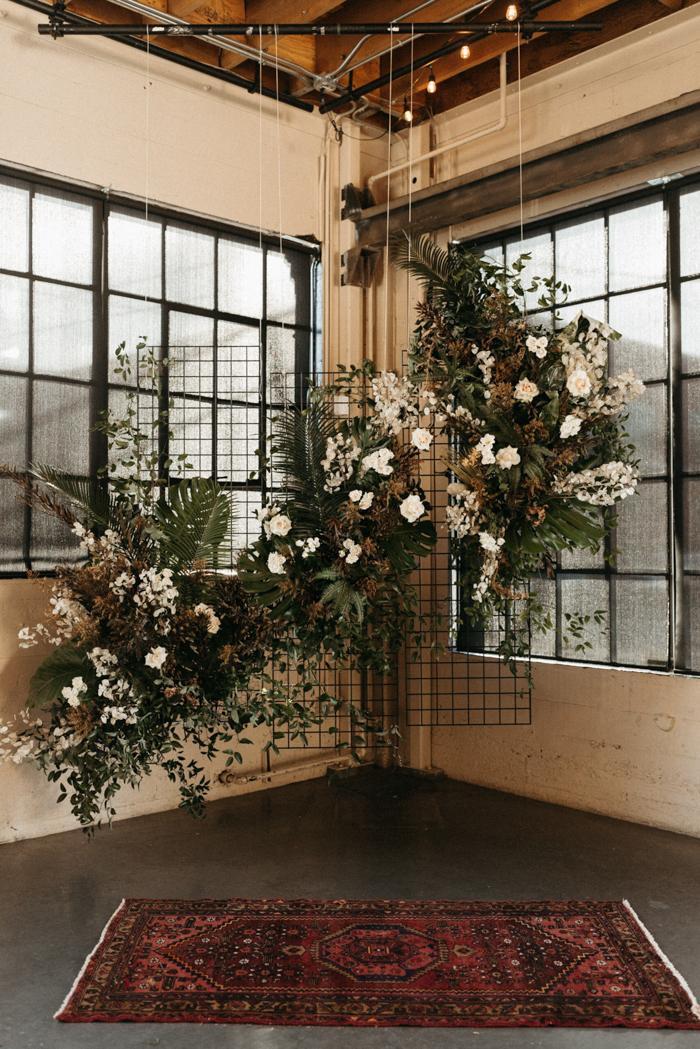 There were many pieces of our ceremony where we changed the traditional words. Courtney had both of her parents walk her down the aisle and instead of being asked "who gives this woman to be given to this man yada yada" we re-worded it to say "Who stands in support of this marriage?" and all four parents were to answer. Courtney always felt like it was weird to be "given away." We wanted our ceremony to reflect our faith while being respectful, and we also wrote our own vows. We just remember feeling STOKED the entire time to be marrying each other.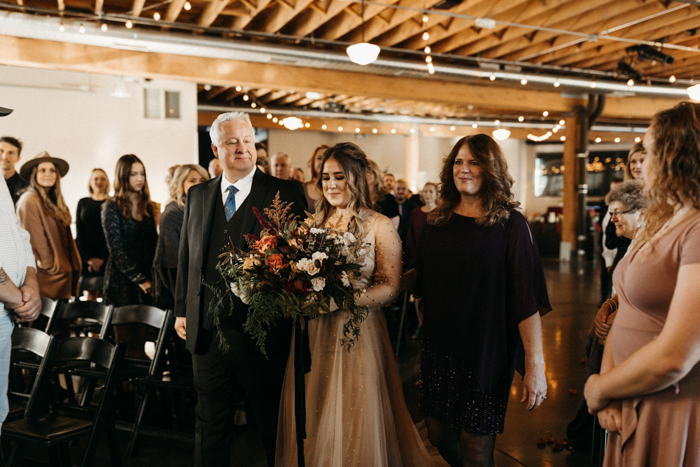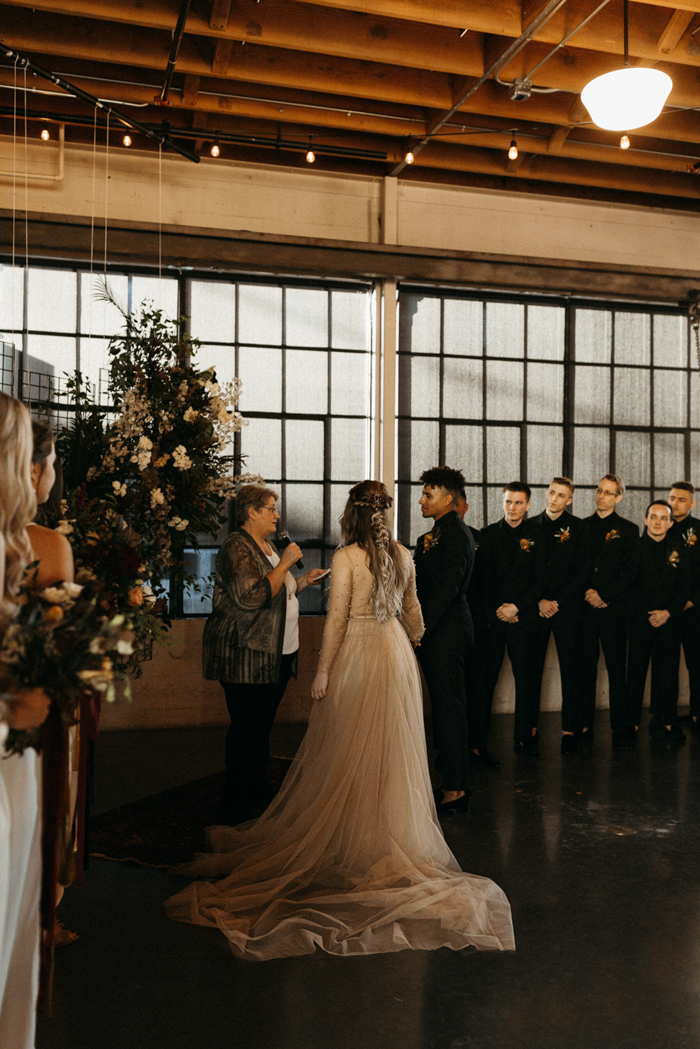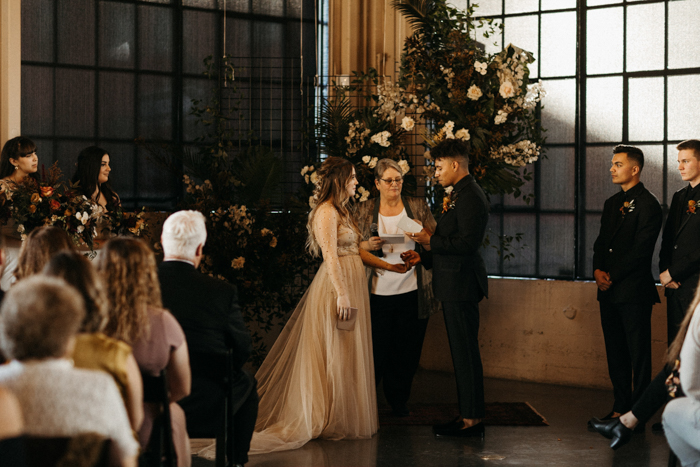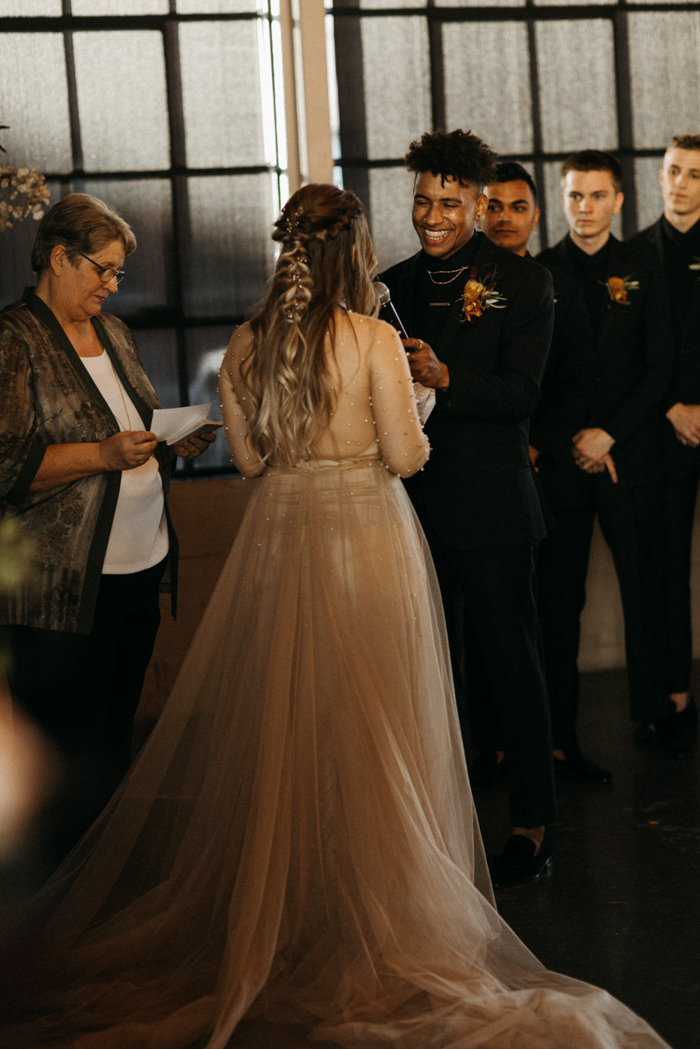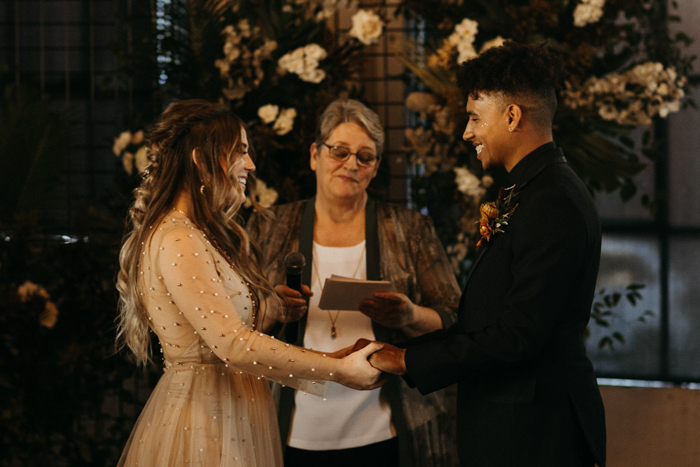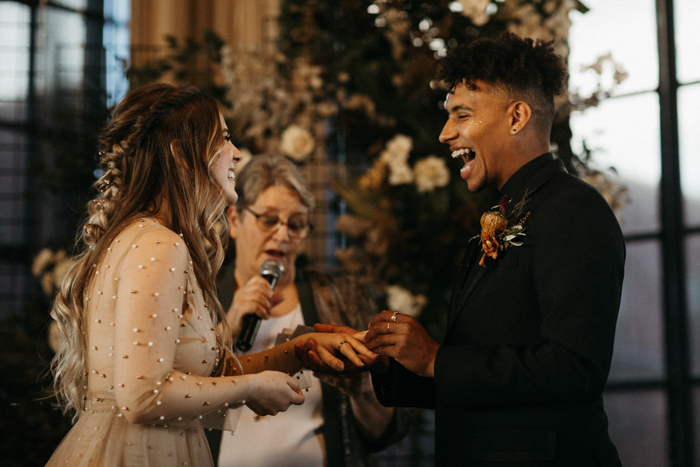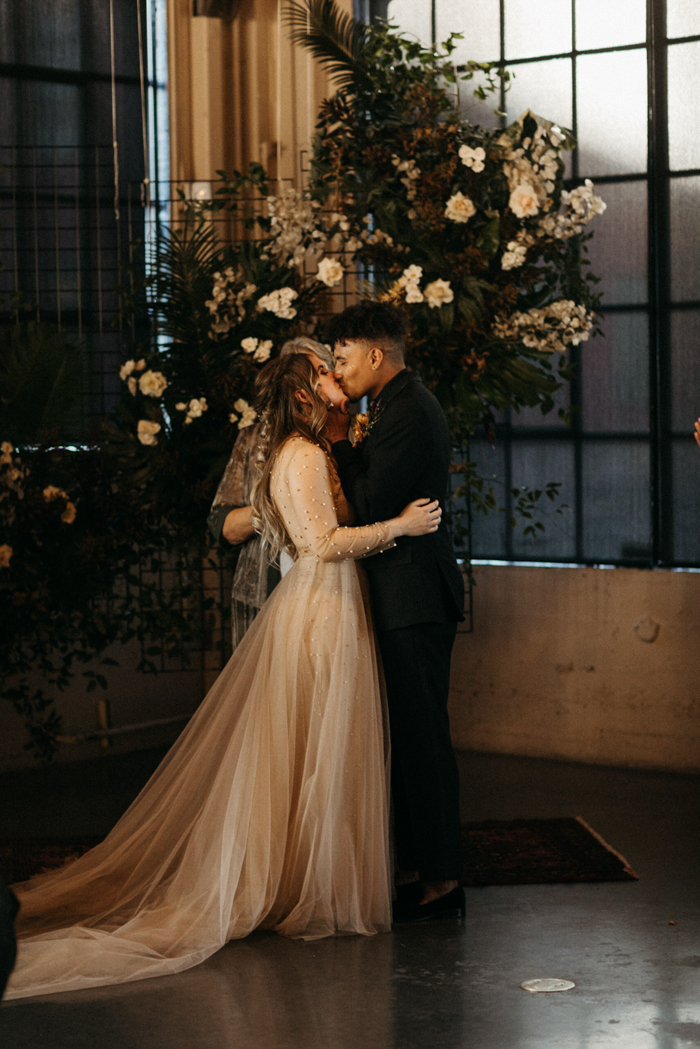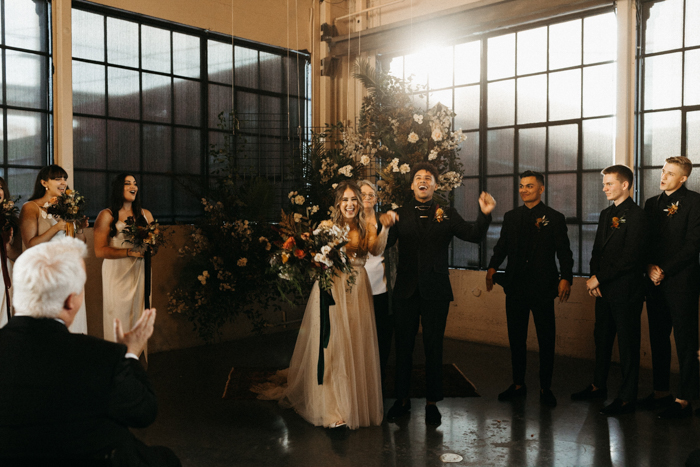 Wedding planning advice from the couple: Compromise is so important for the happiness of your partner. People will tell you that you should plan your wedding for "you" and forget what other people want. But what they don't tell you is that you and your partner might have different visions for your wedding. Be honest with your partner about what you want, but be willing to bend a little their way. It's not just "your" day, it's both of your day.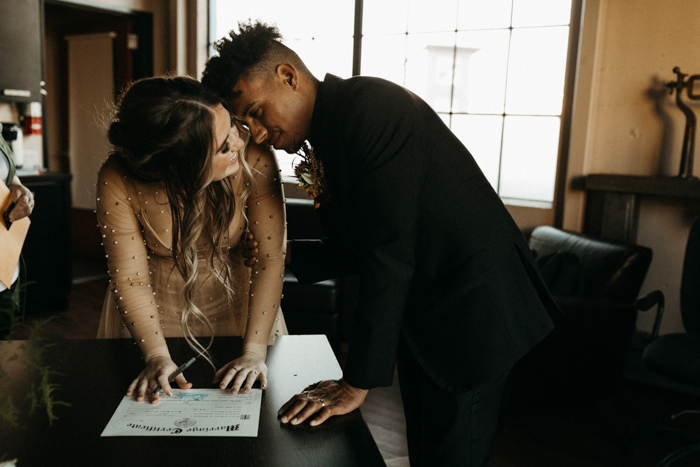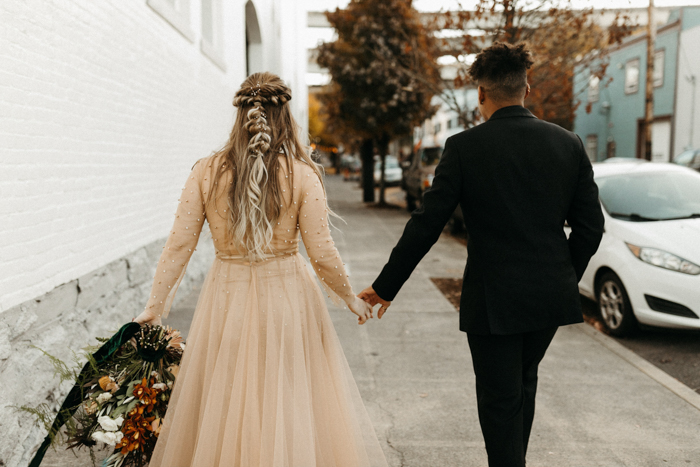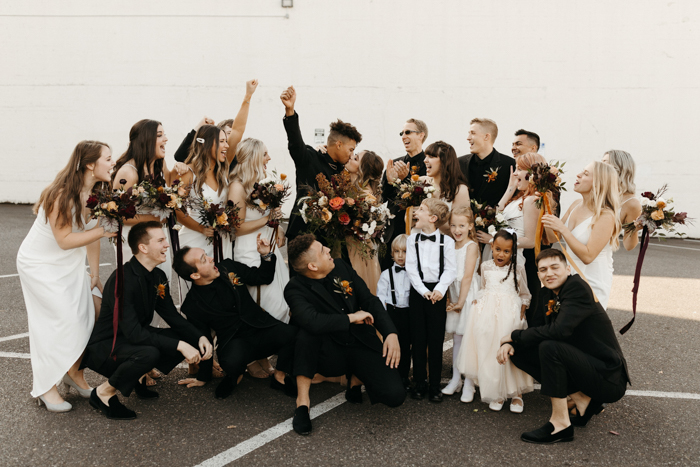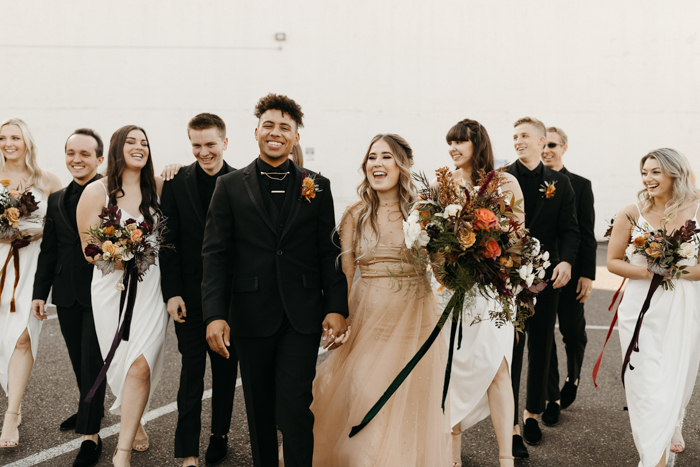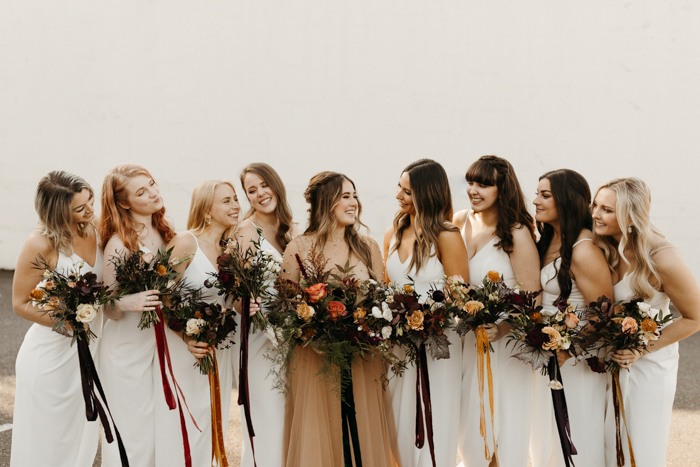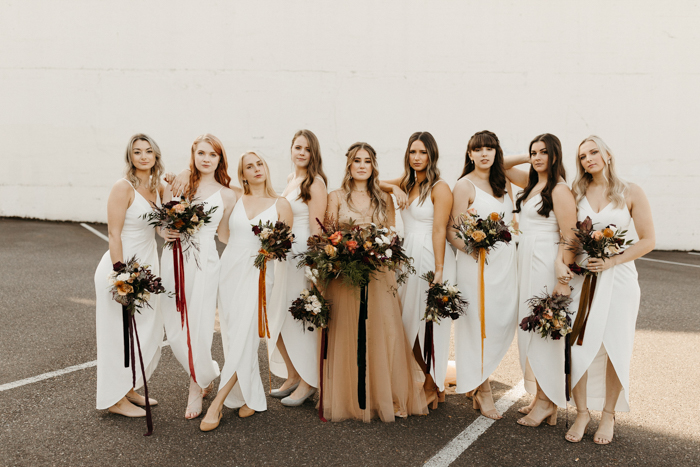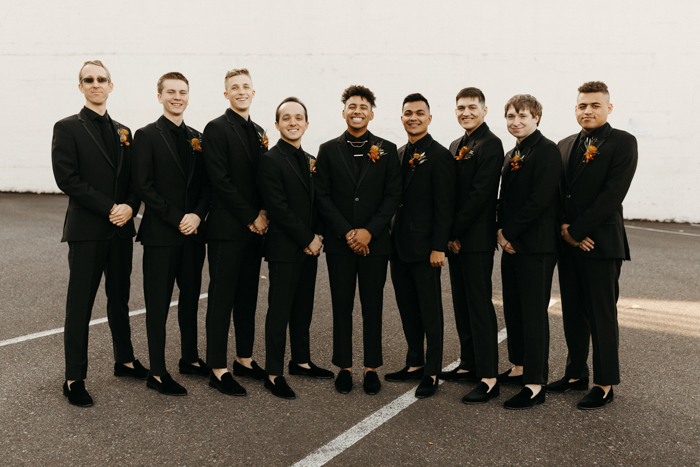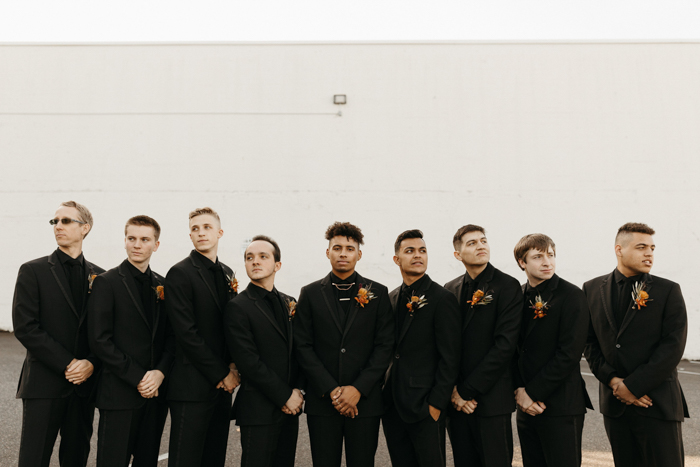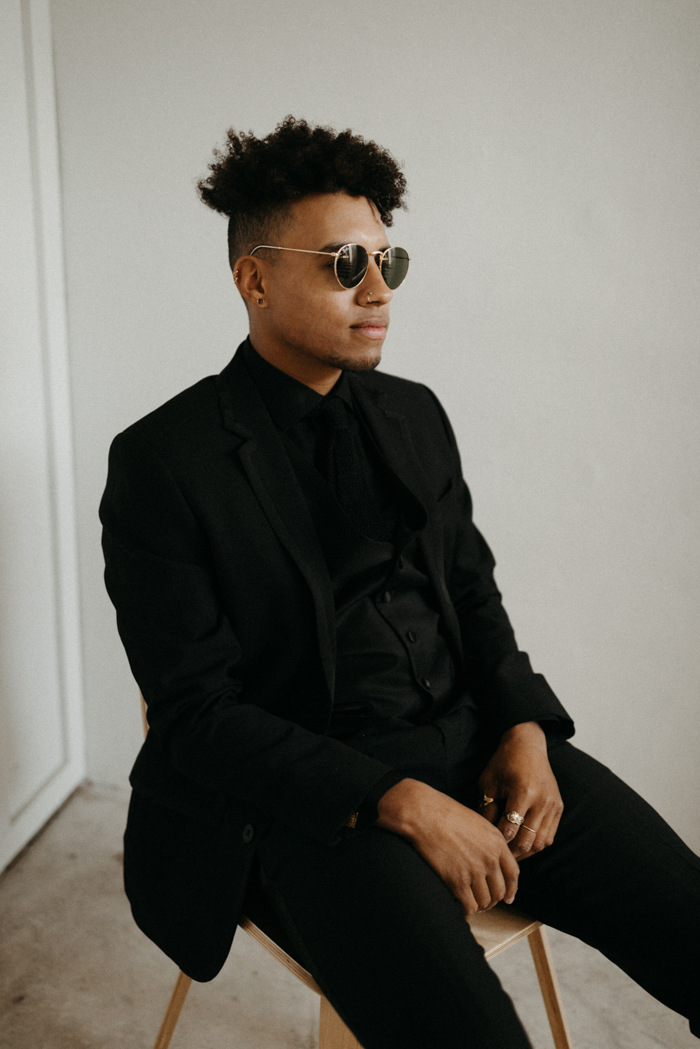 I loved Marcell's look all together. The tie clip and collar chain were wedding day presents from me, but Marcell had accumulated lots of cool gold rings, and gold studs for all his piercing to really complete the look. And the black on black on black for his suit was just soo cool.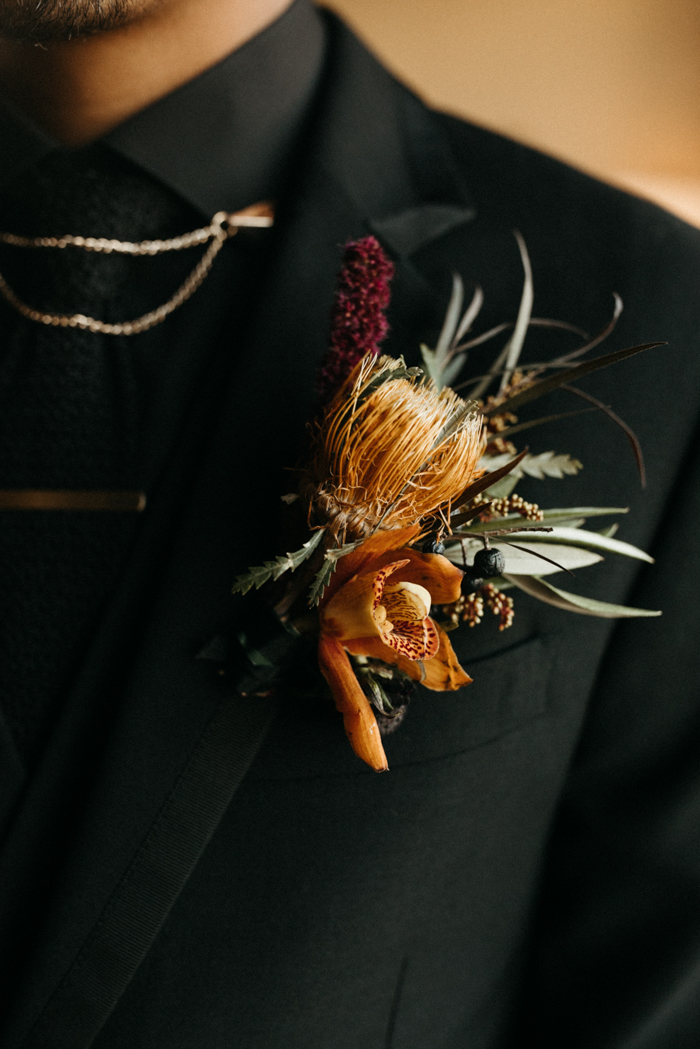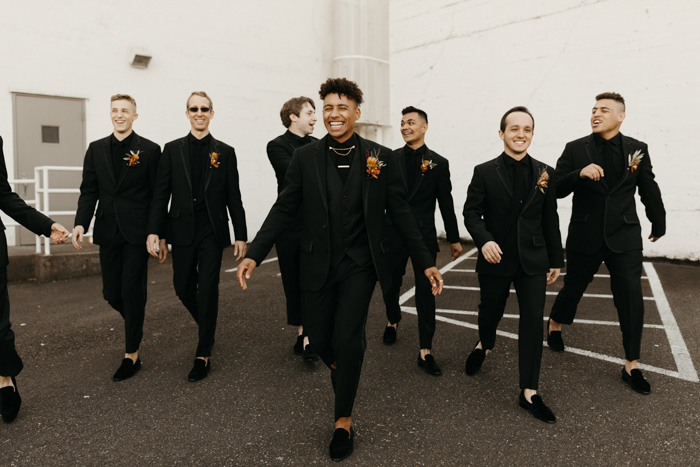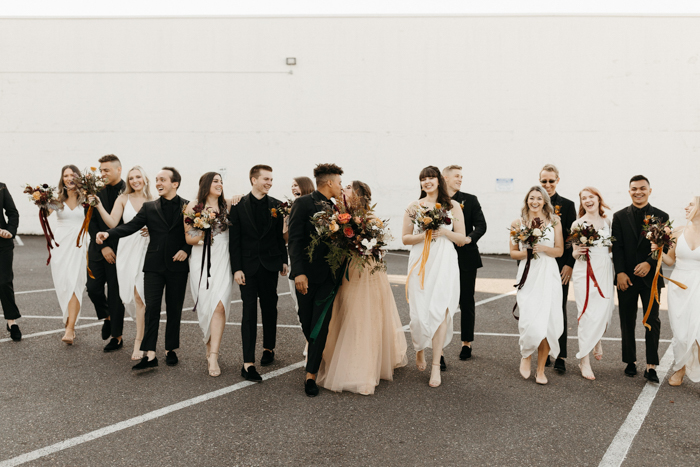 We literally could not love our photography more. Naba is a real life friend and now best friend forever. When it came to choosing our photographer and videography we knew we wanted people who we loved to be around. People don't realize how much time you will spend with your photographer and videographer.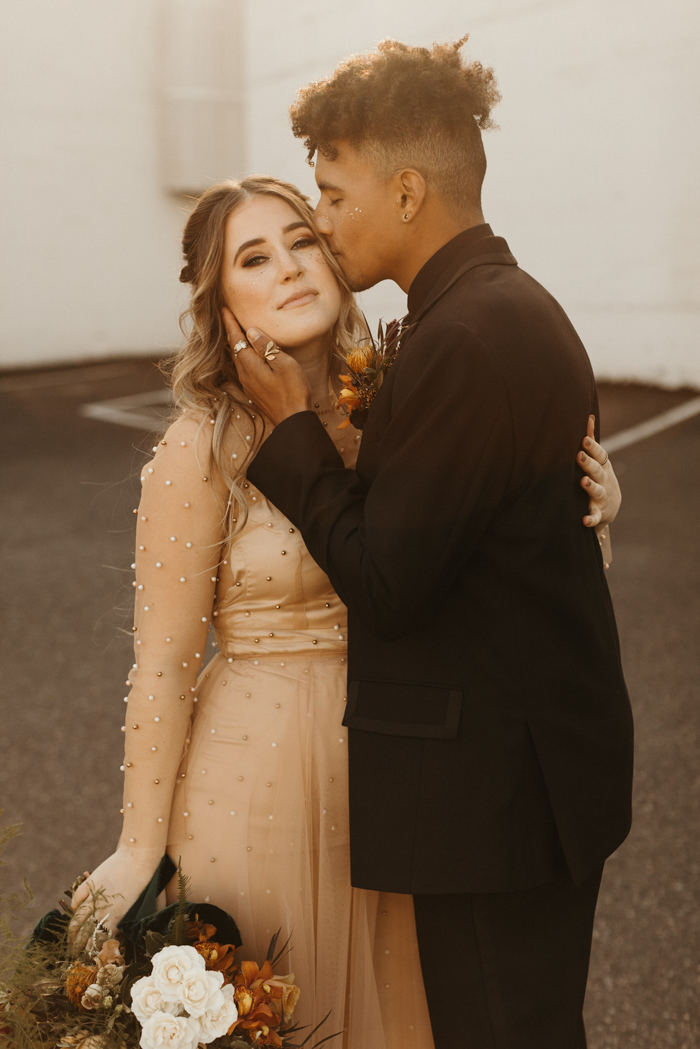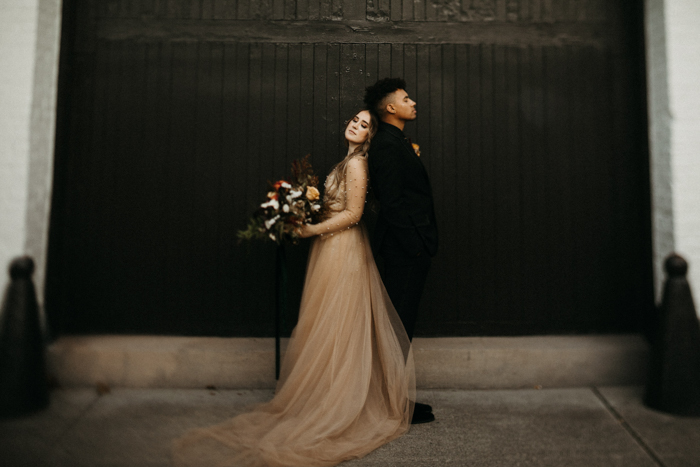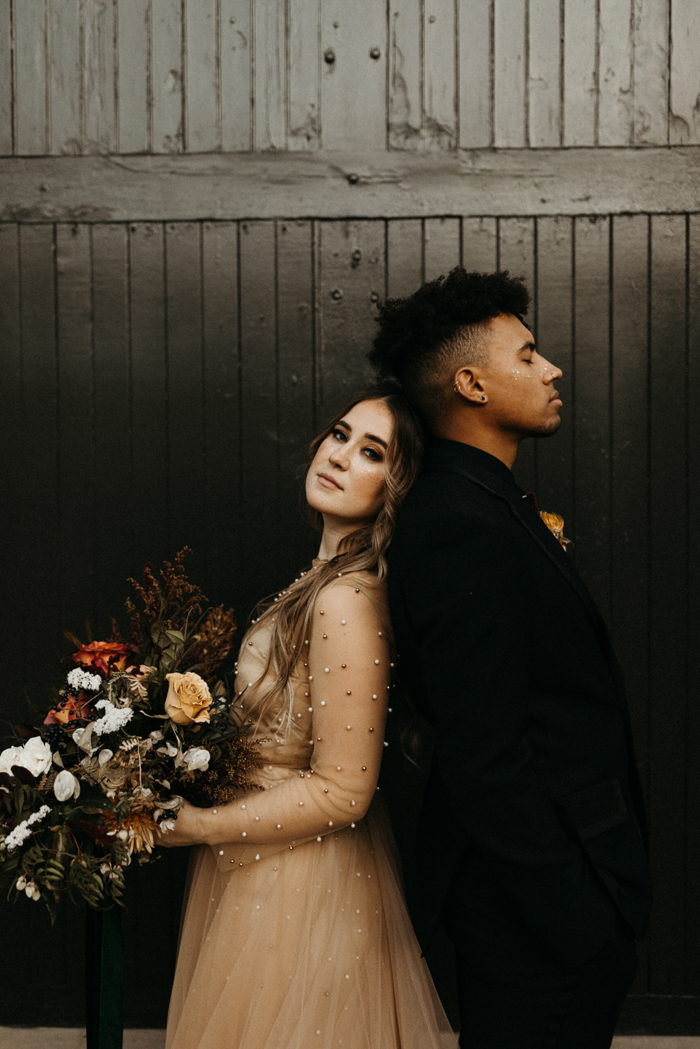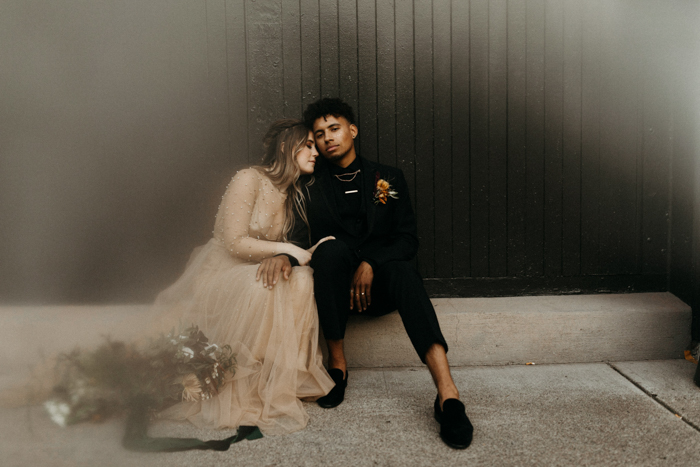 We were probably the most excited to choose our wedding looks. We kept about 80% of our looks a secret from each other while we chose key accessories and colors for the entire bridal party. We wanted gold freckles for the bride look before we were even engaged, and over time we decided with our makeup artist to do the gold freckles on both of us. We are both risk-takers when it comes to fashion and we wanted to break as many rules as possible. We looked using the classic "black and white" colors for our bridal party and reserving gold for just the bride and groom.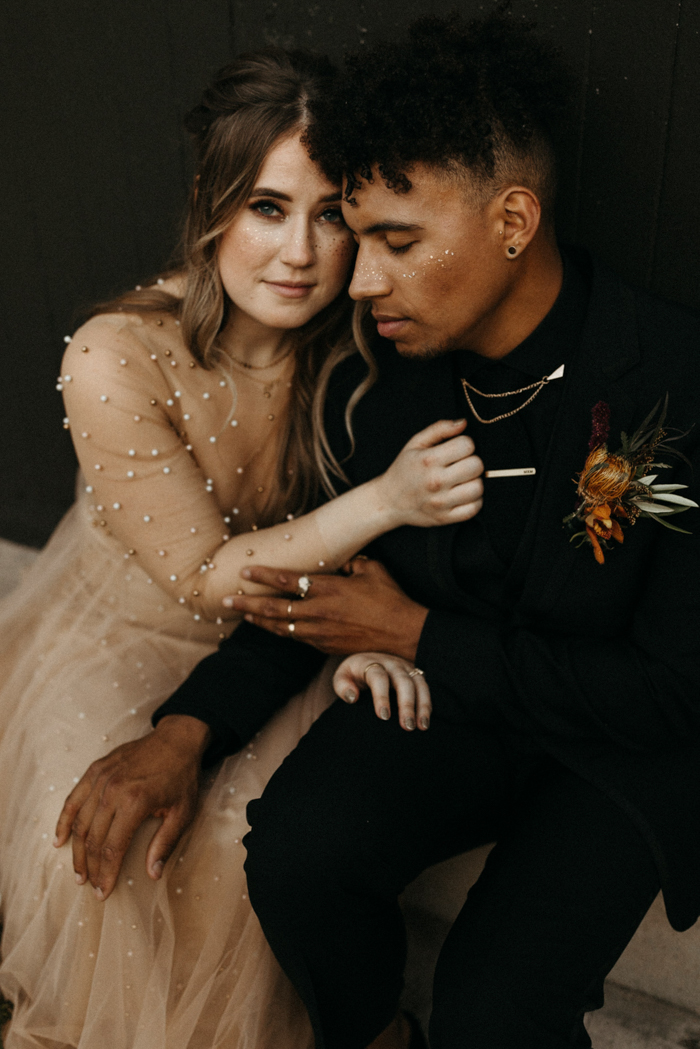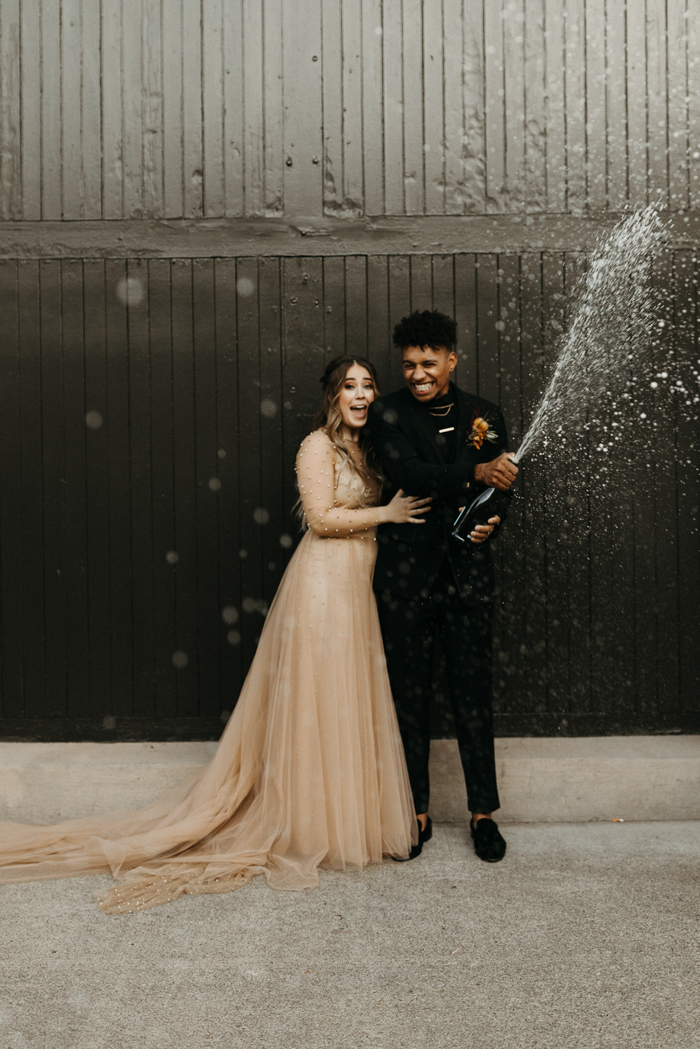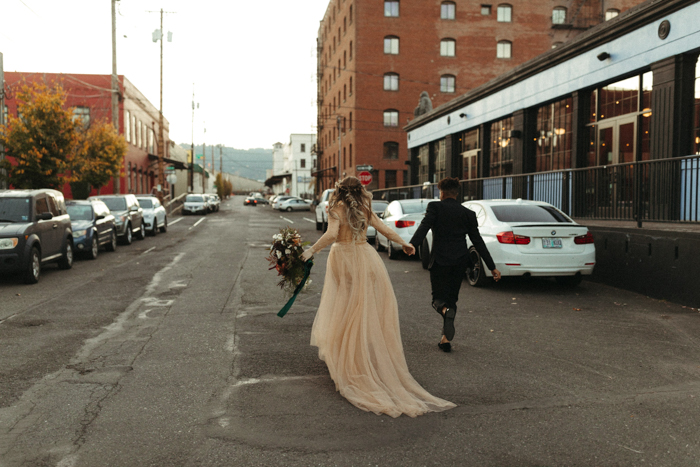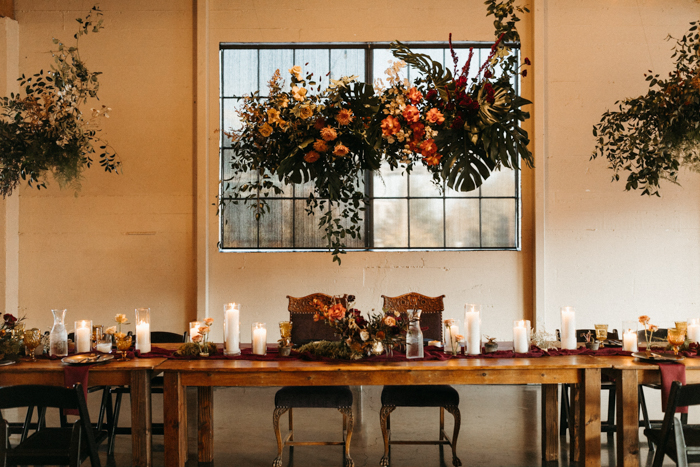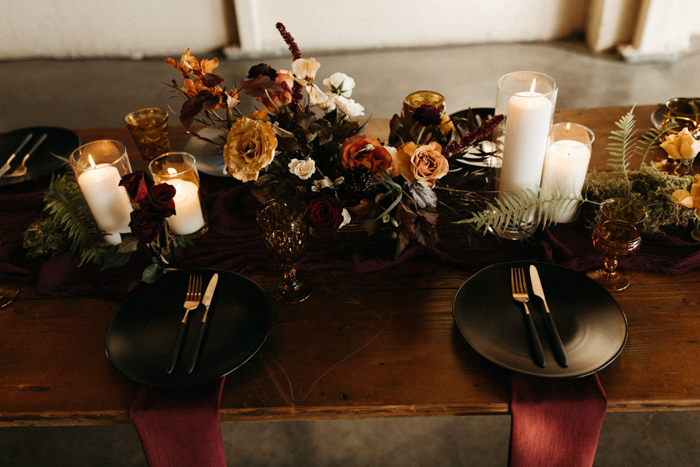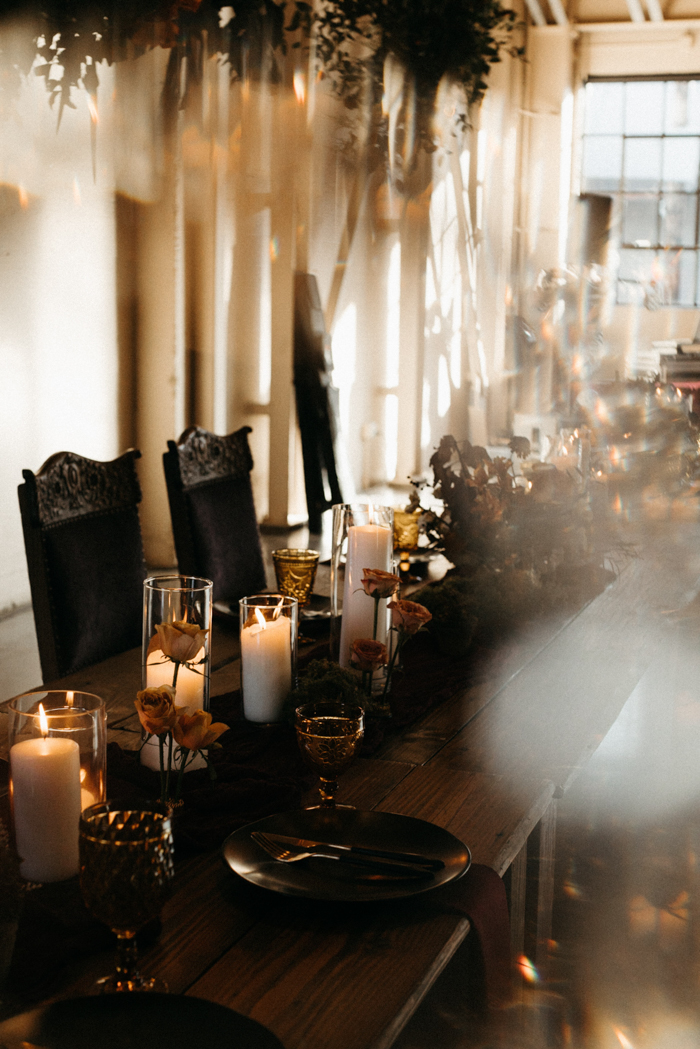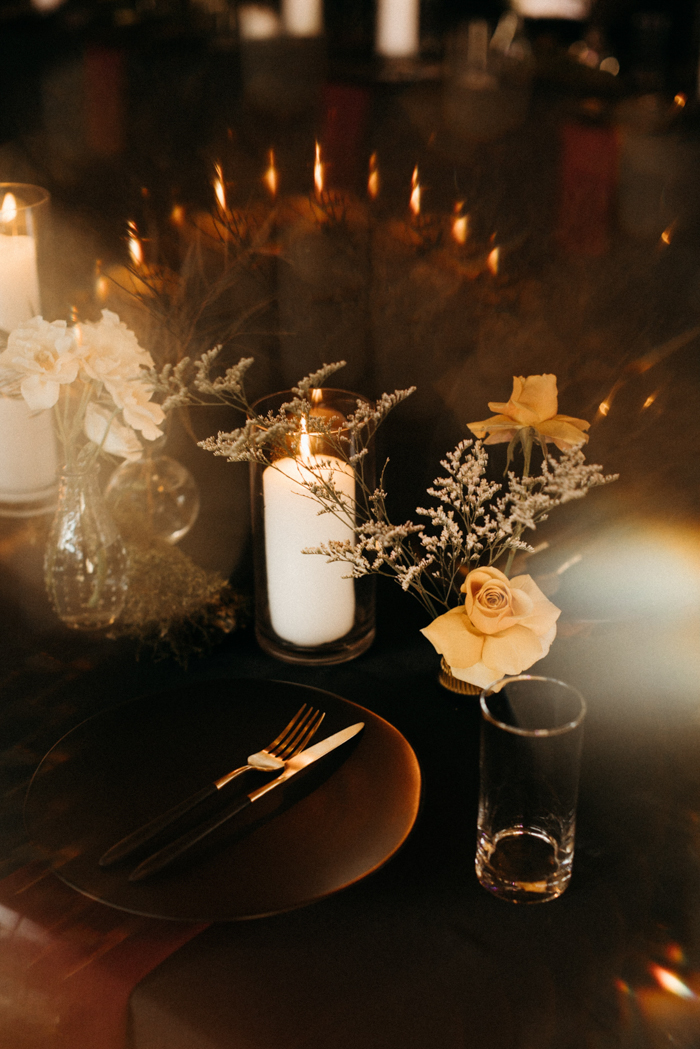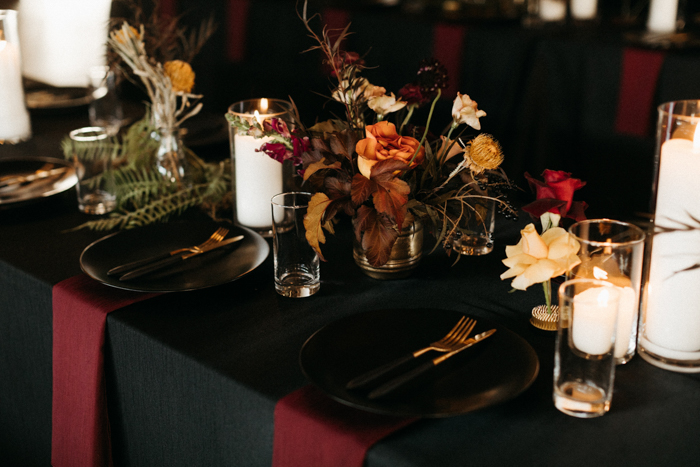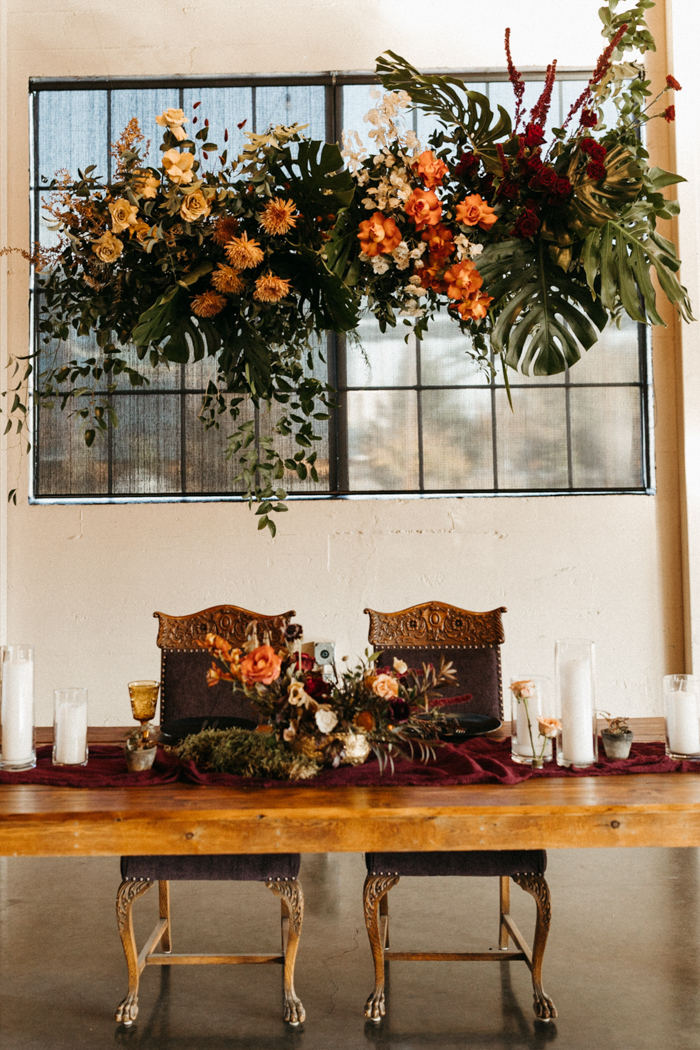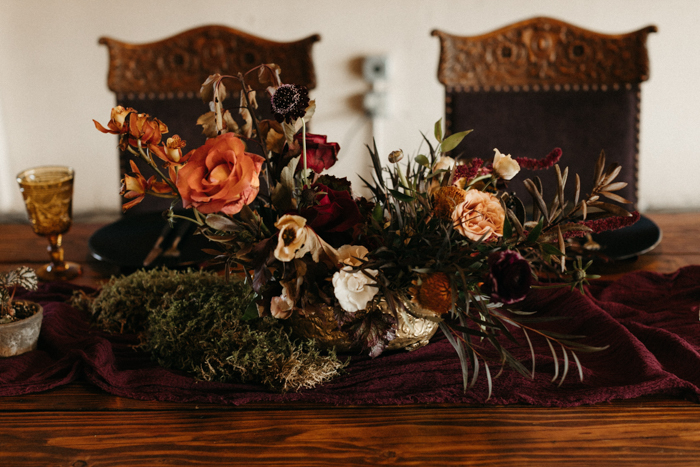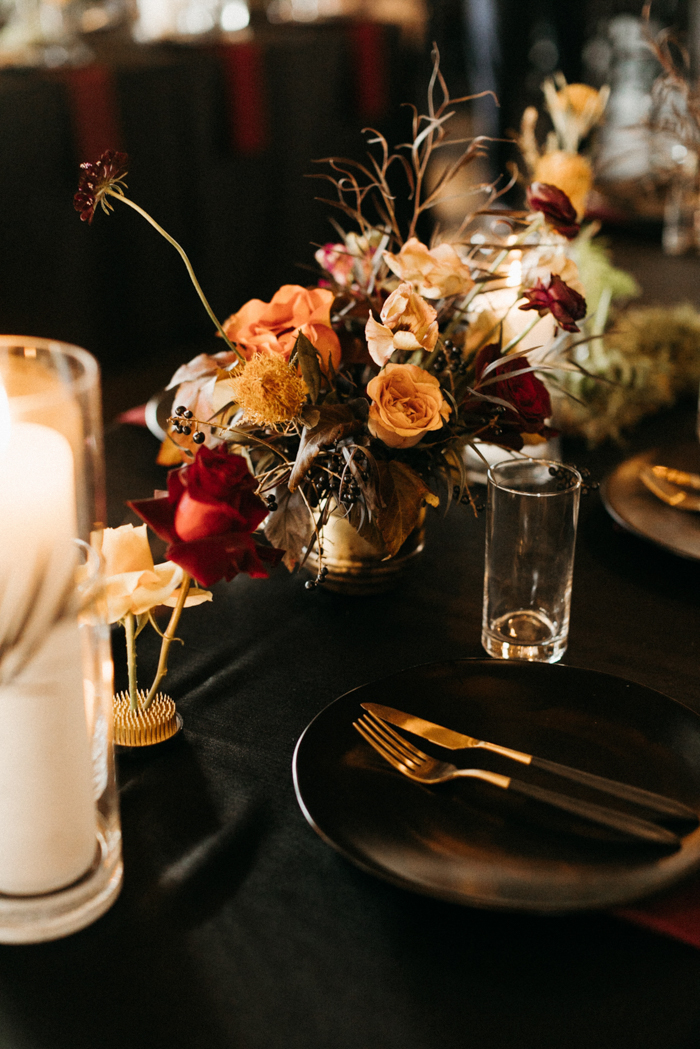 We did not do wedding favors and the reason is this: nobody takes them. As wedding photographers we have seen this time and time again. At least half of the favors get left in the basket, on the table, you name it. Instead of spending that money on favors, we chose to use it on an experience for our guests to enjoy at our wedding: aka the Photo Booth.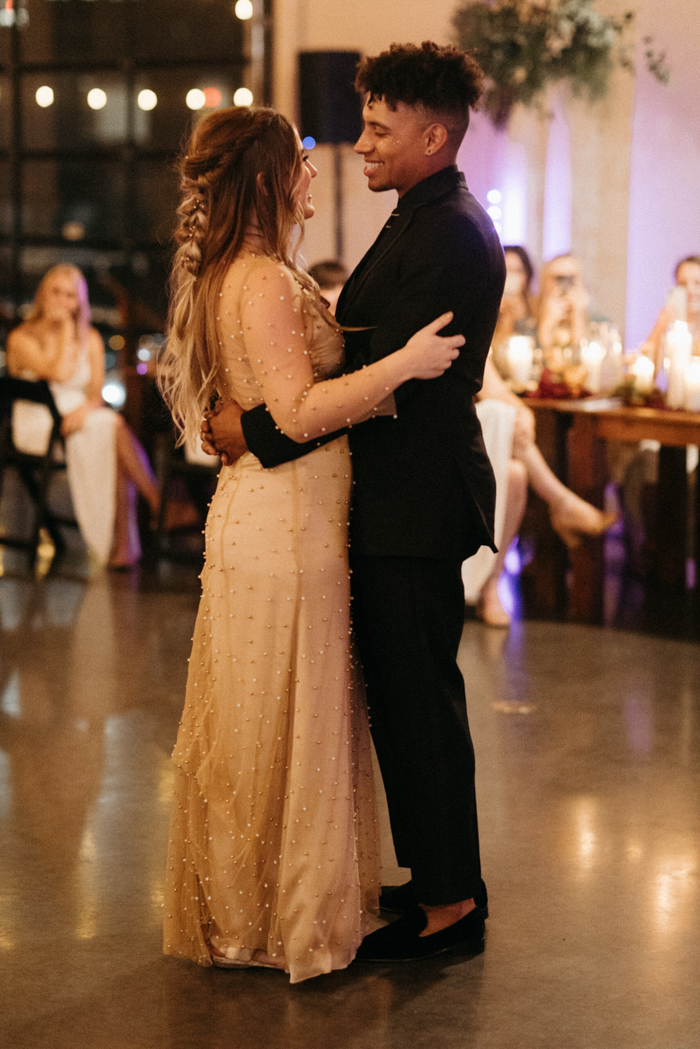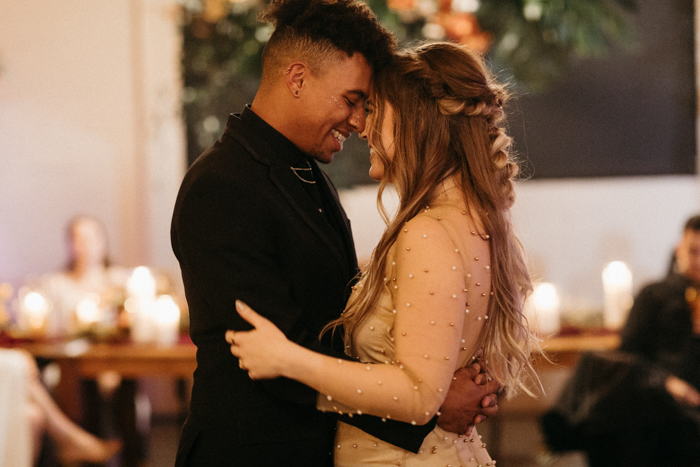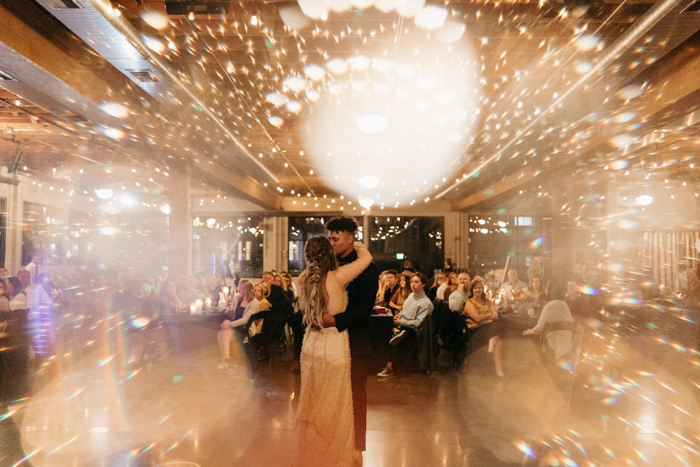 Cheers to you, Courtney and Marcell! We're positively obsessed with their Castaway Portland wedding and feeling thankful Naba Zabih Photography shared it with Junebug! Into these celestial touches? You've got to see this vintage-inspired wedding at Millwick in Los Angeles.