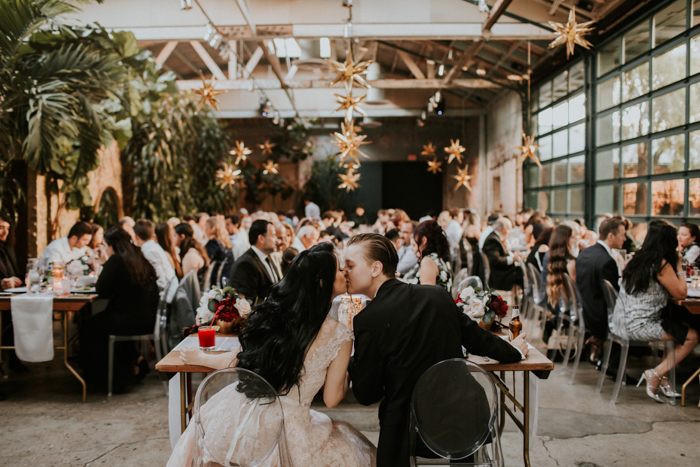 Oh my stars! We're positively obsessed with Chelsea and Brandon's vintage-inspired celestial wedding at Millwick in Los Angeles. After plans fell through for a fall wedding, Chelsea got to work reimagining her wedding day. A true #girlboss, she carefully researched every vendor and even learned how to use a table saw to create their moon seating chart! It was important to the couple that their day feel young and fun, so they hired pink hair'd and totally rad Carly from VOX DJs, to keep the party going with jams like "I Write Sins Not Tragedies," "Sugar We're Goin Down," and "The Black Parade."
We can't wait for you to see all of the swoon-worthy decor this rockstar team created — especially the ceremony arch Velvet Blooms adorned in florals inspired by wild, textured cold weather elements. Fun fact: Chelsea assembled the arch the morning of her wedding (insert strong arm emoji). Get ready to fall in love, babes, because these photos brilliantly captured by Jami Laree Photography are pure gold!
The Couple:
Chelsea & Brandon
The Wedding:
Millwick, Los Angeles, California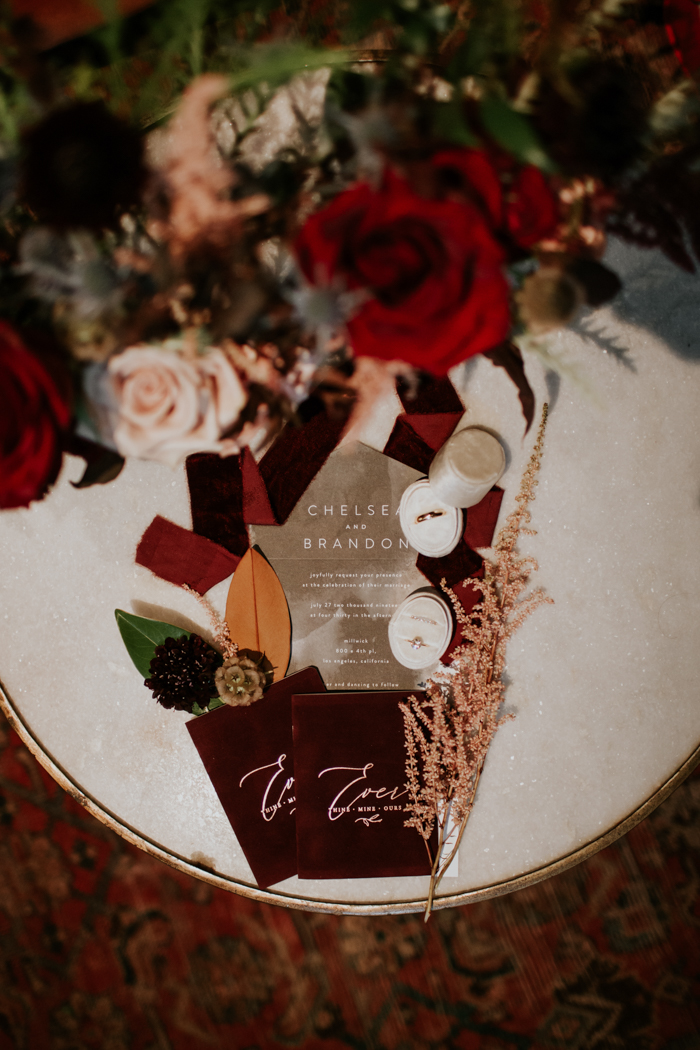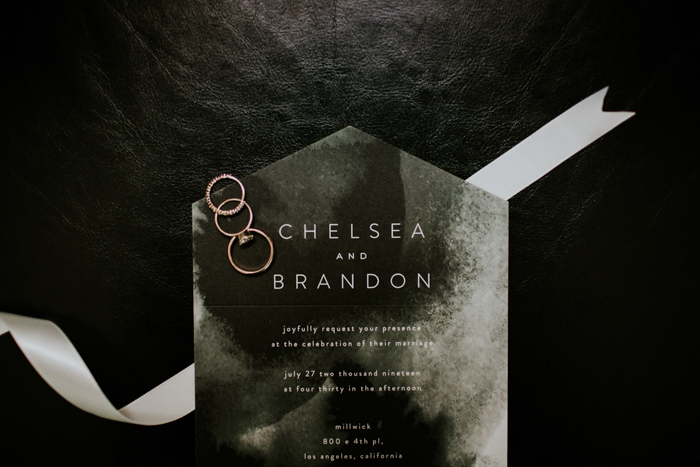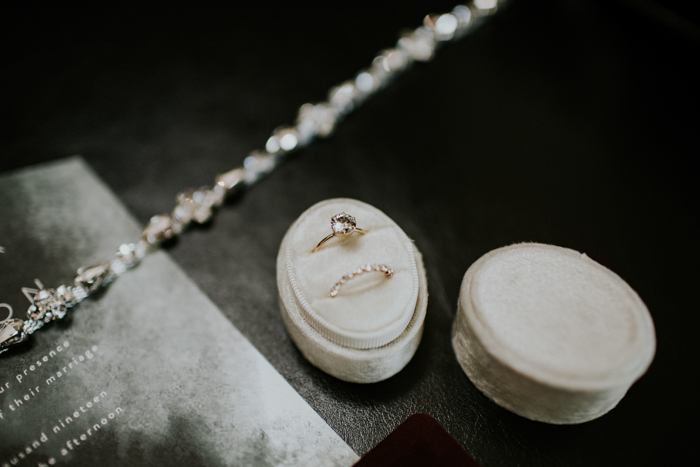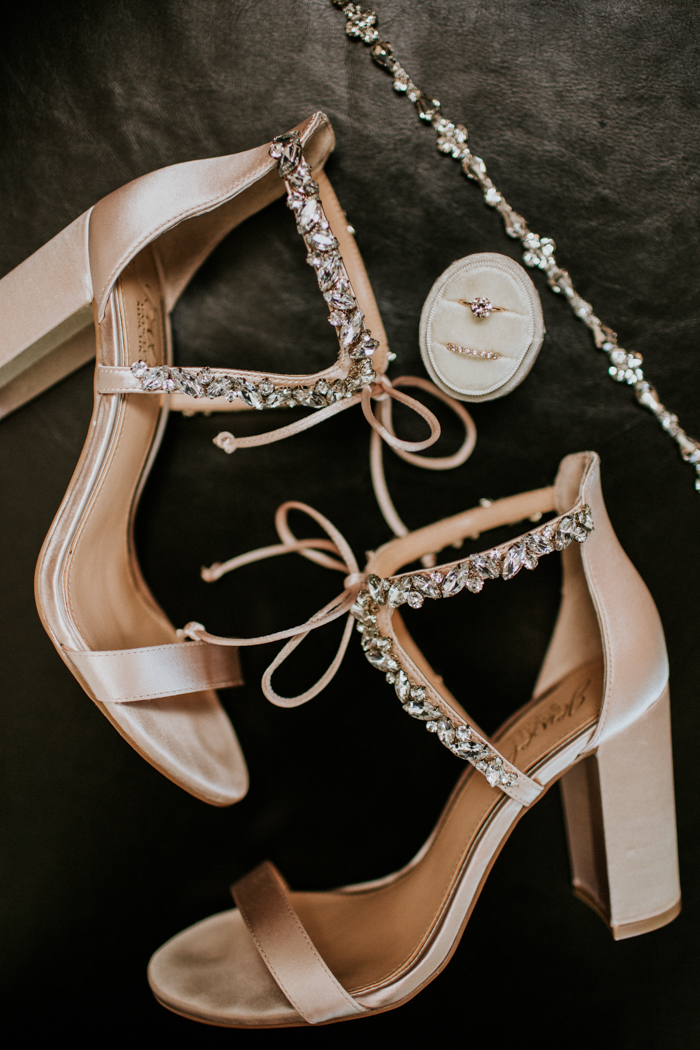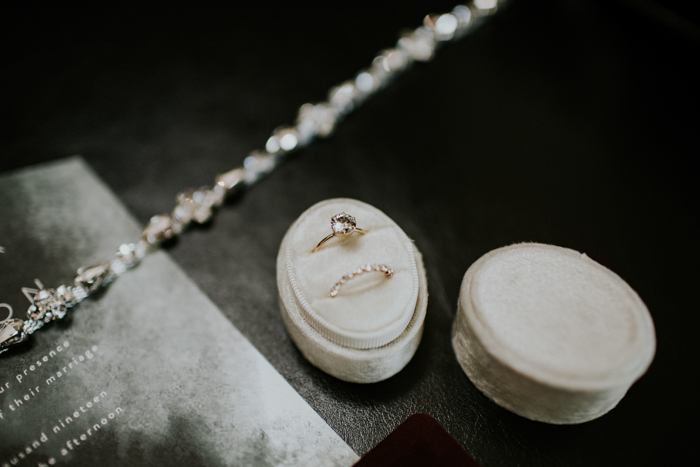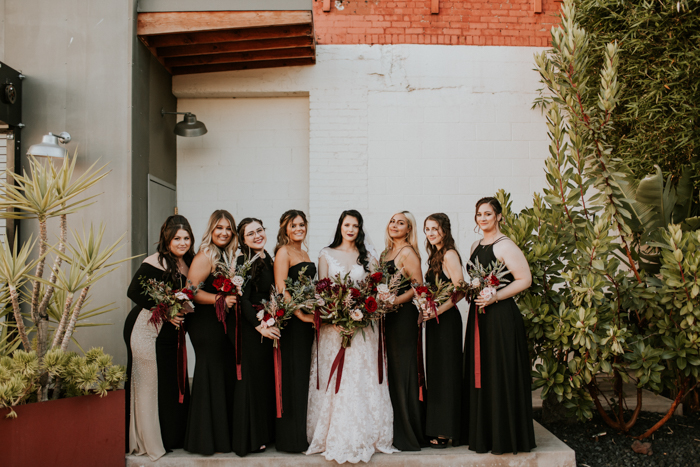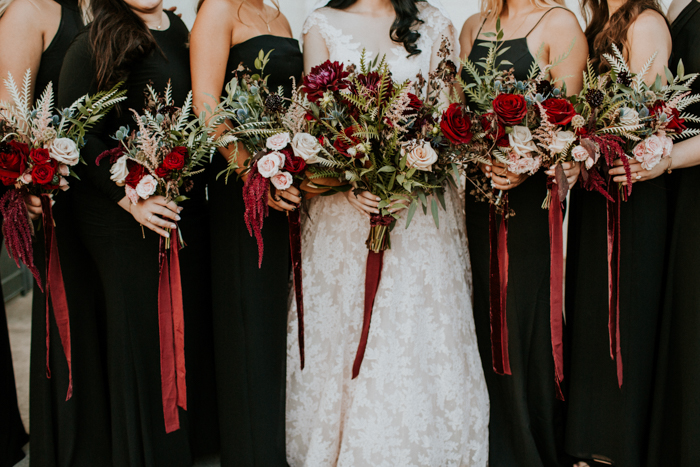 My request from Rachel/Velvet Blooms was to mimic this vibe in our florals. We didn't do much in the way of flowers but I wanted what we did get to make an impact. Rachel walked me through tons of options and together we decided on a blush/burgundy color palette with lots of wild, textured, cold weather elements included. Our ceremony arch and bouquets were one of the highlights of the wedding. The perfectly placed "imperfect" arrangements completely embodied our theme.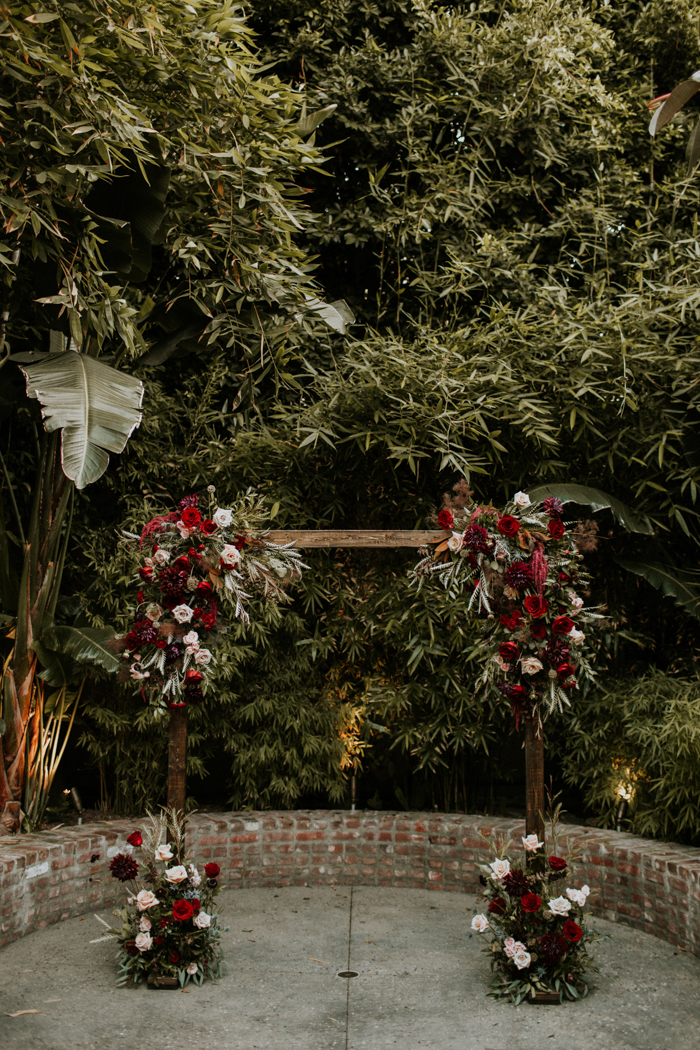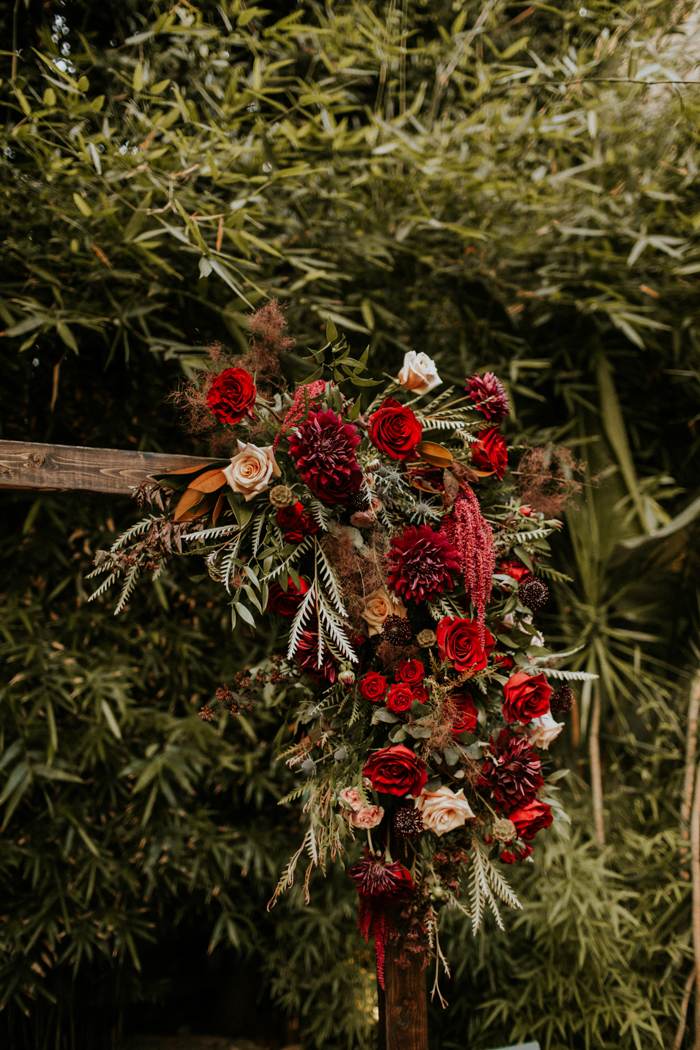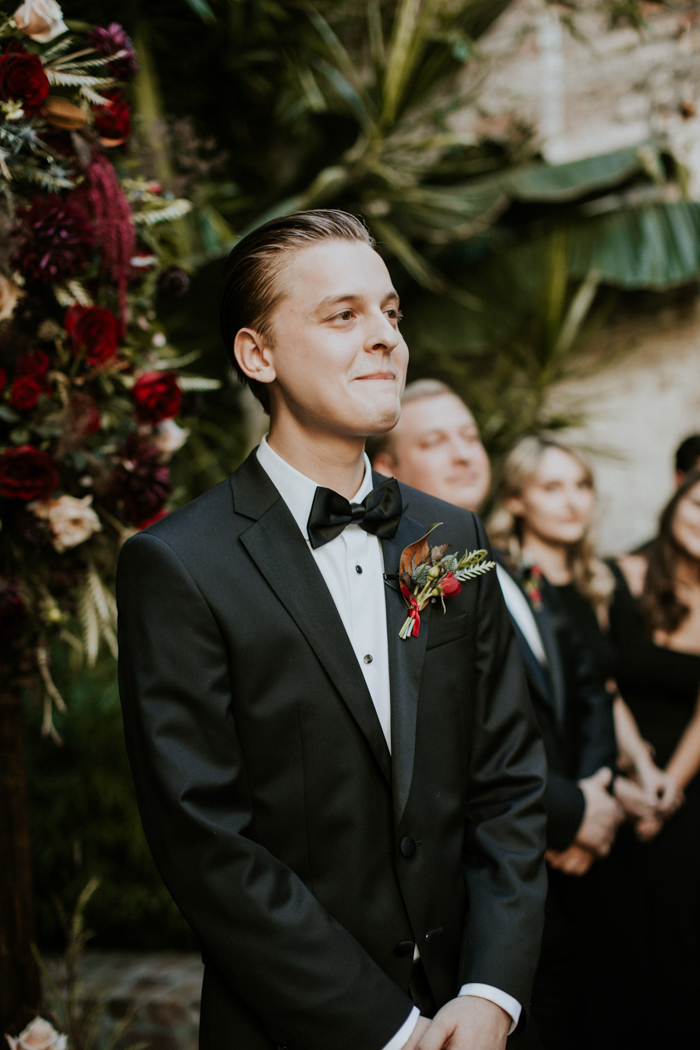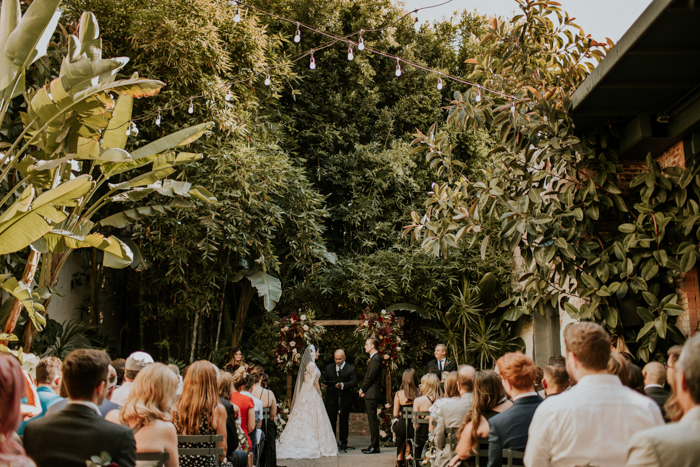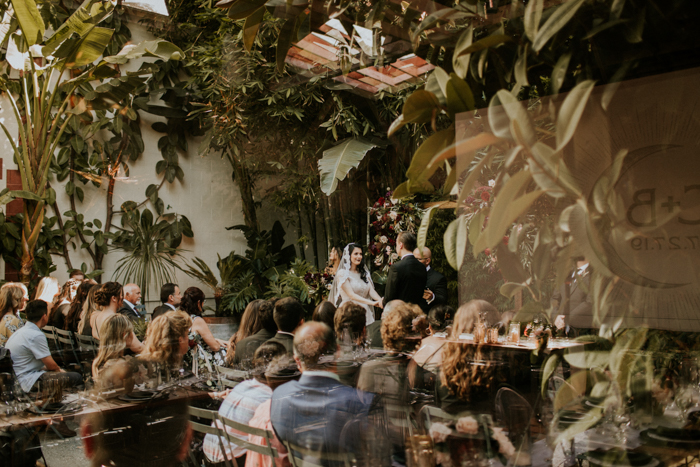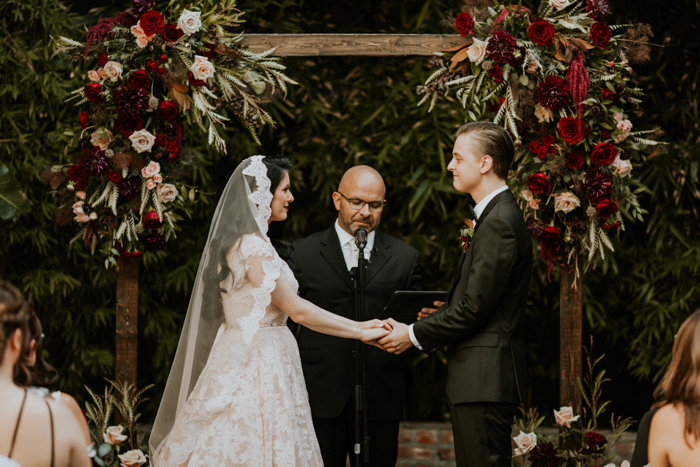 While writing the entire ceremony was probably the most daunting of tasks I took on, I am so happy I put in the work. I started by reading a plethora of online articles, examples, and templates. I figured out what worked for us and took advantage of having complete freedom. Ex. I hated the wording of traditional vows, so we wrote our own and opted for a more approachable and modern translation for the I do's. I also opted to skip the objections part, ya know, just in case!
In lieu of "readings", I filled the bulk of the ceremony with a recap of Brandon and I's love story. It served as great refresher for both our family and friends and allowed us to highlight some fun moments that took place between meeting at band camp at 16 and our wedding day.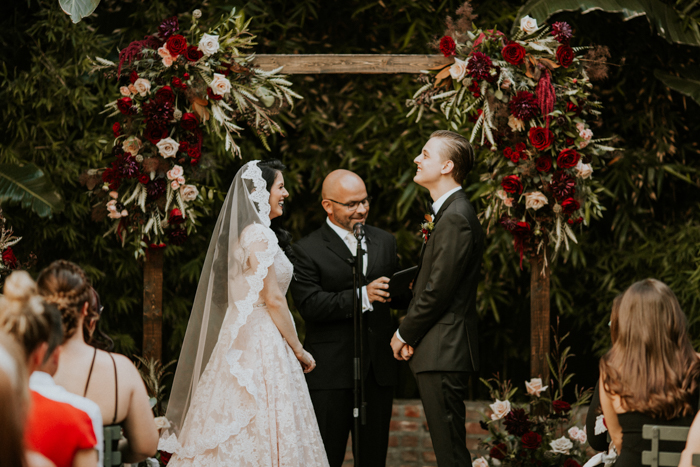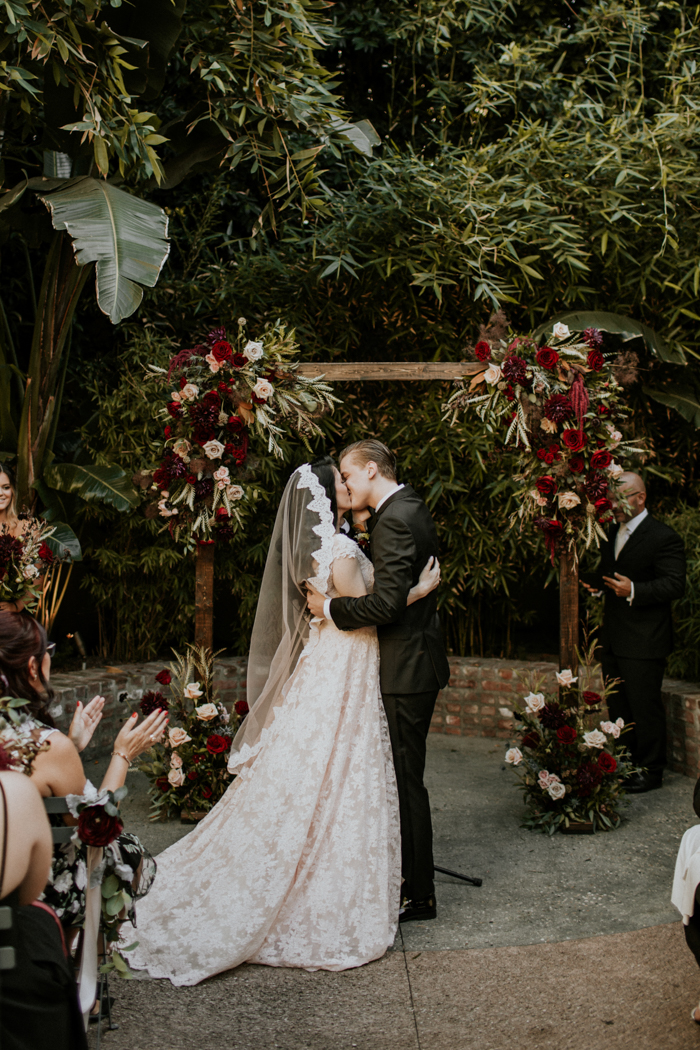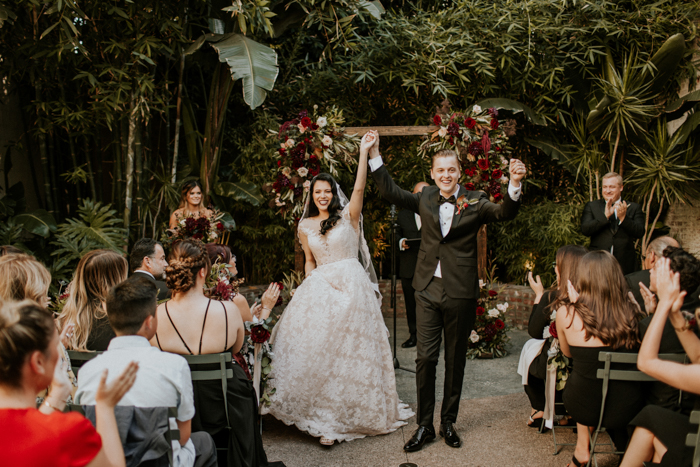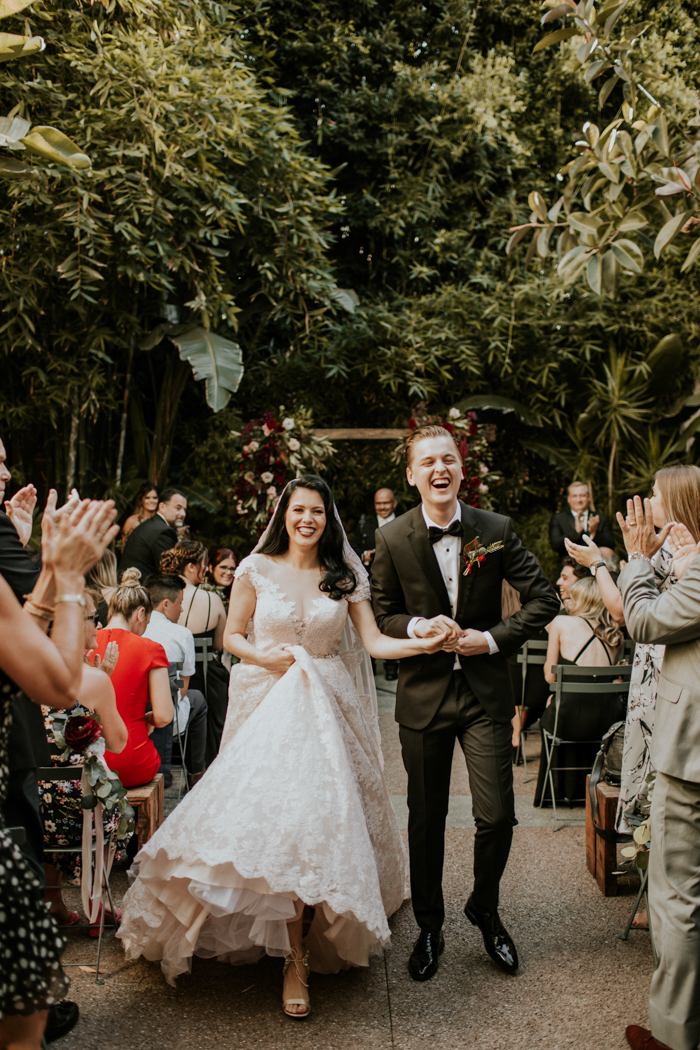 Being the very first of our friends to get married, our biggest priority was definitely keeping things young and fun. We kept this at the forefront of every decision in the wedding planning process. Our thought process was as long as the final product accurately reflected who we are both as individuals and as a couple, then we would have succeeded. (We did!)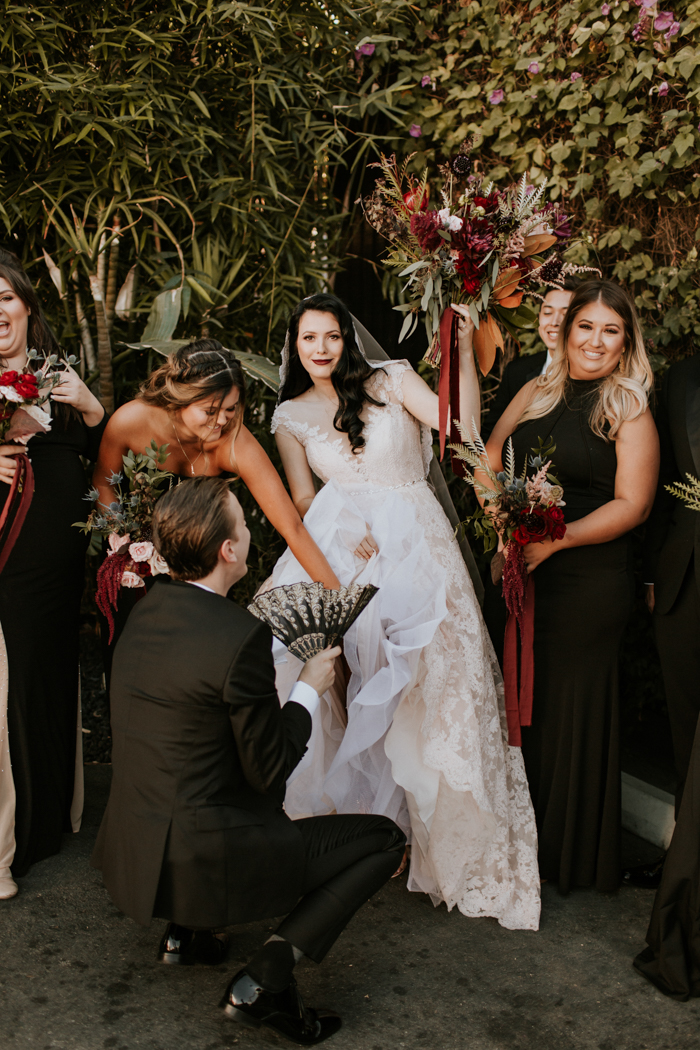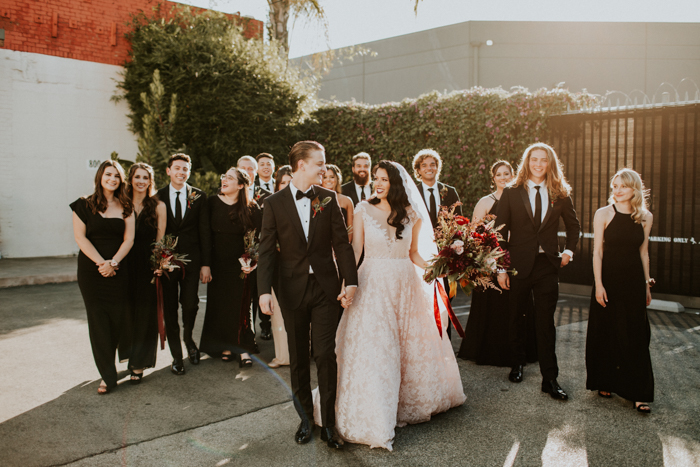 Jami (our photographer) was my first call. Before coming across her postings in a local network group, wedding photography as whole had never crossed my mind. I wasn't yet engaged and I never knew wedding photos could be light, or dark, or bad, or nearly as insanely beautiful as Jami's work consistently is. I often joke that my husband was still down on one knee when I was dialed Jami. Her portfolio is a wild, moody, autumn DREAM and there was no way I would settle for anything less.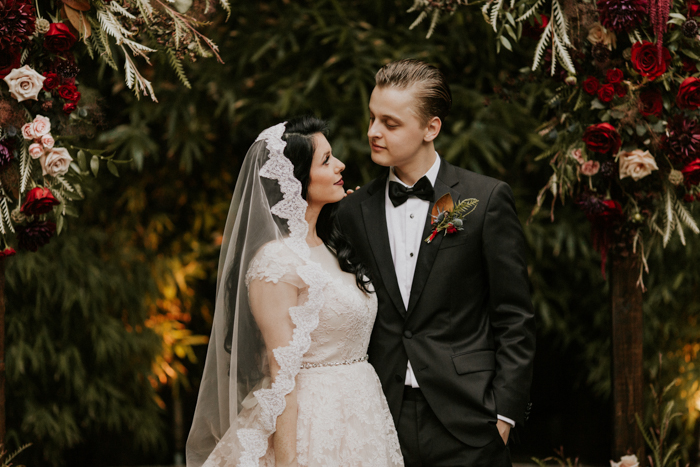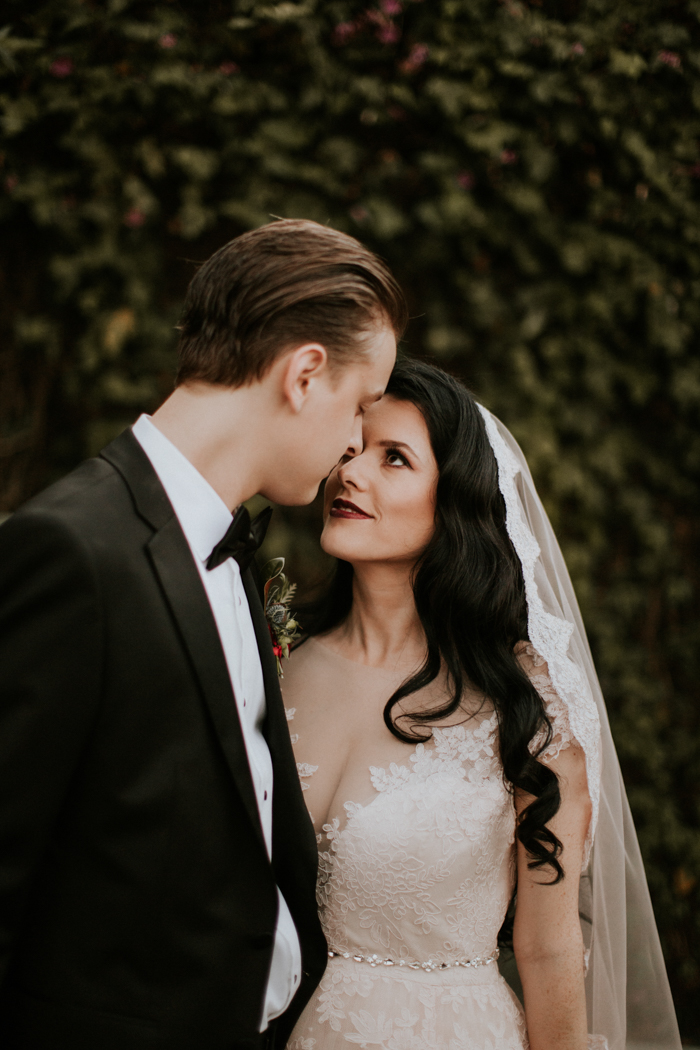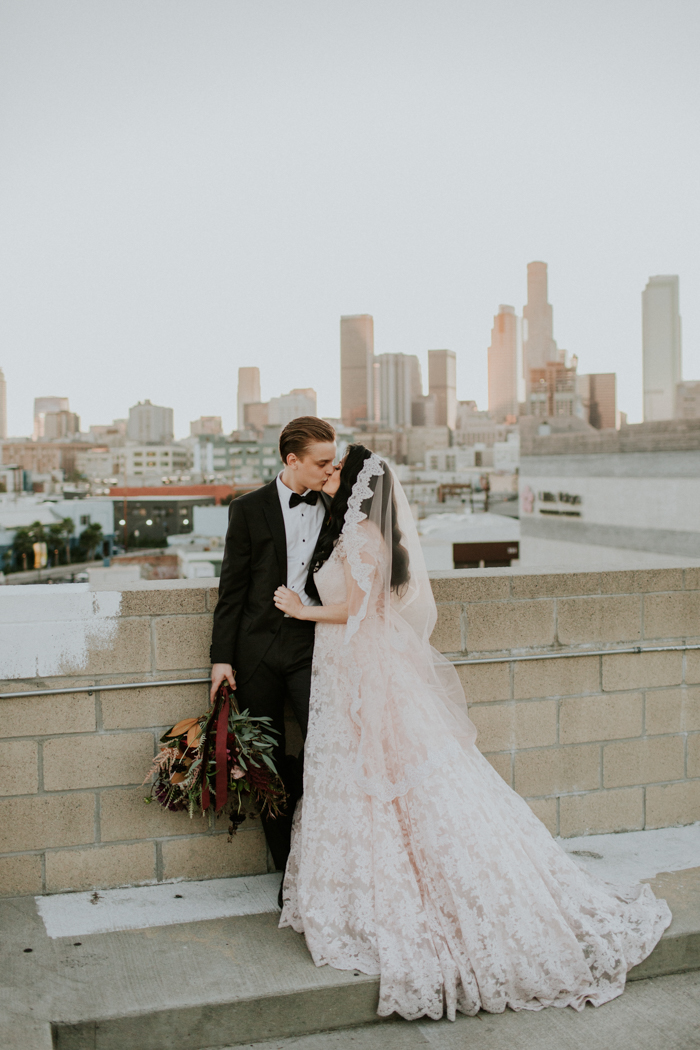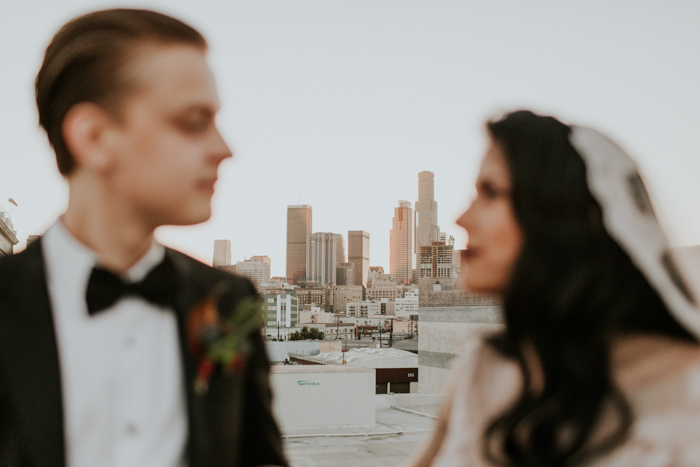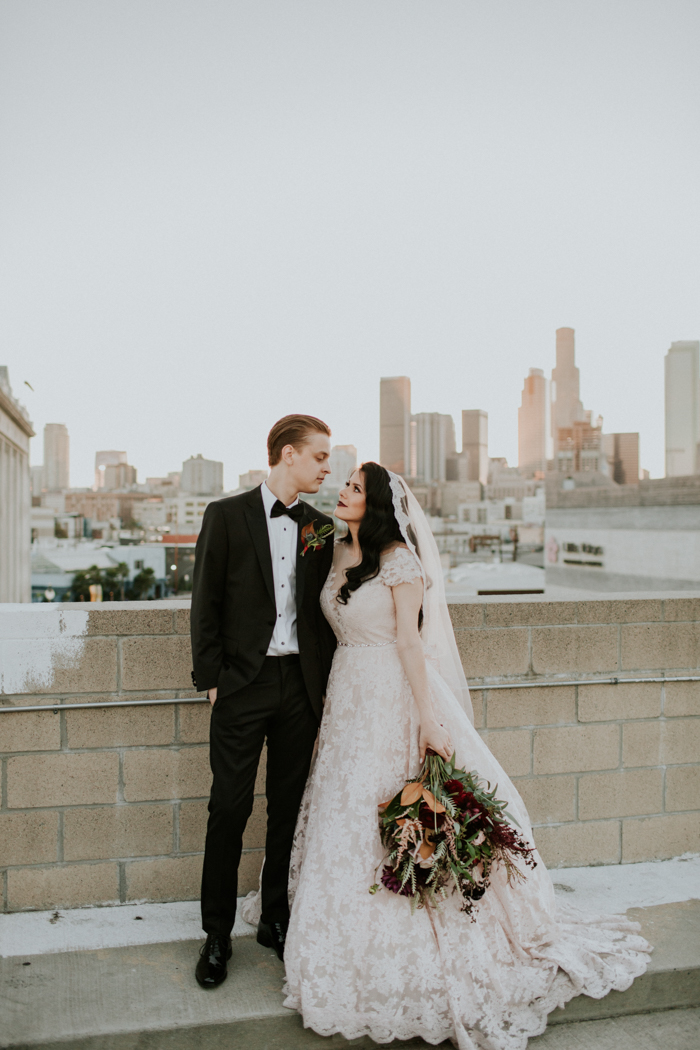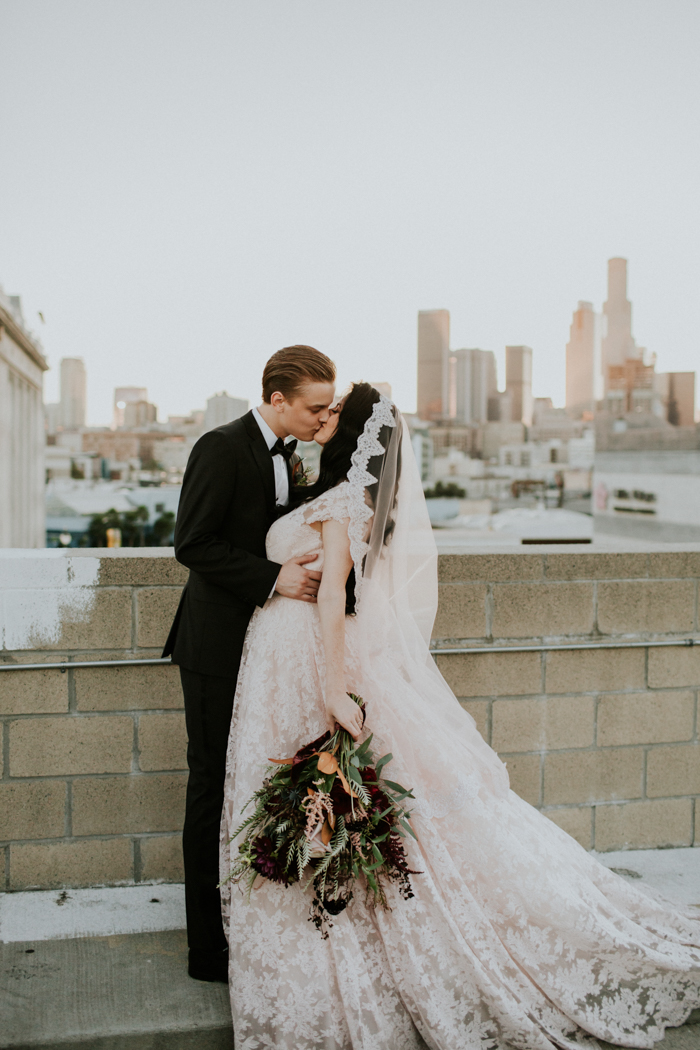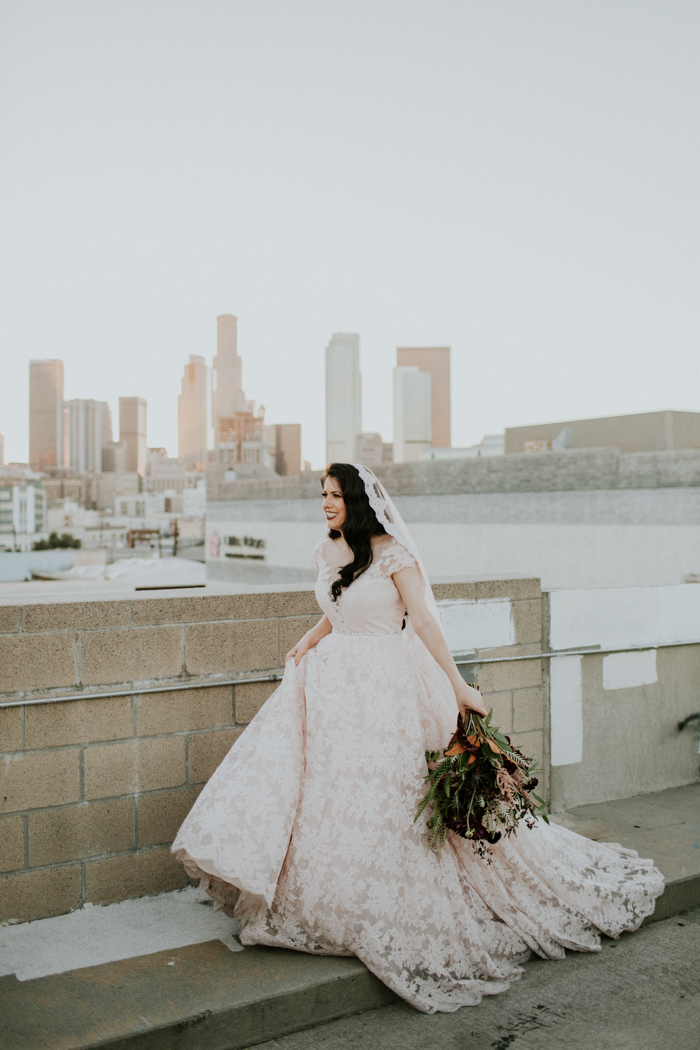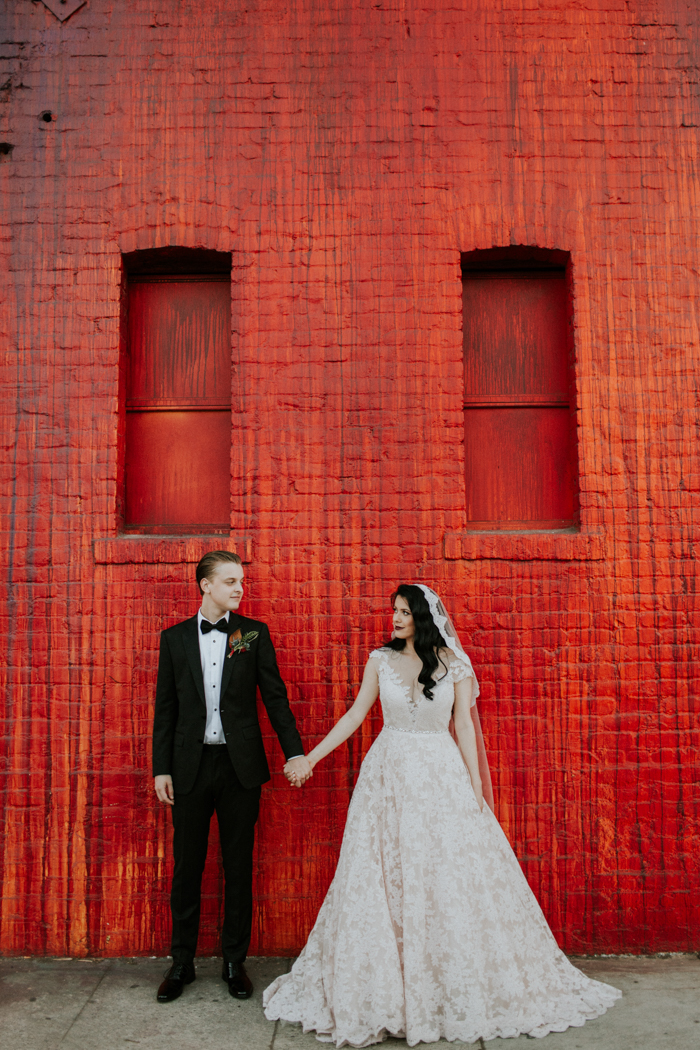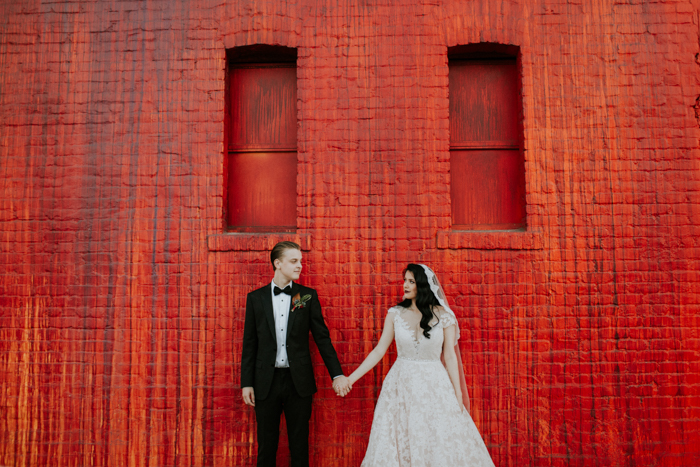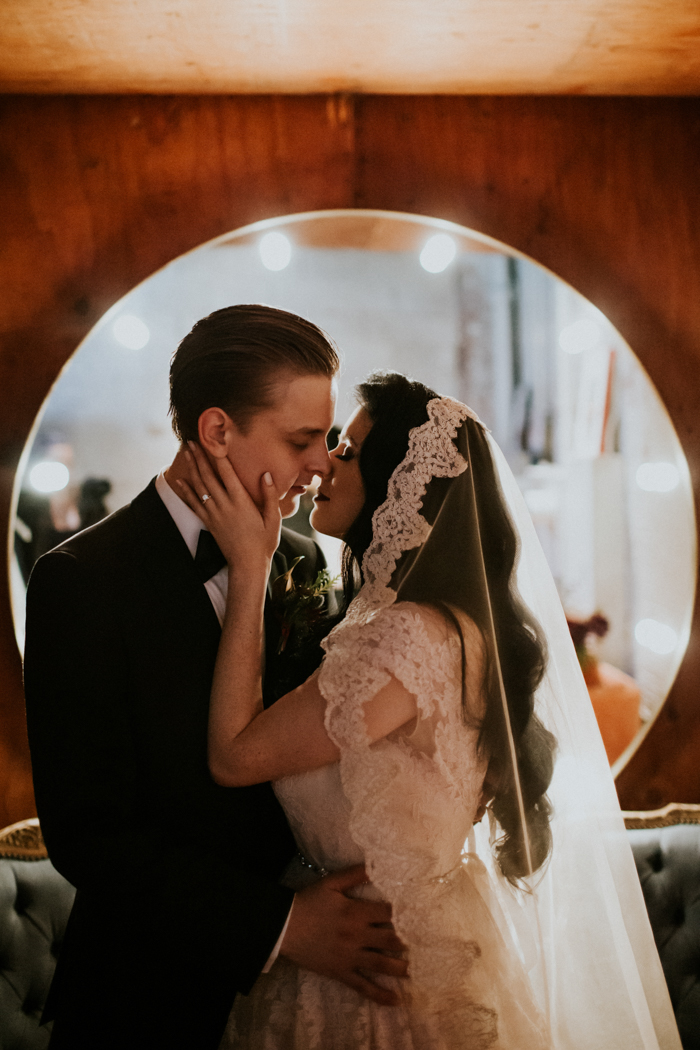 Wedding planning advice from the bride: Achieving your dream wedding is possible! Just be prepared to do the work. I was very careful to research options thoroughly to avoid making rushed decisions or regretting any decisions. It was extremely time consuming but all worth it in the end. Shop around! Get quotes! Pick certain things you want to go all our on and things you can cut back. Be realistic about what you can do yourself (this goes both ways). Never lose sight of what it's REALLY about!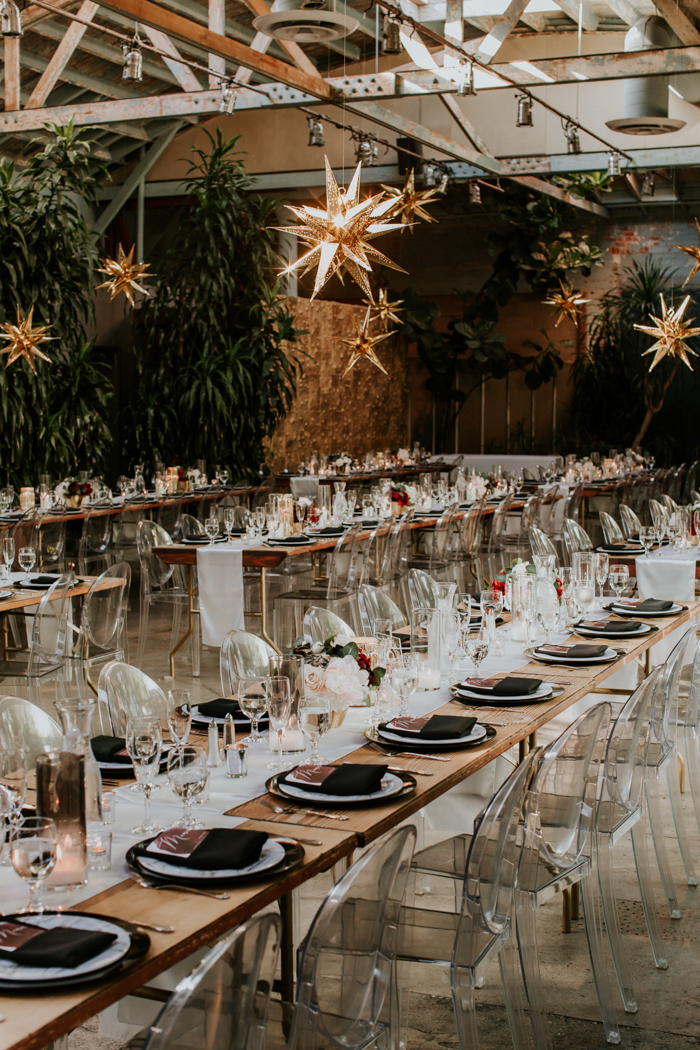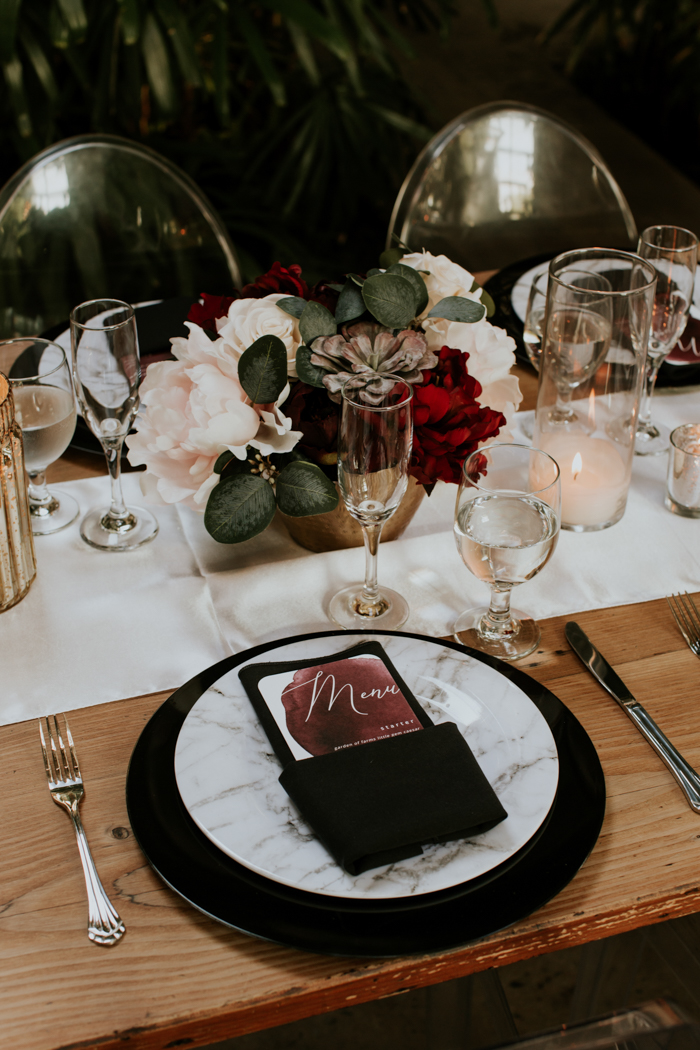 I purchased the vast majority of our decor. I wanted beautiful table settings but couldn't afford the prices on a lot of trendy rental companies so I spent a year and a half researching, couponing, and collecting almost everything we used on the day of. I purchased cases of chargers during big Michael's sales, all of the dinner plates came in bulk order from Dollar Tree, I ordered flats of candles and votives from Amazon prime, I sourced the vast majority of the hurricane glass second hand from other local brides.
I designed all the menus and signage myself online and had them printed through third party vendors.
In the last few weeks I was spending 20 hours a week on wedding tasks. It was like having a secondary job, and I'd be lying if I said it didn't get overwhelming. It was A LOT of work, but also allowed me to fully execute a vision I could not have afforded otherwise.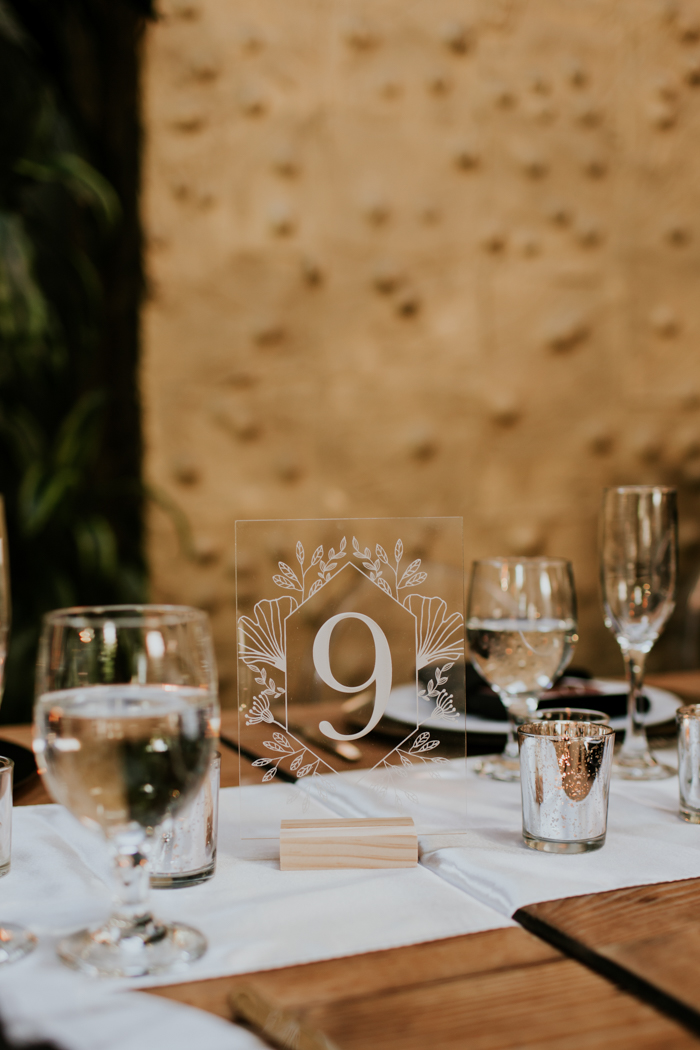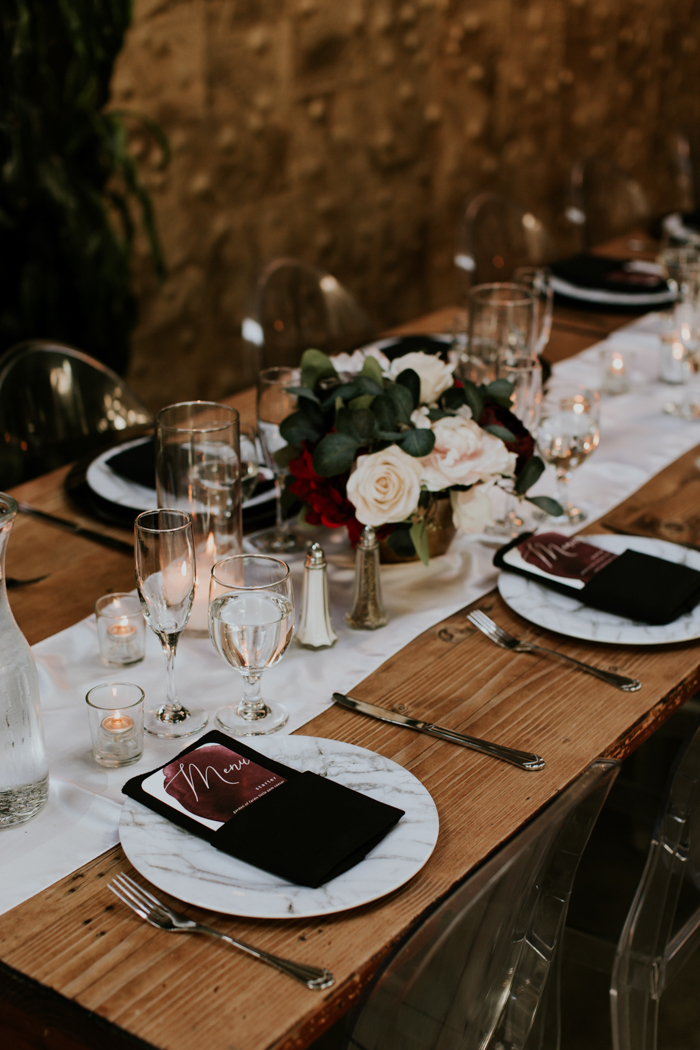 We ended up adding a lot of celestial inspiration which really lent itself to the vintage aspect of the theme. I first came across the gold moravian paper stars on my hunt to find a budget friendly ceiling installation option. It was clear that fresh flowers were not in the budget but I was adamant about filling that space with something eye-catching and dimensional. I eventually expanded on this by including the full moon seating chart and the sun and moon branding used in various areas.
I learned how to use a table saw to cut a plywood circle and then had one of my more talented bridesmaids hand paint it to be our full moon seating chart. Another bridesmaid helped me fully execute the branding I saw in my head, creating the logo that was projected on the screen all night as well as the photobooth template.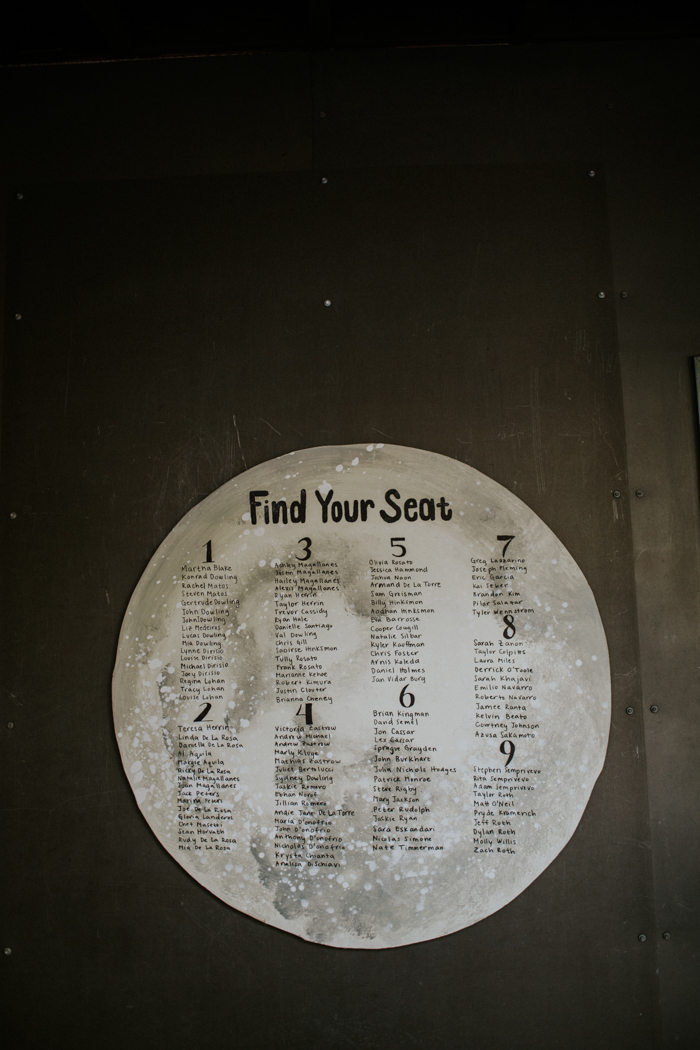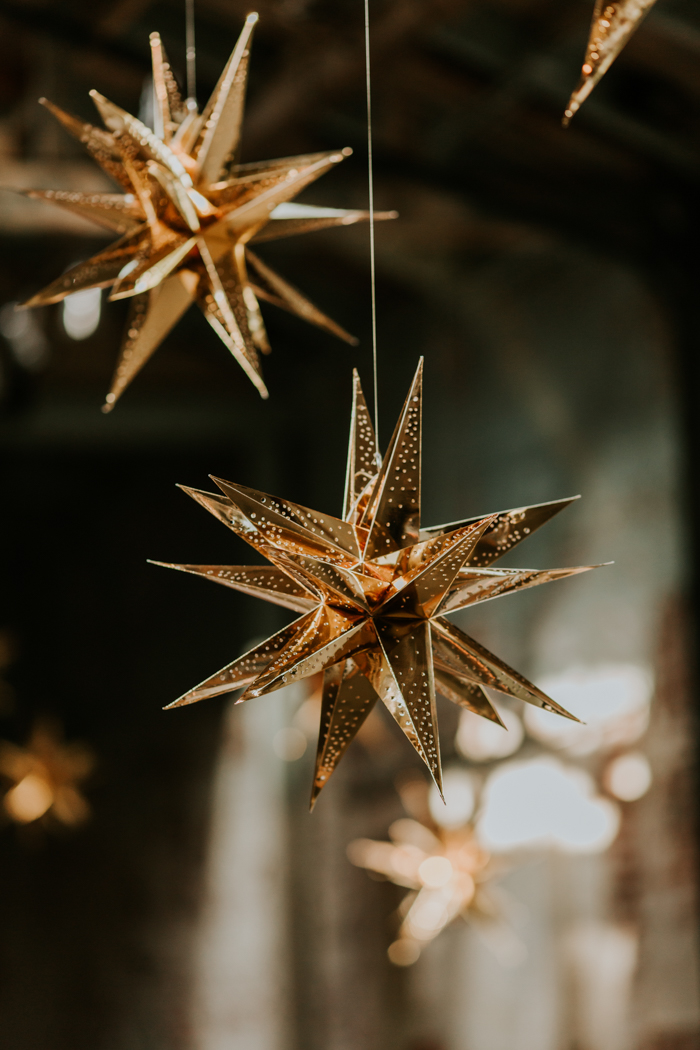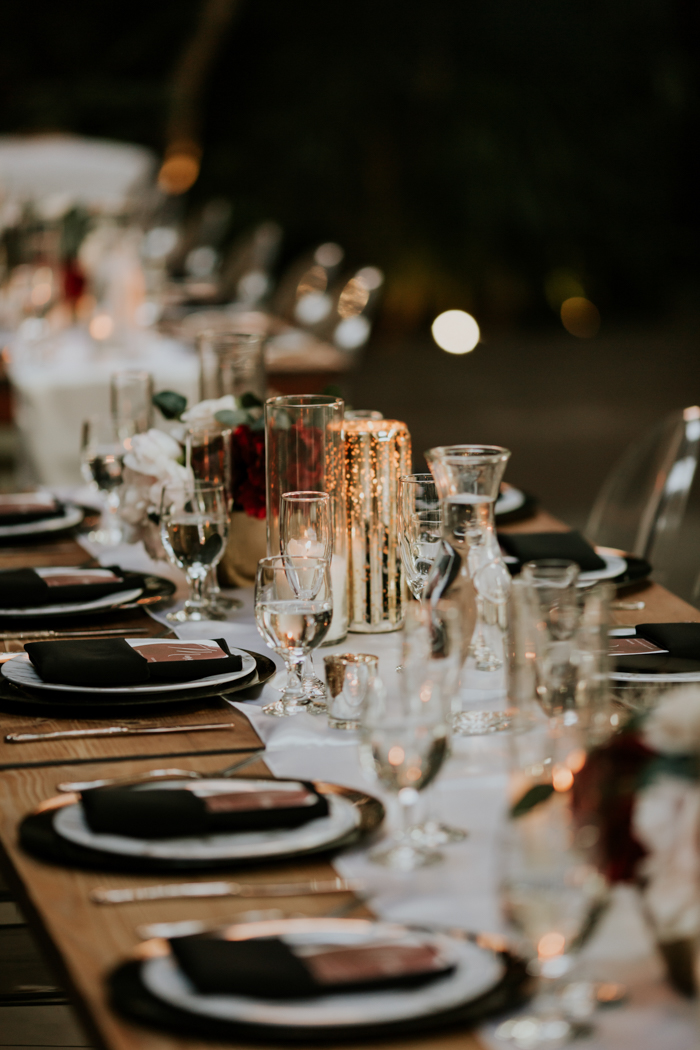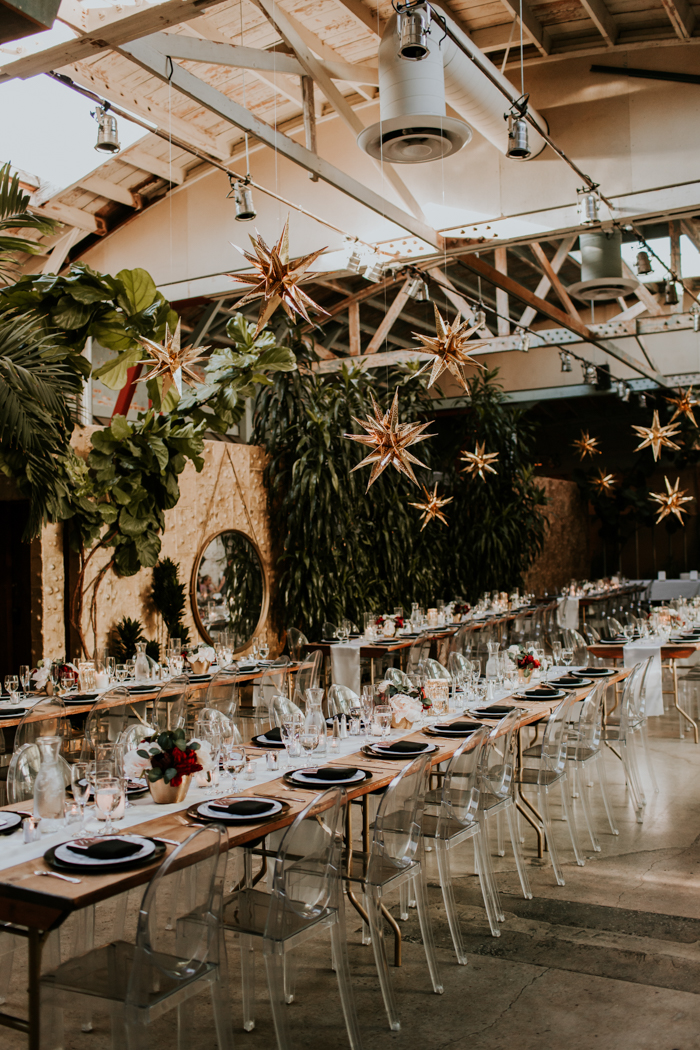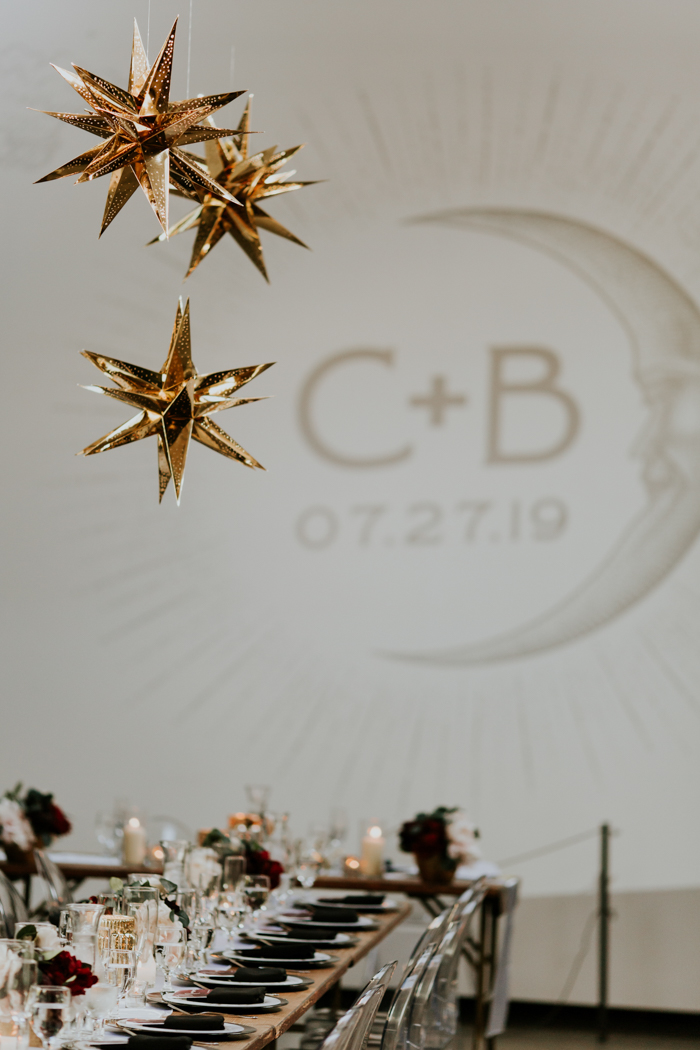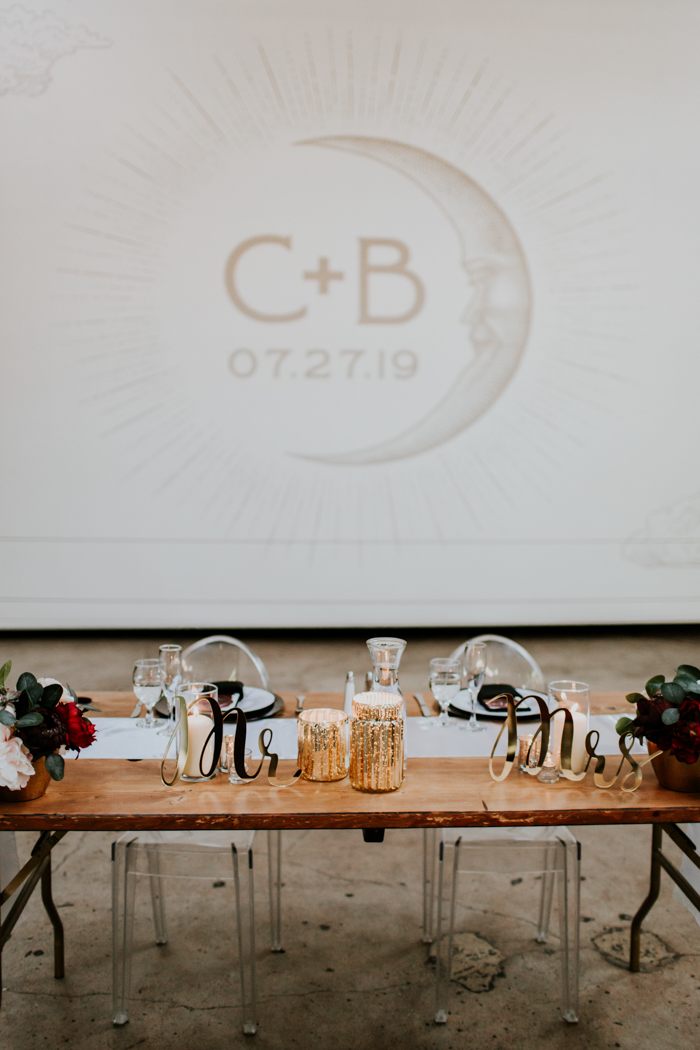 I DIY'd our donut bar pieces surrounding the cake by using wooden dowels and various shapes and sizes of candle stick bases. There were some good tutorials online that I utilized and they came out looking better than I could have imagined.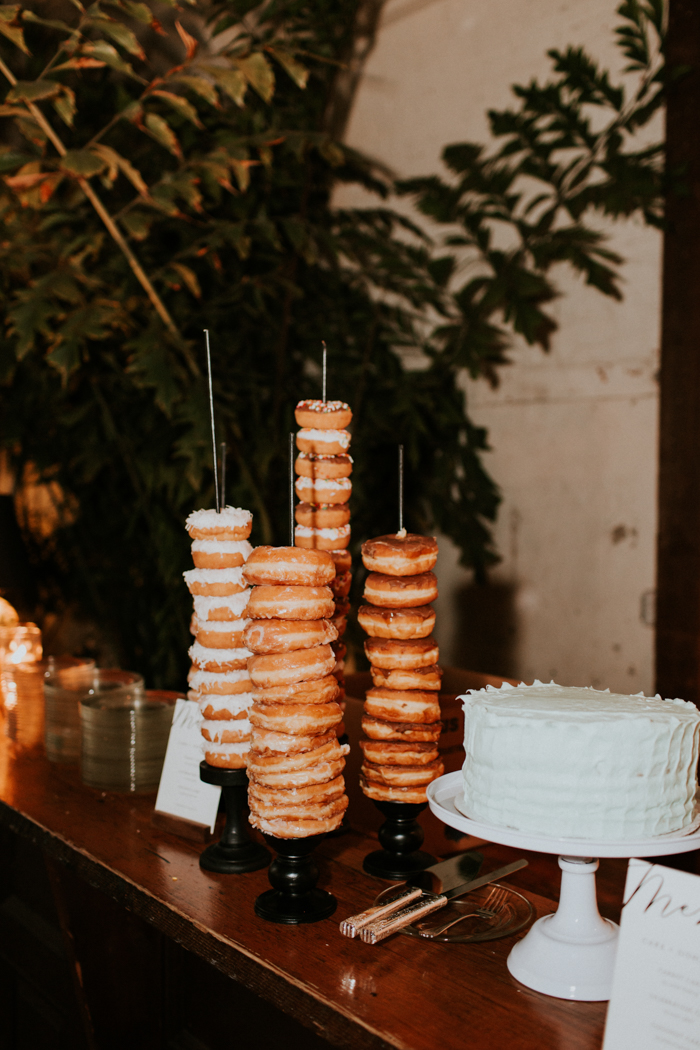 Honestly, the most memorable part of the day was after all the formalities had finished and we got to spend hours dancing with all of our family and friends. A third of our guests traveled to Los Angeles to celebrate with us, and we were so overwhelmed by the amount of people and love surrounding us during these few days. My (Chelsea) family is from Toronto and scattered about Europe. Brandon's family is more local but we both went to university in London and were lucky enough to have some friends fly in for a reunion. From what I can remember off the top of my head – we had guests come from New York, Texas, Massachusetts, England, Canada, Malta, Ireland, and Norway. We knew this would probably be the first and last time everyone would be together in the same room so we didn't let a single second go to waste.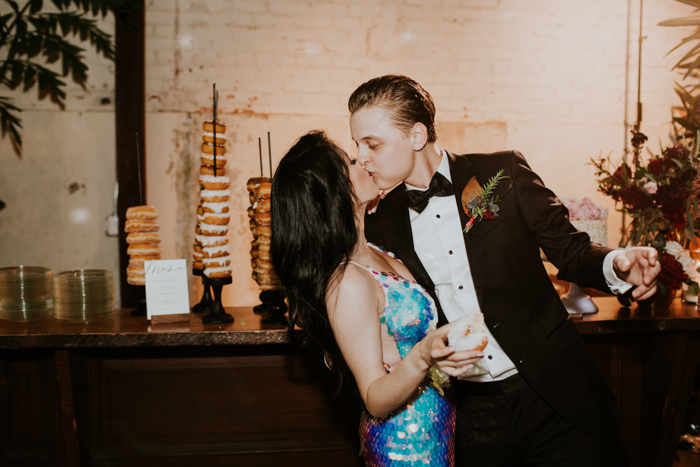 Congratulations, Chelsea and Brandon! We are feeling lucky Jami Laree Photography shared this adorable couple's wedding at Millwick with Junebug! Obsessed with this venue? Get your modern greenery fix inspiration from this chic Los Angeles wedding at Millwick!