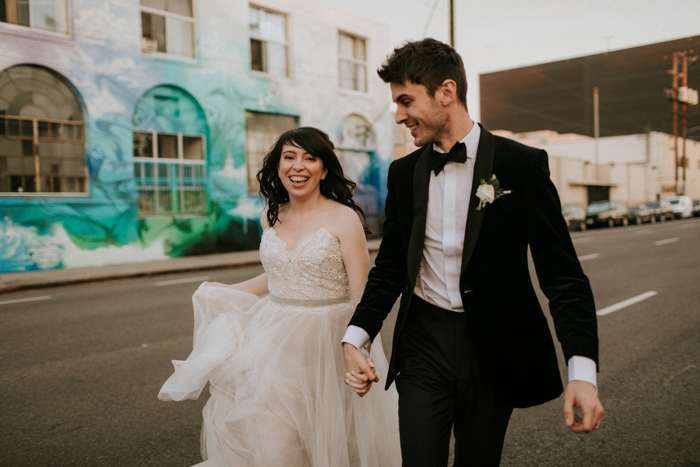 When asked what the theme of their Millwick wedding would be, Madeline and Steven had the most perfect, simple response: "The theme is us! There's going to be a disco ball and tacos, oh and lots of fun." Everything about this day, which Jessica Foster Event Planning helped create and photographer Jes Workman documented, felt completely original! The venue itself was full of charm that spoke to the couple's style, such as a disco ball, greenery everywhere, and worn architecture. With modern decor, special treats for their guests, and a ceremony full of personal touches, Madeline and Steven created a day worthy of and representative of their love. This wedding was full of modern wedding inspiration from beginning to end!
The Couple:
Madeline and Steven
The Wedding:
Millwick, Los Angeles, California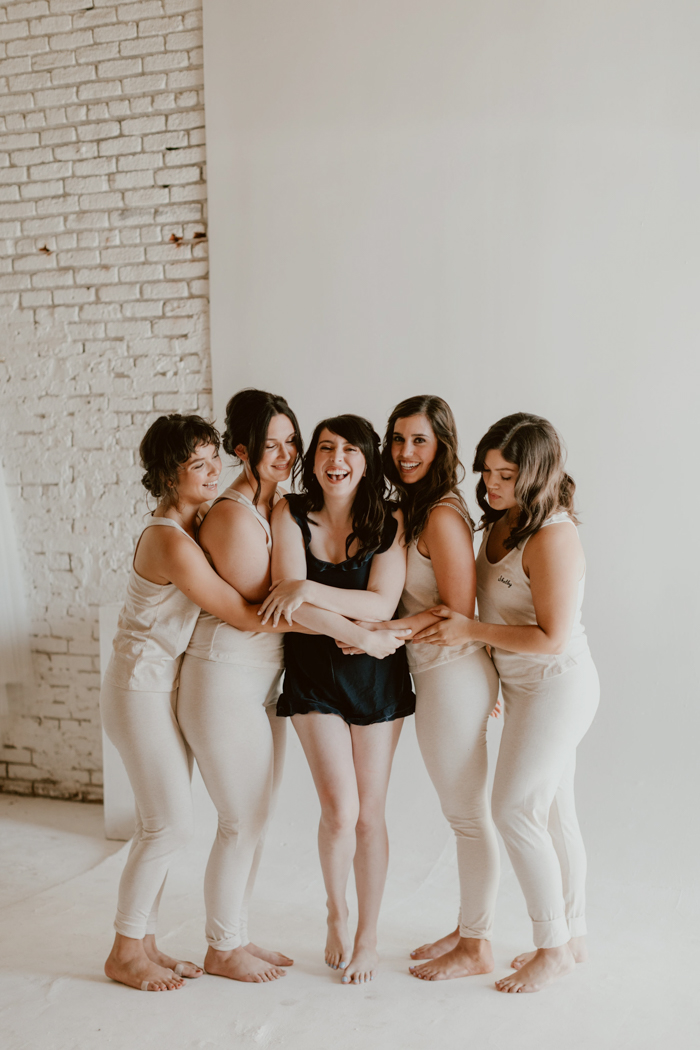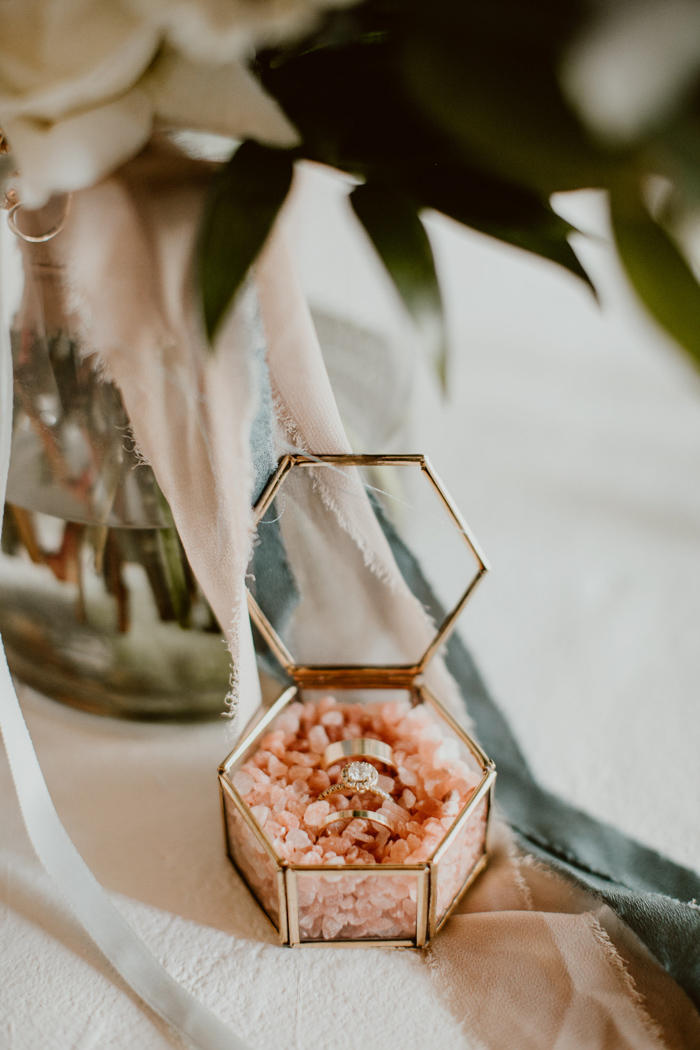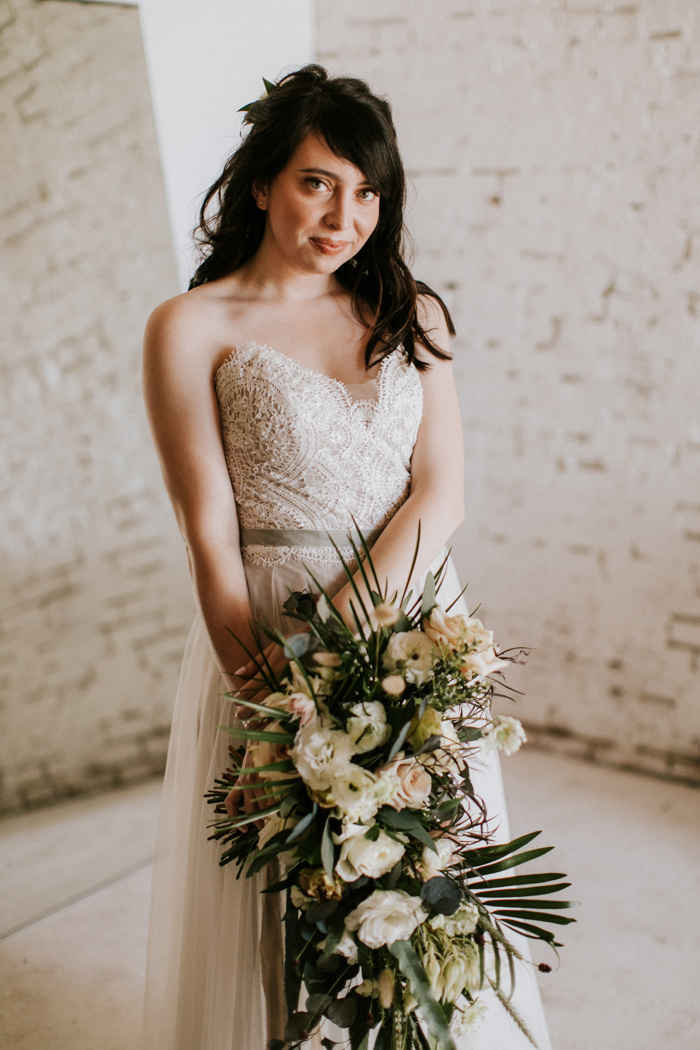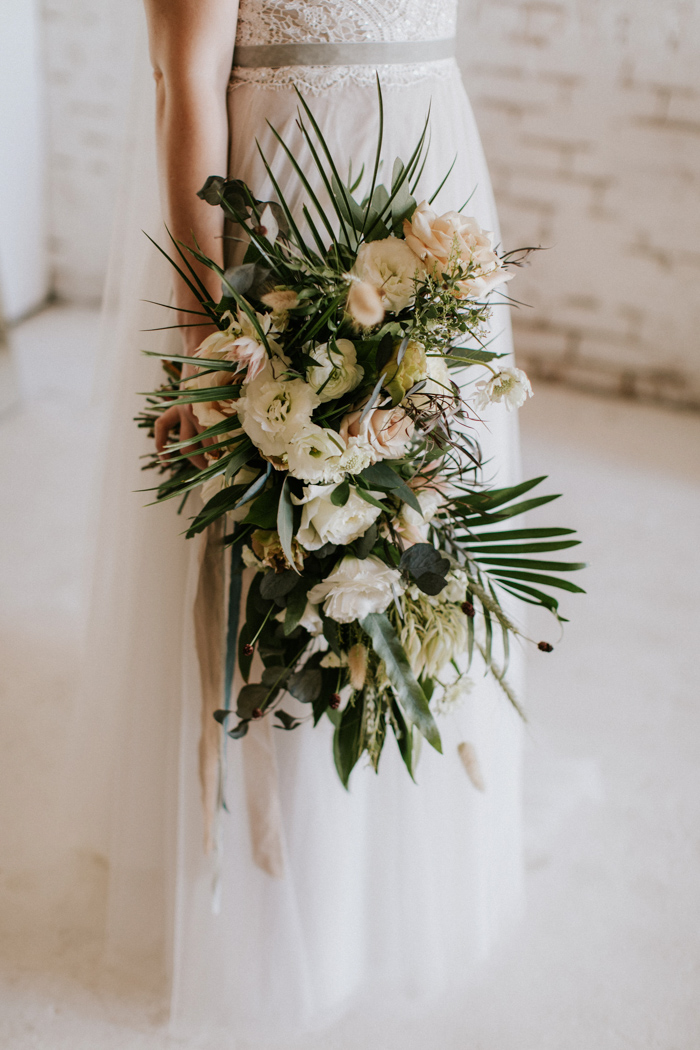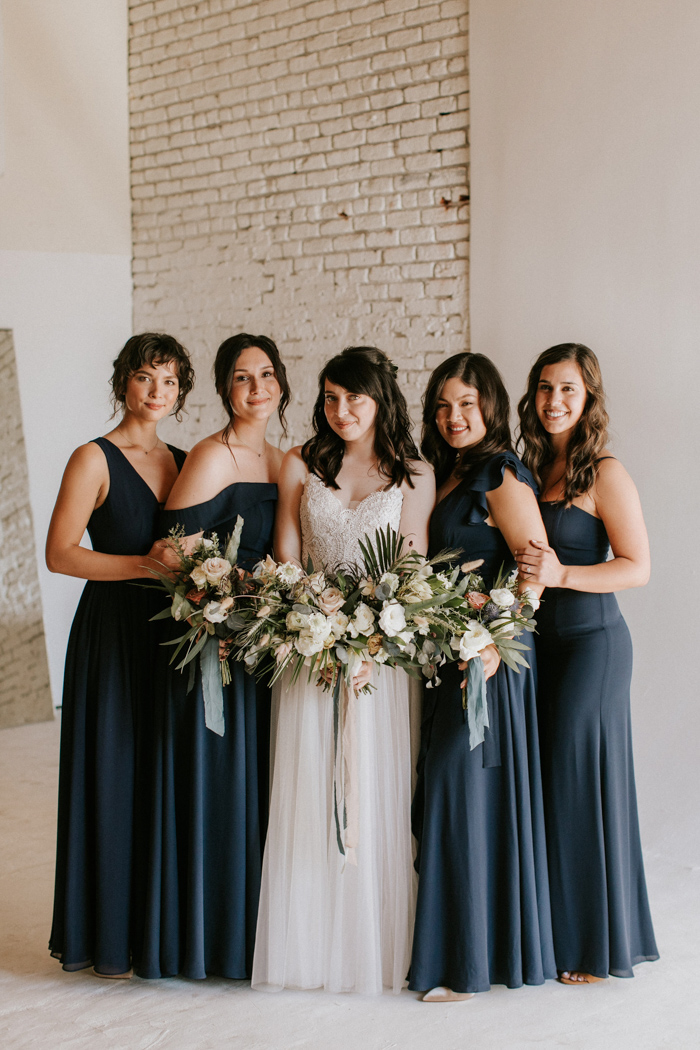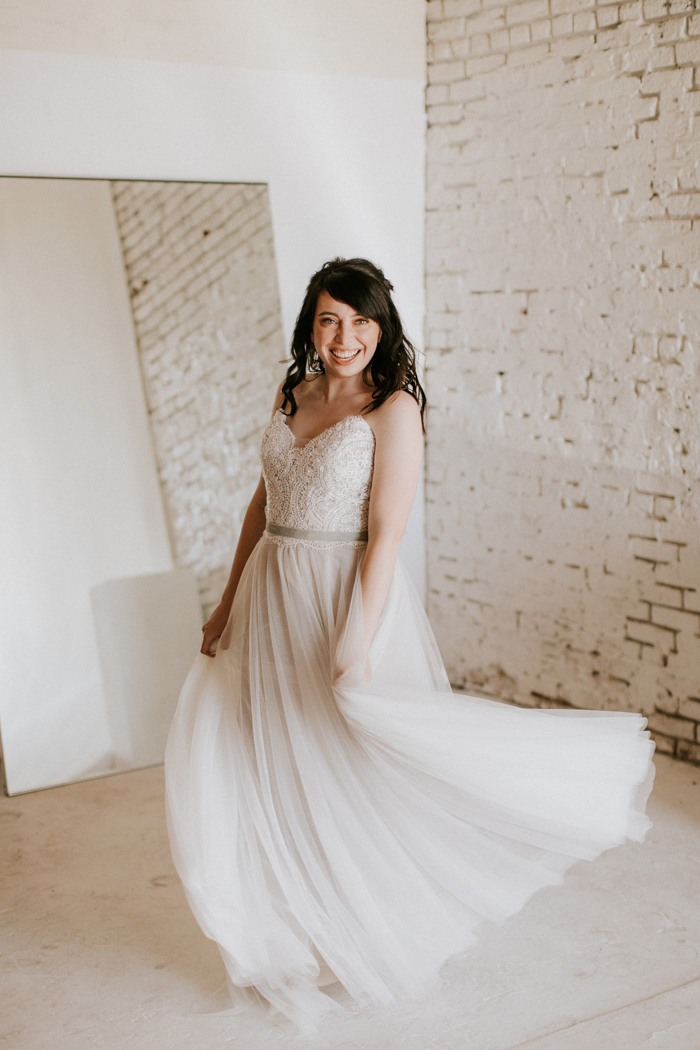 Steven and I have been together for almost 12 years, and we've developed incredible relationships with our friends and family along the way. We wanted our wedding to be a celebration of not only us but the people who have supported us in every step of our relationship.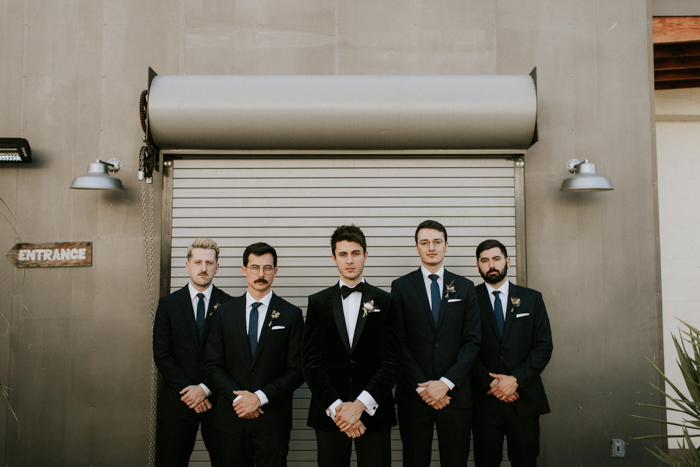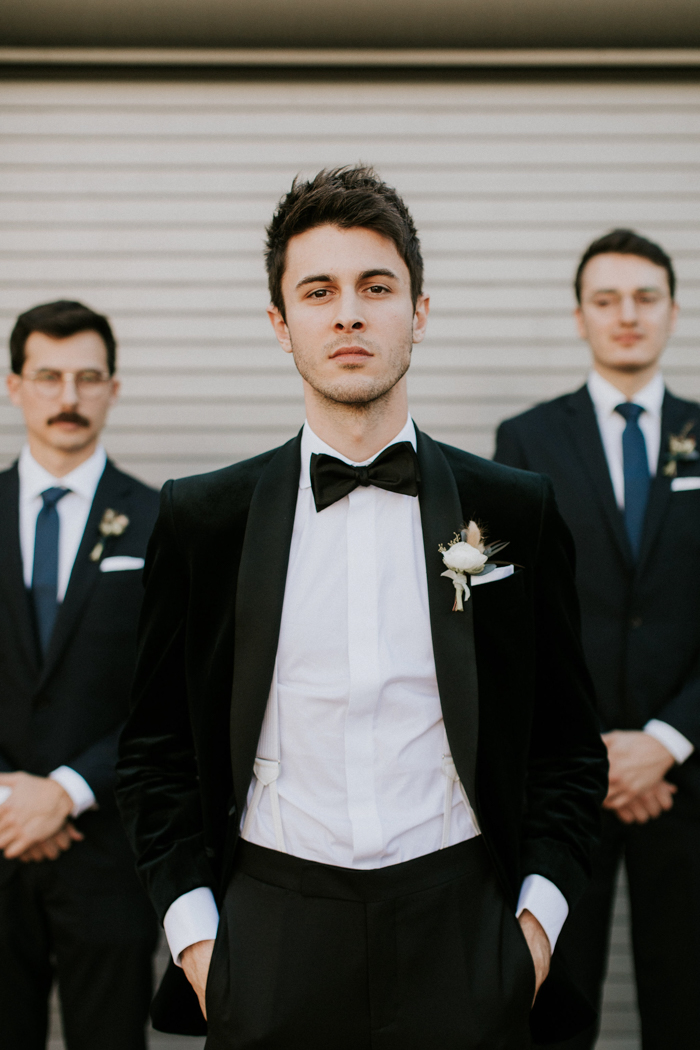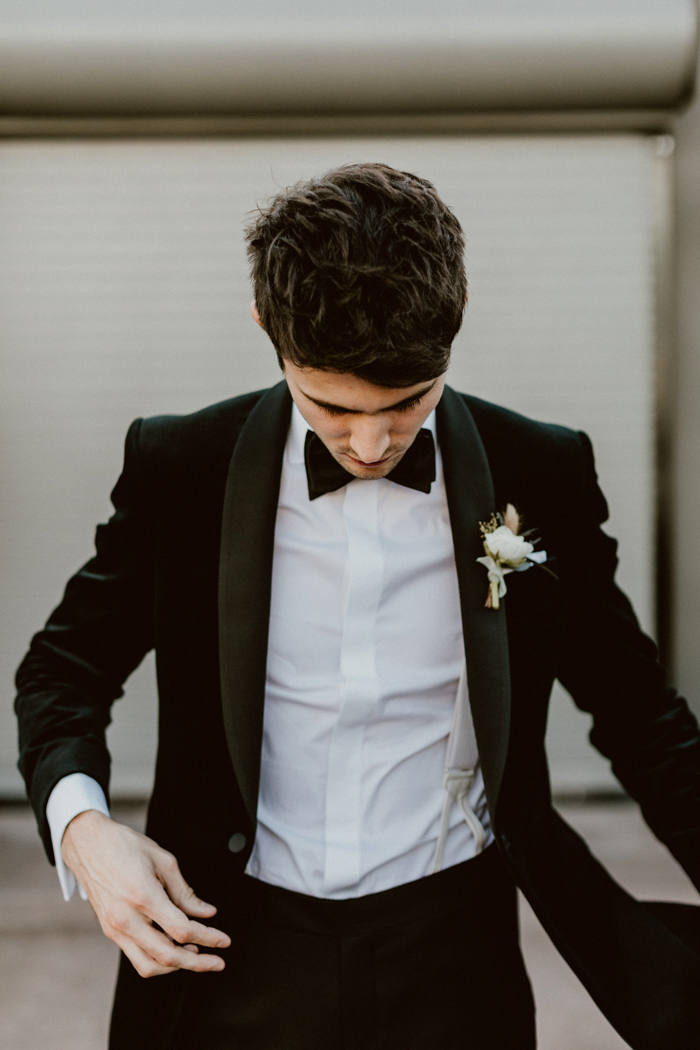 We almost skipped our Millwick viewing appointment because I didn't feel like getting married so close to home would be "special" enough. I was wrong! We fell in love with Millwick the second we walked through the door, and the beyond helpful staff really sealed our decision. Millwick felt like us. It had a huge disco ball, beautiful brick, and there were gorgeous plants everywhere. Even just the bare bones of the place without any decor felt like it was made for just us.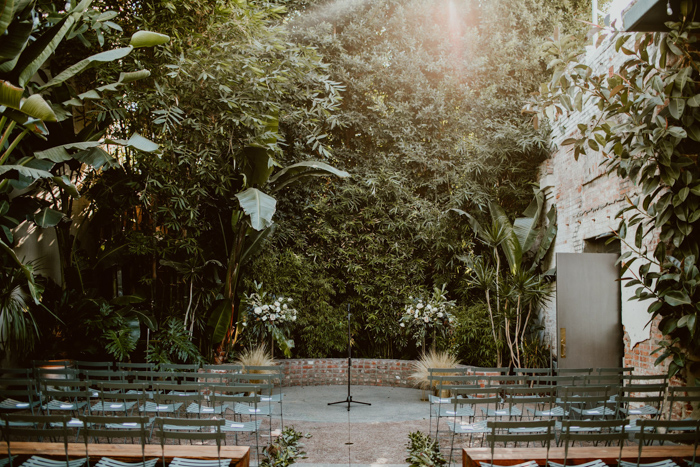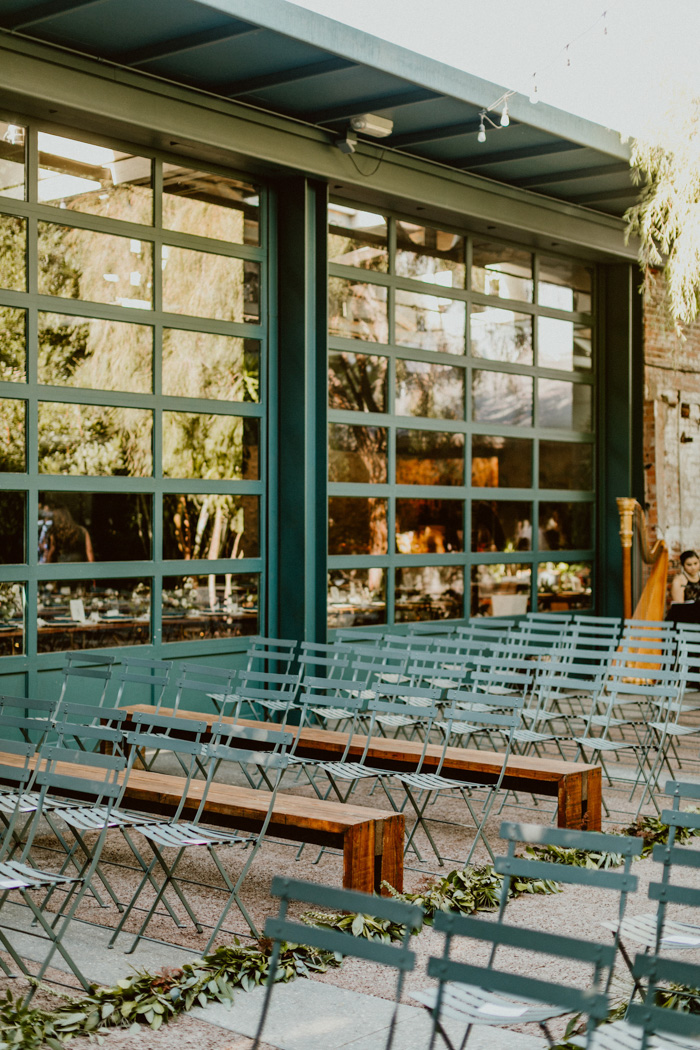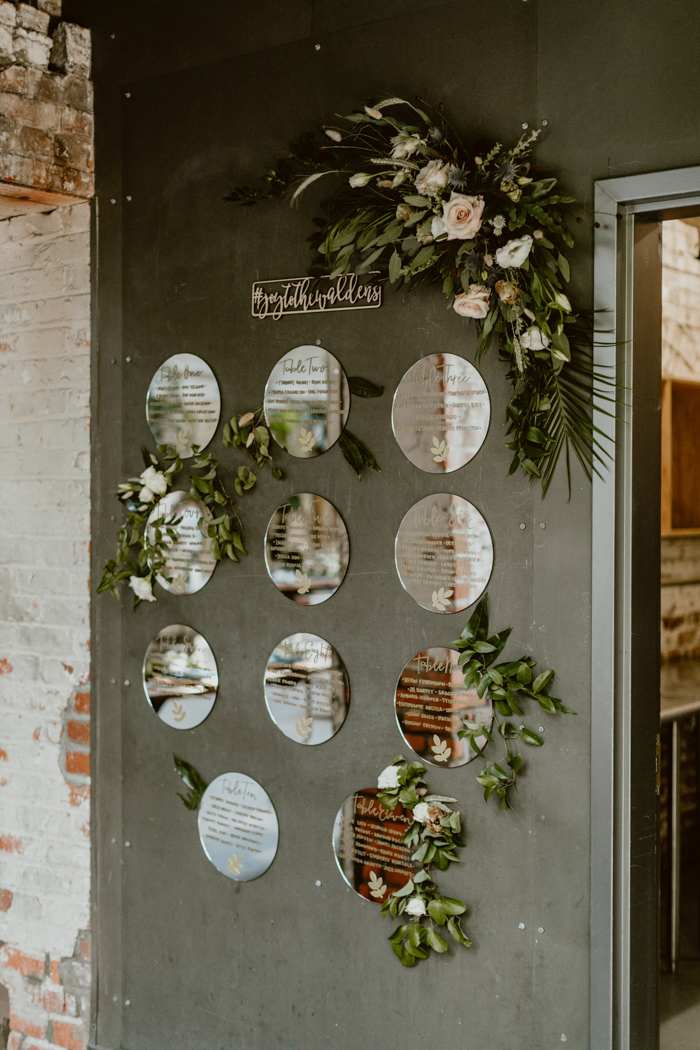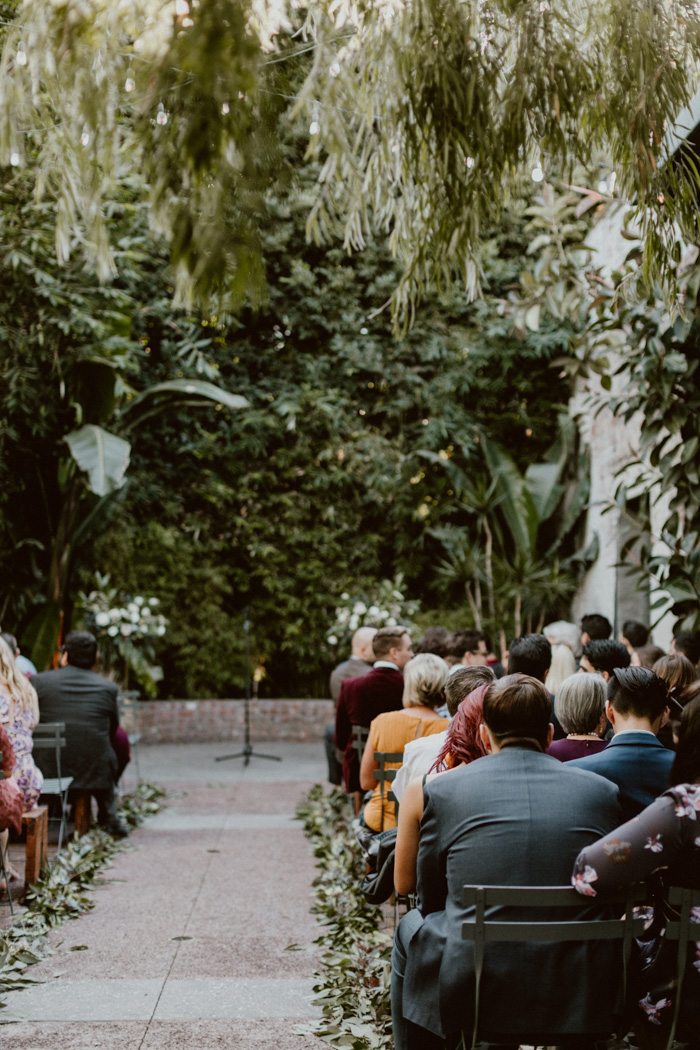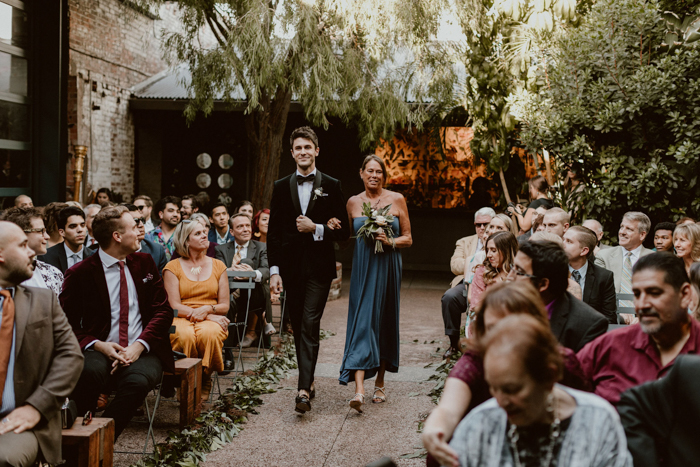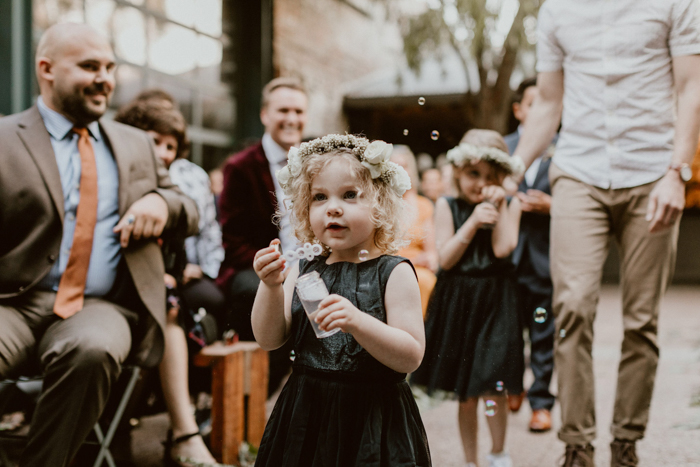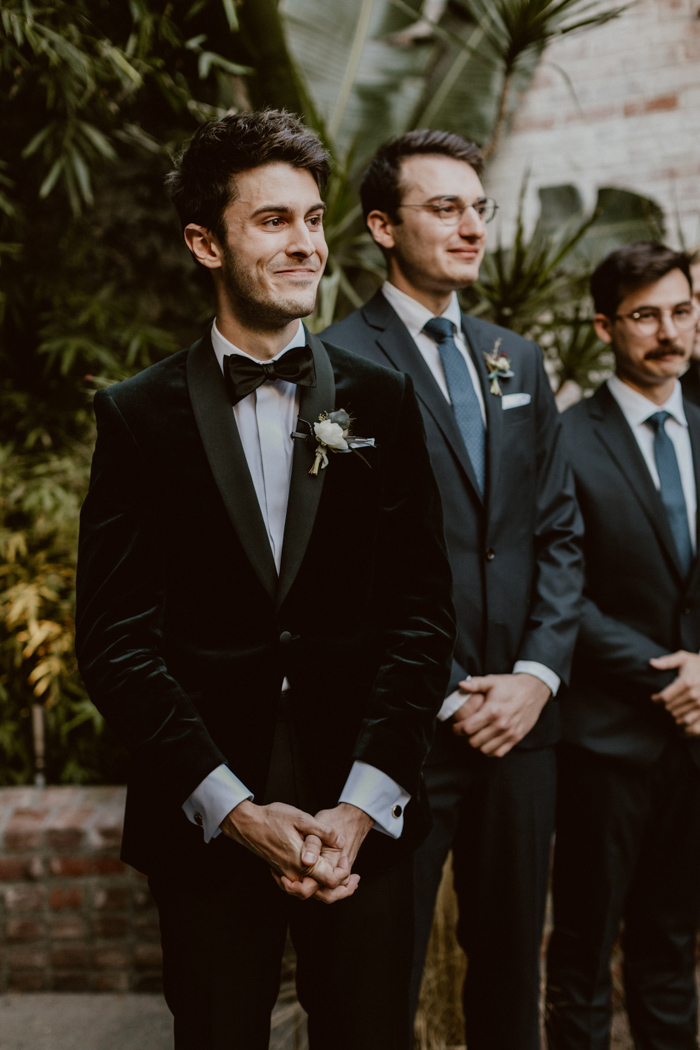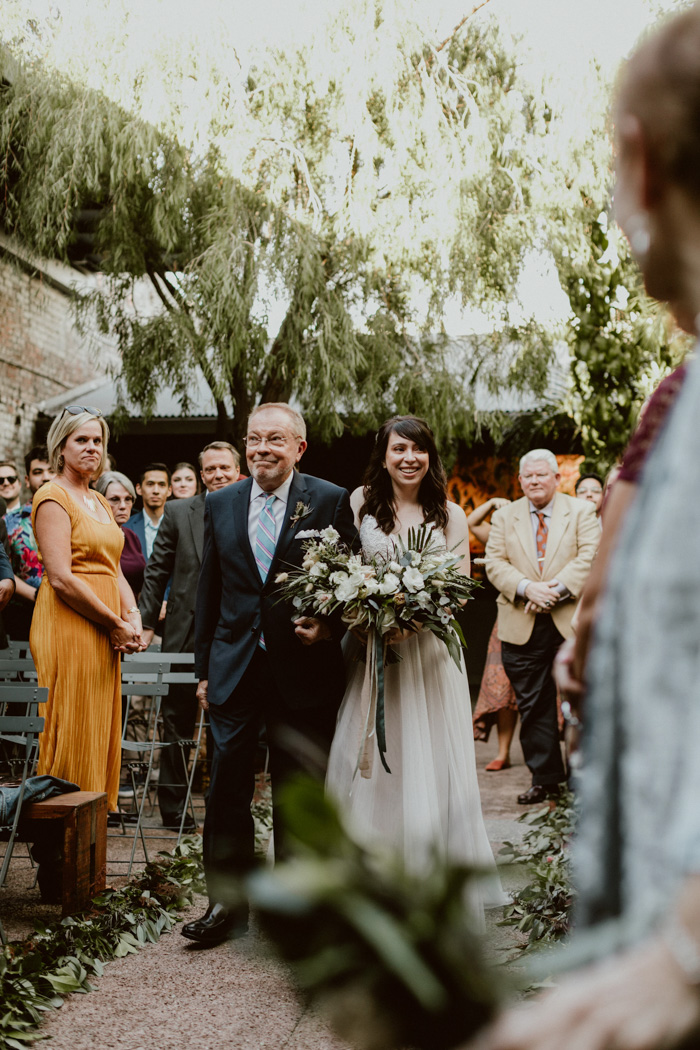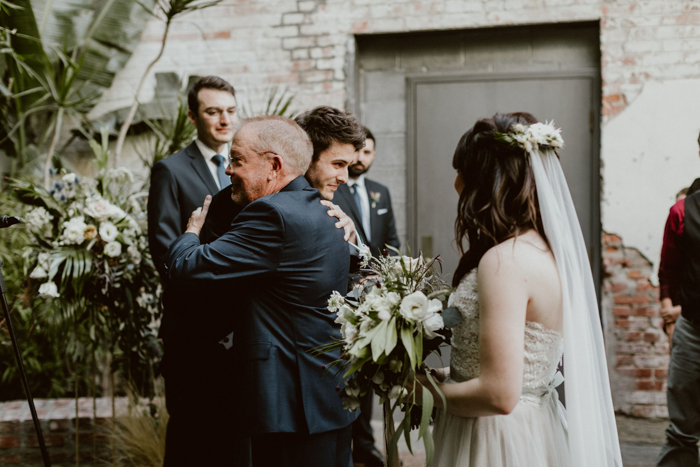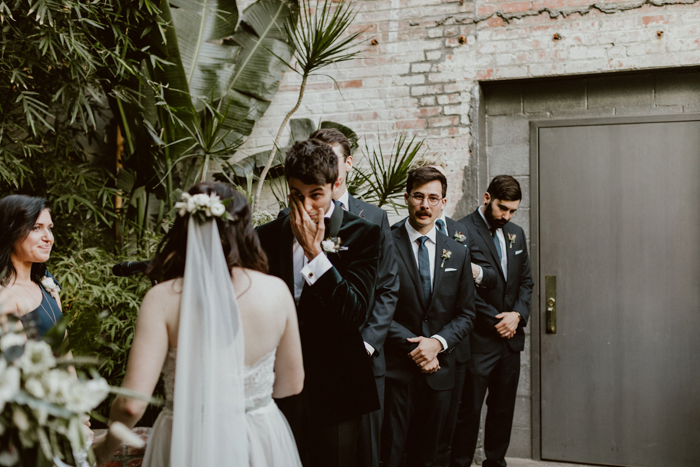 To start off the ceremony, Steven led everyone in an exercise he likes to do to keep himself present. Basically, he had our guests raise their hands out and take a second to look at their hands in the space around them to really feel present. It's something we do together to help us remember important moments and it really works! It was so special that he got to teach that exercise to all of our favorite people that day.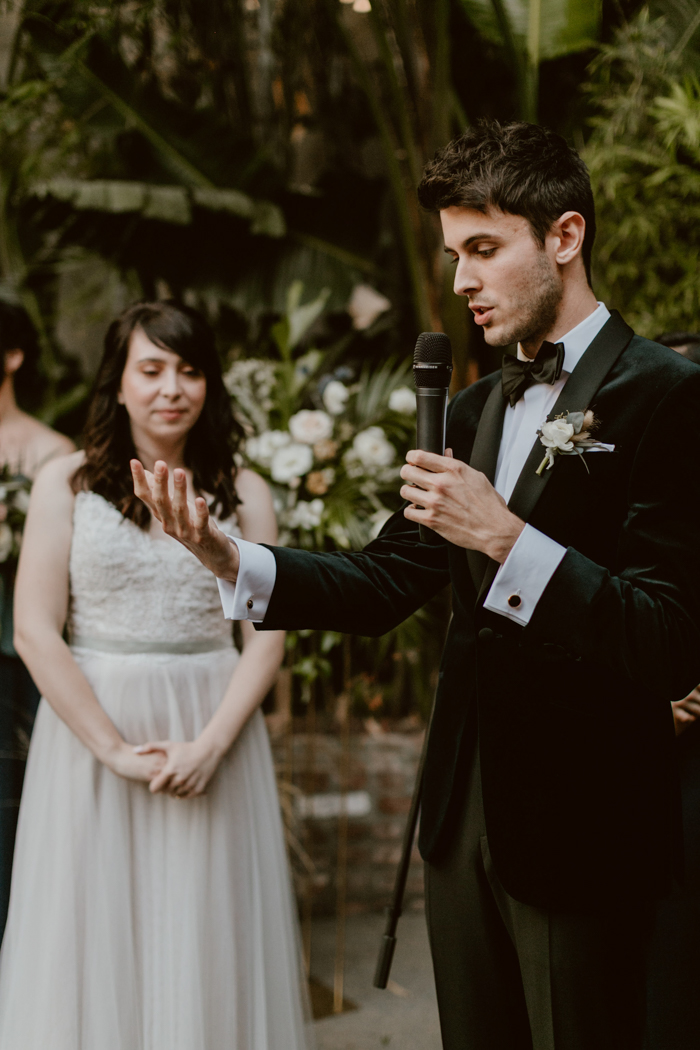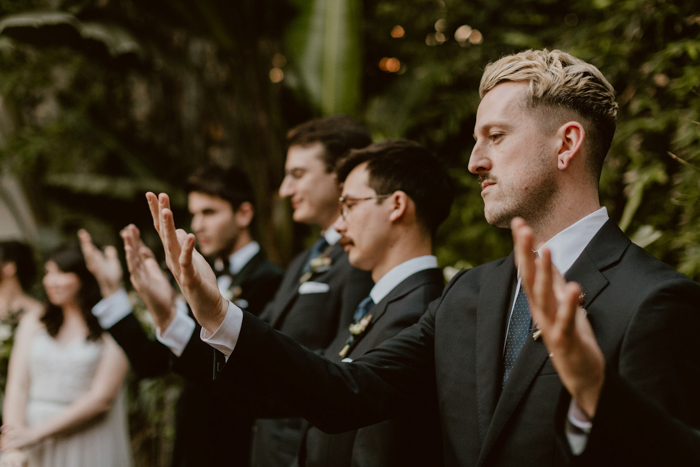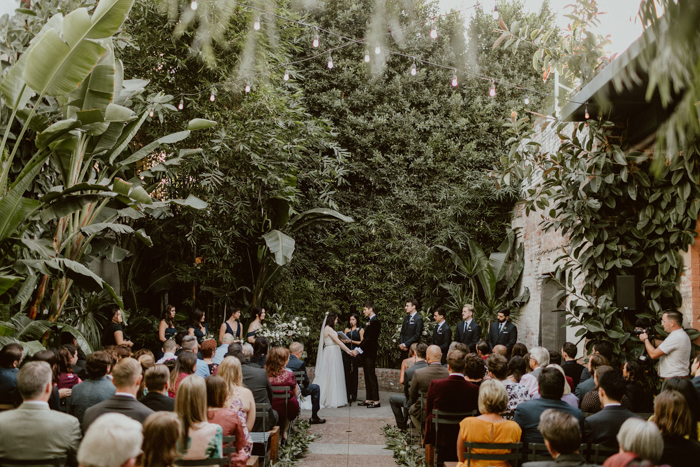 We asked our friend, N'tima, to officiate. She helped Steven plan our engagement in Japan at these gorgeous waterfalls near Mount Fuji, and even snapped the photo of Steven down on one knee. She had been a big part of our engagement, and we wanted her to officiate the next chapter of our lives. It doesn't hurt that she's also an incredible writer.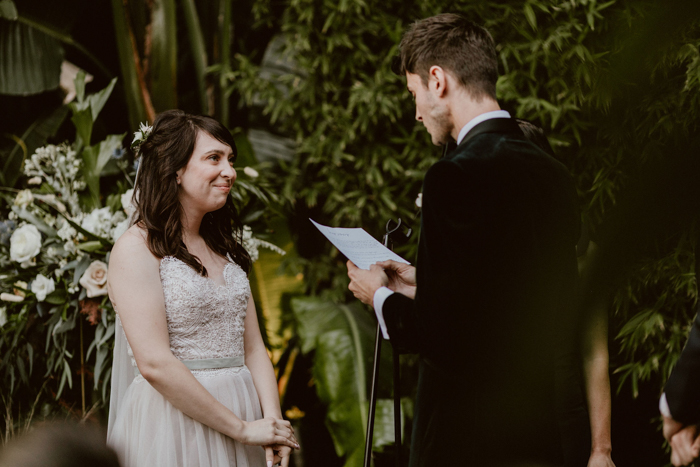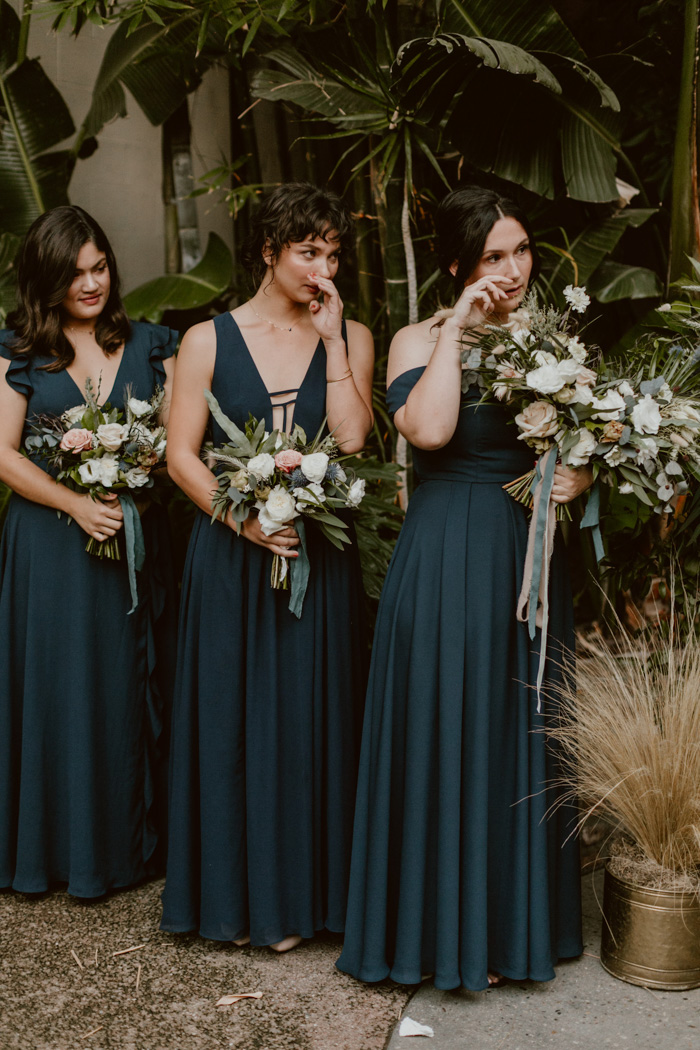 While my brother and a friend read poems they chose to share during the ceremony, our ring box was passed around to our guests. We asked them to put their good wishes into our rings as they passed through their hands, so you'll see a few photos of guests holding our ring box. Right after our vows, we snapped an Instax photo and sealed it in an envelope to open on our first anniversary. Steven was a little nervous and definitely took the photo upside down, but I'm very excited to see it this November.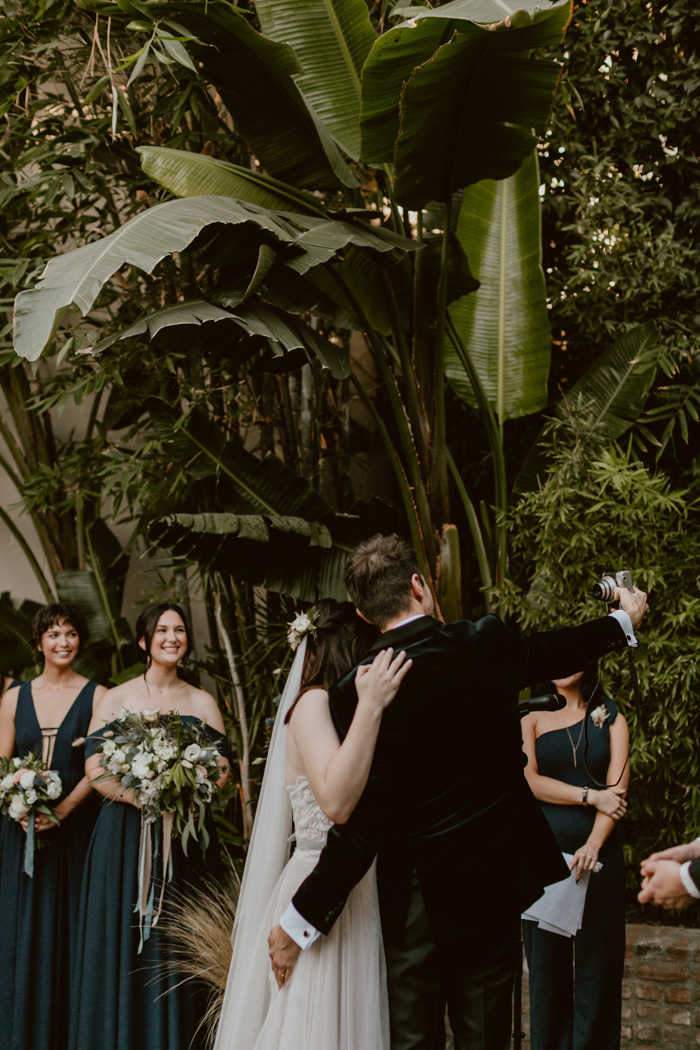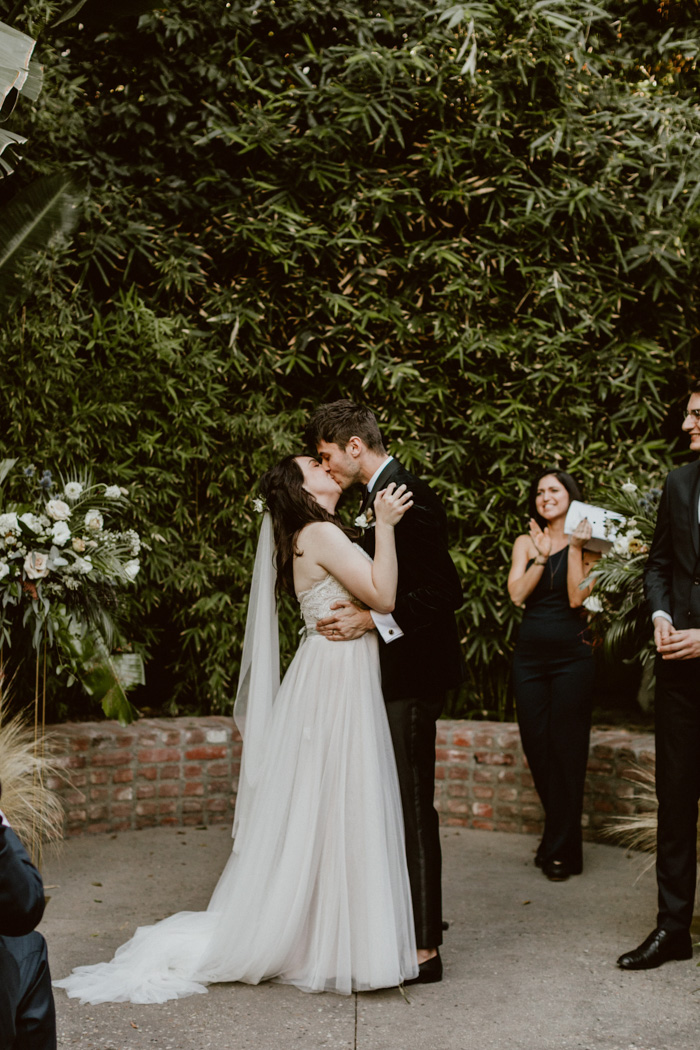 We exited our ceremony arm in arm and once we were out of sight I couldn't help but shriek "WE'RE MARRIED" as Steven picked me up and spun me around. We took that moment and sobbed, laughed, said everything we had wanted to say to each other all day, and once we felt like we were the only people on earth our entire bridal party body slammed us with love. It was overwhelming and perfect in every way!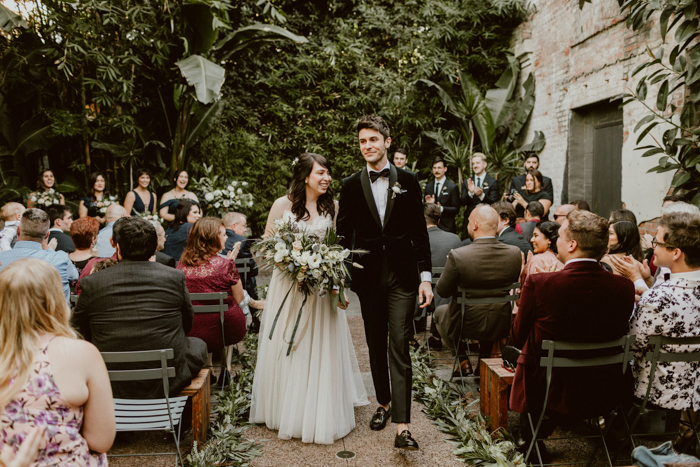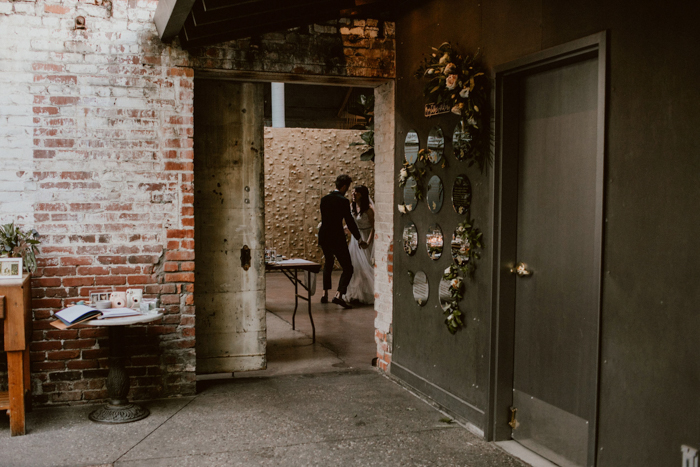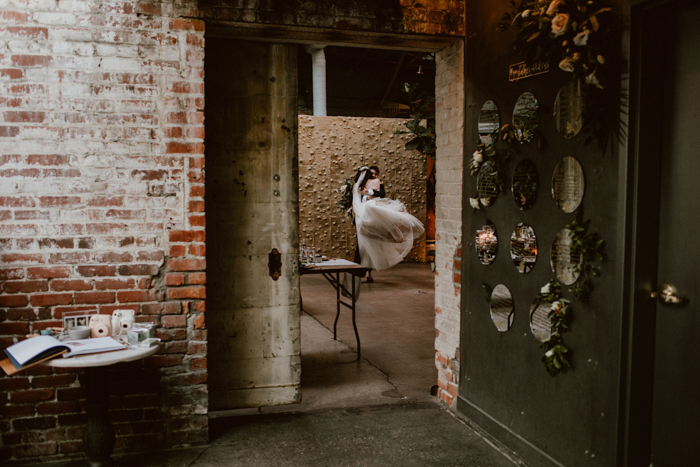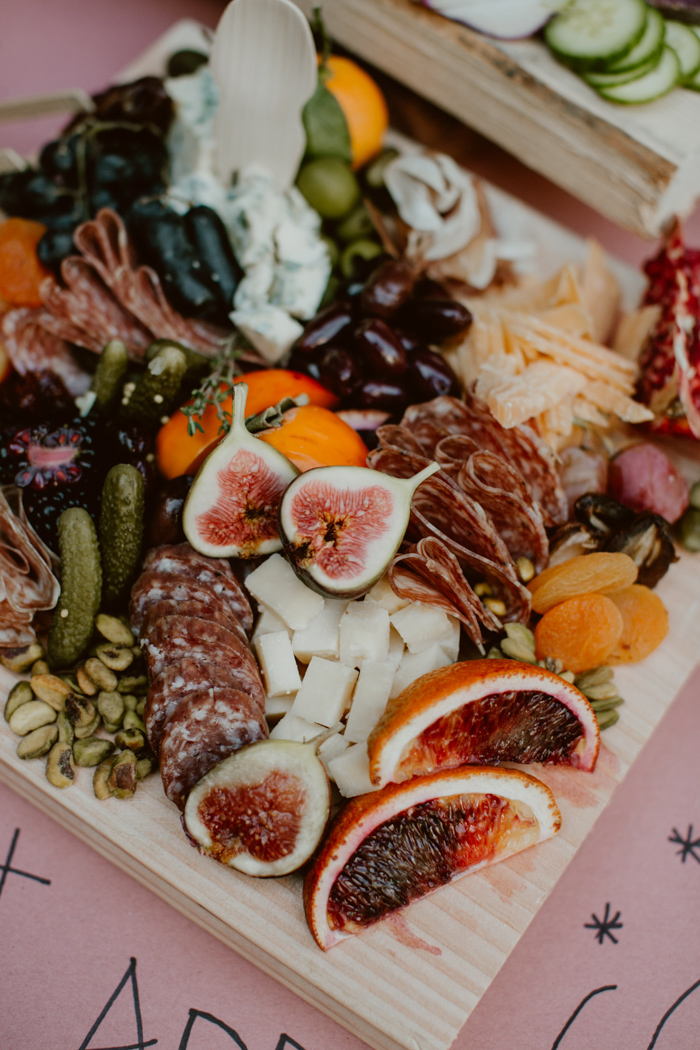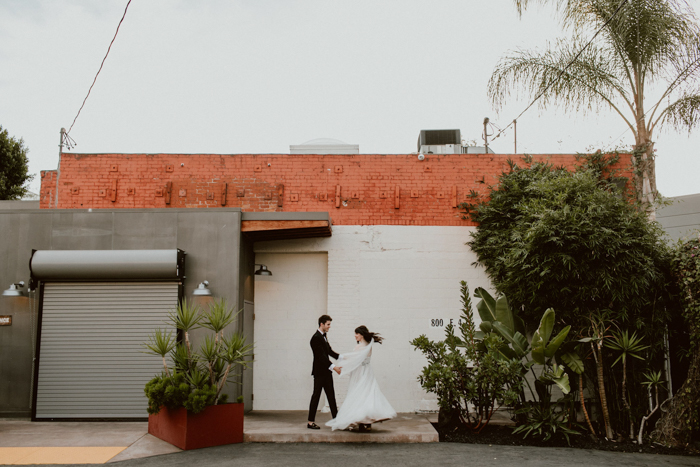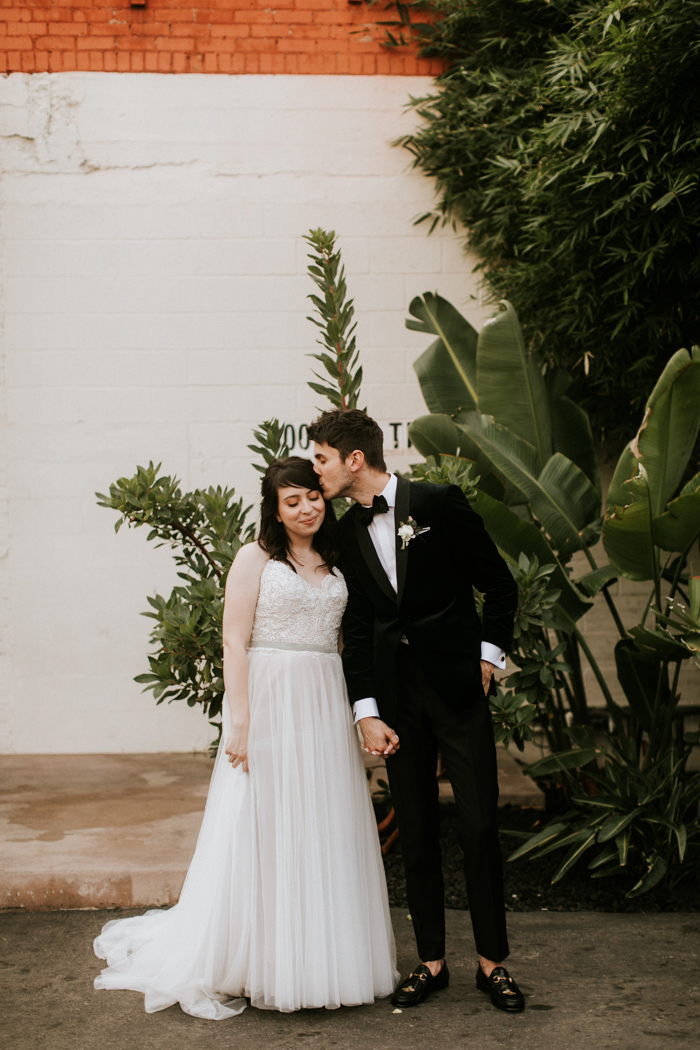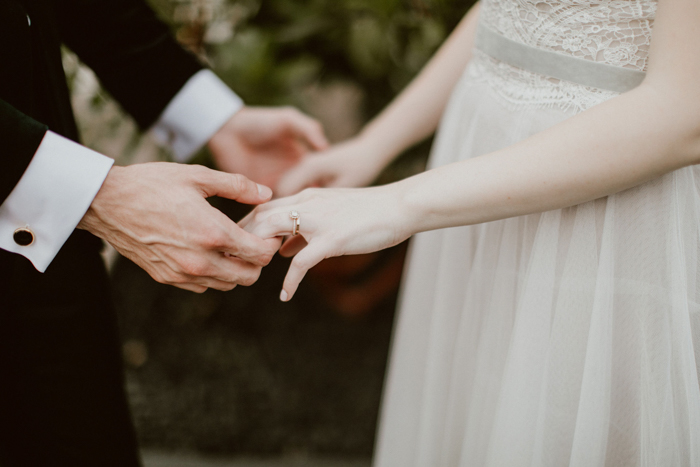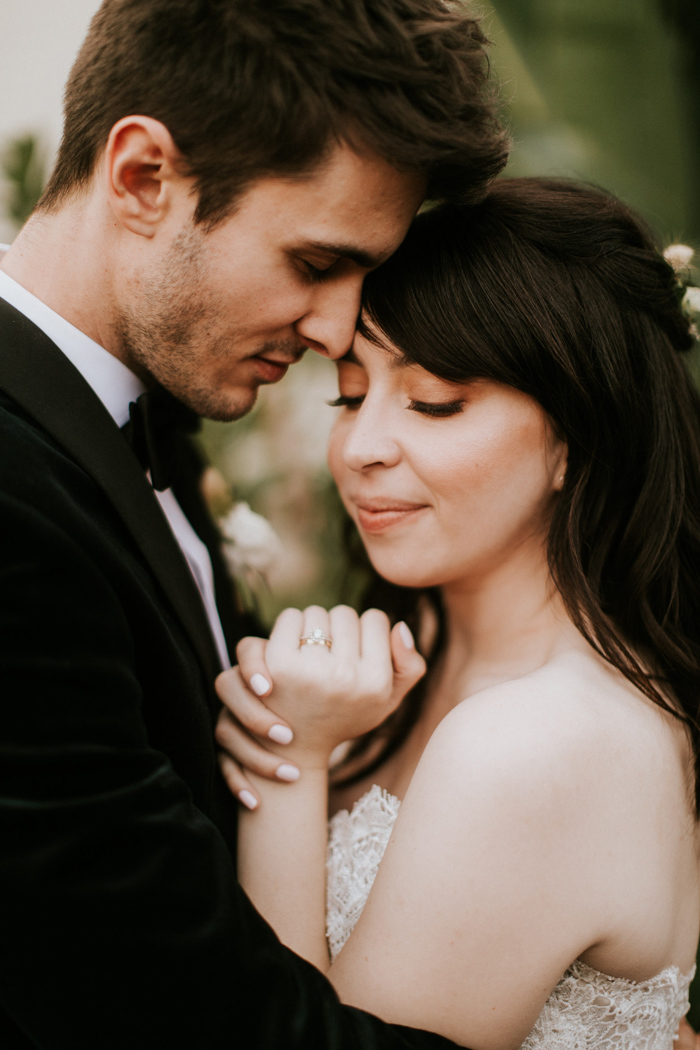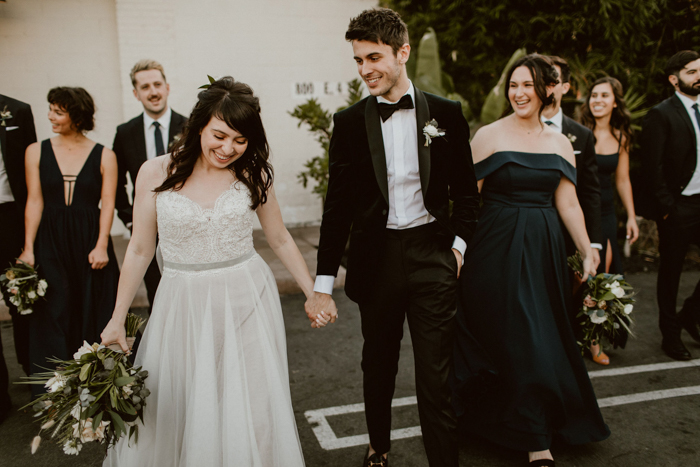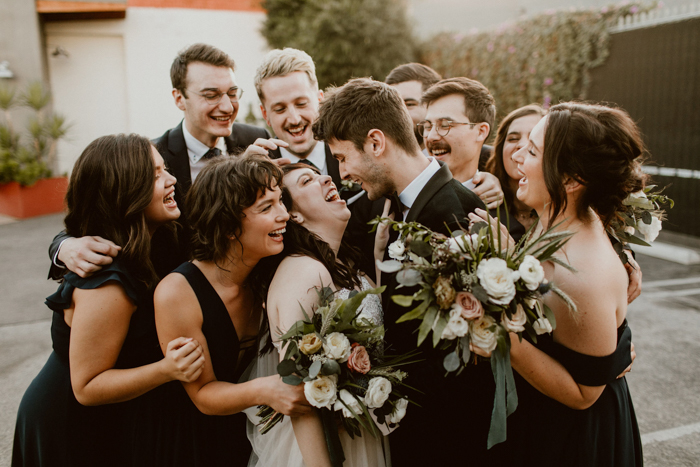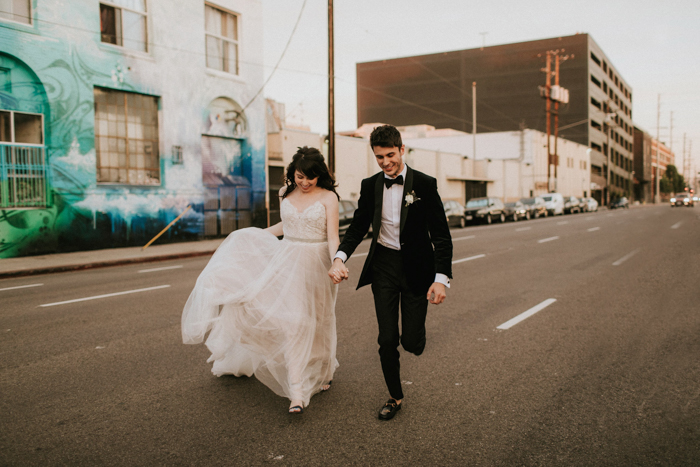 Make rules for yourself and stick to them. I'm someone who gets overwhelmed with too many options, so I gave myself a rule of three. I'd narrow down every choice I had to make to three options and went with my gut on each one. We looked at three venues, I went to three dress shops, made a choice between three photographers, etc. THEN, once you make a decision, don't look back. Trust your gut and move on to the next decision.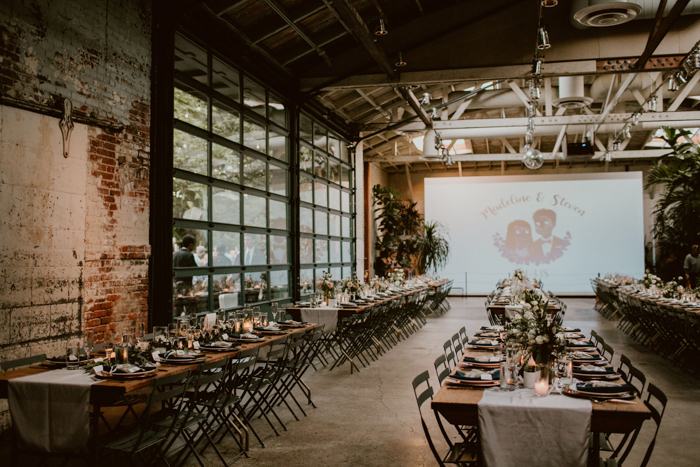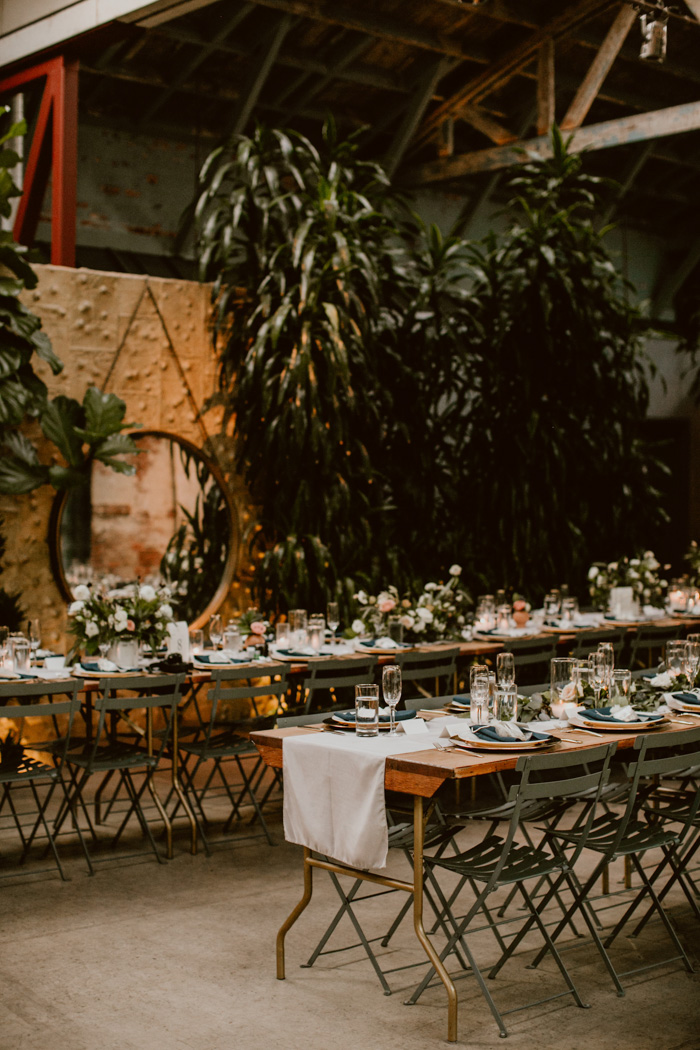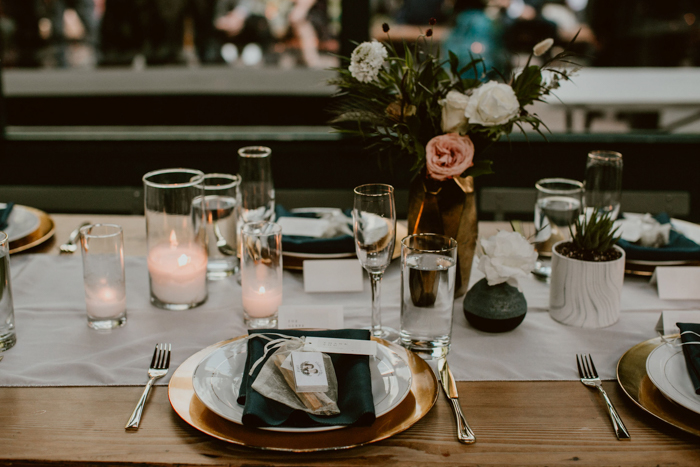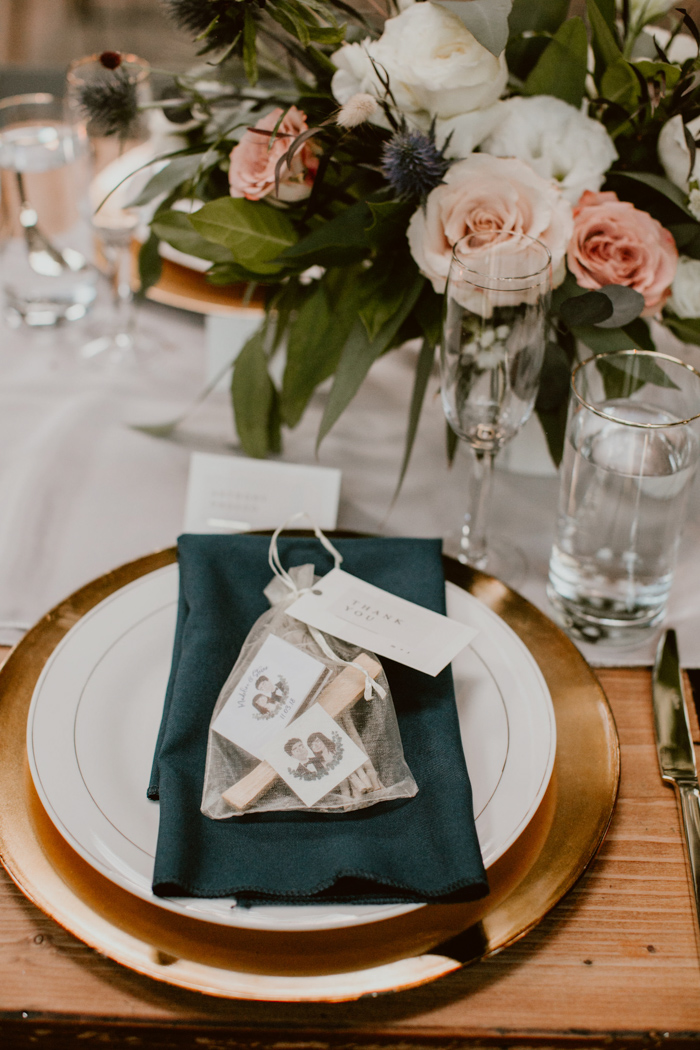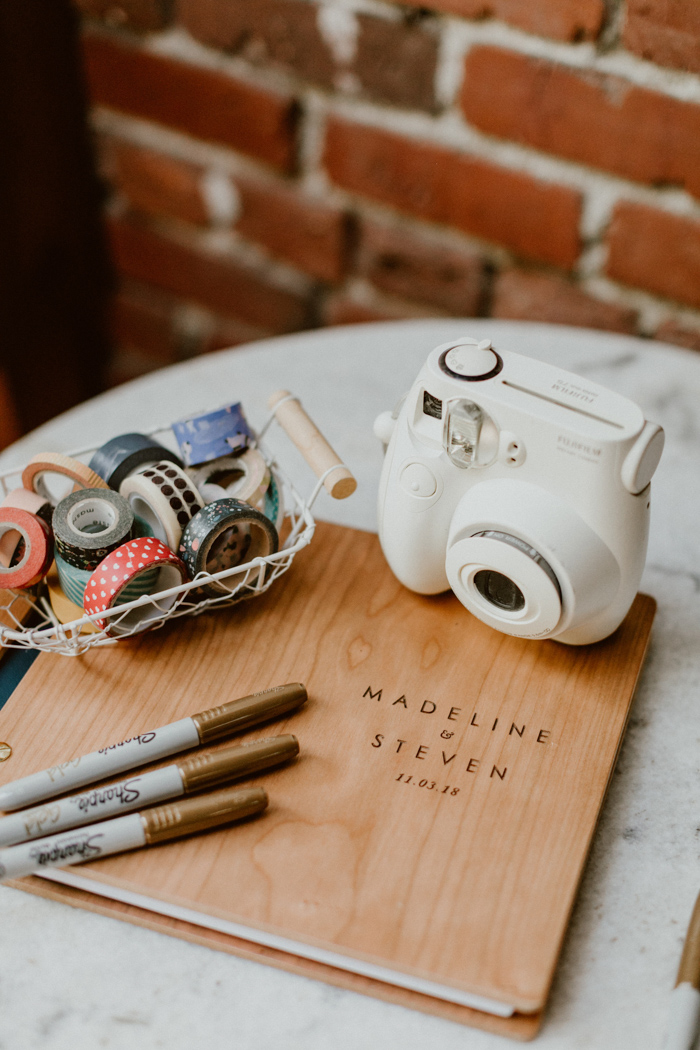 Shop this guest book here!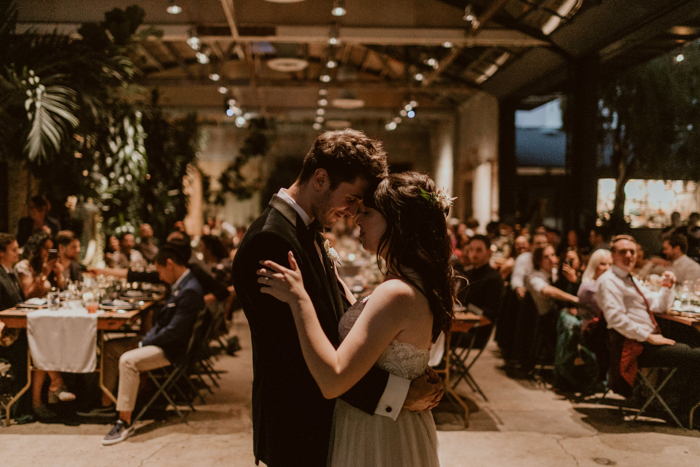 Processional – "Love on Top" by Beyonce (played on the harp)
Recessional – "Signed, Sealed, Delivered" by Stevie Wonder (played on the harp)
First Dance – "Harvest Moon" by Neil Young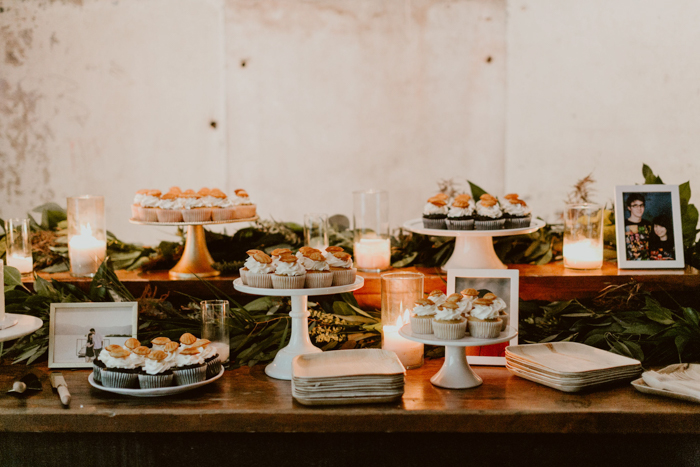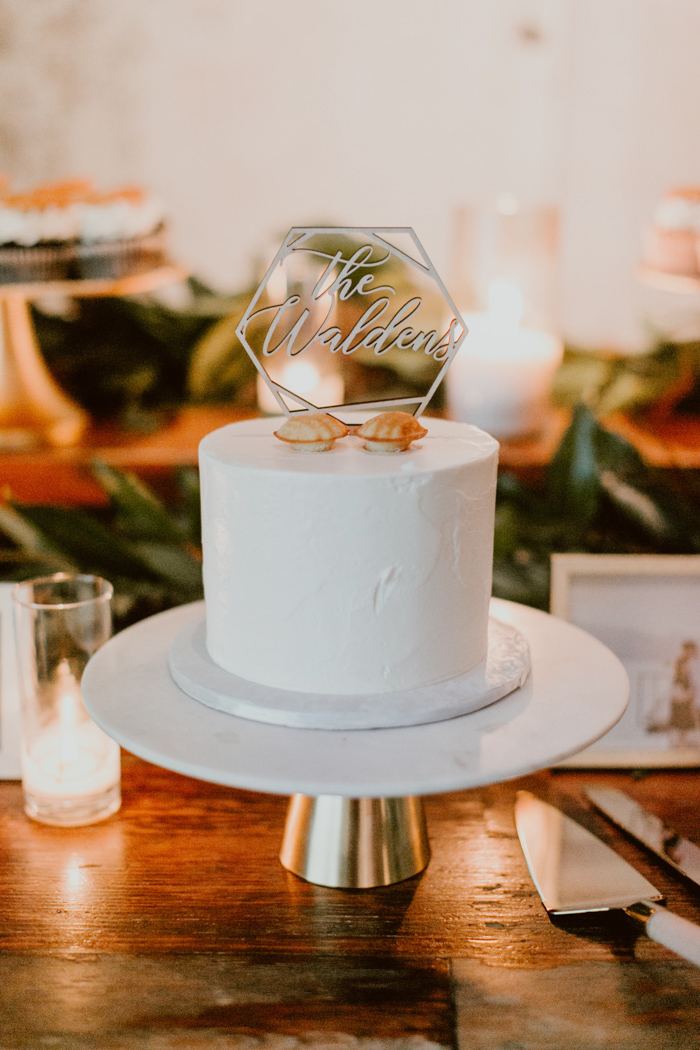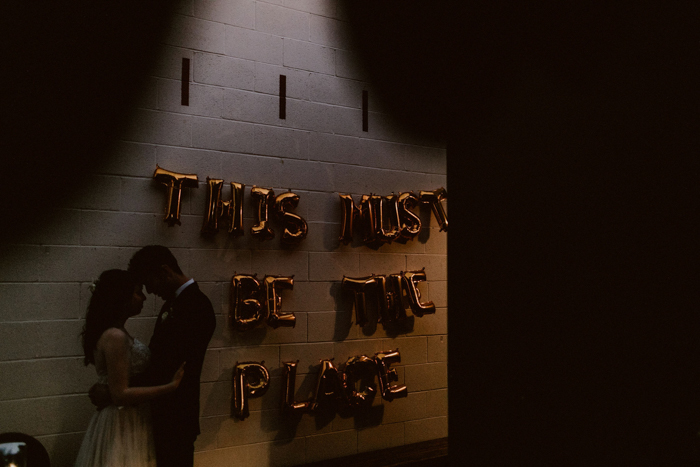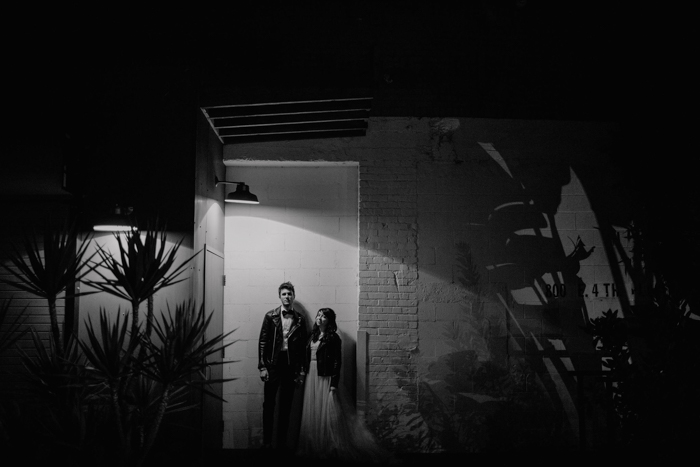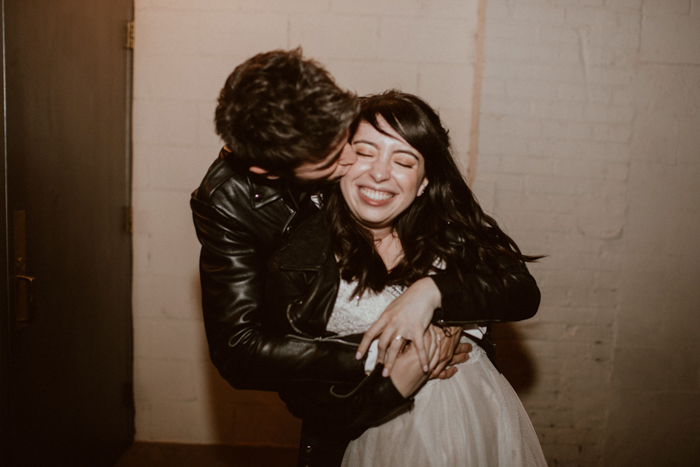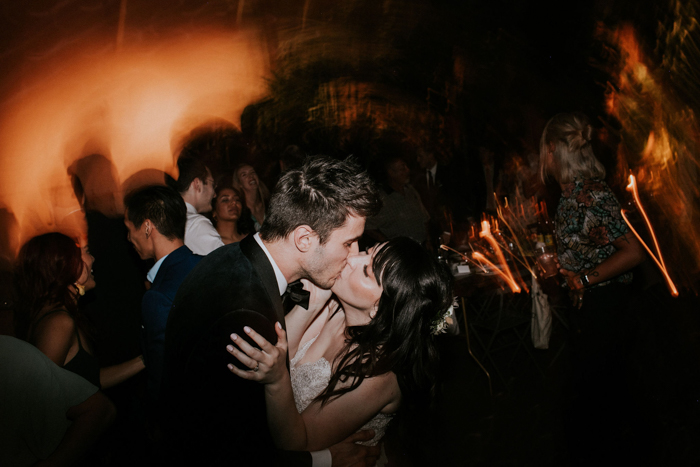 Congratulations to Madeline and Steven, and a special thanks to Jes Workman for sharing this Millwick wedding with Junebug! Love greenery? This black and white Riviera Mansion wedding showcases the most impossibly stylish greenery!