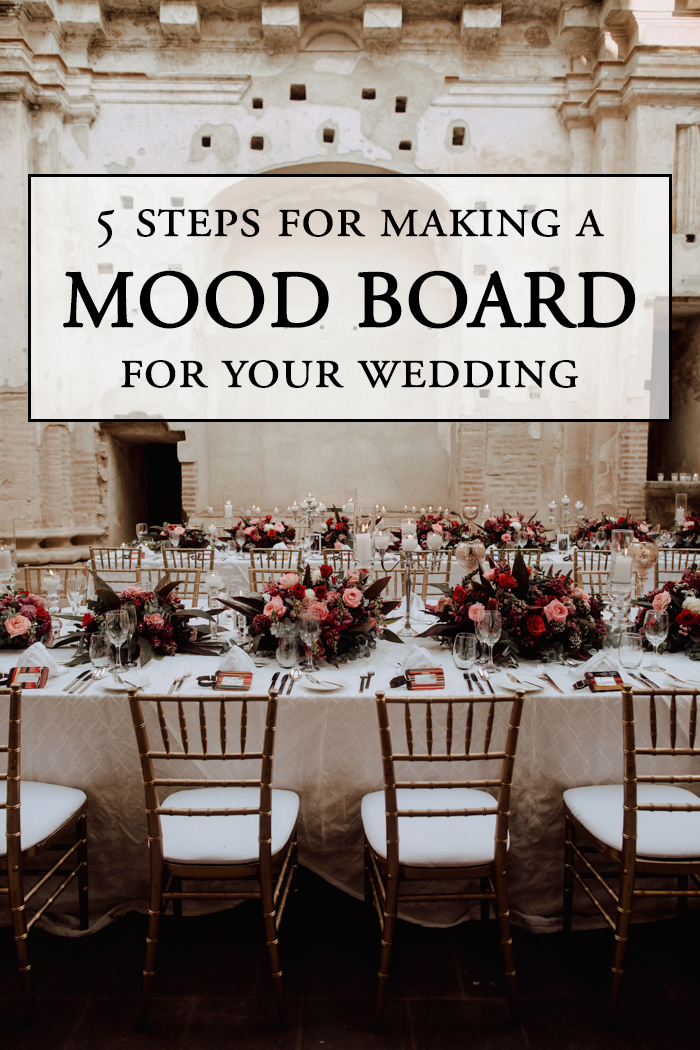 photo by Joseph West Photography
Making a wedding mood board is one of the most helpful activities in the wedding planning process. Not only does the practice encourage you to make decisions about the look of your day, but it can also aid in defining the overall vibe your wedding will have. Before choosing your wedding colors or even contacting a wedding planner, making a wedding mood board will lead you to answers to questions you haven't thought to ask yet. Follow our five-step process to make a wedding mood board that captures what's most important to you in how your big day looks and feels!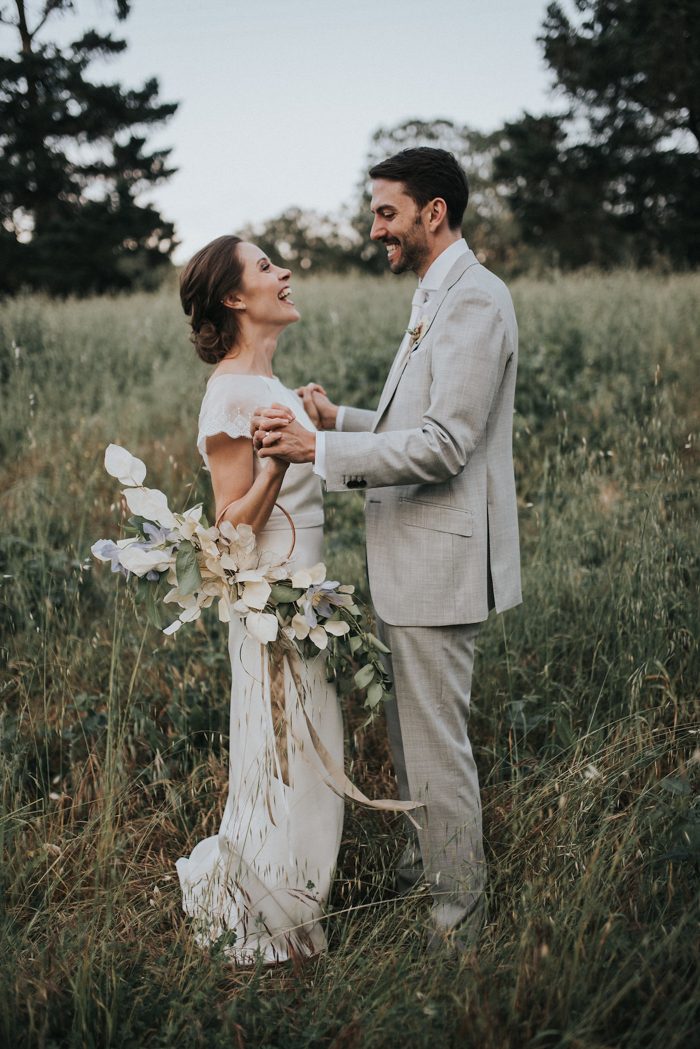 photo by Jonnie + Garrett
1. Identify Guide Words
When you think of a mood board, the first thing that comes to mind is probably pictures. However, before you get to the picture-stage of your board, you actually have to start with words! What sets a mood board apart from a collage if the feeling (aka the mood) behind it. Your mood board should help you dictate how your wedding will look, but also how it will feel.
The first step in making a wedding mood board is identifying guide words that describe how you want your day to feel. Here are some examples to get you started:
Intimate
Adventurous
Carefree
Nostalgic
Sillywood
Cheerful
Cozy
Laid-Back
Romantic
Wild
Vivacious
Warm
The addition of a second set of words will help you craft that feeling into a look. Here are some examples you can try pairing with your favorite feeling words from above:
Elegant
Feminine
Moody
Bohemian
Minimalistic
Ethereal
Modern
Colorful
Eclectic
Lush
Glamorous
Industrial
Classic
Vintage
Geometric
Rustic
Finally, a third set of words provides context for the look and feel of your day. Your answers to the following questions will help you with this last set of guide words.
What season is the wedding taking place?

What does that season look and feel like?
How would you describe the impact of the season on your wedding?

Where is the wedding taking place (venue, region, landscape, etc.)?

What does that location look like?
How does that location make you feel?
In what way does your wedding take the location into account?
Now that you have a vision of what your wedding looks and feels like in your mind, it will be easier to choose photos for your mood board. All of this work up-front helps you decipher between pictures you're drawn to because they're pretty and pictures you're drawn to because they speak to the kind of celebration you're planning.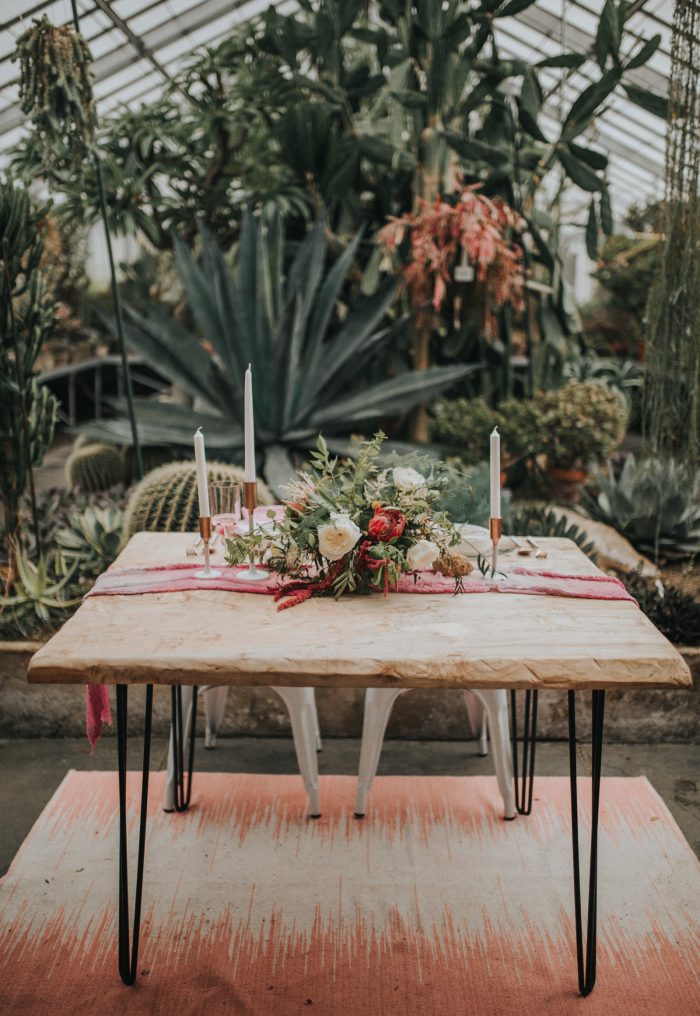 photo by Mann & Wife – Visual Storytellers
2. Embrace Color + Texture
As you've begun to envision the way your wedding looks and feels, you've already started to mentally fill in the blanks of your wedding's colors and textures. Whether you're using Pinterest, magazines, or found inspiration from your everyday life, start looking through your inspiration source to see which colors you most associate with your guide words. For instance, if your guide words look something like Warm, Adventurous, Rustic Fall Forest Wedding, what colors come to mind, both for your individual words and for the words as a set. What textures make sense in the context of these words? What kinds of plants, materials, and fabrics help tie the look of your day and the feel of your day together?
As you answer each question, collect images for your mood board that depict those colors and textures. Pro-tip: The images don't necessarily need to be from weddings. You can find inspiration in fashion, art, graphic design, interior design (including your own home!), etc! Looking for inspiration outside of weddings can help you craft a day that's both personal and unique.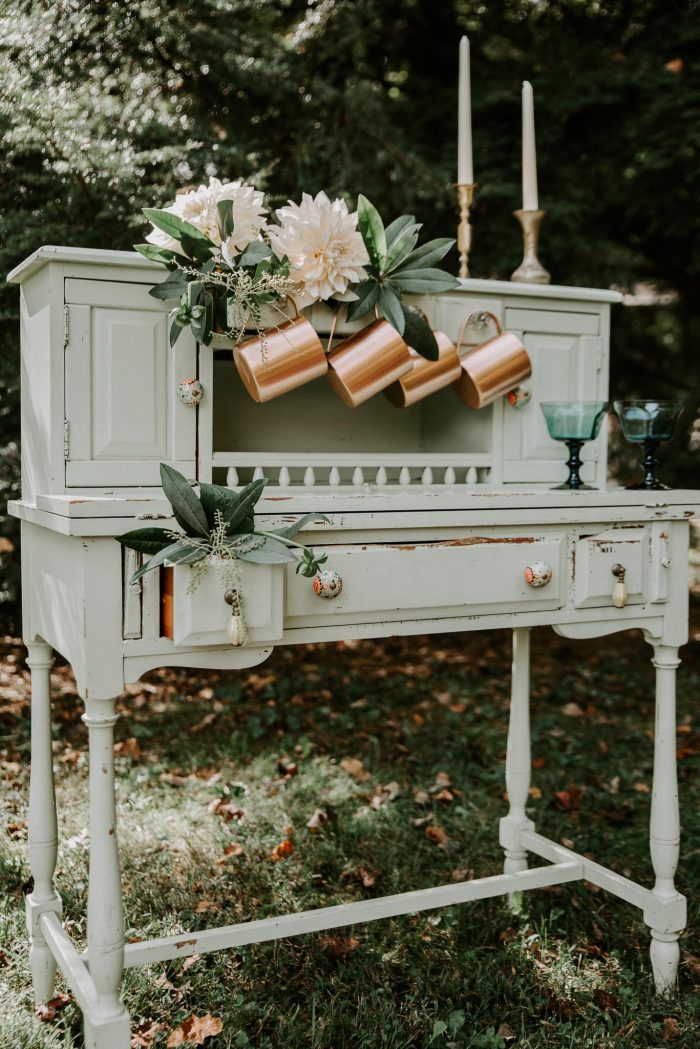 photo by Kaci Baum Photography
3. Select Big Decor Elements
Now that you've compiled images of colors and textures that will be used throughout your day, it's time to transform some of those abstract ideas into real elements you want to use in your wedding. We think it's helpful to start with the pictures of big decor pieces since the smaller details will depend on them. Big decor elements may include physically large pieces like your ceremony arch or backdrop, reception lounge areas, an escort card display, or your sweetheart table set-up.
Another way to think about big elements, rather than size, is decor that extends throughout your day, like floral design or certain textiles you want to repeat from the ceremony to the reception. Look for photos of flowers or textiles that speak to your guide words for your board. Textiles may include things like dip-dyed fabric, macrame, lace, or vintage rugs, while your floral design can include anything from the specific flowers used in your bouquets and centerpieces to native leaves for garlands or stand-alone adornments.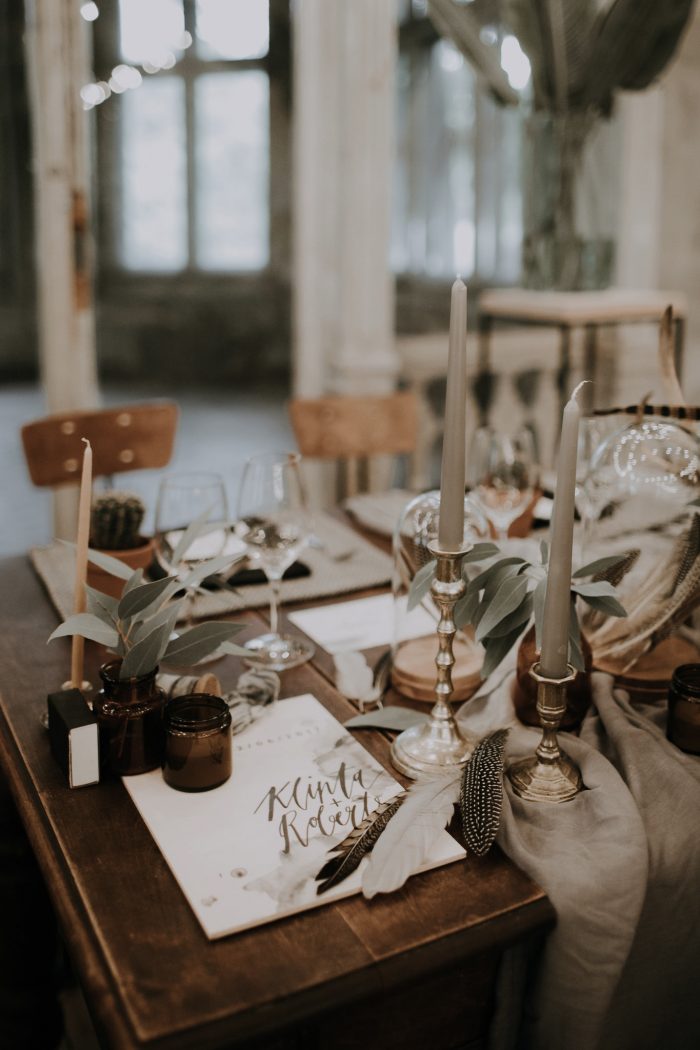 photo by Linda Lauva
4. Curate Small Details
Your mood board is moving along nicely, so it's time to fill in the gaps! Small details are where your personality really shines. You've got to put something on those reception tables, so what's it gonna be? If you're having trouble thinking of small details, go back to your guide words and make a list of items that remind you of each one. Here's what we mean, using the example from Step Two:
Warm: Cozy blankets, candles
Adventurous: Maps, compasses, boots
Rustic: Wooden details
Fall: Leaves, cider
Forest: String lights in trees
Once you've listed out a few items, find corresponding images that fit into the colors and textures from Step Two and that complement the big decor elements from Step Three.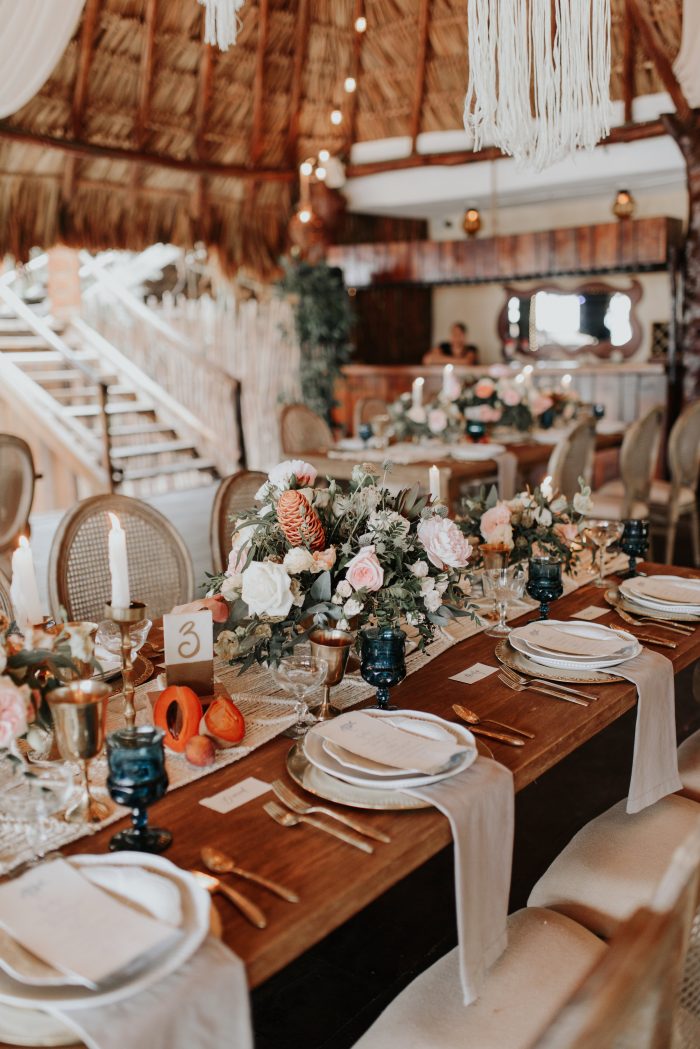 photo by Melissa Marshall
5. Consider Cohesiveness
After compiling all of the images for your mood board, you'll want to take a step back and look at the bigger picture. Do the photos you've collected represent the way you want your wedding to look and feel? Is there a common thread throughout the photos or does the design appear to be disjointed? Consistency at this stage in your planning will help you craft a more cohesive look and feel for your big day.
Keep these steps handy by pinning this infographic!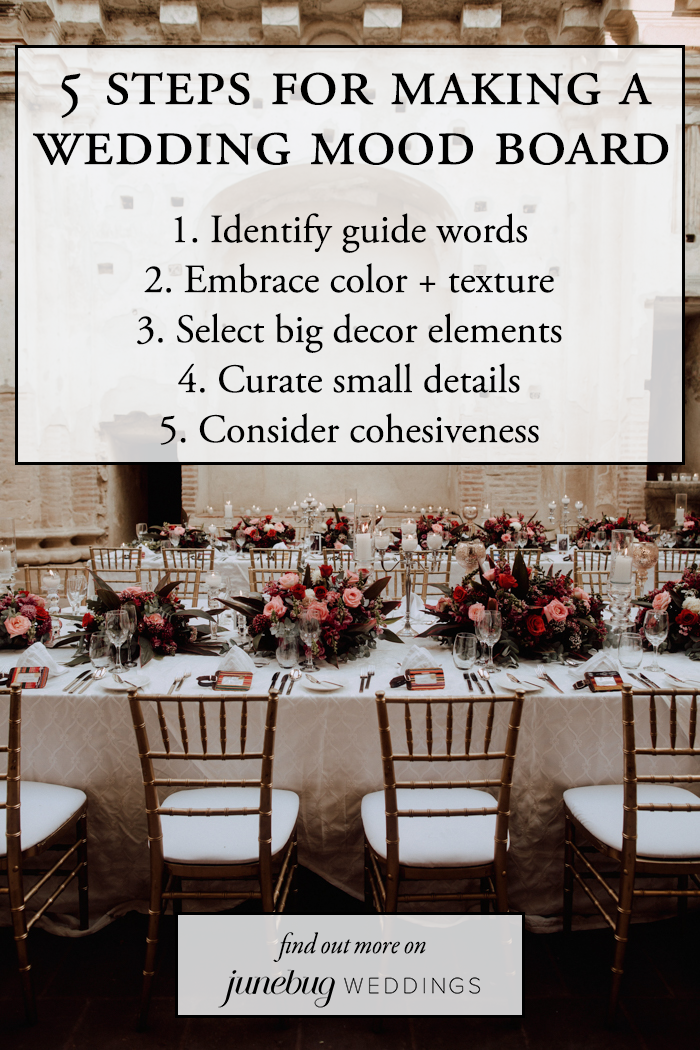 Ready to start making a wedding mood board but need a little help with your colors? Check out these 6 tips for choosing your wedding colors!