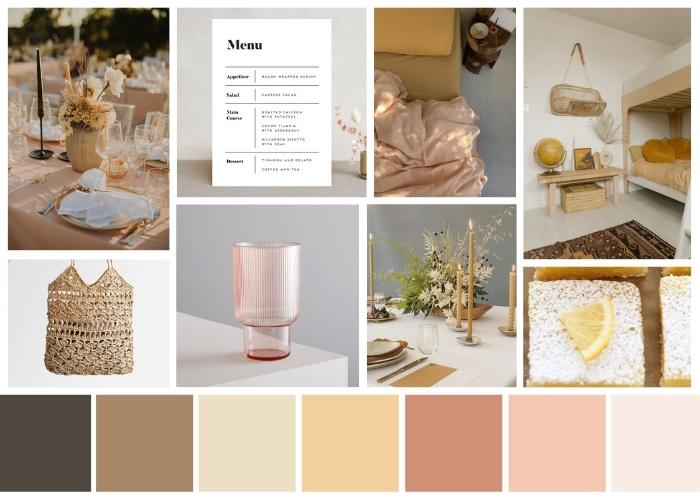 photos (from top left) Golden Days, Minted, Dazed but Amazed, Hazel and Scout, Plexida, West Elm, Moon Canyon Design, Elisabeth & Butter
After you've said "Yes!" and enjoyed an engagement celebration with family and friends, it's time to start wedding planning. We're here to equip you with everything you need to create a day that is undeniably you. As you start to form a vision of your wedding day, a wedding mood board can help guide decisions and visually explain your desires to your wedding team.
This article explains a simple, five-step process to create a wedding mood board that captures the essence of your personalities, style, and wedding dreams.
Let's get this party started!
Why Use A Wedding Mood Board For Wedding Planning
A wedding mood board is a carefully curated collection of photos that convey the look, essence, and feeling you are hoping to create through your wedding design.
Step 1. Discuss Wedding Dreams With Your Partner
Before you grab your laptop and start to type "Pinterest" in the search bar, do a little offline work with your partner. If there's one piece of advice we want to ring true, it's to use this time to explore your relationship and who you are together. Set a date night to discuss what you each envision for your wedding day. Be mindful of the words and phrases you're using—have a pen and paper handy to jot them down as you dream of your day.
Questions to Ask Before Creating a Wedding Mood Board:
What do we enjoy doing together as a couple? Are we laid-back or do we enjoy being the life of the party—or both?
Where has been our favorite vacation, date, place to spend time together? How did that location make us feel?
What season makes sense for our wedding? Does the season impact the mood of the day?
What type of wedding do we not want? What are things that don't feel like us?
Come up with a list of words to describe your wedding vibe. Words like intimate, adventurous, carefree, nostalgic, silly, cheerful, cozy, laid-back, romantic, wild, vivacious, and warm.
Next, create a second set of words to help craft that feeling into a "look." Here are some examples you can try pairing with your favorite feeling words from above: elegant, moody, bohemian, minimalistic, ethereal, modern, colorful, eclectic, lush, glamorous, industrial, classic, vintage, geometric, and rustic.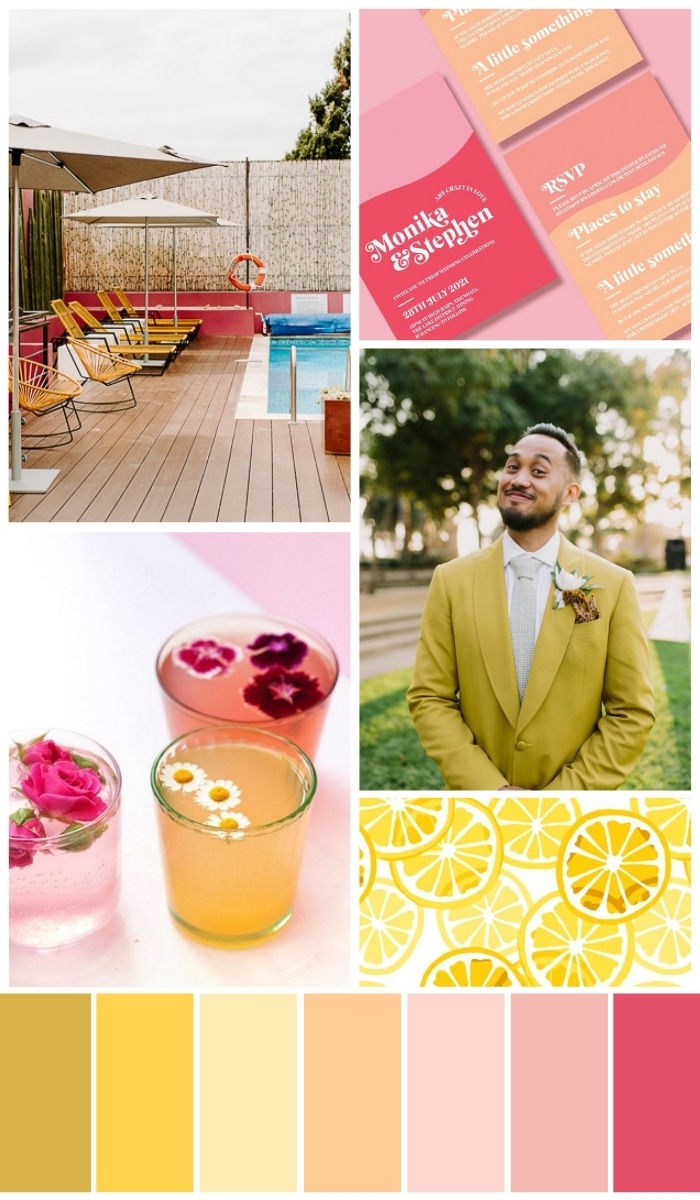 photos by (from top left) Peyton Rainey Photography, Blush and Blossom Paper, Design Love Fest, Let's Frolic Together, Rebecca Smith
Step 2. Explore Your Unique Style
Pinterest can be an excellent tool for finding hundreds of wedding inspiration photos. We encourage using Pinterest boards to aggregate images for your mood board. Pinterest boards are especially helpful to compare different elements of style that aren't only wedding photos.
Kerry Charlotte of Haute Wedding explained the benefits of having a Pinterest board and a separate, curated wedding mood board. She said, "The contrast between a mood board and a Pinterest board is that a mood board can be more specific to show a real snapshot of your wedding. While Pinterest can show a larger array of your tastes and style preference. We love seeing a full array of your tastes to start designing. This way we can pull in little details that really make the day custom to you!"
Narrow Your Pinterest Wedding Search with These Points:
What type of home decor do we gravitate toward? Search for design inspiration homes and bedrooms. Spaces that feel like somewhere you'd enjoy spending time in.
Pin clothes, accessories, fashion blogger outfits, etc. All of these will help explain your style and can be translated into wedding design.
Search different typography on Pinterest. What elements of design are you drawn to? Do you like big, bold fonts or more classic elements?
Junebug Tip: Exploring your style often leads people to be more observant of aesthetics in everyday life. Pay attention to what you're noticing—the good and the bad. Take quick snapshots on your phone if you see something that speaks to you!
Step 3. Choose 10 Images to Place on Your Wedding Mood Board
Now that you've formed a vision with your partner and started to collect inspiration, it's time to start refining your collection. Choose the top 10 photos from your Pinterest board and phone photo library and start creating.
To make things easier for you, we've created this Canva Template for you to drop your photos into. You'll have a professional-looking mood board in no time!
How to Use Canva to Create a Wedding Mood Board:
Sign up for Canva (it's free!)
Click the link above and choose "Use Template"
Upload your images into Canva
Drag images from the Upload folder to the photo frame squares (it should auto fill the frame with your image)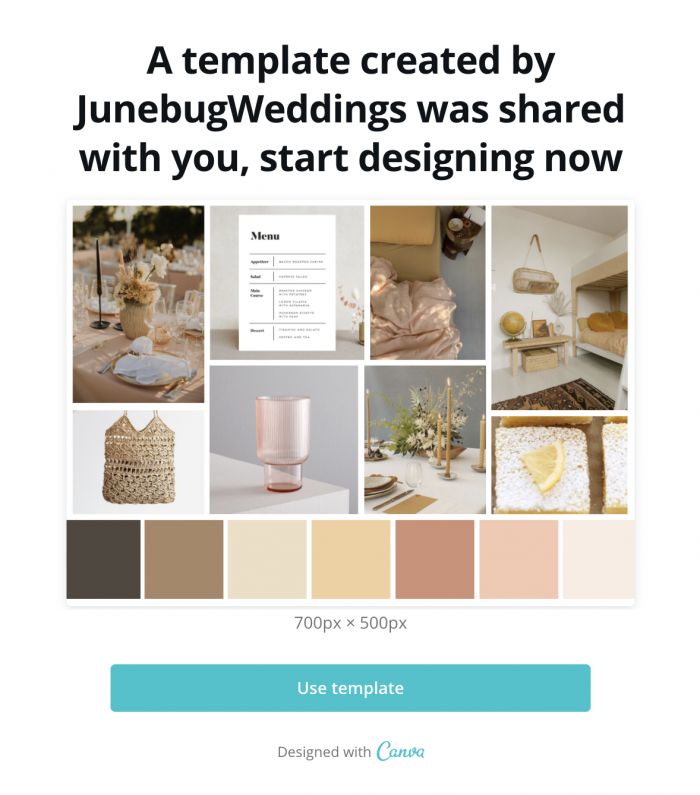 Step 4. Pull Colors From Your Favorite Photos
Once you have your favorite images beautifully organized in your Canva wedding mood board, take note of the colors that are used repeatedly. You can fill the boxes with any of the colors you see—it will bring the design full circle.
These colors will inspire your floral arrangements, fabric textures, invitation design, and more. They might even make the perfect mismatched bridesmaid dress color palette!
Junebug Tip: Head to your local paint store for date night and pull paint swatches that match the colors on your mood board.
Step 5. Take Your Wedding Mood Board Off the Screen
After you've created a wedding mood board masterpiece, it's important to let it all sink in. Print the design and place it somewhere you'll see it everyday—like on your refrigerator. Seeing it should evoke all the emotions you listed in Step 1.
Does your wedding mood board represent the way you want your wedding to look and feel? More importantly—do they represent who the two of you are as a couple? Is there a common theme throughout the photos or does the design appear disjointed? Consistency at this stage in your planning will help you craft a more cohesive look and feel for your big day.
With a mood board in hand, it's time to start your wedding vendor search. We suggest you start with a professional wedding planner who can help translate your mood board into something tangible—and map your budget to the priority items.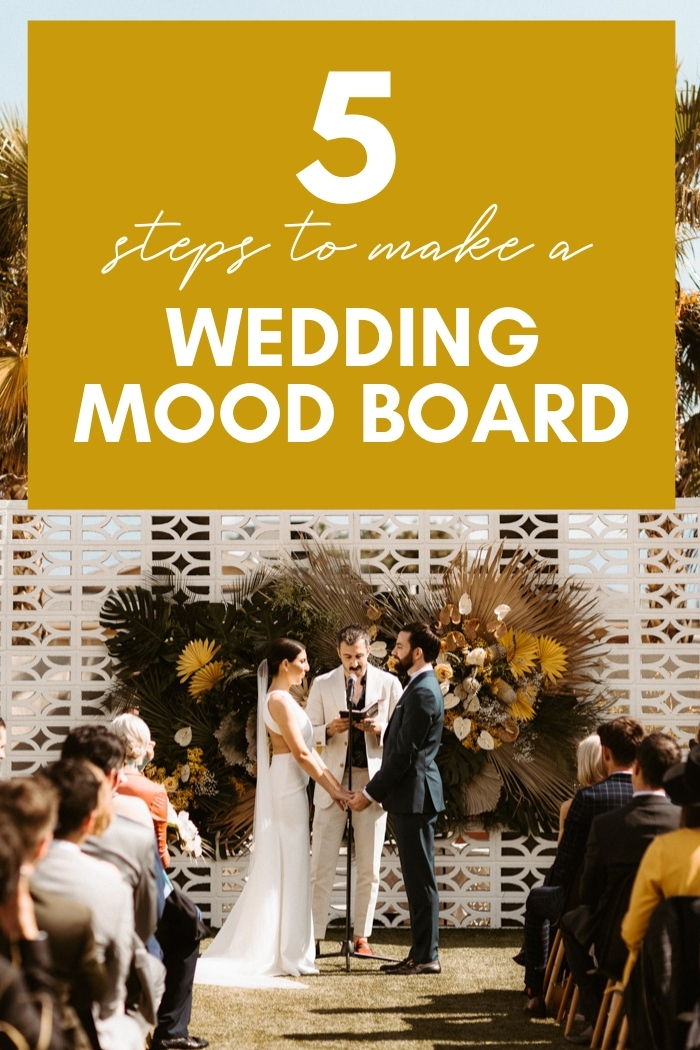 photo by The Hendrys