Between family, friends, and wedding vendors there's a lot of people involved in bringing to life your dream wedding. That's why your guest-list and wedding vendor choices shouldn't be taken lightly. And lucky for you, we know a thing or two about wedding vendors—being one of the top resources for finding wedding professionals from all around the world.
If you're currently in the process of hiring your wedding vendors, we're here to help. From costs to expect and red flags to look out for, here's everything you need to know about hiring your wedding vendors with as little stress as possible.
Wedding Vendor Costs
Before searching the internet for your dream wedding vendors, it's crucial to finalize your wedding day budget. Sit down with your significant other and figure out a number that's comfortable for you both. With that number in mind you can better understand how much money you should set aside for each wedding day element. If vendors are a top priority for you—hint: they should be—you'll want to allocate more money to that area.
Junebug Tip:
You should discuss your budget with any potential wedding vendors but don't try to negotiate pricing with them. If you've found an industry pro you want to work with, be prepared to pay for their time, expertise, and the value they bring to your wedding.
When Should You Start Looking For Wedding Vendors?
After finalizing your wedding budget, selecting a date, and booking a venue it's time to start assembling your dream team. Every wedding planning timeline is different from person to person. But, a good rule of thumb is to kickstart your vendor search ten to thirteen months before your wedding. We think you deserve the best and the best book up quickly.
Getting an early head start in your vendor search is also a great way to reduce your wedding planning stress and avoid having to make any rash decisions.
How Do You Find Trusted Wedding Vendors?
If you're searching for top-notch wedding vendors, congratulations you've made it to the right place. Junebug Weddings is your first stop along your vendor search. Whether you're looking for a photographer you just click with, a planner fit to bring your vision to life, or a videographer that'll turn moments into memories—we take pride in connecting you with trusted professionals in our vendor directory.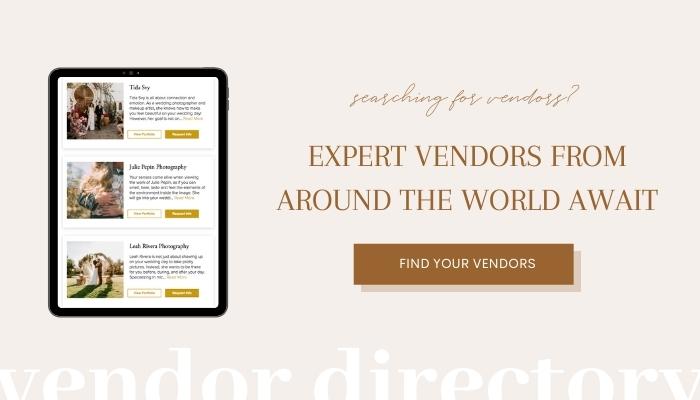 On top of our vendor directory, we recommend sourcing vendors on Instagram, Facebook, and Pinterest. All of the images you save for inspiration didn't come out of thin air. A group of talented vendors worked together to bring every element—the table setting, bouquets, wedding cake, and ceremony backdrop—together. When you find details you appreciate, take the time to visit the professional's websites.
What To Look For In Vendors
When starting your vendor search, you might be surprised by the amount of options you have. With endless choices this wedding planning task can quickly become overwhelming. On top of trusting your gut instinct, here are a few things to look out for when sifting through wedding vendors.
The first thing is, do they have a website? If the professional doesn't have a website they may lack experience or professionalism. Once you're on that website, there are a couple of important pages you should browse—their portfolio and About Me page. Their portfolio gives you an idea of the types of weddings they capture, as well as a feel for their overall style. You may notice a consistency in their work, and if it resonates with you keep them on your list.
There are a lot of red flags to look out for when hiring your wedding vendors. A few of those being poor communication, no reviews, and not having galleries of their work online. To avoid hiring vendors you'll later regret, check out these red flags to look out for.
Interviewing Potential Wedding Vendors
Once you've officially narrowed down your list to just a few top vendor prospects the next step is reaching out for an interview. While you don't need a sit down with every one of your wedding vendors, meeting the key players you've chosen to prioritize—like your photographer, planner, or videographer—is crucial.
Meeting face to face will give you a space to clearly communicate expectations and figure out logistics. But, it's also a great way to gauge your comfort levels with the person behind the business. Much like any interview, the vibe you get from the person is just as important as the questions you ask. Hiring vendors you trust and feel comfortable with is the best way to eliminate wedding day stress.
When meeting with potential wedding vendors, "winging it" simply won't do. Come prepared with a list of questions you and your significant other want to ask. In addition to questions, it's also a great idea to bring along a mood board complete with details you want to incorporate on your day. This leaves no room for miscommunication—and during your wedding planning process that's exactly what you want!
You've hunted down, interviewed, and hired your wedding vendors—congrats! Now that you've assembled your dream team, it's time to think ahead to your big day. From tipping your vendors to providing a catered meal, there's still a lot of behind-the-scenes details that have to be prepped. Lucky for you, we've created a guide filled with the wedding vendor etiquette you need to know.