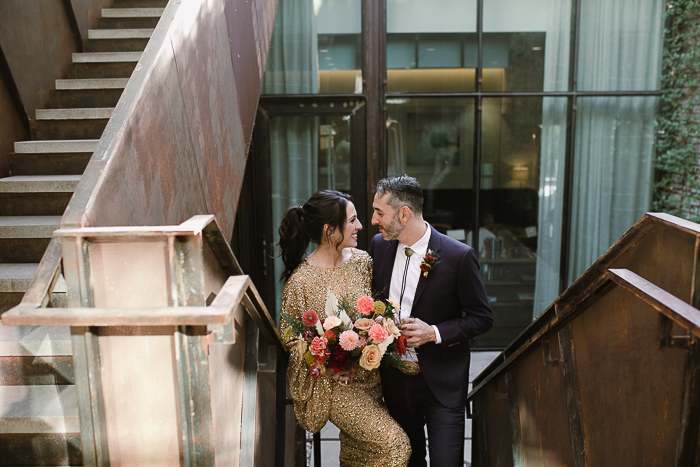 After their 150-person wedding was postponed twice, Becca and Yoni decided to run off and tie the knot in a secret yet totally epic South Congress Hotel elopement. While it may not have been the wedding they originally envisioned, the couple still incorporated all of the personalized touches that spoke to them.
With the help of planner XO Moreau Events, the Milton Suite was transformed into a ceremony space complete with a golden chuppah draped in fall-colored florals from The Farmer and I. And if that wasn't romantic enough, the two galavanted around Austin for portraits before enjoying a private snack of oysters and champagne at the hotel's restaurant, which was closed to the public–a date night tradition they like to call "bite and a bev."
Photographer and Junebug member Amber Vickery Photography did a beautiful job capturing the stylish details of this day–from the gold sequined wedding gown to the big city strolls with their furry friend to the Japanese whiskey enjoyed at the end of the night. Whether you've downsized your special day or you're looking for boho meets glam wedding inspo, these dreamy city "I do's" are sure to inspire.
The Couple:
Becca and Yoni
The Wedding:
South Congress Hotel, Austin, Texas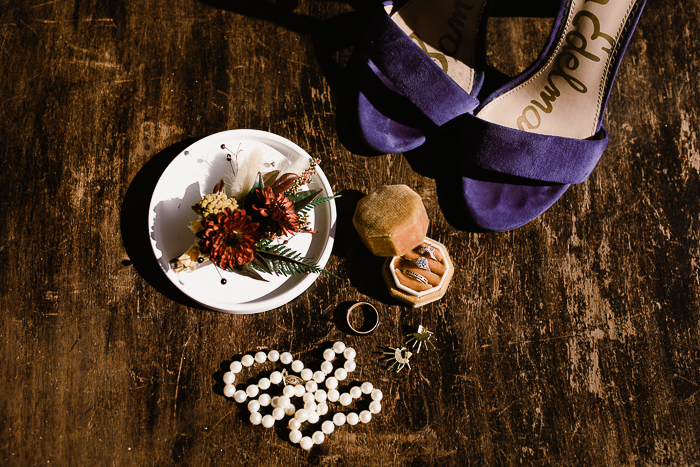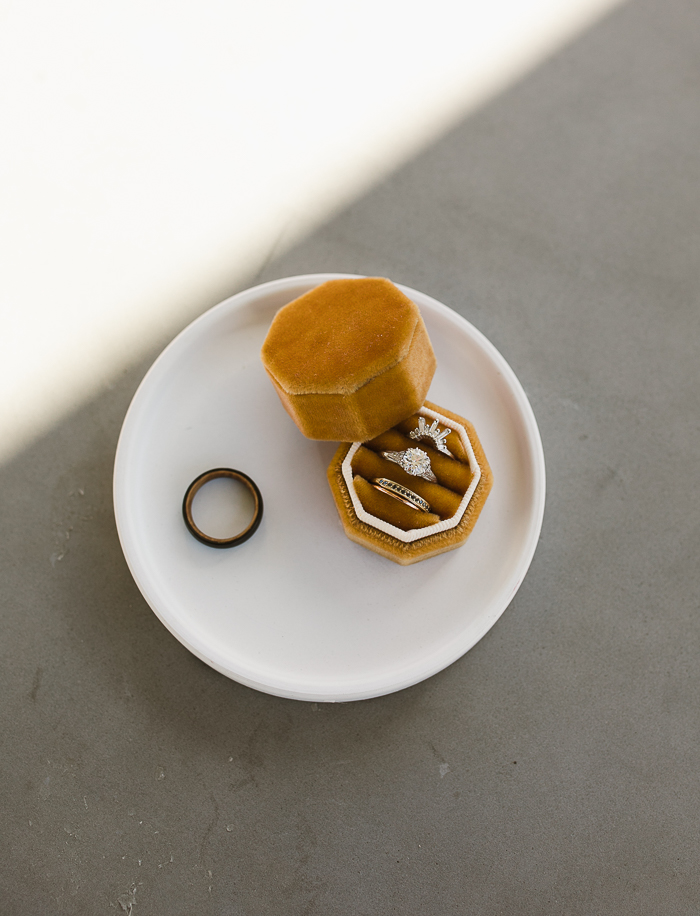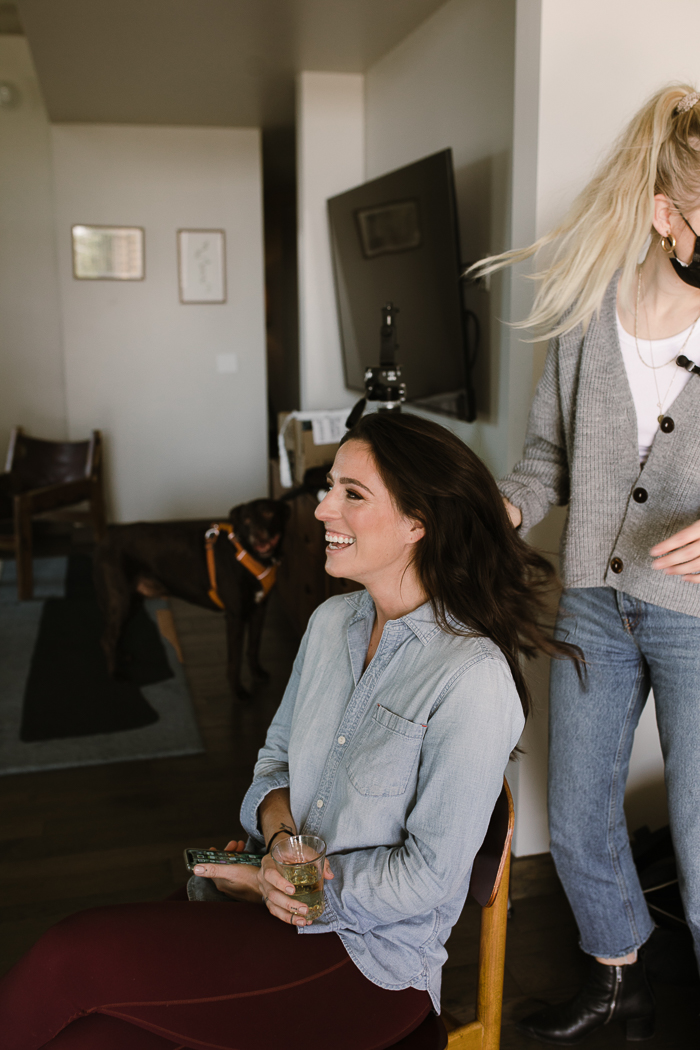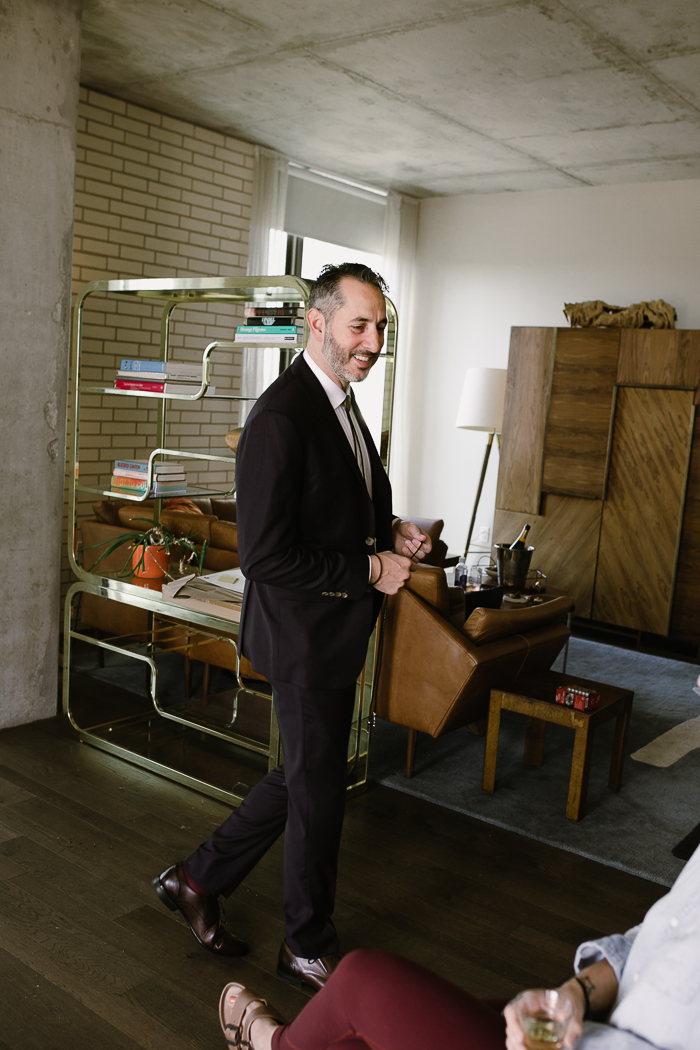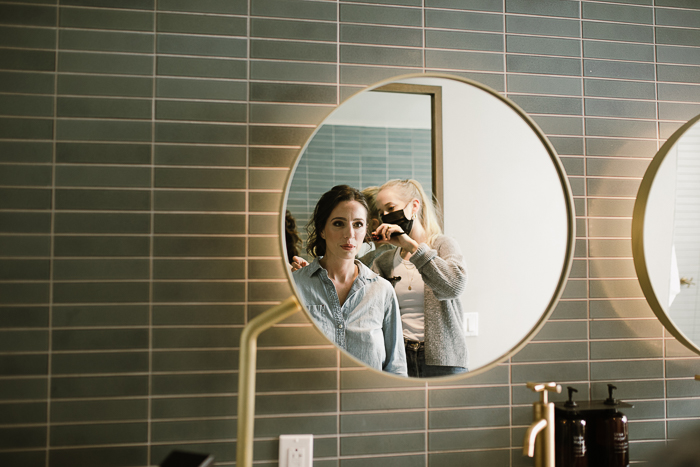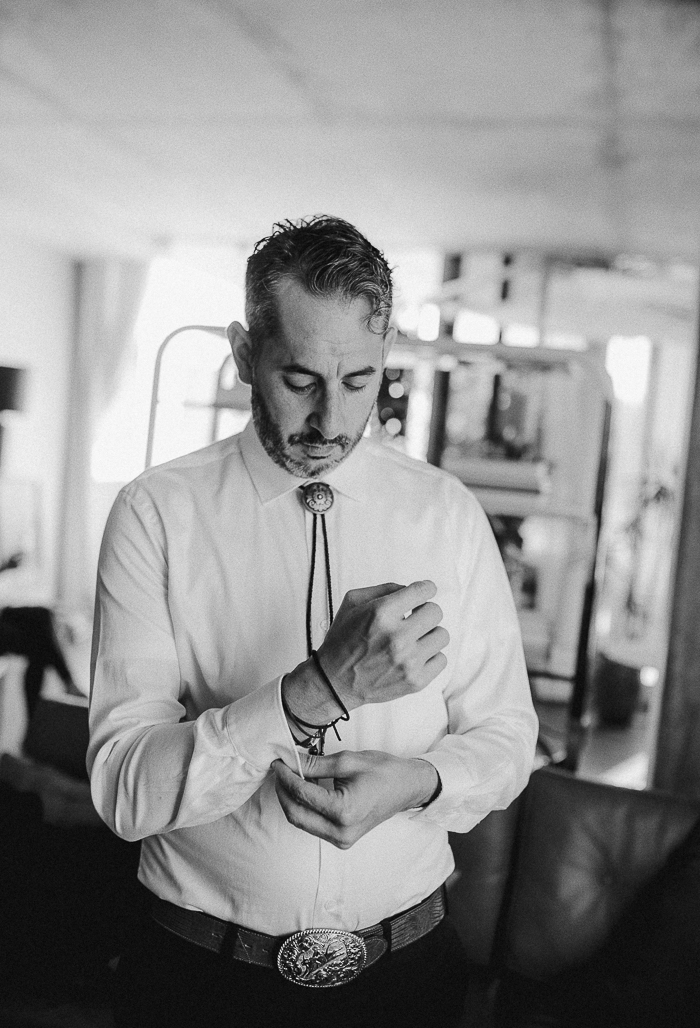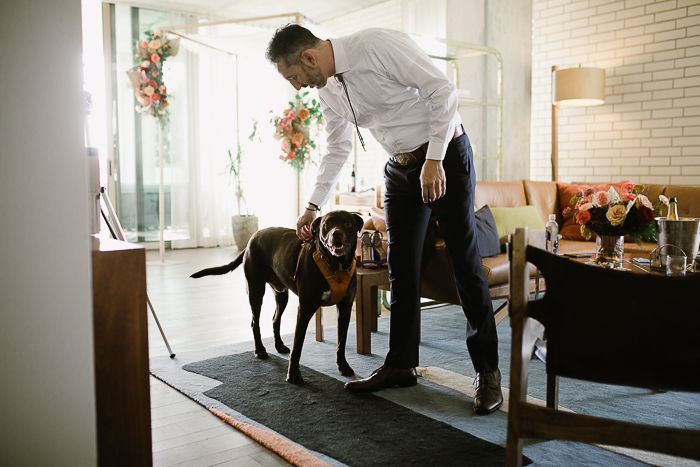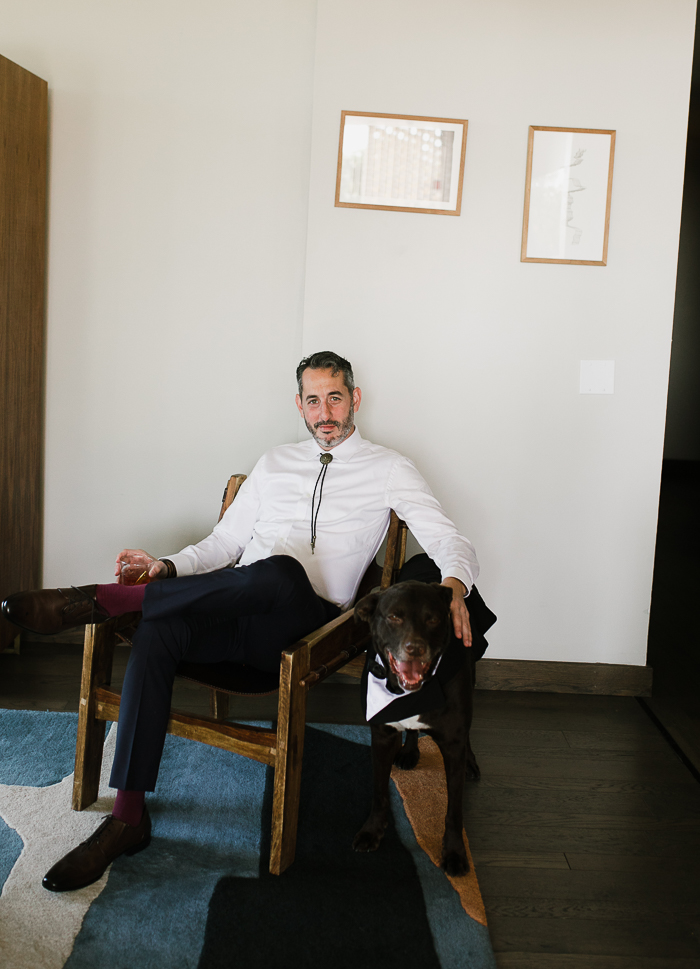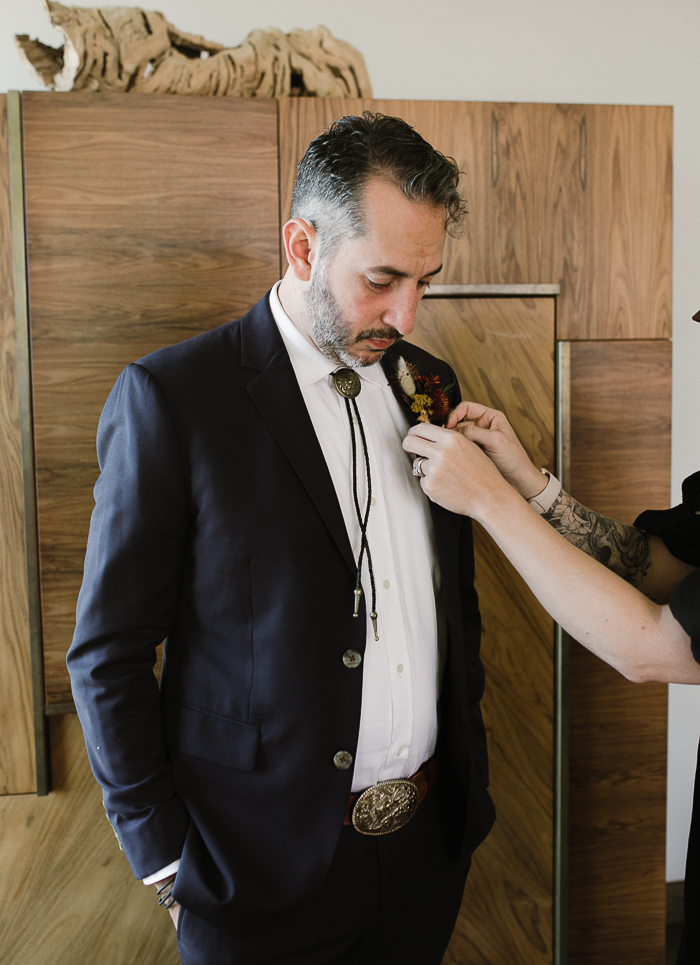 A Gold Sequined Wedding Gown
I have a white dress at home, one that I still hope I can wear someday, but I purchased it with my mother, and since she wasn't going to be there, I didn't want to have that moment without her. I always knew I wanted gold sequins somewhere on my wedding day, so I figured this would be the perfect time to pull out an over-the-top gold sequin batwing dress that I've actually gotten a lot of use out of!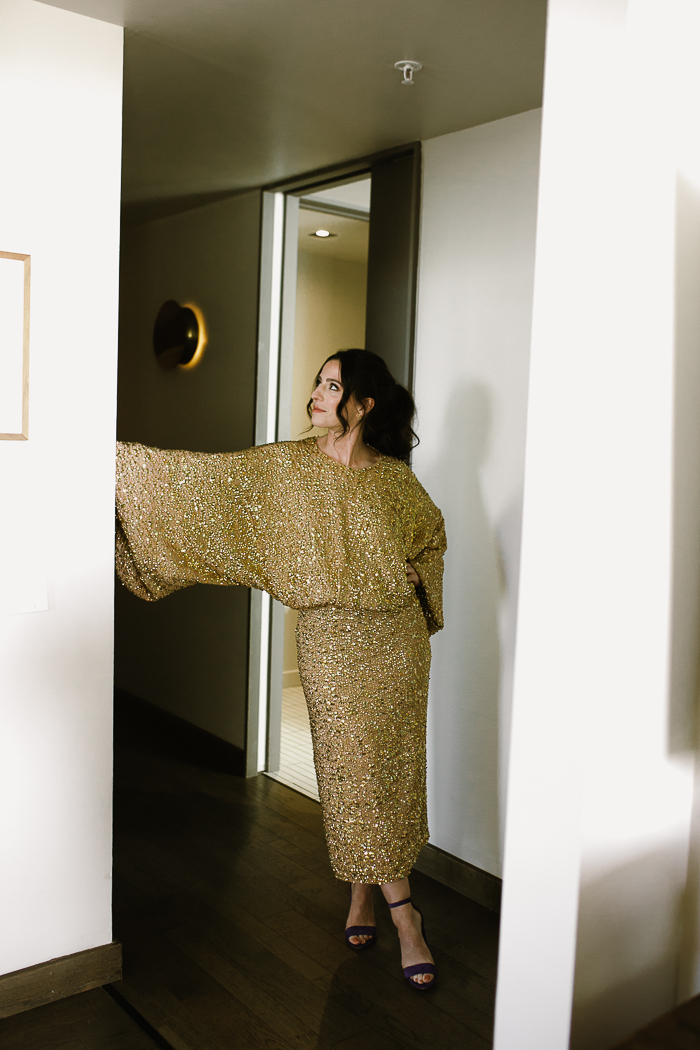 Shop similar dresses: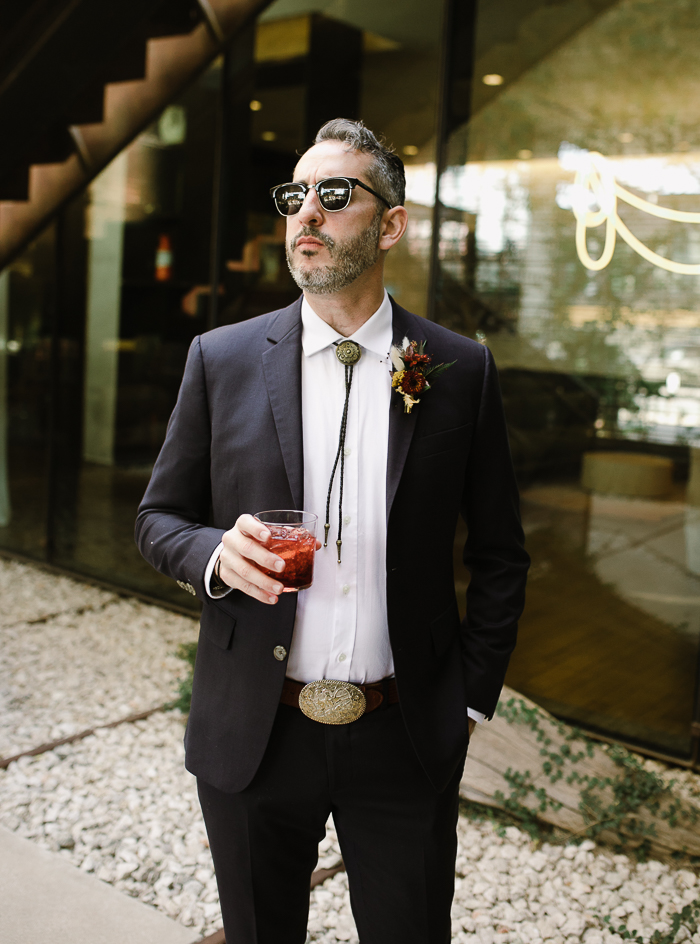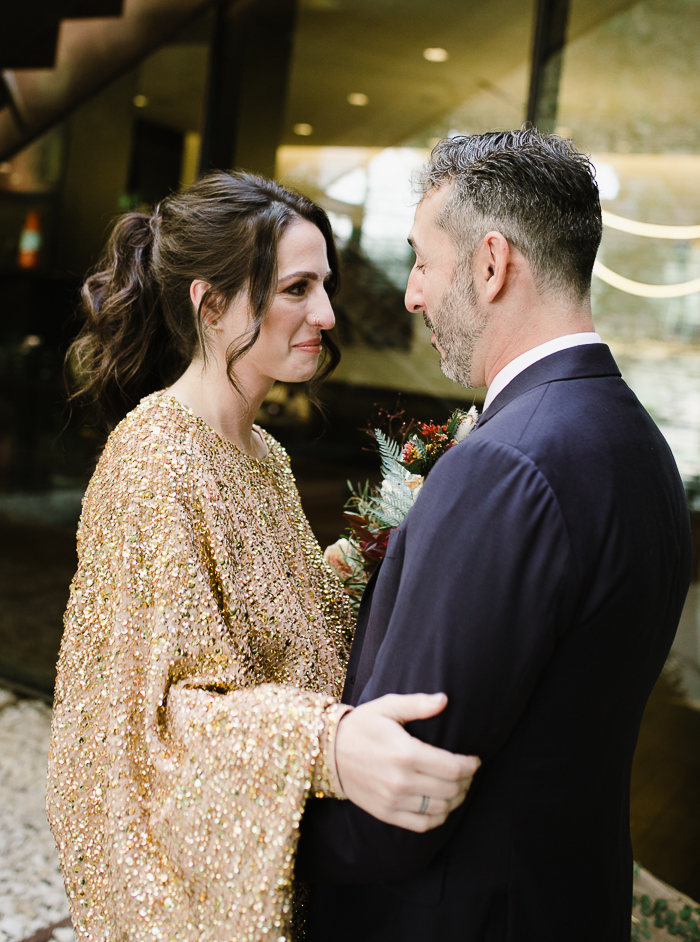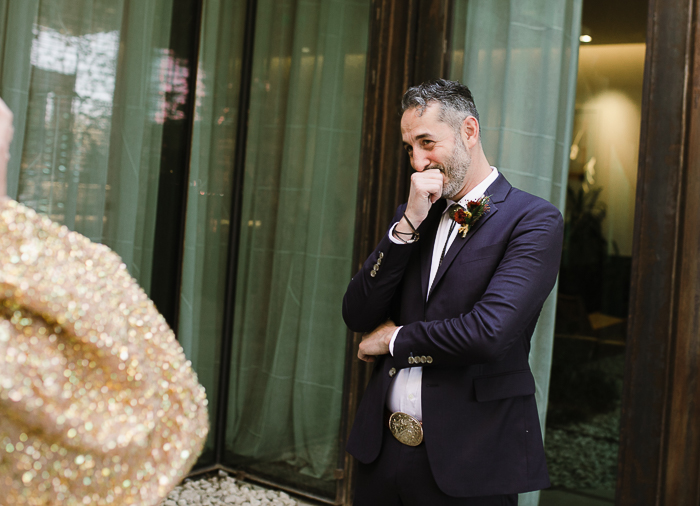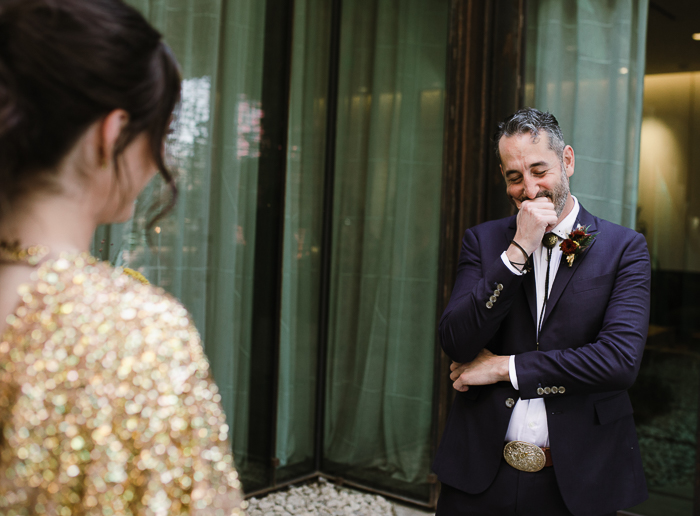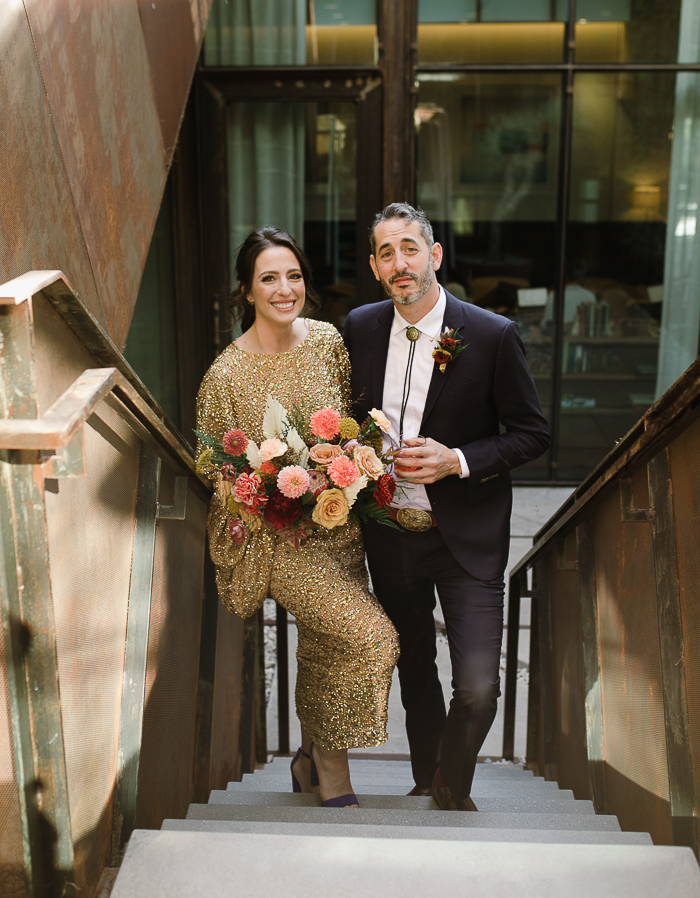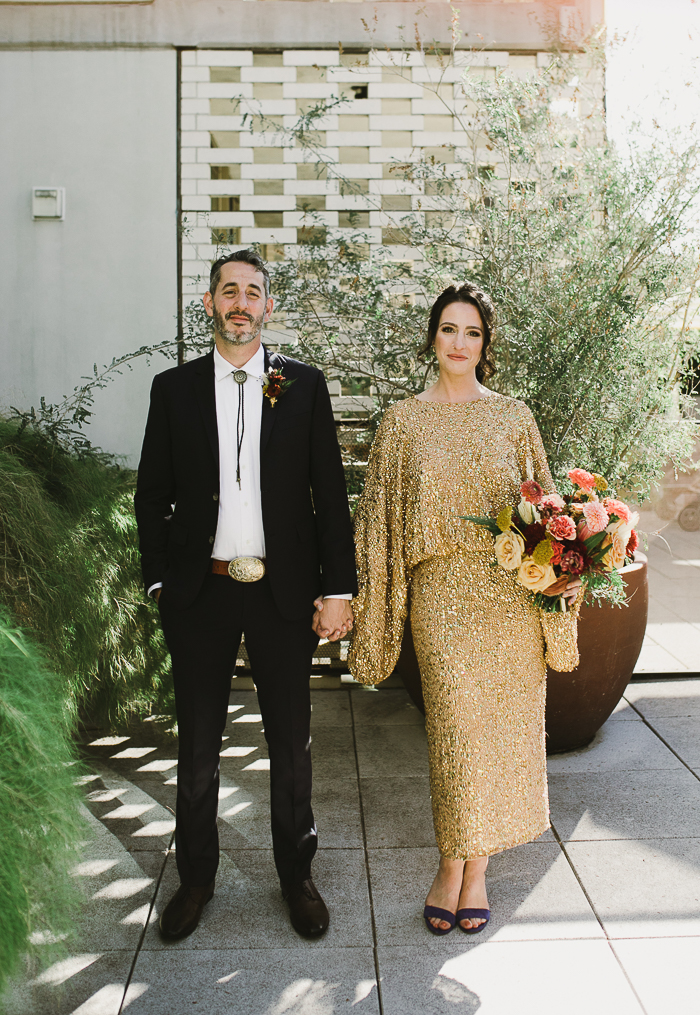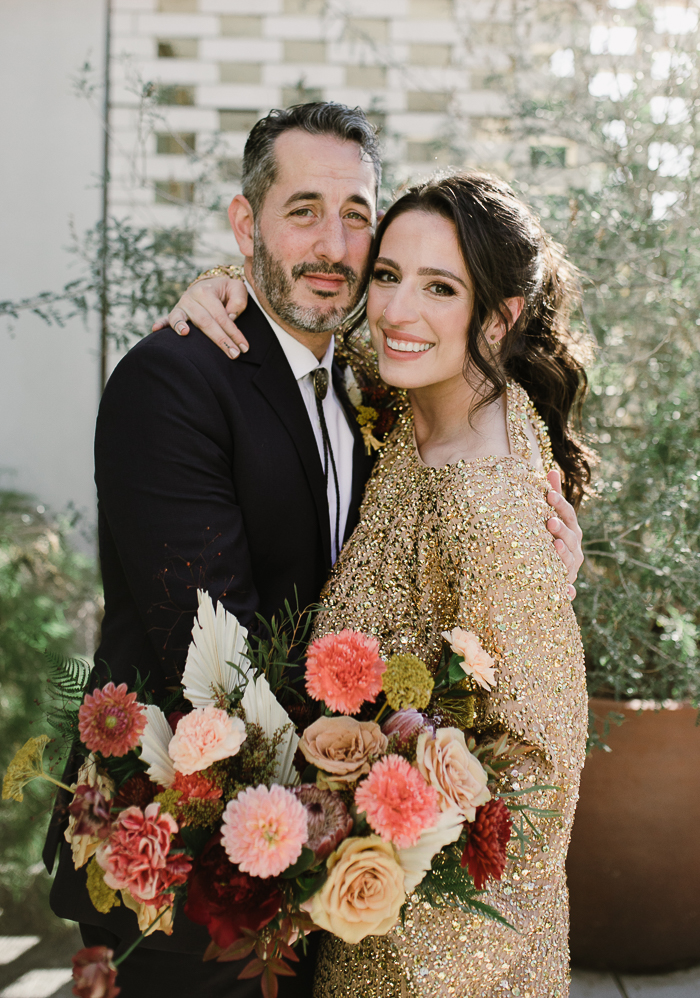 A COVID-19 Change Of Plans
Our original 150-person, meticulously planned wedding had been scheduled for April 5, 2020. We had to make the gut-wrenching decision to postpone it 19 days beforehand due to rolling shutdowns and the pandemic. It was one of the hardest decisions we had to make as we were so close to the big day. Our incredible planner, Alex, worked with all our wedding vendors to reschedule to November 1st (before we knew this was a pandemic), but by mid-August, we knew it wasn't realistic. So in October, we made the hush-hush decision to elope when we knew we would be traveling through Texas. (We spent the second half of 2020 living in an RV – another story!)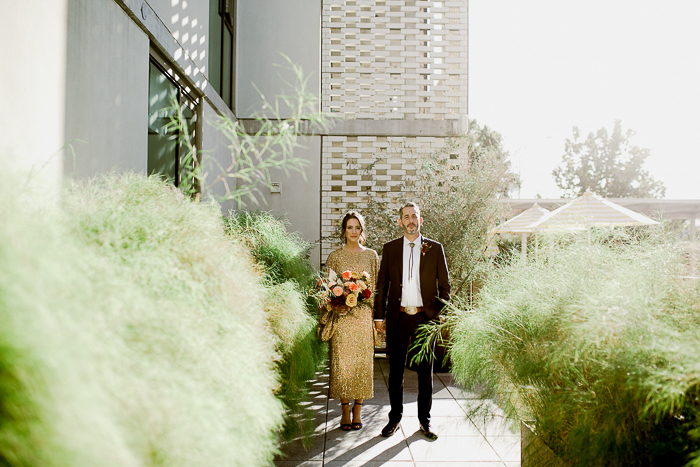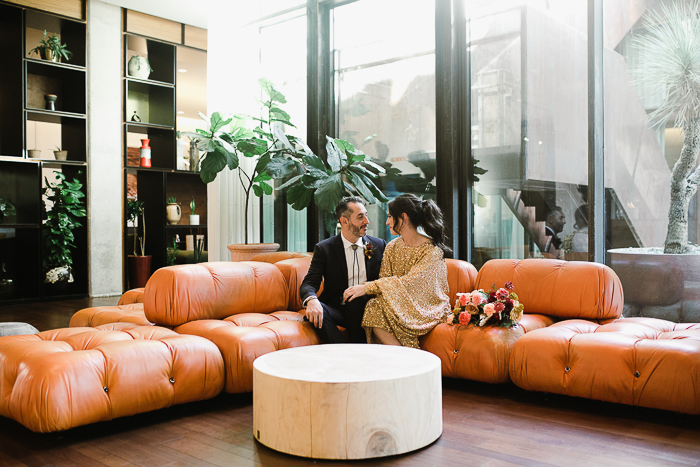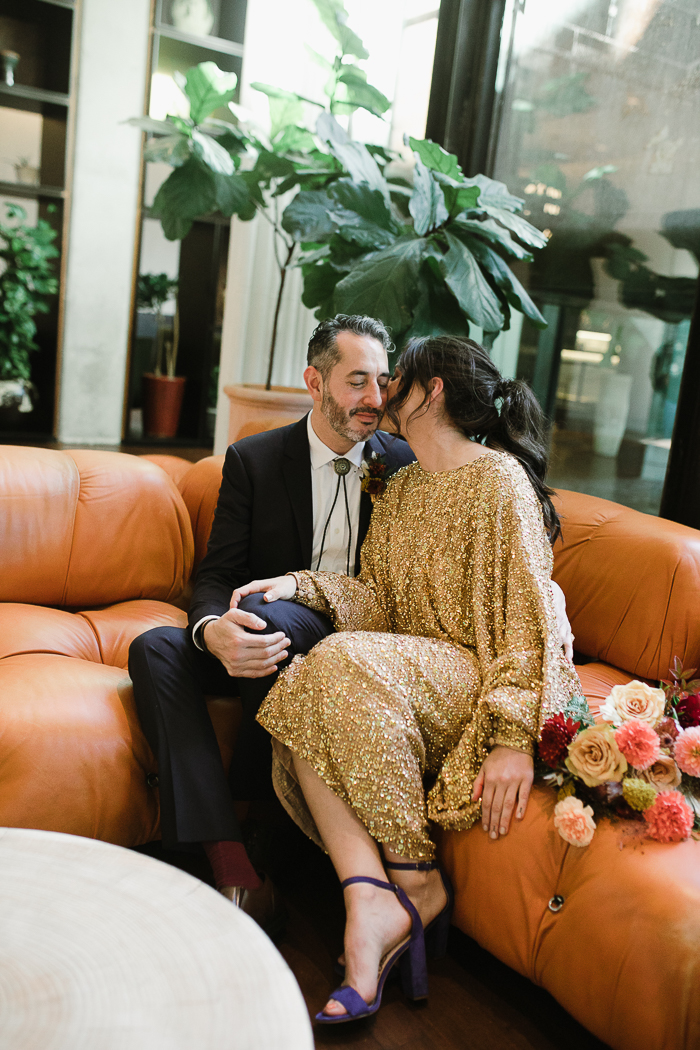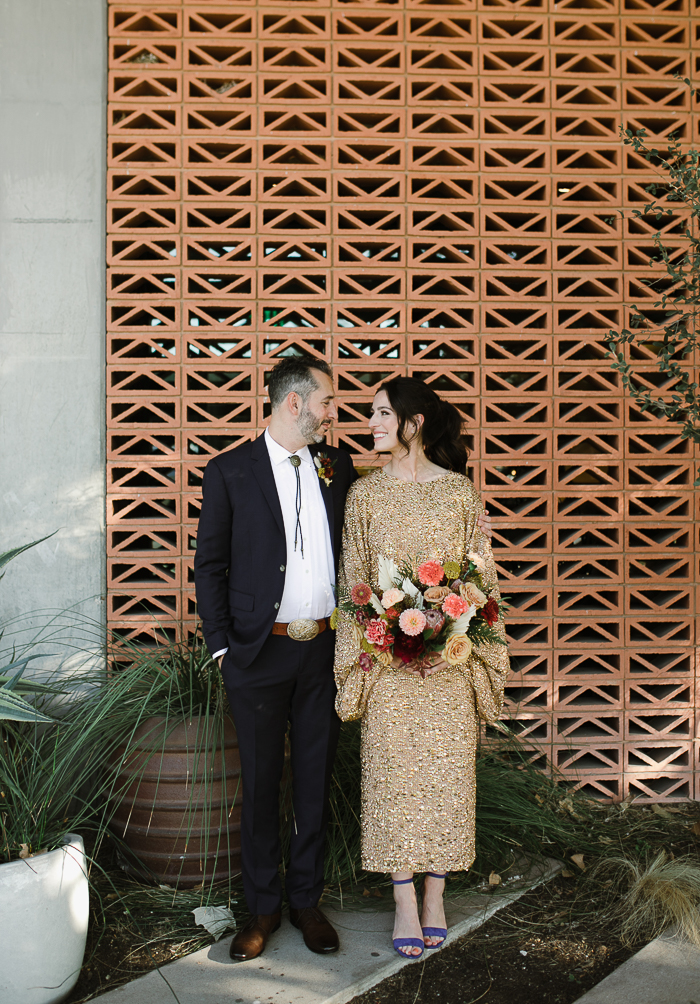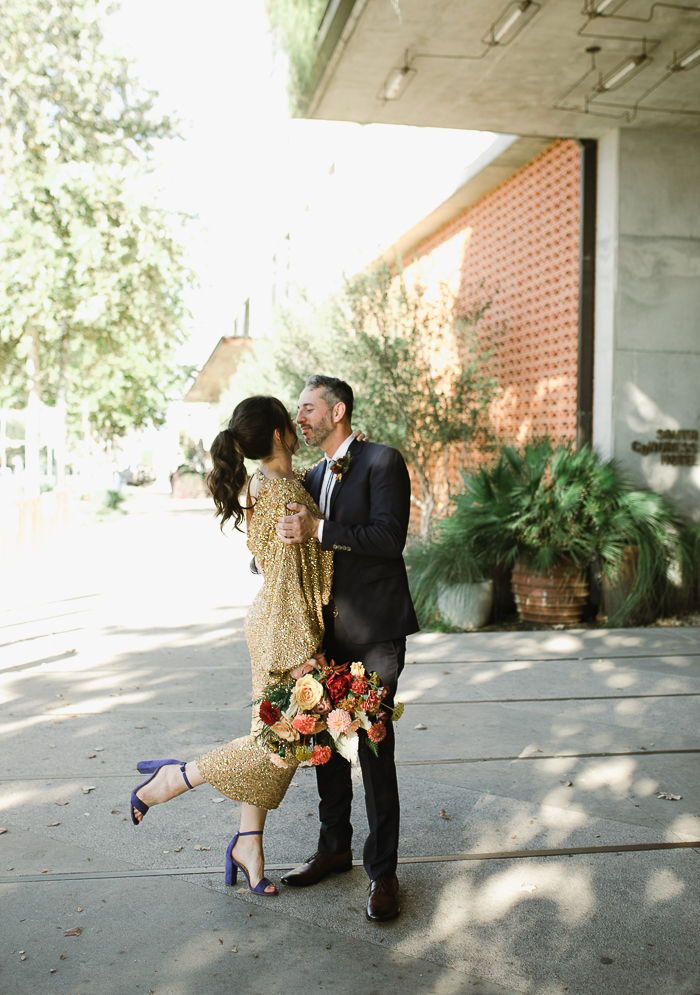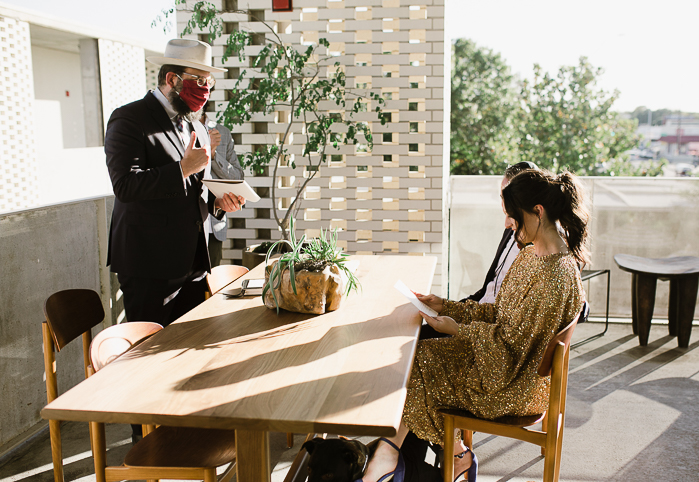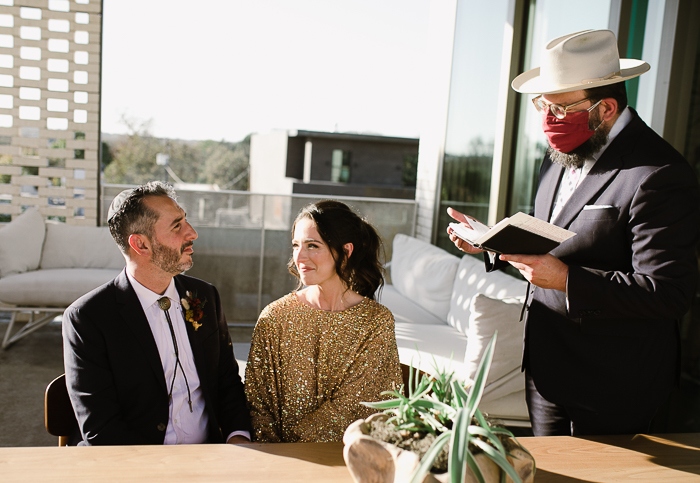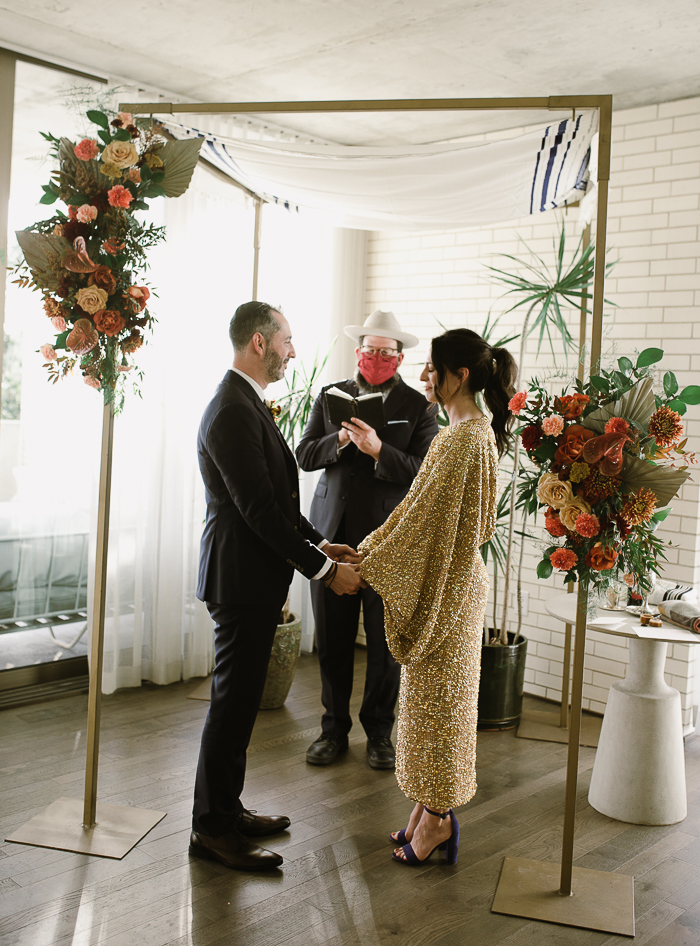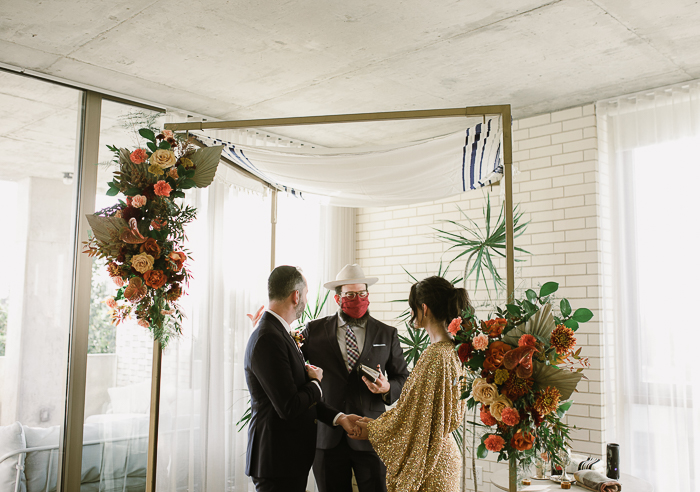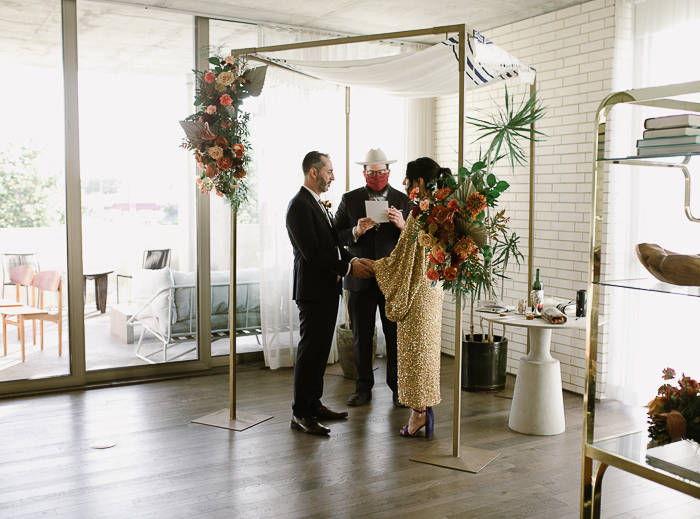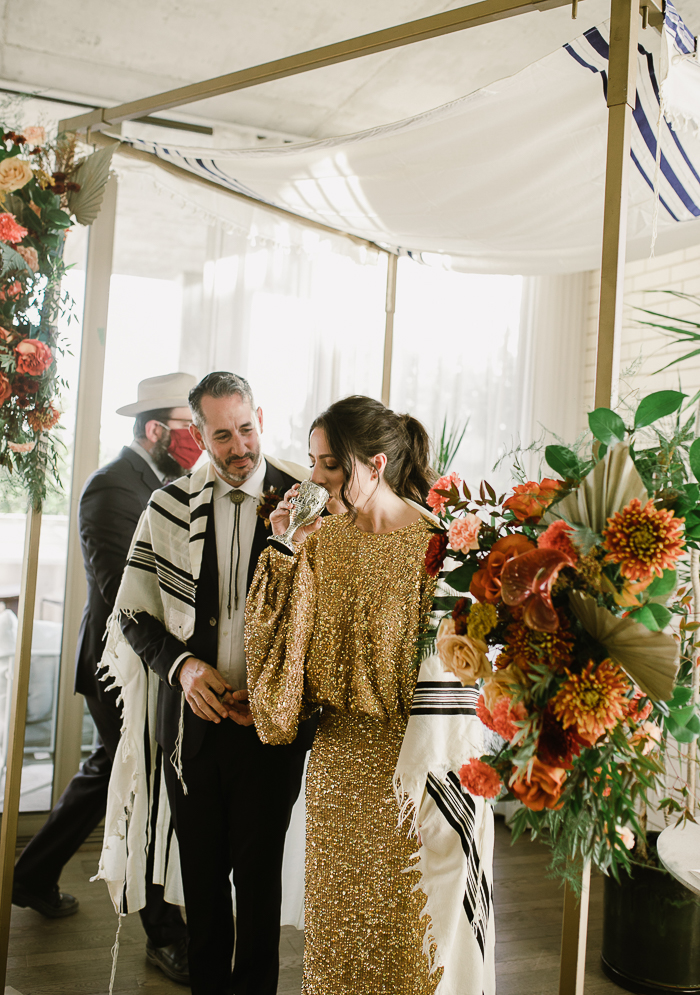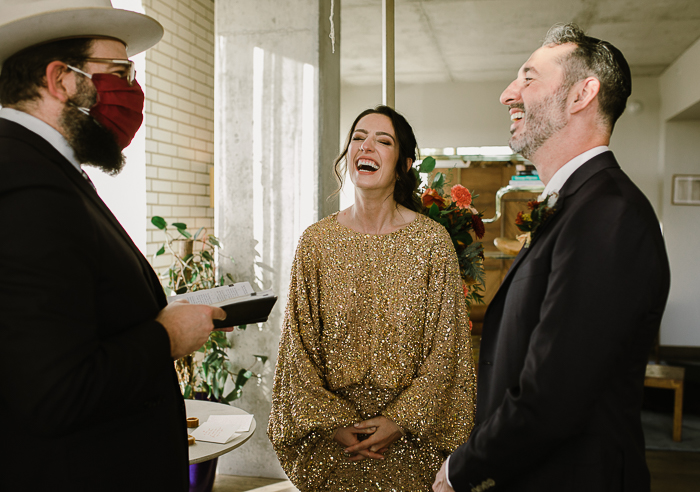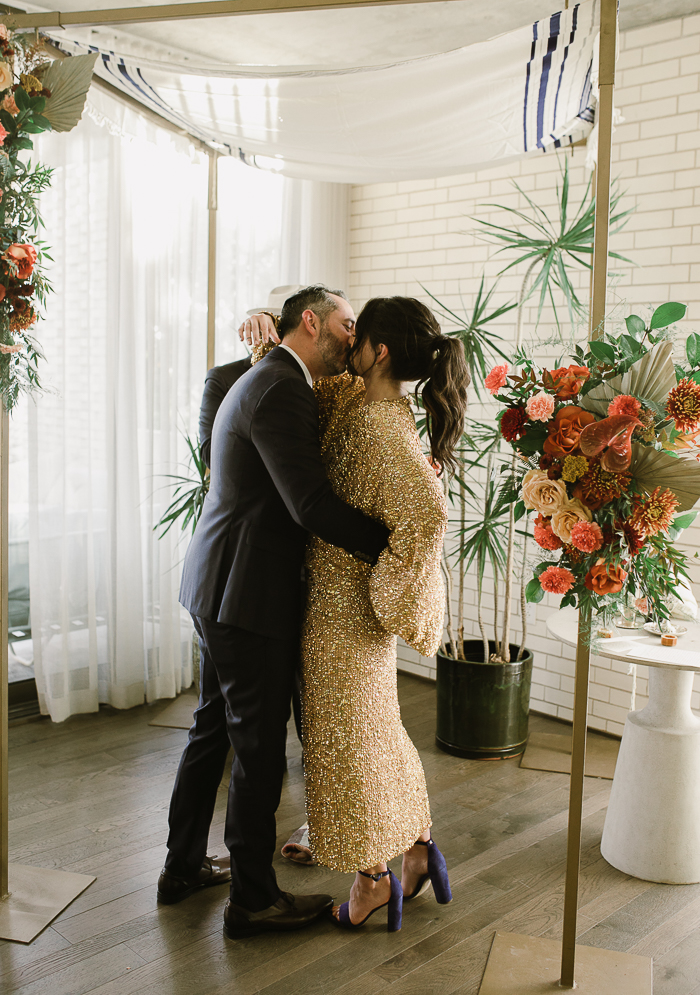 Why A South Congress Hotel Elopement
The South Congress Hotel had always been the inspiration for our original wedding. We loved the soft brass, warm greens, caramel leather tones, and the slight nod to Palm Springs in the different spaces. And while it wasn't the fit for Wedding 1.0, we saw this as our opportunity now that it was just the two of us! We booked the Milton Suite simply because it gave us enough space to stay and have our ceremony together. We also loved the large outdoor patio and wanted to utilize it as much as possible. In our original wedding plan and this elopement, we focused on selecting spaces that didn't need a lot of decoration and stood out on their own as incredible backdrops.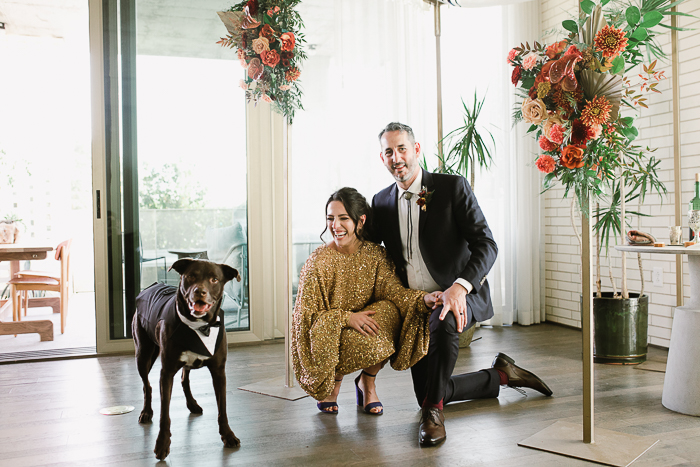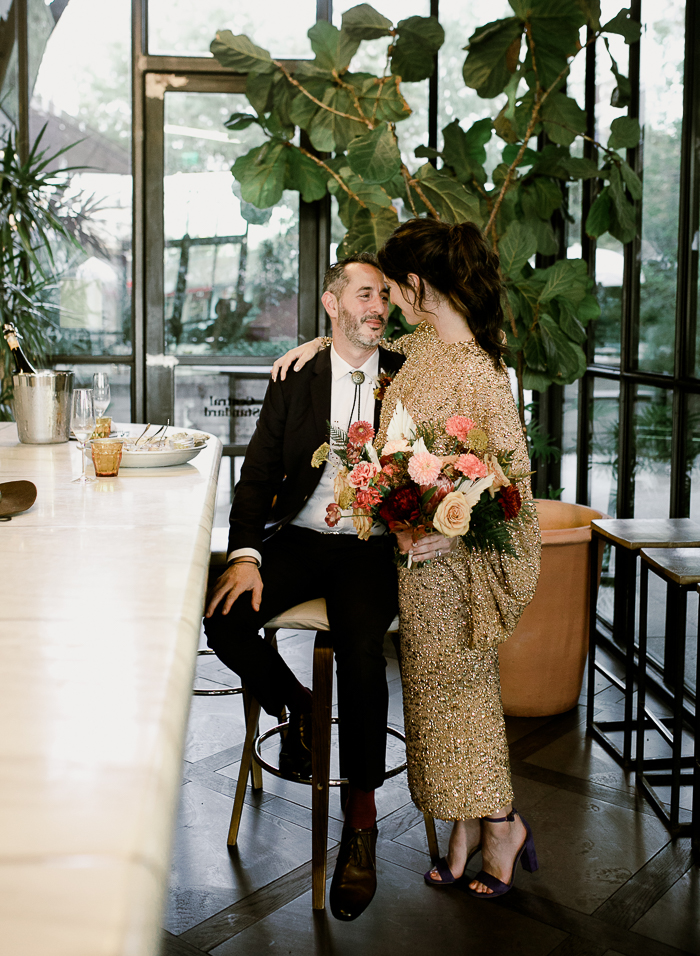 Incorporating Date Night Traditions
One of the cornerstones of our relationship is what we like to call a "Bite and a Bev." Yoni and I absolutely love doing restaurant crawls where we sit down at the bar at a packed or popular spot, order one drink each and one small plate, get the check, and move on. To incorporate that into our elopement, we asked the hotel if they would let us sit at the bar at Central Standard. The restaurant was closed that day, but the amazing team there worked with us to set up a plate of oysters (one of our favorites) and a bottle of champagne to enjoy after the ceremony. Some of my favorite photos are of us, post-ceremony, sitting at a restaurant bar and enjoying our favorite foods together. If anything captures us it's these moments.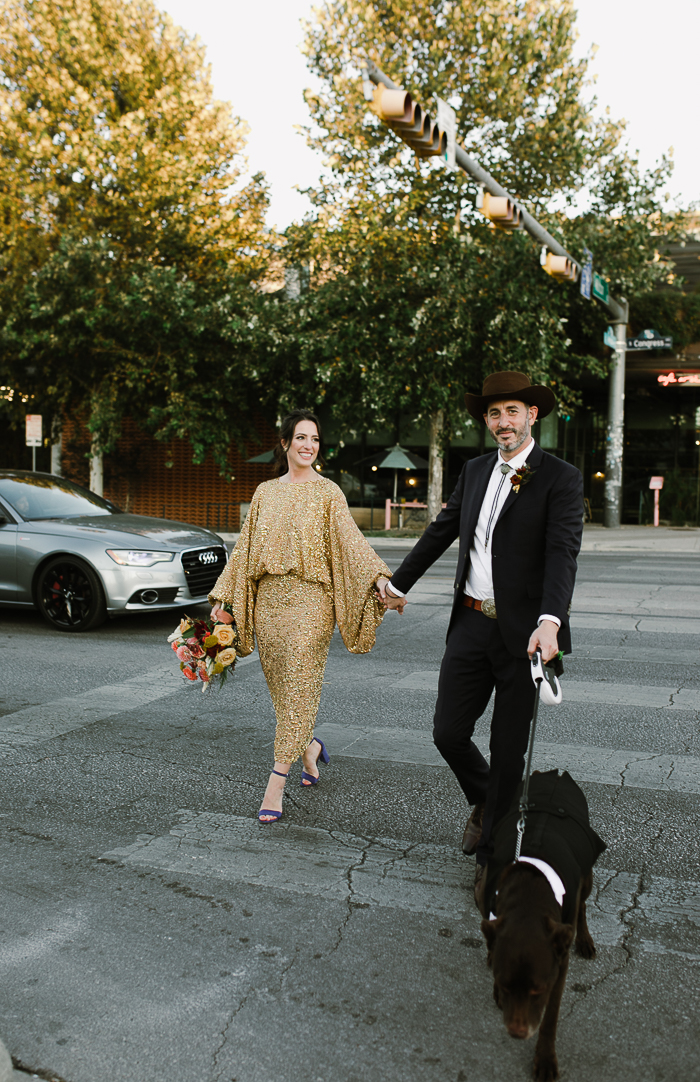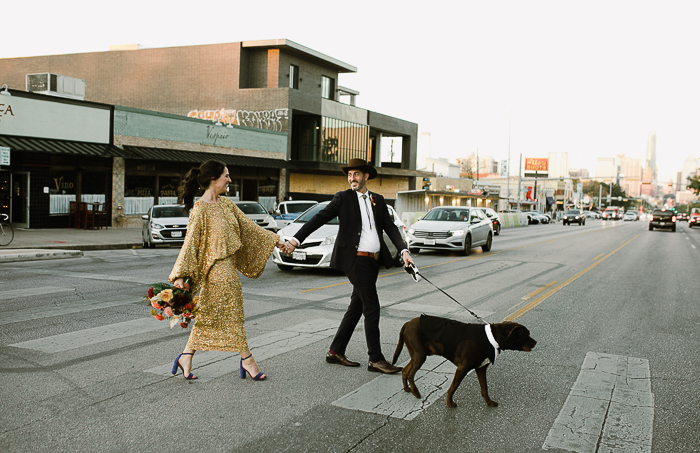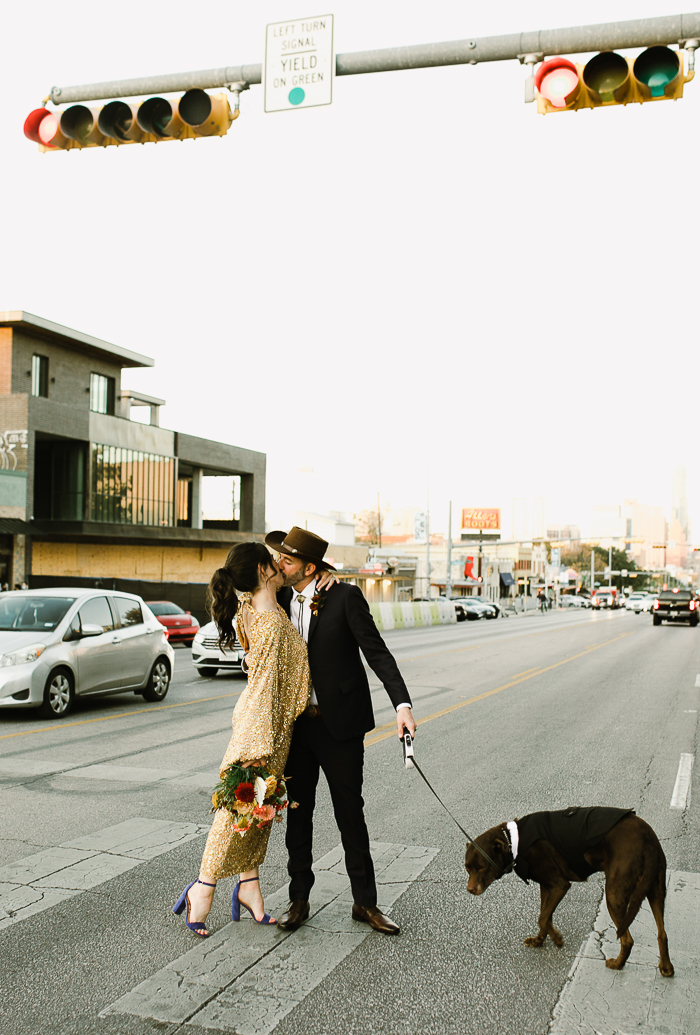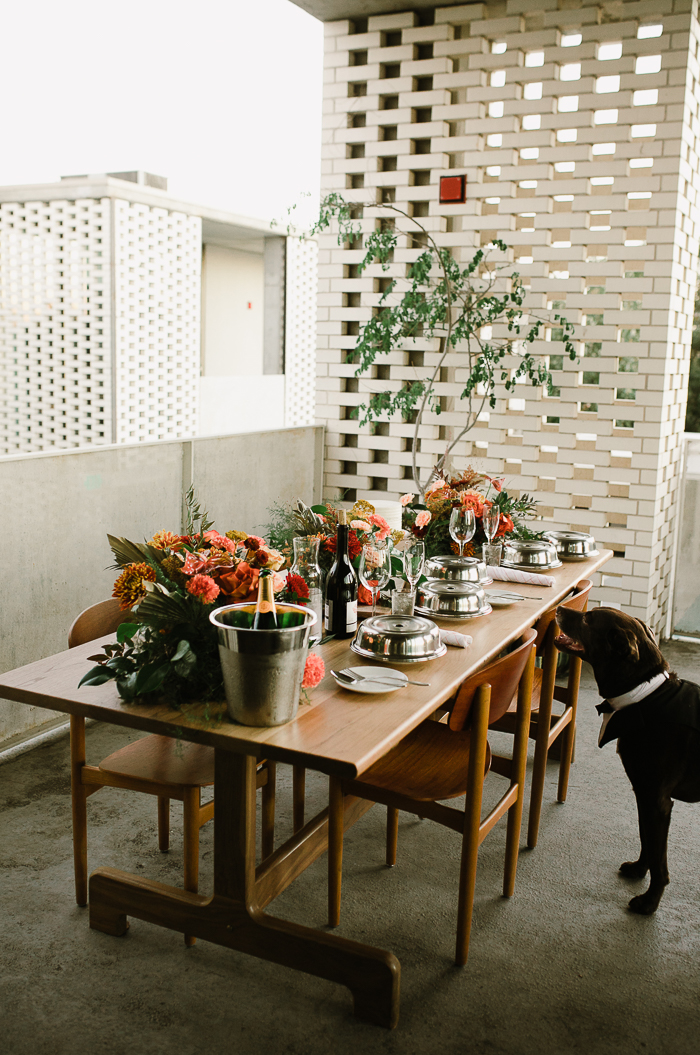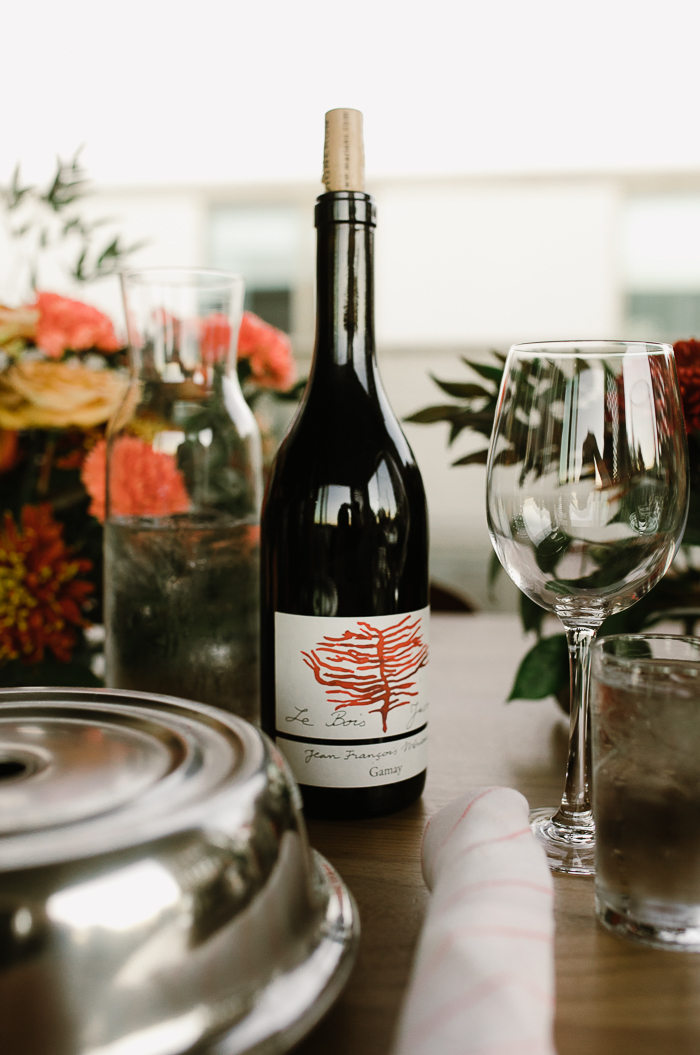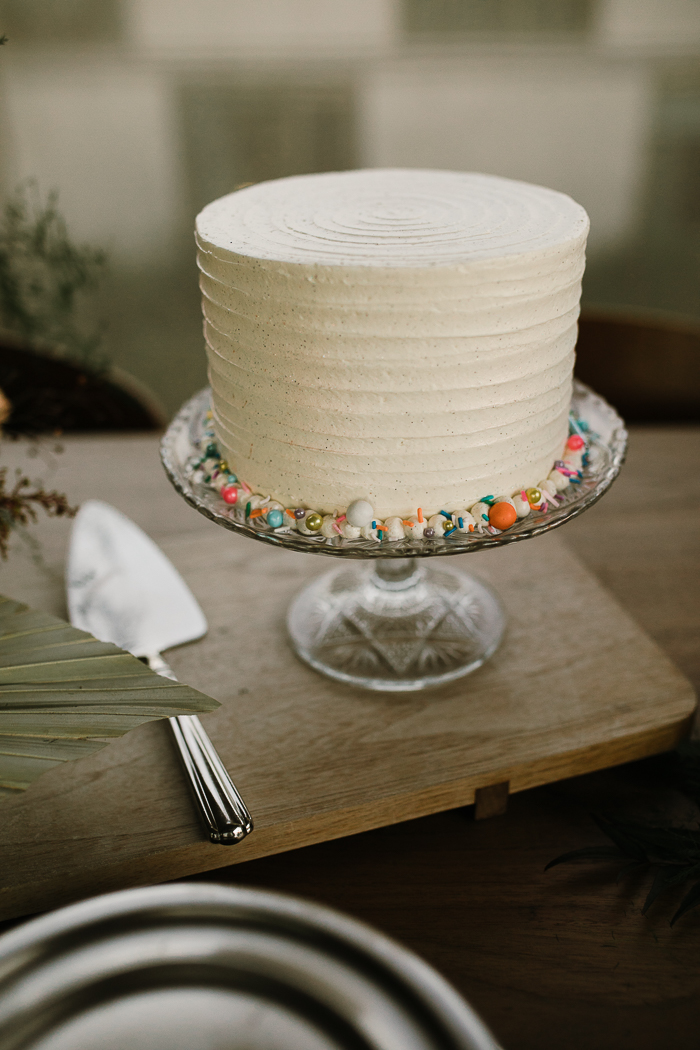 Working With Junebug Member Amber Vickery
Amber is incredible. We chose to work with her because I loved that her photos felt almost documentary in style, with a balance between film and digital. We wanted someone who could capture the candid moments but also knew how to help us pose (we're kind of awkward). We did not want a photographer who was in our face but someone who knew how to capture from a distance. It was one of the best decisions we made to work with her. On top of that, she is just a genuinely amazing person. We continue to keep in touch and share book recommendations!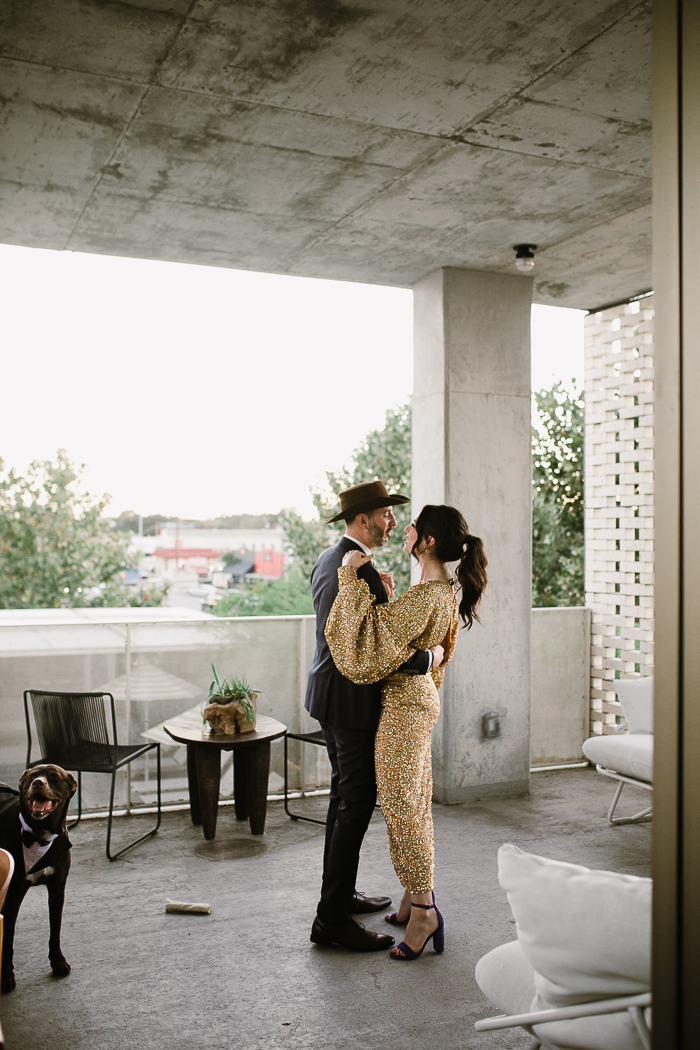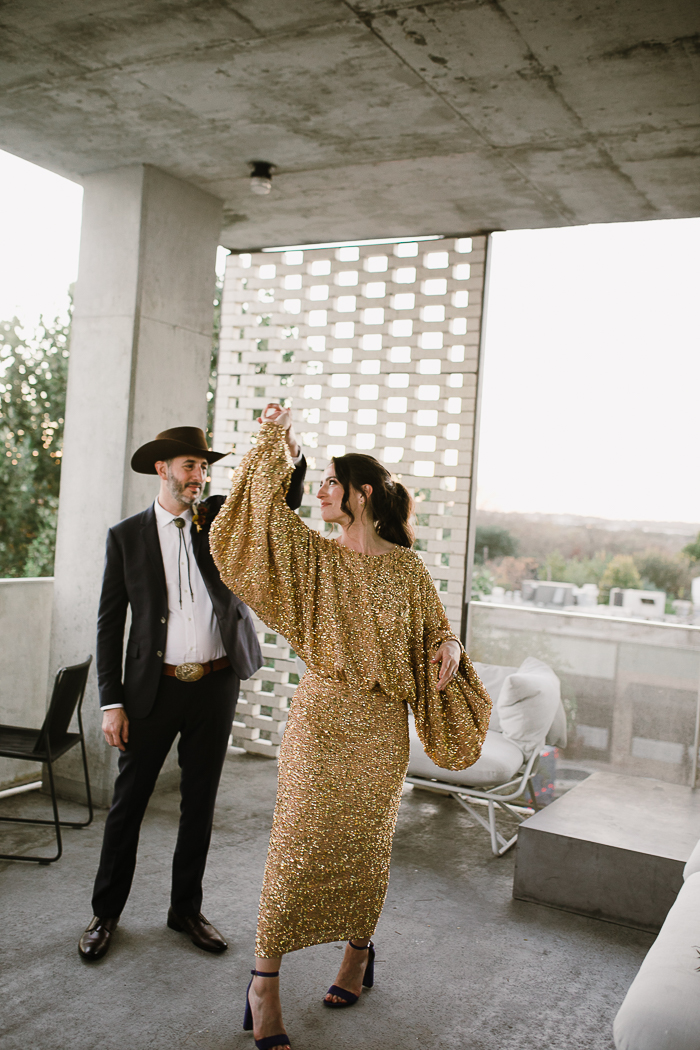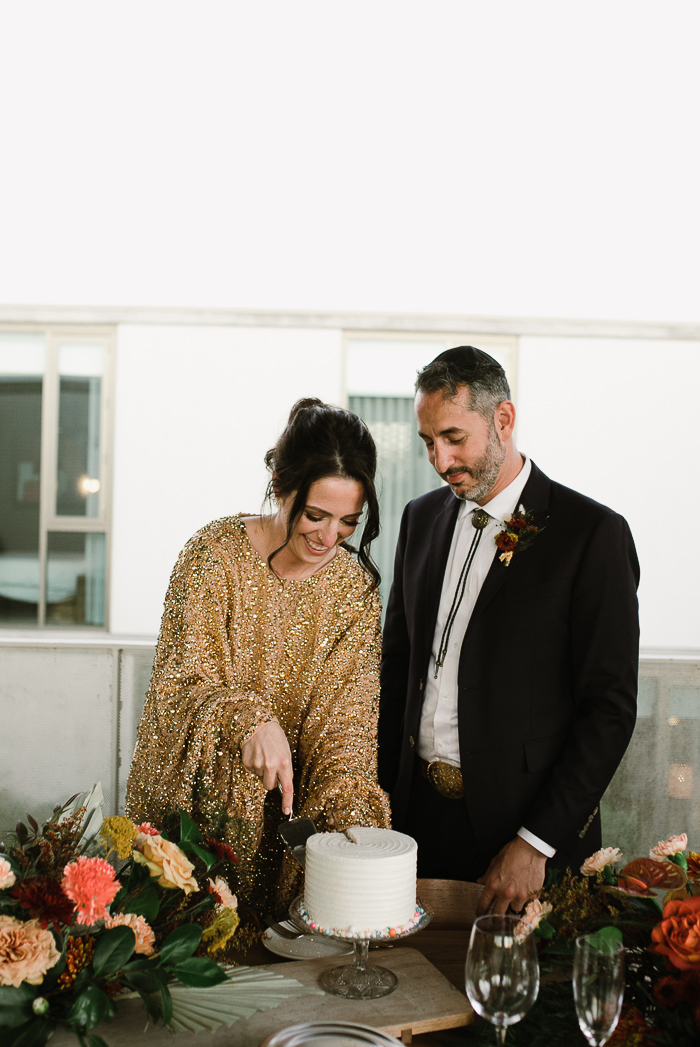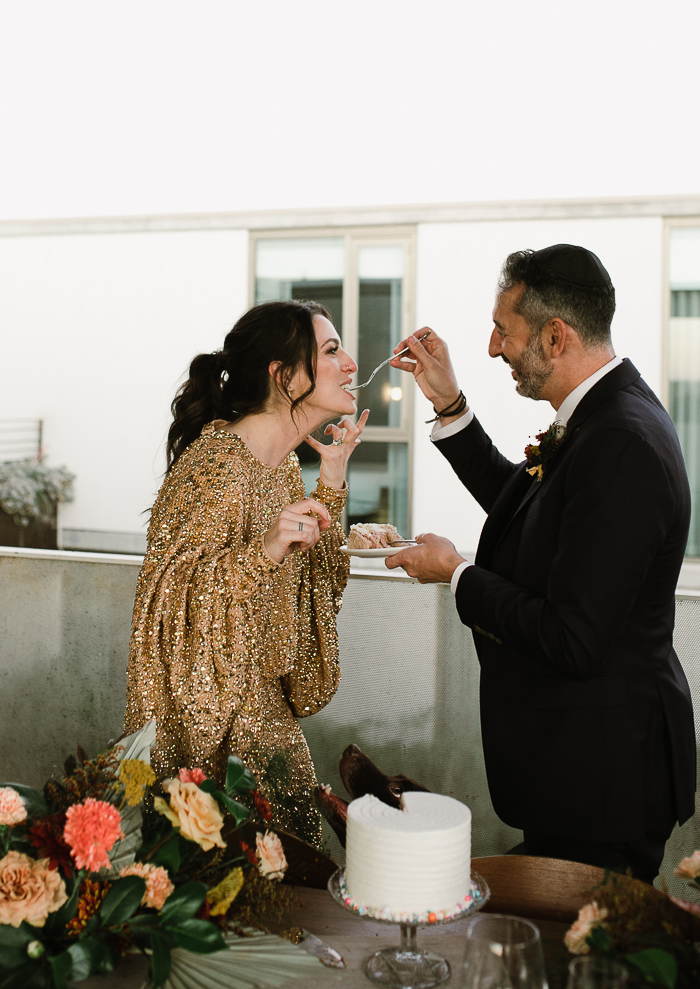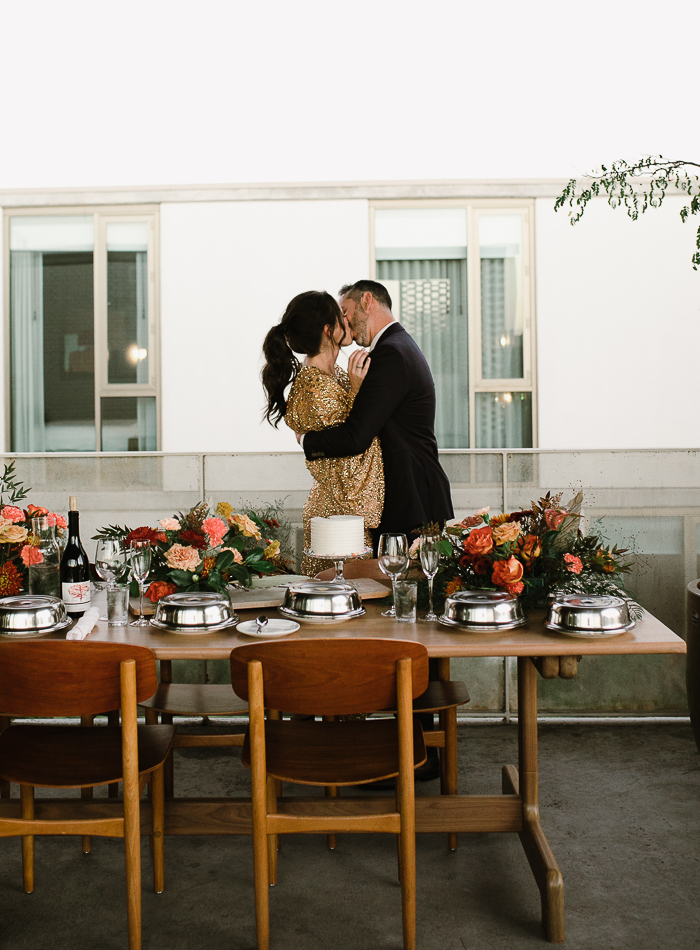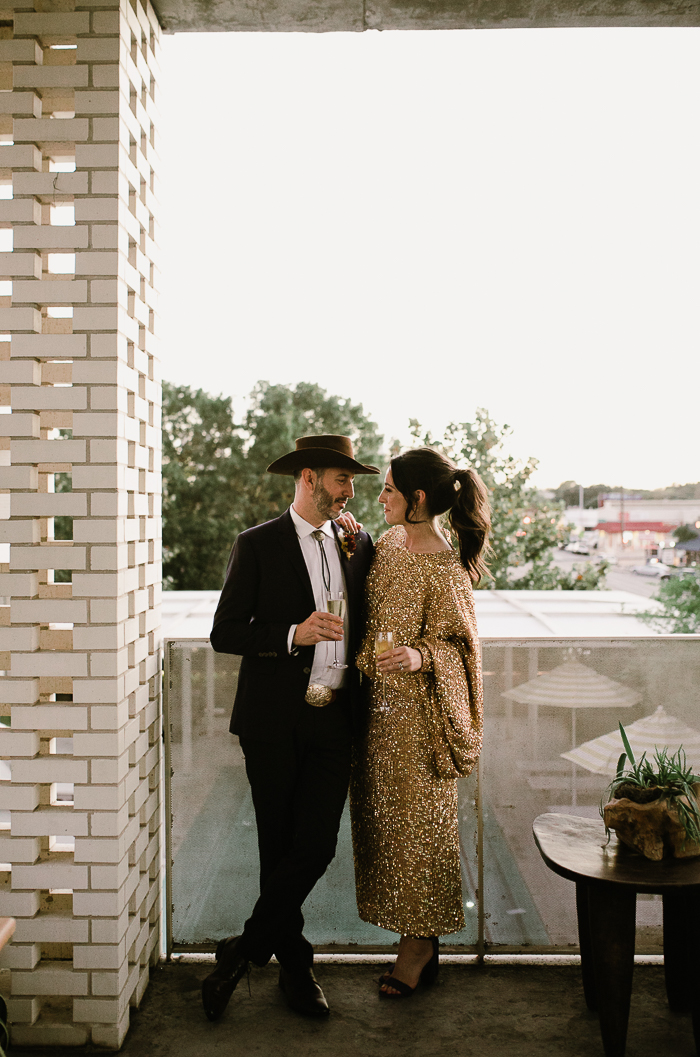 Congratulations again to Becca and Yoni on their stylish South Congress Hotel elopement! We're so thankful that Junebug member Amber Vickery Photography was there to work her magic and capture every detail of this special day. To see more of Amber's work, check out her profile in our directory of wedding photographers from around the globe! And don't forget to check out our elopement planning guide.