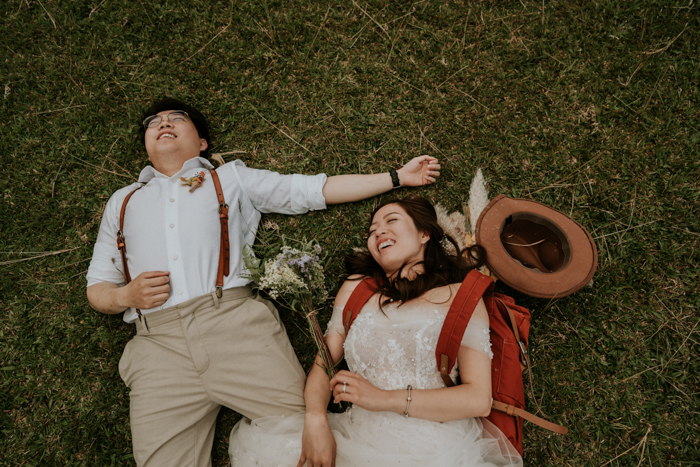 photo by Hipster Wedding
Close your eyes. Imagine the best day of your life. Not in a grand extraordinary way, but in a way that's somehow completely ordinary but magical at the same time. Think about what you love doing with your person, and the things you each enjoy as individuals. Your elopement day should be all of those things wrapped into one. It should be a day that makes you feel most alive and seen for exactly who you are. If you're struggling to think of those ideas (don't worry, we know it can be overwhelming!), we are here to help.
These elopement ideas will help your small wedding feel oh-so-special:
Make it an all day thing
Have a first look
Get ready together
Play your favorite game
Involve your loved ones
Write your own vows
Hire a musician
Read on for even more!
Make it an all day thing
If you're choosing to elope, you likely don't have venue times to adhere to or a lot of people's schedules to work around. Make this entire day about the two of you. Dream up your most perfect day together, and get ready to make some memories. Pro tip: Hire a photographer who's down to third wheel the entire day (or weekend) with the two of you. We promise you're going to want all the moments captured.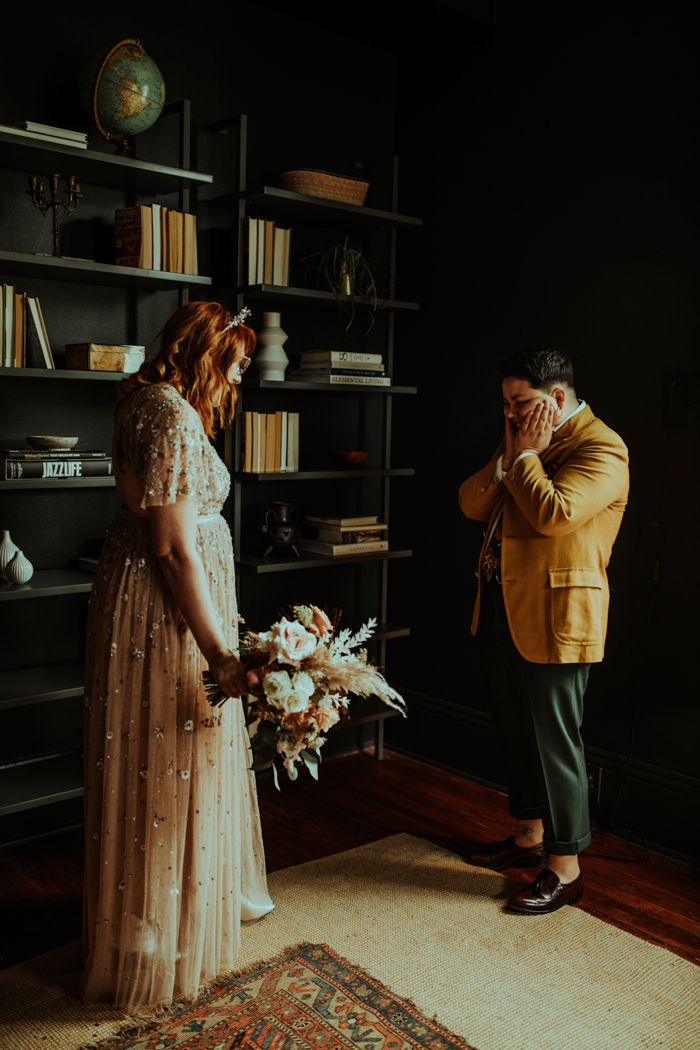 photo by Maggie Grace Photography and Summer Leigha Photo; see more of this real elopement here!
Have a first look
First looks can be an incredibly sentimental moment. And also a way to make your elopement a little bit more similar to a traditional wedding day. While you're getting ready apart, you have time to process the day individually before seeing each other. It helps build up the excitement for the big moments to come.
Get ready together
If you choose to forgo the first look and choose to truly spend the entire day together, getting "all done up" can be a really fun and sentimental part of your day. You're not just getting ready, you're getting ready to commit to forever. Spend the morning drinking coffee together. Find a space where the two of you can sit in the same room and talk while you're fixing your hair.
Play your favorite game before the ceremony
Do you and your person have a favorite game to play? Maybe it's cards or dominoes, or even Mario Kart! This is your day, so you might as well add in elements of all the little things you love to do together. You might not love those things forever, so this is the time to document them as a part of your history.
Involve your loved ones
Whether you choose to invite a few of your favorite people or involve them from a distance, sharing the happiness of this day can be incredibly rewarding for everyone. If you're choosing for your loved ones to not be a part of your day physically, you can have them write letters for the two of you to read or tune into your day via FaceTime!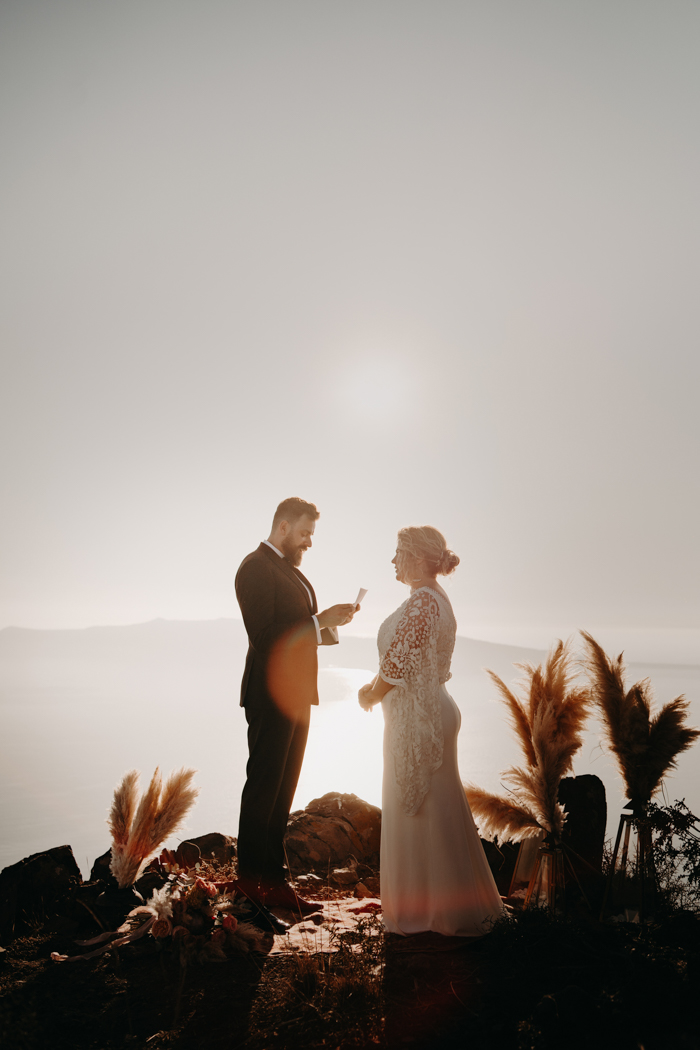 photo by Laurene and The Wolf; see more of this real elopement here!
Write your own vows
If you're choosing to elope, you probably already realize the importance of this day being about the two of you. Writing your own vows will not only make your ceremony that much more special, but it will give you something to look back on for years to come and remember the promises you made to each other that day.
RECOMMENDED READING: Vow Writing Tips from Wedding Experts
Hire a musician
The beauty of an elopement is that you can spend your money where it matters most to you. If you're into live music, consider hiring someone to play your ceremony or first dance. Intentional decisions like these can help make your day feel extra special.
Incorporate your unique talents
Do you sing or plan an instrument yourself? Maybe you're a photographer or artist. If you have a creative talent (even cooking a dang good breakfast is a skill!), incorporating it into your elopement day can be something that people look back on for years and really see YOU in your day.
Celebrate after your ceremony
You did it! Instead of rushing away to take photos immediately following the ceremony, you have time to do whatever you want. Set up a picnic, pop a bottle of champagne, or bump some music and dance like no one's watching. Let the weight of this moment sink in by giving yourselves some time to celebrate.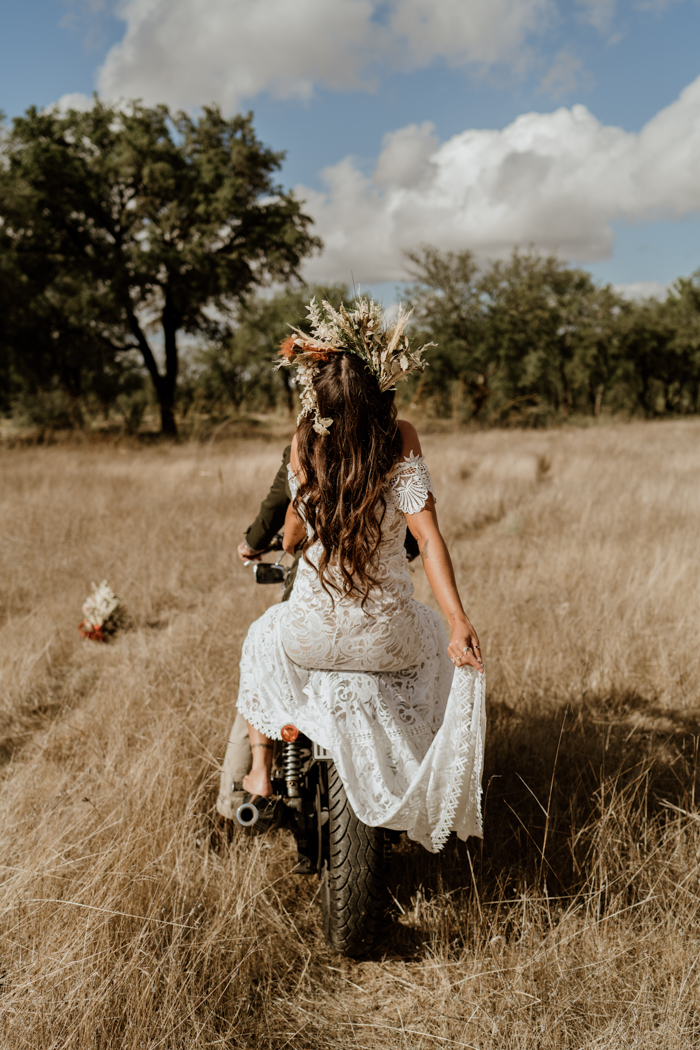 photo by Mémorelle; see more of this elopement inspiration here!
Rent a badass getaway car
There's something utterly romantic about riding off in a rad vehicle after saying your "I do's." And if you've ever dreamed this dream—make it happen on your elopement day! Not only will it make you feel mega cool, it will make for totally awesome photos, too.
Plan a few surprises
A little unexpected surprise—whether it be sentimental or just fun—can spice up your day in the best way! We love when couples plan something their partner doesn't know about. It's both enjoyable to plan and see unfold on the day-of.
Incorporate an outfit change
When you have the time to change, why not switch up the vibe after your ceremony? Especially if you have other activities planned for the day, a wardrobe change can help you feel like the parts of the day are each their own.
Need help finding that second outfit? We've got you covered. These wedding dresses and jumpsuits can totally transition your wedding day attire from day to night.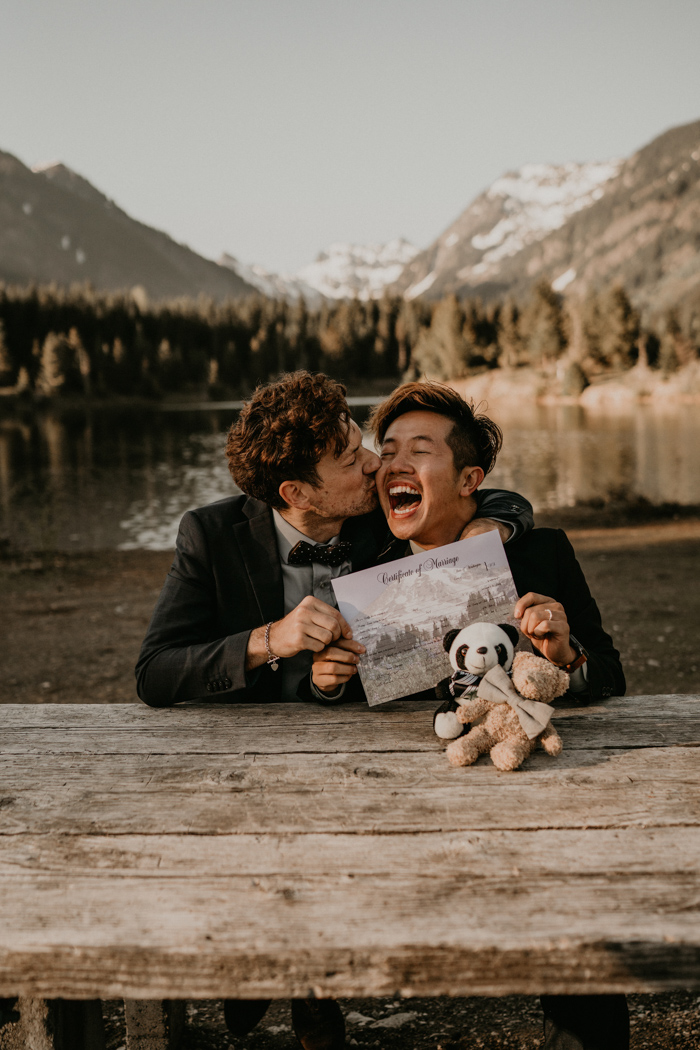 photo by Henry Tieu Photography; see more of this real elopement here!
Do something fun together
If you've adventured somewhere epic for your elopement, going on a hike or pitching a tent and making s'mores might only feel natural. Even if you stayed close to home, you can incorporate a fun activity into your wedding day evening! Maybe you go see a movie, hit up your favorite brewery, or snuggle under the stars. We love even the most simple of elopement day activities.
Eat the cake
Just because there's only two people to eat cake doesn't mean you can't have one (and eat all of it, if you choose!). The pro to ordering a small cake for your wedding day is that you can go pretty all-out on the design and not break your budget.
RECOMMENDED READING: 25 Small Wedding Cakes that Will Make You Swoon
Dance
Choosing to have a first dance can be another way to keep a little sentiment of the traditional wedding day. Even if you're dancing in your Airbnb kitchen or through the streets of New York City with your iPhone playing the tune, we love to see our couples express their connection by dancing with each other on their wedding day.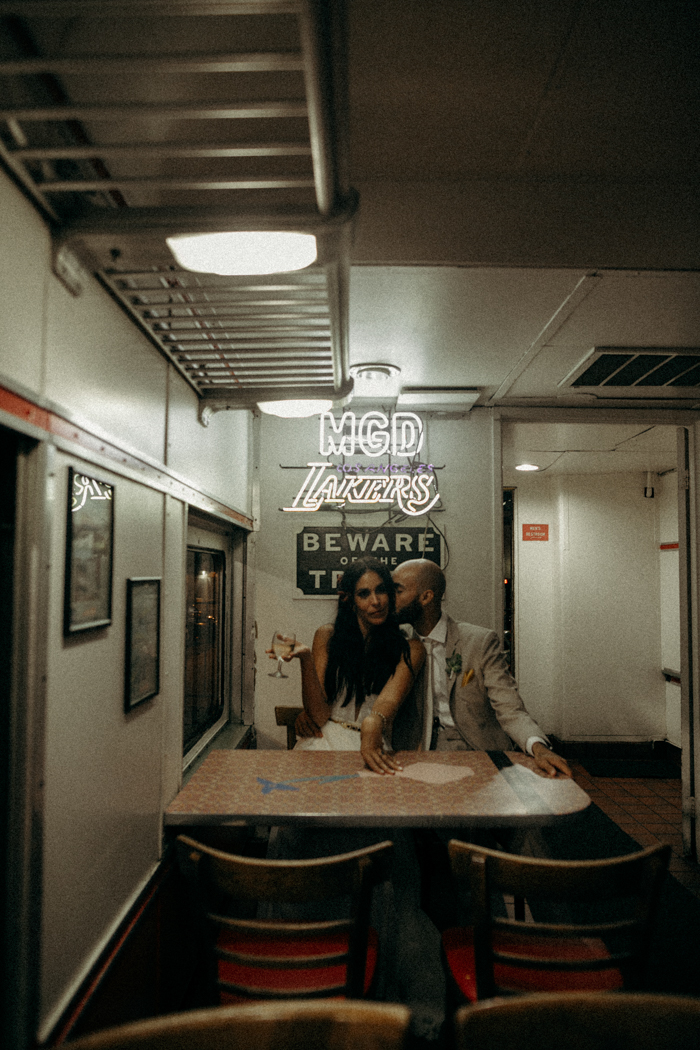 photo by Joe + Kathrina; see more of this real wedding here!
Get late night snacks
Late night snacks are always a good idea. In our books they are, anyways. Sneak away to your favorite local restaurant, go grab fast food, make your own pizza, whatever you do, today's the day to eat all your favorite foods and drink all your favorite drinks!
We hope these elopement ideas have inspired you to make your small wedding extra special. Looking for more? Check out these must-read articles:
20 Intimate Elopements That Prove Less Can Be More
30 Courthouse Wedding Dresses That are Simple + Special
The Ultimate Elopement Planning Checklist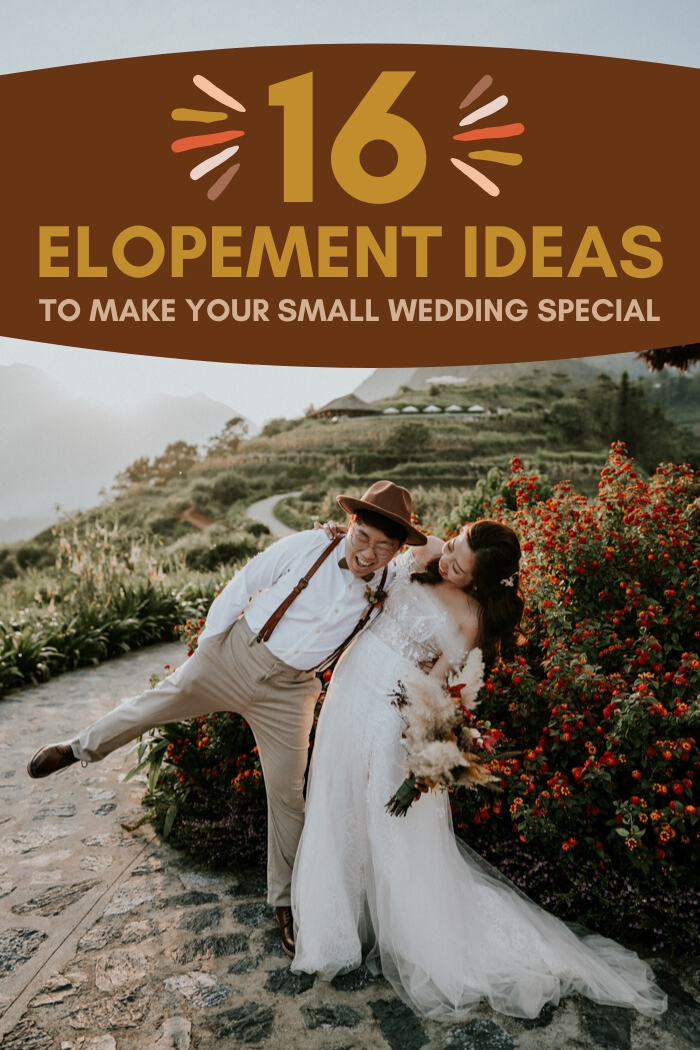 photo by Hipster Wedding