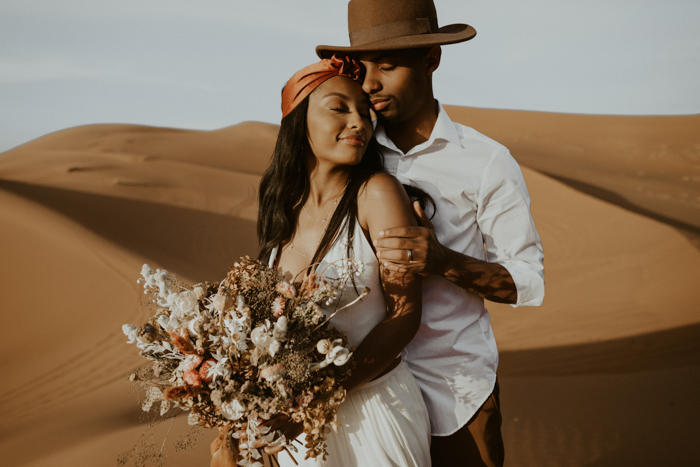 Photo by Anni Graham Photography. See more of this elopement planning inspiration here.
When it comes to elopement planning, there are far fewer details to worry about than traditional wedding planning. But, there are still a few things you'll need to figure out before your big day! From location and accommodation to attire to actually making your marriage legal–each are equally important pieces of your elopement. We've put together this elopement planning checklist to help you through it all. If you're working on a destination elopement planning, we also recommend these tips that no one tells you about planning a destination wedding. Let's get started.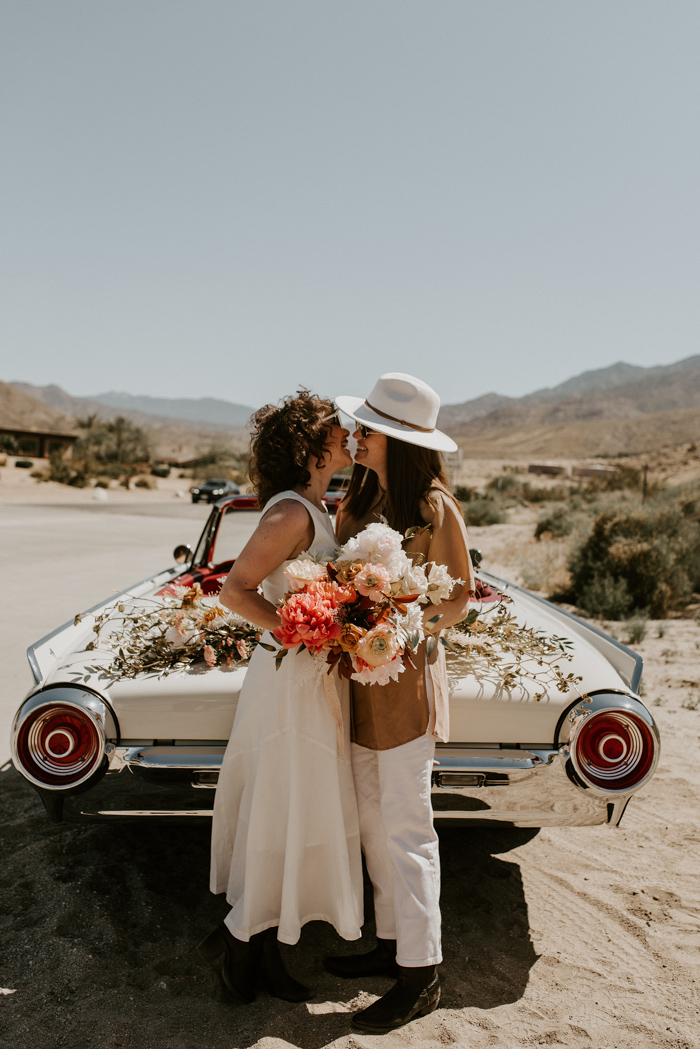 Photo by Anais Possamai Photography. See more of this real elopement here.
Location Elopement Planning
Choose a place that is meaningful. It could be where your partner proposed, your first vacation destination, or a location that's been on your bucket list for years.
Use your favorite season as a guide. Because you'll be out in nature, you should choose a date that you'll feel comfortable outside! If you want to get married in the mountains but hate cold weather, opt for a summer wedding. If you love the idea of a desert adventure elopement but don't want to break a sweat, choose a fall or winter date when temperatures are cooler. When doing your research on seasons in specific regions, be sure to look at average temperatures, rainfall averages, and so on. While you can't guarantee the weather on your elopement day, you'll have a better chance of getting ideal weather if you plan ahead!
Research the best time to visit. Beyond making sure you'll have nice weather, you'll want to check things like peak seasons and local holidays. If you're going to a remote location, crowds might not be much of a concern, but local holidays–especially in smaller towns or villages—could make it harder to find accommodations, food, and so on. If you're going to a place that's guaranteed to have lots of adventure-loving tourists, we recommend looking into a date in the shoulder season so you'll have a better chance of securing the location—and tourist-free photos—you want.
Have a vow exchange spot in mind. We recommend having at least one spot for your vow exchange scoped out so you and your photographer know what to expect. Even better–have two or three spots picked ahead of time so you can make a spontaneous decision.
The Guest List
Decide the guest list. Chances are, if you're eloping–especially in an adventure elopement–you won't be inviting many guests. But, if you're looking for a way to have your nearest and dearest with you without taking away from the intimate elopement feel, simply give each guest a role. Ask your best friend to be your officiant, your sister to be your hair and makeup stylist, or your mom to be your coordinator for the day. This way, you can have the people you love around you without needing to also make space for vendors
Travel & Accommodation
Buy or coordinate transportation. Think about whether or not your destination is close enough to drive to or if you need to book flights. If you are tying the knot internationally, it's best to buy your flights 4-6 months in advance to get the best deal.
Book Lodging. Book a hotel or Airbnb for your pre- and post-elopement stay if you feel like turning your special day into a romantic getaway with you and your new partner for life
Vendors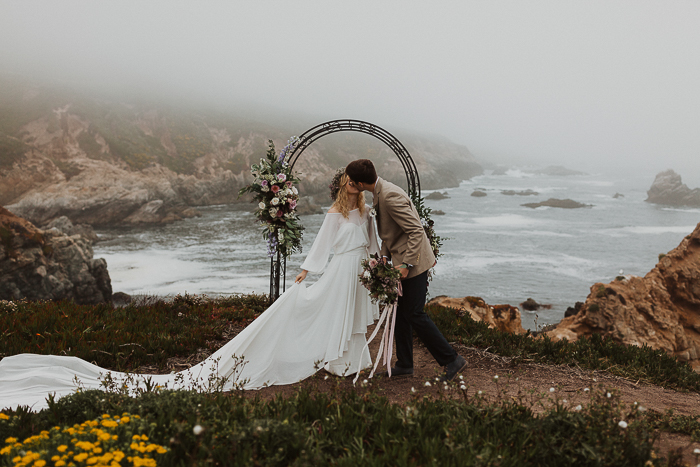 Photo by Zoe Steindl Photo. See more of this real elopement here.
Elopement Attire, Beauty, and Glamour
Junebug Tip:
Don't forget post-ceremony celebration drinks! We love In Good Taste wine for elopements because you can easily pack and carry them to your destination. Each bottle comes with a cork top that is easy to open and holds two glasses of wine—or one very full glass. You can create your own pairings to enjoy while soaking up your newlywed love.
Ceremony Elopement Planning
Figure out your officiant. The officiant is an important piece of your elopement. There are many options for this important part of your day. Hire an officiant, choose someone close to you both, or act as your own officiant—only some places allow this. If you're opting for someone close to you, consider asking a loved one to officiate. They'll be touched that you want to include them in your special day.
Write your vows. We will never tell you what to do. We'll instead strongly suggest that you should write your own vows. It's the easiest way to personalize the ceremony and express your intimate emotions towards your significant other.
Buy wedding rings. This one is a given, but this wouldn't be a checklist without it. Don't forget those wedding rings!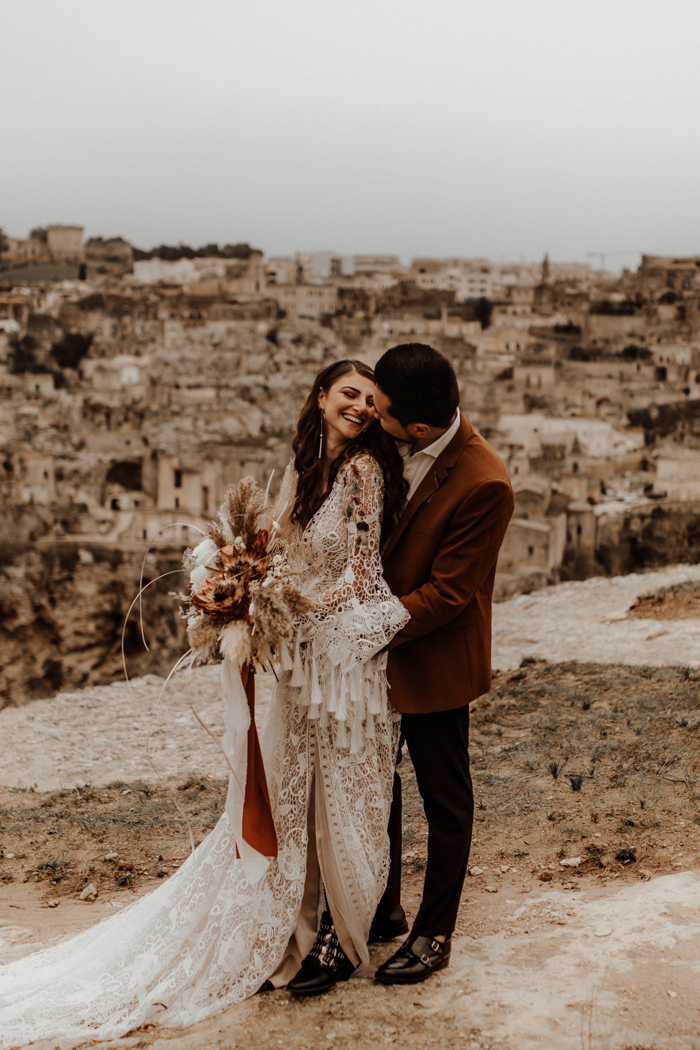 Photo by Sarah Everything Photography. See more of this elopement inspiration here.
Legal Items To Remember
Get your marriage license. It's crucial that you get your marriage license within the specified window of time for your wedding location.
Determine whether you need a witness. Marriage laws vary by state and by country so do your research to determine whether you need a witness or two before you jet off to tie the knot.
Ensure your officiant is legally authorized to perform the ceremony. By law, officiants must be authorized to perform wedding ceremonies. Be sure that yours is!
Collect all other legal documents you might need. Depending on your destination, you may need legal documents such as birth certificates, affidavits, blood tests, visas, etc.
Post-Elopement
Plan a sweetheart celebration or a post-elopement party. We love intimate picnics as a post-elopement celebration. Even if you are planning on having a reception later on with friends and family, take the time to plan a quiet celebration as newlyweds.
Call your parents, closest family, and friends. If you are not intending on hosting a party, call your closest family and friends and tell them right away. Although they may be upset at first, they're ultimately going to be so happy for you.
Send announcements to share the good news with everyone else. Don't forget to announce to your friends, loved ones, and colleagues that you've eloped.
Feeling a bit overwhelmed? We just covered a lot of to-dos. Take a deep breath and repeat after us, "Junebug is here to help with everything." We've got you! Save this checklist below to work from as you're planning. Then look through these 20 intimate elopements that prove less can be more and that the temporary stress of planning will be worth it. Plus, don't forget: you're not alone.