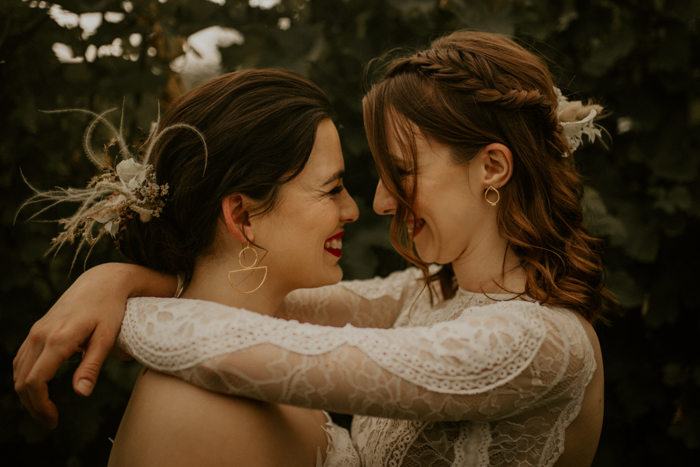 photo by Unbridled
When it comes to choosing your bridal hair look, we know you've probably pinned a ton of styles, or maybe you are choosing to go with a look that "looks like you." Are you are torn between ideas? We're here to help, babes! We chatted with expert stylists around the world to answer your most-asked bridal hair questions! From transitioning your look from day-to-night to how to prepare your hair for the big day, our stylists have got you covered.
Q: How should I prepare my hair for my wedding day?
A: "I get asked this question a lot and I always try to educate my clients on the importance of prepping their hair based on the specific hairstyle that they are hoping for. Firstly, the myth of having day old dirty hair is a thing of the past. I highly recommend coming to your wedding day appointment with clean, dry hair. I also always recommend prepping the hair with either a volumizing mousse for those with thicker hair or a texturizing spray for those with thinner hair. This will allow your hairstylist a clean, well-prepped canvas to create your dream hairstyle on." — Breanne Petersen, Cassidy Watt Artistry Collective
A: "For my clients with straight hair, I prefer that their hair is "one day dirty" meaning they have washed and dried their hair the day before the trial/wedding date. However, for clients whose hair becomes very oily after just one day, I suggest that they wash and dry their hair the morning of their appointment. For clients with curly hair, who want to keep their natural curls intact, I suggest they wash and dry (using a diffuser) their hair the morning of, as well as utilize their preferred hair care products." — Mandi Neuhardt, Beauty Brigade
A: "This is one of the main questions I get asked, as some brides prefer to only style their own hair, without the use of hair extensions. There is a common misconception that Afro hair does not grow. The average hair growth is 1/2 an inch a month, so the amount of time a bride has does play a factor with how much hair growth can be achieved. There are many things that can be done from taking vitamins, including certain foods in their diet, knowing your hair type, finding the right products and having a good hair routine that is consistent is very important. There are current hair trends within the natural hair community, such as using black rice water for hair growth. However, there are many different options, so research and investigation is the key to finding the best solution for you." — Aina.M, Brides by Aina.M
Q: I am torn between styles, should I wear my hair up or down?
A: "There are a few factors to consider, when making this decision. So I like to ask my clients these questions in order to help them make a decision:
Weather/time of year: Will it be hot and humid? If yes, opt for an updo!
Hair texture: Does your hair hold curls well? If so, then go for that down style! If not, I'd suggest an updo or braided style.
Wedding dress cut or style: You just paid thousands of dollars for that amazing dress with the open back: SHOW IT OFF! Don't want a full updo? Opt for a side swept style!
After answering these questions, if you really can't make a decision between styles, then change your style between the ceremony and reception! Start with an updo and have your stylist either stay or have them show you how to create a different style after the ceremony." — Mandi Neuhardt, Beauty Brigade


photos by Dani Purington Photography
Q: Should I wear a veil/ hair accessory?
A: "This is such a personal option in my opinion, but I think if your accessory or veil has a meaningful story behind it, or you feel more "bridal" with it, then absolutely! Just know you don't have to have a veil. When you are standing in front of friends and family at the alter, that's when the back or profile view of the hairstyle you've been dreaming about will be the star of the show, so no need to cover it with a veil if you are not 100% sold on it." — Ashley Franke, Ash Franke Styles
SHOP BRIDAL HAIR ACCESSORIES: Deliziosa Accessori Diamond Side Hair Piece ($117.73); Savenchenko Design Bridal Hair Vine ($18.40); Wild Rose And Sparrow Eucalyptus Pearl Bridal Comb ($39.00); KEDR Flo Baby's Breath Hair Pins ($24.30); Kryle Kryle Pearl Bridal Crown ($61.20)
Q: How do I prepare my natural afro hair the night before my wedding day?
A: "This really depends on the hairstyle that will be created on the day of your wedding. This is not a one answer "fits all styles" solution. However, if a bride is going to have an updo, for example, I would suggest preparing the hair using the LOC (Liquid, Oil, Cream) method with products best suited to their hair type. This is the "tried and tested" way to lock in moisture and ensure that the hair is nourished and looking vibrant for the day ahead. It is always good to sleep with a silk hair bonnet or pillow to protect the hair from friction and fizzing. Some brides will already have a night time hair routine in place and know what products work for their hair. So its best to stick with what works leading up to their day but always happy to provide personal tips and tricks." — Aina.M, Brides by Aina.M
Q: Do all my bridesmaids need to have the same hairstyle?
A: "NO! Just like our favorite trend of mix and match dresses, jumpsuits, pantsuits, etc. hair is not one size fits all. While I always ask my brides to have a general idea of the vibe they want to portray (relaxed, ethereal, glam, etc.) I think this is a great way for attendants to express themselves a little more! I mean we loved them for who they are!" — Colleen Calder, Aphrodite Salon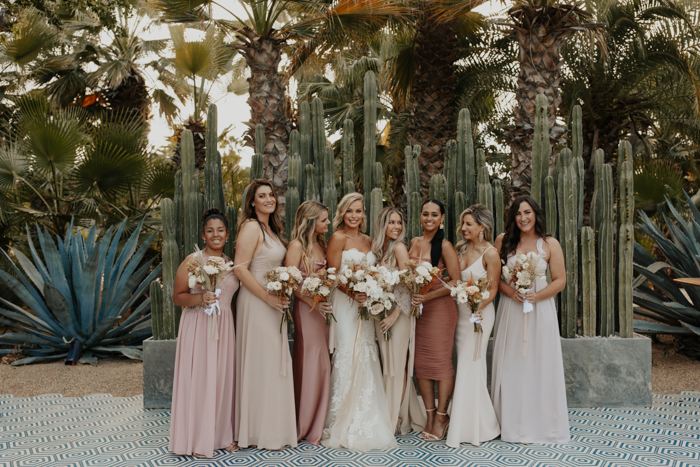 photo by Madeline Shea Photography
Q: Should I change my natural hair part to accommodate the hairstyle I want?
A: "If you are comfortable with the change, then absolutely YES! However, I have had many clients who see a style in a photo that portrays the opposite of how they wear their hair on a daily basis, and once I've styled it as the photo shows, they ultimately decide against it because "they don't look like themselves". So one question I am always sure to ask, is how do you wear your hair on a daily basis? This helps me determine their level of comfort to change, when designing a style unique to them!" — Mandi Neuhardt, Beauty Brigade
Q: My hair is really short, but I want a style that has length and volume. Can it be created?
A: "Afro hair is very versatile and it is an amazing canvas to be creative with. If a bride has short natural hair, I can create a beautiful bridal style by adding extra hair to construct their desired style. Hair extensions come in so many varieties, colors, lengths and textures to blend in with a bride's natural hair type. Hair can be added by weaves, clip in hair, padding or by simply using Bobby pins. The fun and possibilities are endless!" — Aina.M, Brides by Aina.M
A: "We really like hair extensions to give an extra volume and will help the hair to hold the waves/curls. Also it can help to construct better updos!" — Alex Corbanezi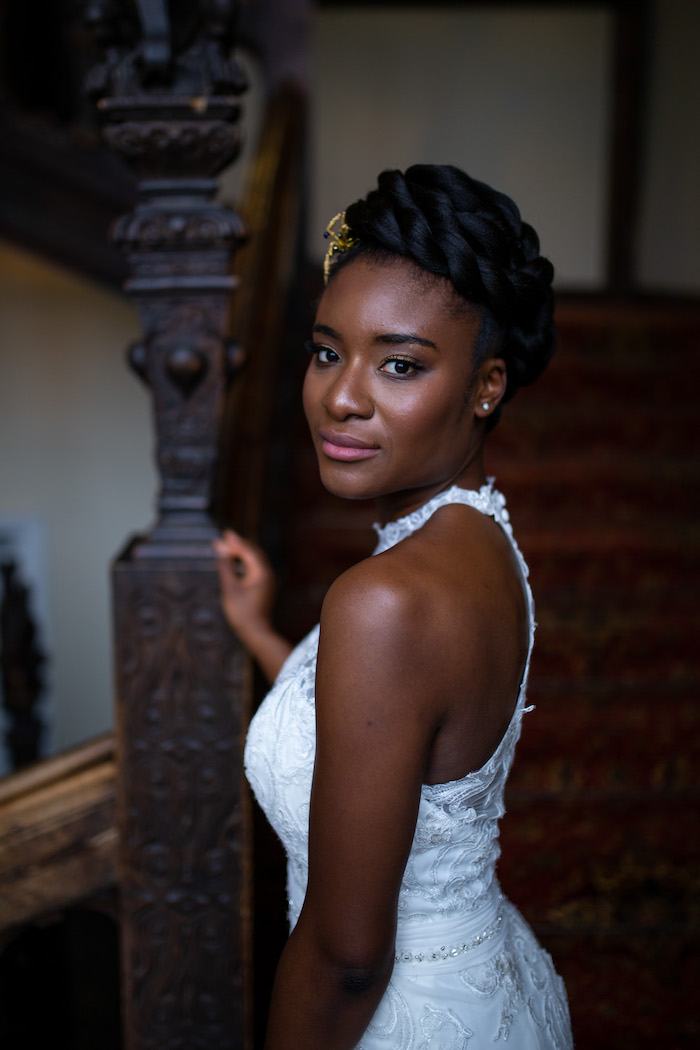 photo by Florence Berry Photography; hairstyle by Brides by Aina.M
Q: Is my hair type suited for this style?
A: "I always tell my brides that this is assessment I always like to make BEFORE the wedding, this is why I require a trial run for all booking brides, just like your wedding dress, your wedding hair needs to be "tried on" not many people wear these formal styles daily, so you have to make sure you are comfortable and happy with the style you've chosen as your inspiration on YOU and not just on the person modeling it." — Ashley Franke, Ash Franke Styles
Q: Will my hairstyle last all day?
A: "One of my biggest goals with each hairstyle that I create is for it to last all day and night! Your hairstylist will take many measures to ensure your style looks stunning after a full day of laughing, hugging and dancing. If the style that you are hoping for will not work for your hair type and texture we will work with you to create a compromise that achieves a similar style that is more suited to your individual hair needs and will last all night." — Breanne Petersen, Cassidy Watt Artistry Collective
We can't wait to see how you rock your wedding day look! Searching for more bridal hair tips?
6 Boho Bridal Hairstyles That are So Free-Spirited Chic
Bridesmaid Hairstyle Ideas Your Girls Will Actually Want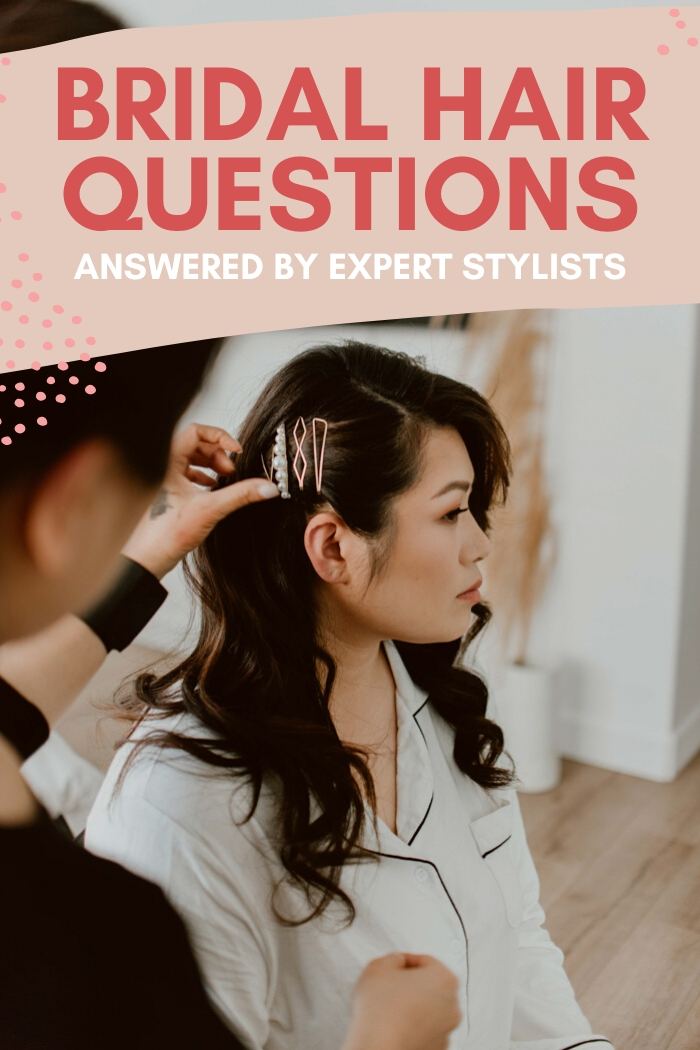 photo by Los Ebano