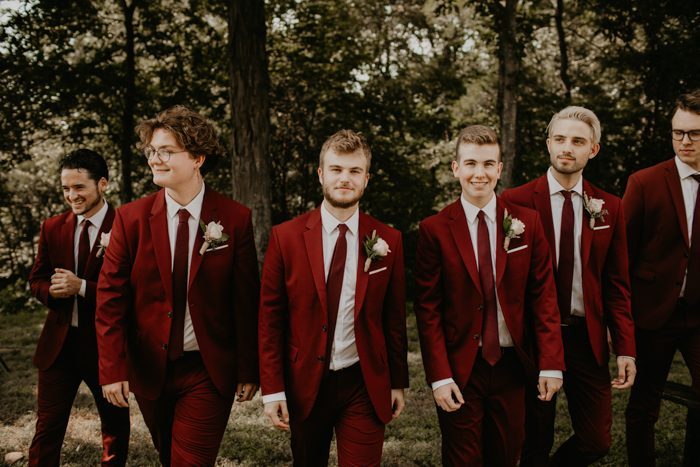 photo by Hailey Pierce Photography
Shopping for wedding suits and tuxedos for the groom online? We've rounded up the 10 best places to shop for your stylish groom apparel — all without leaving the house! No matter if you're balling on a budget or investing in the suit of your dreams to last you years to come, these menswear retailers represent the best at every price point. Shop classic, modern, trendy, and always stylish groom suits that fit your wedding vibe, your budget, and — of course — you, and have them delivered right to your door!
Find out why we love these 10 best places to buy wedding suits and tuxedos online:
ASOS
The Black Tux
Bonobos
Express
Generation Tux
Indochino
J.Crew
Men's Wearhouse
Nordstrom
Suit Supply
Topman
Why we love them: ASOS is our first stop when it comes to unique and affordable menswear, so it's no surprise we love them when shopping for wedding suits and tuxedos online! If you're looking for colored or patterned suits, especially in skinny fit, ASOS is your shop. ASOS carries both its own namesake brand along with a large selection of other brands to make your shopping experience easy and thorough. ASOS also carries tall and plus sizes for men! Pro-tip: ASOS offers premier delivery and has an awesome return process so you can easily buy multiple sizes and return what doesn't work!
Wedding Skinny Suit in Cotton in Forest Green
River Island Big & Tall Suit in Navy
Twisted Tailor Super Skinny Suit in Dusky Pink Floral
Super Skinny Suit in Burnt Henna
Twisted Tailor Plus Skinny Suit in Heritage Brown Check
Wedding Skinny Suit in Wine Crosshatch
Why we love them: The Black Tux has streamlined the groomswear process to be more simple and stylish than ever. Offering suits for both rental and purchase, The Black Tux allows grooms and groomsmen to fill out a questionnaire to nail down their sizes plus use their free home try-on to make sure it fits before they commit. Depending on where you live, you can also shop at one of their brick and mortar locations across the U.S. Whether you shop The Black Tux or not, be sure to check out their handy groom style guide for a better understanding of each piece involved in your wedding day look!
Why we love them: If you're a dude who isn't familiar with Bonobos, welcome to your new favorite place to shop year 'round! But we're here to talk about weddings, so let us direct you over to their wedding shop. This page makes it super easy to know what style is the right fit for your wedding as Bonobos breaks down their item recommendations by formality level — Black Tie, Creative Formal, Semi-Formal, and Casual. Find everything you need to look stellar on your big day in one place and get ready to feel more dapper than ever before! P.S. If you're looking for cool ties or printed shirts, Bonobos is your spot!
Jetsetter Italian Stretch Velvet Blazer
Jetsetter Stretch Italian Wool Suit
Why we love them: You've probably shopped at Express for your new clothes to wear to the office, but did you know they carry groom apparel as well? Whether you're looking for trendy or timeless, Express is a great affordable option for your wedding suit needs! Mix and match pants and jackets plus choose from some of the best men's accessories on the market including ties, belts, and shoes. Wanting to match your look with your groomsmen suits? Express' price point and wide accessibility makes it easy for your best guys to get their suits too!
Extra Slim Blue Cotton-Blend Stretch Suit Pant
Extra Slim Teal Stretch Cotton Blend Suit Jacket
Extra Slim Charcoal Cotton Oxford Suit Pant
Extra Slim Burgundy Cotton Sateen Stretch Suit Jacket
Why we love them: The only rental-only option on our list, Generation Tux has perfected the process. A true online experience, Generation Tux allows you to design your look, take your look for a test drive two weeks prior to your event to make sure the fit is just right, and provides free and easy returns thanks to round-trip shipping. Worried about matching colors? You can have swatches shipped for free to ensure the best match. If you're looking for a stress-free tuxedo rental, Generation Tux is the service you've been searching for!
Charcoal Gray Notch Lapel Tuxedo
Light Gray Plaid Notch Lapel Suit
Why we love them: Indochino elevates not only style (hello, gorgeous suits!) but also fit when it comes to menswear. Removing the tailor from the equation, Indochino's fit process ensures that every piece fits. All you need is a friend and a tape measure and Indochino's smart algorithm does the rest to predict your measurements. Every aspect of your suit is fully customizable and the company uses cutting-edge technology to craft beautiful, one-of-a-kind suits made just for you. Get your designed to deliver suit shipped for free in less than three weeks and if it doesn't fit the way you dreamed, Indochino guarantees they'll make it right.
Hampton Black and Ivory Tuxedo
Hereford Cavalry Twill Blue Suit
Why we love them: If there's one brand that's synonymous with groom attire, it's Men's Wearhouse — but did you know you can rent or shop online? Suits are what Men's Wearhouse is known for, so no matter the fit, style, color, or price point you're trying to find, they really do cover the gamut and have everything you need for a stylish groom look. Choose from popular brands like Calvin Klein, Ralph Lauren, Kenneth Cole, Perry Ellis and enjoy free shipping and returns!
Calvin Klein X-Fit Black Extreme Slim Fit Tuxedo Separates Jacket
Calvin Klein X-Fit Light Blue Sharkskin Slim Fit Suit
JOE Joseph Abboud Bright Blue Slim Fit Suit
Kenneth Cole Reaction TECHNI-COLE Blue Slim Fit Suit
Calvin Klein Black Modern Fit Tuxedo
Why we love them: No online shopping list would be complete without Nordstrom! We love Nordstrom because they carry a wide selection of brands, from Ted Baker to Topman, meaning your style, size, and price needs are sure to be met. Plus Nordstrom offers free shipping and in-house tailoring at their many locations around the world, so your online shopping experience can easily transition to IRL for any updates you need made to the garment. Shopping for accessories? Nordstrom is one of our favorite places to find shoes, belts, ties, and pocket squares!
Why we love them: Your wedding can be a great time to invest in a well-made, high-quality suit that will last you for years to come. Suit Supply is your source for a suit you'll love to wear again and again. Whether you're looking for a tuxedo, two or three-piece suit, or even just an incredible jacket to pair with your favorite shirt and slacks, Suit Supply's quality won't disappoint. Looking for something custom? Get a suit made to your measurements both online or in-store!
Why we love them: Balling on a budget for your wedding? Topman is offers stylish and affordable suiting (plus some of our favorite trendy menswear online!) perfect for your wedding without breaking the bank. Check out their two-piece suits for $200, shop by skinny, slim, and ultra skinny fit suits for an ultra-modern look, and be sure to peruse their cool collection of accessories from tie bars to cufflinks.
2 Piece Grey Stone Check Skinny Fit Suit With Peak Lapels
2 Piece Teal Slim Fit Suit With Peak Lapels
Premium White Penny Collar Slim Shirt With Egyptian Cotton
RELATED: Grab some inspiration from these 12 stylish grooms to copy for your wedding day look. Once you've got your groom attire squared away, be sure to check out these 60 mother-son dance songs that won't leave a dry eye in the house!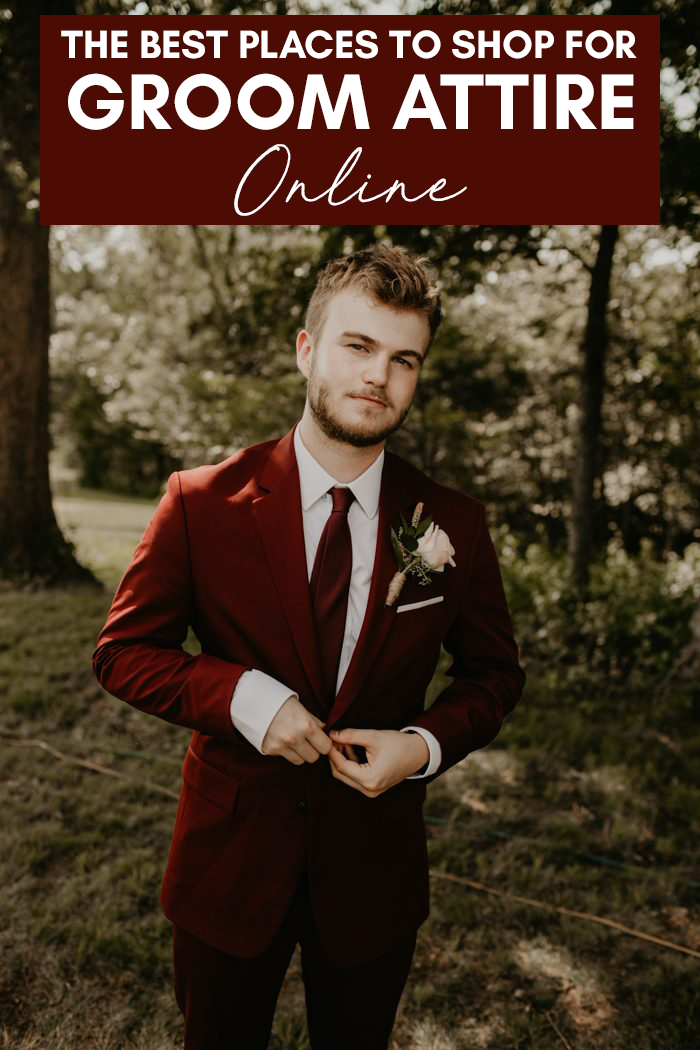 photo by Hailey Pierce Photography