As much as we love a nontraditional wedding dress, we can't get enough of unique groom style. From bolo ties and patterned blazers to colored suits and felt hats, there are plenty of ways for grooms to get in on the fashion fun for the wedding day. Whether you're bold, edgy, folksy, or fashion-forward, these eight tips will help you get dressed for your big day.
Bold Groom Style
For a bold look, don a patterned suit. You can find everything from florals to stripes to plaid, all fitting different wedding themes and color palettes.
SHOP SIMILAR LOOKS
Subtle Bold Groom Style
For something a little more subtle, choose a printed tie or patterned button-up under a solid colored suit jacket. This look is especially chic for a tropical wedding.
SHOP SIMILAR LOOKS
Edgy Groom Style
For an edgier look, trade your traditional tie for a bolo or neck bow. There's nothing better for a western-themed or ranch wedding.
SHOP SIMILAR LOOKS
Subtle Edgy Groom Style
If you like the idea of keeping the tie, but still want to incorporate the edgy look, consider wearing an all-black suit. This means black pants, a black blazer, a black jacket, a black tie, etc.
SHOP SIMILAR LOOKS
Folksy Groom Style
For a folksy look, top it off with a hat. Everyone looks good in a flat-brimmed wool hat. It also offers shade on sunny days, perfect for outdoor "I do's."
SHOP SIMILAR LOOKS
Subtle Folksy Groom Style
For a more subtle folksy look, swap your dress shoes for a pair of boots. This is ideal for adventure elopements or destination nuptials.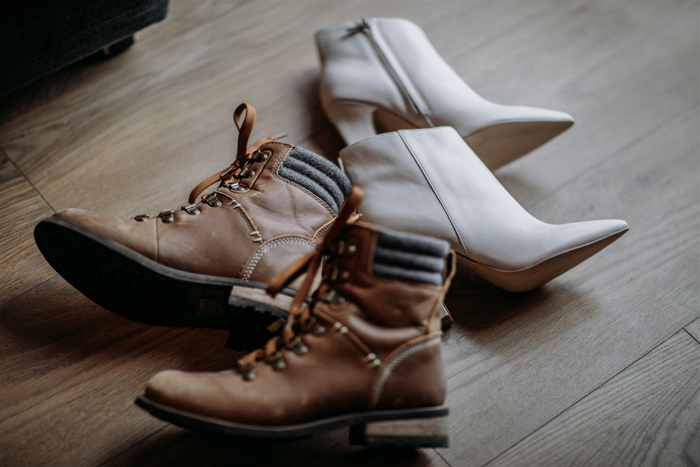 Image by Stephanie Zackas Photography. See more of this elopement here
SHOP SIMILAR LOOKS
Fashion-Forward Groom Style
Colored suits might be our absolute favorite trend. There are hundreds of options on the market. From pink to orange to yellow to emerald. It's an easy way to tie in with your wedding color palette while looking fashion-forward.
SHOP SIMILAR LOOKS
Subtle Fashion Forward Groom Style
If a colorful suit is a little too much for you, but you want something that's a little more unconventional, pair a camel jacket with dark pants.
SHOP SIMILAR LOOKS
No matter your style, every groom needs a pair of great dress shoes to finish their wedding-day look. Junebug Tip: shop Amberjack for the best in today's stylish, and comfortable, men's dress shoes.
Looking for more groom style inspiration? Check out these 12 stylish grooms to copy for your wedding day look!
*This post contains affiliate links, which means we might make a small commission if you end up purchasing a product from one of our sponsors! Thanks for your support!