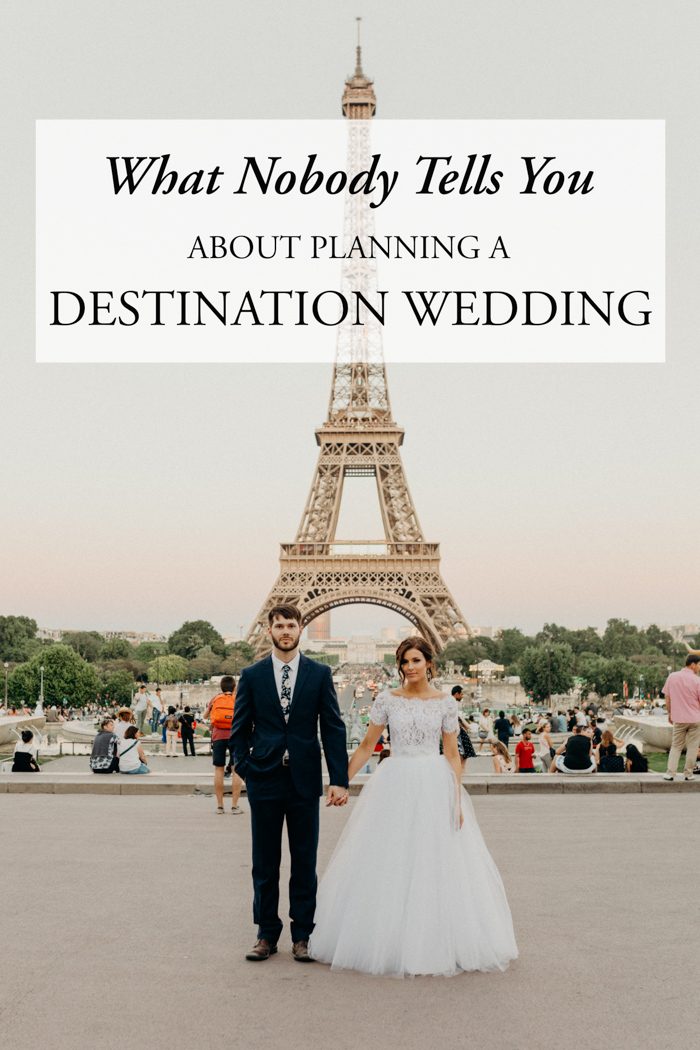 photo by Vic Bonvicini Photography
When planning a destination wedding, it's easy to get caught up in the excitement and the romance of saying, "I do" in an exotic location. And we totally get it! What could be dreamier than jetting off to a location you've always dreamed of or that has sentimental meaning to your relationship? Part of making that dream a reality is ensuring you're prepared for every obstacle, which is why we've put together this list of little-known facts to consider before and during the planning process. These definitely aren't as exciting as other parts of planning, but they will save you some headaches, sleepless nights, and maybe even some money in the long-run.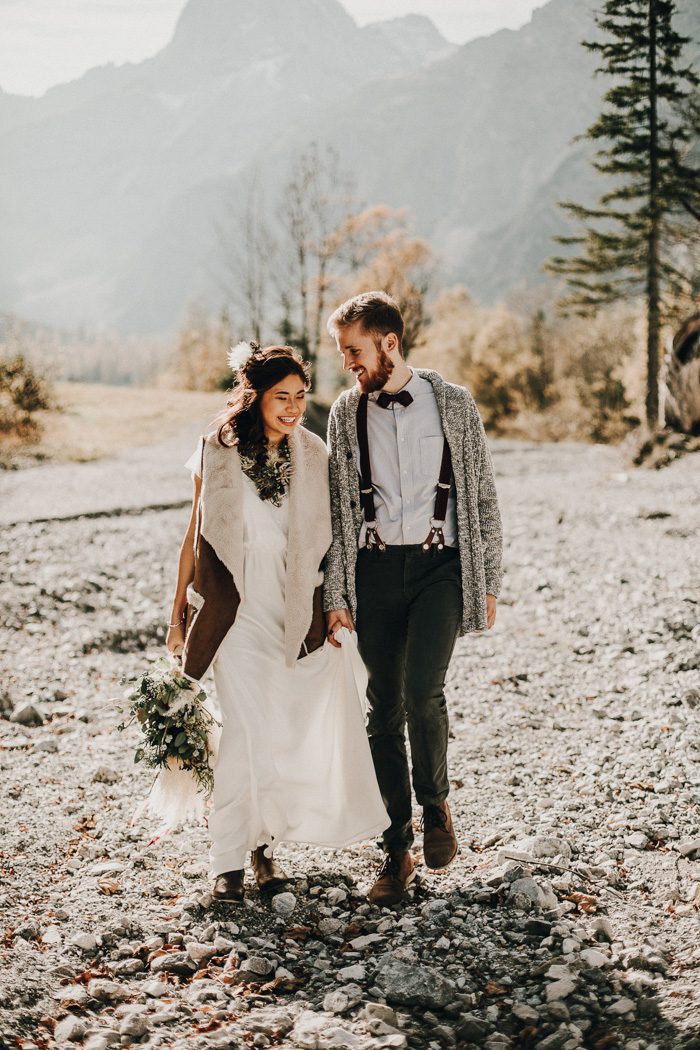 photo by Kathrin Krok Fotografie
Time Difference Challenges
If you're planning from abroad and your vendors are in a different time zone, you'll need to be flexible with your planning schedule to account for lag time in communication. You might need to take calls at night or early in the morning, depending on your vendors' schedules. So, we recommend figuring out and writing the time difference somewhere within eyesight of your weekly/monthly planner so you can set up calls at times that will work for you. For those calls, Skype is definitely your best option so you can make as many calls as necessary without racking up a huge phone bill.
Also, if you're crossing time zones, you'll want to plan extra time in your destination to recover from jet lag. There would be nothing worse than spending months planning your dream wedding in a stunning location and not enjoying it because you're exhausted! Plan to arrive at your destination at least 2-3 days before the wedding festivities begin so your body can adjust and you can be fully present for every moment.
Currency Exchange Rates
Exchange rates differ from country to country and fluctuate almost on a daily basis, so you'll need to keep an eye on the market throughout the entire planning process. A good way to stay on top of your budget is to create a spreadsheet with all the items/services you purchase, the amount you paid in the foreign currency, and how that translates to your currency based on that day's exchange rate.
You'll also want to know ahead of time what money you need once you arrive at your destination. Can you pay with credit card, or will you need physical money? If you need physical money, where is the best place to convert it? What is the tipping culture for the service industry like in that country? These are all things you want to know early on in the planning so you can work them into your overall wedding budget.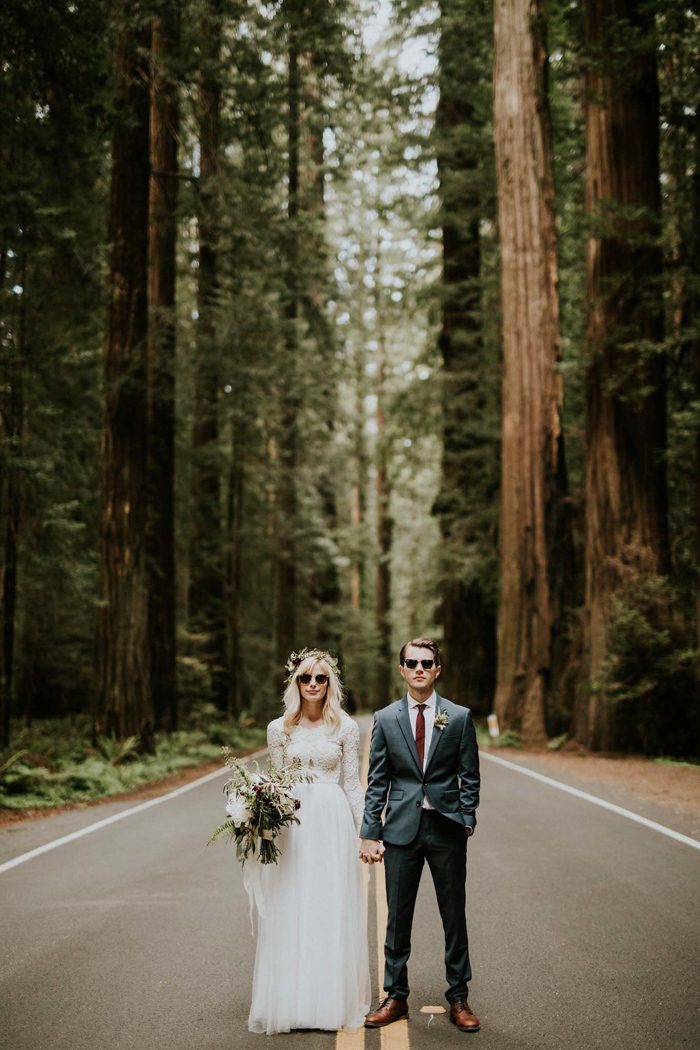 photo by Catherine Coons Photography
Finding Vendors
If you find a photographer that will travel for your wedding, that's amazing! Other than your photographer, you should hire vendors, especially a wedding planner, that are local to your destination. The wedding planner will be your eyes, ears, and hands for the details that you simply can't handle from abroad. They know the lay of the land, will be readily available to handle any issues that require immediate attention, and can recommend other vendors for your dream team. For destination weddings especially, it's vital to hire vendors you trust to bring your vision to life, which is why it's best to rely on the expertise of local professionals.
Making It Legal
For weddings in the U.S., marriage license requirements vary from state to state, and can even vary from county to county. Most states require specific identification to get a license, have a waiting period after your license is issued, and set an expiration date. In countries outside the U.S., the requirements vary even more. France, for example, requires either the bride or groom be a French resident for at least 40 days before they can be married and require a civil ceremony before any religious ceremony can take place. Not all countries have the same requirements, so you should do your research early, make a checklist of all the requirements to ensure you can meet them all, and collect all your paperwork as soon as possible. Keep an eye out for required blood tests, documents that must be notarized before you arrive, and extra translation or filing fees. This is one of the most compelling reasons to hire a local wedding planner in your destination because they can guide you through all the legal requirements.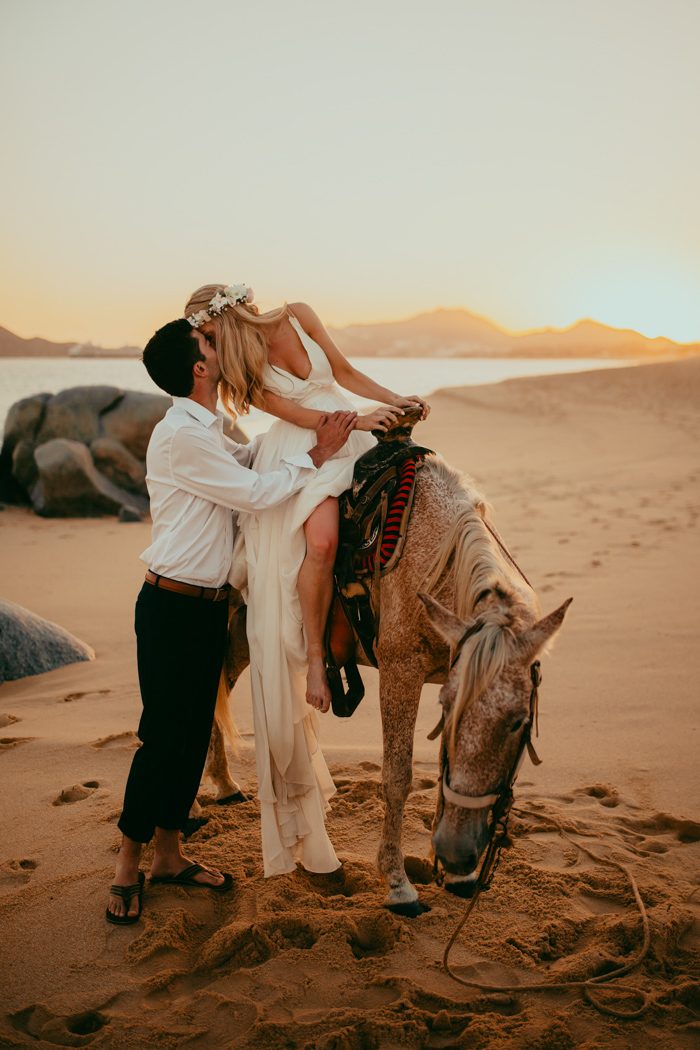 photo by Tricia Victoria Photography
Transportation & Accommodation
If you're wondering whether you need to pay for your guests' travel and accommodations for your destination wedding, the answer is no. You wouldn't pay for your out-of-town guests' plane tickets and hotels if you were having a wedding at home, so the same principle applies to all of your guests for a destination wedding. If you're looking for ways to help cut costs for your guests, try to find several accommodations in different price points so your guests can choose what works best for them. You could also try to organize group flight deals for guests coming from the same area.
Guest Count
As a general rule, you should expect anywhere from 30% to 50% of the guests you invite to a destination wedding to decline. This means that, if your venue is flexible with the number of guests it can accommodate, you could invite more people than you would have for your at-home wedding. But, if your venue has a strict capacity, you should overestimate how many guests will accept to ensure you don't go over the limit. Be sure to consult this handy guide for ways to cut down your wedding guest list that also explains how to send your invitations in waves so you don't go over the number you, or your venue, have set.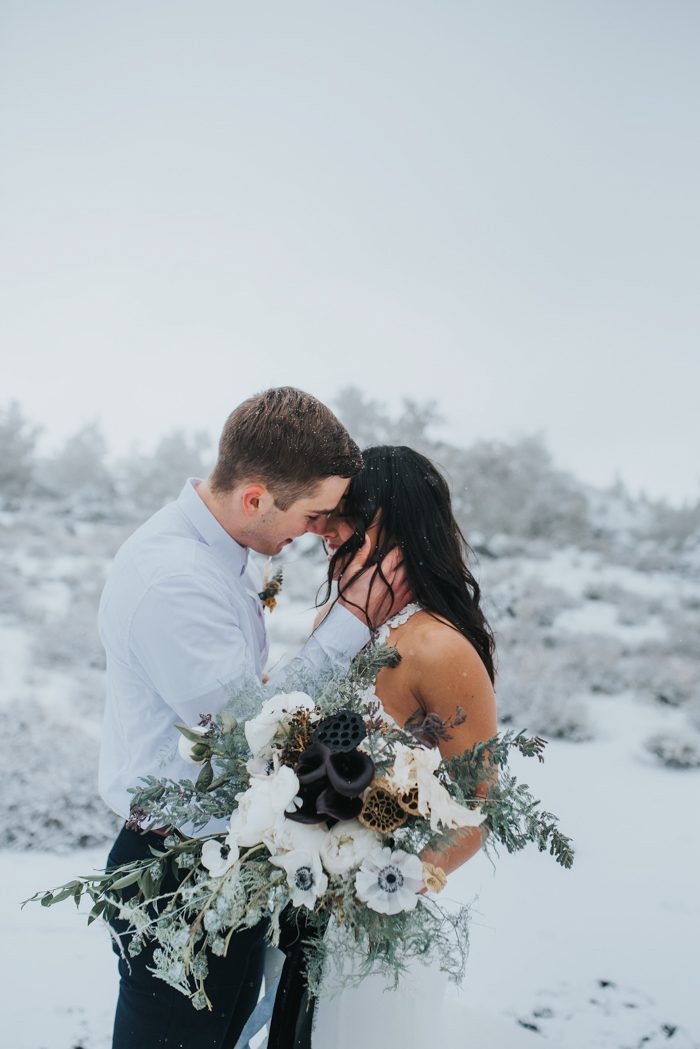 photo by Maggie Grace Photography
Holidays and Peak Travel Season
For those heading to a popular tourist destination, make sure to check peak travel seasons and research any national holidays before setting a wedding date. If budget is a concern, choose a date in a "shoulder season" and maybe even consider a weekday wedding to avoid the weekend rush. Even if budget isn't a concern, you don't want to be competing with large crowds, inflated hotel prices, or hotel unavailability. You also don't want to arrive and realize an attraction you or your guests wanted to visit is closed for a holiday. So, take some time to read travel blogs, TripAdvisor reviews, and talk with your wedding planner about the best times to travel to your destination before you set your heart on a date.
Transporting Wedding Essentials
If your destination is a plane ride away and you're planning to bring decor or other wedding items with you, you might want to consider shipping items rather than packing them in your suitcases. You'll need to account for shipping time and extra expense, but it could be worth it to avoid headaches at the airport or risk your bags getting lost. If possible, we highly recommend renting your decor through a local rental company rather than curate items at home that you have to transport. The one thing you never want to ship is your wedding dress! Keep that beauty with you at all times to ensure it gets there safely. Most airlines allow brides to carry their dress onboard for an extra fee, and you might even be able to get a sweet flight attendant to hang it in first class. Either way, just make sure you're able to steam your dress when you arrive.
Are you still on the fence about a destination wedding? We've got some tips on what to consider when deciding between a local or destination wedding!