Our first installment of fabulous wedding advice from celebrity wedding planner Mindy Weiss! There is so much fantastic information here, we're thrilled to get to share it! Big congrats to Jenn K. who's question was chosen, and who won all sorts of treats from Mindy's product lines. Take it away Mindy…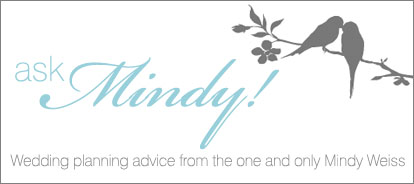 Hi Junebug readers! Thank you all for your wonderful questions! I truly hope my advice will help you create the wedding youve been dreaming of. Given the current state of our economy I was not surprised to find that several of your questions focused on your budget. This month Ive chosen to answer a budget related question from Jenn K. and then touch on budgets in general for those of you who have your own unique concerns about this topic.
Q: Im wondering if it would be okay to have a cocktail hour without any Hors doeuvres. Omitting our venues option for appetizers saves us $4000 and puts us right in our budget. The idea would be to have dinner immediately following the cocktail hour

A: This is a great question because food and beverage costs can easily add up to 40% of a wedding budget. In my opinion it may be acceptable to omit the appetizers during your cocktail hour provided it doesnt run more than an hour and there is food available immediately following. However these are my favorite tips for keeping control of your bar costs:
Offer a soft bar instead of a full bar, with soft drinks, beer and wine, or create a specialty bar that features sangria or a limited selection of martinis, margaritas, or daiquiris so you can restrict the need for premium liquors. This can cut costs by 50% and free up your budget so you can provide light appetizers.
Consider serving bubbly and champagne cocktails. Look for sparkling wines produced outside of the Champagne region. Prosecco and sparkling Moscato from Italy and Cava are favorite bargain priced options.
To keep your tab from getting out of control on your wedding day, be sure to ask your bar staff to open bottles only as necessary, (some venues like to open wine ahead of time for expediency but this practice can mean that you end up paying for unused bottles at the end of the night), and request that your wait staff remove drinks only when they are complete and to refill wine glasses by request rather than topping them off automatically.
For all of you couples out there who are trying to create a wedding budget you can be comfortable with, begin by making some important choices and creating a spreadsheet to keep track of your expenditures. Choose the three things that are most important to both of you and set your budget for those items first. If you have a location youre in love with, a band you adore, and a dress you simply must walk down the aisle in, then set aside enough resources to ensure that you can have those items, and fill in the rest.
Three good questions to ask yourself before you budget for each expense are:
Do we need this? Obviously youll need someone to officiate and some kind of food and beverages for your guests.
Do we want this? Of course you want a new pair of Christian Louboutin shoes, but,will it really make a difference to you if you dont have them?
Will our guests notice if we dont have it? Your guest probably wont bat an eye if you dont give out favors, and no one will grumble if theres no caviar or imported champagne. Try to imagine what it would be like to be a guest at your wedding and youll be on the right track for making sound decisions.
If your resources dont match your needs and desires, youll need to look for ways to trim your budget. Here are five of the best ways to do that:
Trim your guest list. This is the single biggest way to cut costs.
Choose a gorgeous setting for your ceremony and reception. Youll save a bundle on decorations.
Have your wedding on Friday or Sunday, (many venues will negotiate a lesser price for these days), or have your wedding early in the day. Brunch and lunch receptions are much less costly than celebrations that include dinner.
Skip the off site location and choose a hotel, club, or restaurant that comes with tables, chairs, flatware, and staff.
Follow the suggestions for trimming your bar tab listed above.
Thank you Jenn K for your thoughtful question! The Junebug girls will be sending you a big goodie bag full of items from my latest line of wedding products, right away. I look forward to choosing a new winner in six weeks and answering some more question from Junebug readers.