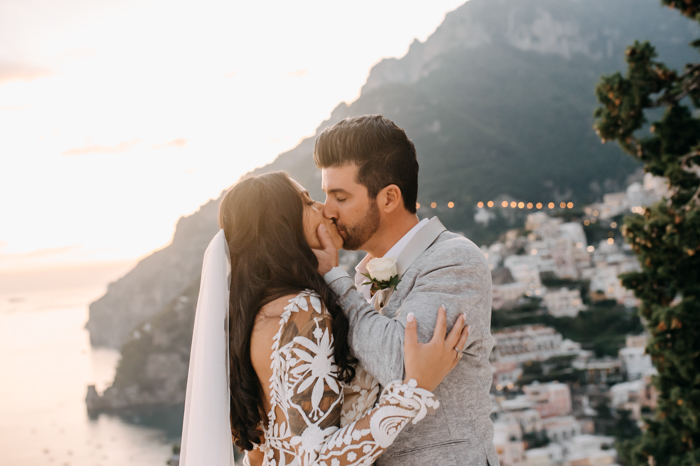 Brenda and James' four day wedding is just jaw-droppingly gorgeous in its own right. It started with a fun and traditional pizza and pasta party to welcome friends and family, followed by a fabulous trip to Capri Island on a beautiful boat the next day.
The ceremony and reception at the panoramic terrace of the Villa Oliviero, overlooking the azure waters of the Mediterranean Sea, surrounded by lush cascading foliage and white flowers, was nothing short of magical. They wrapped up the celebration with a relaxing day at the beach club on the spectacular Amalfi Coast. The couple pulled out all of the stops when it came to their glamorous four day wedding in Italy.
The well-traveled couple had never been to the striking and enchanting town of Positano. But with the help of their planner and Junebug member Erin Lindeman, all the planning and coordinating was an amazing and seamless experience. Florist Giuseppe transformed their luxury cliff top villa with the most beautiful floral installations, making every corner divine, romantic, and picturesque. Scroll down and be inspired to plan your dream destination wedding with these stunning photos by Rachel Black.
The Couple:
Brenda + James
The Wedding:
Positano, Italy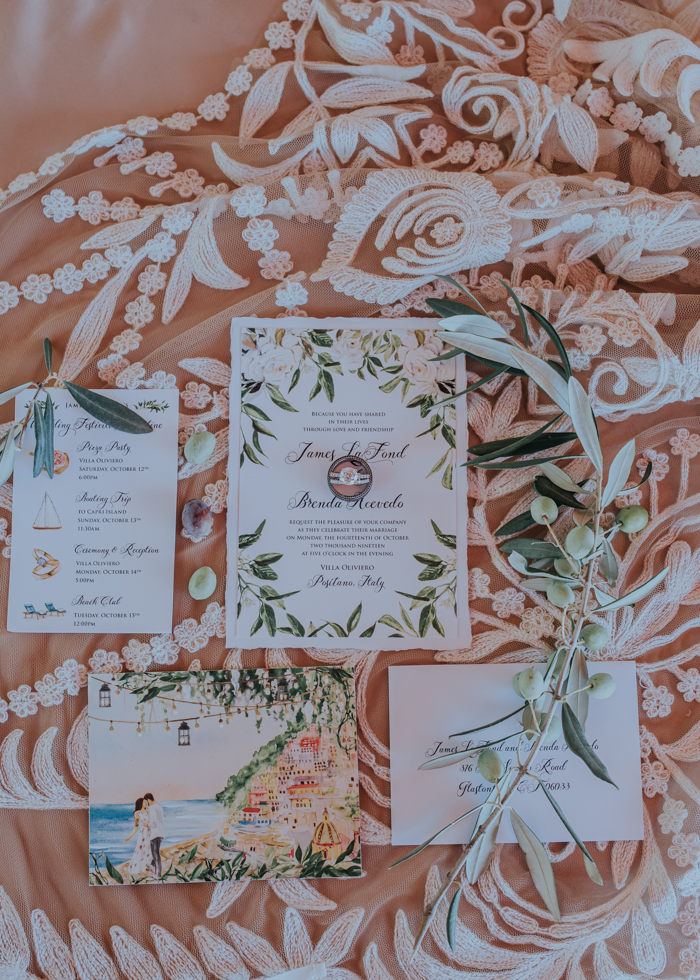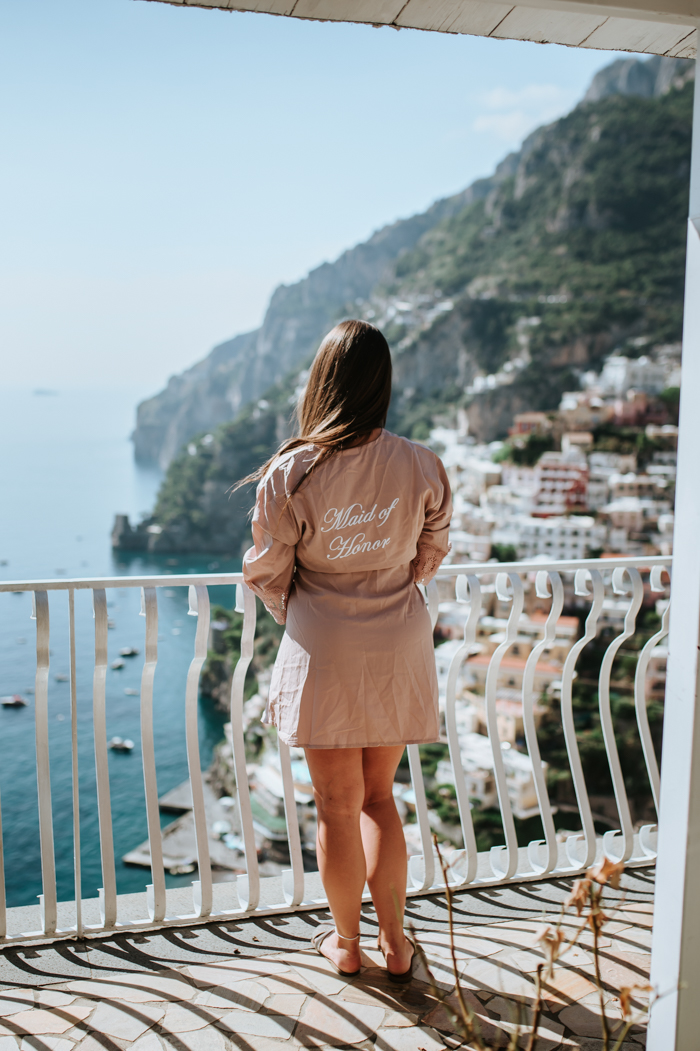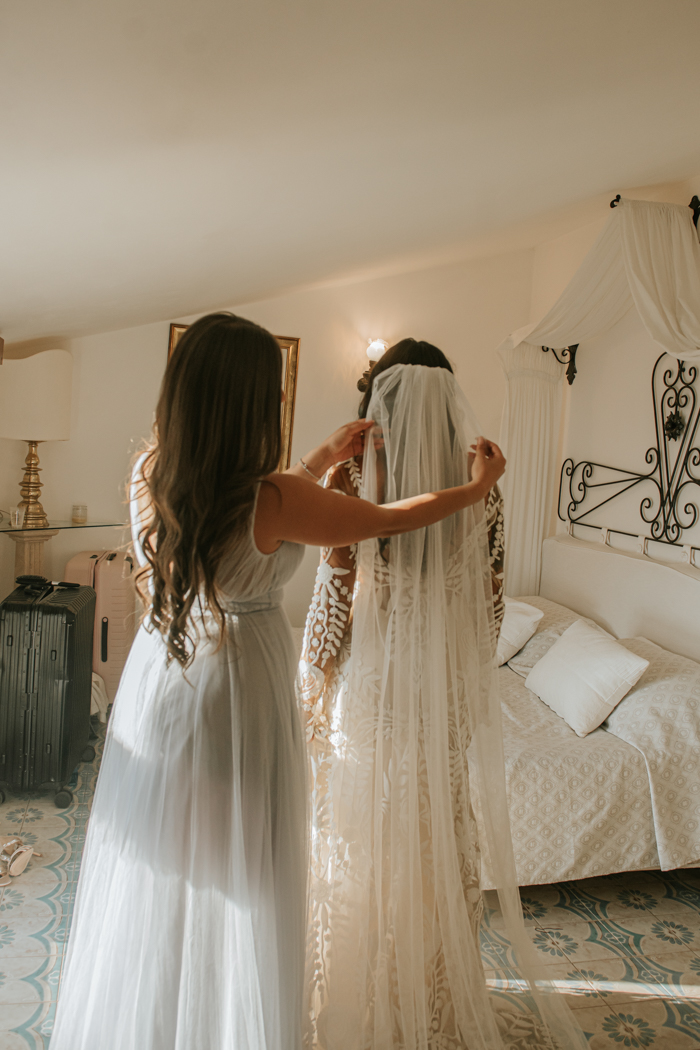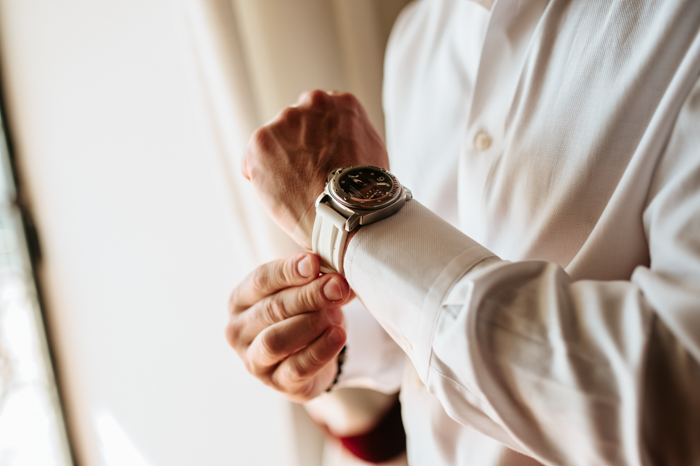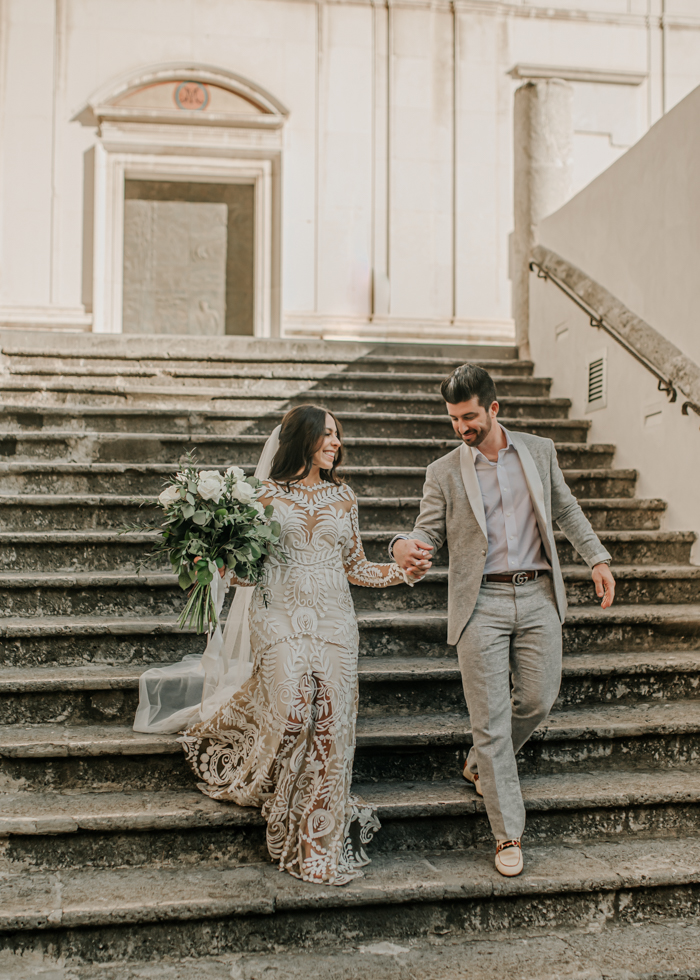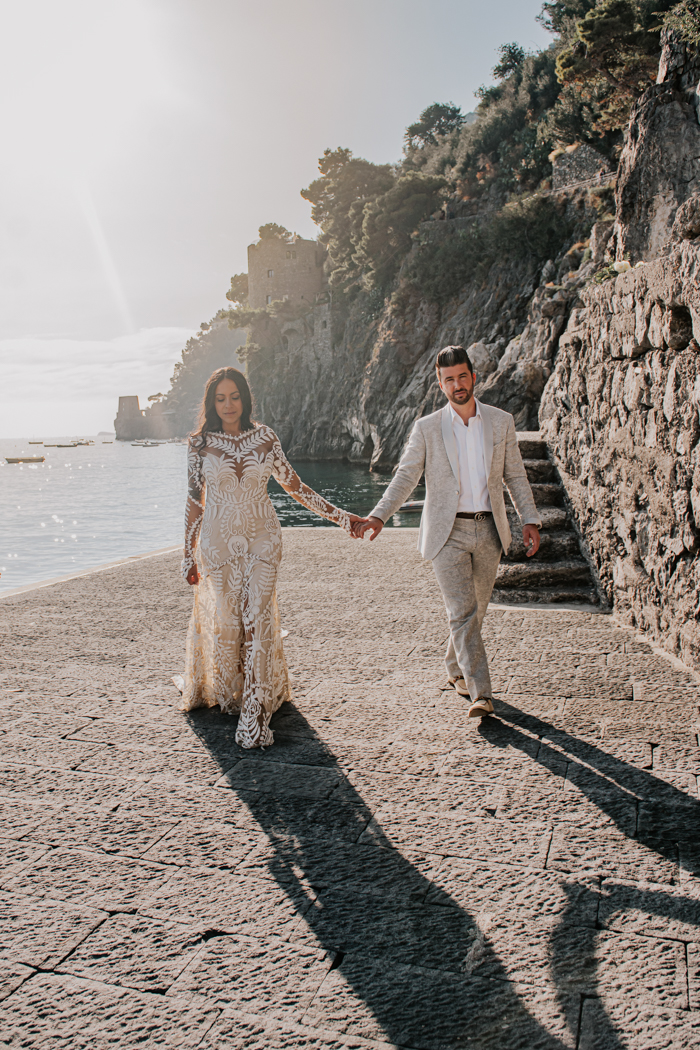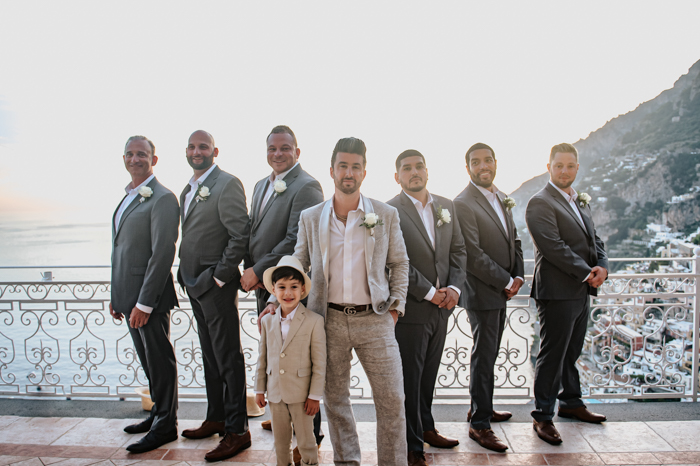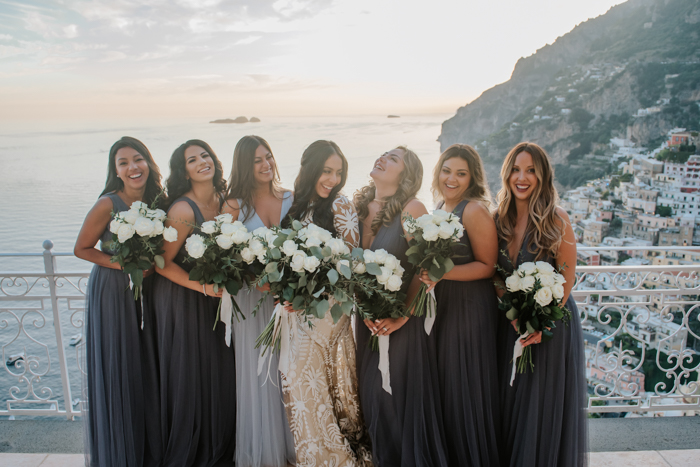 I had been waiting so long to show my dress to him during our first look. Finally it came and we took a little buggy into town, down the mountain, and it was so magical. I had never been happier to take photos and just have a moment with just the two of us.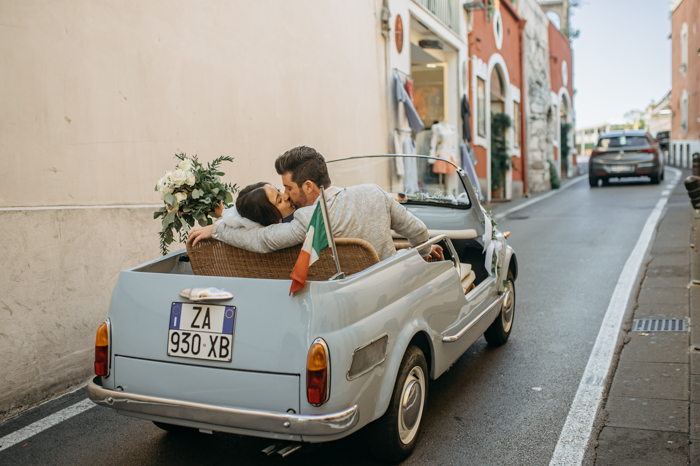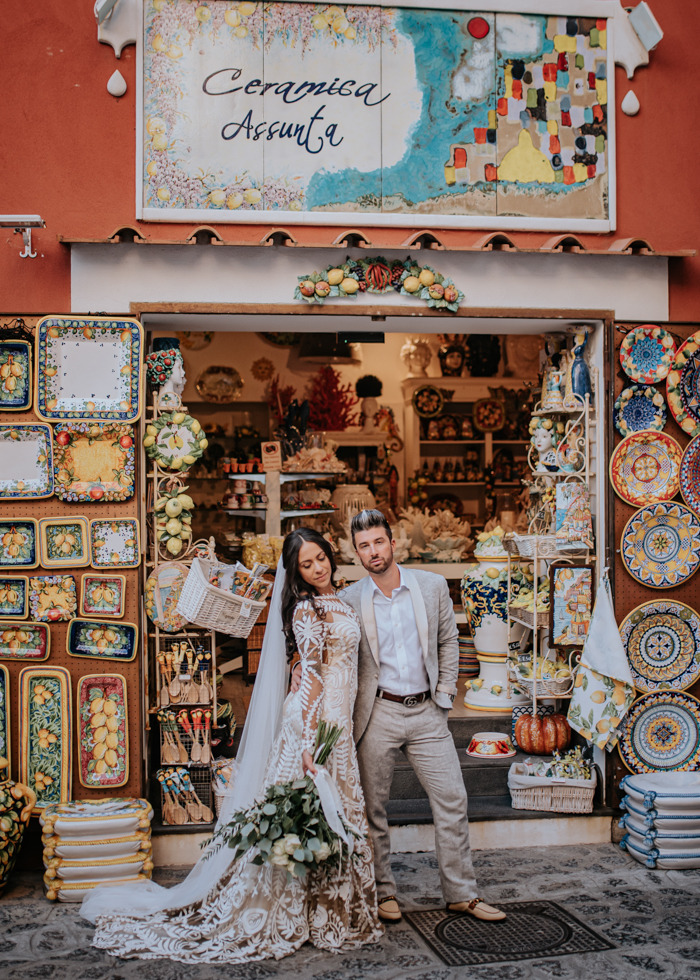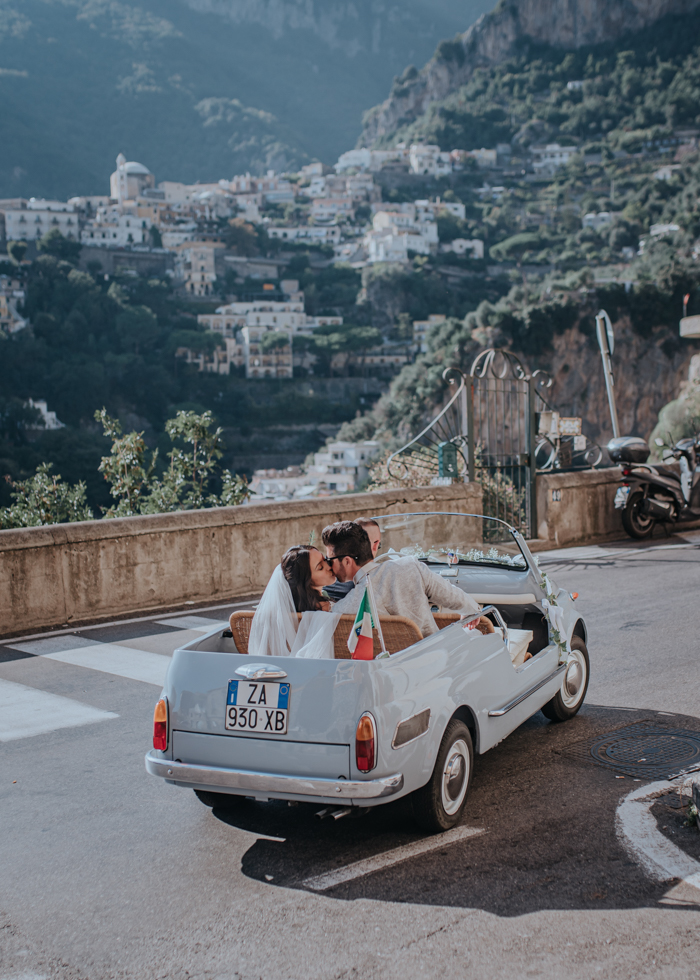 A Personalized Ceremony
We wrote our own vows and had my sister and my husband's best friend say a verse from the Bible. We also had our children pour sand with us into a jar to blend our family as one, uniting us all together. It was really special.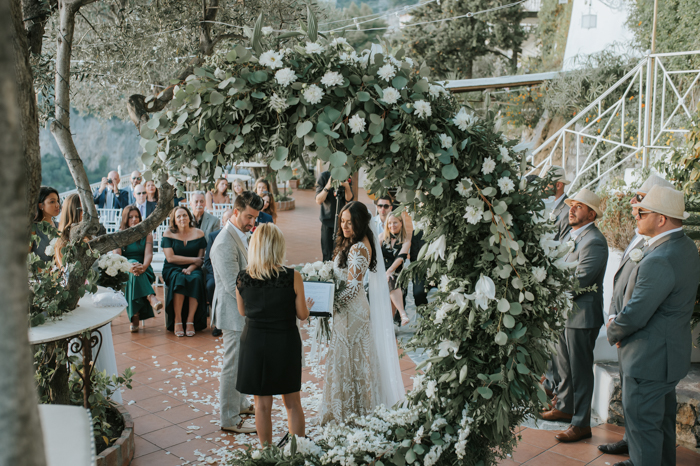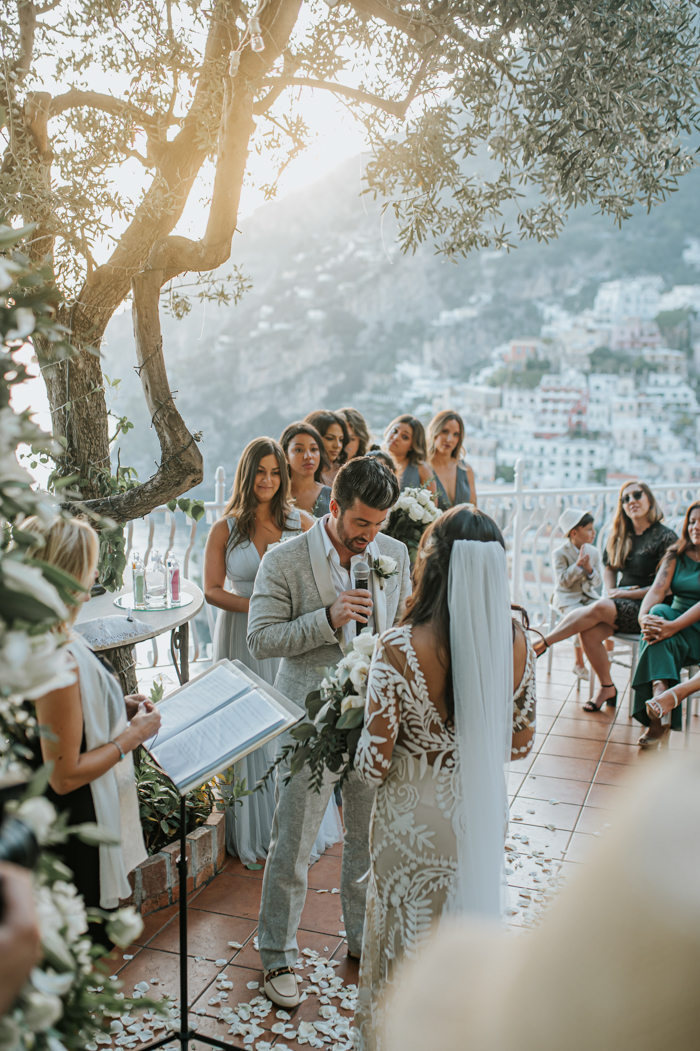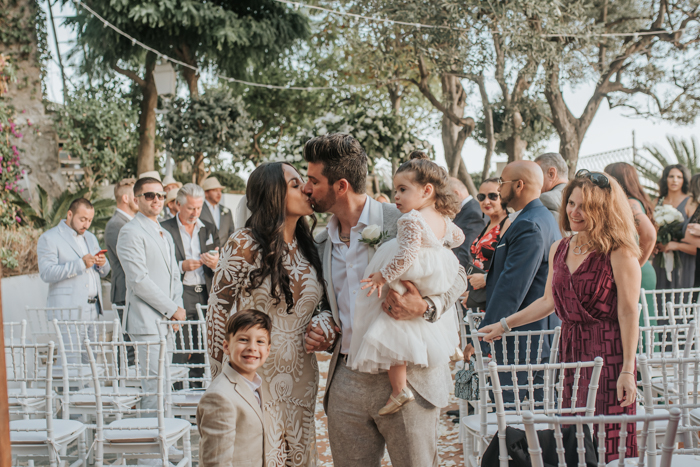 Creative Wedding Favors
We gave cigars and personalized matches for the guys, as well as hand-calligraphed agate place cards personalized for each guest. They were beautiful, simple, and easy to travel back home with.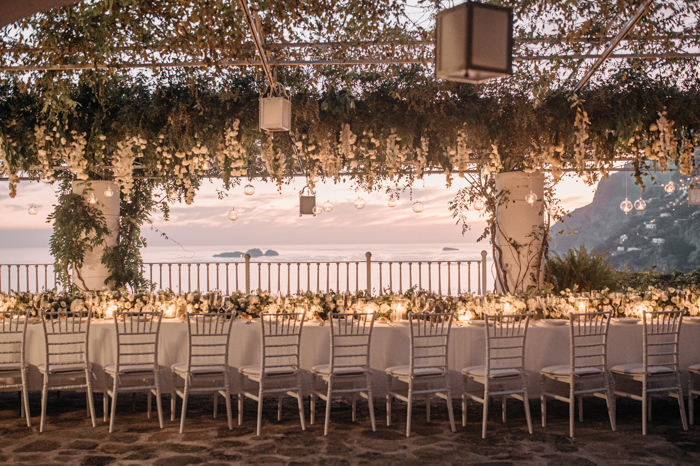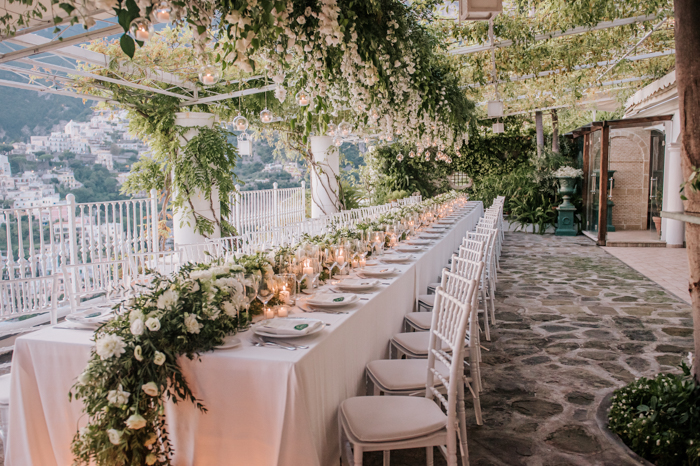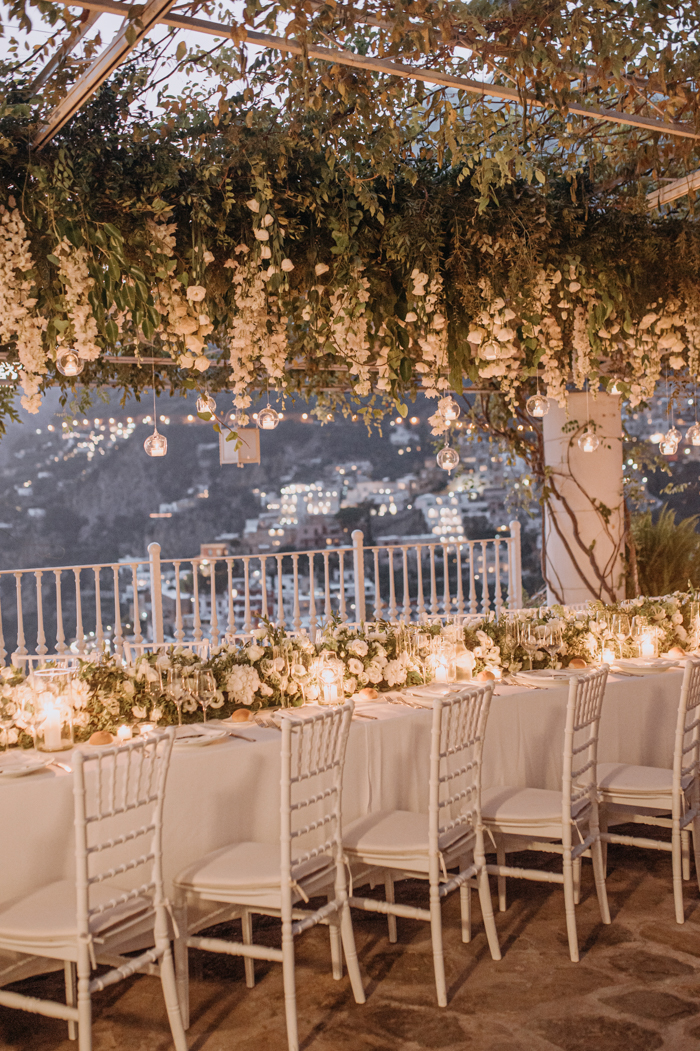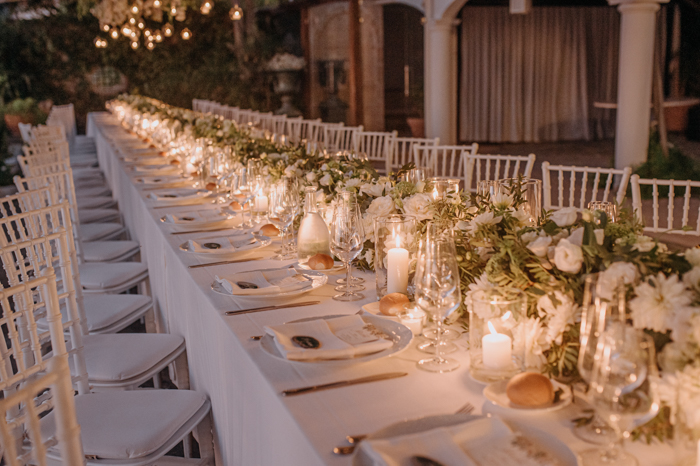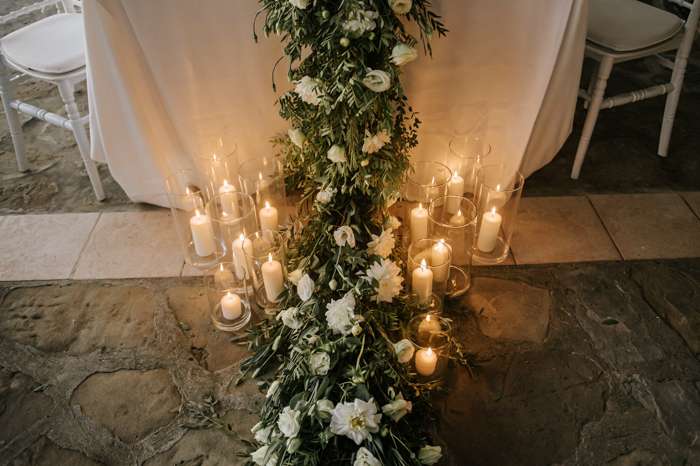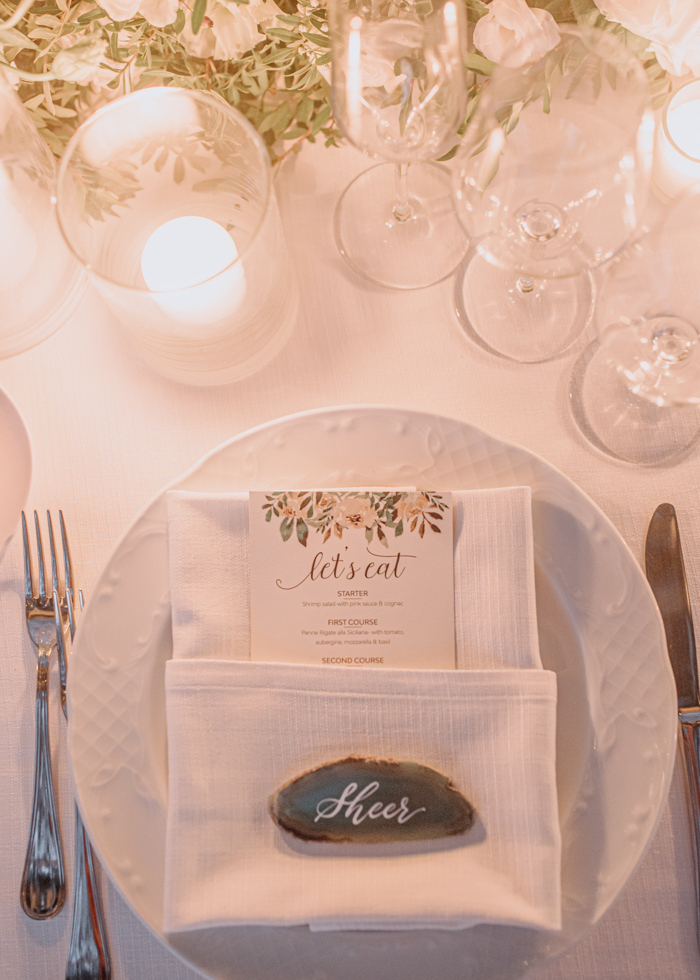 DIY Wedding Scrapbook
My Maid of Honor made a scrapbook and had it set up for each person to sign with Polaroid cameras on the table to take a photo and paste it into the book. I look at it all the time!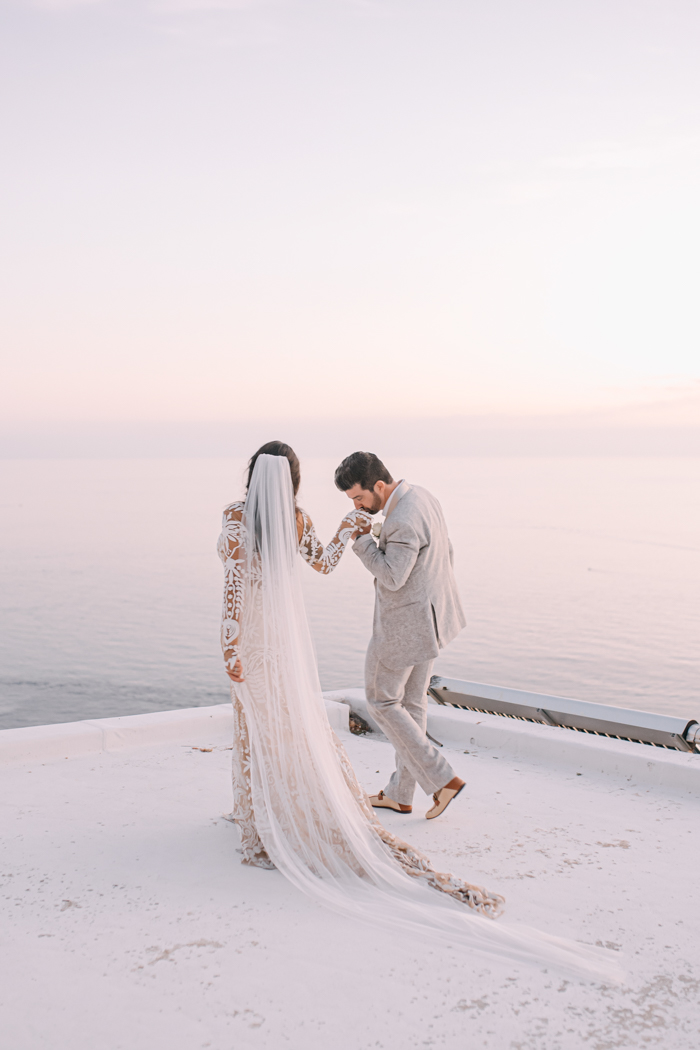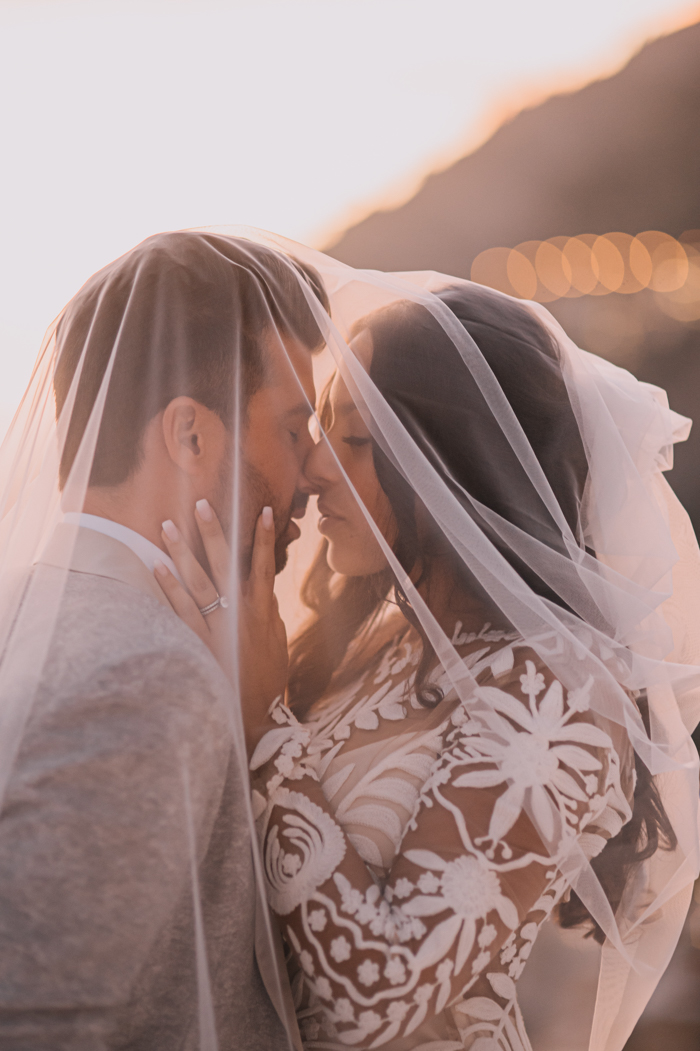 Planning A Four Day Wedding with Erin Lindeman
I am someone who usually loves to do the planning myself but the best decision I made was hiring Erin, our wedding planner. She was everything and more. Don't always feel like you need to do it all yourself, especially for this huge event. Find the right people for everything, be patient, and everything else will fall into place.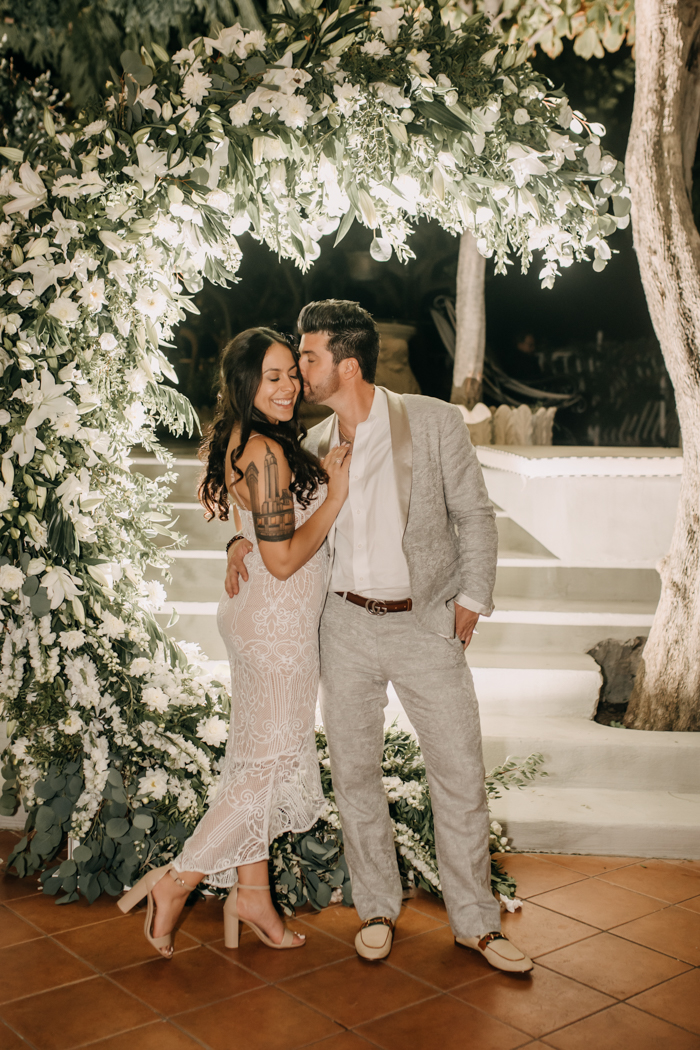 Congratulations to Brenda and James and their two adorable children! And thank you to Rachel Black for capturing every awesome detail and moment in this four day wedding.
A destination wedding is a once in a lifetime and unforgettable experience you can share with your loved ones. Let yourself dream big and make your destination wedding dream come true with our planning guide.