After picking your dream venue, finalizing a wedding date, and deciding on a budget, it's time for wedding invitations. And with only one chance to make a good first impression, you'll want to make it count. Wedding invites are the first thing your guests see, and it's their job to relay important info and get them excited for your big day.
With that in mind, choosing where to purchase your stationery suite can quickly become overwhelming. But with this round-up, you can say goodbye to that stressful shopping experience. Here are the top places to purchase wedding invitations online from the comfort of your couch.
What You Should Include On Your Wedding Invitations
Designing your wedding invitations is the fun part. But, before jumping in, it's important to know exactly what you should include. With limited space available, these are the details that should be prioritized:
You and your significant other's first and last names
Date and time of your wedding ceremony and reception
Ceremony and reception locations
Dress code
Returnable RSVP card
If you've chosen to have a wedding website, you can also include the URL
Where To Purchase Your Wedding Invitations
1. Zola
Zola really has everything you need when it comes time to plan a wedding–invitations included. There are thousands of designs, all fit for a different wedding and style, meaning you're sure to find something you love. They also make it super easy to personalize each invitation, with options to change colors and foil types. And the best part? You can also get matching programs, menus, place cards, and thank you notes so your aesthetic remains constant throughout the entire wedding.
2. Etsy
Etsy is one of our favorite places to shop for all things wedding-related, invitations included. With a variety of stationary sellers, there's truly something for every couple and every wedding theme. Being independent designers, you're not only supporting small shops, but it also gives you the ability to work closely with artists. This means you can customize your invitations in a way a larger company might now be able to.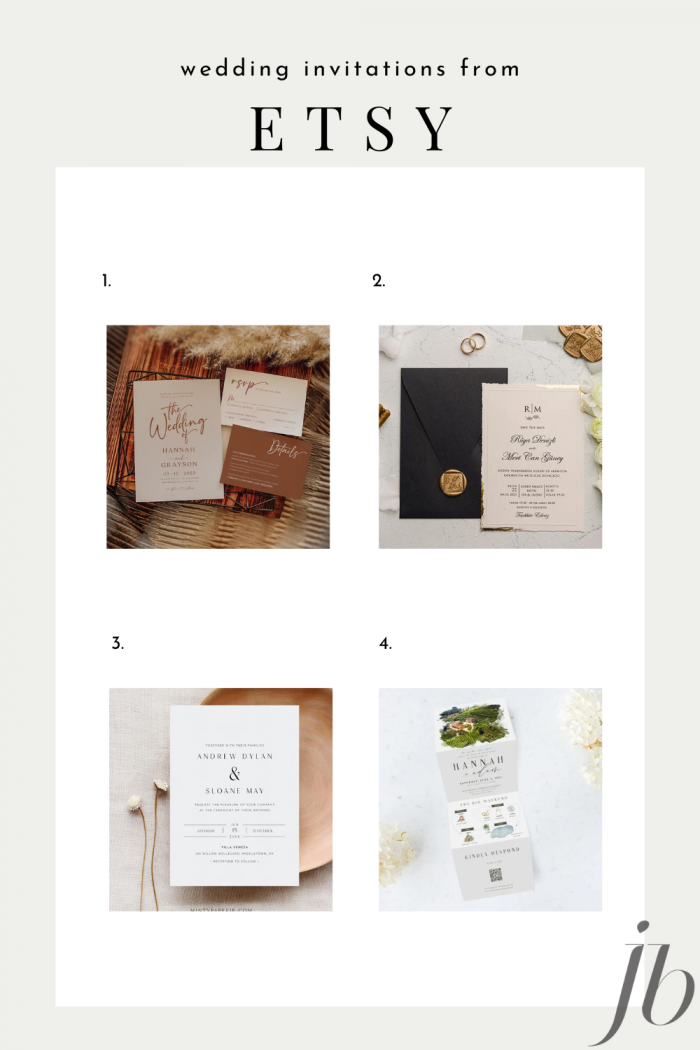 Wedding Invitation Terracotta Ivory ($10.90); 2. Custom Wedding Invitation Suite ($1.29); 3. Elegant Wedding Invitation Set ($11.99); 4. Watercolor Venue Tri Fold Invitation ($188)
For more stunningly simple Etsy invitations, click here for the ultimate round-up.
3. Minted
Minted is one of the top names in wedding invitations. And with thousands of beautiful designs by talented artists, you can imagine why. You'll find designs in just about every style, color, shape, and orientation—inclusive to all wedding styles and budgets. Plus, they offer special features like a free matching wedding website and a free sample kit so you can see and feel the quality of your future wedding invites.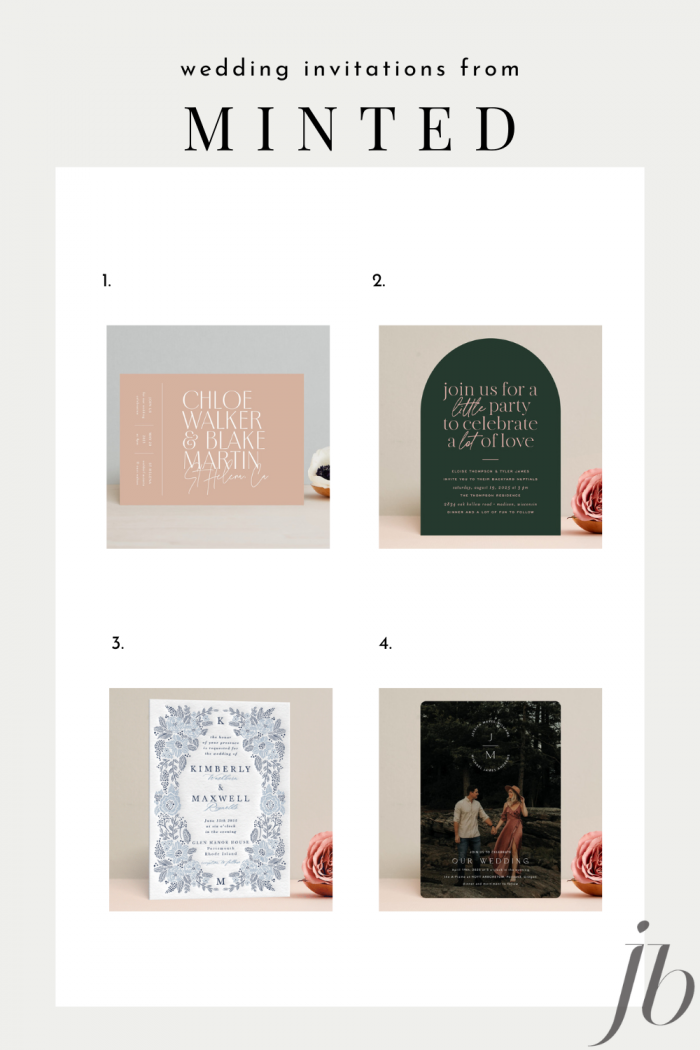 1. Overlap ($63+); 2. Little party big love ($63+); 3. Chantilly ($267+); 4. Picture Perfect ($63+)
4. Papier
Papier's planners and stationary took the world by storm. They've now stretched their creative designs into wedding invitations created with love in mind. You'll find simple modern designs, vintage floral designs, and even pastel watercolor designs. After one glimpse of these stunning styles by Papier and its independent artists, you'll agree that sometimes less is so much more.
5. Greevelope
For couples planning a fully sustainable wedding, Greenvelope is calling your name. Its mission is simple: save time, save trees, and save money with email invitations and RSVP tracking. All you have to do is upload your own custom design or pick from one of their exclusive designer suites. Greenvelope takes care of the rest. The best part? A donation is made with every sale to a non-profit organization that maintains forests!
6. Basic Invite
If you prefer a hands-on approach to your wedding planning process, Basic Invite is the wedding invitation source for you. Every inch of each Basic Invite invitation is customizable. Beyond changing obvious aspects like your names, wedding date, and venue info, this easy-to-use website allows you to alter the color and details of each design to match your wedding style.
7. Zazzle
You may know Zazzle as a customization station, allowing users to create custom apparel, home goods, and art, but you might be surprised to learn that Zazzle's custom options include wedding goods! In addition to products like personalized cake toppers and wedding favors, it has an excellent selection of wedding invitations for any style–from modern to vintage to watercolor to geometric. The site features a design customization tool that allows you to get into the nitty-gritty of your invite and make desired changes.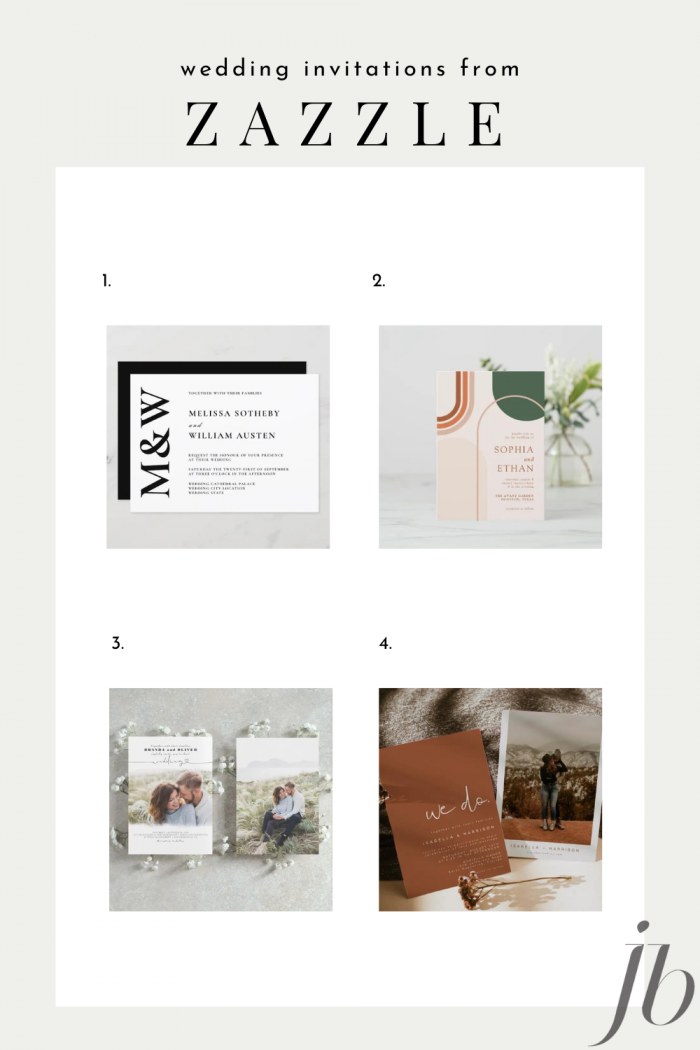 1. Modern Bold Monogram Black and White Wedding Invitation ($2.50); 2. Abstract Arch Wedding Invitation Boho ($2.21); 3. Cute Script Elegant Photo Overlay White Wedding Invitation ($2.51): 4. Bohemian Burnt Orange Modern Minimalist Invitation ($2.66)
8. Shutterfly
You're probably familiar with Shutterfly specifically for photo printing, but they're so much more than that. This online company also specializes in wedding invitations. As a leading photo printing company, Shutterfly is a great option for photo wedding invitations. However, they also have a wide selection of invitations designed with seasonal, floral, watercolor, typographical, glitter, foil-stamped embellishments, and so much more. Once you've selected a design, you can customize the color, trim, and paper type to match your wedding theme.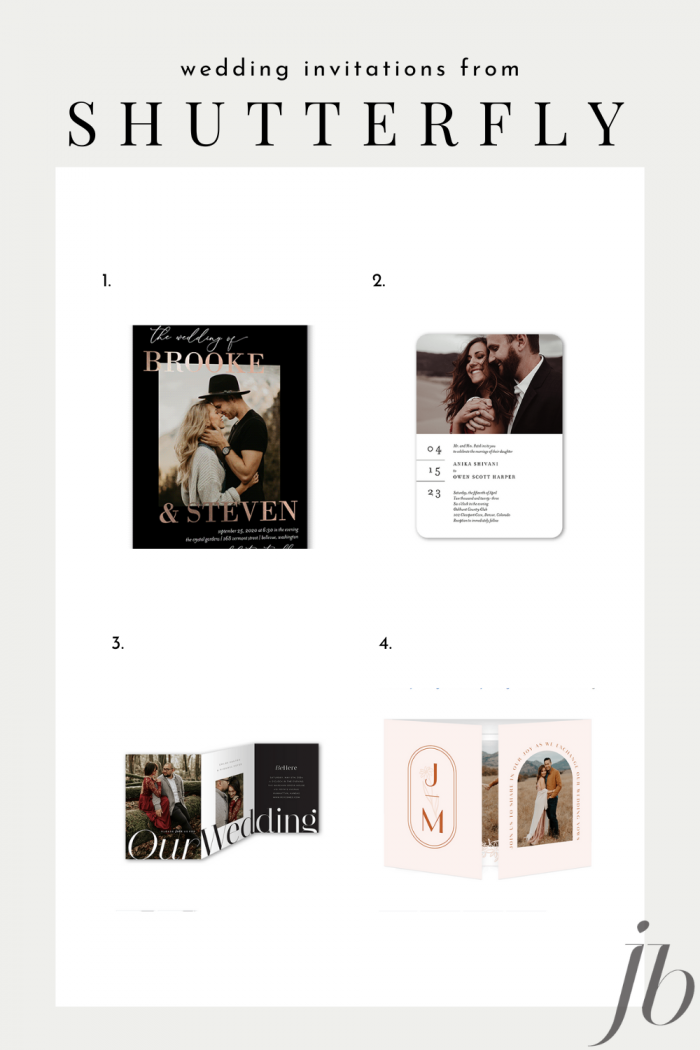 Modern Photo Wedding Invitation ($2.55); 2. Simple And Stylish Wedding Invitation ($2.19); 3. Modern Contrast Wedding Invitation ($2.15); 4. Soft Silhouette Wedding Invitation ($2.04)
9. Paperless Post
Couples with designer taste without that designer budget, this one's for you. Paperless Post is a wallet-friendly solution that allows you to send gorgeous stationery from top designers like Kate Spade, Paper Source, and Oscar de la Renta via email. They also collect mailing addresses, track RSVPs, and follow up with guests instantly. Want to send out paper invites? Check out their sister company, Paper Source.
Tips For Creating And Ordering Your Wedding Invitations
Use colors from your mood board that'll be incorporated in your wedding decor and fashion
Make sure your wedding invitations are legible (we're talking about your font and color choices)
Make your wedding invites straightforward, only adding necessary information and not overcrowding the invites
Order extra 20-25 wedding invitations just in case
Consider hiring a calligrapher to address your wedding envelopes for a more personal touch
Wedding Invitations FAQ
What Is The Average Cost Of Wedding Invitations?
The price of wedding invitations will vary. If you and your significant other choose paper invites, this price will be dependent on your design, printing style, paper quantity, and quantity. The average cost typically ranges between $300 and $700 for both invitations and envelopes. Keep in mind, any extras will add to that starting price.
If you are working with a tight budget, consider paying for an invitation template that you can customize on your computer and then have printed. These templates typically cost anywhere from $2 to $20. All you then have to do is pay for printing.
How Do I Choose My Wedding Invitation Design?
Before creating your wedding invitations, you'll want to have a clear understanding of your wedding style, theme, and colors. Is your wedding sleek and modern, or is it a casual backyard affair? What flowers will be incorporated into your arrangements? Which colors will be prominent in your fashion and decor? The answer to these questions will heavily influence the design of your invites.
When should I order wedding invitations?
From designing to printing, the whole invitation process can take anywhere between three to six weeks. With wedding invitations typically being sent out six to eight weeks before your big day, you'll want to order invitations at least five to seven months before your big day. This will alleviate your stress and leave wiggle room in case of any speed bumps during the process.
Again, this timeline is dependent on the company and design you choose. That's why it's so important to do your research before hitting that purchase button.
How far in advance should I send out my wedding invitations?
For a more traditional celebration, sending out your wedding invitations six to eight weeks before your wedding date is a good rule of thumb. If you're hosting a destination wedding, invitations should be sent out to your guests three months in advance. This gives loved ones time to book transportation and accommodations and clear their schedule.
Wedding planning is quickly evolving, making it easier and easier for couples to bring their dream wedding to life. You can find vendors, inspiration, and even wedding invitations right from your phone. If you need some wedding invitation inspiration, check out our favorite Etsy wedding invitation suites.