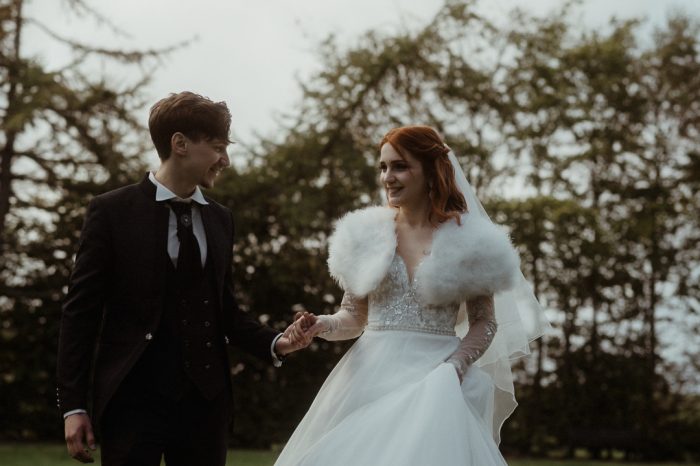 With a 13th-century palace venue, an owl ring bearer, and an overall "Game of Thrones" vibe—Cynthia and Loic's Dalhousie Castle wedding is an old-world dream come to life! The couple initially planned to get married in France, but after laying their eyes on the riverside estate, it was love at first sight. There was no question that they'd found the perfect venue for their happily ever after.
Complete with a handfasting and quaich ceremony, the pair was adamant that their wedding would incorporate Scottish traditions, but with a unique twist. On top of the gorgeous and moody aesthetic, their attire was on point, and it's definitely a must-see! Loic rocked a vintage three-piece suit while Cynthia was stunning in her long sleeve gown with embellished bodice and faux fur shrug.
They achieved this exquisite affair with the help of their trusted vendor team, every step of the way. And thankfully, Junebug member Sean Bell was there to capture every well-thought-out detail that filled their special day. After one peak at these photos, we guarantee you'll spend the entire day daydreaming about your own fairytale castle wedding.
The Couple:
Cynthia and Loic
The Wedding:
Dalhousie Castle, Bonnyrigg, UK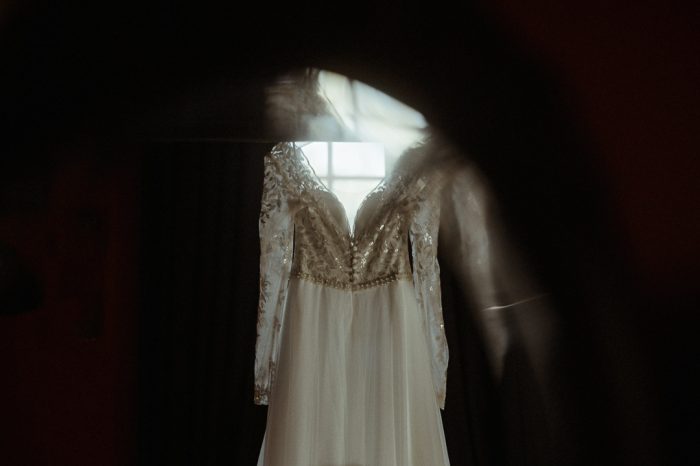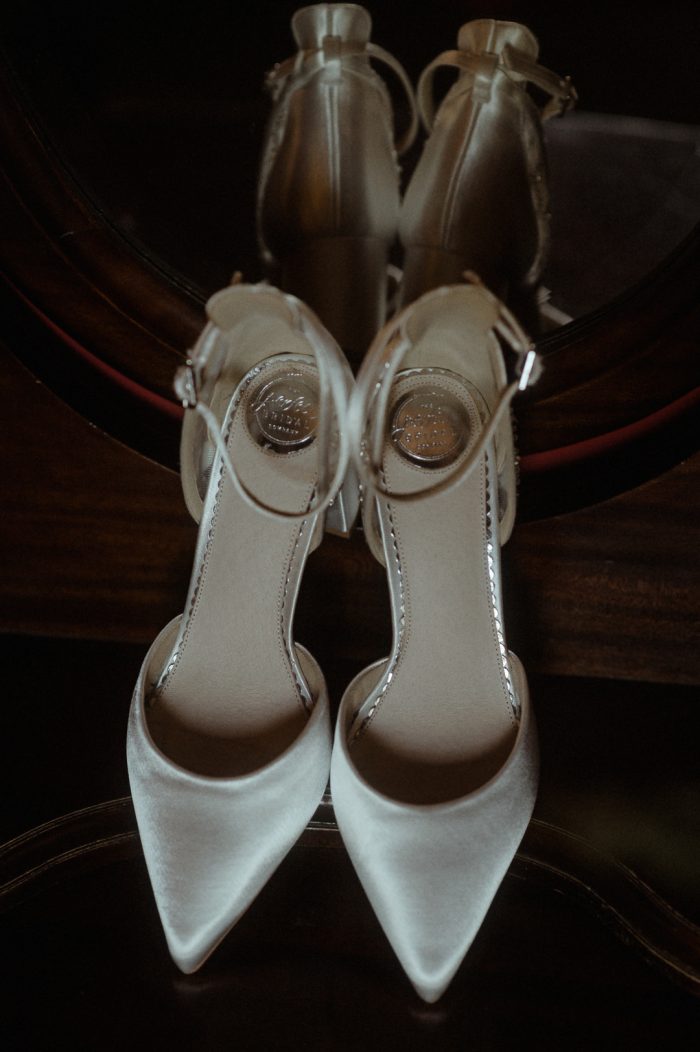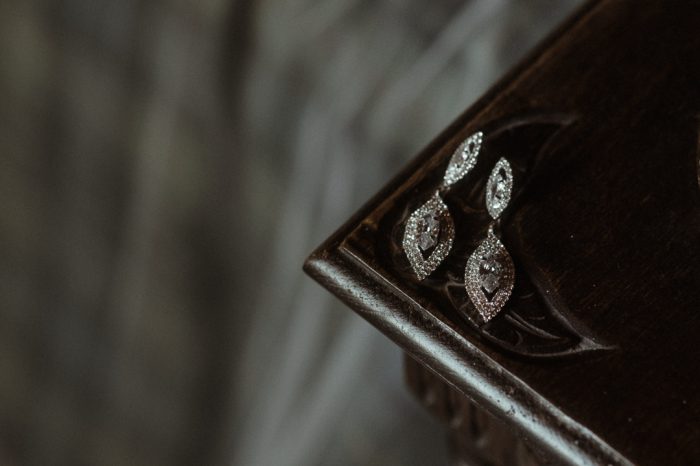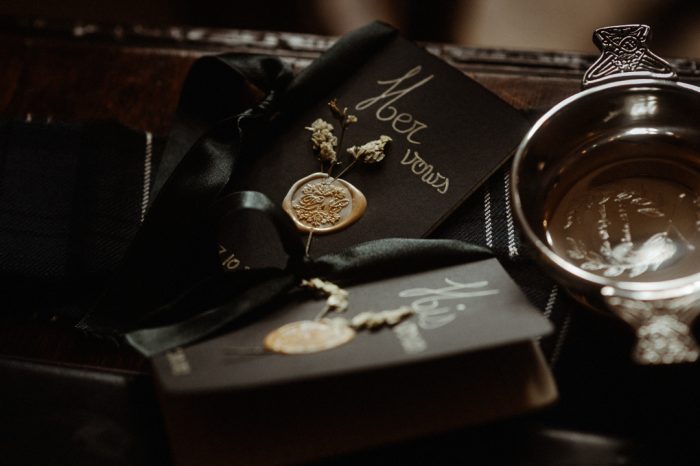 How Their Dalhousie Castle Wedding Came To Be
We were looking for a place to get married in France. But we couldn't find anything that suited us. Later, we came across a video showing a French couple who had gone to get married in Scotland. This was the trigger for us. We've always been drawn to this beautiful country. I don't know how to explain it. So, seeing that it was possible to get married in Scotland, we talked and found out how to make it possible. That's when we came across our planner, Gabrielle Plasman's page. From there, there was no more doubt.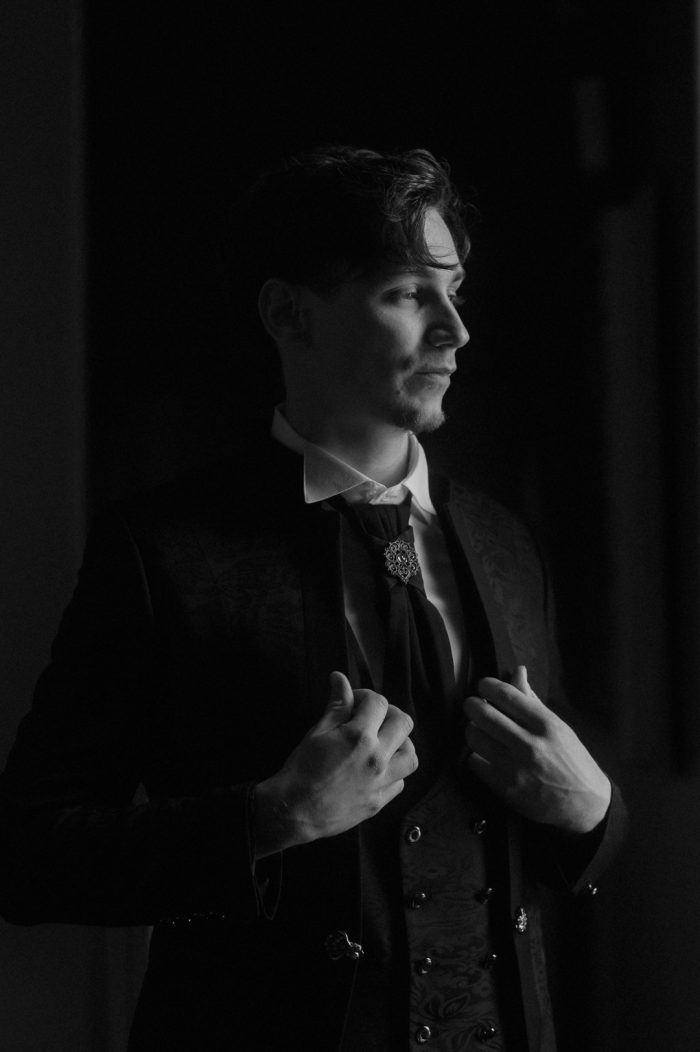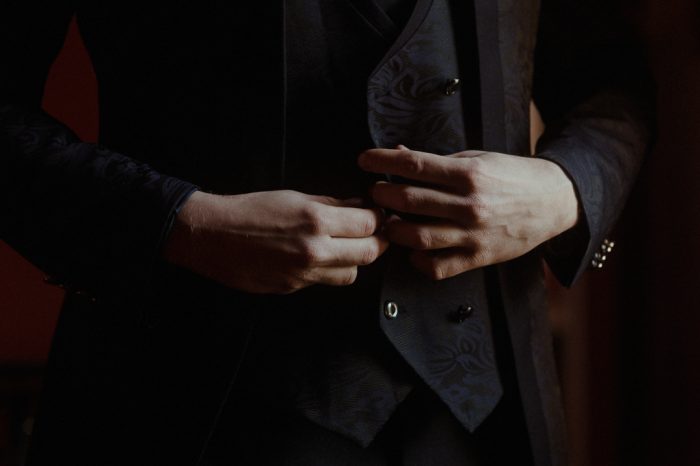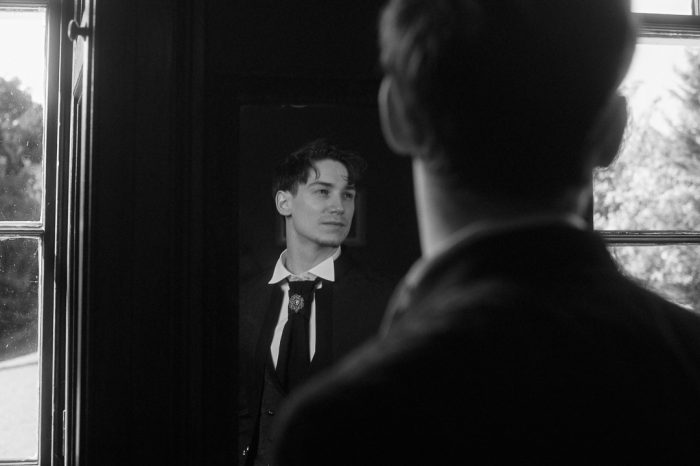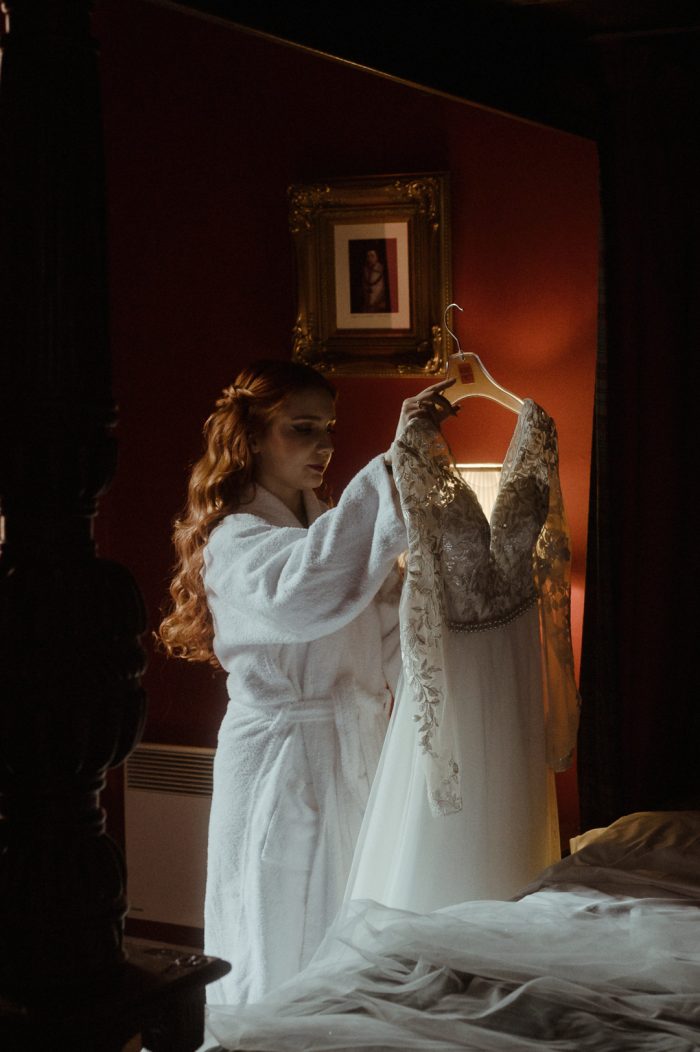 Why They Chose To Get Married In Dalhousie Castle
We saw Dalhousie Castle on our planner's Instagram. We liked the castle very much, and the chapel for the ceremony seemed perfect. We also noticed the possibility of having the wedding rings delivered by the resident owl Bonnie. We found this idea really beautiful. And also, the place is not far from Edinburgh, so it was perfect for guests to arrive at the venue quite easily. We wanted a romantic atmosphere, an "old world" aspect, with Scottish traditions—handfasting with the ribbon in the colors of the Ramsay clan that owned the castle and the quaich.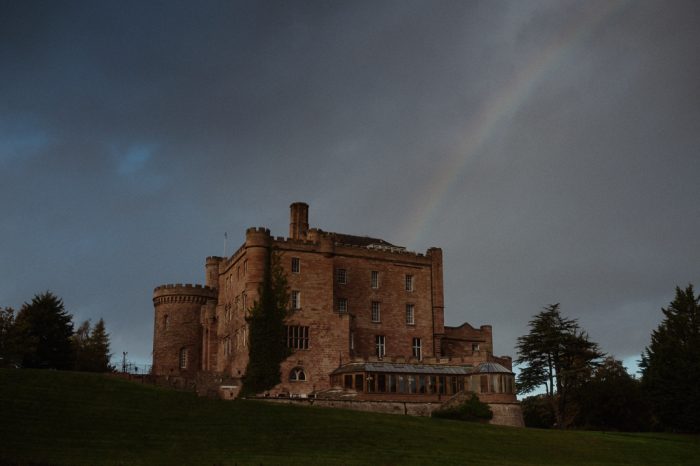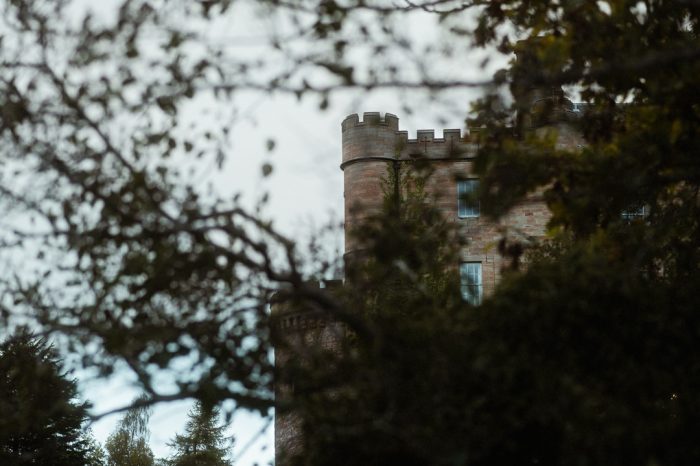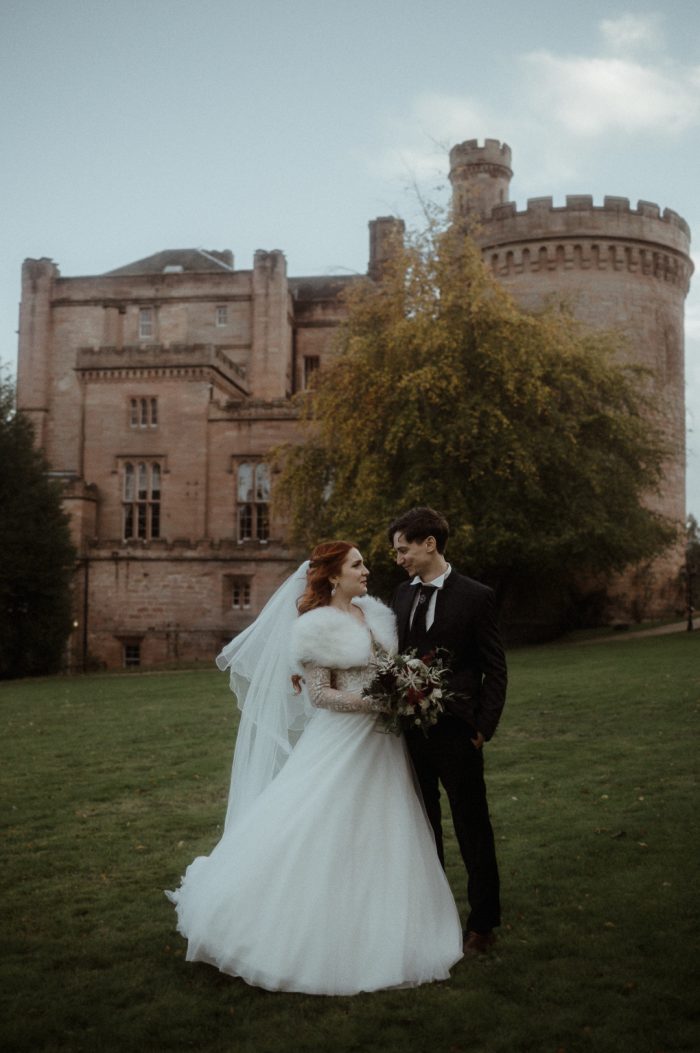 Incorporating Scottish Traditions While Personalizing Their Ceremony
The celebrant gave us ceremony models he had made for other weddings, and I changed them to fit us. I wrote when we would exchange our vows, when we would receive our rings, and when we would do handfasting and quaich. So while he was reading the ceremony, I recognized my own words. It was a little strange, but at the same time, I was a little less stressed since I knew the order in which it was going to take place. The most memorable part was undoubtedly the ceremony. In particular, the exchange of our vows was intense and full of emotions and love.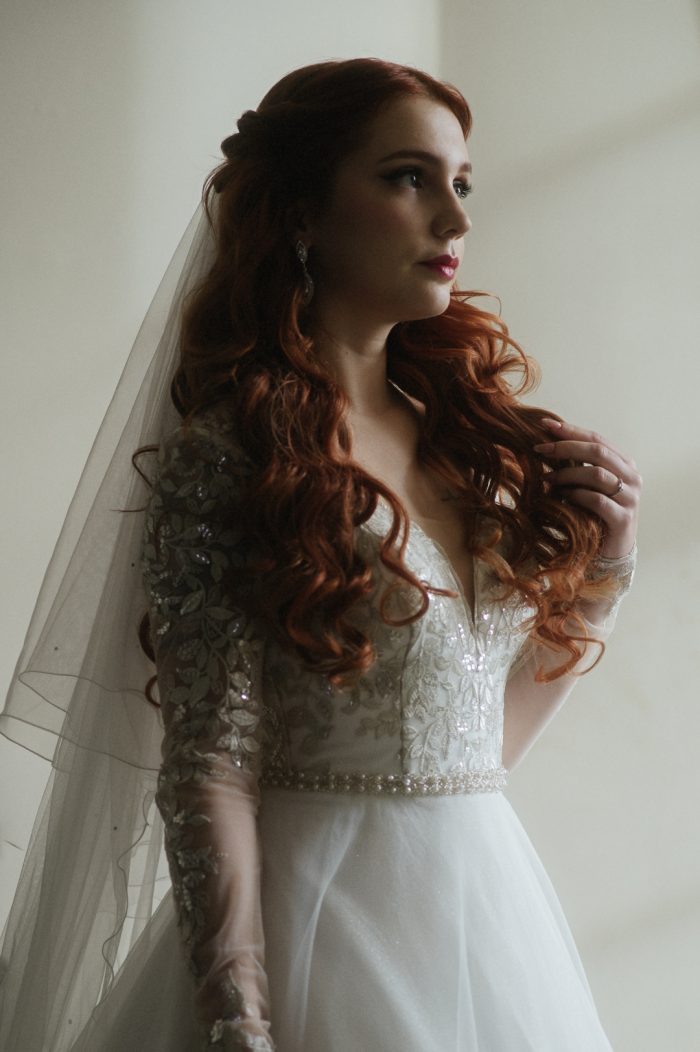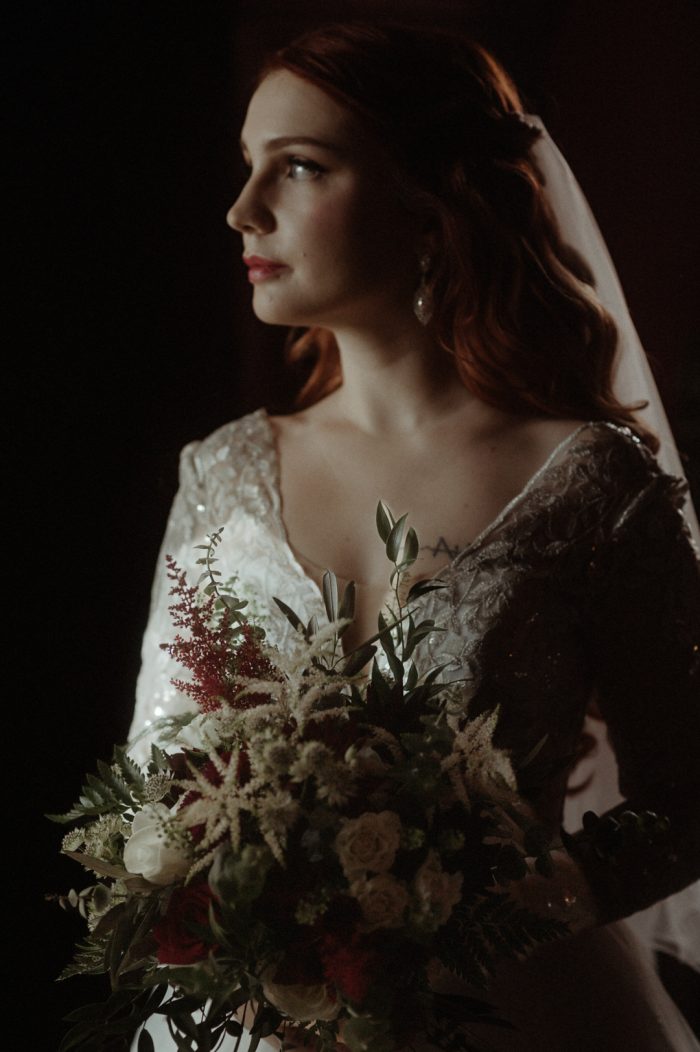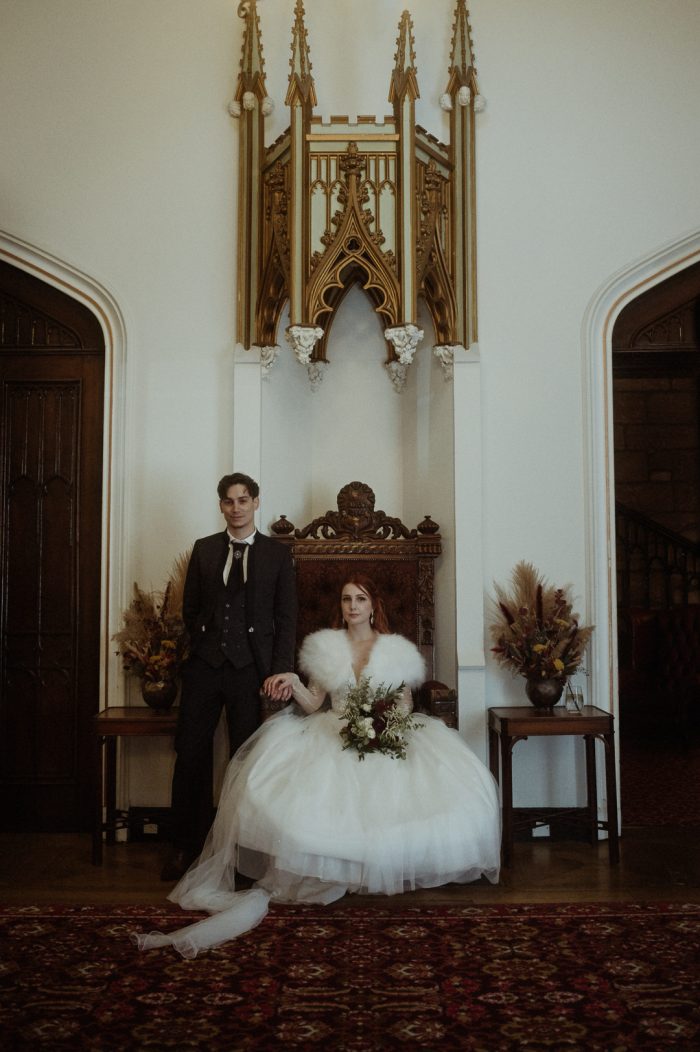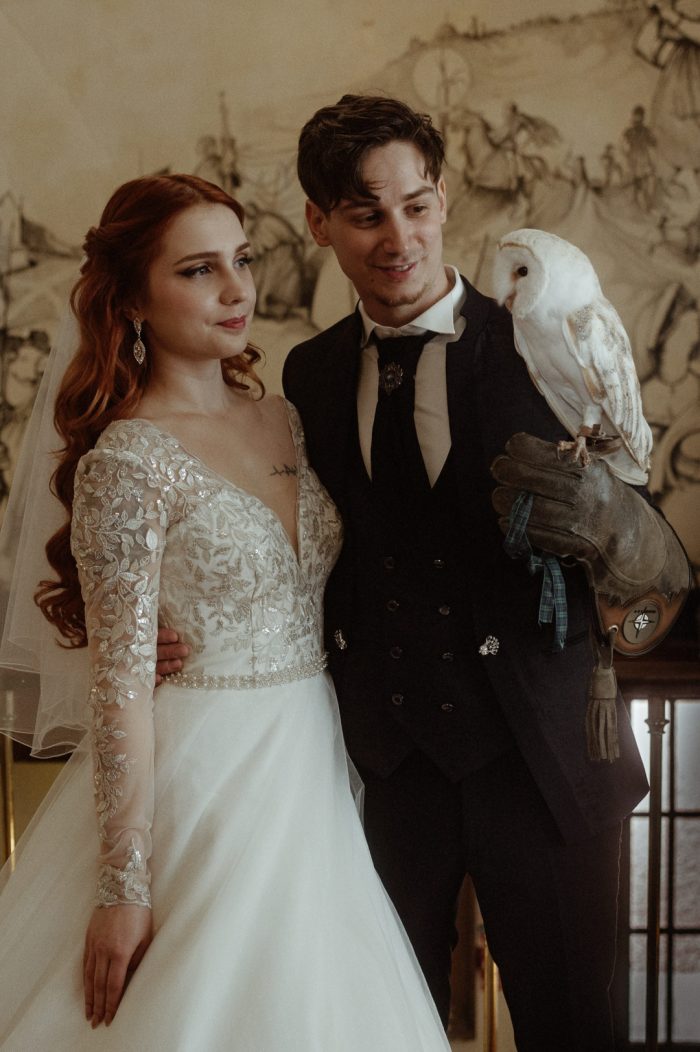 A Unique Ceremony Surprise By The Castle's Resident Owl
The whole day was perfect. The ceremony left the biggest impression on us. What we liked the most was seeing our guests' reactions when our rings were delivered by the magnificent owl of the castle, Bonnie. We didn't tell anyone to keep the effect of surprise. No one expected it, and it was funny to hear our guests say wow when they saw her make her entrance.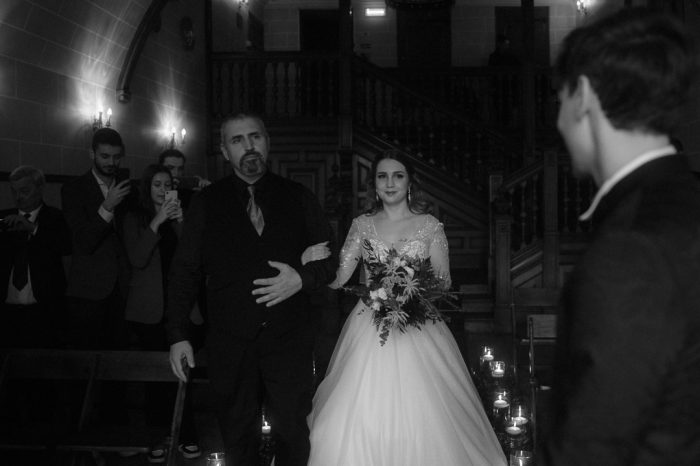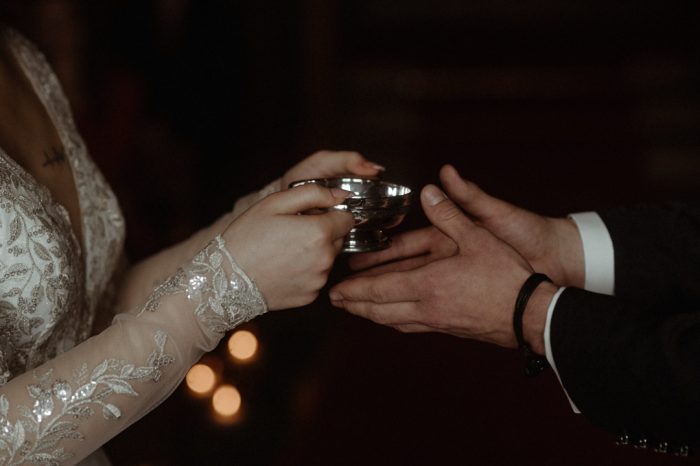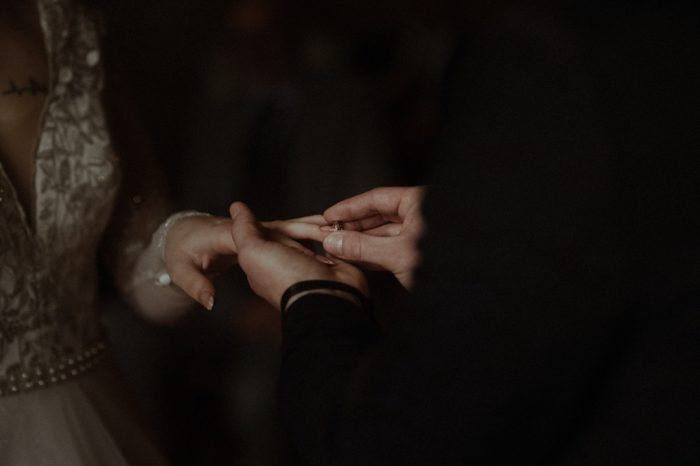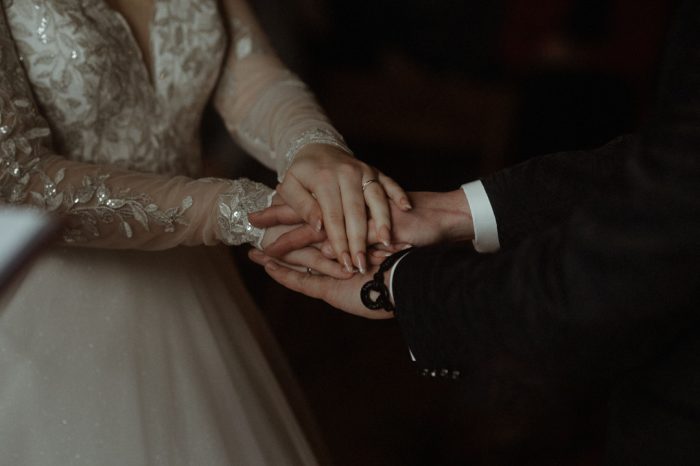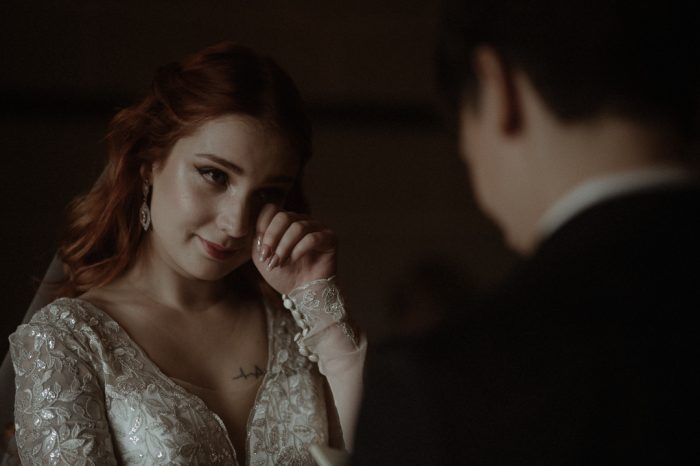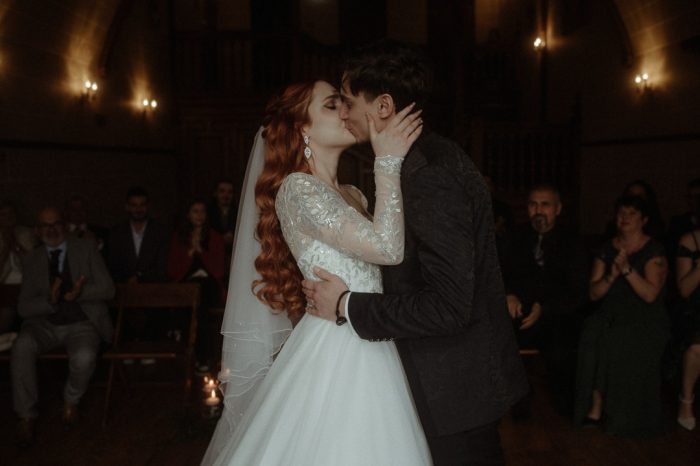 Choosing Attire That Complemented The Venue And Old World Vibe
We wanted a style that matched the venue and vibe we were going for—old-world and romantic. Loic chose a midnight blue suit with embroidered details and a beautiful brooch. For my dress, I chose a dress with a beautiful volume and glittery details under the tulle of my dress, a pretty train with a long veil. My makeup and hairstyle tied into the "game of thrones" vibe. I also had a faux fur bolero, strengthening the GOT aspect a little. All that was missing was our wolf. (We have a wolf dog.)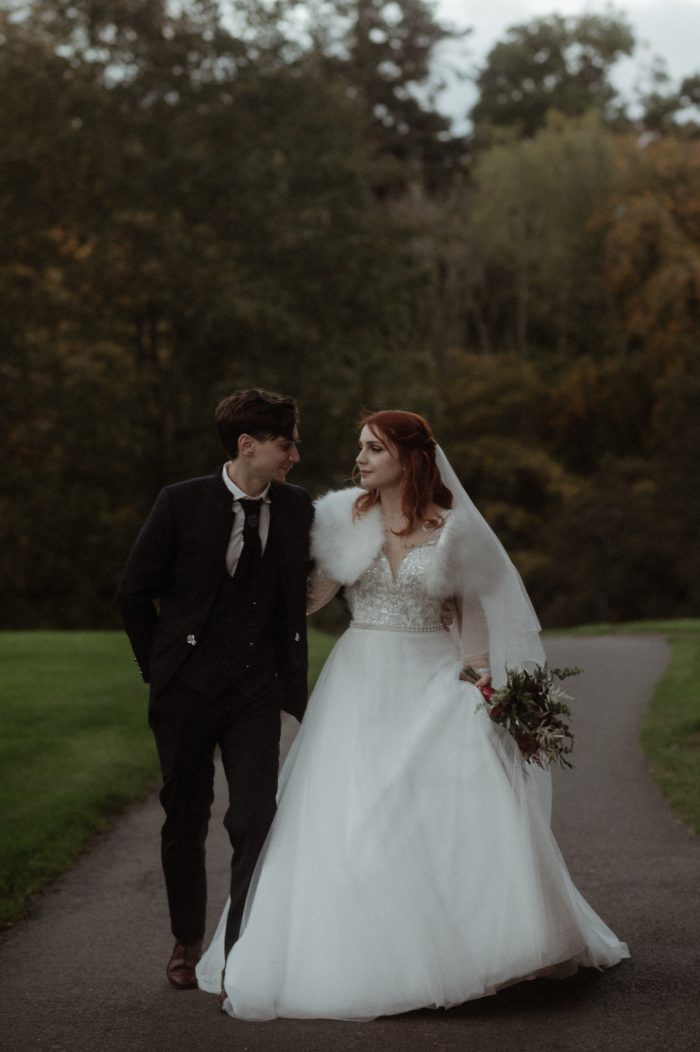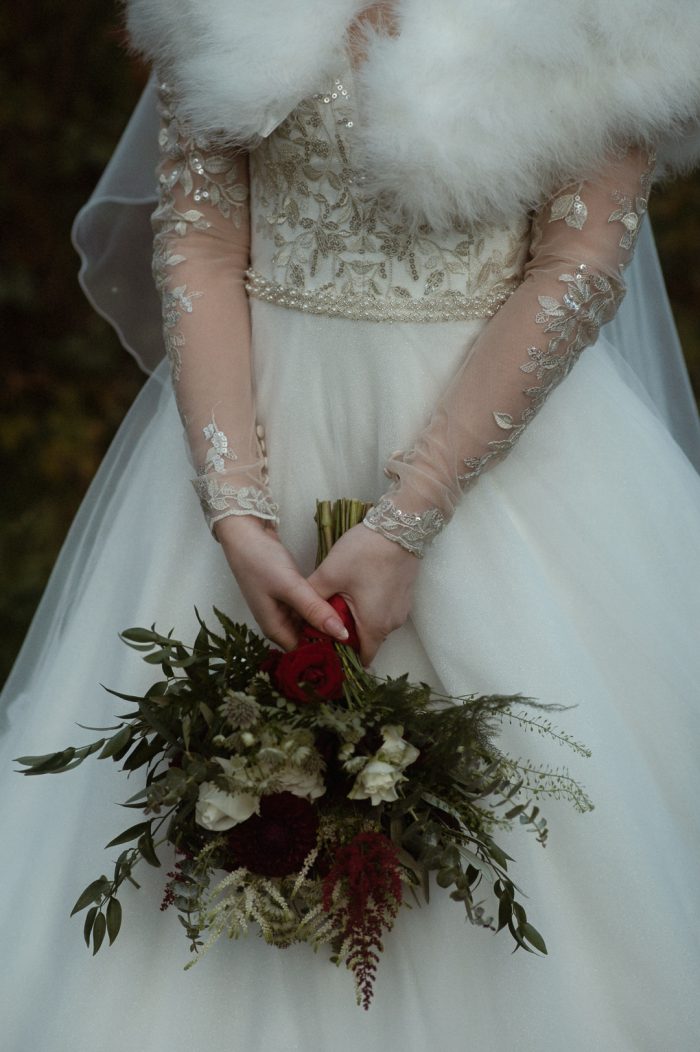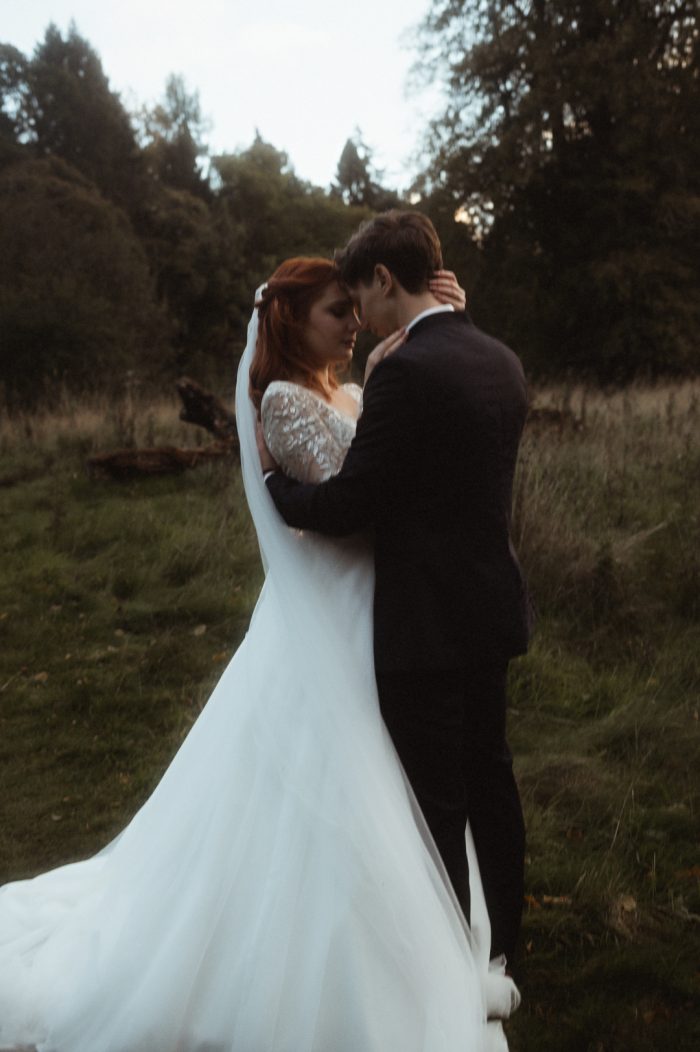 Themed DIY Vow Books And Labels
I made our vows books myself because we couldn't find what we wanted. So I bought blank black notebooks and forest green ribbon. I wrote on the notebook myself with gold felt and made a white and gold wax seal with our two initials. I also made the labels to stick on the guests' whisky flasks, always in the theme of forest green and gold.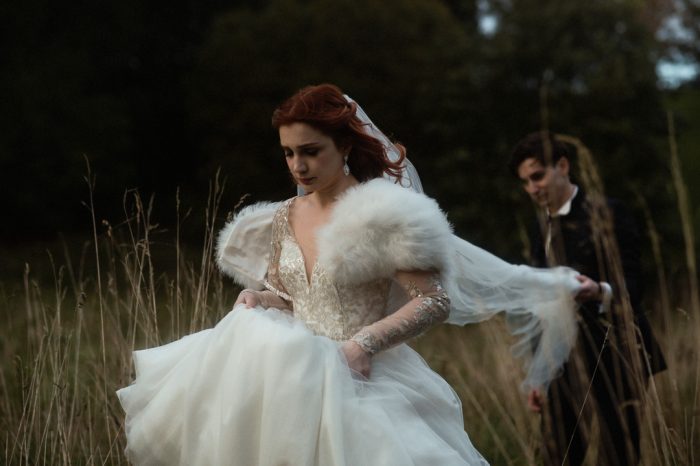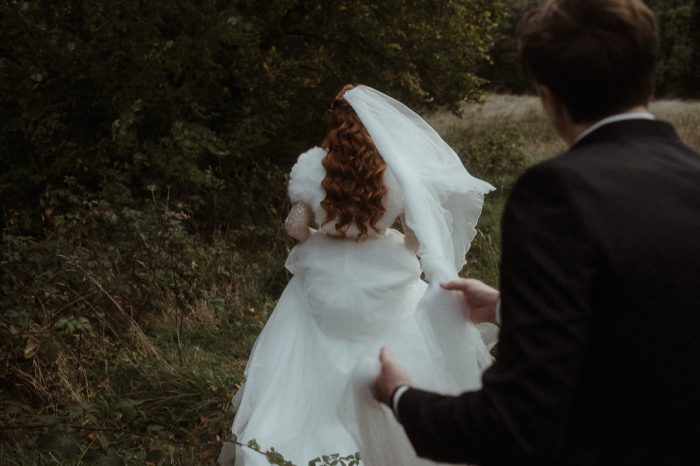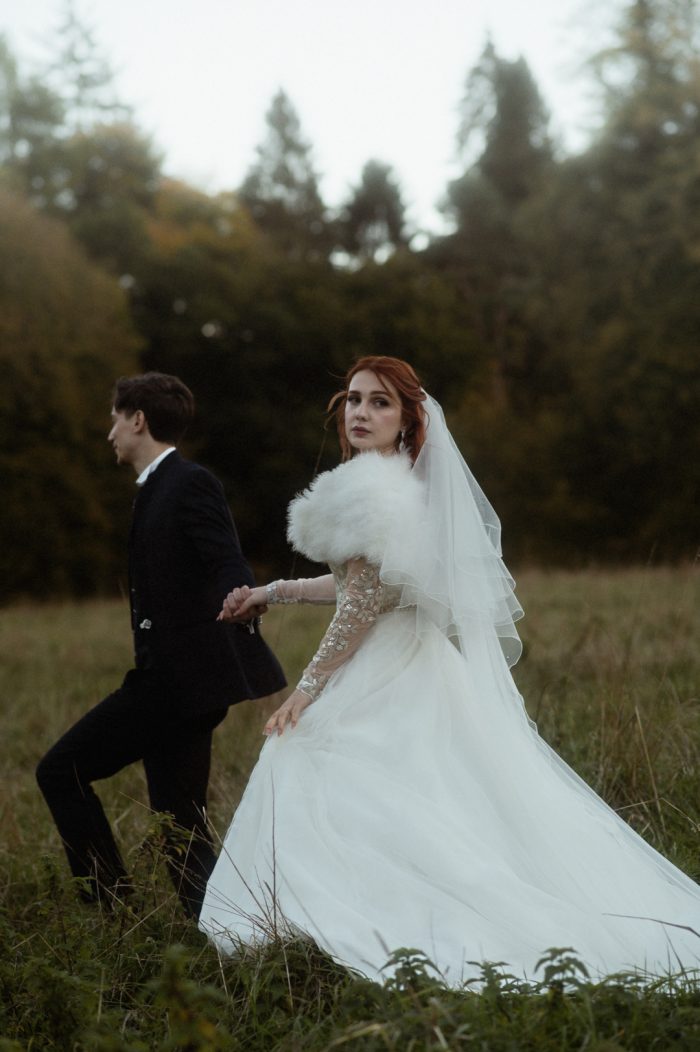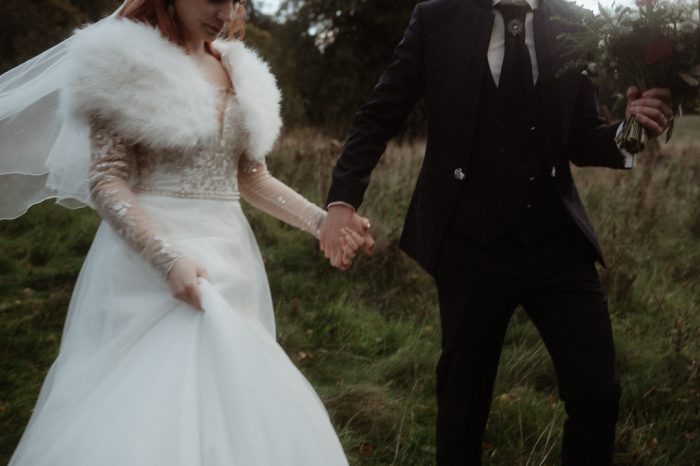 Advice From The Newlyweds
The most crucial aspect of this journey was having our closest loved ones with us, and we are so grateful that they did. And thanks to our wedding team, we enjoyed every minute of it. We recommend that other couples plan ahead to avoid too much stress and have enough time to find the best vendors. Additionally, it would be ideal if you hire a wedding planner.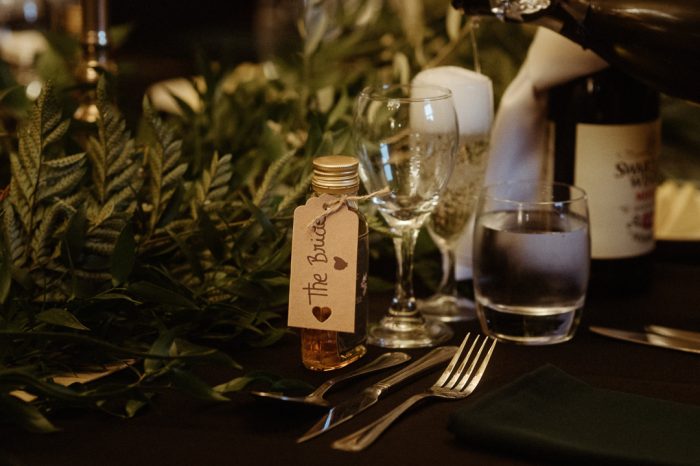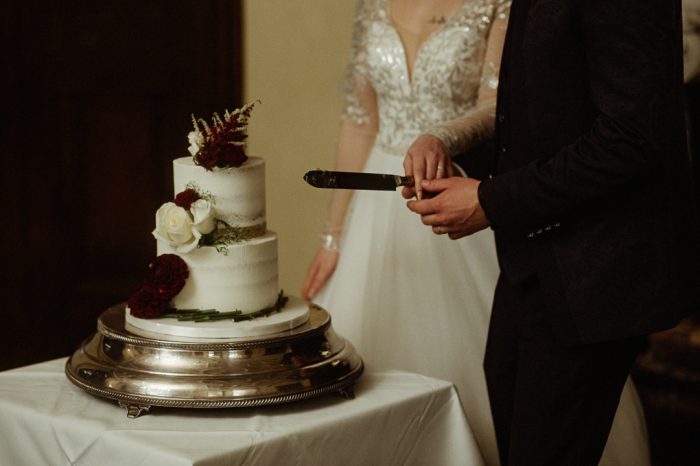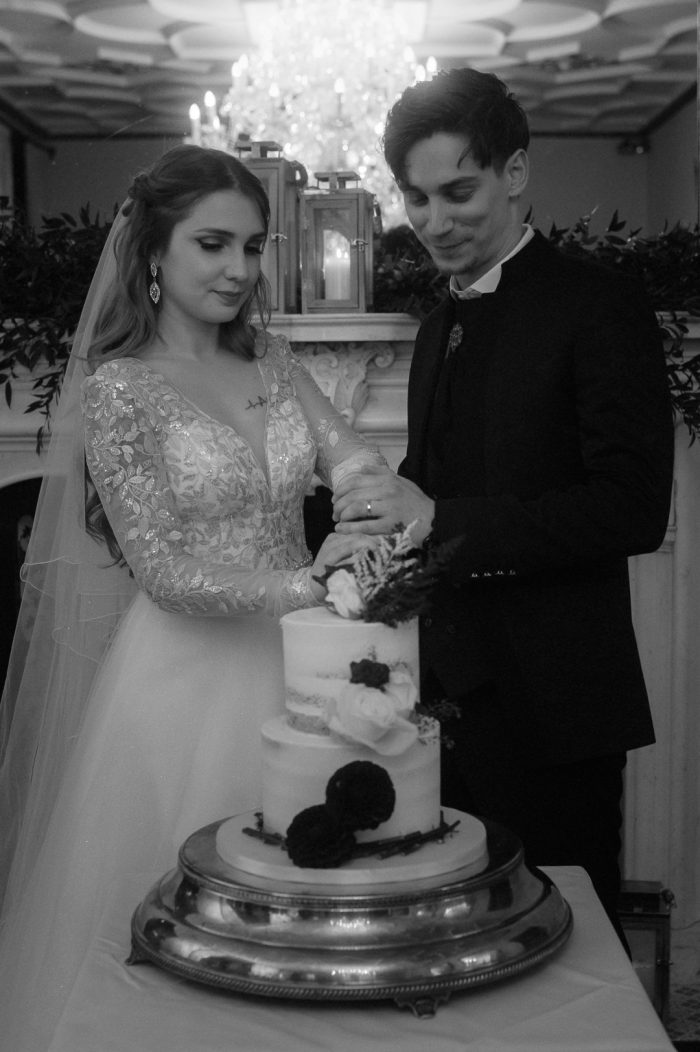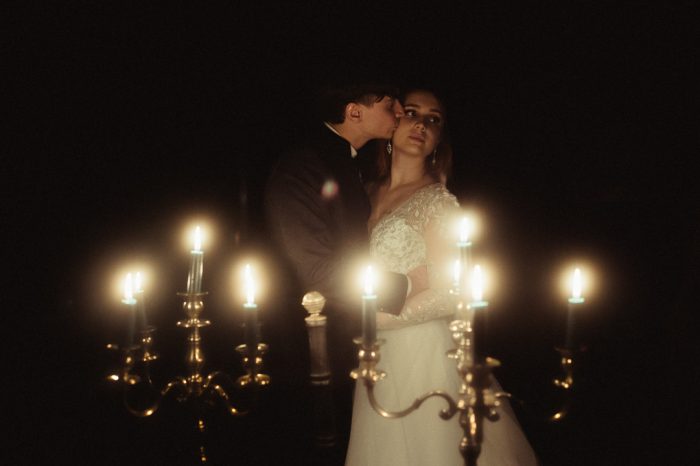 Congratulations to Loic and Cynthia on their Dalhousie Castle wedding infused with Scottish traditions, classic attire, and a whole lot of personality. It truly has us dreaming of a castle celebration—who's with us? Whether you want a small affair or a big soiree, you can make finding the perfect fairytale venue a breeze by checking out our guide to hunting down the perfect wedding location.
And a big thank you to Junebug member Sean Bell for capturing the romance and magic of their special day. To see more of his talent, check out his profile in our directory of the world's best wedding photographers.