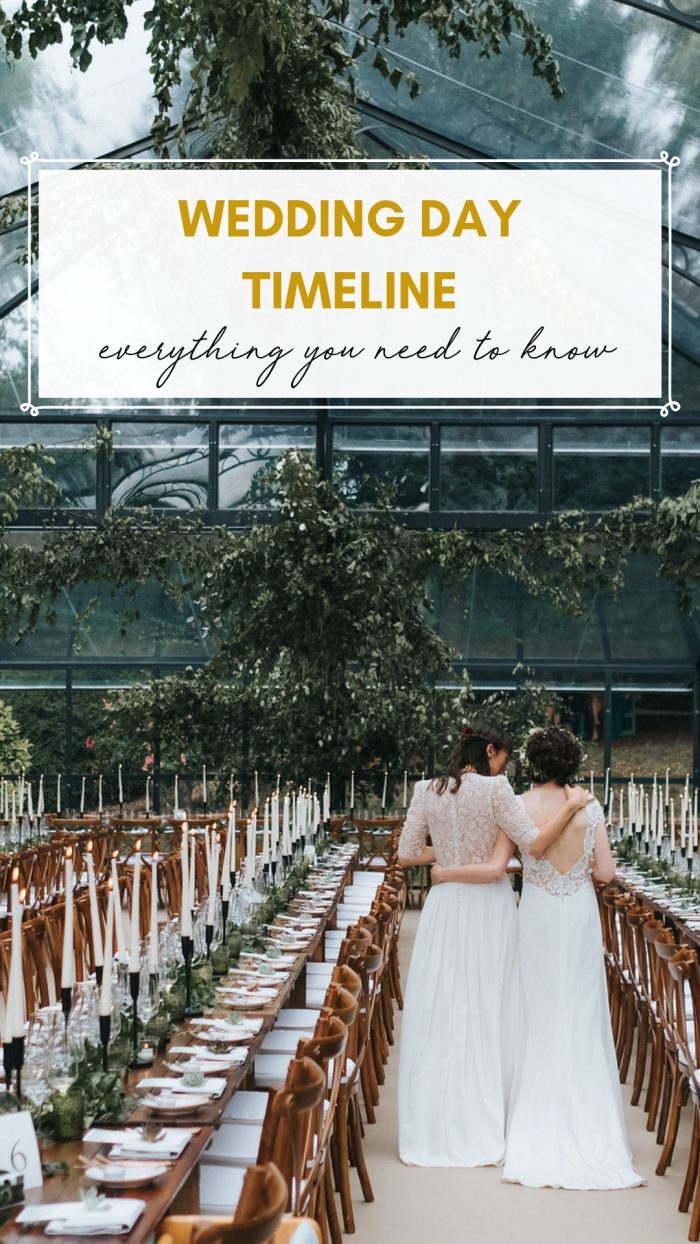 Until I started planning my own wedding, I had no idea that a wedding day timeline was so… intensive. Seriously! I'm not trying to alarm, but there are 100 different things to consider when you're building your wedding day itinerary. From getting ready with your girls in the morning to running through a tunnel of sparklers, this From Blogger to Bride will give you everything you need to know in order to create a complete wedding day timeline.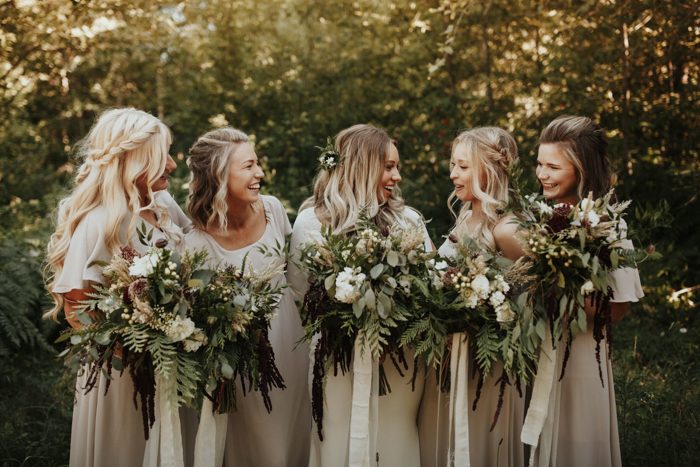 Photo by Dawn Photo
Chandra, of Chandra Keel Events (A Phoenix-based expert wedding planner) says "a well-crafted timeline is one of the few essentials that can impact practically every aspect of your wedding day. When done properly, your wedding day is infinitely better and your vendors are able to do their job at their best.
How to Build Your Wedding Day Timeline
As you begin building your timeline, start with your ceremony time and work backwards. Start simple and then go back and add detail. Once you've worked your way to the start of your day (meaning, what time to wake up), go back to your ceremony time and work forward to the end of the evening. Add in the major events (grand entrance, toasts, dances, cake cutting, etc.) and then go back to add in finer detail. Be sure to account for transportation times and how each event relates to your vendors. If first look photos begin at 3pm then bouquets and boutonnieres must arrive before then. If you want photography coverage from 'getting ready' through your last dance and send-off, do you have enough coverage hours to accommodate that? You'll begin to see the holes and what needs to be corrected.
Also, and I can't stress this enough, add buffer times. If you expect your ceremony to last 20 minutes, round that up to 30 minutes. If Google maps says that transportation from one location to the other will take 12 minutes, round that up to 15 minutes and not down to 10. You'd be surprised to know how long it can take for everyone to get to, in and out of transportation vehicles as well as travel time on foot if you are at a large venue. Plan for photos to be done 30 minutes prior to the ceremony. This allows for you to breathe and absorb the minutes before your marriage but also allows for possible delays in the schedule. There's nothing worse than starting your ceremony late (5 minutes late is acceptable – anything more is not). Don't cut things to the last minute. Believe me, you will use every extra minute that you accounted for.
Lastly, start building your timeline early in your planning rather than waiting until the very end. As soon as you have any detail that will need to be in your timeline, add it. As you hire vendors you'll begin to see the day taking formation on paper. You'll also spot timing mishaps early on and will have time to make adjustments with your vendors (or possibly your budget) as well as notify family members and your wedding party when they'll need to be ready and on location (because they'll start asking exactly 10 minutes after your engagement)."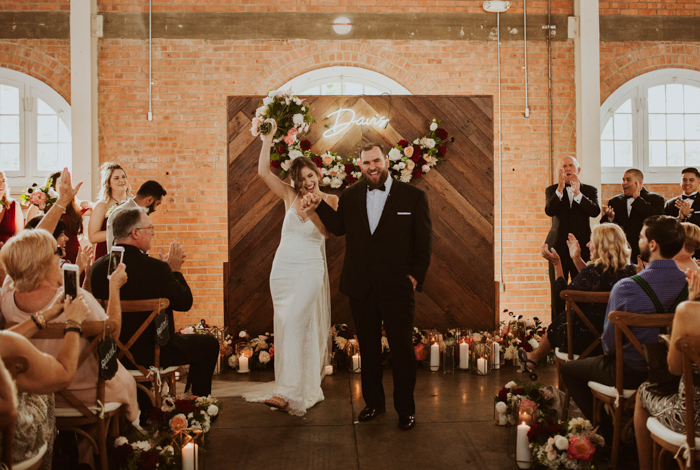 Photo by Dani Purington Photography
Sample Timeline
8:00 am—Hair and Makeup (depends on how many people are being serviced)
2:00 pm—Wedding party photos start at hotel
4:00 pm—First look
4:00–6:00 pm— Vendors arrive for setup – two hours before ceremony (depends on the amount of decor being installed)
5:30 pm—Guests arrive for wedding/Pre-ceremony music starts
5:45 pm – Wedding Party line-up
6:00 pm—Ceremony start
6:30 pm—Ceremony ends
6:30 pm—Cocktail hour starts
7:15 pm—Move guests into dinner
Introduction of Wedding Party
Introduction of Bride & Groom
7:30 pm—First dance
Welcome
7:45 pm—Dinner served
8:45 pm – Cake Cutting/Toasts
Special Parent Dances (Father-Daughter & Mother-Son/Fraternity or Sorority Songs)
9:00 pm—General dancing music starts
10:00 pm—Garter/Bouquet Toss
10:15 pm – Dancing
11:00 pm – Car arrives/Exit
11:00 pm—Breakdown (typically 1 hour load out)
(source: Gail Johnson Weddings and Events)
So, leave some wiggle room in your schedule and don't forget to set aside lots of time for photographs! The next time you hear from me, I'll be a married woman and will have much more advice to share, I'm sure. I can't wait to include you all in my big day. The engagement period goes by quickly, so make sure to soak it all up and enjoy each and every moment.
Now that you know what your wedding day timeline needs to include, check out our wedding beauty timeline to help you look and feel your best!