We know weddings can be overwhelming, to say the least. That's why having a clear wedding day timeline is crucial. It helps eliminate day-of stress and scheduling conflicts so that everyone–from your bridesmaids to your DJ–is on the same page. We reached out to Junebug members about their advice on wedding timelines, and this is what Holly Poulter of Revelry Events had to say about them, "First of all, it's your wedding, and you know best about how you want everything to run. You have free rein over what comes after what and when. But flow is important, and scheduling too little or too much time for certain things can lead to either chaos or boredom."
From getting ready in the morning to your exit in a vintage getaway car, we're here to give you everything you need to know to create a complete wedding day timeline that will flow smoothly.
How to Build Your Wedding Day Timeline
Start Planning The Timeline Early In The Wedding Planning Process
Start building your timeline early the planning process rather than waiting until the very end. As you hire vendors, you'll begin to see the day taking formation on paper. You'll also spot timing mishaps early on and will have time to make adjustments with your vendors–or possibly your budget–as well as notify family members and your wedding party when they'll need to be ready and on location.
Plan With Your Vendors
Chatting with your vendors–specifically your photographer and planner–is key when putting together a timeline. Expert planner and Junebug member Chenai Bukutu of ByChenai Events said, "As a wedding planner, I rely on collaboration and input from vendors and the venue to build a realistic timeline for the day. For example, your photographer may suggest the best time of day for portraits/family shoots in order to utilize the best light.
Your venue is a great resource if you are not working with a planner as they host several weddings a year and know from experience what timelines work best. Your caterers can also be relied upon to give great input as they work with very specific timeframes to ensure guests are fed more than adequately throughout the day."
Start With Your Ceremony
As you begin building your timeline, start with your ceremony time and work backward. It's easiest to begin with a simple outline and then go back and add detail. Once you've worked your way to the start of your day–meaning, what time to wake up–go back to your ceremony time and work forward to the end of the evening. Add in the major events–including grand entrance, toasts, dances, cake cutting, etc.–and then go back to add in finer details.
Consider Transportation Times
Marie-Louise Palmqvist of VILD Photography had this to say about transportation, "Taking travel time into account during your big day is absolutely crucial for creating a timeline for photography. Knowing that you may be in transit for 15 minutes or 1 hour will make all of the difference when you're planning the flow of your day.
This is especially important for couples–and guests–that aren't familiar with the area. If you aren't intimately familiar with the area, you may not know about traffic patterns or distances between key places. Use an app like Google Maps to estimate your travel time to each location and make sure your plan is realistic. We always say things take longer than they should, so plan for an additional 15 min just because."
Add Buffer And Down Time
No matter what you do, add buffer time. If you expect your ceremony to last 20-minutes, round up to 30. If Google Maps says that transportation from the ceremony to the reception will take 12-minutes, round up to 15. You'd be surprised at how long it can take for everyone to get to, in, and out of transportation vehicles, as well as travel time on foot at large venues.
This also gives you time to breathe. For example, if doing a first look, have photos done 30 minutes before the ceremony. This allows you to relax and take in the minutes before your ceremony and allows for possible delays in the schedule. And, of course, schedule moments to soak up time with your new spouse.
We love what Junebug member Madeline Barr had to say about focusing on your wants, "Make time for what's important to YOU and always add extra time to those things! Do you just want to dance with your friends? Focus your time around that! Do you want private time with your partner? Consider a first look! Want romantic, golden hour portraits? Make sure to set aside time to watch the sunset!"
Sample Wedding Day Timeline
8:00 am — Hair and makeup
2:00 pm — Wedding party photos
4:00 pm — First look
4:00–6:00 pm — Vendors arrive for set up
5:30 pm — Guests arrive for wedding & pre-ceremony music starts
5:45 pm — Wedding party line-up
6:00 pm — Ceremony start
6:30 pm — Ceremony ends
6:30 pm — Cocktail hour starts
7:15 pm — Move guests into dinner
7:25 pm — Introduction of wedding party and bride & groom
7:30 pm — First dance
7:45 pm — Dinner served
8:45 pm — Cake cutting/toasts
8:55 pm — Parent dances
9:00 pm — General dancing music starts
10:00 pm— Garter/bouquet toss
10:15 pm — Dancing
11:00 pm — Car arrives/exit
11:00 pm — Breakdown (typically 1-hour loadout)
(source: Gail Johnson Weddings and Events)
Now that you know what your wedding day timeline needs to include, check out our wedding beauty timeline to help you look and feel your best!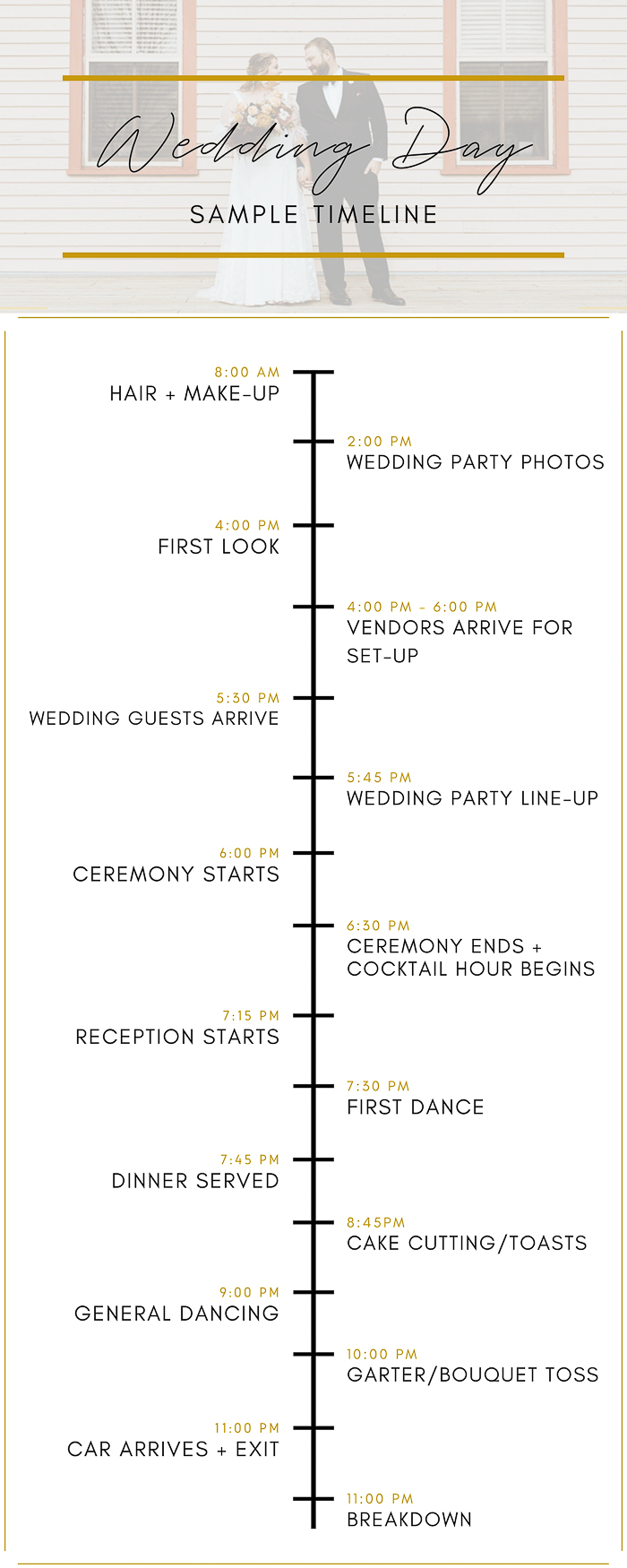 Now that you know what your wedding day timeline needs to include, check out our wedding beauty timeline to help you look and feel your best!