Whether you've dreamed about your wedding gown for years or you've got no clue where to start, wedding dress shopping can be a tulle-filled maze that can leave you stressed, frustrated, and ultimately unhappy with your final purchase. Lucky for you, you've found us and we're going to make sure that you're equipped with everything you need to know in order to find your dress without the stress. Finding your dream wedding-day outfit, even if it's not a dress (hello, jumpsuits!), doesn't have to be so draining. These tips will keep you sane and organized as you navigate the world of boutiques, online retailers, and dress designers. Shopping for your dress is a balancing act: style, budget, time, and a certain magical feeling all have to perfectly align in order for you to find the one.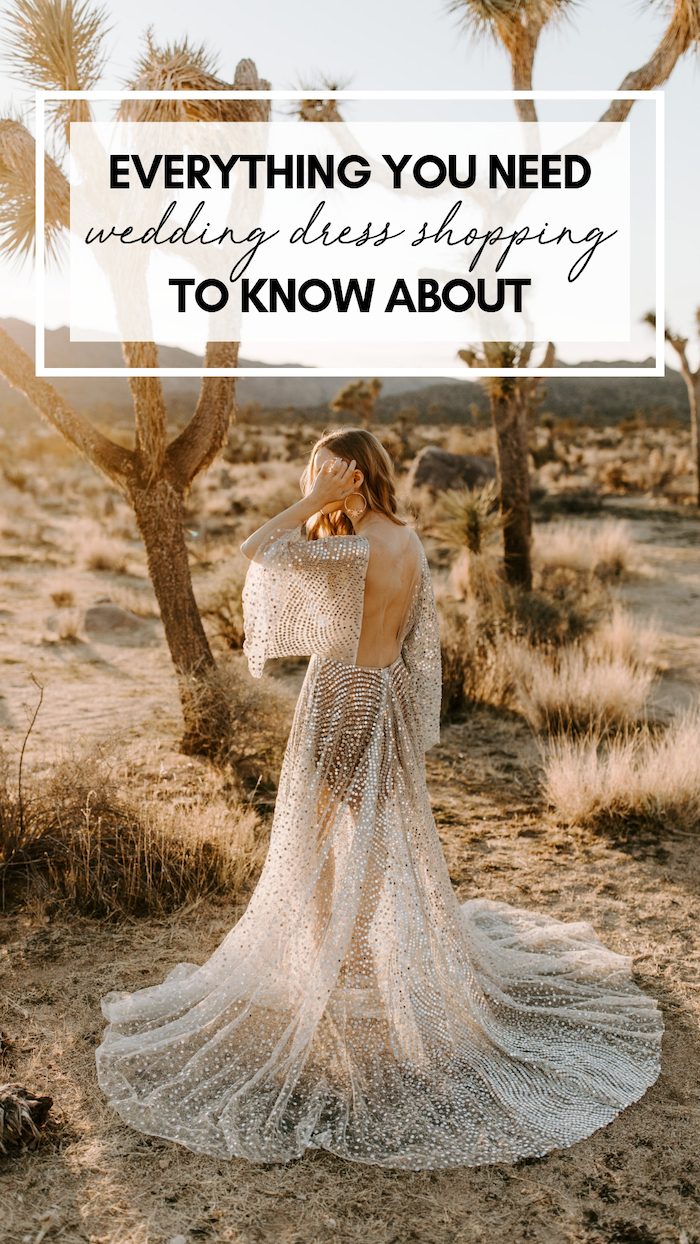 Timing
You'll want to start your dress search early because if you fall in love with a New Zealand designer, shipping will take longer. Some brides also run into the issue of ordering what they think is their dream dress only to realize that their wedding style has shifted slightly since they went dress shopping. When it comes to wedding dress shopping, there is no downside to getting started early! 6-8 months before your wedding date should give you just enough wiggle room!
Budget
While the typical wedding dress budget is $1,000 USD to $2,500 USD, it's not far fetched to see gowns at your local boutique creeping closer to $10,000 USD. If you're a penny pincher when it comes to fashion, then keep in mind that there are many resale options available to you, such as Nearly Newlywed or Once Wed. You can also try your hand at finding a non-traditional dress via shops like Zara or Show Me Your Mumu. Here's a round-up of wedding dresses under $200 USD.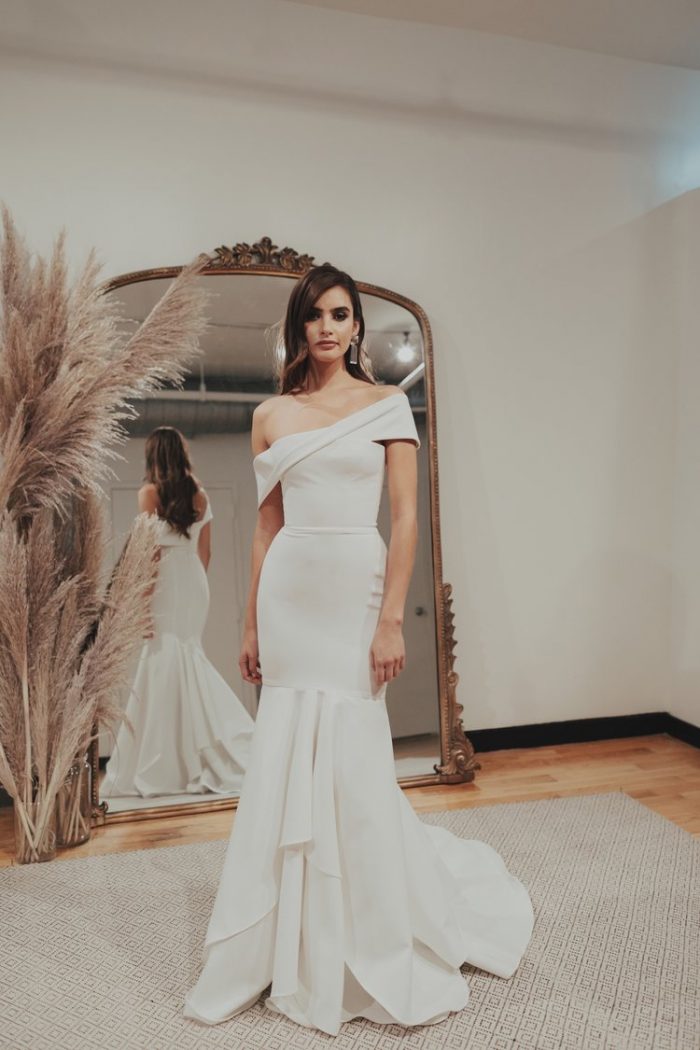 Gown by Sarah Seven
Style
One of the best wedding planning tips I can give to any newly engaged person is to have fun when it comes to your wedding-day look! Even if you've always dreamt of yourself in a princess gown, try on different styles, just in case. I often hear from brides that they ended up choosing a dress that wasn't at all what they had in mind, so keep your mind open and have fun trying on different looks!
At Junebug, we believe that every body can wear every dress, so we're not going to tell you what dress style fits your body best. The only way to figure out what works for you is to try on different styles and determine what makes YOU feel most confident.
If you have no idea where to start when it comes to style, take our bridal style quiz!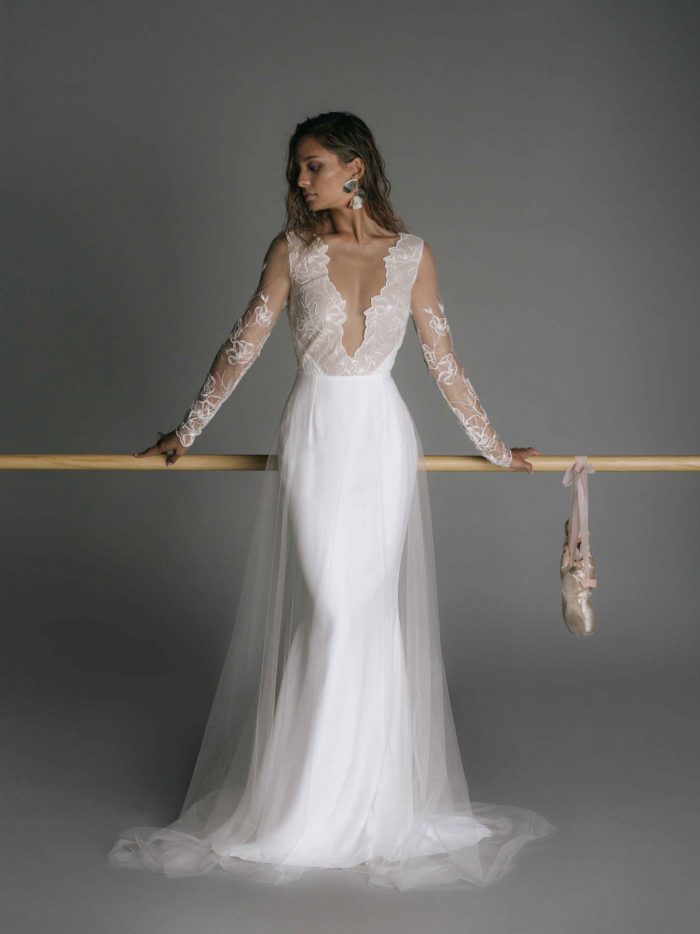 Gown by Rime Arodaky
Sizing
When you first start trying on wedding dresses, you might be shocked to learn that sizing is literally all over the place and it usually isn't anything remotely close to what you are in your regular, everyday clothes. You'll have to check whatever ego/feelings you have about sizing at the door.
Most boutiques only carry one or two sizes of a gown, which means you'll most likely be trying on gowns that don't fit you. Your consultant will add clips to the back of the gown so that you can see what the gown would look like with the correct fit. This can be somewhat jarring for those of us who have a lot of feelings when it comes to our body and trying on clothes. Go into this experience knowing that the dresses you try on will definitely look a little off from the final version that you wear on your big day!
When it comes to finding a plus size gown, you'll need to call ahead and make sure that the boutique you're visiting carries both the designers and sizing that you need. Boutiques only carry a few sizes in the gowns they have in-stock and many designers limit their sizing, not accommodating for every body type. While this is an unfortunate flaw in the wedding industry, times are changing and designers and boutiques are stepping up to the plate. If you're a woman with a beautiful, curvy figure, check out our round-up of stunning plus size wedding dresses.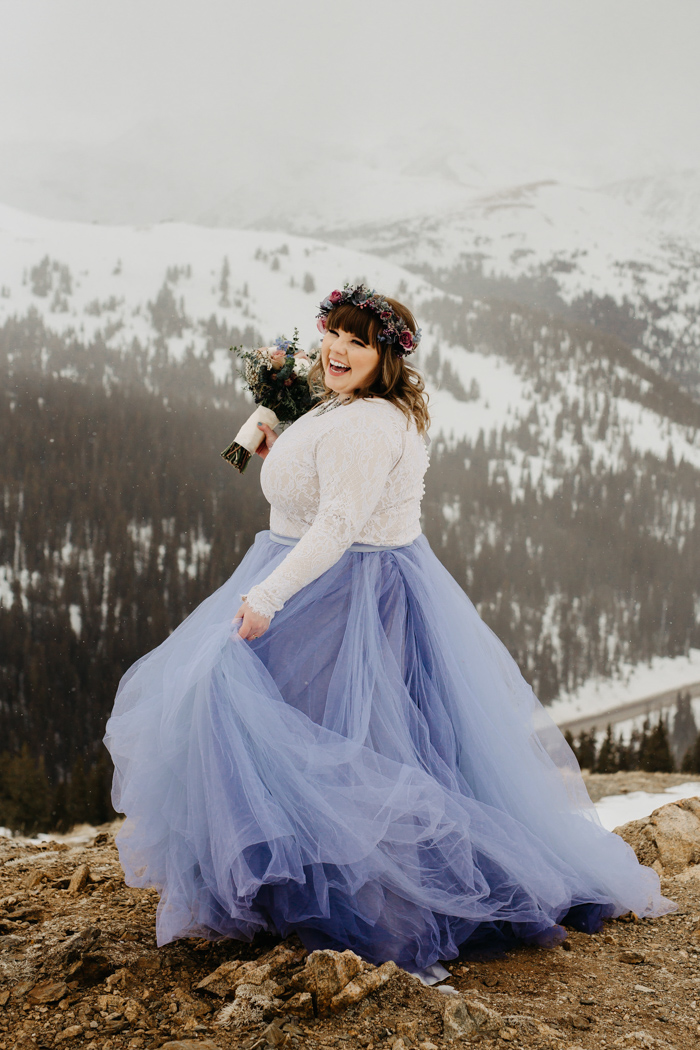 Photo by Amy Bluestar Photography
7 Tips to Remember When You're at a Bridal Boutique
Limit who you bring with you. Only bring friends and family who you know will respect your feelings and support your final decision

Don't try on too many dresses in one day. Work with your consultant to pick out 5-10 dresses. Too many dresses can lead to confusion and stress (especially if you hate trying on clothes in fitting rooms!)

Eat before-hand. Don't try to change how your normal body looks or feels so that you might look different or feel different when you're at the boutique. A wedding day is long and you're going to want to make sure that you feel comfortable wearing your dress whether you're posing for bridal portraits or hitting the dance floor. Plus, food is good for the brain. Make sure you're feeling full of energy and good vibes prior to visiting a boutique

Be ready to walk away. A bridal boutique's main mission is to sell you a gown, and while most consultants have your best interest at heart, you need to remember that their job is to get you to select one of their dresses. Keep that in mind and don't let a consultant bully you into purchasing a dress that doesn't feel right

Listen to your gut. While you probably won't fall in love at first sight, definitely listen to any gut feelings you have when trying dresses on, even if you can't pinpoint why you're feeling that way

Take advice from others with a grain of salt. While your mom or sister or best friend definitely love and support you, they might not appreciate the style of dress you end up choosing. It's difficult for friends and family to put aside their own biases at times in order to help you find the dress that works best for you

Don't overdo it. If you get stuck in a rut of going to boutiques every weekend to try on gowns with no end in sight, take a break. It's easy to overthink this decision and get bogged down in finding the "perfect" gown, but what you have to remember is that the more stressed you are, the less likely you'll be able to purchase a gown with a clear head. Give yourself grace instead of pushing on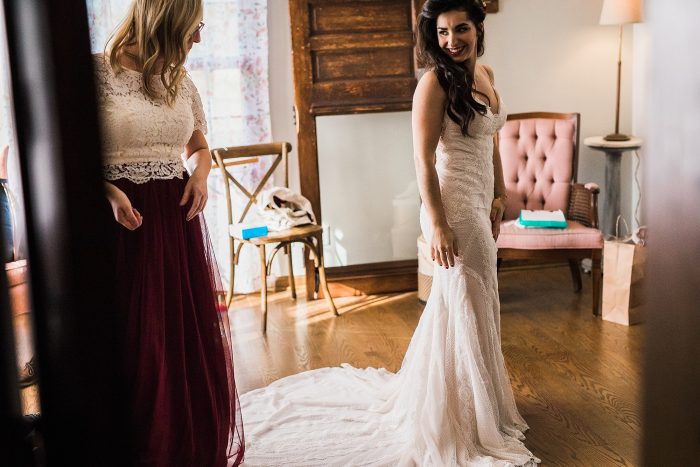 photo by Katie Ricard
While dress shopping may seem overwhelming, our biggest advice to you is to have fun. It's easy to feel stressed, but don't forget that this experience should be exciting and joyous. While a little stress is normal, don't let it ruin the experience for you. Remember that your dress is just one small factor when looking at the bigger picture that is your wedding day!
Ready to select a few designers you love? Check out our favorite 2019 wedding dress designers!