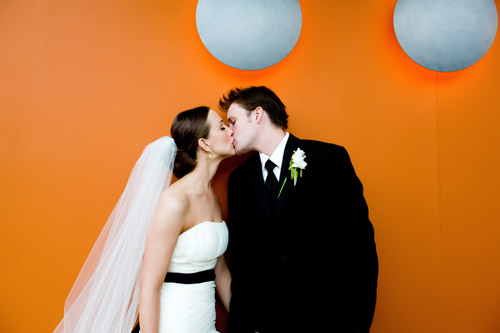 Amber and Aaron are lovers of fashion and design so it's no surprise to see that their Scottsdale, Arizona wedding at the ultra-cool Hotel Valley Ho had the perfect combination of modern style and a classic, timeless feel. It was crisp, clean, romantic and intimate – absolutely lovely!

The Goals: Working with a dream team of wedding professionals to bring this day to life, Amber and Aaron created a wedding that was all about their guests' enjoyment and making the most of their unique location. The wedding planners at Outstanding Occasions saw to every detail, Idieh Design created wedding invitations that would inspire the colors and look for the rest of the day, Camelback Flowershop designed floral arrangements with lush and edgy pops of fuchsia and black, Chuck Wiley, head chef at the hotel's Cafe ZuZu created a menu to-die-for, and photographer Kimberly Jarman captured the whole event in these absolutely gorgeous images. As a backdrop to all of that, the most important piece was the location. Amber's family owns the Hotel Valley Ho, so having the wedding there was extremely meaningful for everyone. Amber and Aaron also love the fact that whenever they return to the hotel they can walk through the grounds and revisit their exact wedding location.

The Design: A color palette of black and white kept the wedding classic and timeless, while additions of fuchsia in the flowers and decor added a little "rock and roll" to the event's atmosphere. The wedding ceremony was on the lawn in the main courtyard, and had a distinctive circular set-up. So modern and chic! For the wedding reception they moved inside to the ballroom which was decorated brilliantly in black, white and pink. A red velvet wedding cake with butter cream frosting from Julia Baker Confections was a delectable highlight of the evening, along with the custom made chocolate confections that Julia made as wedding favors. When we asked Amber what their wedding cake was like she simply replied, "Like HEAVEN!!!"
The Look: Amber wanted a clean and elegant bridal look with a little big of vintage charm and excitement thrown in, so she chose a stunning ballgown with a deconstructed skirt by Rosa Clara and accessorized it with a black sash, vintage jewelry and a dramatic full length veil. Amazing! Her bridesmaids wore fitted back cocktail dresses and the groom and groomsmen wore sleek black suits.

The Moments: Just before Amber and her father were about to walk down the aisle, they heard a commotion and realized that their flower girl, Amber's little niece Lucy, couldn't quite handle the pressure. She was sobbing her way to the altar where she proceeded to "chuck the ring pillow" – an unavoidable event that sometimes happens with little ones in weddings! But everyone took the moment in stride and Amber's father looked at her and said "We can do anything together," and off they went.
The reception was filled with moving speeches by Aaron's two brothers and Amber's older sister, and a romantic first dance to Fields of Gold by Eva Cassidy. At the end of the night Amber and Aaron said goodbye to all their loved ones and had a sentimental ending to their celebration. "Driving away in our vintage car through those sparklers at my family's hotel, off to my wedding night and then honeymoon in Punta Cana, Dominican Republic was a lot to handle. I cried a good cry."
The Pros: To learn about the whole team of wedding professionals who worked hard to create this amazing wedding, please visit Amber and Aaron's page in our Real Wedding library.

Thank you Amber and Aaron! We loved learning about your wedding!
To plan your own Southern California or Seattle area wedding, check out our Plan Your Wedding Hotlists, and to find a dream wedding photographer for your wedding anywhere in the world, don't miss our World's Best Wedding Photographers Hotlist!