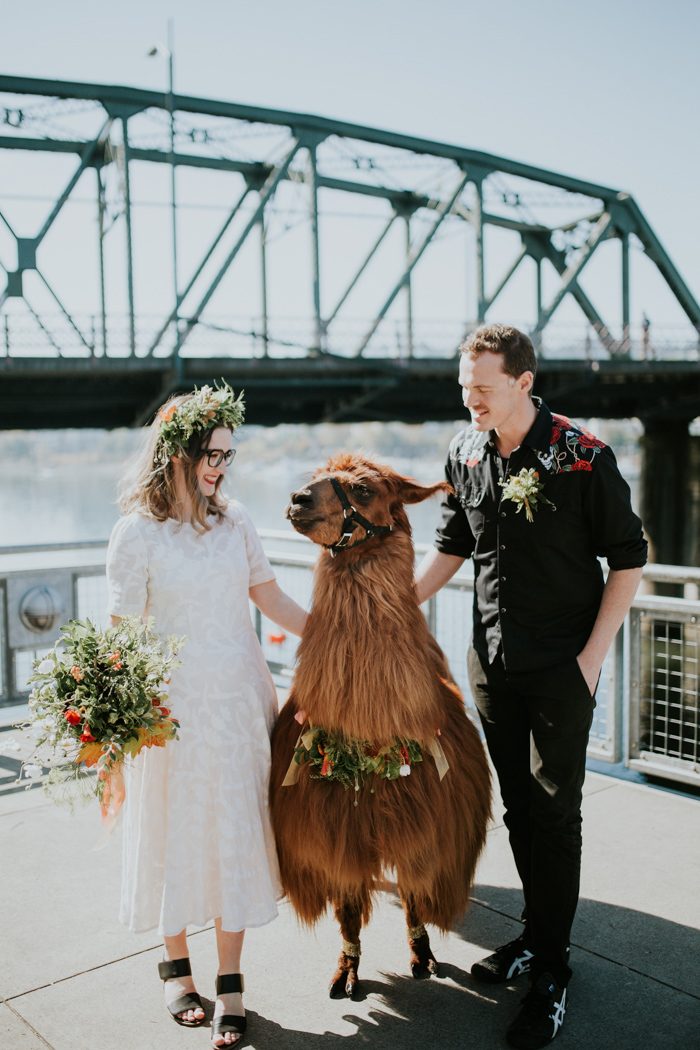 s
If Eliesha and Joel's adventure vow renewal is any indication, a good marriage keeps getting sweeter — and maybe a little quirkier — with time! The Australian couple, who traveled to North America for an epic road trip from Portland to Manitoba, threw out any form of convention and celebrated their 7th wedding anniversary in the most Portland way possible: with a vow renewal at the famously funky Voodoo Doughnuts, witnessed by the coolest best man ever: Rojo the Llama. We're still not sure how they fit 4 humans and a llama into that tiny doughnut shop, but these photos from Jamie Carle Photography are proof they had the time of their lives making it work!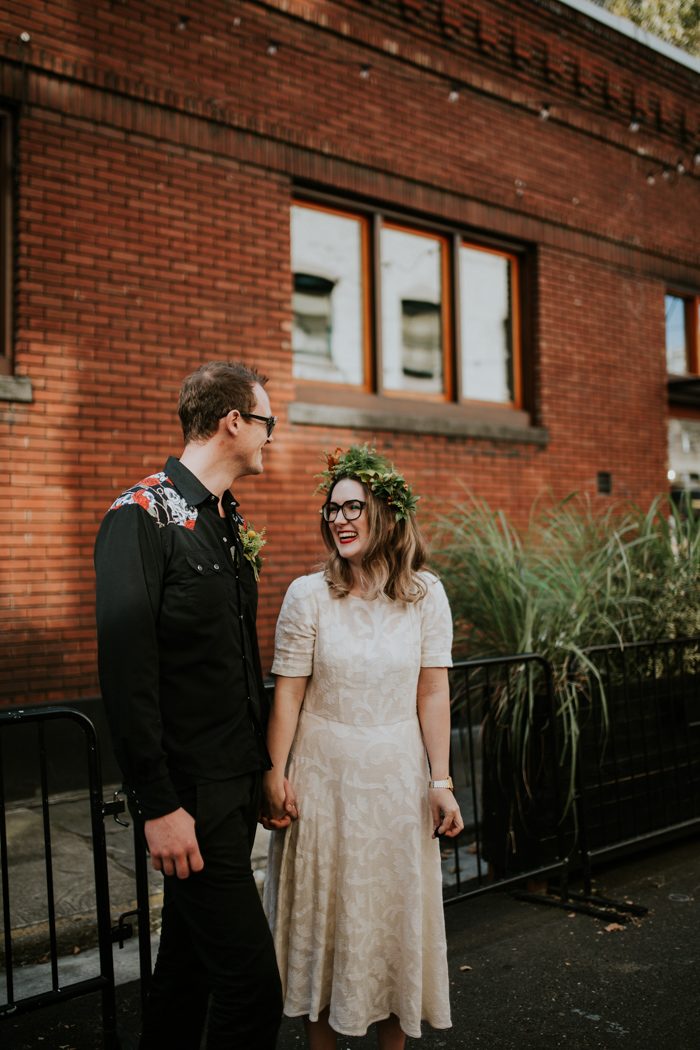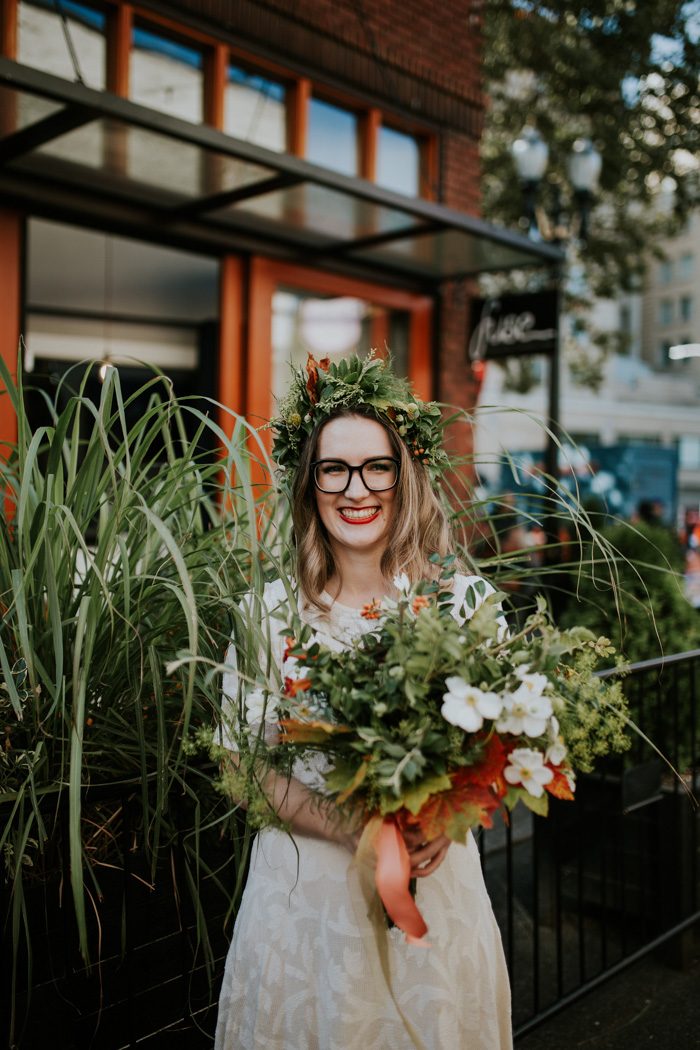 Portland was the inspiration for this whole vow renewal extravaganza, but the adventure planning started with polar bears. We decided that this was the year we'd check a big one of our bucket lists: seeing polar bears in the wild. After a bit of research it seemed that Churchill, Manitoba is the place to do that, so Canada it was! Being Australian, there's just no way we're ever going to fly to North America for just a week or two — it's way too far! So we decided a 6-week road trip was in order. There's nothing either of us love better than a good old fashioned road trip!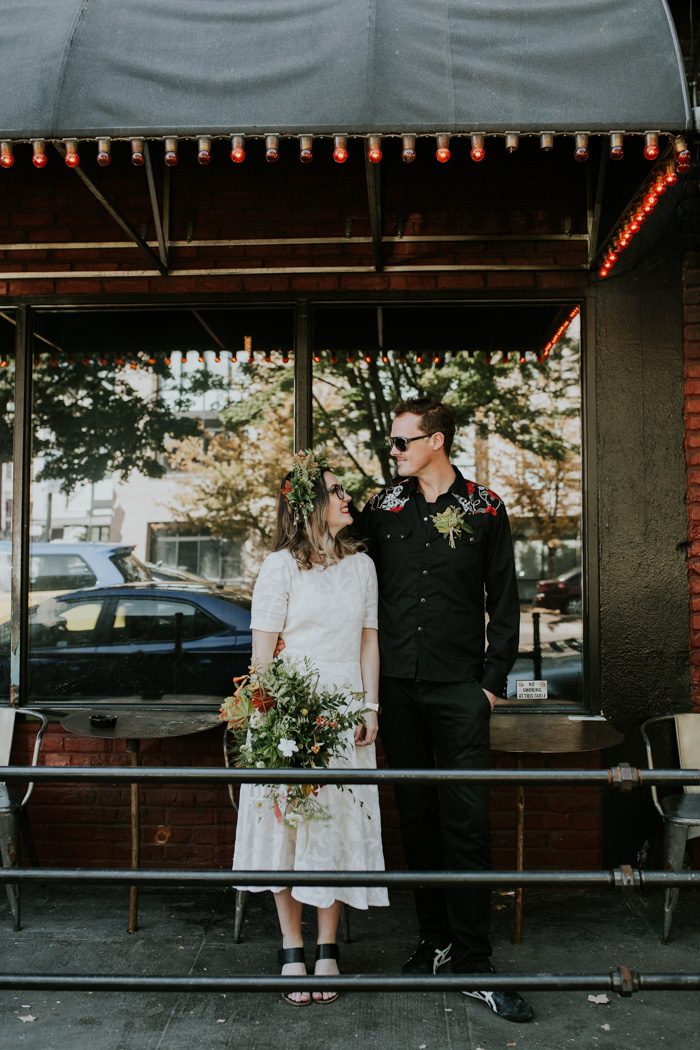 Last time we road tripped across America we went East to West, but we didn't make it as far as the Pacific Northwest and it was an area we'd always been keen to visit. So we decided on a West to East drive this time, and Portland was high on the list of places to visit. In my research, I stumbled across the fact that Voodoo Doughnuts does wedding ceremonies and it seemed like a dream come true. We always wanted to elope and thought about getting married by Elvis in Vegas. But a doughnut shop wedding suddenly shot straight to the top of my to-do list!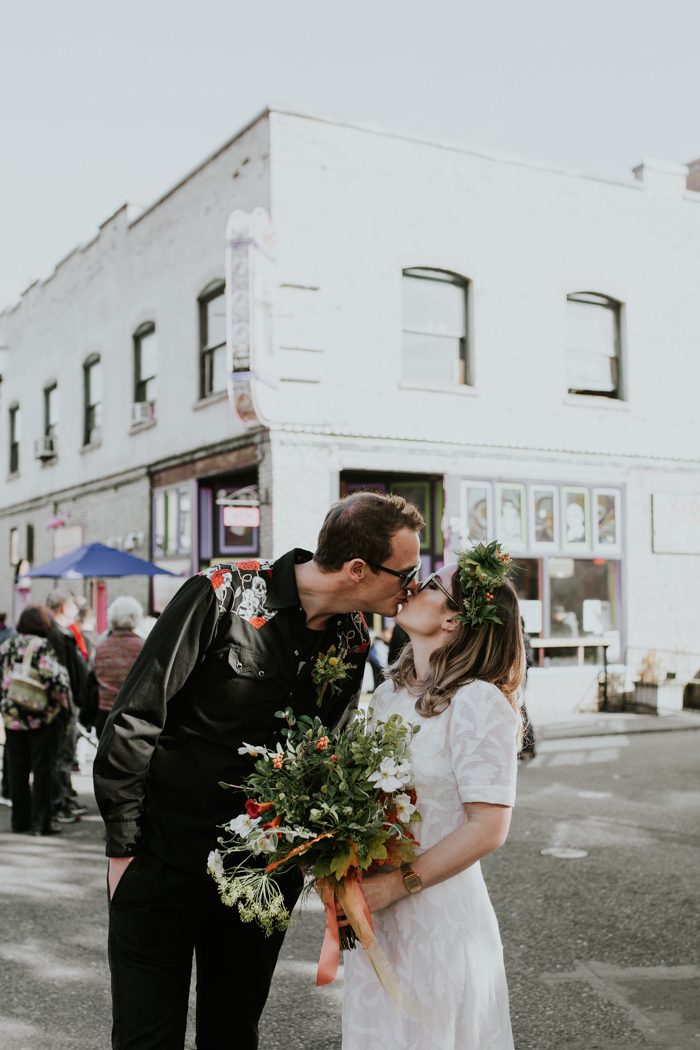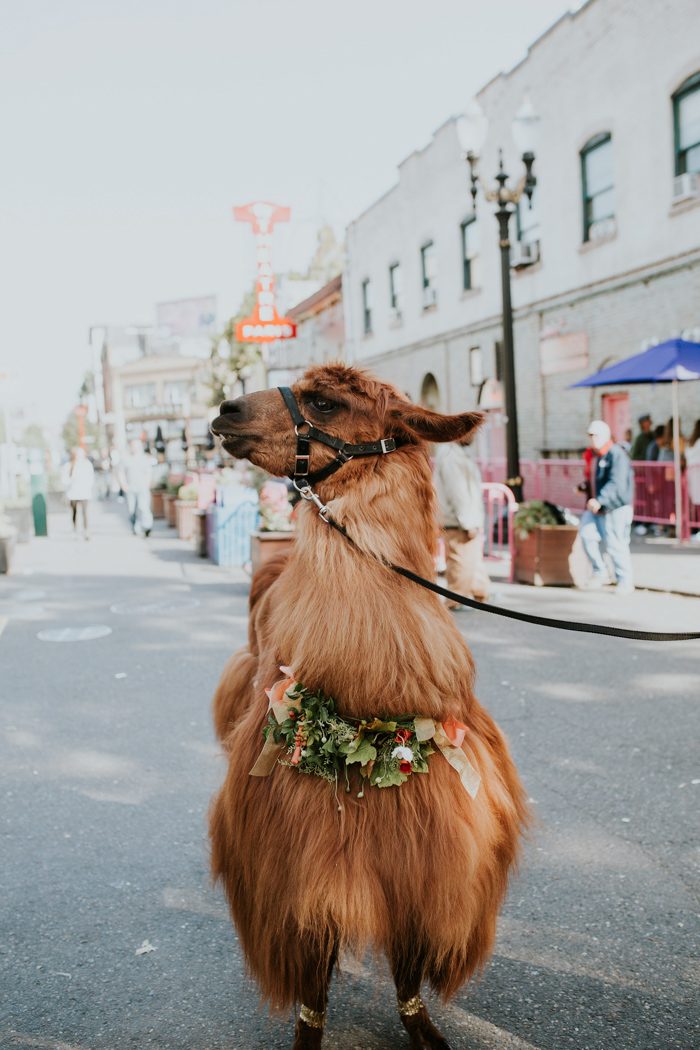 We found Rojo the Llama thanks to the incomparable Jamie Carle Photography. I spent months scouring Instagram looking for someone I could trust to take photos of us. The vibe I got from her Instagram was exactly what I was looking for — adventurous, creative and inclusive, not to mention super rad photog skills. I got chatting with Jamie over email about pretend weddings, Portland, and Goat Yoga, and she mentioned that she may have access to a llama…things just kind of spiraled from there! It was also perfect that the traditional wedding gift for 7 years is wool — so Rojo fitted right in! Joel knew I had organized a "witness" but he didn't know who (or what) it was. We were waiting outside Voodoo Doughnuts for our "special guest" to arrive, and I was imagining that a horse trailer was going to appear. Then Shannon pulled up with Rojo in the back of a minivan — it was amazing! Rojo was an angel, and he absolutely made our day!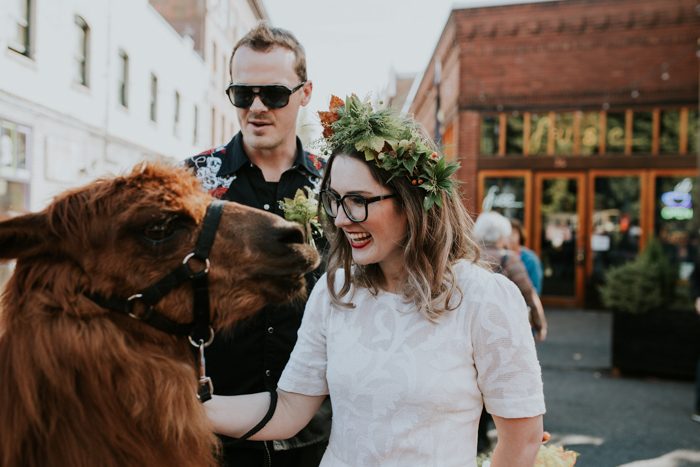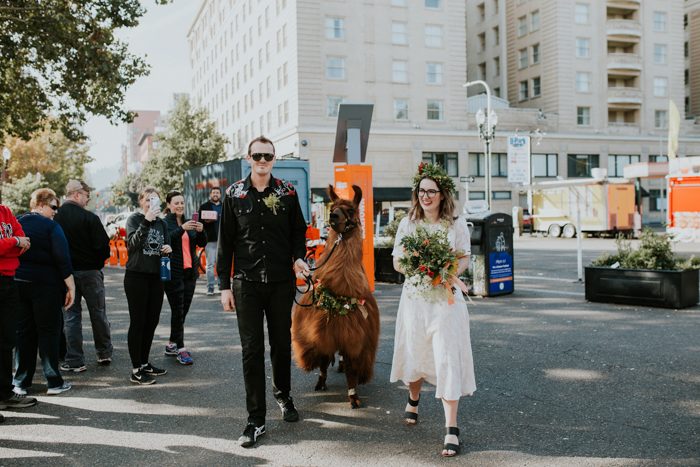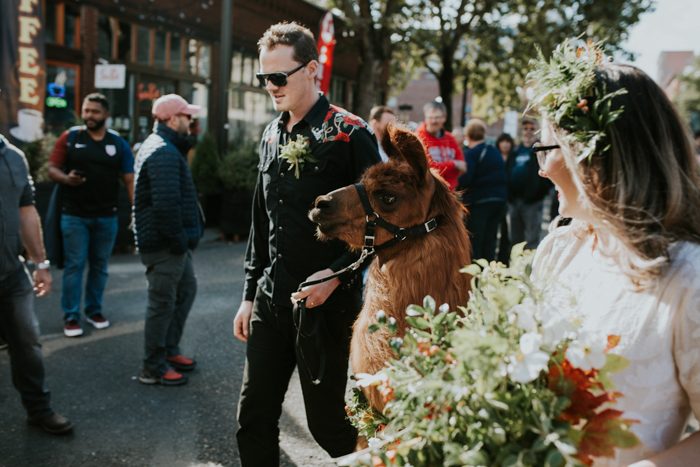 Our officiant was Wally from Voodoo Doughnuts — he was amazing. He wore a lion mask as a hat, wrote our "sports chant" vows, and made the foam fingers (they were actually cardboard) by painting pictures of us from our OG wedding. He also made our custom bride and groom doughnuts — and even made a Rojo doughnut!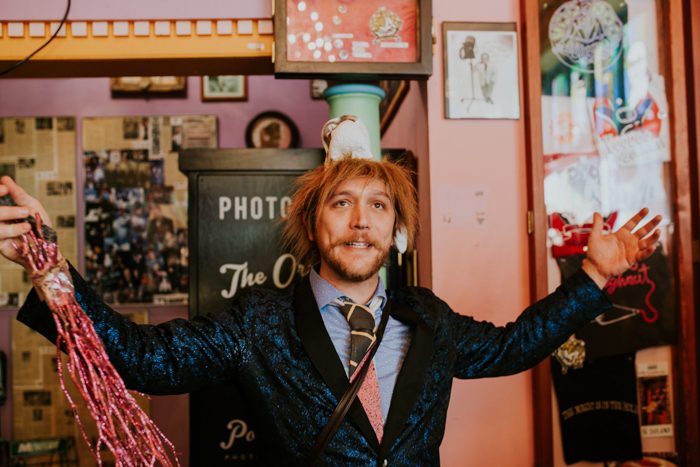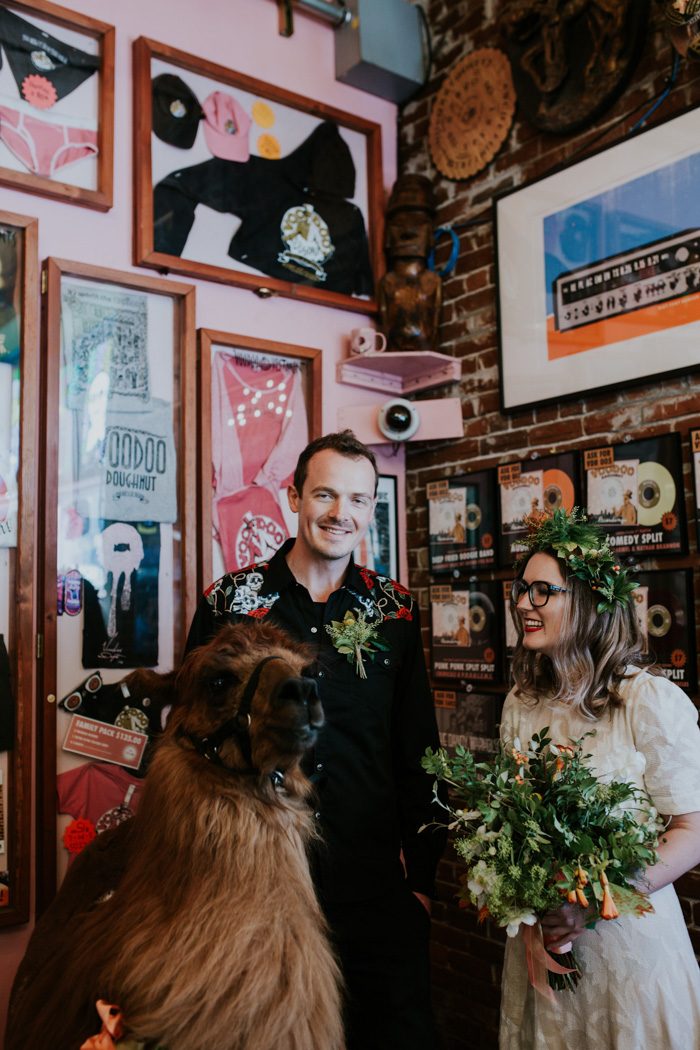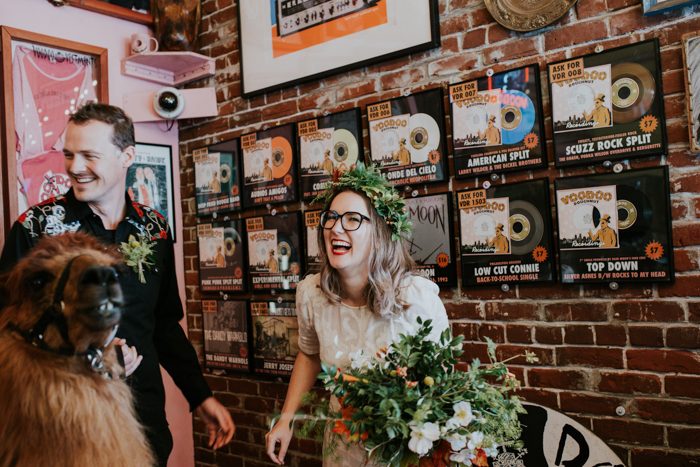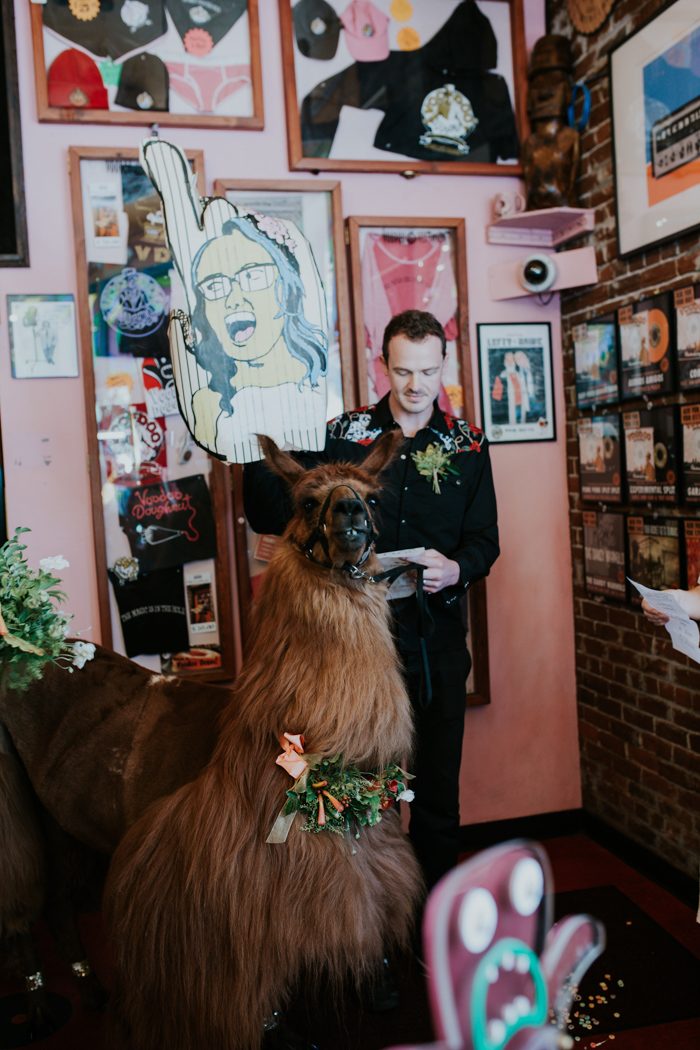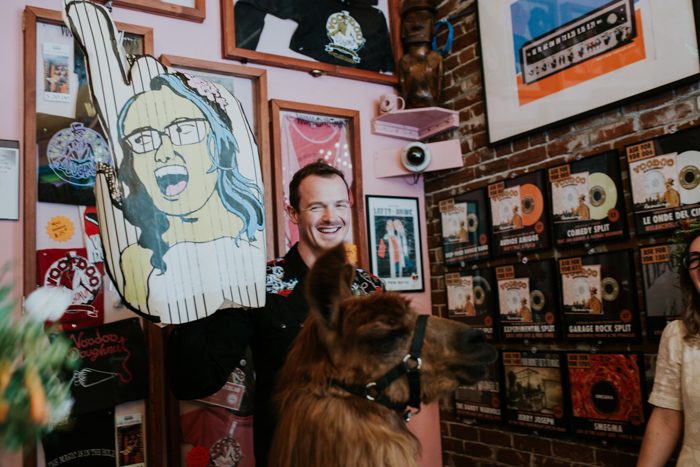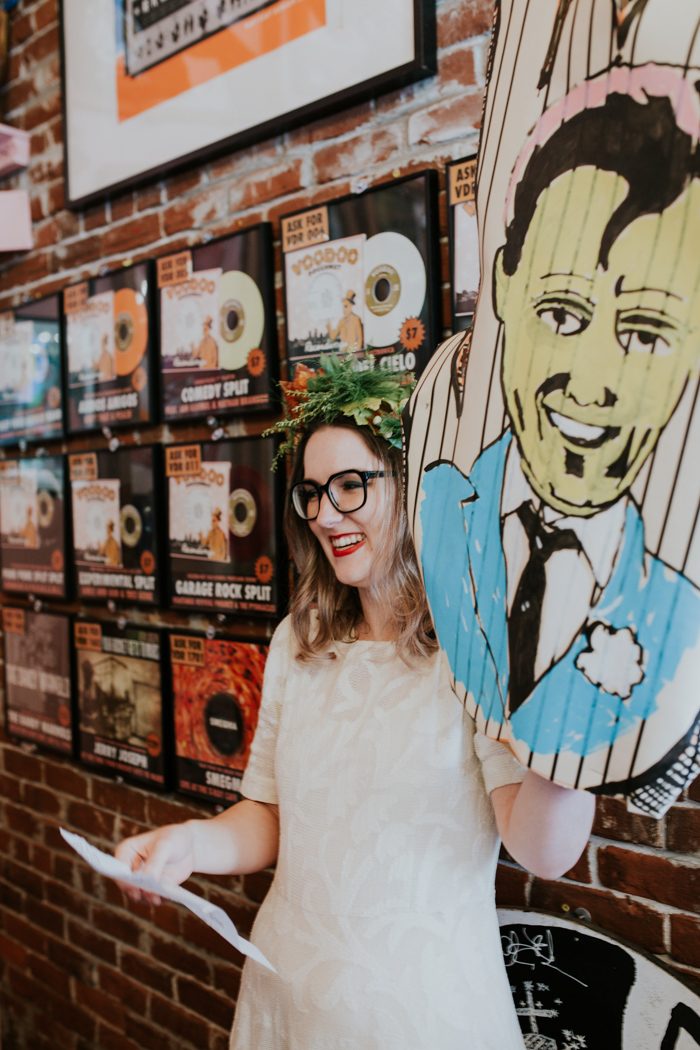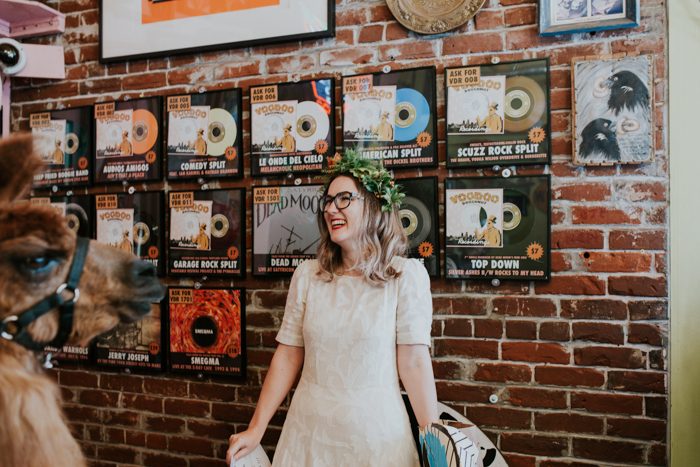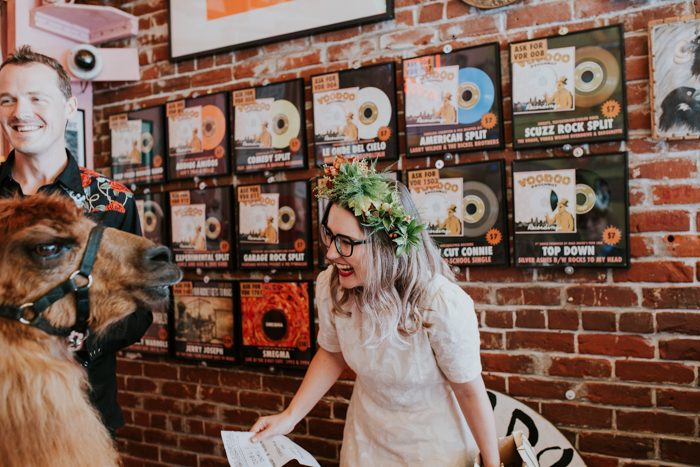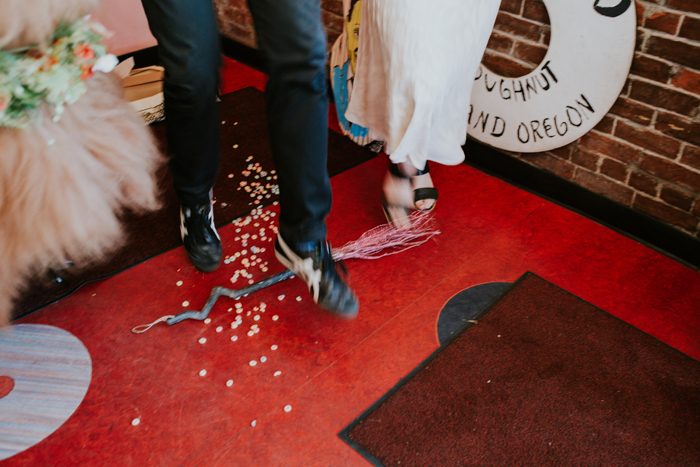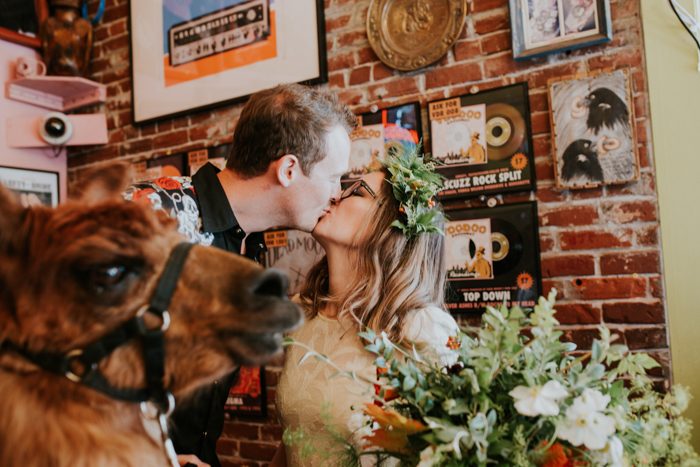 Rojo was a prince. I (Joel) had no idea he was coming, and I was so excited to meet him. He looked so handsome and was our perfect best man and witness. Basically, Shannon handed us his rein and said, "He's yours for the day. Take him wherever you like." So we brought him into Voodoo Doughnuts with us. I miss his smile every day.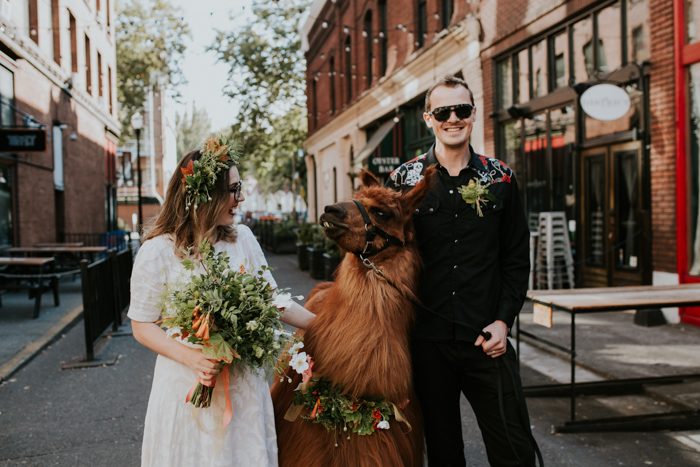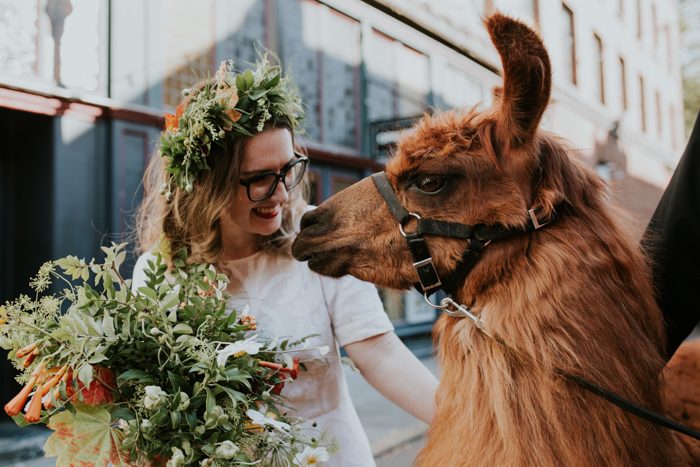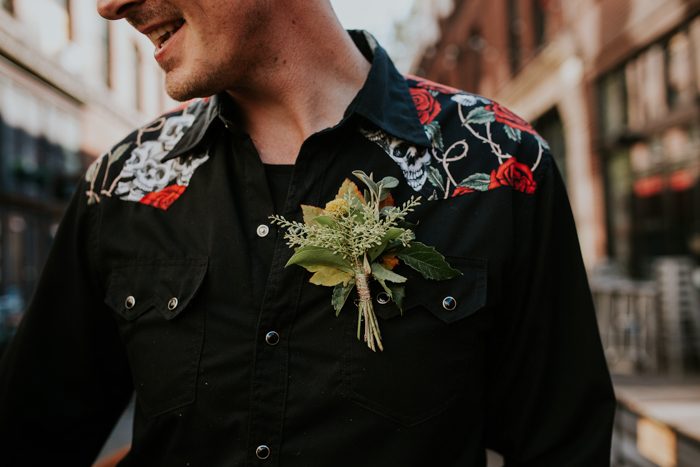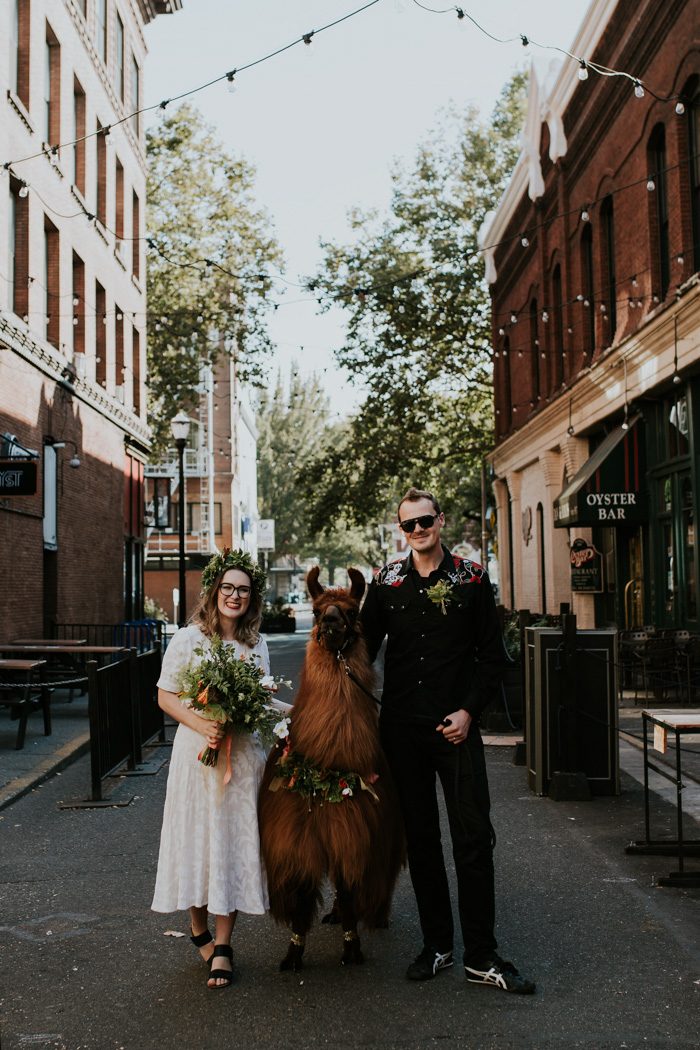 We sincerely hope that if you asked someone who knows us to describe a perfect day for us it would involve getting pretend married at a doughnut shop by a man wearing a lion mask with a llama as our best man followed by an afternoon of goat yoga. This is us.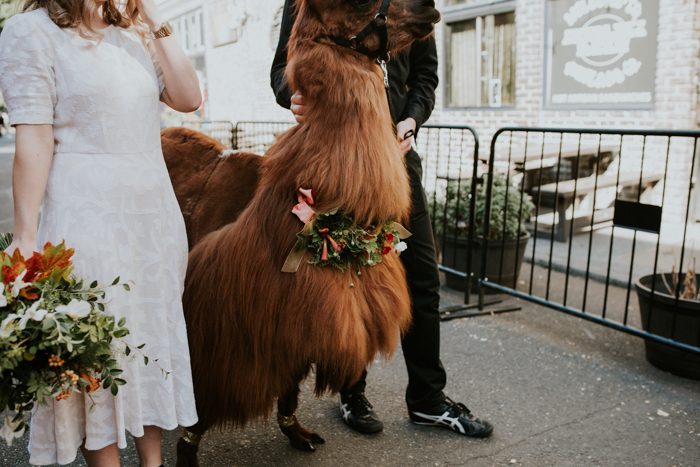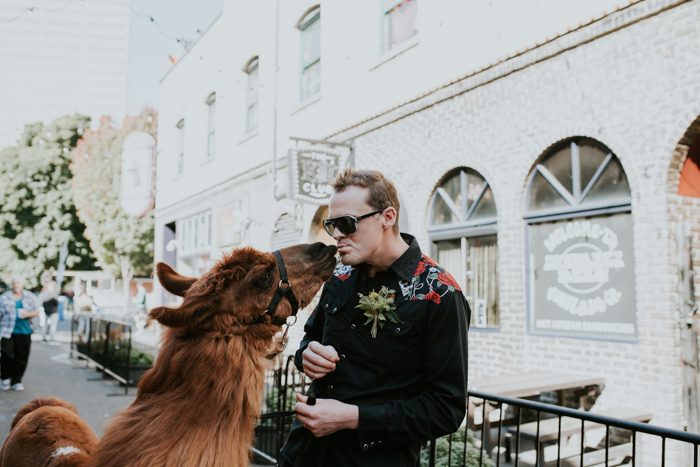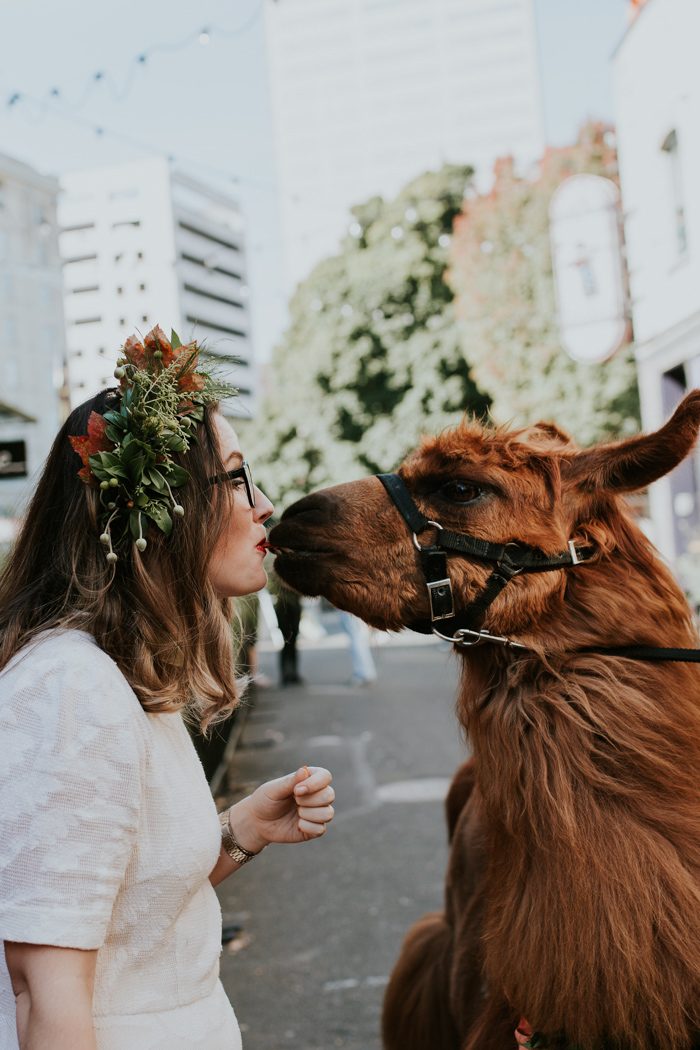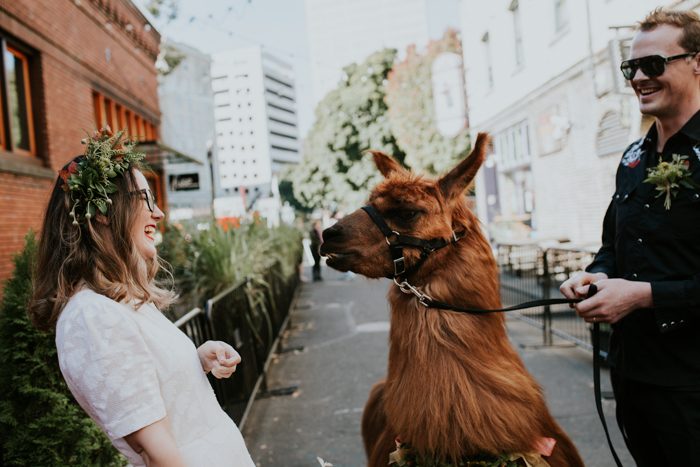 7 years in marriage has a bit of a curse on it (7 year itch), so what better way to keep the curse away then to go all out rad wedding under the blessed voodoo spirit of Isaac Hayes? We're officially double married now, so it's impossible to get rid of each other!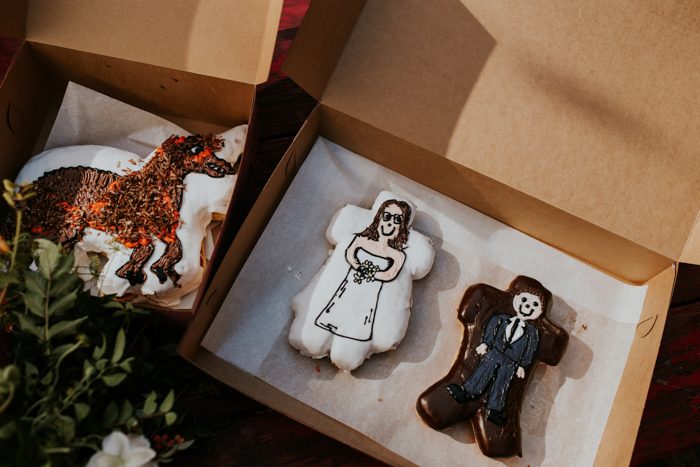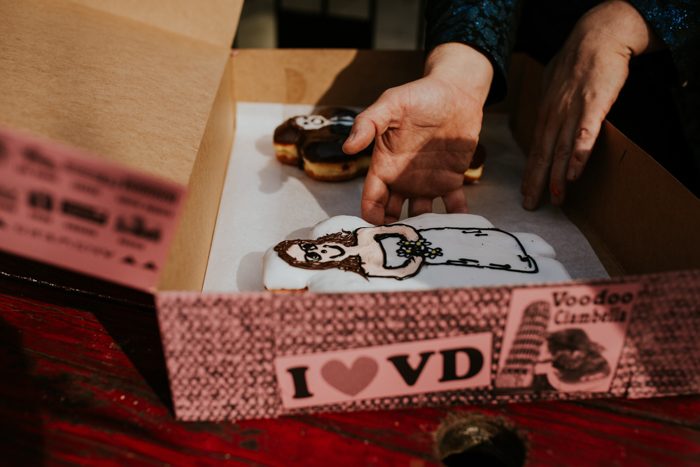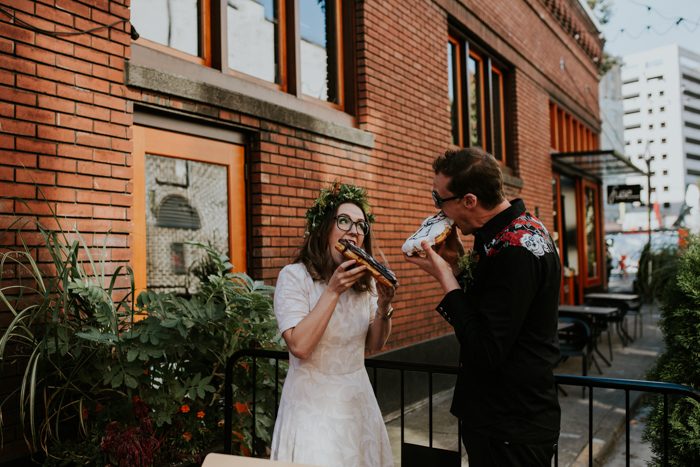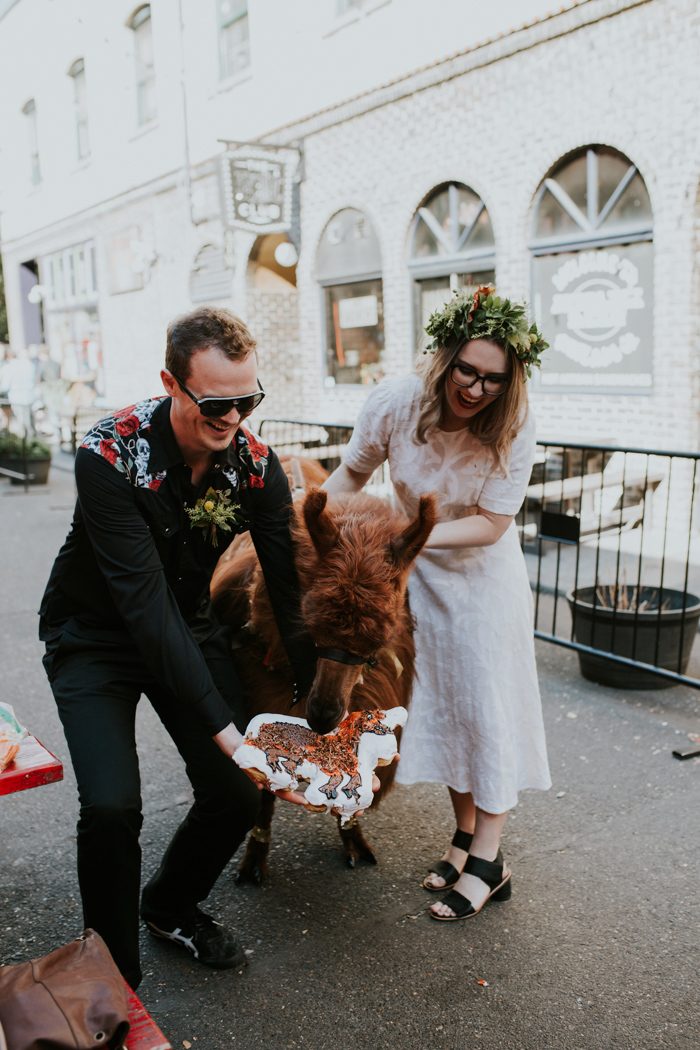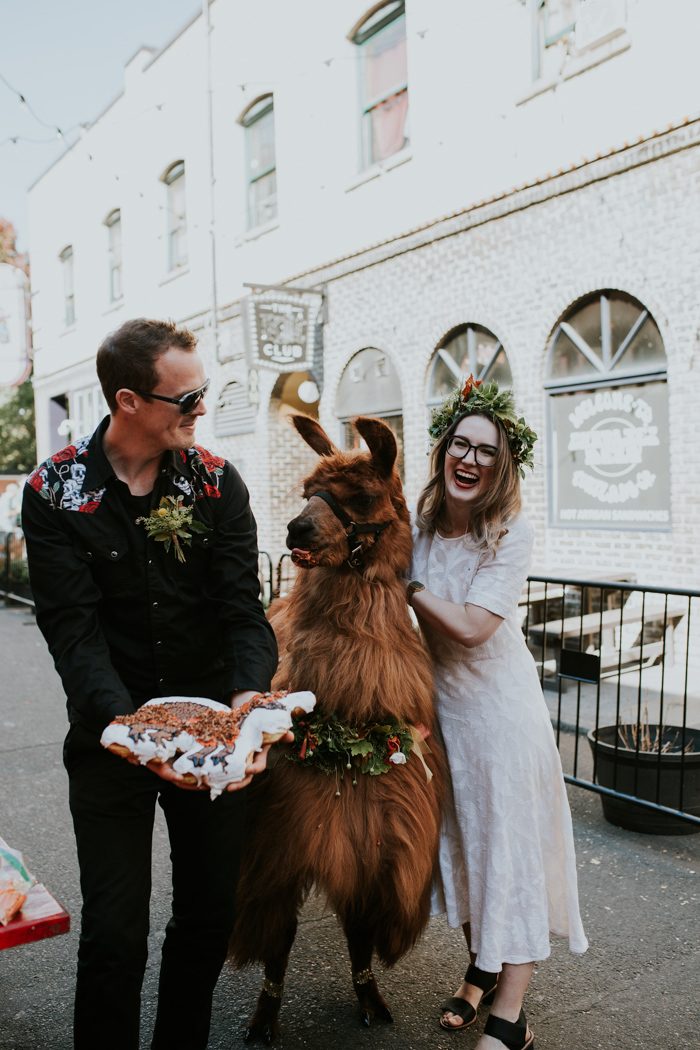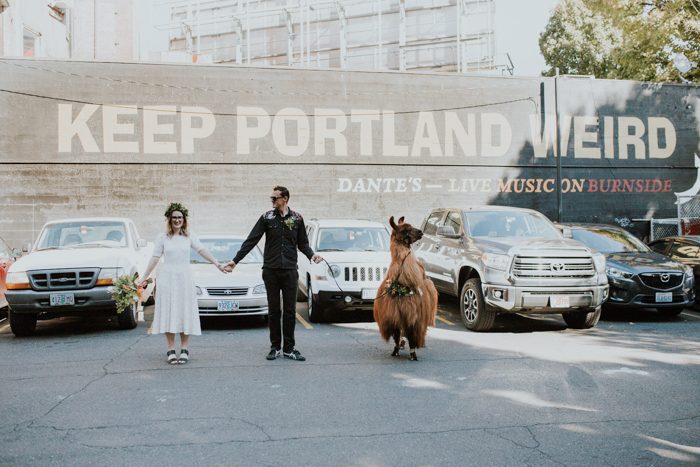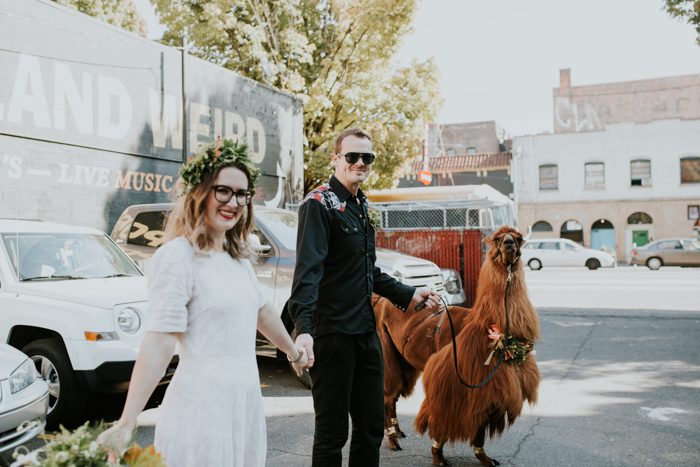 My (Joel's) awesome shirt was a vintage find in Melbourne, and the rest was just stuff I pulled out of the suitcase on the day. I was pretty happy with my Armani Exchange aviators though; I bought them especially for this road trip.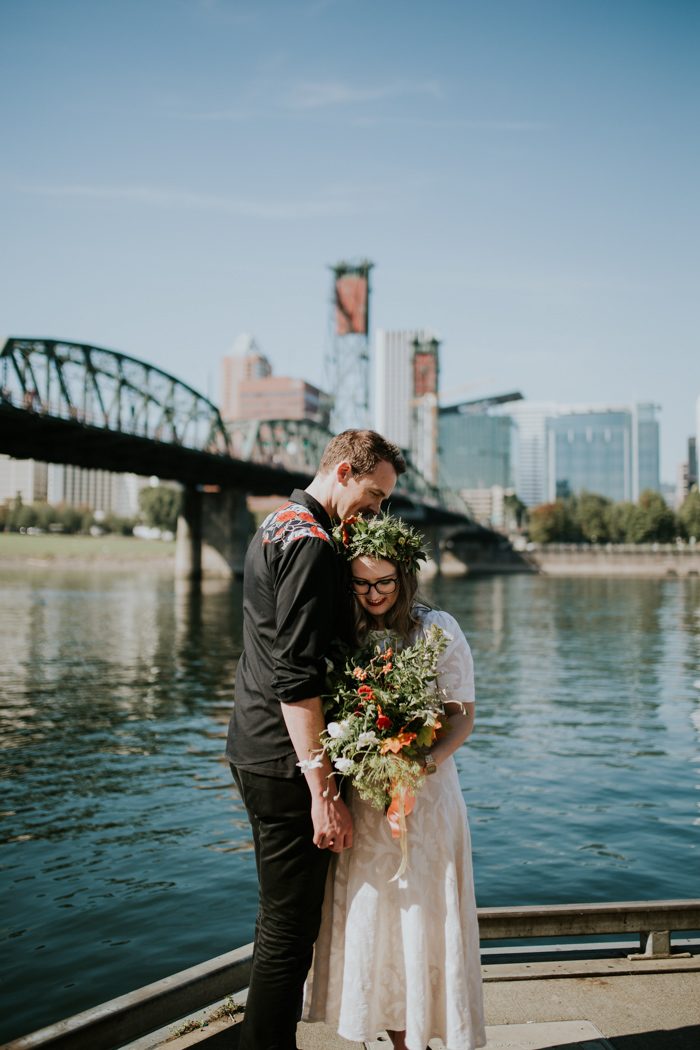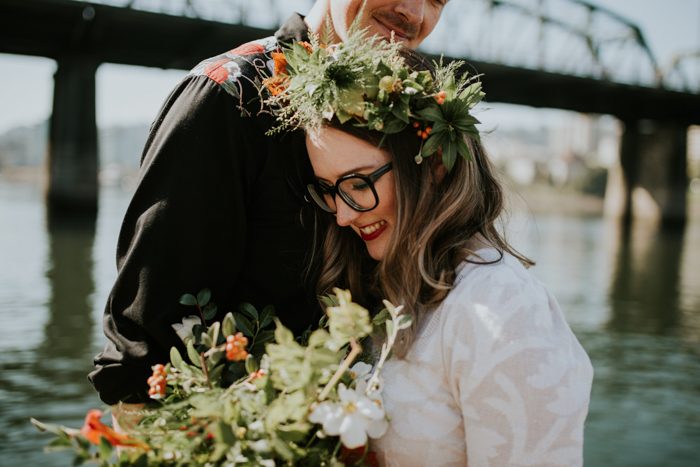 My (Eliesha's) dress and shoes were both Gorman, which is a Melbourne label. I worked for Gorman as my first job in the fashion industry — I'm a kids-wear designer now — and it's still my favorite label. It's called the Eliza Day dress and it's from a collection about four years ago. I always thought it would make an amazing wedding dress, and this was my opportunity!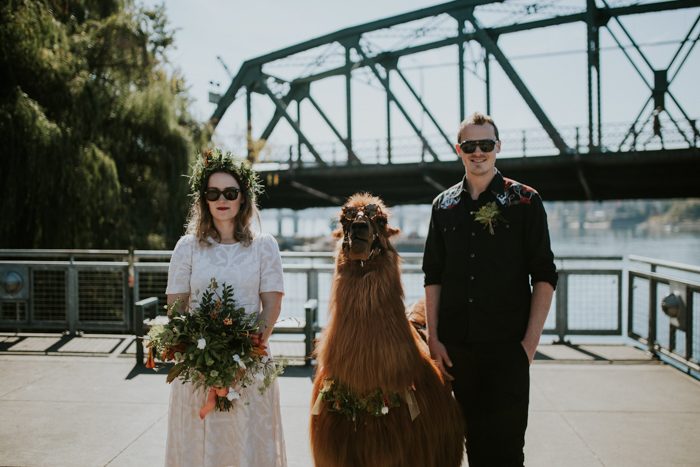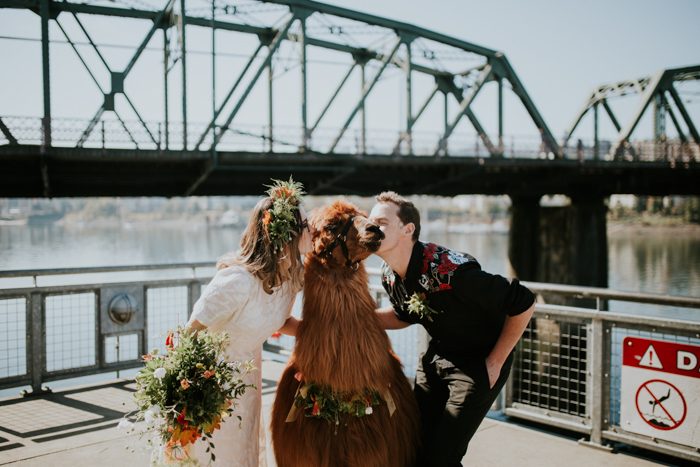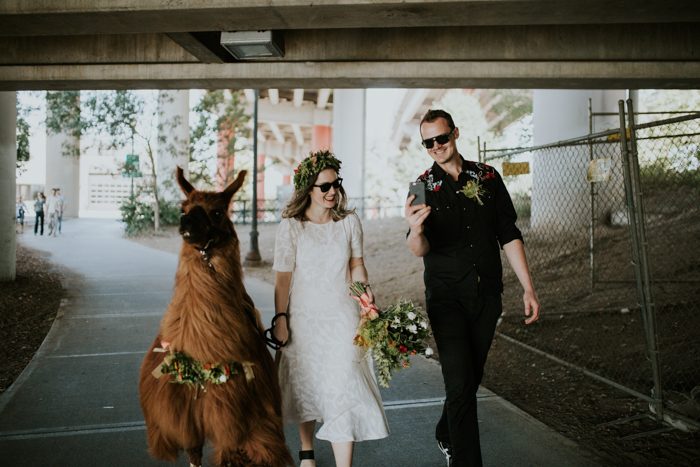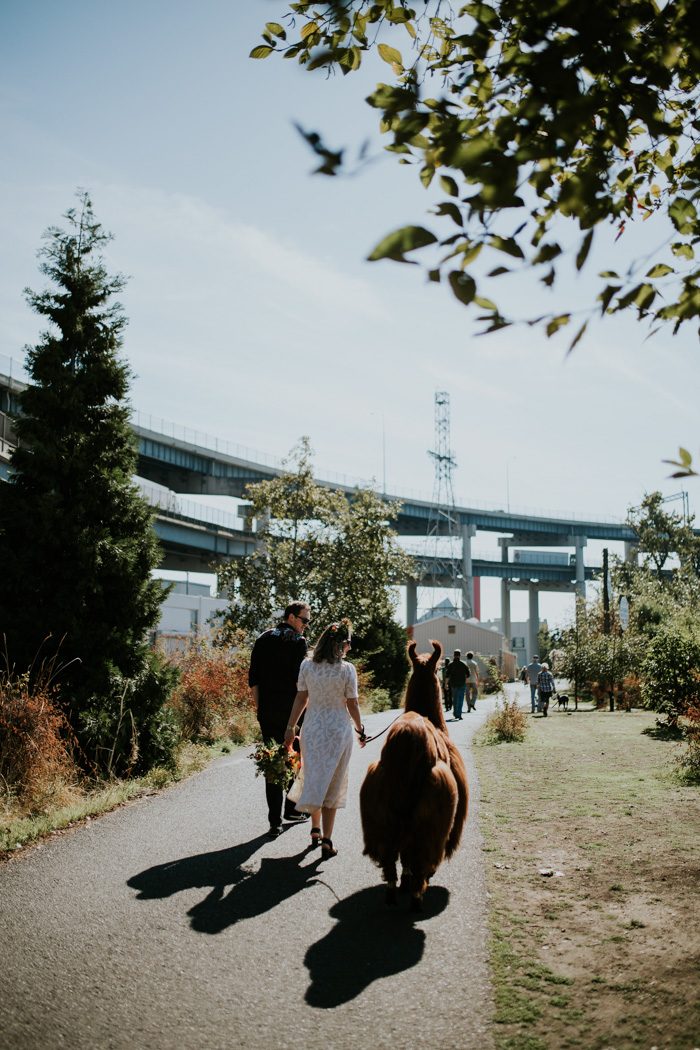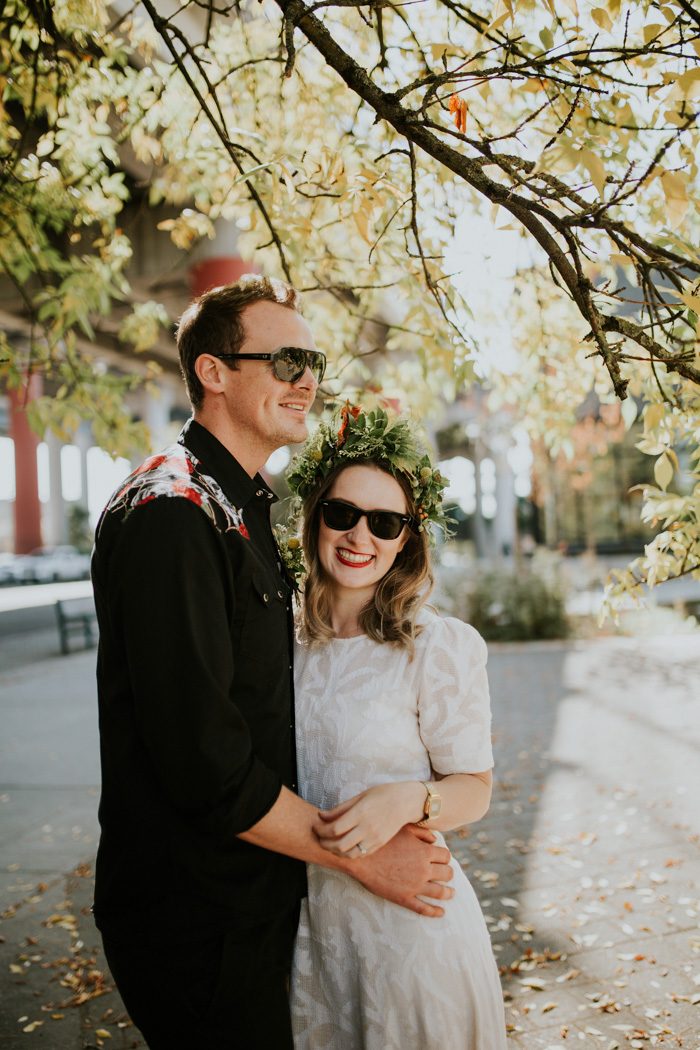 SHOP THIS LOOK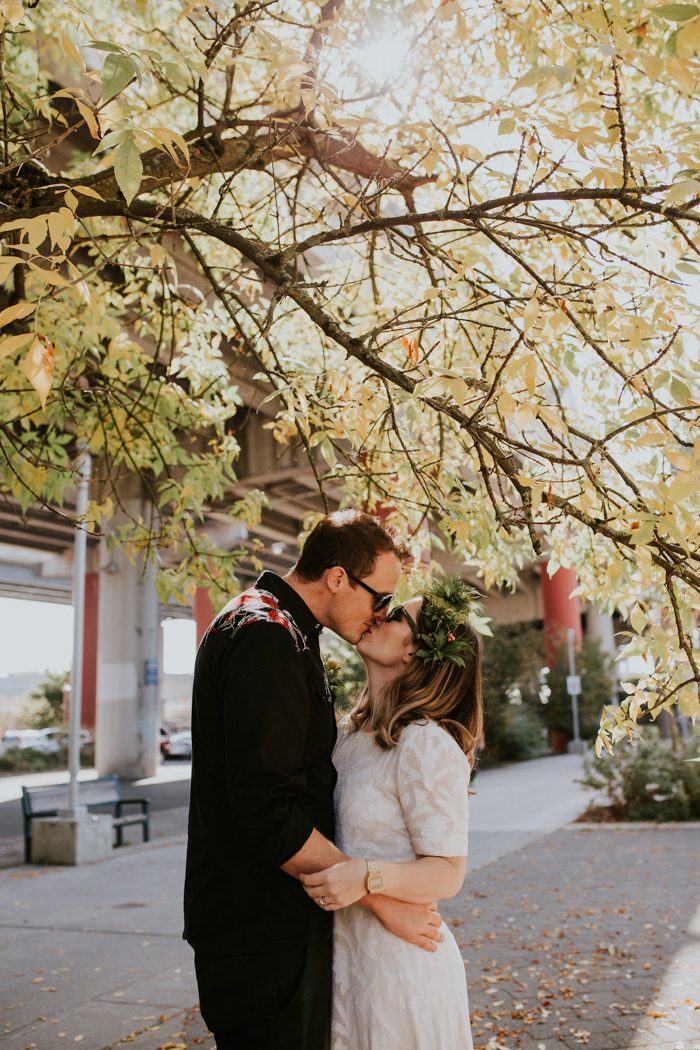 Cheers to 7 years, Eliesha and Joel, and thanks to Jamie Carle Photography for sharing this one-of-a-kind adventure vow renewal with Junebug! Have you and your sweetie been wondering whether you should have a vow renewal? Here's everything you need to know about how to have a vow renewal and why you should consider it!