If you're feeling overwhelmed by how much weddings cost these days, you're in luck. Although we can't control how much everything costs, we can help share some of our favorite ways to save money when planning a wedding. One of those being your wedding attire! We're firm believers, however, that you shouldn't have to sacrifice style just because you want to save a few bucks. That's why we've searched high and low to find affordable wedding dresses under $1000.
Not only will these dresses not break the bank and have you looking beautiful on your big day, but they also can be shipped directly to your home and have great return policies in case they're not what you hoped for. That's what we call a win-win.
Affordable Wedding Dresses Under $1000
Revolve Dresses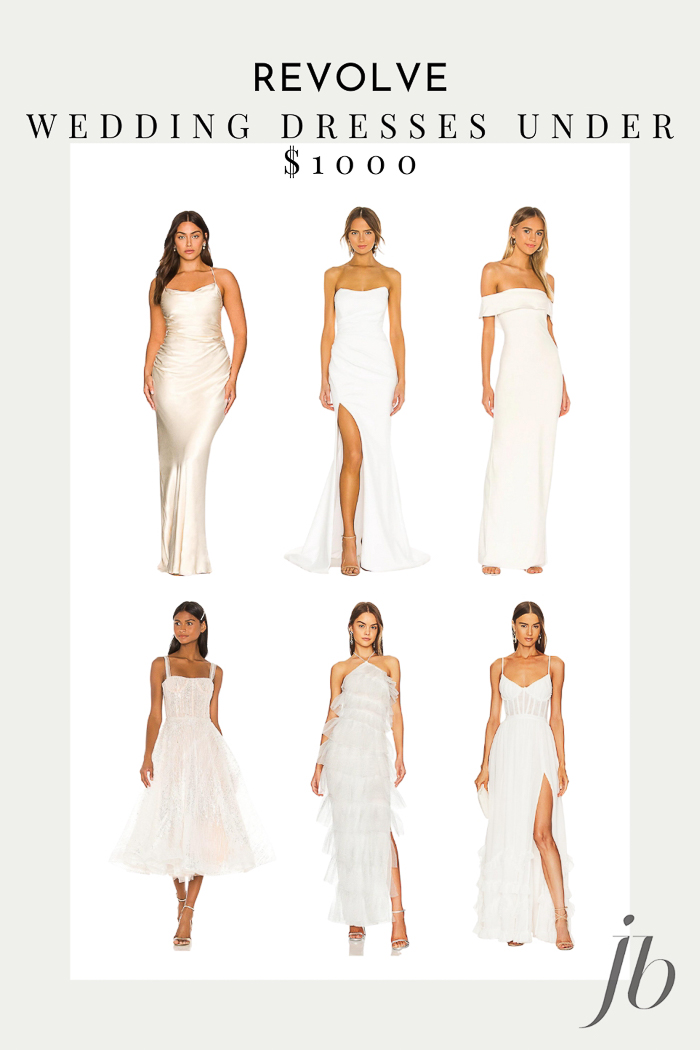 Shona Joy La Lune Lace Back Dress; Katie May x NOEL AND JEAN Divinity Gown; Lovers and Friends Galleria Gown; Bronx and Banco Mademoiselle Midi Dress; The Bar Henri Gown; V. Chapman Carmen Gown
Lulu's Wedding Dresses Under $1000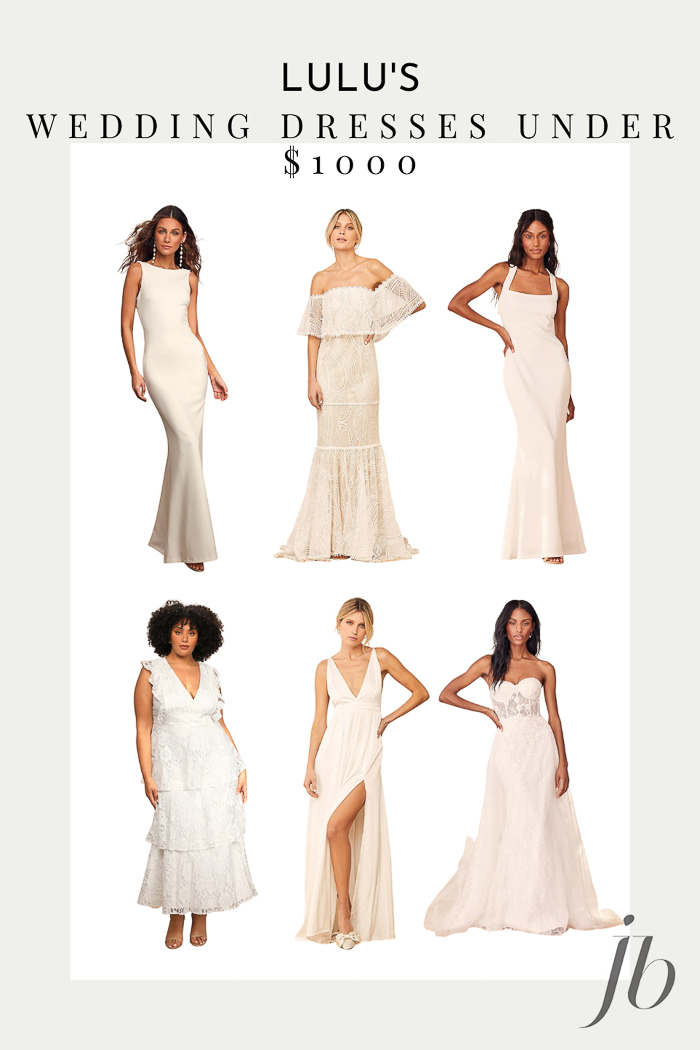 Love In Your Eyes Knotted Mermaid Maxi Dress; In My Life Lace Off-the-Shoulder Mermaid Maxi Dress; Pure Romance Square Neck Mermaid Maxi Dress; Molinetto Lace Ruffled Tiered Sleeveless Maxi Dress; This is Real Love Satin Maxi Dress; Elegance Lace Embroidered Rhinestone Strapless Maxi Dress
Reformation Dresses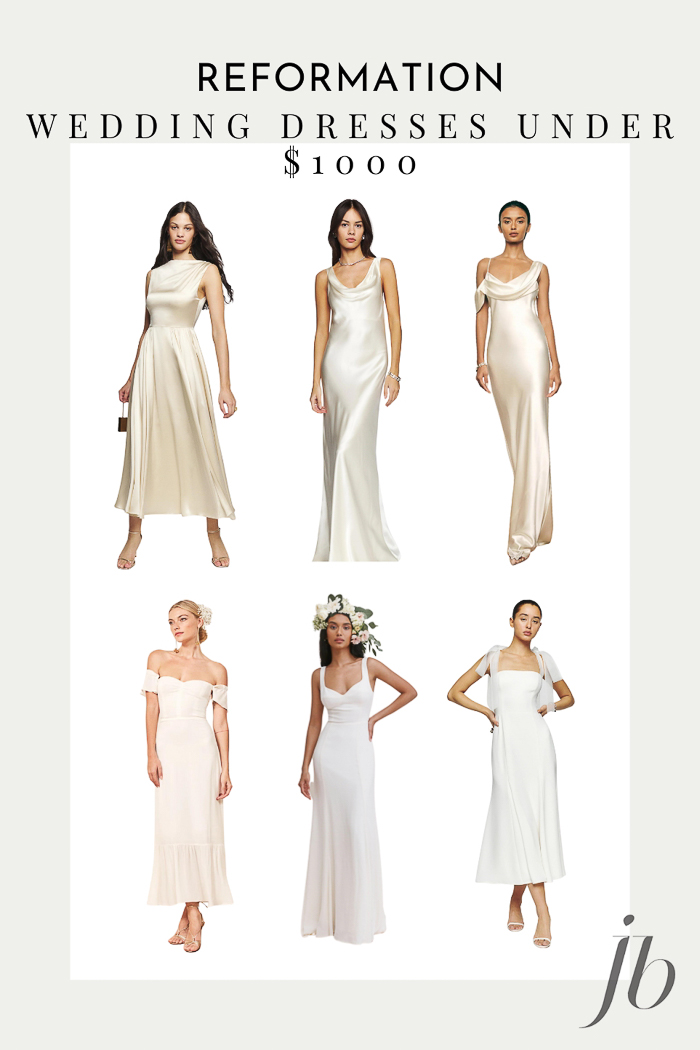 Blu Silk Dress; Annabelle Silk Dress; Ronda Silk Dress; Butterfly Dress; Lecce Dress; Kairo Dress
Anthropologie Dresses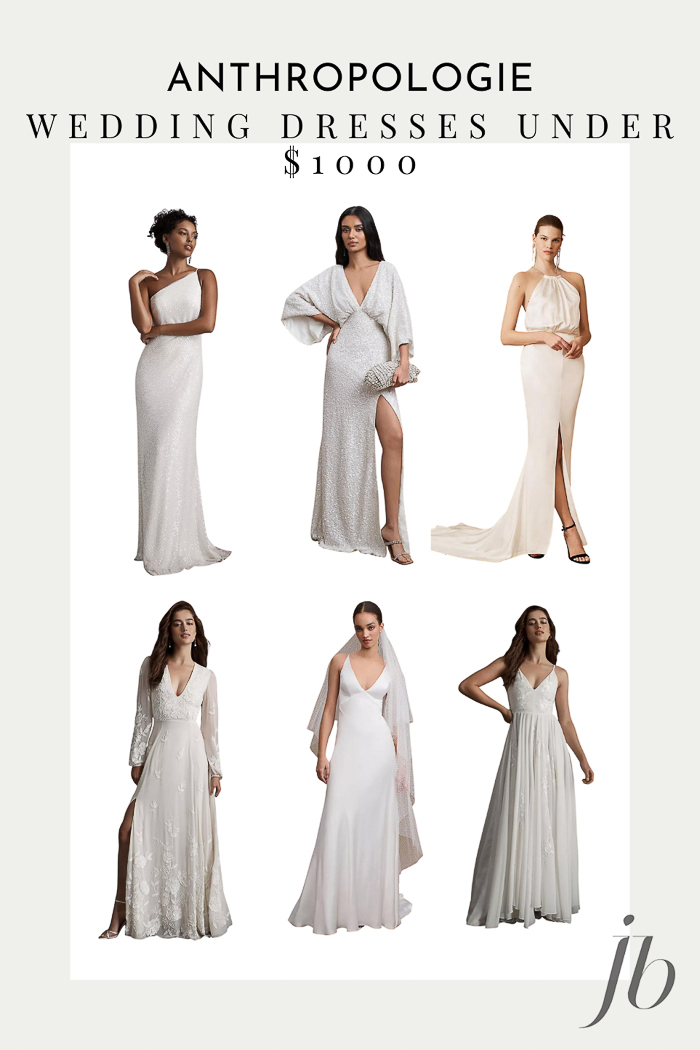 Jenny Yoo Collection Zara One-Shoulder Sequin Column Gown; BHLDN Eleanora V-Neck Open-Back Sequin Column Gown; Retrofete Margot Silk Low-Back Front-Slit Halter Gown; BHLDN Nassau Long-Sleeve Deep-V Embroidered Side-Slit Wedding Gown; Jenny by Jenny Yoo Marnie Bias-Cut Satin V-Neck Scoop-Back Wedding Gown; BHLDN Bonaire V-Neck Embroidered Wedding Gown
Azazie Dresses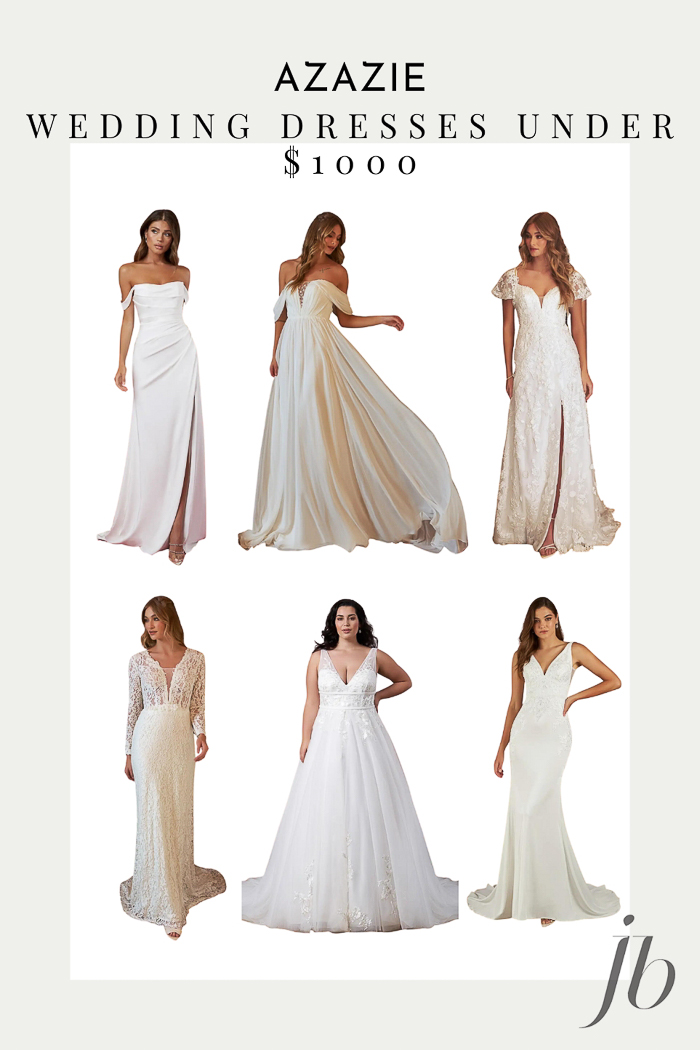 Moonlight Wedding Dress; Fawn Wedding Dress; Vivienne Wedding Dress; Indie Wedding Dress; Lafayette Wedding Dress; Arbor Wedding Dress
Now that you've picked out your dream wedding dress under $1000, it's time to think about other ways you can save money. We've put together a guide with 25 simple ways to save when wedding planning. And, of course, don't forget to check out our free budget tool that helps you track your expenses along the way!