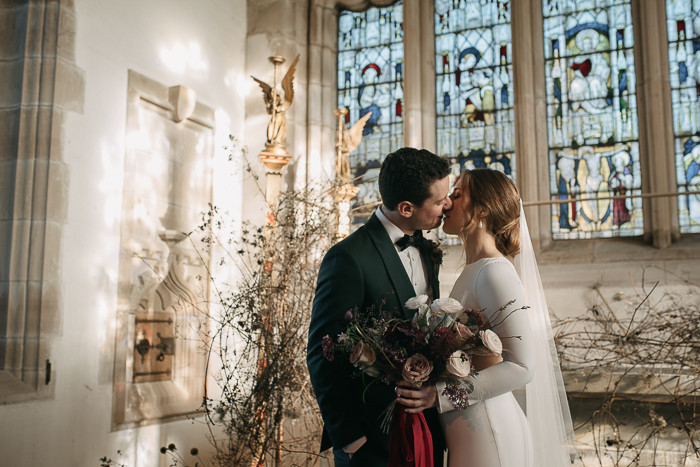 Lizzie and Aaron's Scotland elopement at Cairngorms National Park has everything we love about adventure elopements: breathtaking scenery, venues rich in history, unique style, and sentimental details. These California natives–with the help of expert planner and Junebug member, The Stars Inside–created a magical day based around Dutch Master floral paintings with the help of a deep jewel tone color palette, crystal glassware, antique decor, and personal touches such as a cameo ring the bride's mother bought in Florence in 1970.
After tying the knot at St. Margaret's of Braemar Church, the two trekked down into the Scottish forests to take stunning portraits–captured beautifully by Sophia Veres Photography. They enjoyed authentic Scottish fare and champagne in their private suite to end the night, where the two got to soak up the feeling of being newlyweds.
Valentina of The Stars Inside on the Day
As lovers of architecture, art, and travel, this Californian couple chose to celebrate their marriage in Braemar–the heart of the Cairngorms National Park in Scotland. Their intimate elopement started with a handfasting ceremony at a decommissioned church and ended with gourmet food and bespoke cocktails amidst the art-covered and history-laden walls of The Fife Arms. The day also featured a myriad of tearful, personal details, including an adventurous photoshoot in the mountains and an outfit change to die for.
The Couple:
Lizzie and Aaron
The Wedding:
St Margaret's of Braemar & The Fife Arms, Cairngorms National Park, Scotland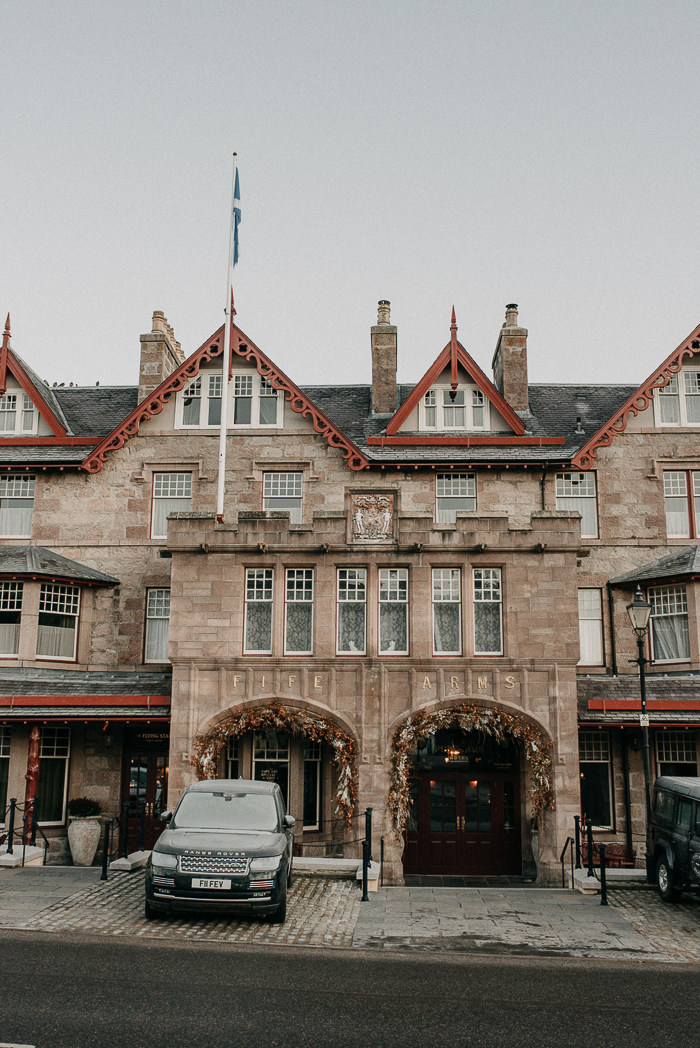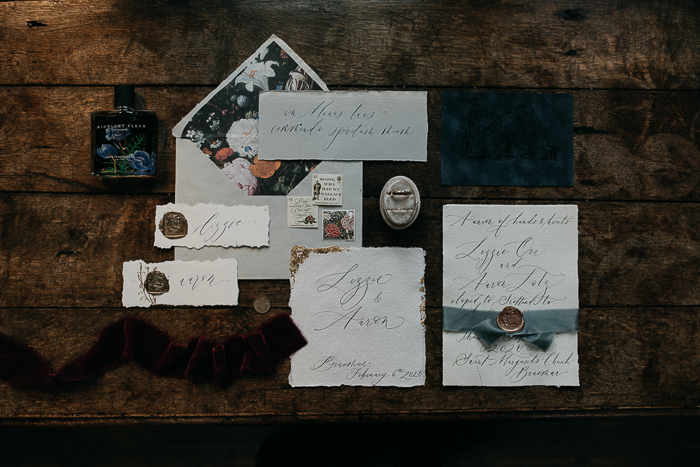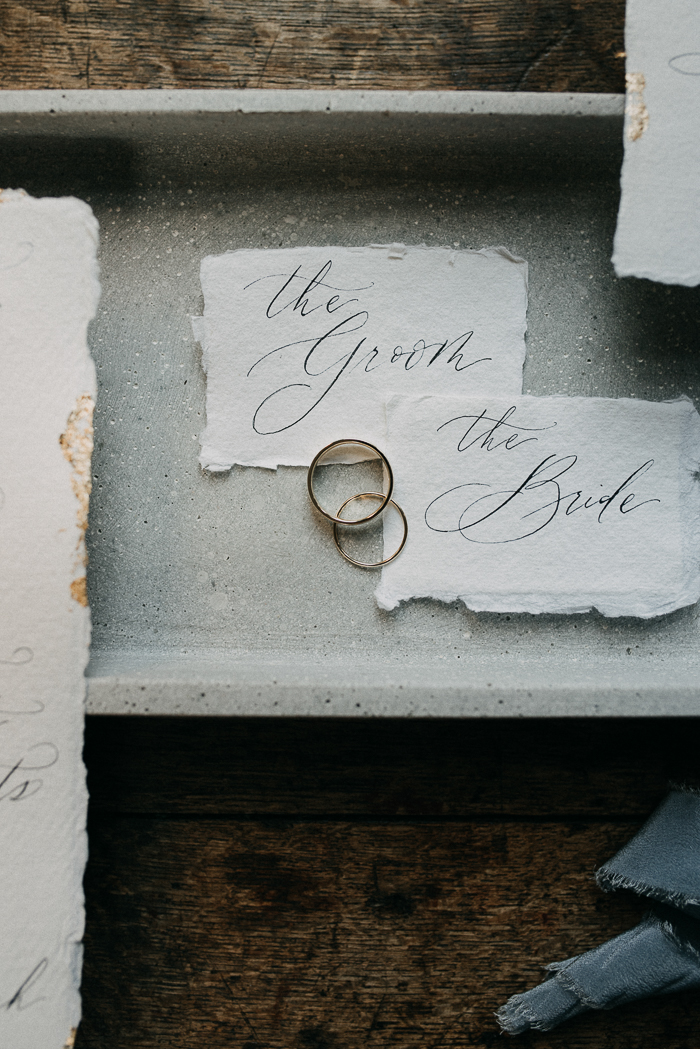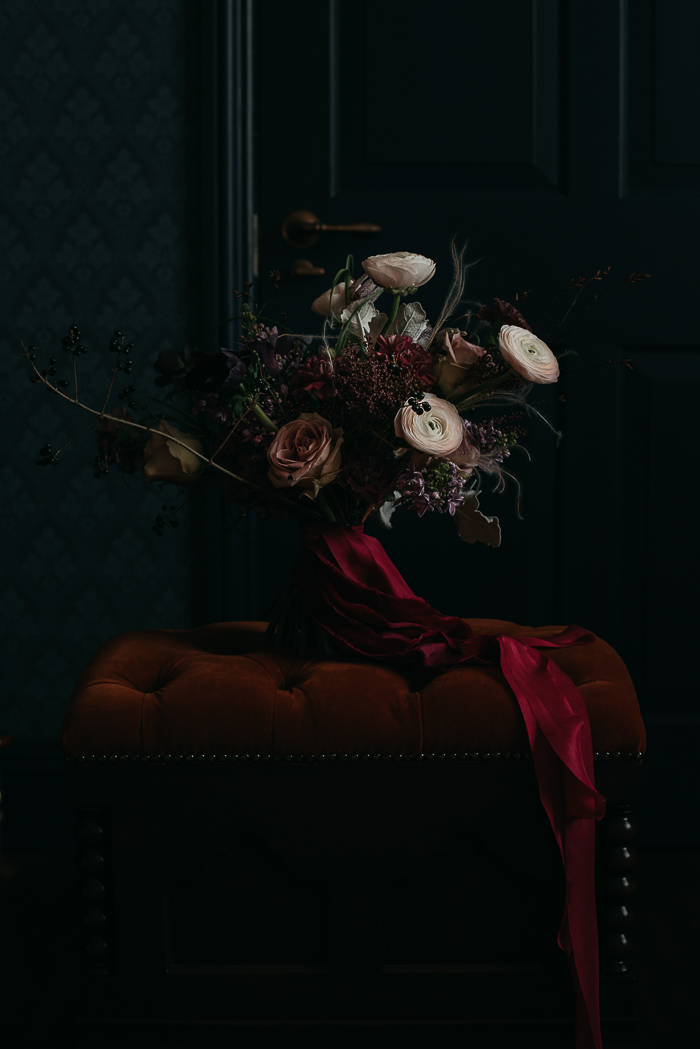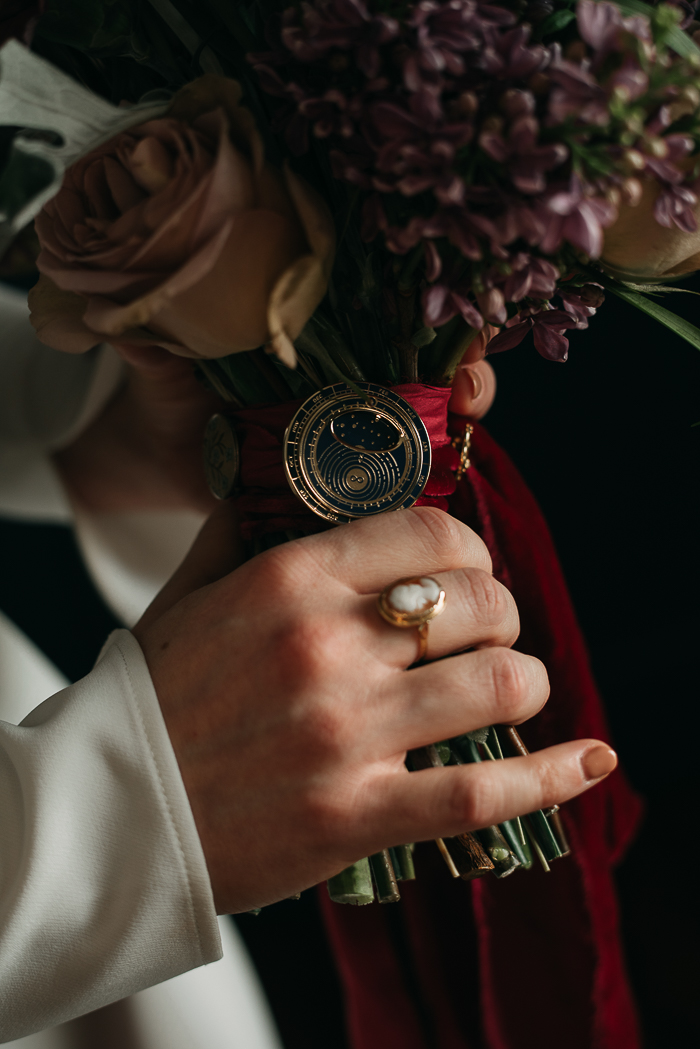 Why a Scotland Elopement
From the start, we knew that it was essential to pick a location that would put us in the right mindset for a ceremony to embrace romance and solemnity. The simultaneous history, whimsy, and mystery of the Scottish Highlands made it the perfect location for us. Our hotel and dinner location was the Fife Arms. This incredible hotel was actually the reason we went from joking about eloping to Scotland to deciding it was perfect for us. Recently renovated, the Fife Arms is filled with art. From a Picasso overseeing the tea room to a contemporary blown glass antler neon chandelier, and even a watercolor by Queen Victoria.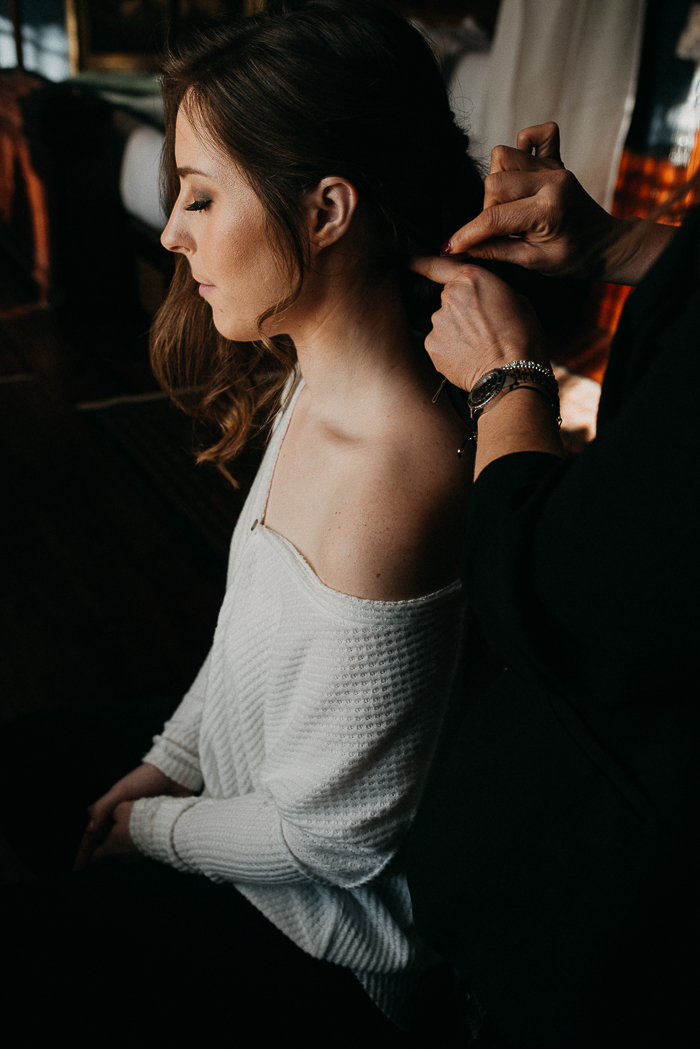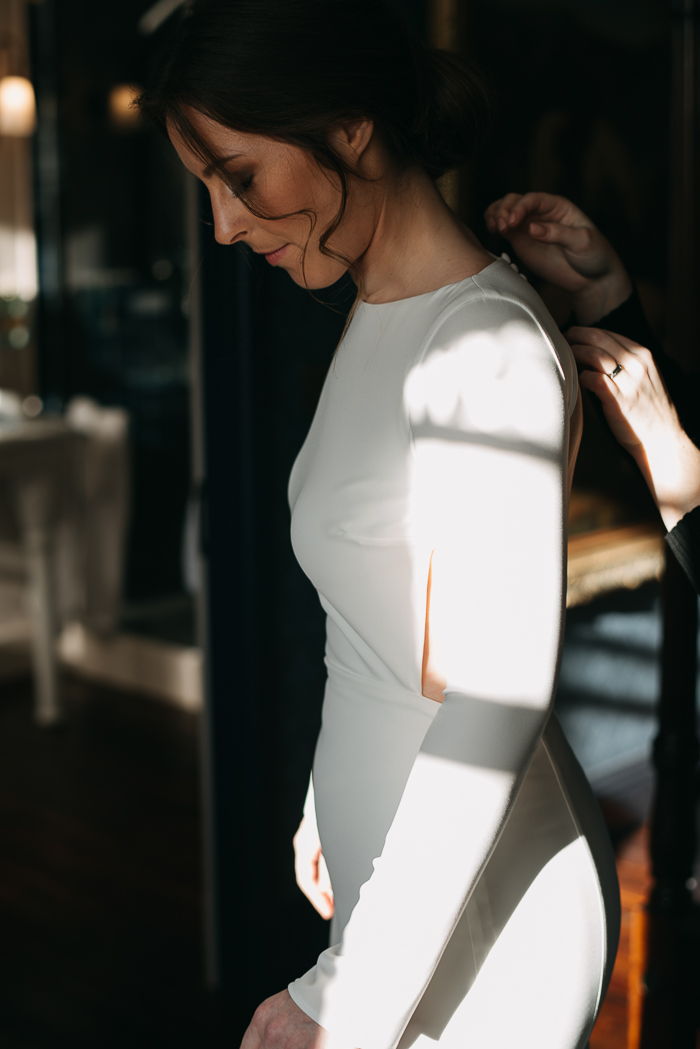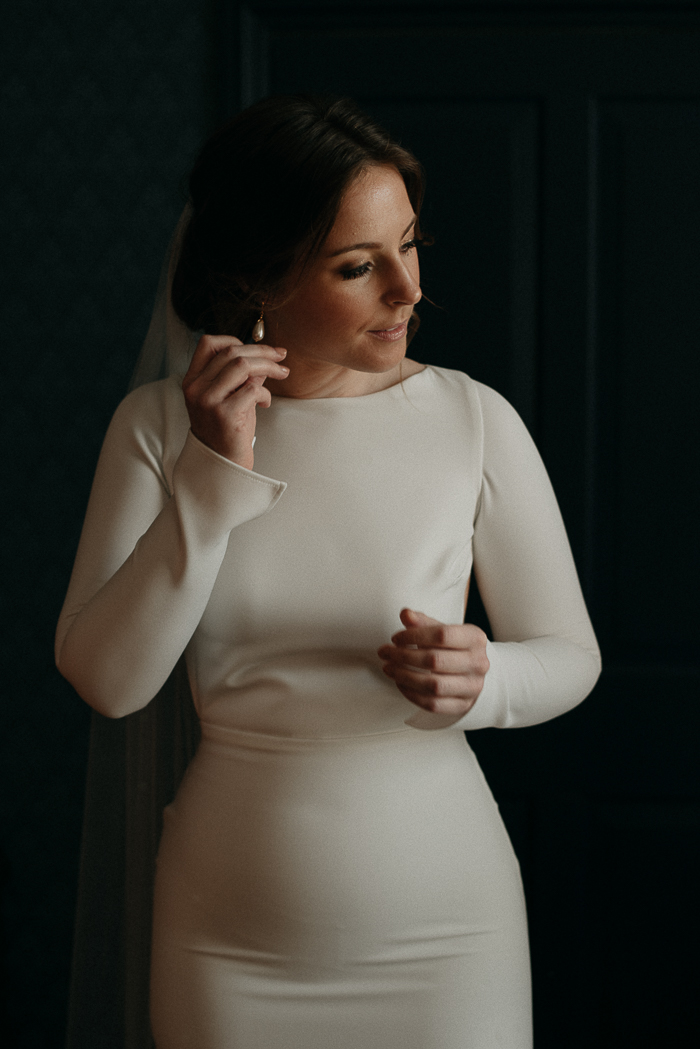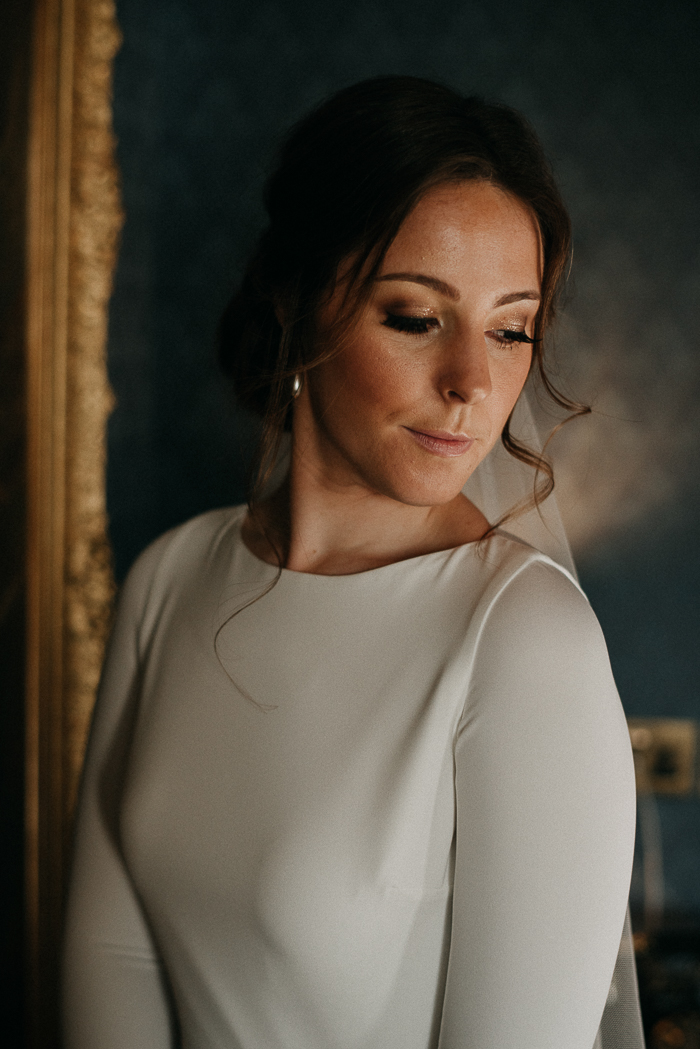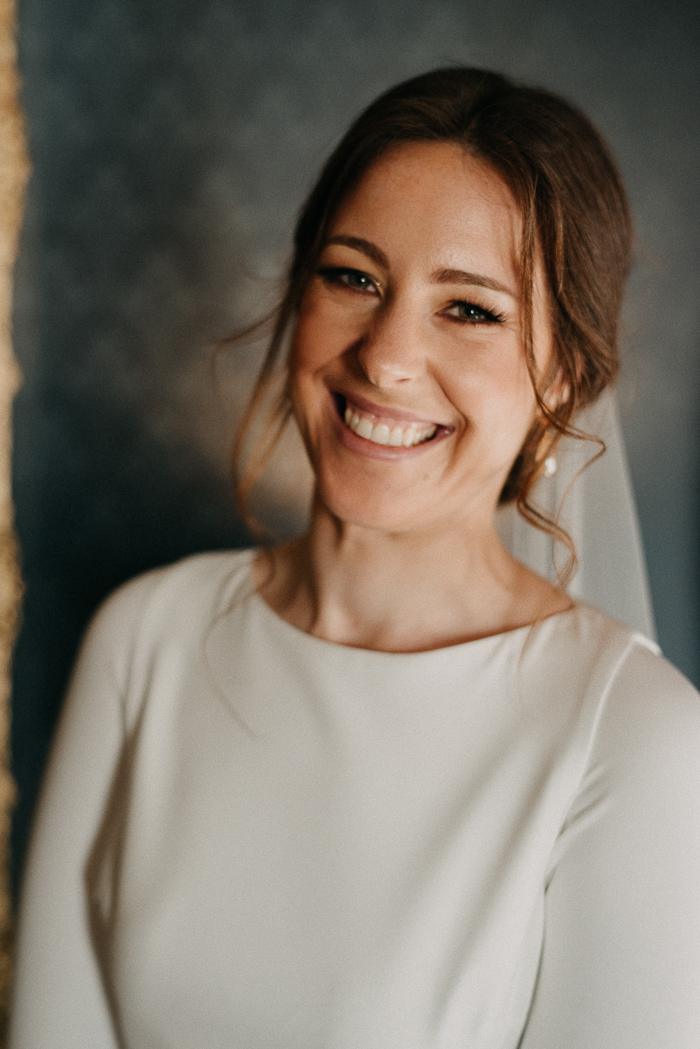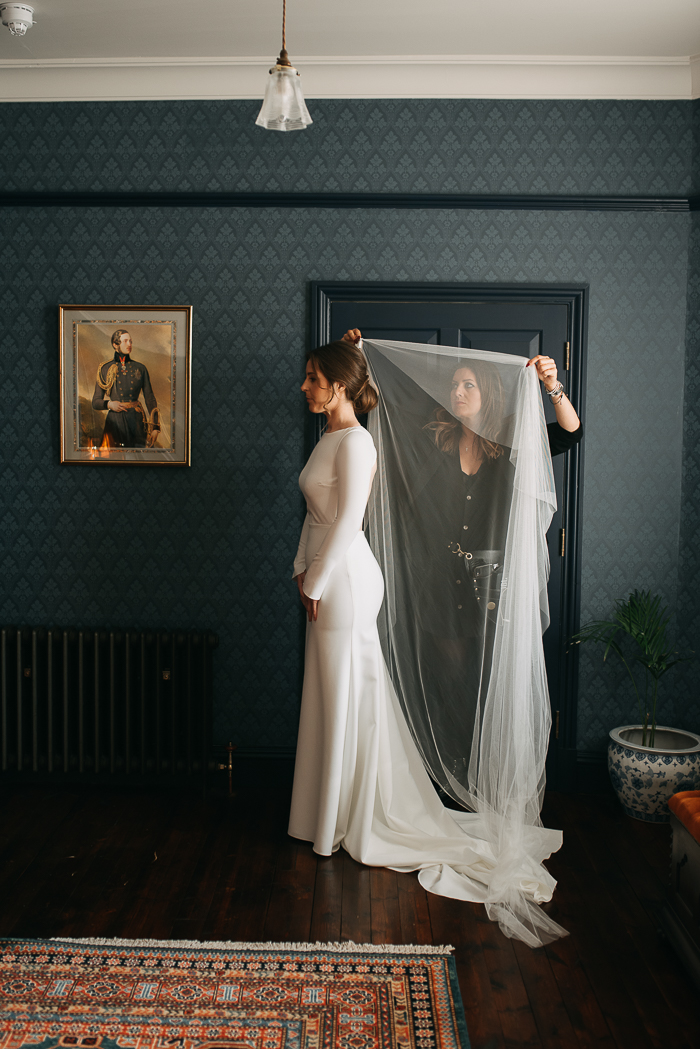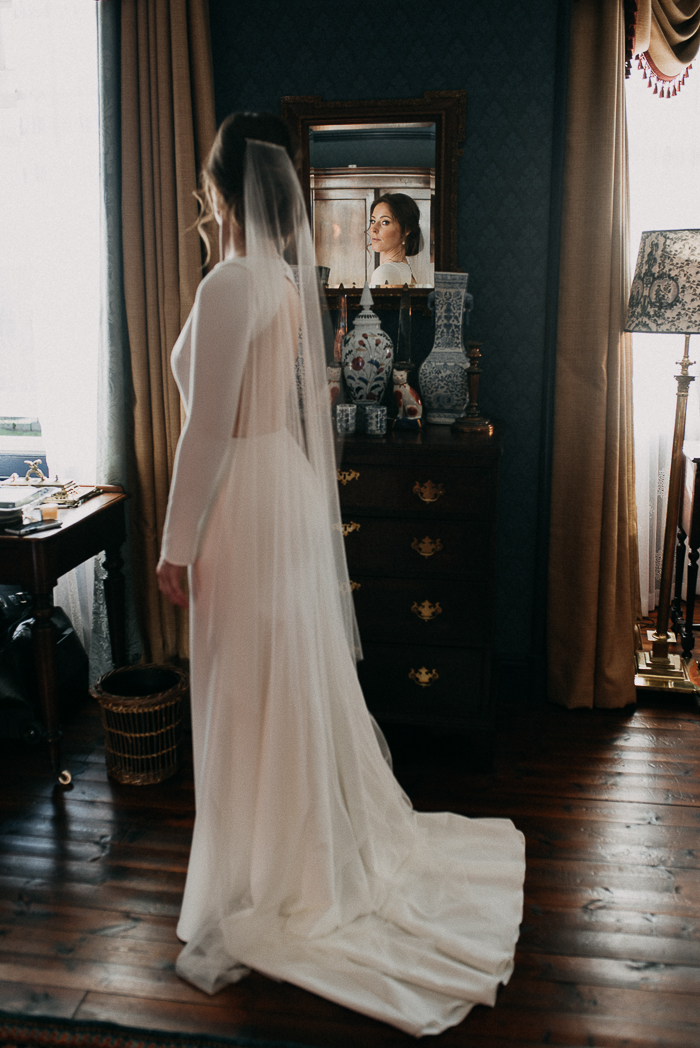 The Sarah Seven Dress
I loved how simple and comfortable my dress was while still having a sense of excitement with the open back. The long sleeves were perfect for winter in the highlands, and a wool tartan blanket (a nod to Aaron's ancestry) helped keep me warm while we explored the surrounding countryside. For the ceremony look, I wore medium-sized drop pearl earrings reminiscent of the women in Dutch Master paintings. They were paired with a cameo ring my mother bought in Florence in 1970. These simple pieces were beautiful in their own right but didn't make too much of a statement.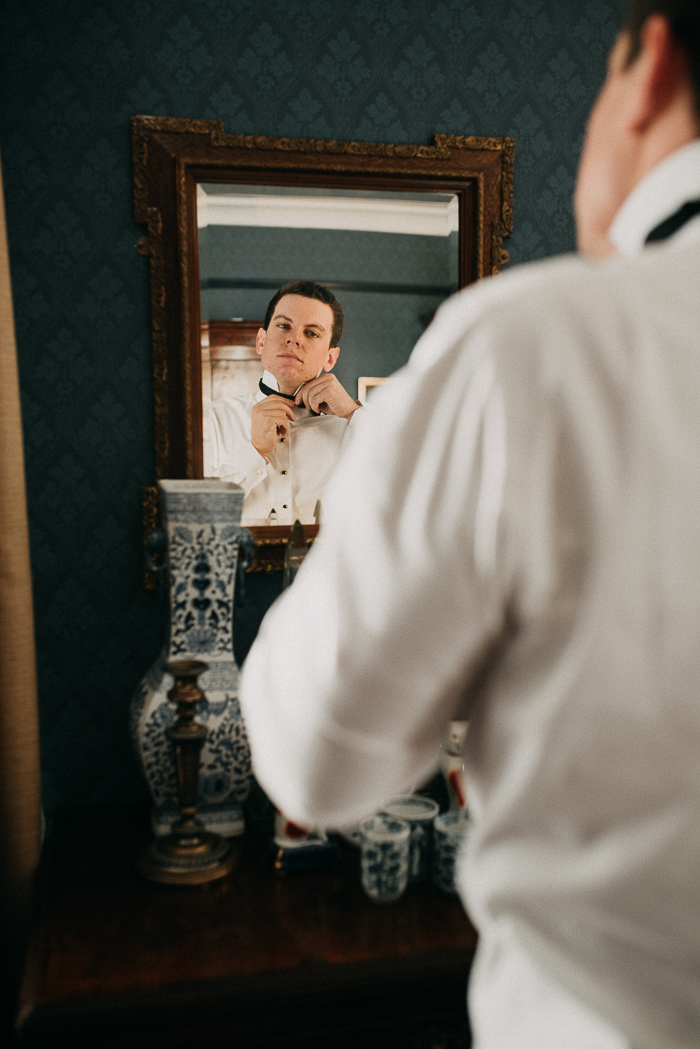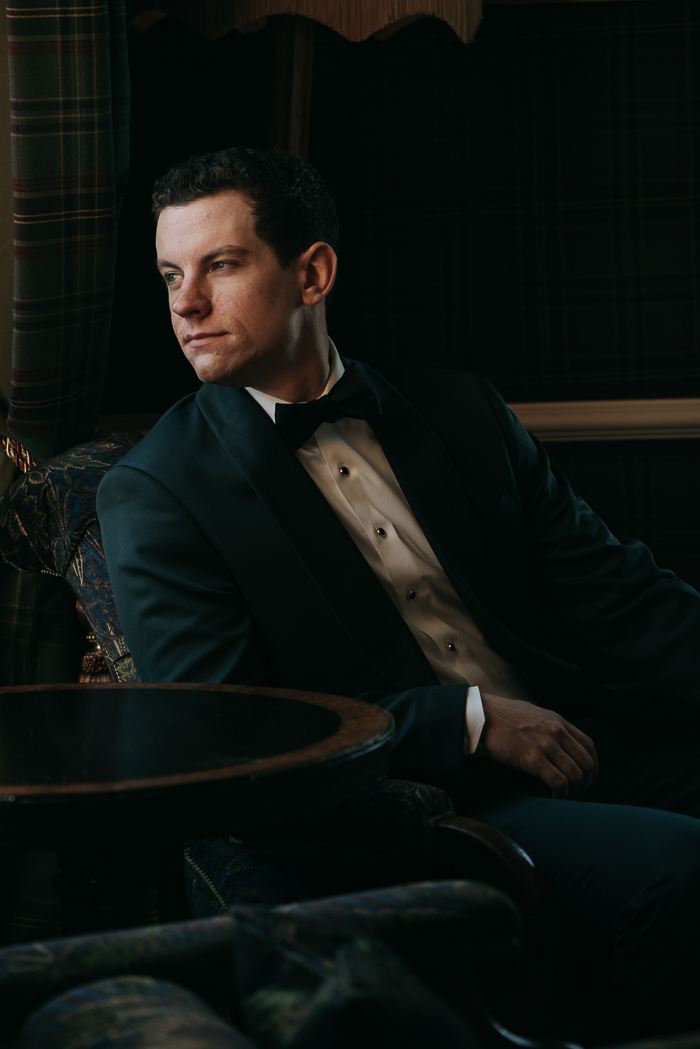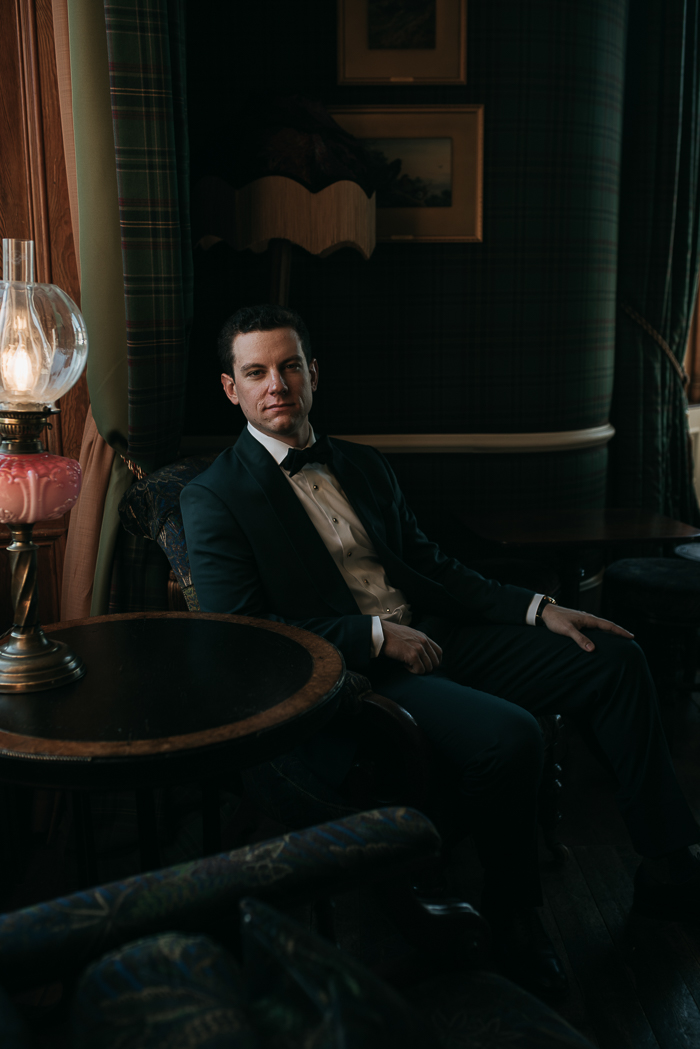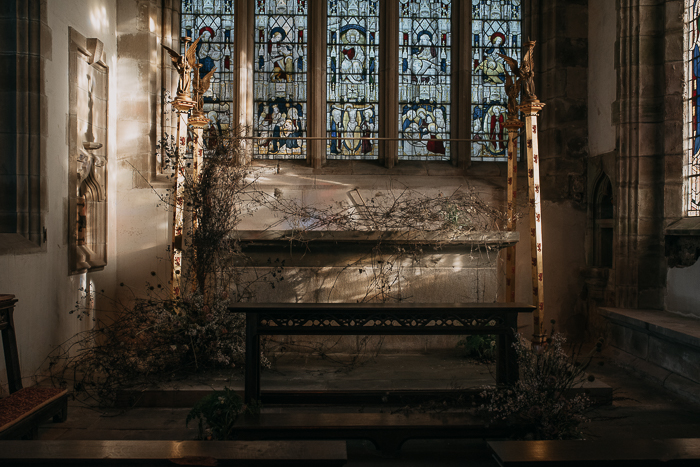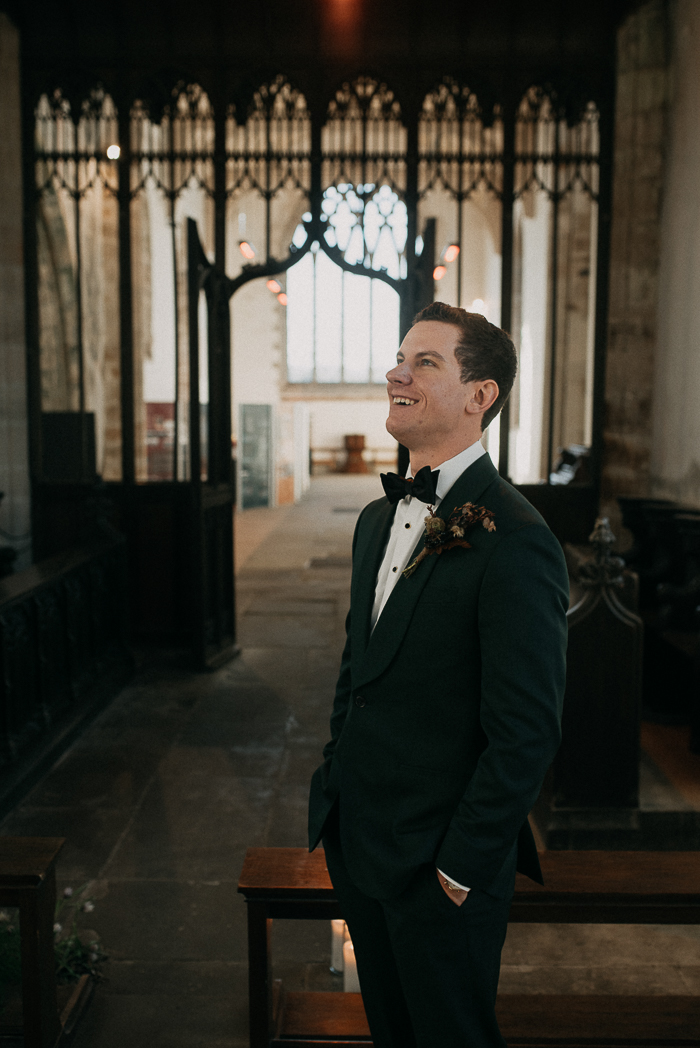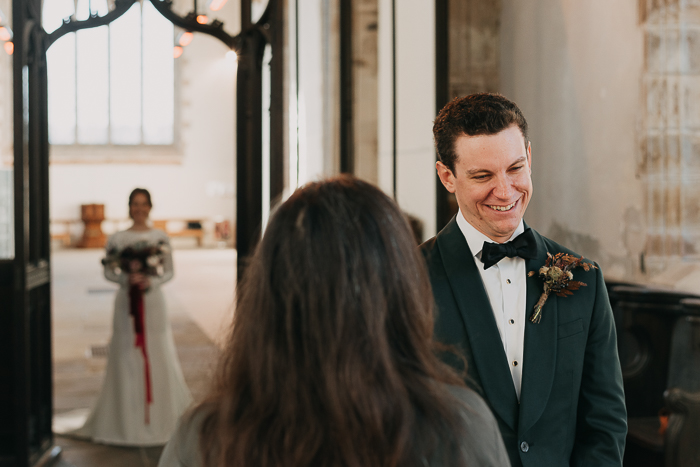 St. Margaret's of Braemar Church
We found out about St Margaret's of Braemar while researching the area surrounding the hotel. It was impossible not to instantly fall in love with its gothic revival architecture and beautiful stained glass windows. It was even more special when we learned more about Saint Margaret– the lesser talked about Patron Saint of Scotland–and its renowned architect Sir Ninian Comper, who has also designed stained glass for Westminster Abbey. While once an active church in Victorian times, the church was decommissioned and closed until recently. Luckily for us, St Margarets was newly refurbished into a community concert hall and art exhibit space.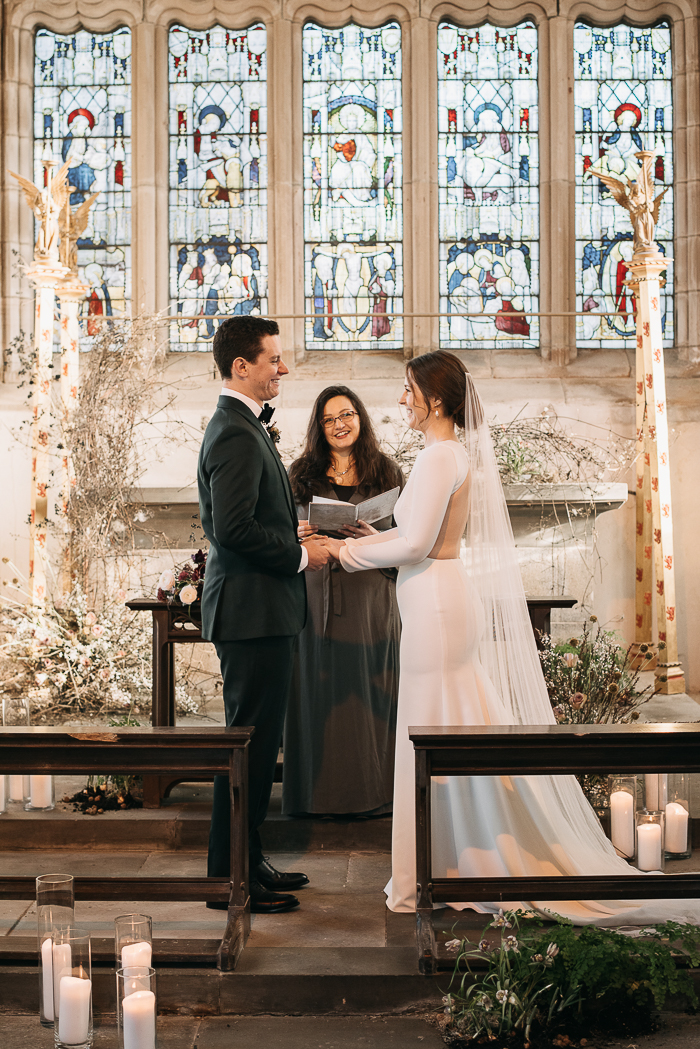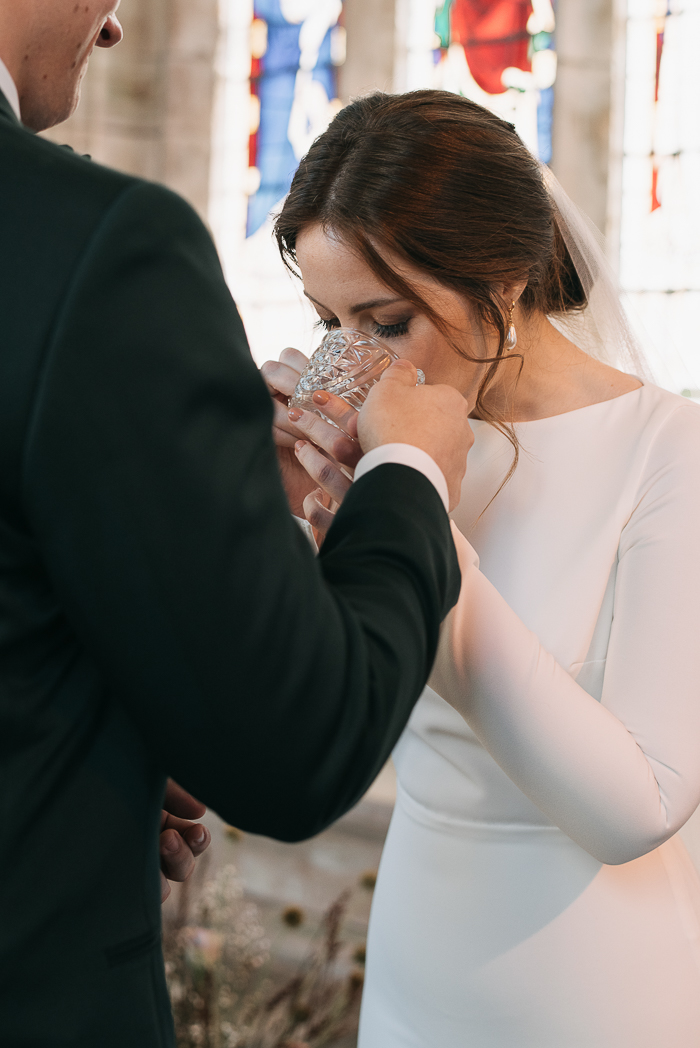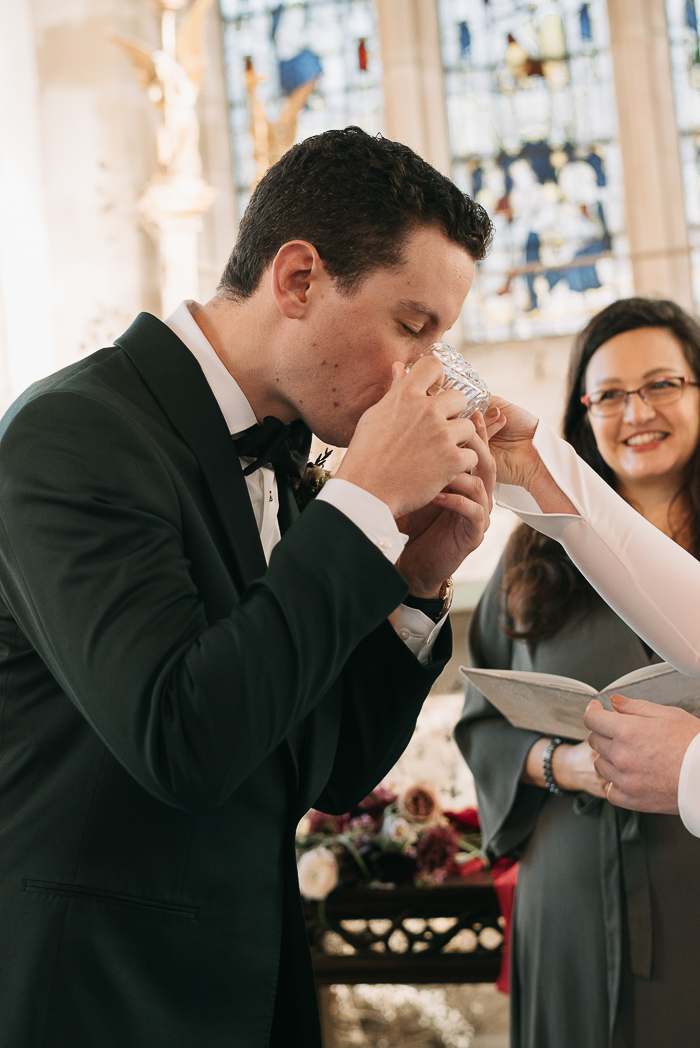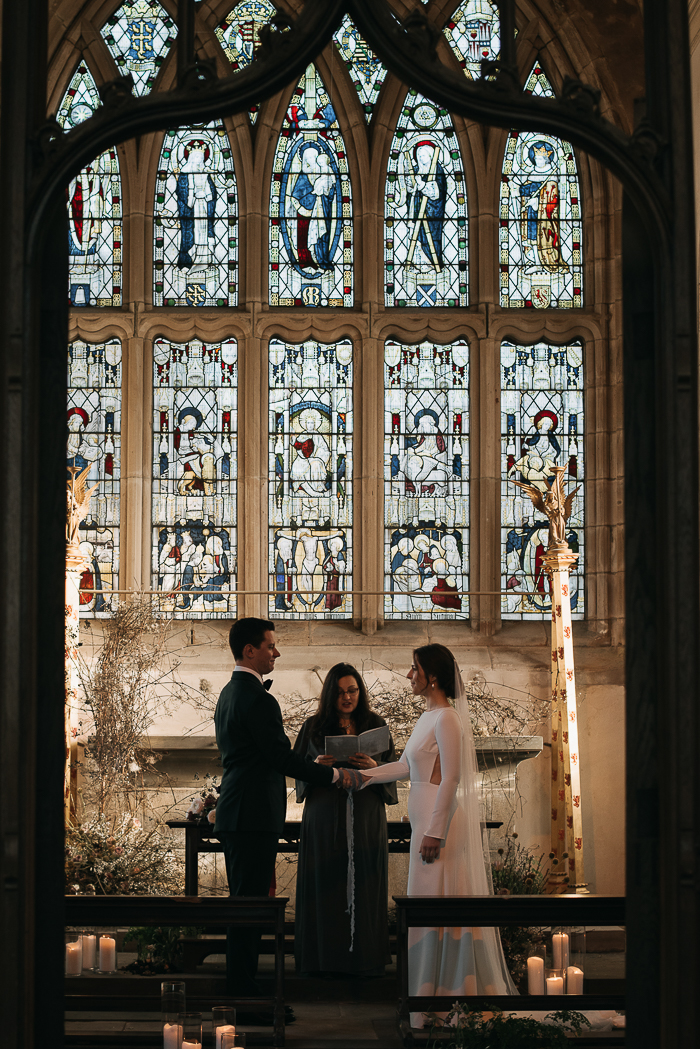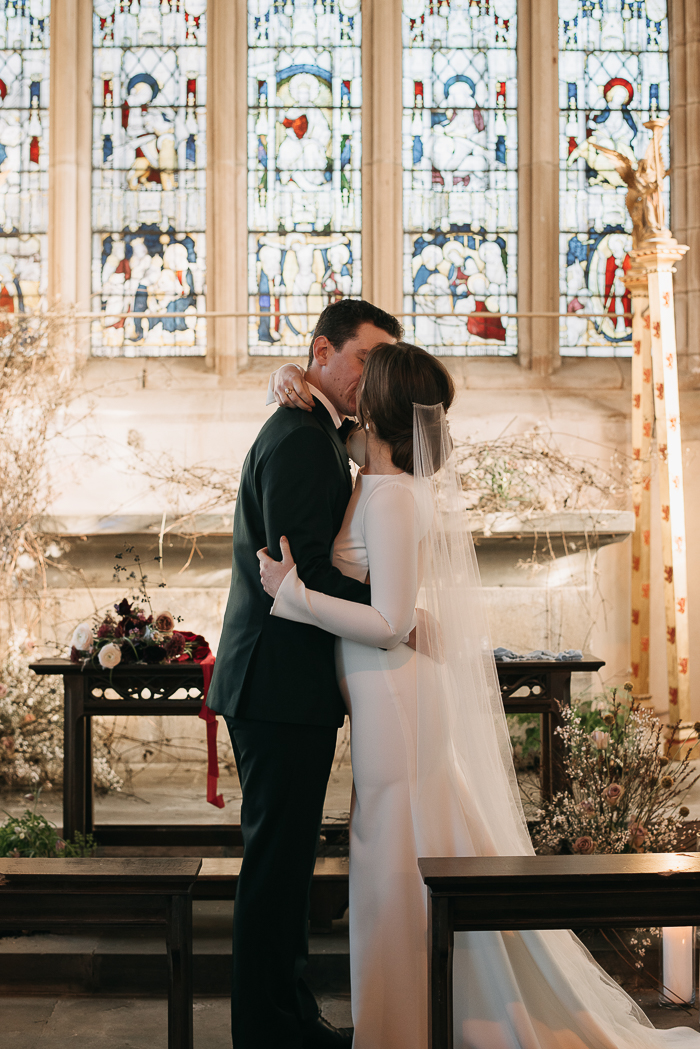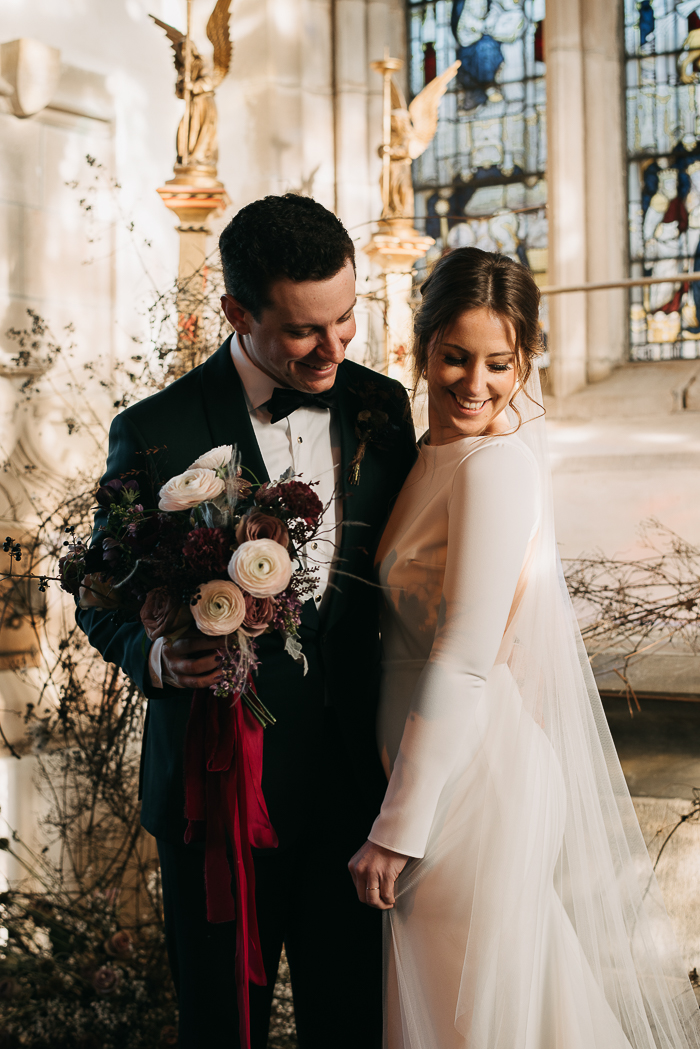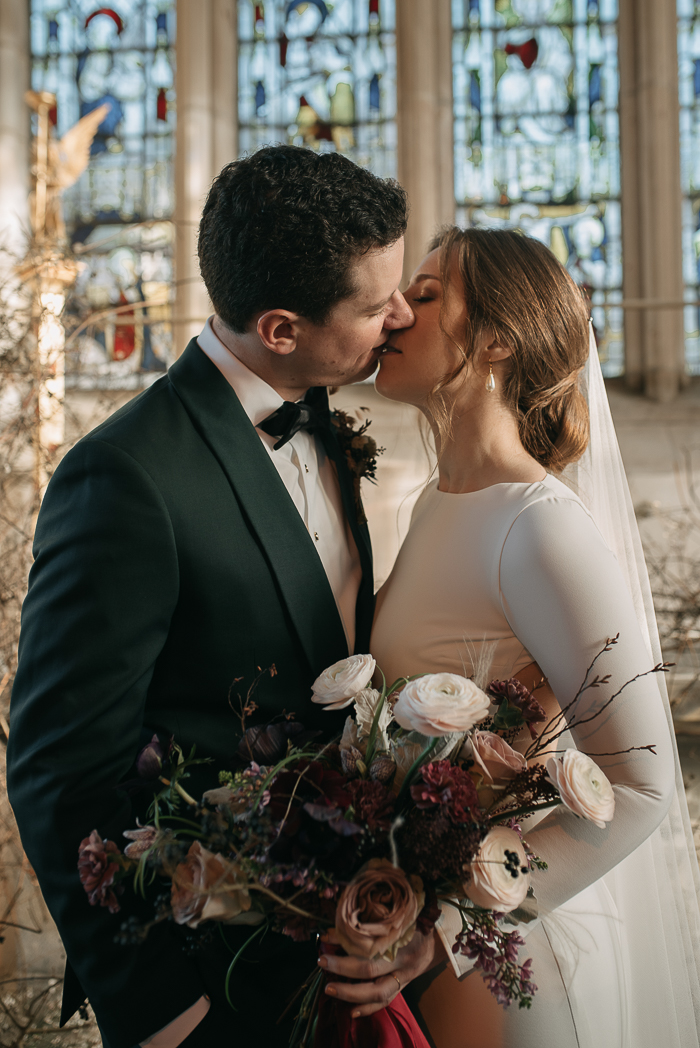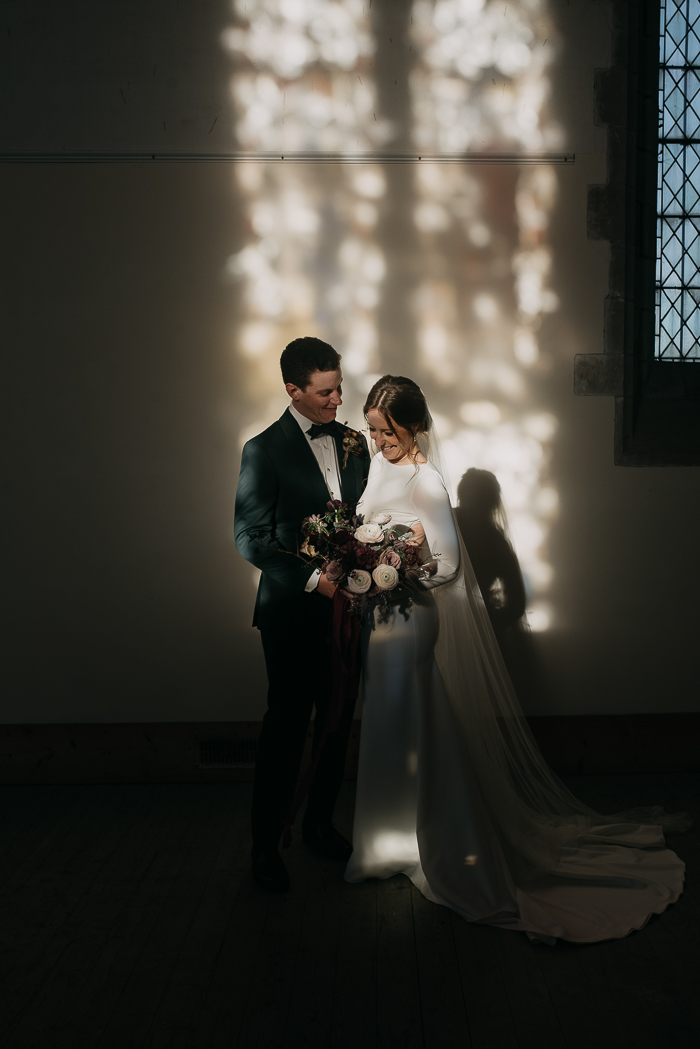 The Dutch Master Wedding Theme
We chose the theme of Dutch Master floral paintings to enhance the historical feeling of the buildings without being overtly thematic of our Scottish location. We thought the venues spoke for themselves and didn't need more help. Dutch still-life paintings juxtapose masculinity and femininity, light and dark, and soft and stark in a way that resonated with the story we wanted to tell in our wedding. Marriage–to us–encompasses all aspects of love, life, and relationships.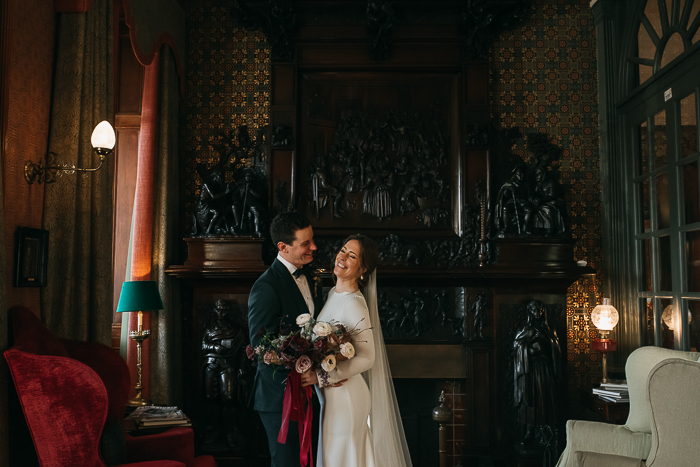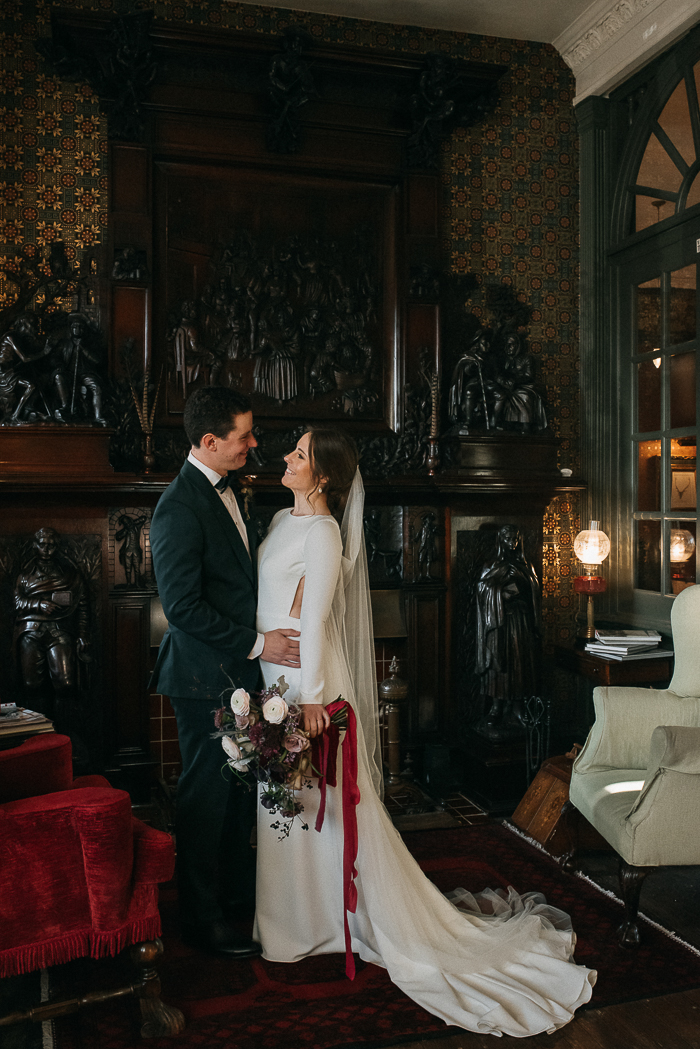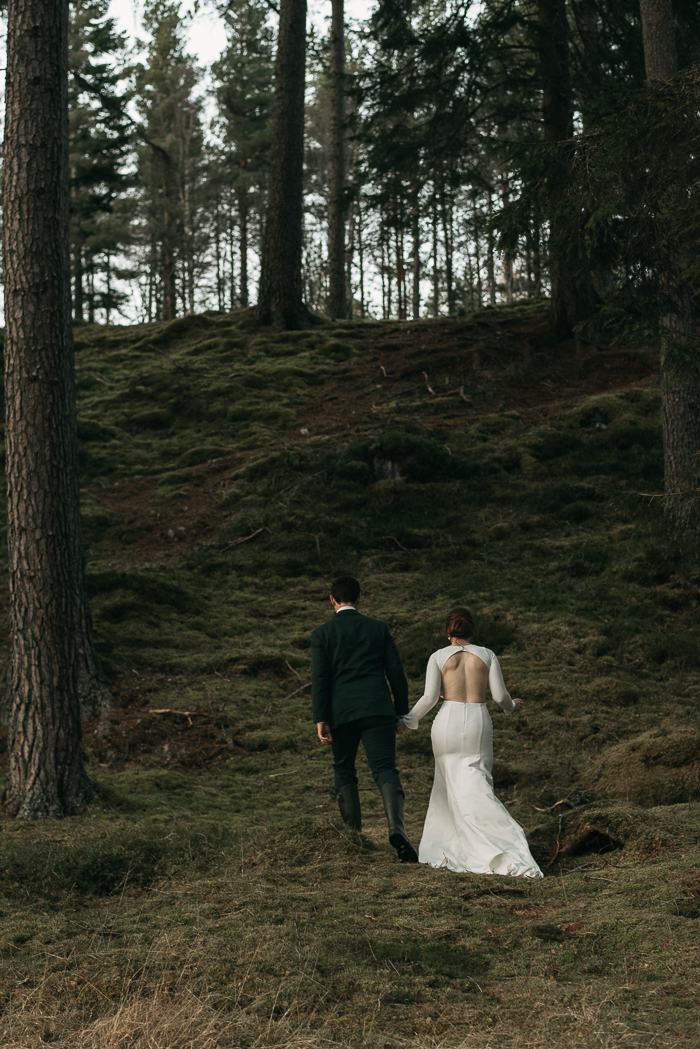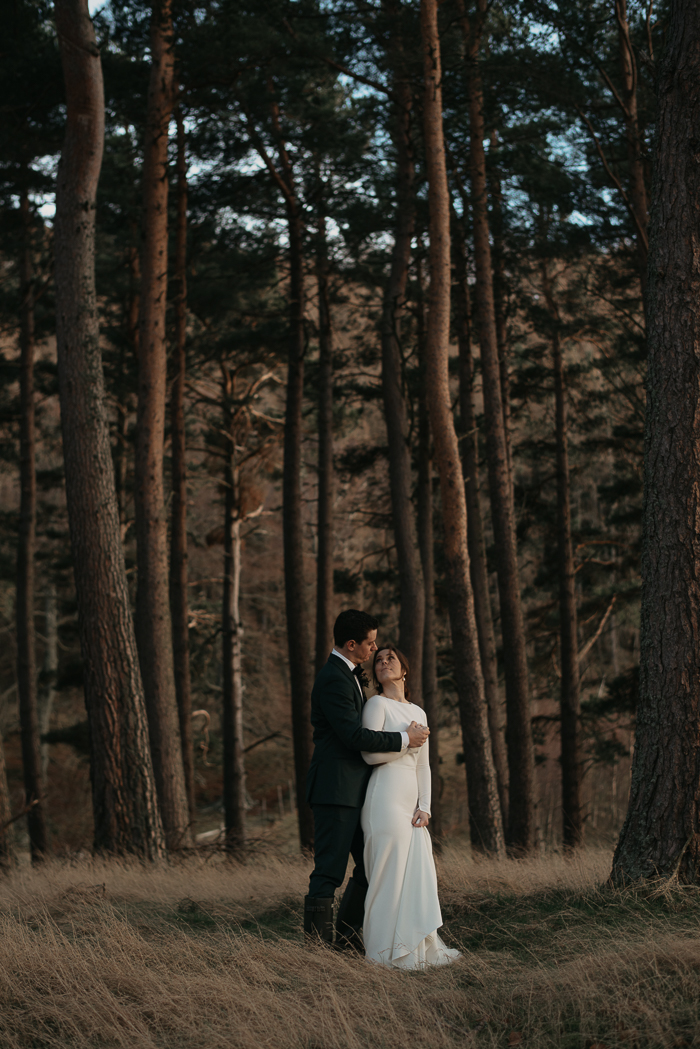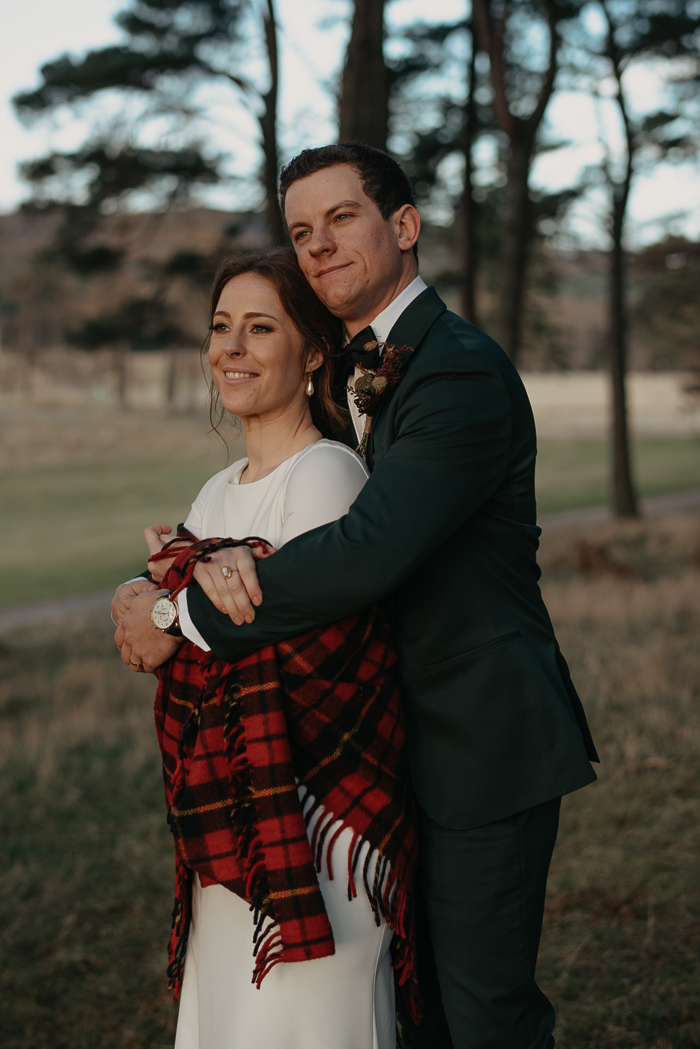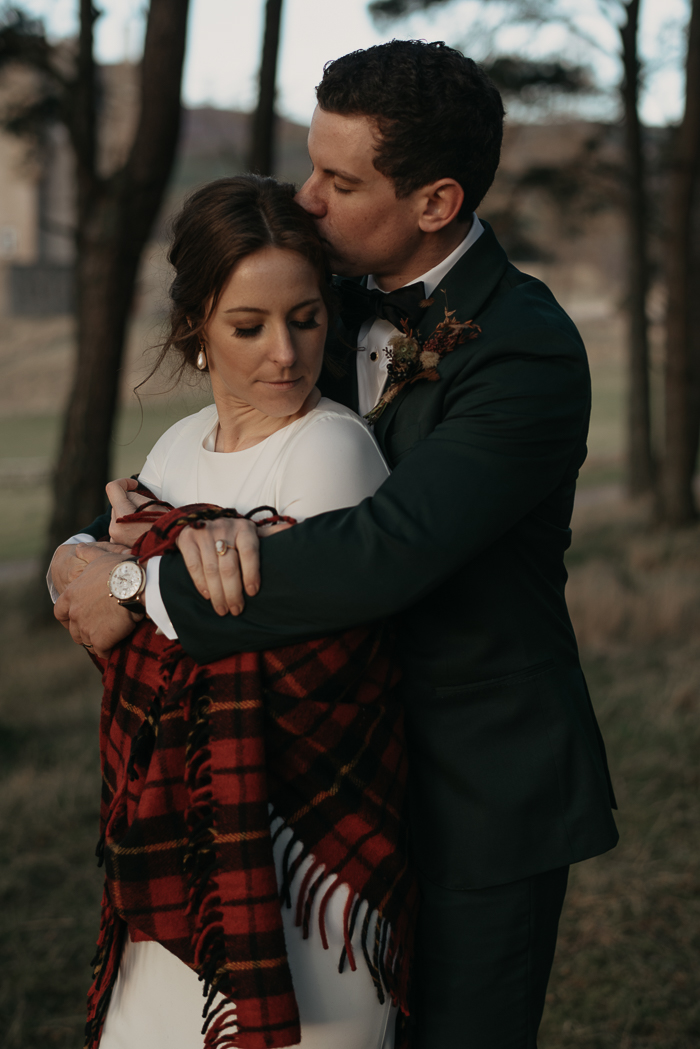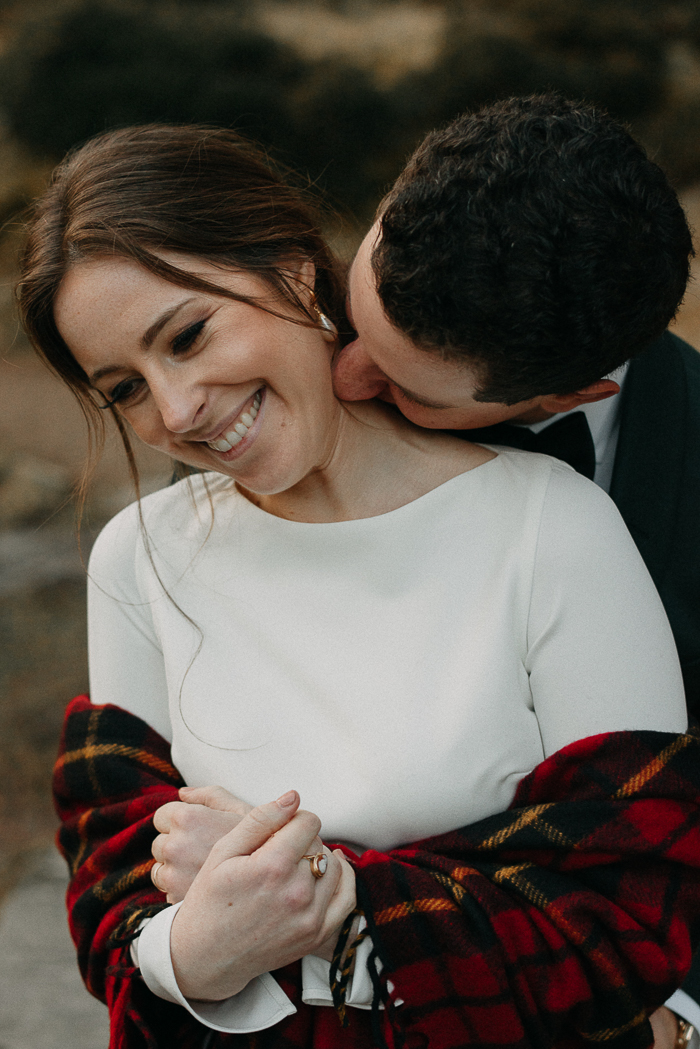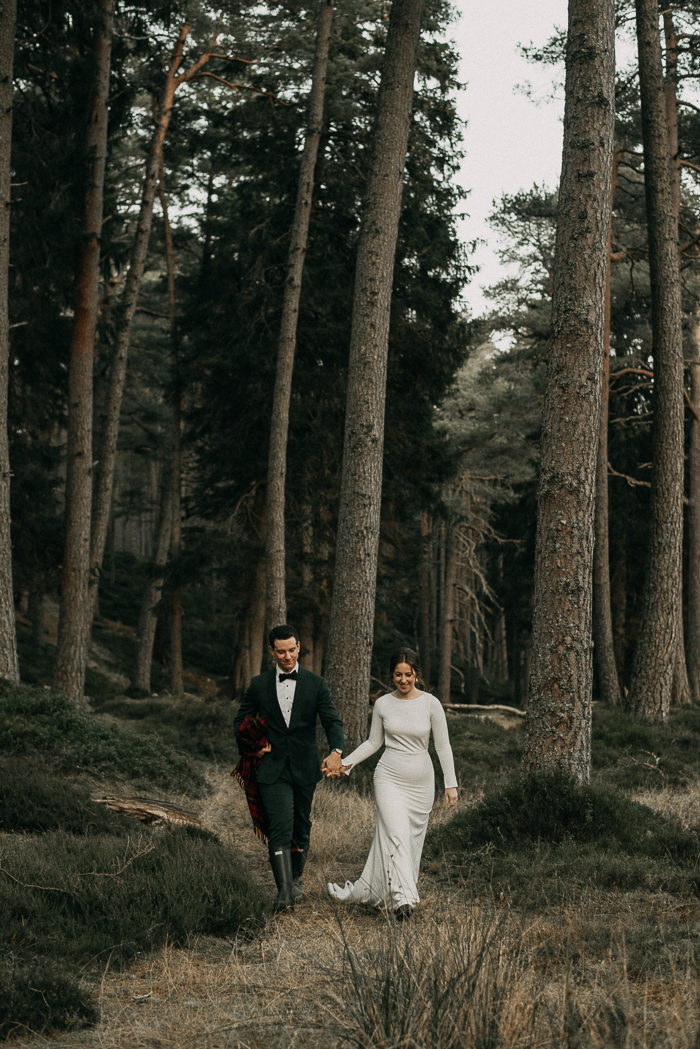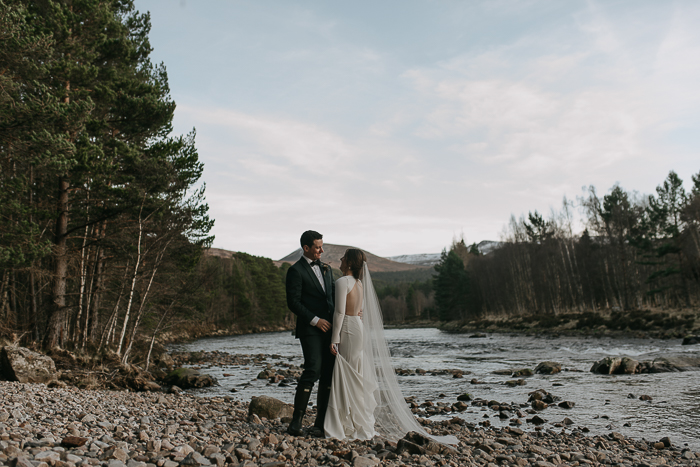 A Traditional Scottish Dinner
We really wanted for our wedding was for it to be a unique new experience for us. The wedding menu was no different. For dinner, we were looking for flavors that would be special to the day and embracing local cuisine, so we went with venison and pheasant cooked in milk. Our wedding cake flavors were a bit less traditional, with a tier each of banana rum and whiskey caramel.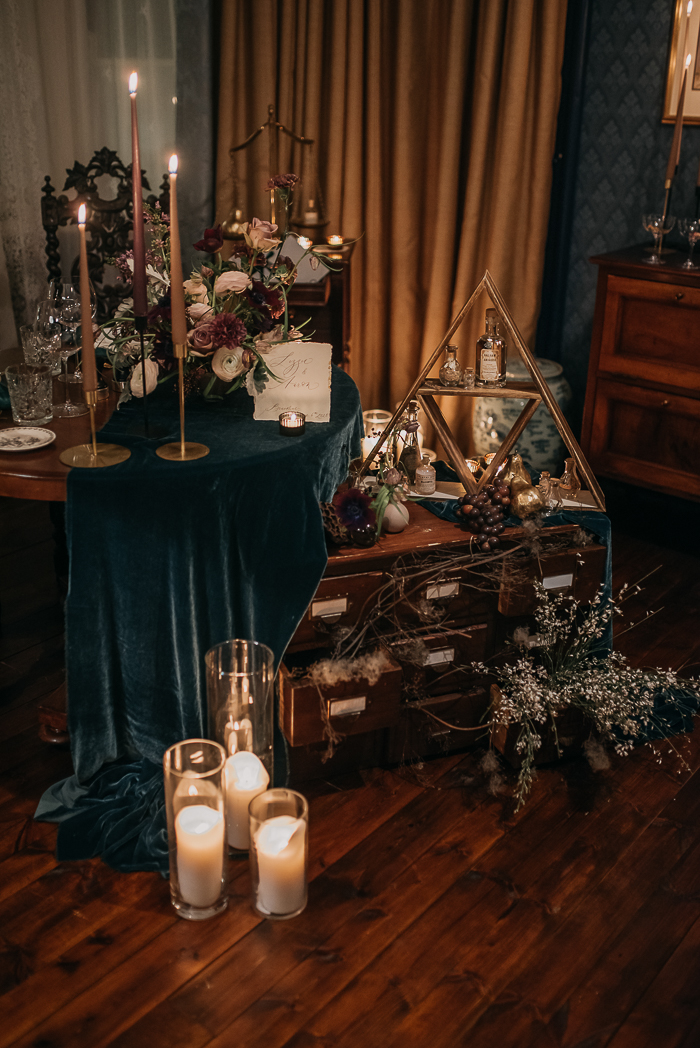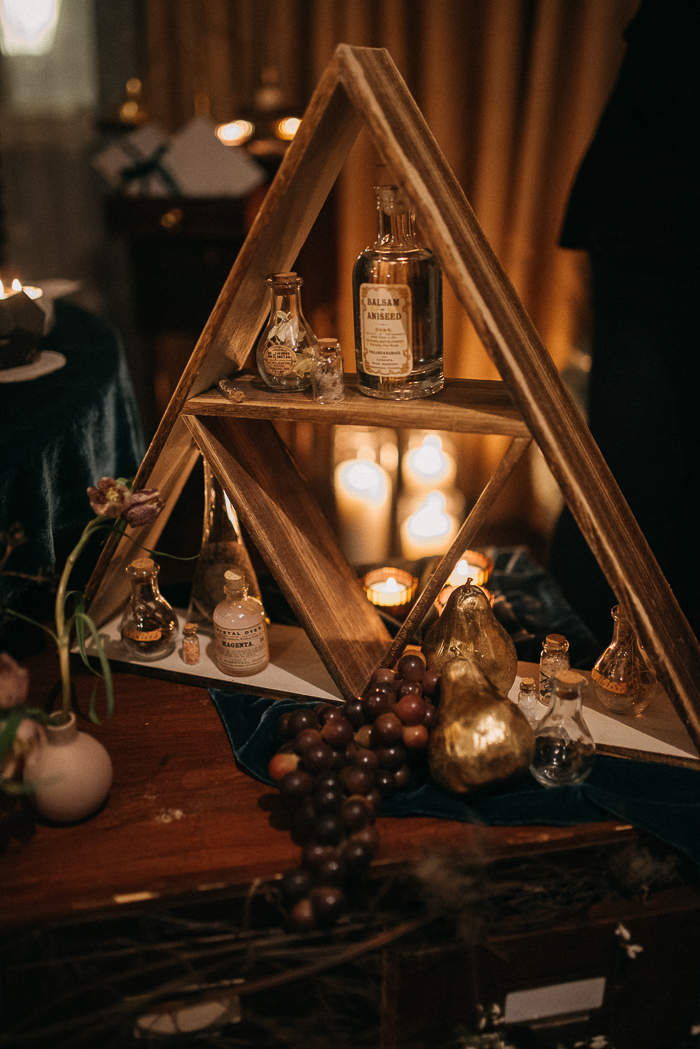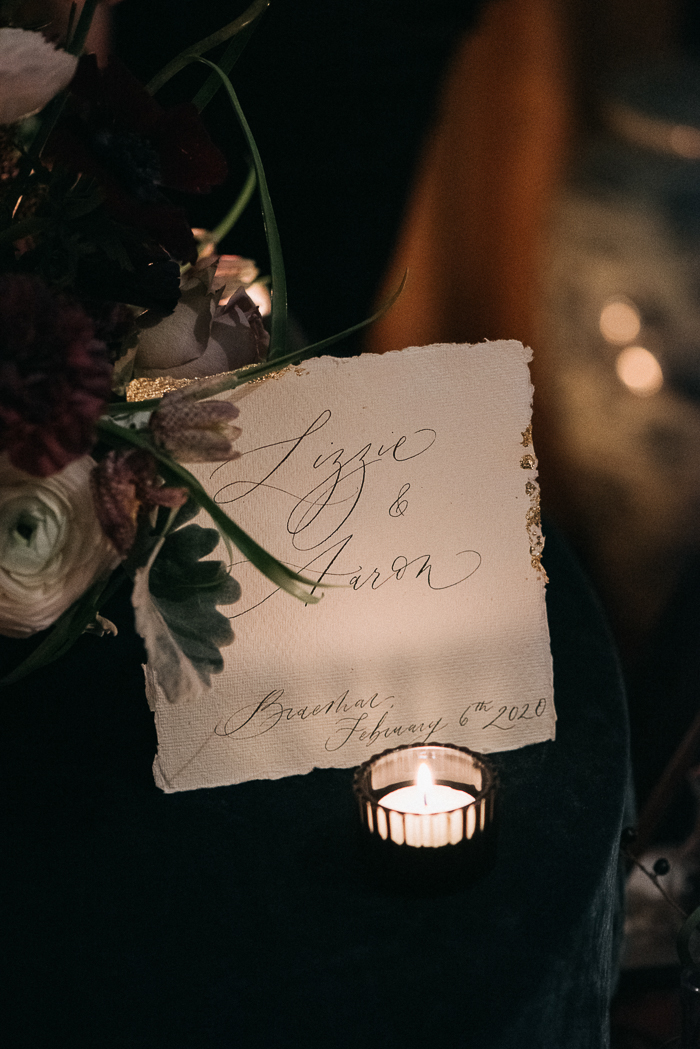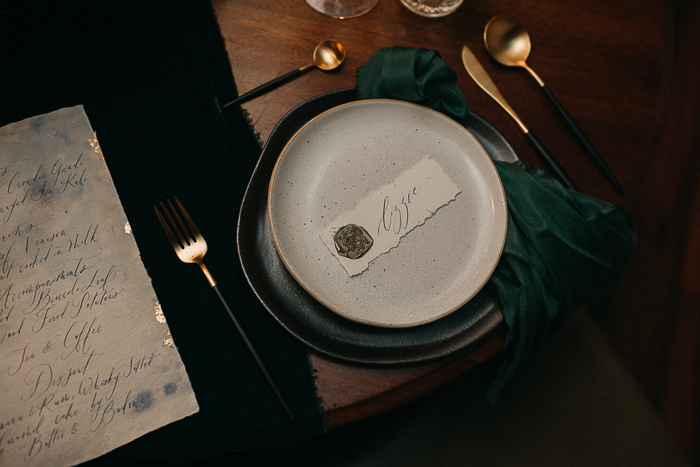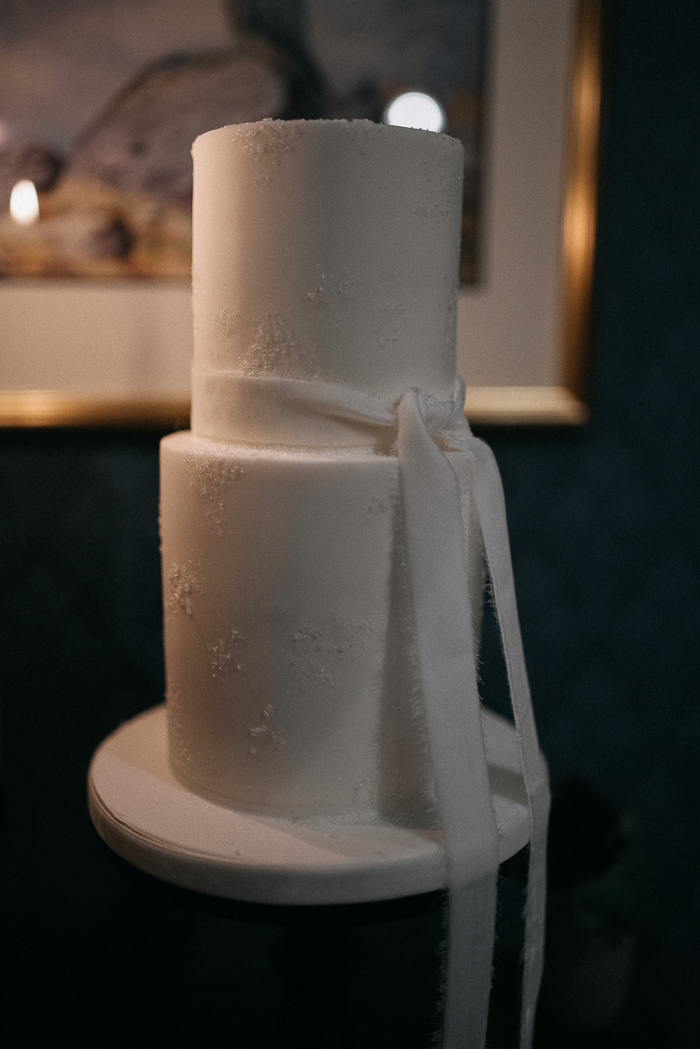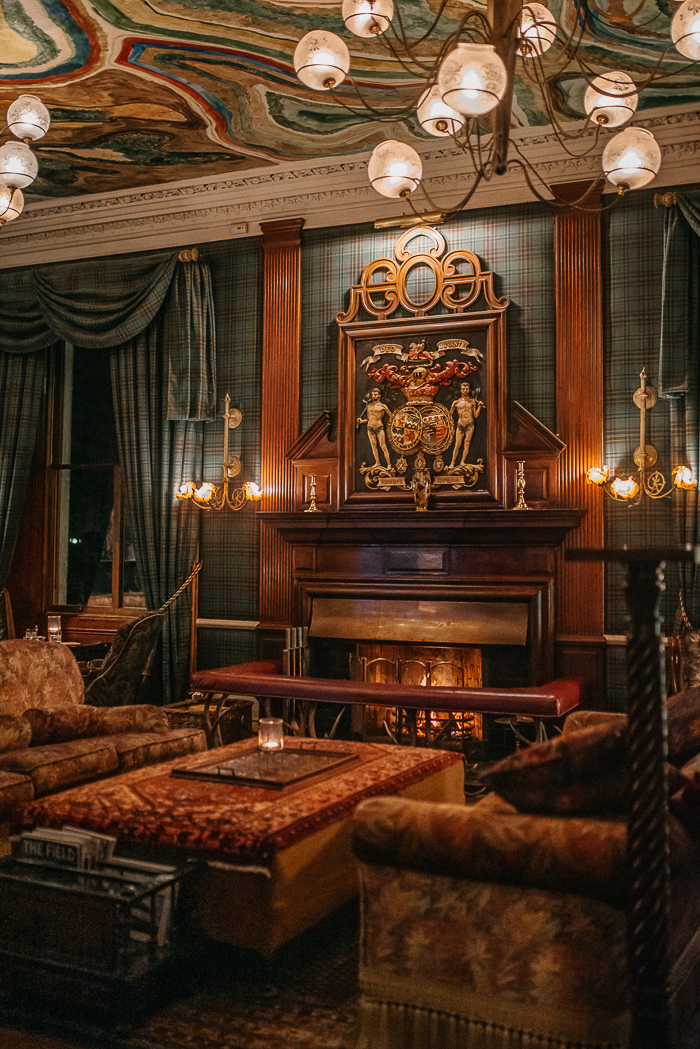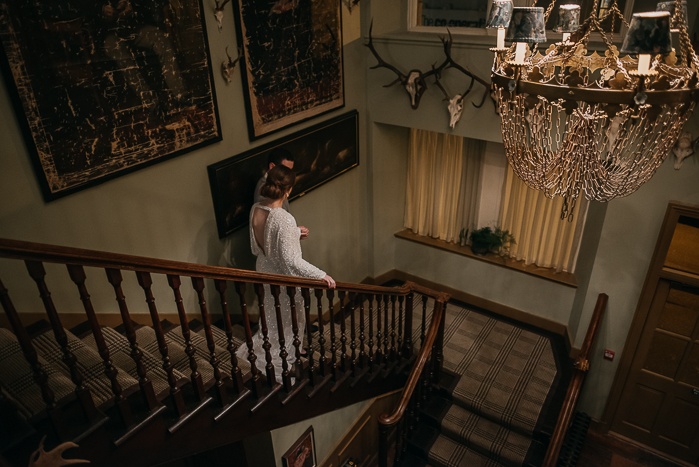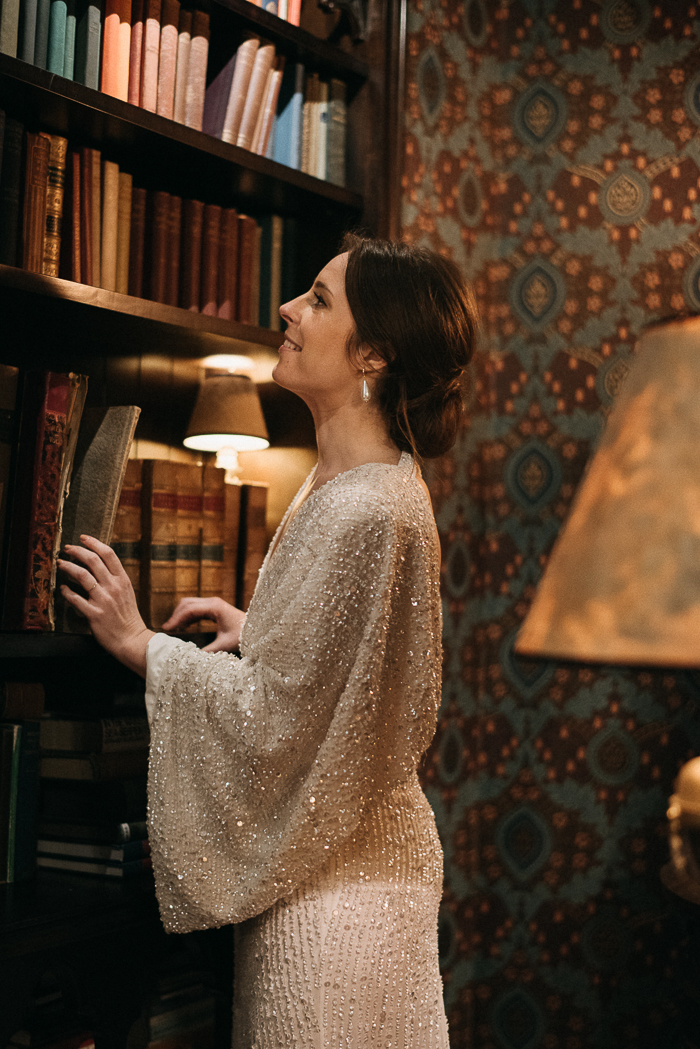 A Reception Outfit Change
For the evening portion of our wedding, I changed into a sequin gown that was more in line with the bubbly side of my personality. I switched the earrings to larger drop pearl ones to keep it simple but still amp up the drama. It was fun to have a wedding dress change to help showcase different parts of my personal style and character.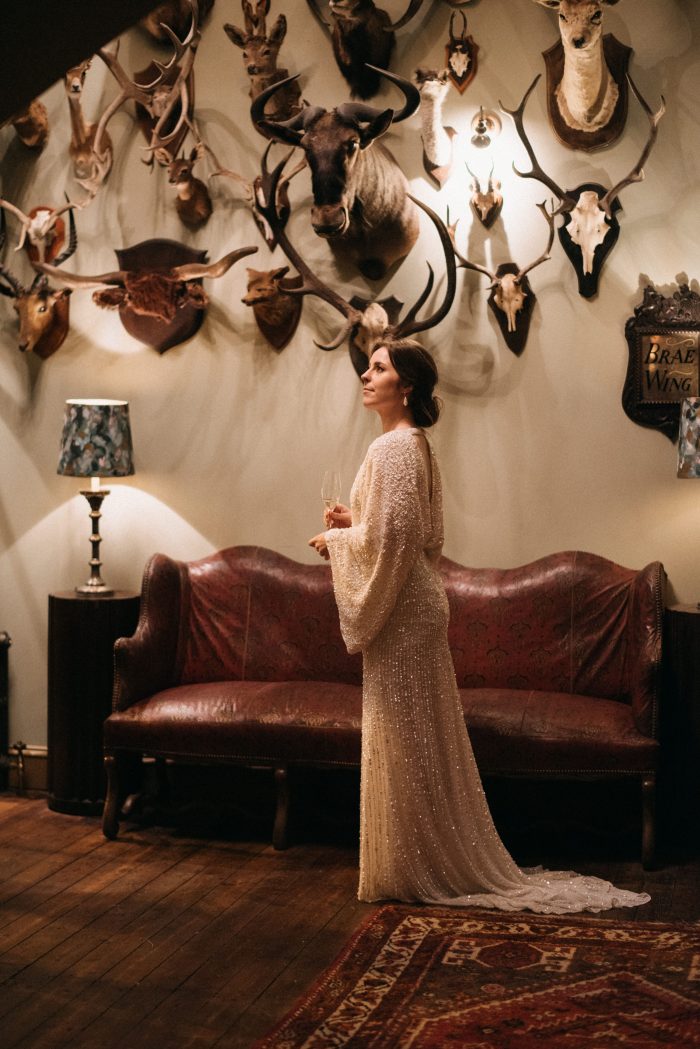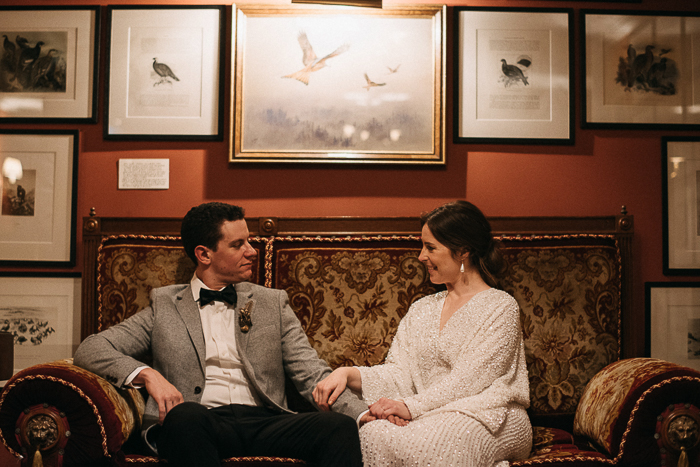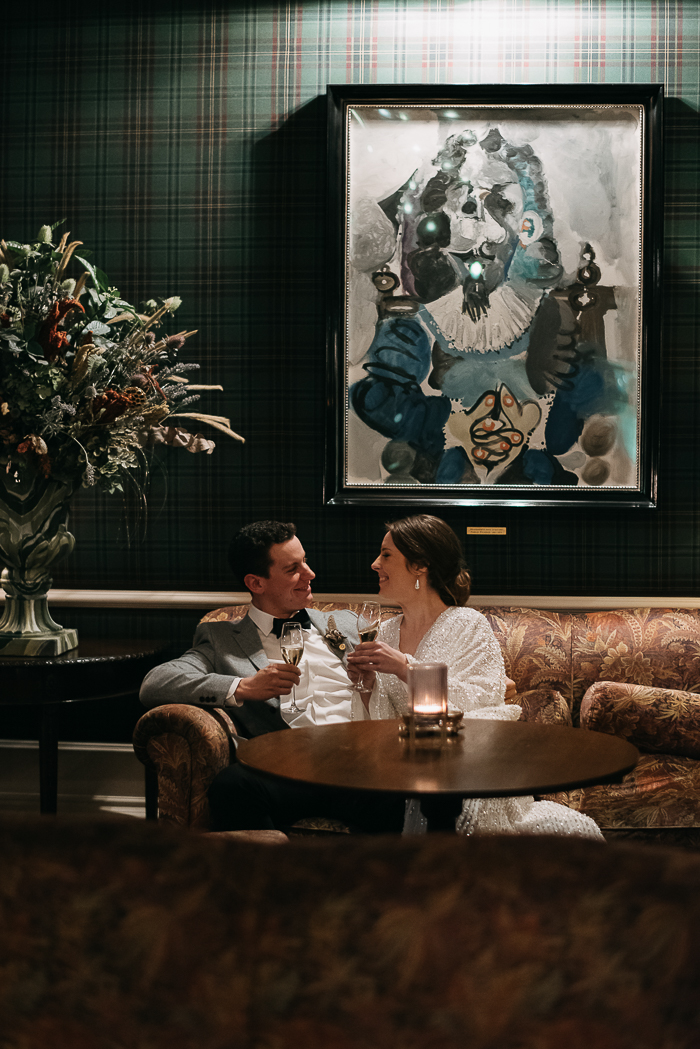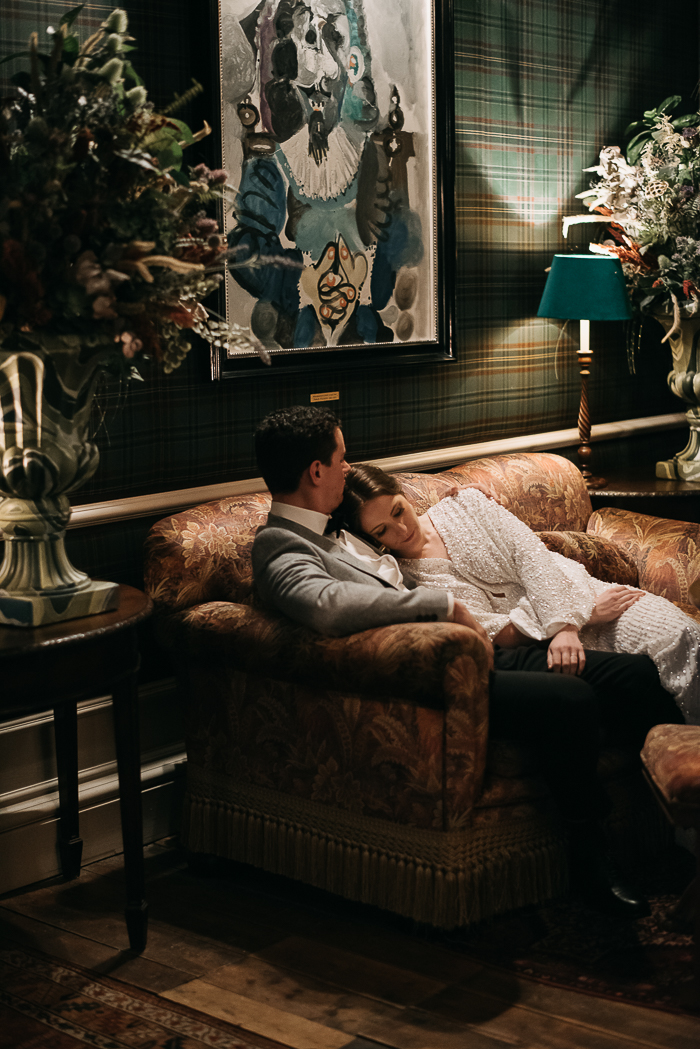 Congratulations to Lizzie and Aaron on their Scotland elopement at Cairngorms National Park! An extra special thanks to Sophia Veres Photography for capturing the day and Junebug member The Stars Inside for sharing this unforgettable day with us. Want to see more from The Stars Inside? Check out their profile in our directory of the best wedding planners in the world!