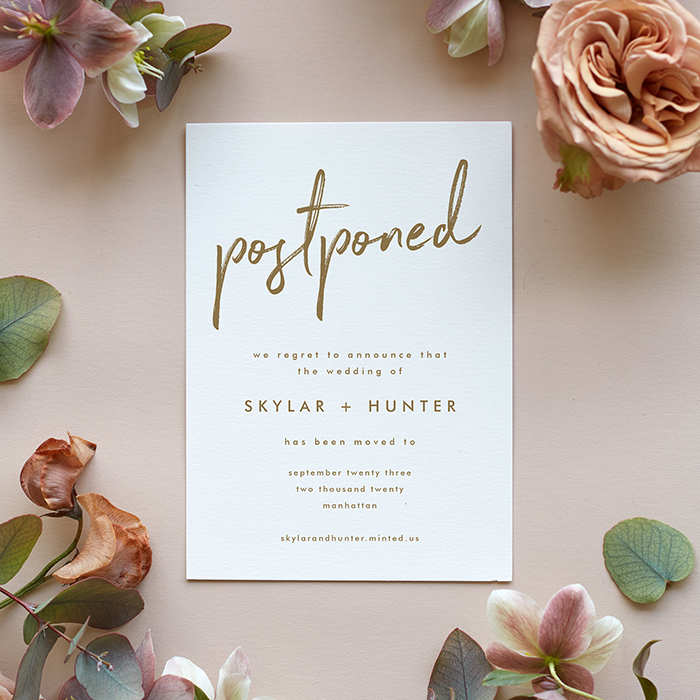 2020 has brought a unique circumstance for couples planning their weddings thanks to COVID-19. If the pandemic has forced you to rethink your plans and postpone your wedding, you're not alone. We're here to help, along with our friends at Minted, who have designed a selection of Change the Date cards and other items to get you through this process as painlessly as possible.
Whether you've set a new date or plans are still up in the air, Minted has gorgeous solutions ready to help you inform your guests of the updates as they come. Plus, these stationery experts have some useful tips and wording examples to get you started that you don't want to miss at the end of this post!
Change the Date Cards
If you've picked a new date for your wedding, these brand new Change the Date cards will help you announce the change in style! From bold to elegant, Minted recommends choosing a design that is cohesive with your wedding style and coordinates with your original stationery.
Haven't Set a Date?
Engagement Announcements: Recently engaged but don't know when the wedding will be? You can still celebrate this momentous occasion with engagement announcements. Being engaged is a special event all its own, so take some selfies and share the love with your friends and fam!
Wedding Websites: Did you know that Minted offers free wedding websites? Whether you've changed your date, haven't set one yet, or are just starting the wedding planning process, we can't recommend having a wedding website enough! Not only is this a great way to give your guests a portal for all the info they need on your upcoming day, but Minted's website features allow you to keep guests updated on any changes that may arise.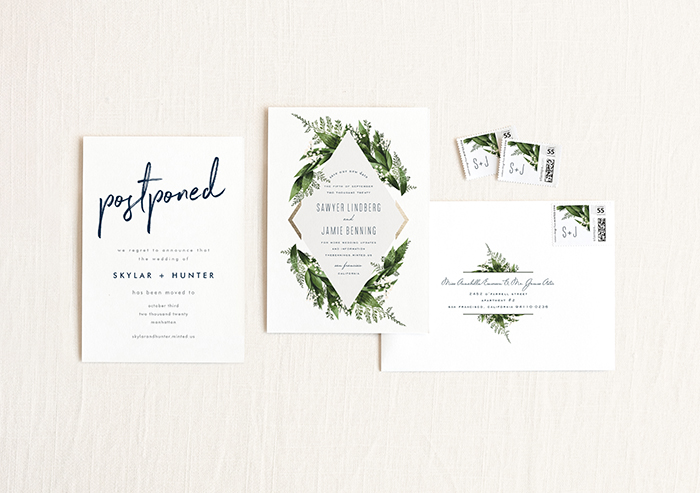 Announcement Wording Suggestions
Finding the right words to deliver the news isn't always easy, which is why the folks over at Minted have lent their expertise!
Wording suggestions if you are rescheduling but you don't have a new date yet:
Due to unforeseen circumstances, we are changing our wedding date. New details to come soon.
In light of current events, we are changing our date so we can celebrate safely. New details to come soon.
In light of current events, we are postponing our wedding. New wedding date to come soon.
We have decided to postpone our wedding to a future date. Please stay tuned for details.
It's still happening! …Just at a later date. New wedding date to come soon!
Social distancing just isn't our thing. New wedding date to come soon so we can party properly!
Wording suggestions if you are rescheduling and have a new wedding date:
Please mark your calendars with our new wedding date! We can't wait to celebrate with you.
Save our NEW date!
We changed our date and can't wait to celebrate!
Don't dust off your dancing shoes yet! Due to unforeseen circumstances, we are now getting married on [insert date].
Wording suggestions if you are not rescheduling:
Due to unforeseen circumstances, we decided to elope! We're planning a celebration soon and will send you the details.
We do. We did! Since we aren't able to celebrate in person, we decided to elope! More celebration details to come.
Rescheduling Tips from the Experts
If you're not quite ready to send out announcements of any kind, that's okay! This process is understandably more stressful than you could have anticipated. Take a deep breath, have a snack, and come back to wedding planning when you feel up to it. Here are some step-by-step instructions from Minted about how to move forward when you're ready.
If you're changing your wedding date, then it's important to let your guests know ASAP, here are some steps for wedding couples to take:
First call your family members and wedding-party members directly so they can update their calendars.

Just be prepared for some scheduling hiccups along the way – there's a chance some of your VIPs sadly won't be able to make it.

Next, inform the rest of your wedding guests about the date change via email. Time is of the essence, so the more notice you're able to give your guests, the more likely they'll be able to attend.

Be sure to highlight your wedding website, if you've created one, with the date change prominently highlighted.

Continue to add new details to your wedding website as they come in order to keep everyone updated.
Last, mail Change the Date cards that will serve as an official announcement about the update. You do not need to send a new RSVP card; you can easily direct guests to your wedding website to RSVP.
Got more stationery questions during this uncertain time? Chat with a Minted representative to get the answers you need!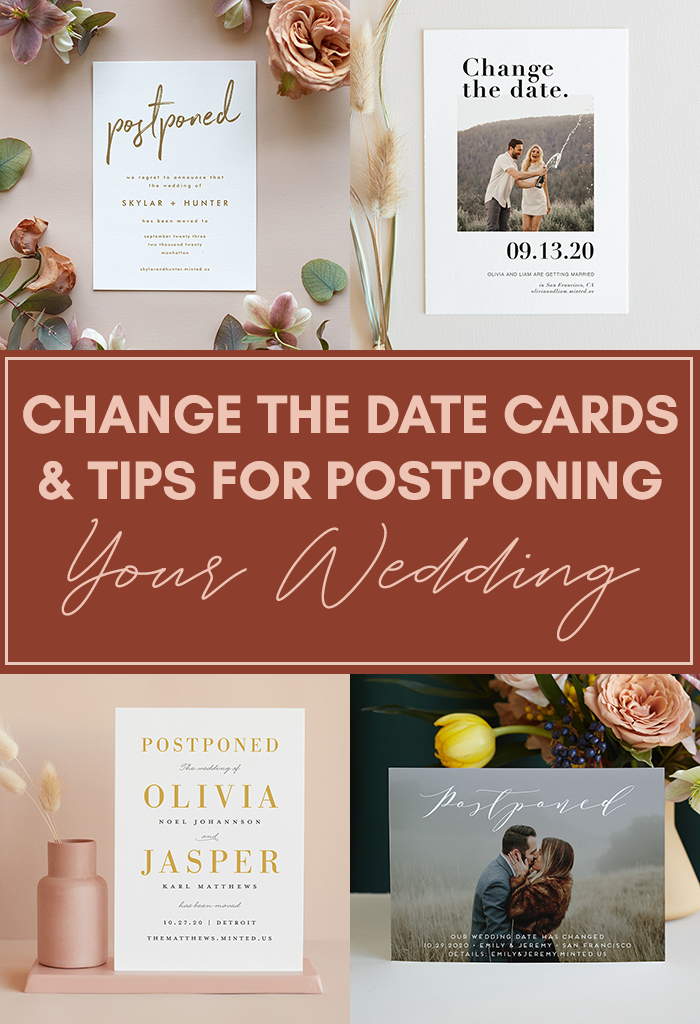 This post is sponsored by Minted!