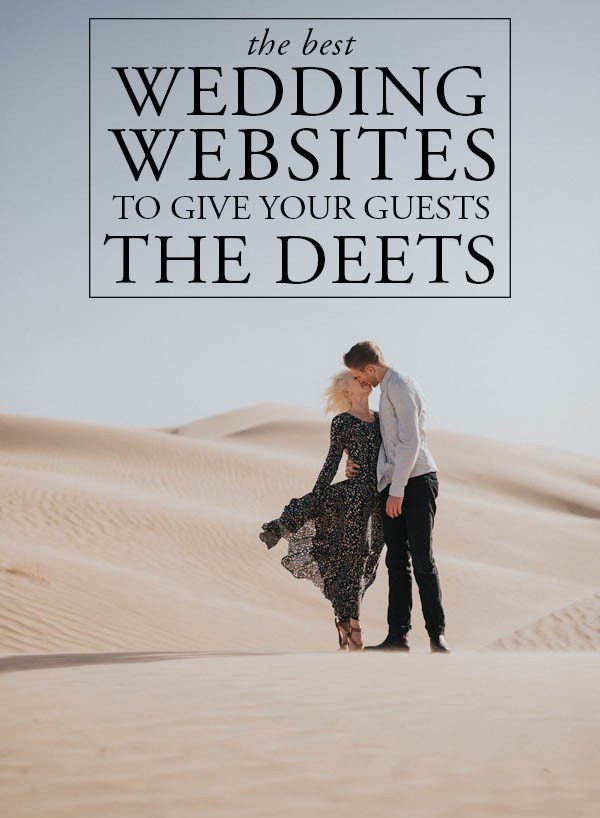 photo by Jonnie + Garrett
For those of you who may not know me, my name's Gabby and I'm the Editorial Intern here at Junebug Weddings! In addition to the fun I have by sharing weddings with you all, I am currently planning my very own wedding. As soon as I picked my dress, selected our wedding venue, and secured our photographer, I immediately hunkered down and started researching the best wedding website hosts available. After all, building an excellent wedding website is the easiest and most fun way to inform your guests, hype up your wedding, and show off your amazing engagement session photos!
These days, most wedding website builders offer the same baseline features: a dedicated spot to link to your registries, a comprehensive event schedule, RSVP features, and sometimes even free e-invitations and e-save-the-dates. So, what sets these wedding website builders apart? We broke down each of our favorite sites by price and unique features to bring you the best wedding websites of 2017!
** This post was updated August 2017 to reflect new sites and provide updates to those previously listed **
Joy
Price: Free
What We Love: After years of waiting, there is finally a reliable wedding website builder with a corresponding app that is completely free! Joy offers most of the features that the more premium sites offer (think: fast and intuitive user interface, modern fonts, and sleek site organization design), along with one of the more unique and user-friendly site layouts we've seen. They also have recently teamed up with an invitation print shop to offer matching prints for over half of their wedding website page design options. Joy is the perfect choice for the modern couple who wants a totally free wedding website experience!
What's The Catch: Joy's site designs are pretty rustic/floral-forward, but can be avoided by selecting a custom color instead (I chose a muted mustard tone). Additionally, their photo uploader doesn't let you resize or change photo placement which can be a pain when you're working with large engagement session photo files. Joy also doesn't offer custom URL domains, but we think that's a pretty fair trade-off for a service that's totally free!
Zola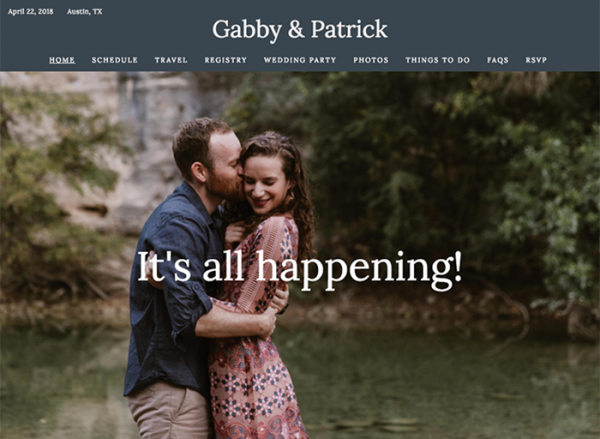 engagement photos by Briana Purser Photography
Price: Free
What We Love: Zola has made a big name for itself as a modern wedding registry, so we were excited to find out that they've branched out into the wonderful world of wedding websites! While Zola wedding websites are pretty basic HTML pages, we think they have the cleanest layouts and are the easiest to navigate (for both the website creator and their wedding guests!). In addition to being one of the least-complicated site building experiences we've tested, Zola has surprisingly awesome perks like having an integrated registry and matching Paperless Post invitation suites for a handful of their wedding site designs. If you're looking for a free wedding website that can be ready at a moment's notice, then Zola's for you: once we signed up for an account, entered our wedding info, and chose a design we loved, we had a beautiful and fully functional site up within minutes!
What's The Catch: As is the case with most website builders that expertly guide you through the creation process, the options for customization in a Zola site are very slim. Site layouts are entirely fixed, and in some cases, you can't even edit certain text that's prominently displayed on your homepage. Additionally, there isn't an opportunity for a custom URL domain, and the footer at the bottom of each web page advertises Zola's services, but for a totally free service, we don't mind!
Appy Couple
engagement photos by Briana Purser Photography
Price: One-time payment of $39-89
What We Love: There are so many reasons to love Appy Couple. Each site's interface is flexible, there's spreadsheet-compatible guest list management, and the overall flow and graphics of each site are modern and user-friendly. Appy Couple does a great job of updating their site design offerings frequently, and they even work with well-known design houses like Williams Sonoma, Laura Hooper Calligraphy, and Wedding Paper Divas to offer exclusive wedding site design options. Best of all, each site comes with a free app for guests to download that offers a live day-of photostream, AirPlay compatibility, and even fun games for your guests to pass the time with! For all of these amazing features, Appy Couple offers the best value for a reasonable one-time payment that includes unlimited publishing time and tons of gorgeous site designs.
What's The Catch: Appy Couple's features are known for being very customizable – except for when it comes to site design. Appy Couple offers two main layouts that couples can choose from, so if it's a highly customized experience you're after, then you might want to look elsewhere. To keep things fresh on your Appy Couple site, consider toggling between the simpler "single page" web view to the more engaging "multi-page" web view (shown in above example) as your wedding gets closer! You can access these different layout versions under Dashboard > Web View > Single or MultiPage.
Minted
Price: Free or one-time $20 premium payment
What We Love: Minted is a superstar in the wedding world, and for good reason! Most of Minted's free wedding websites have corresponding wedding paper suites so you can have a comprehensive style theme in all of the materials you offer your guests. Building a website on Minted is fast, intuitive, and straightforward – perfect for couples who want a simple and seamless wedding website building experience. Minted's page design options are dominated by floral and rustic designs, but lately, they've placed a larger emphasis on trendier options that can appeal to a modern audience. Minted's premium payment of $20 allows couples to unlock features like a photo gallery (perfect for those engagement photos!), personal URL, and advanced privacy options.
What's The Catch: The simplicity that Minted offers results in a basic, no-frills HTML page which means there aren't fun graphics or interactive features like the more premium sites.
Squarespace
Price: $16/month or $144/year
What We Love: Looking for the perfect wedding website to show off your gorgeous engagement photos? Then Squarespace is for you! Between its slideshows, custom galleries, and beautiful ways to display images on your homepage, Squarespace lets your amazing e-sesh speak for itself. This website hosting behemoth offers six stunning layouts to organize your wedding site. In addition, Squarespace features one of our favorite building experiences with the ultimate balance of highly customizable and intuitive design offerings.
What's The Catch: Since Squarespace is typically used for businesses that need top-notch hosting and site-building experiences, you may end up feeling like you're not getting the most out of the cost of hosting your site there because you won't need to extensively utilize their offerings (for example, in-depth site analytics come with a Squarespace subscription). Additionally, Squarespace's site design is so modern and minimal that it relies on your uploaded photos to carry your page's design. That said, Squarespace offers a great (and free!) logo maker that can help jazz up your wedding website's header with something special!
Riley & Grey
Price: $35/month or $240/year
What We Love: Riley & Grey's wedding website builder features seamlessly beautiful backgrounds and a stunning variety of ways to organize your wedding details. You can choose your homepage graphic from a list of current and modern art trends like freshly marbled paint, abstract boho botanicals, gorgeous foodie-inspired photography, and even a hip illustration of tattooed knuckles! Out of all the sites we tested, Riley & Grey offers our favorite fonts and site design options – plus, they offer White Glove customer service and even an opportunity to work with their design team to create unique one-off design customizations. Bottom line: Riley & Grey offers a straight up stunning site building experience with a highly intuitive user interface.
What's The Catch: Riley & Grey's bespoke site designs have fixed fonts and layouts, so if you're looking for a highly customizable site design, then Riley & Grey may not be for you. Additionally, at $35/month or $240/year, publishing a site on Riley & Grey tops off as the priciest on our list. Do you know some friends that are also looking to publish a wedding website? They offer a discount referral program where you and a friend both get one free month if you both publish a site with them!
Wix
Price: Free or $10/month
What We Love: Wix offers three modern and minimal wedding site layout options to start, but once you commit to one, you're free to use any of their hundreds of fun and stylish background options (or your own image, like we did). Wix's photo uploader is one of the easiest to work with, plus their interface is very intuitive, easy to navigate, and highly customizable. If you love being able to click, drag, change the color, and resize every text box and graphic as much as we do, then Wix is for you!
What's The Catch: Wix's free package includes a pretty intrusive footer banner and tab at the top of your wedding website advertising their hosting services (shown above). It costs $10/month to upgrade and get rid of their banners.
At the end of the day, there are so many great wedding site builders available. It's easier than ever to find one that works for you and your partner! Now that you've weighed the pros and cons of the best wedding websites out there, it's time to start selecting your vendors. Check out this article on everything you need to know about hiring your wedding professionals!
* This post contains affiliate links. That means we might make a small commission if you end up purchasing a product from one of our sponsors! Thanks for your support!