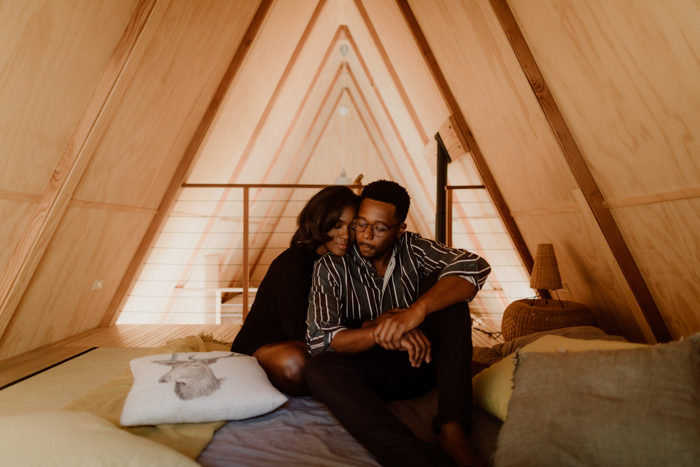 photo by Cedar & Pines
How ya doing, babes? We know this time at home can bring on waves of emotion, but on the bright side: Extra time at home means extra time with your person. And we want all of you to come out of this feeling like total #couplegoals! Now is the time to practice slow living and really invest in your relationship. You have nothing but time and each other, after all!
If you're searching for relationship tips right now, here are Junebug's best ideas for coming out of quarantine stronger than ever:
Get to know each other again
Discover (and talk about your love languages)
Bake or cook something new
Pay attention to the little things
Write each other random love notes
Go on a road trip
Ask about your person's job
Take a personality quiz
Have "date night" at least once per week
Dance. Just dance
Give each other a little space
Make a "chill at home" playlist
Document this time with candid photos
Host a FaceTime hangout with friends
Get outside (if you can) and go for a walk
Try a new exercise program
Keep a journal record of this time
Scroll on for "how-to's" and fun ideas to help you rock these tips!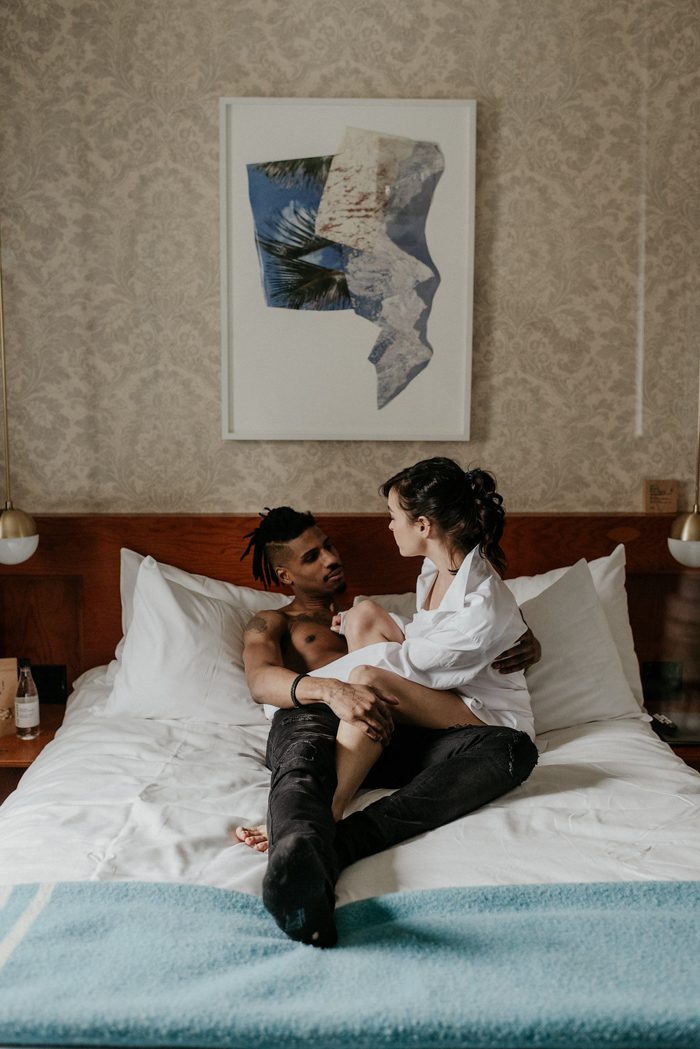 photo by Scarlet O'Neill
Get to know each other again.
With all of the extra time together, it can be easy to "just chill," but now is the perfect time to go deeper in your relationship. If you need a little help getting the conversation flowing, there are plenty of resources. We love these reflection cards to help prompt the deep questions. Tip: Make it fun with a challenge or over drinks!
Discover (and talk about) your love languages.
While you're getting to know each other, taking a love languages quiz can be an awesome way to learn about how you show and receive love. You might even be surprised with your partner's love languages. After you've taken the love languages quiz, take some time to talk about them. If you want to go the extra-mile, you can even read the love languages book together!
Bake or cook something new.
Get it poppin' in the kitchen! Now is the perfect time to head over to Pinterest and find a new recipe to try—together. Doing activities together can be extremely rewarding and a sense of bonding between two people.
Bonus tip: Support a small business by getting the recipe printed on a cutting board so you can cherish this memory forever.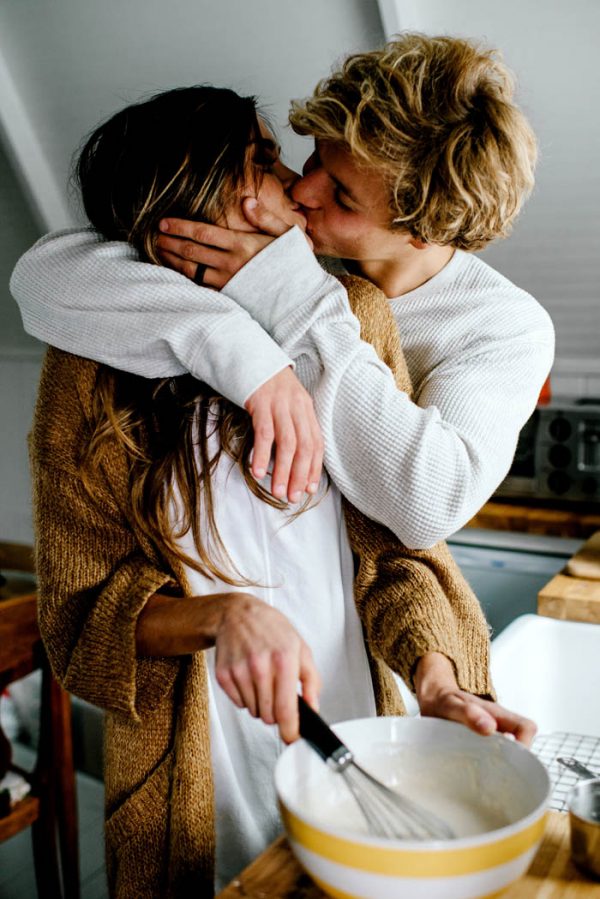 photo by Karina & Maks
Pay attention to the little things.
You probably haven't spent this much time with your s/o in quite awhile. Take some time to notice the little things. How do they like to start their mornings? What is stressing them out during this time? What brings them joy? Are they going stirr-crazy or enjoying the extra time at home?
Write each other random love notes.
Walking around the same space everyday can get quite, well, boring. Spice up your environment with little love notes throughout the house. These little gestures will bring a smile to your person's face—plus, you can keep them forever!
Want to be extra cute? We love these heart-shaped sticky notes.
Go on a road trip.
Good news: You can still hop in the car and drive! Sometimes getting "out" and taking a spontaneous drive to no-where can be extremely refreshing. Pick a destination, jam your favorite tunes, and just drive!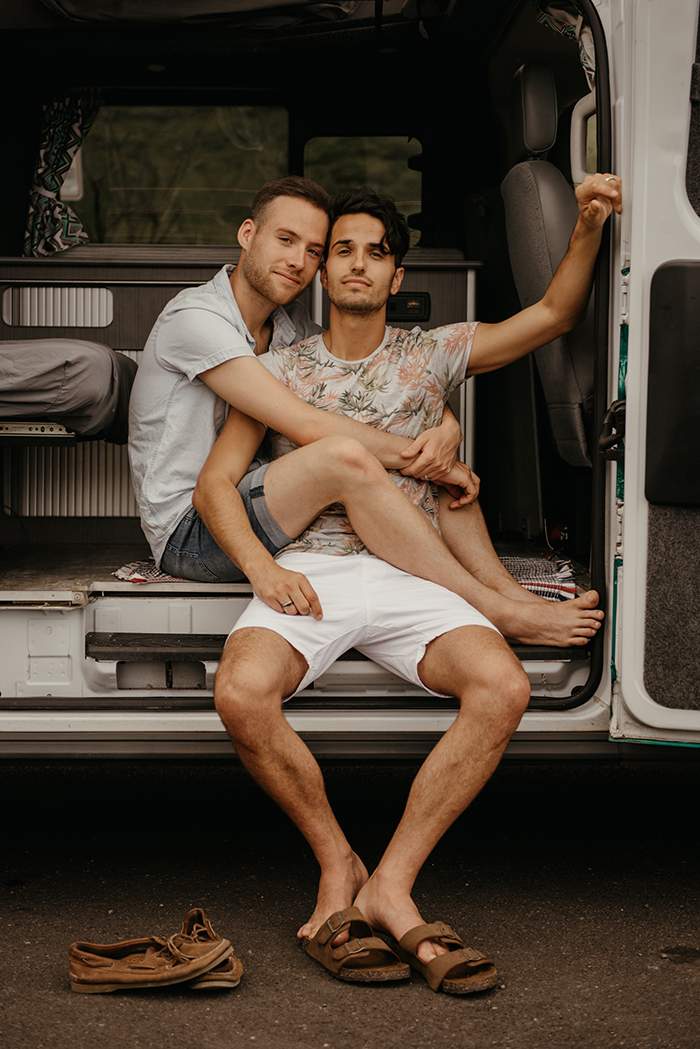 photo by Jaci Berkopec Photography
Ask questions about your person's job.
If you're not used to observing your person "at work," you might not know all of the ins-and-outs about their professional life. Use this time to ask questions about their career, co-workers. Remember: It's not the time to criticize or judge! You likely have different work styles and ways of going about business. That's what makes you a great pair!
We also realize there are many people who's jobs have been affected by the pandemic. Our hearts go out to you, and we're sending you all of the love. If you or your loved one's job has been affected by COVID-19, we encourage you to still ask questions. Ask about the things they enjoy or look forward to doing when they're back at work. And, if nothing else, just lean on each other.
Take a personality quiz.
You probably already know a lot about each other's personalities…that's why you're together, after all! But we're big believers (and lovers) of personality type tests. Our favorite test right now is the Enneagram. Taking this test can be a great use of a few hours to both complete the quiz and read about your (and your partner's) type! Then, go follow some Enneagram accounts on Instagram and prepare to become obsessed. Tip: Just search #enneagram!
Not married or engaged (yet)? Find out which ring is best for your Enneagram type.
Have "date night" at least once per week.
Don't skip date night just because you can't leave the house! We know you can get creative from the comfort of your home. Get dressed up, support your favorite local restaurant by ordering to-go, make cocktails, and enjoy this quality time with each other! P.S. We'd love to see how you're celebrating dates at home by tagging #junebugweddings in your Instagram posts!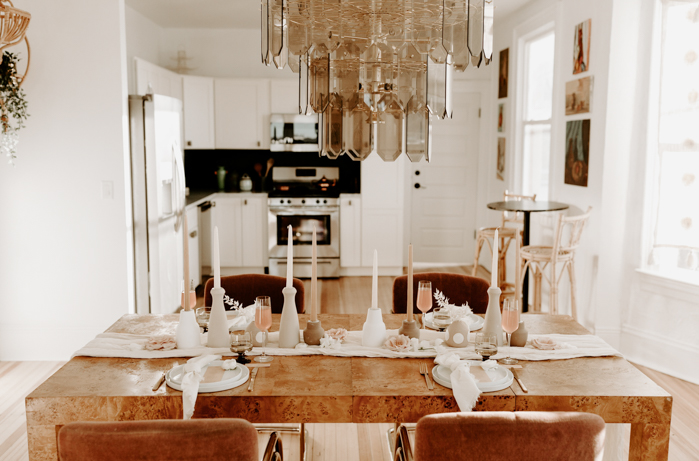 photo by Karra Leigh Photography
Dance. Just dance.
Any Tik Tok lovers out there? We know, these dances can feel a bit silly, but getting your body moving releases endorphins. And we all could use a little mood boost! If you're getting married, you could even use this time to practice your first dance together. You'll be pros by the big day.
RECOMMENDED READING: 80 First Dance Songs You Haven't Thought of Yet
Give each other a little space.
Everyone needs a little alone time. Remember that even though you're stuck in the house together, it's important to take some time to do things independently. Choose at least one activity (aside from work) that you can do by yourself each day. Whether it be a workout class, video game, or reading a new book. This will give you something new to talk to your partner about, too!
Make a "chill at-home" playlist.
We are so thankful for the gift of music during times like these. Plus, a new playlist can be a simple way to boost the good vibes in your home! Working on making a playlist together will ensure you can both agree on the songs (we hope) and it can be something you have to "take with you" after this is all over.
Not sure where to start? We love Spotify's Chill Hits playlist.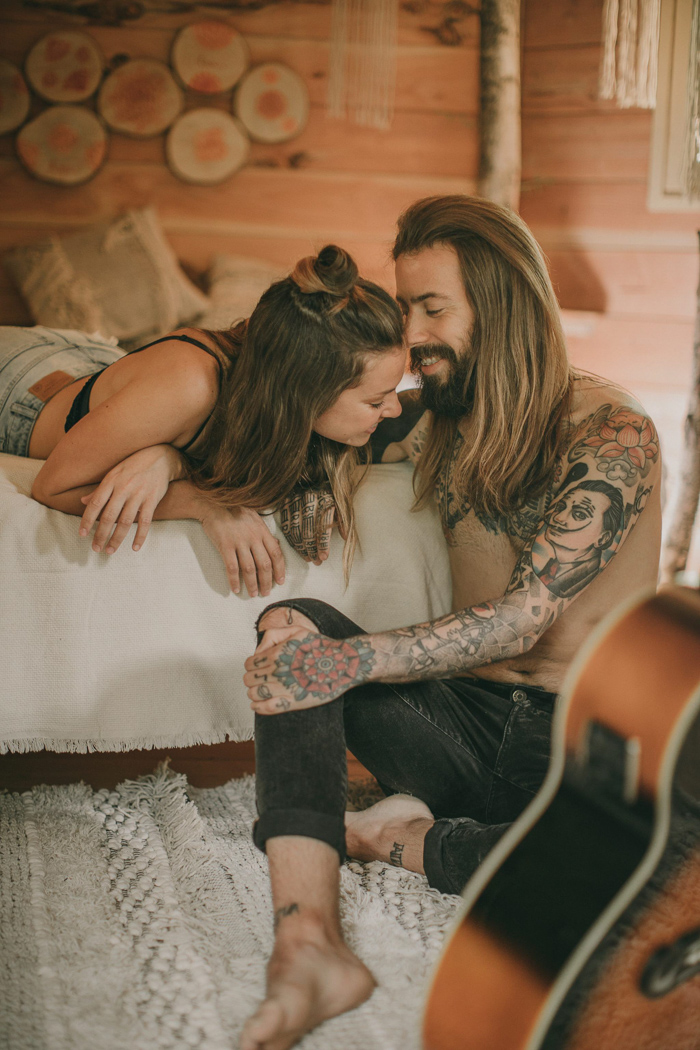 photo by Pablo Laguia
Document this time with candid photos.
You may have already realized this, but we're living in a major moment in history. We likely will all be talking to our grandchildren about what it was like to isolate from the rest of the world during the COVID-19 pandemic. Since we know you're making the most of it, what better way to be able to tell those stories than with a bunch of cute photos you snapped of each other during your time at home?
Trying to get away from your phone? Now might be the perfect time to invest in an instant camera.
Host a FaceTime hangout with friends.
Where are our extroverts at? If you're a couple who is used to hanging with friends on the weekends, we encourage you to keep that tradition alive via FaceTime or Zoom hangouts! Pour some drinks, pick a game to play, and log on to get that screen time with your besties!
Get outside (if you can) and go for a walk.
If you're living in a place that still allows socially distant time outdoors, we highly encourage you to get out and explore your neighborhood on a walk. You never know the people you might meet (from a distance, of course) with everyone trying to get outside a little more often. You might just meet another couple you can hang with when you're allowed to again!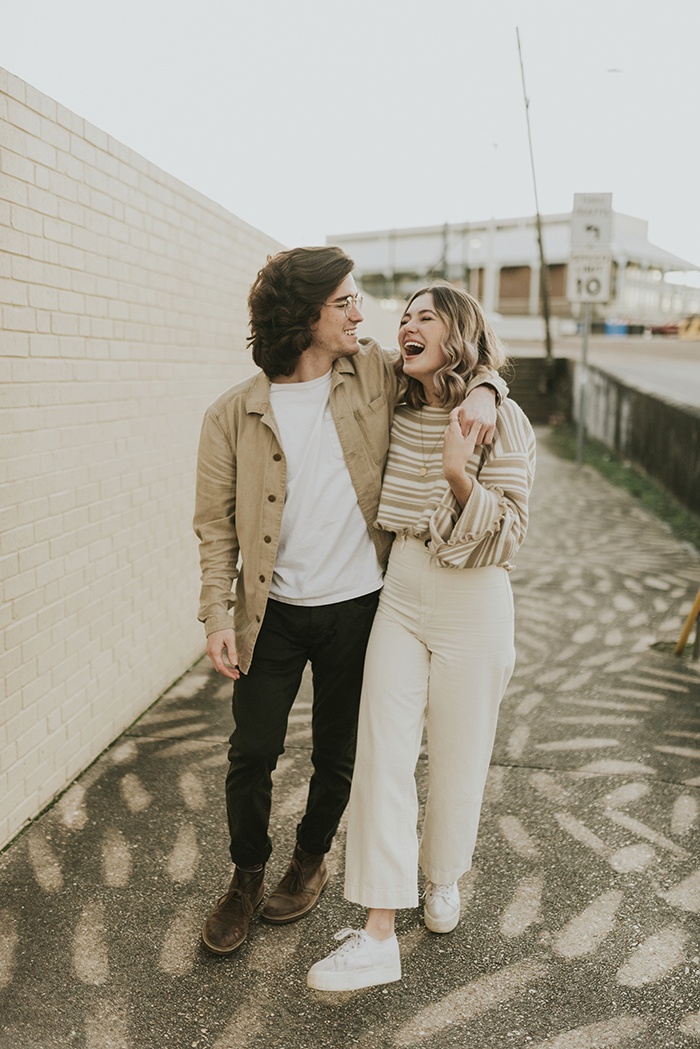 photo by Jen Menard
Try a new exercise program together.
If you want to go the "extra mile" from a simple walk, there are tons of gyms, trainers, and online programs offering fitness classes right now! Trying a new fitness routine together can be a great way to boost your mood and keep your body movin' and groovin' during this time of Netflix binging and couch sitting.
Keep a journal record of this time.
Again, we're experiencing a moment in history! Even if you're not usually a writer, we'd encourage you to at least attempt to log your days in writing. Journaling can be a beautiful way to express your feelings, and we think you will love looking back on and reflecting on the thoughts you jotted down.
Looking for the perfect journal? We love these velvet Zodiac journals from Urban Outfitters.
We hope you enjoyed these relationship tips for coming out of quarantine stronger than ever. You got this, babes! Planning your wedding at home these days?
RECOMMENDED READING: 10 Wedding Planning Tasks You Can Tackle from Home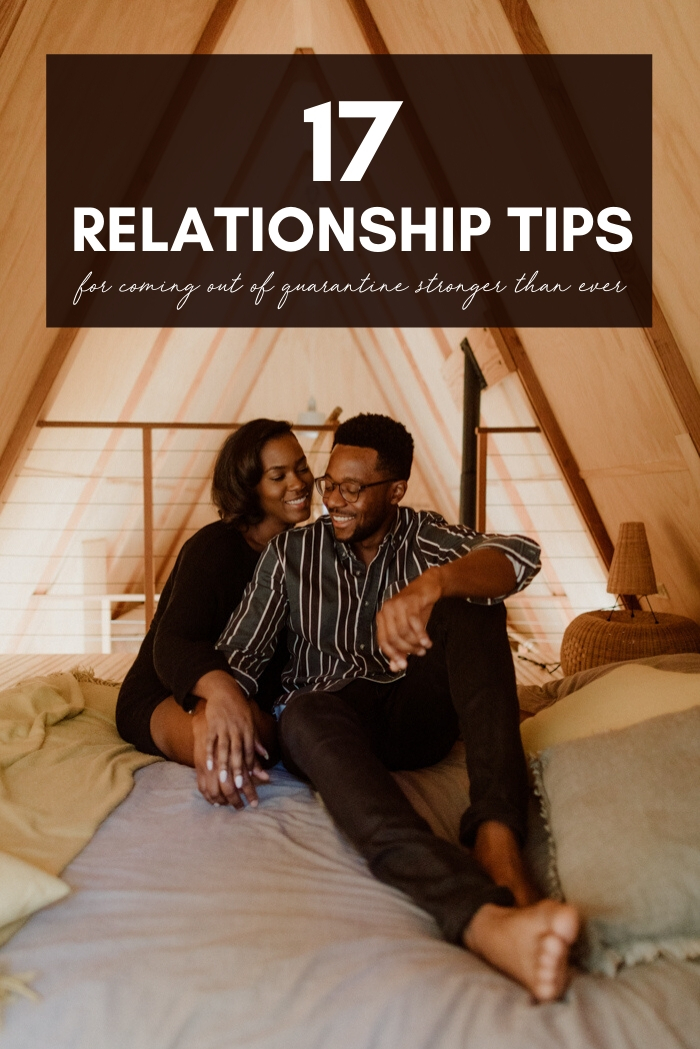 photo by Cedar & Pines