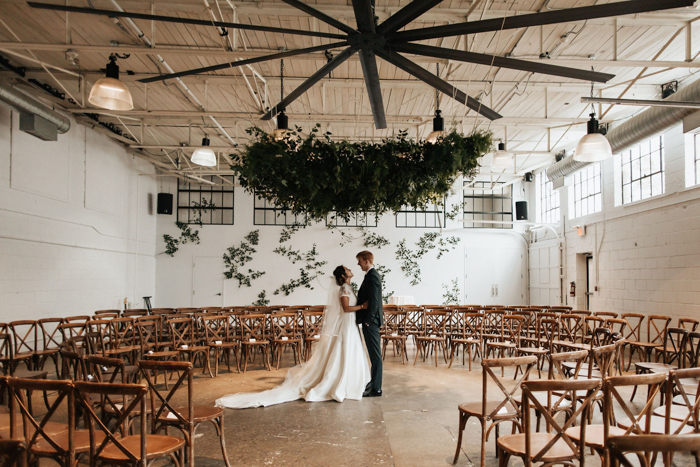 Alex and Tom made intimacy the focal point of their Airship 37 wedding in Toronto and, wow, was it magical! Rather than using a traditional setup where they stood at the front of the room, the couple set up their ceremony so their friends and family literally surrounded them with love as they exchanged vows. In terms of decor, Blush + Bowties used the height of the ceilings and the industrial architecture of the converted hangar to their fullest potential. Patchouli Design created a massive greenery installation and mixed tall and short greenery centerpieces to create a cozy look, and then the designer added mixed metallic details for a modern edge. Alex and Tom's photographer, Bows & Lavender, didn't miss a beat, especially in capturing all the great surprises the couple's loved ones planned throughout the day!
The Couple:
Alex and Tom
The Wedding:
Airship 37, Toronto, Ontario, Canada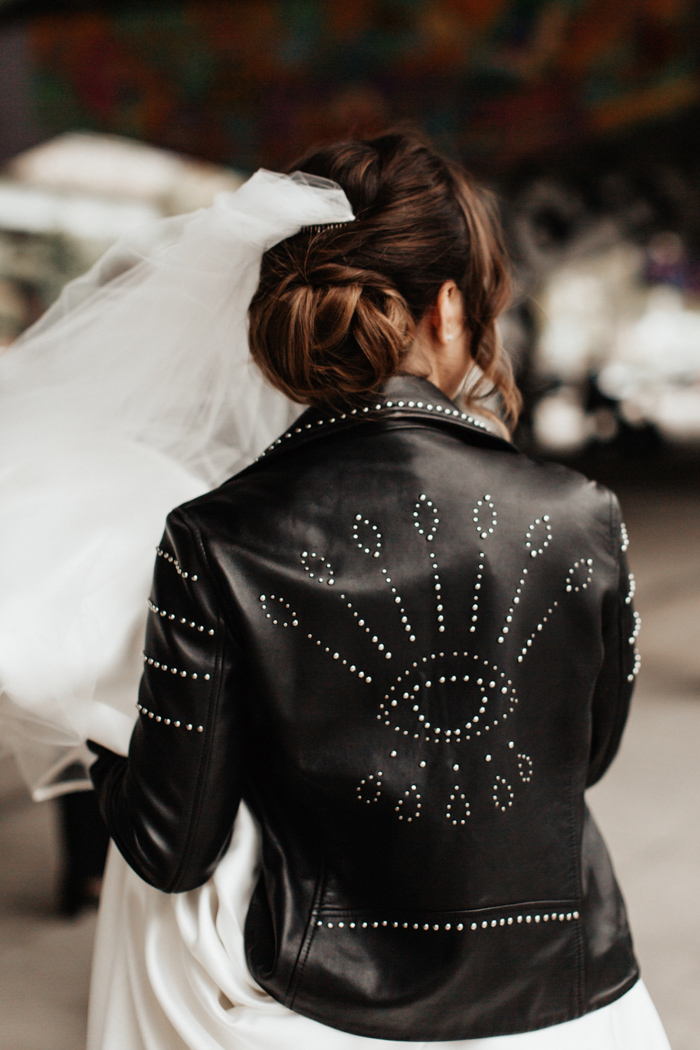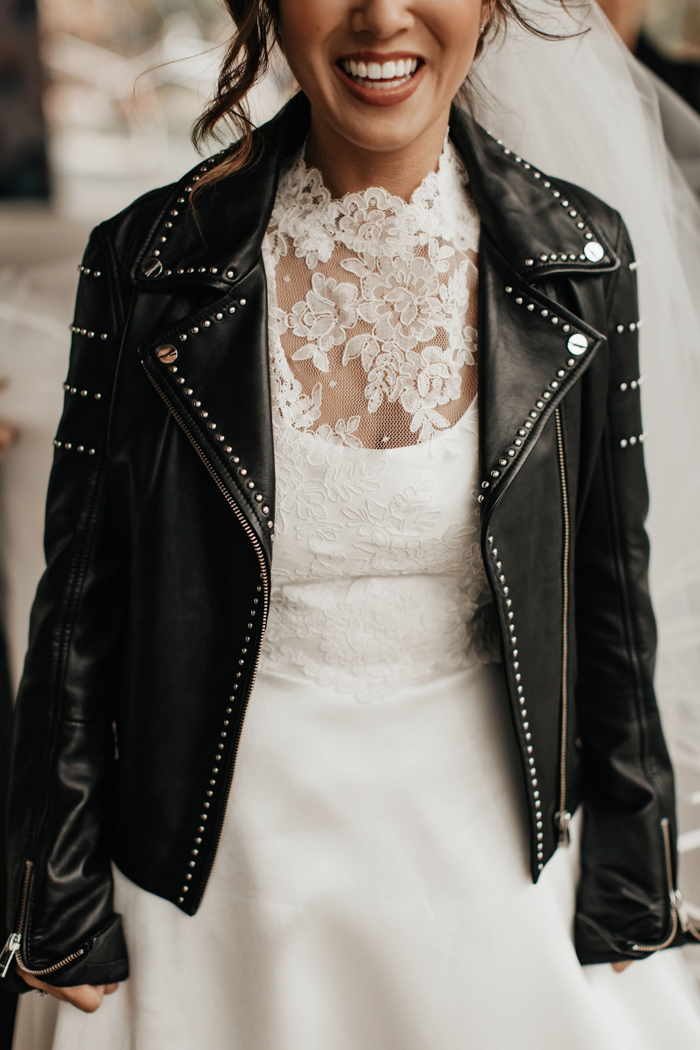 Thomas and I are pretty introverted, so the notion of having a big wedding was hard for us to wrap our heads around. However, we knew that celebrating with all of our friends and family was so important to us, so finding a way where we could feel like ourselves and still have everyone we wanted there was a balance we needed to find.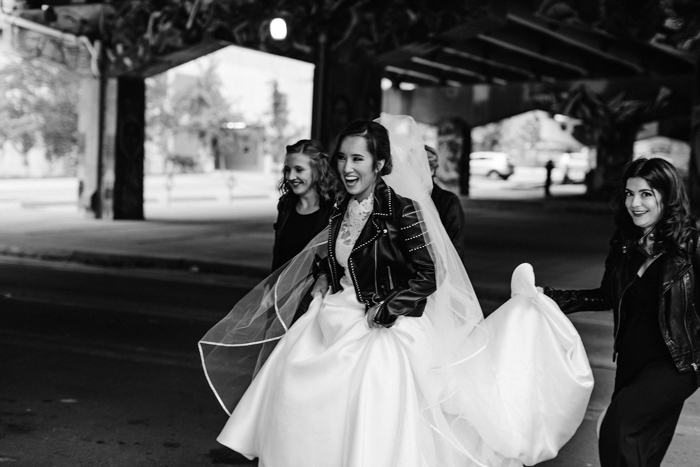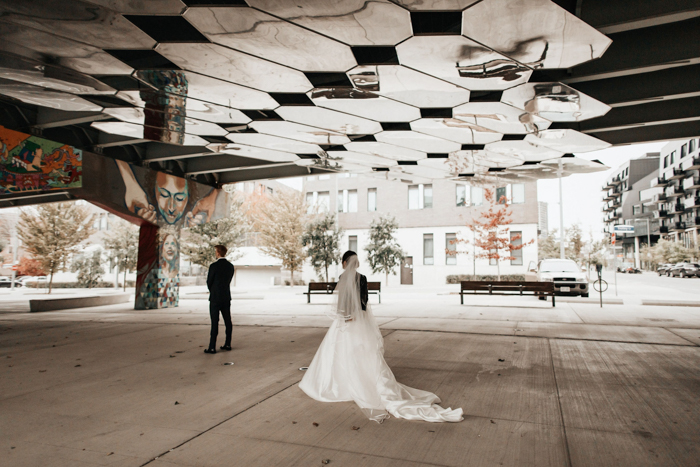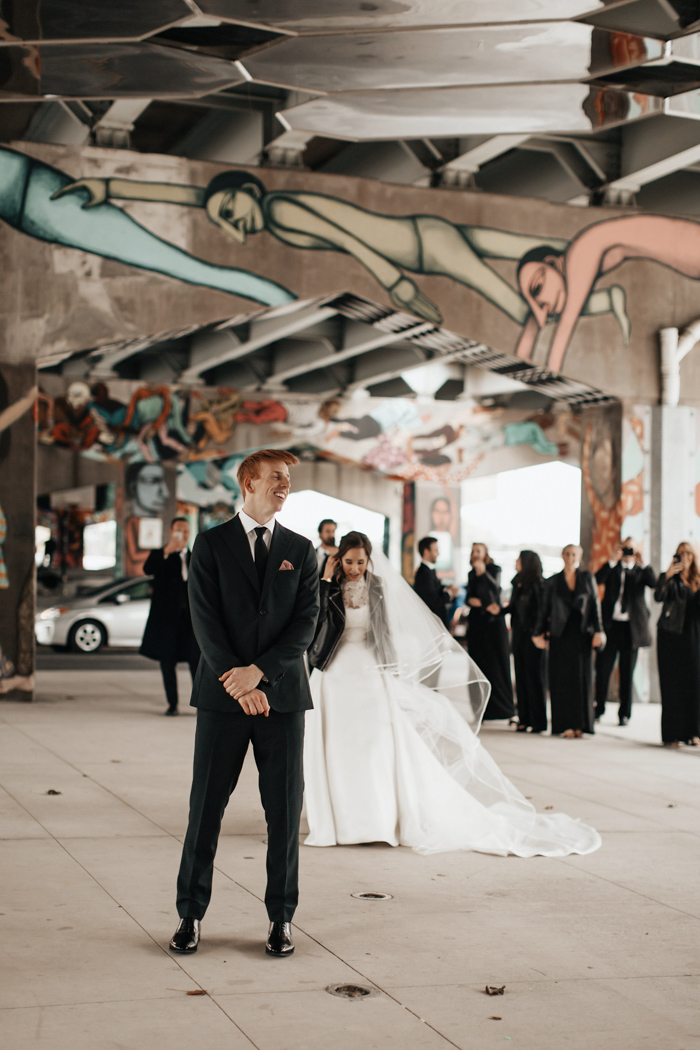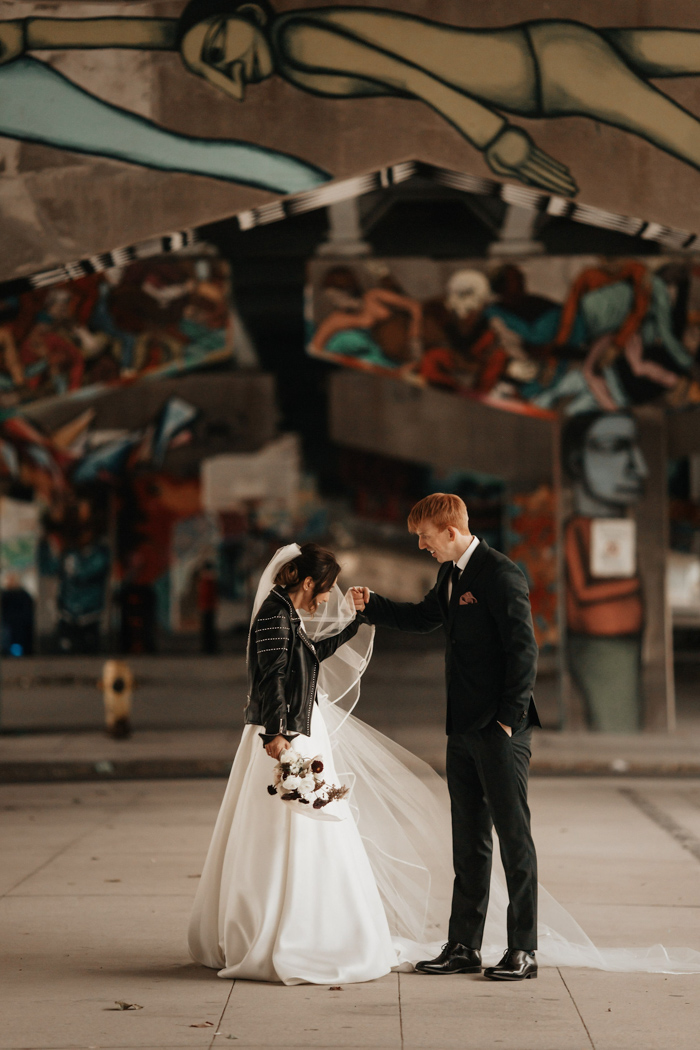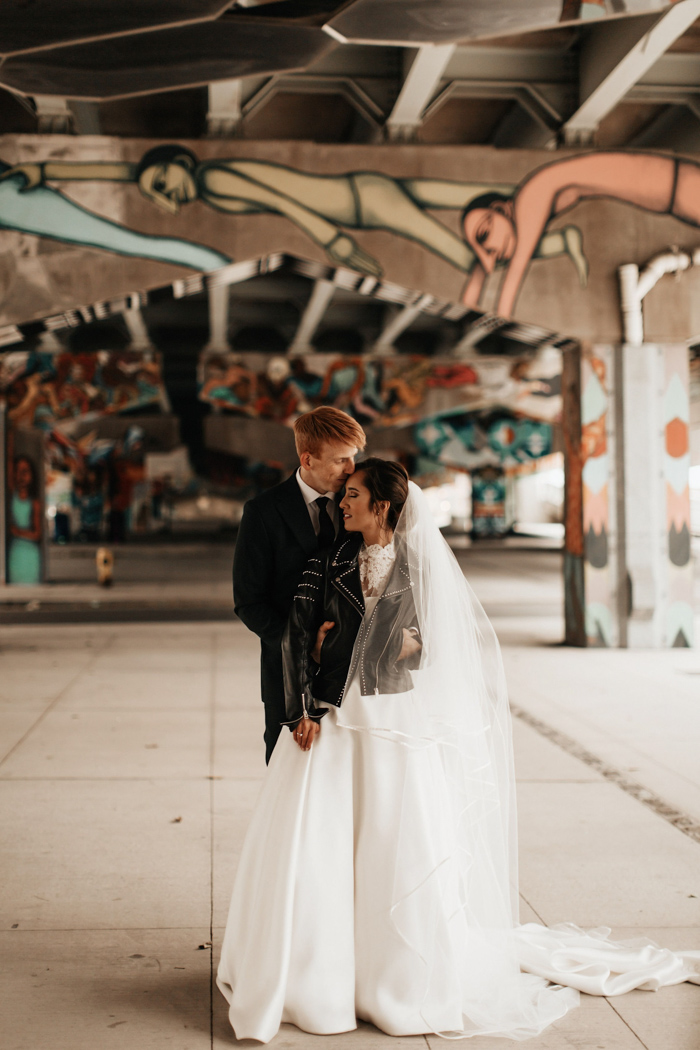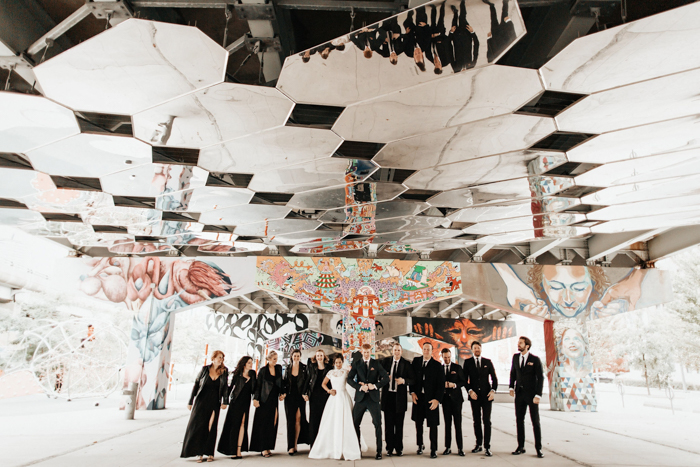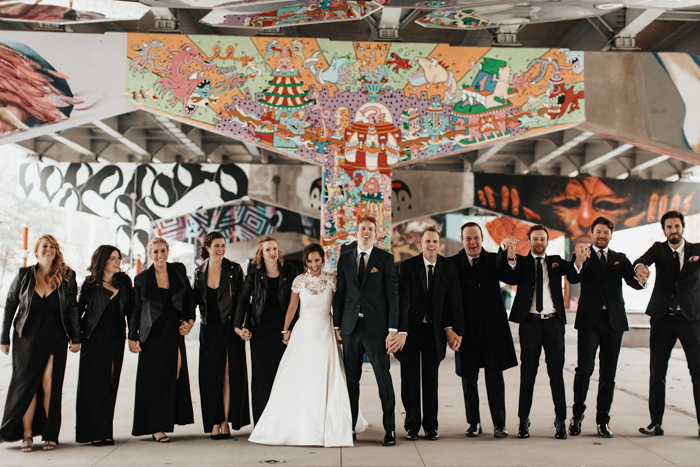 I set out with a very specific bohemian look in mind for my wedding style but quickly realized that it didn't suit me the way I wanted it to. I ended up choosing my dress based on how I felt in it rather than how it reflected my personal style. My dress was much more classic than I thought it would be, and I loved it! I knew I still needed to add some edge, so I found an incredible leather jacket that worked perfectly given the temperature at that time of year. I loved the lace bolero topper that I wore for the ceremony and being able to take it off and look like I was in a different dress at the reception was ideal.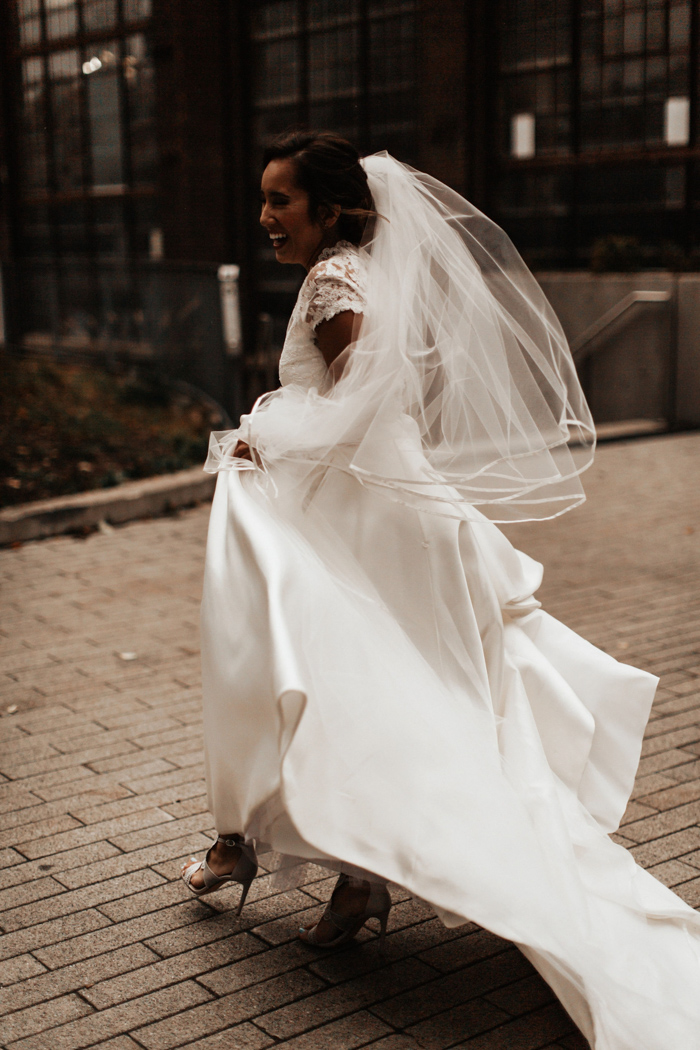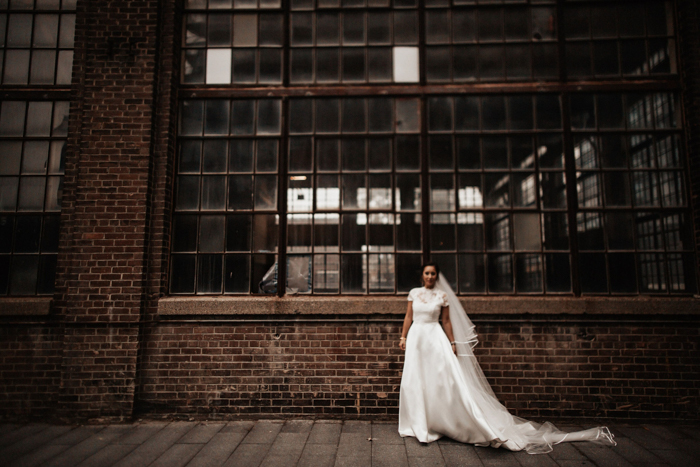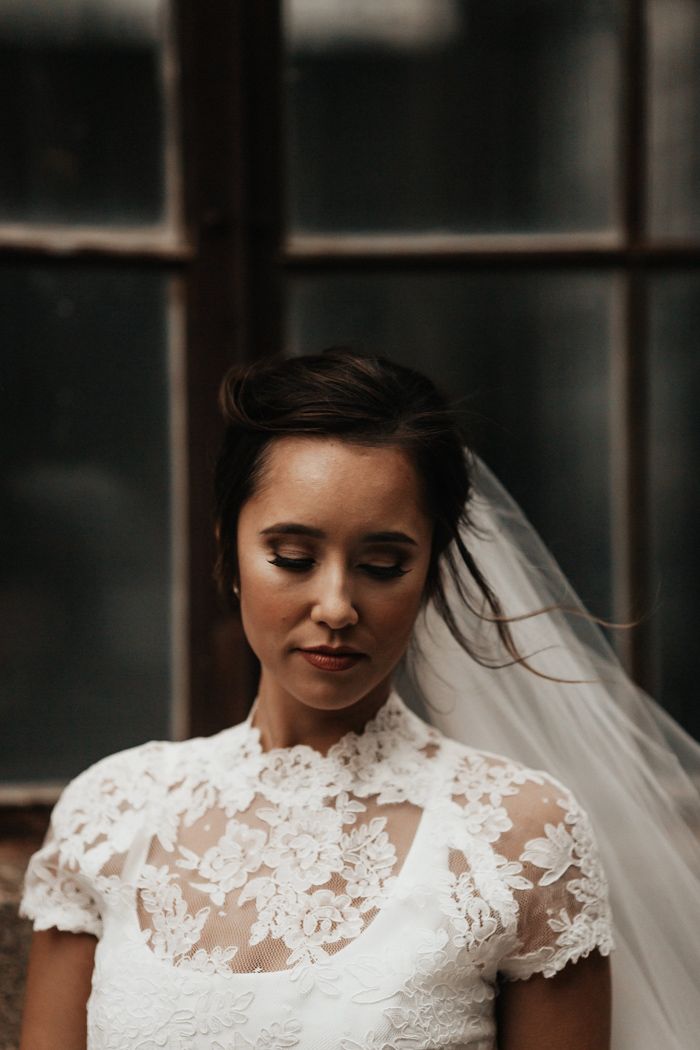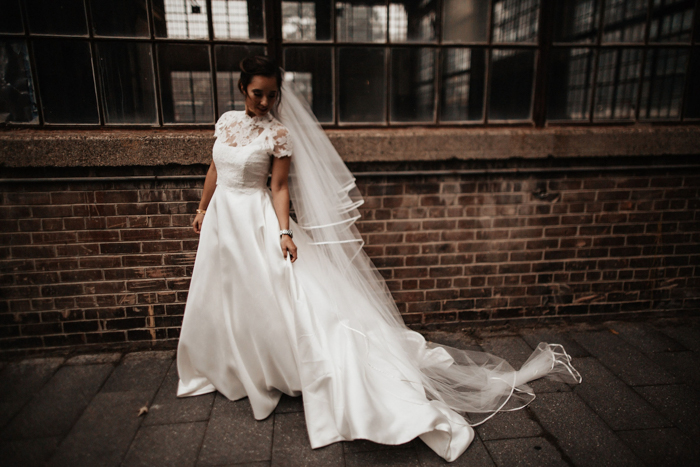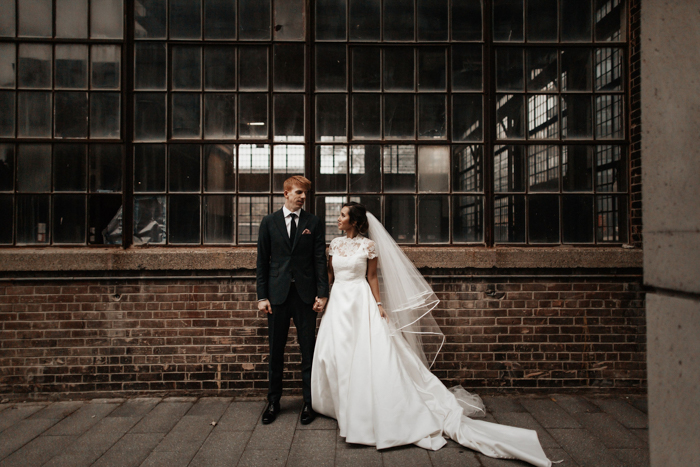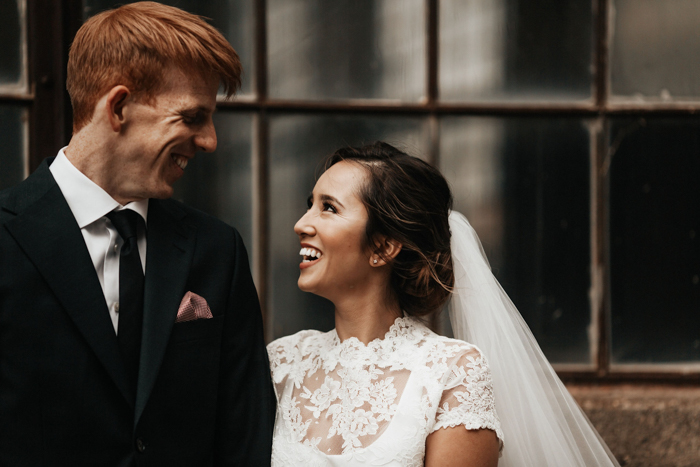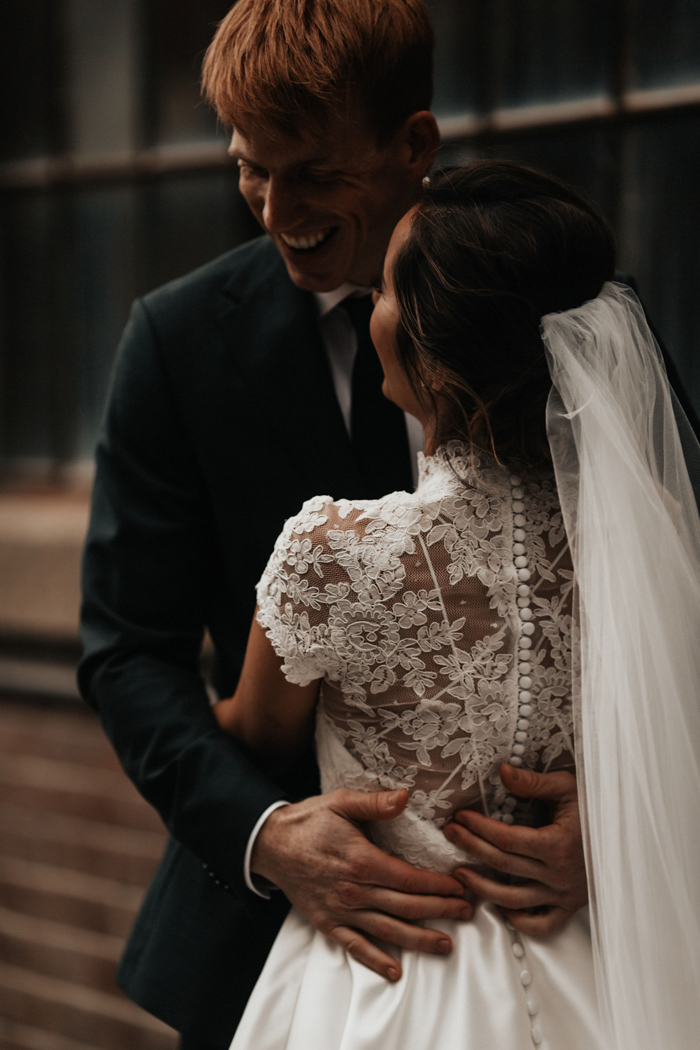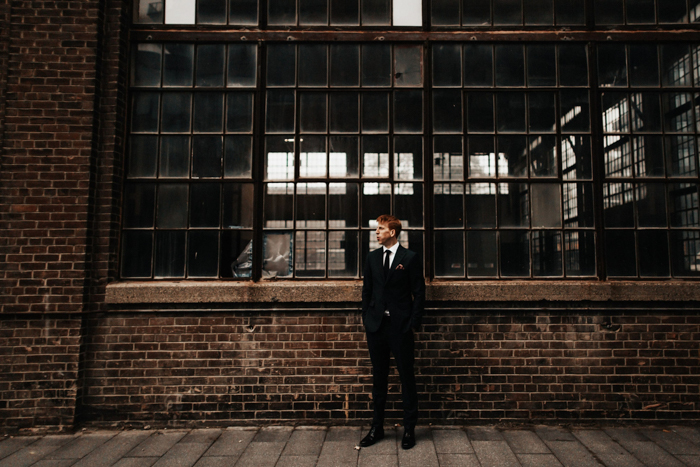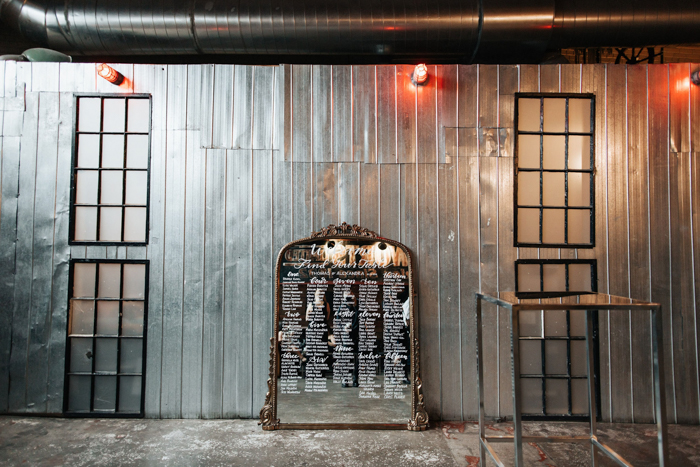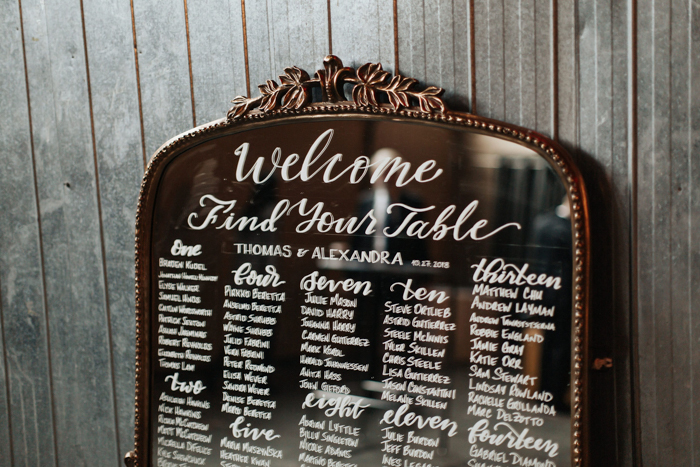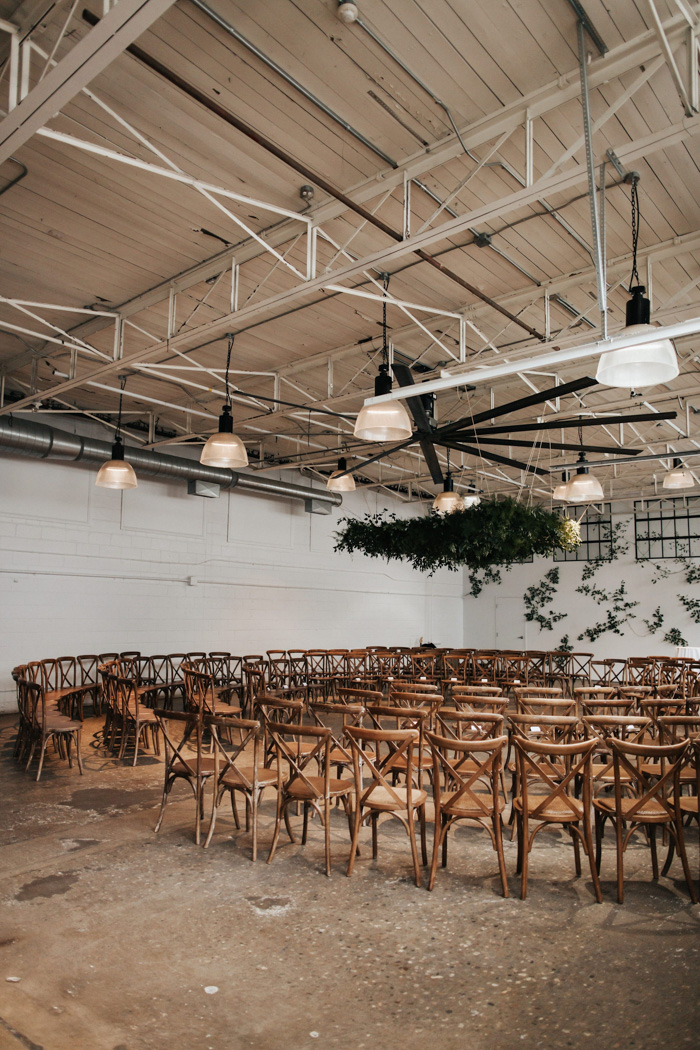 Early on in our planning, we decided that we wanted a circular setup for our ceremony. We loved the idea of having everyone we love circled around us instead of us standing at the front of the room. It was so cool to be able to see everyone's faces. When I looked at Thomas I could see all our friends and family behind him. It was a nice feeling!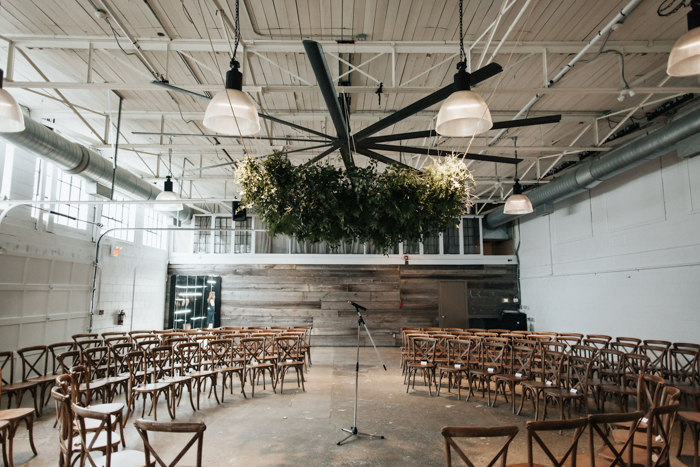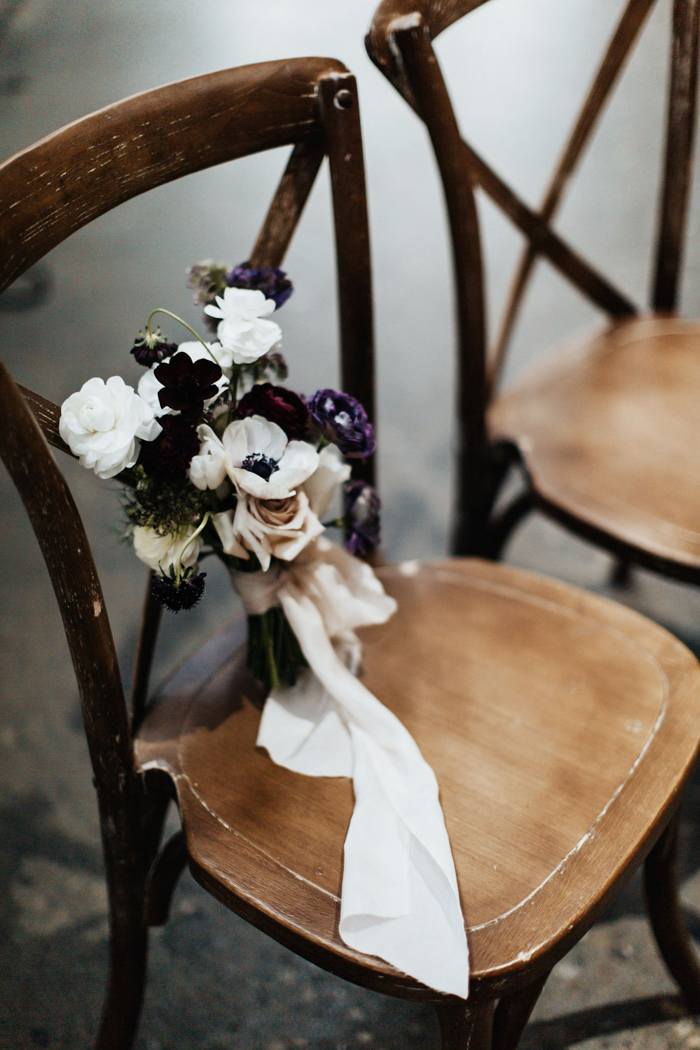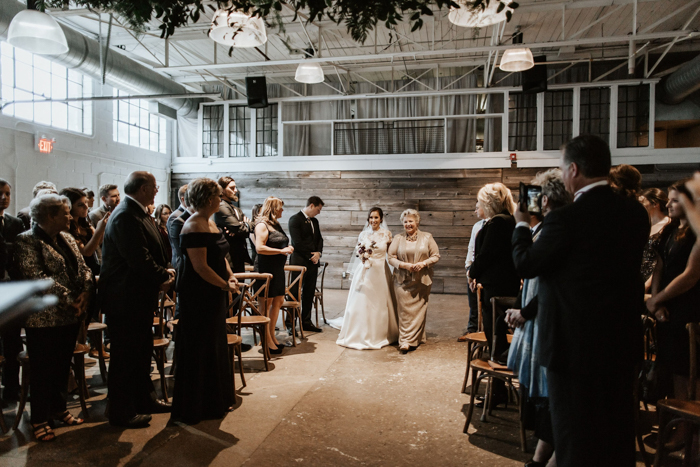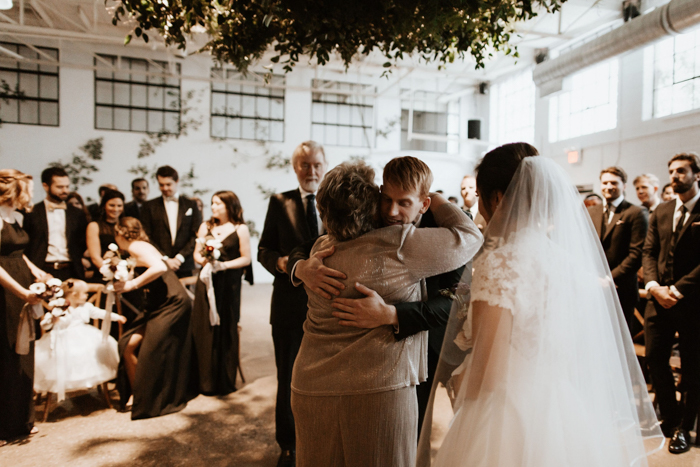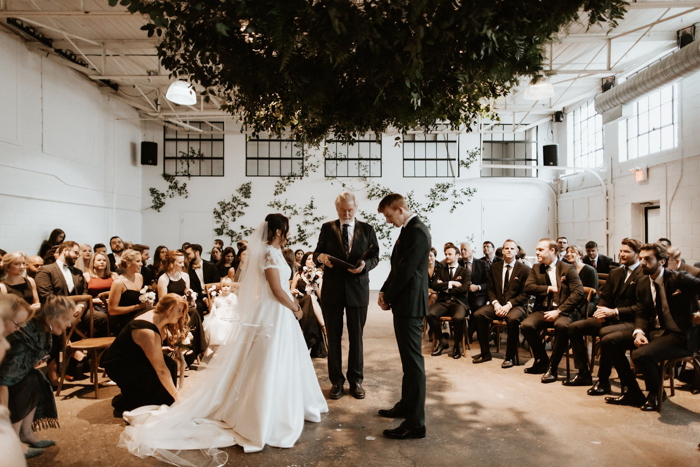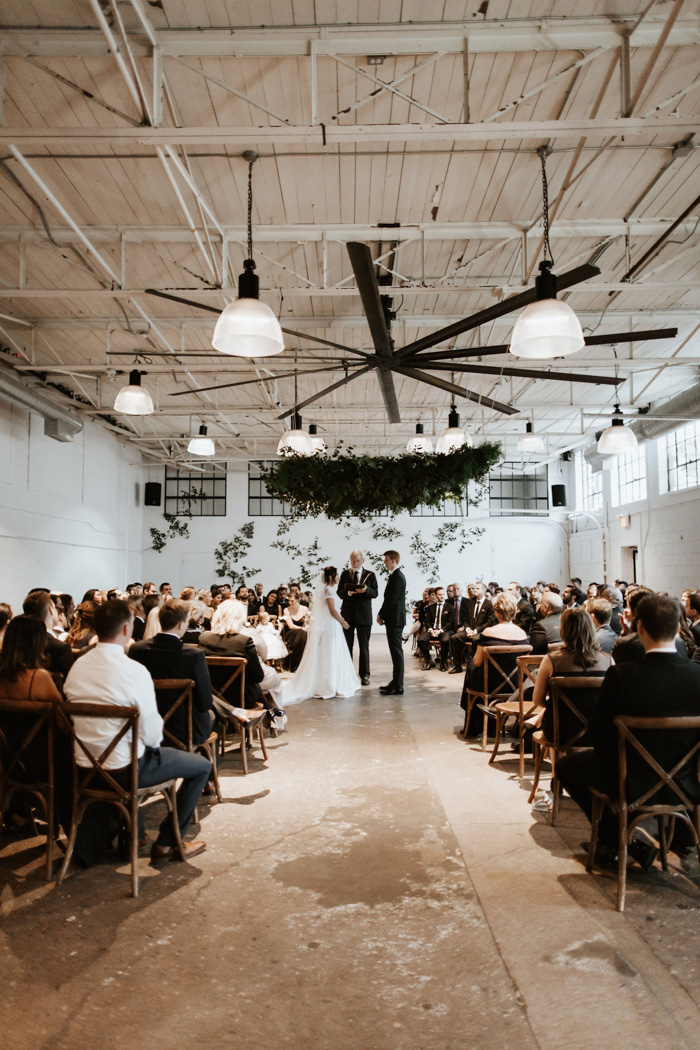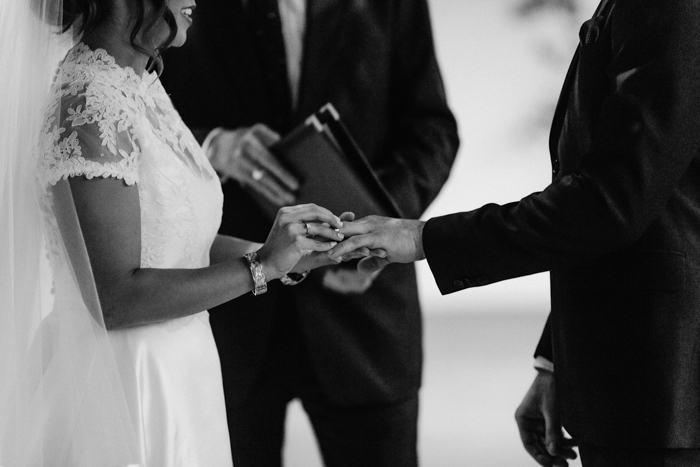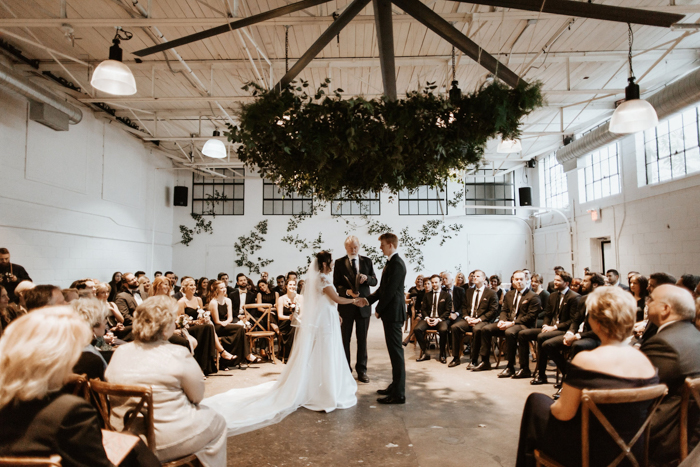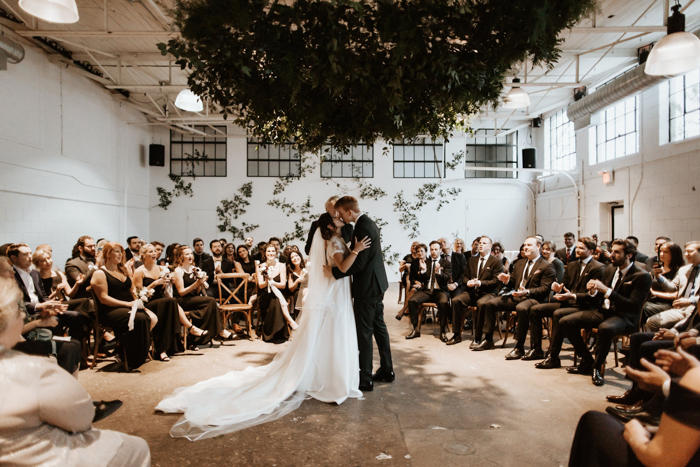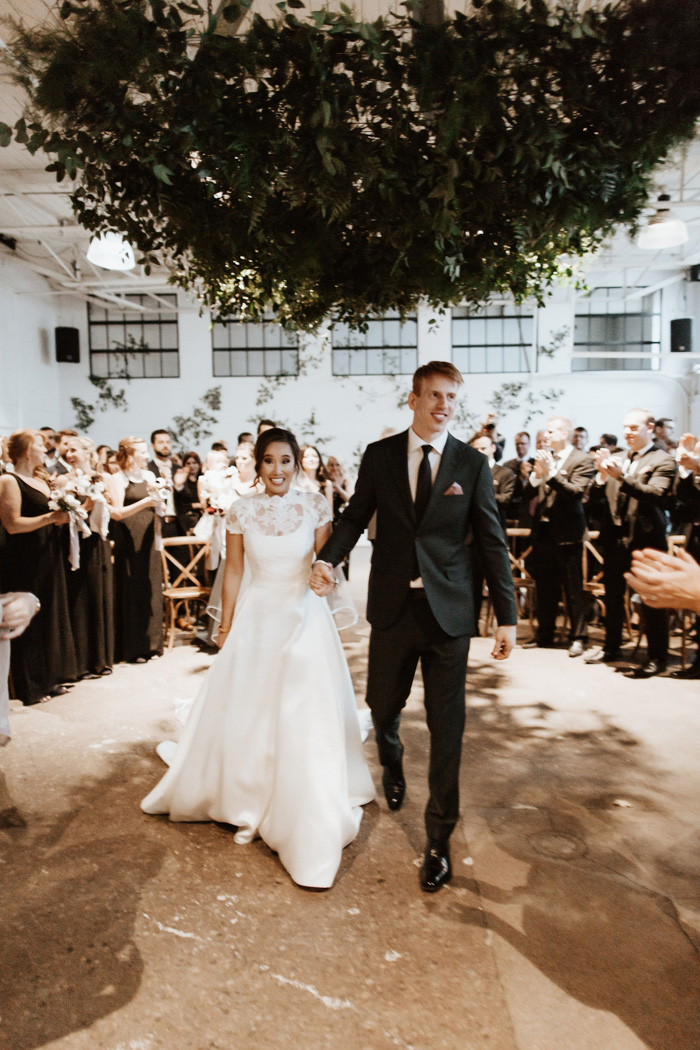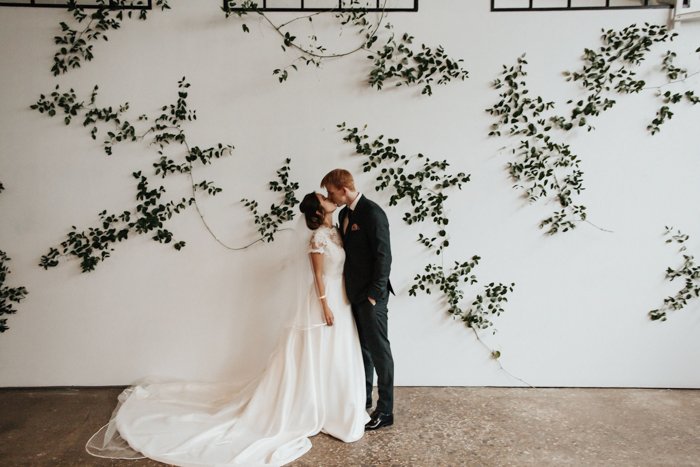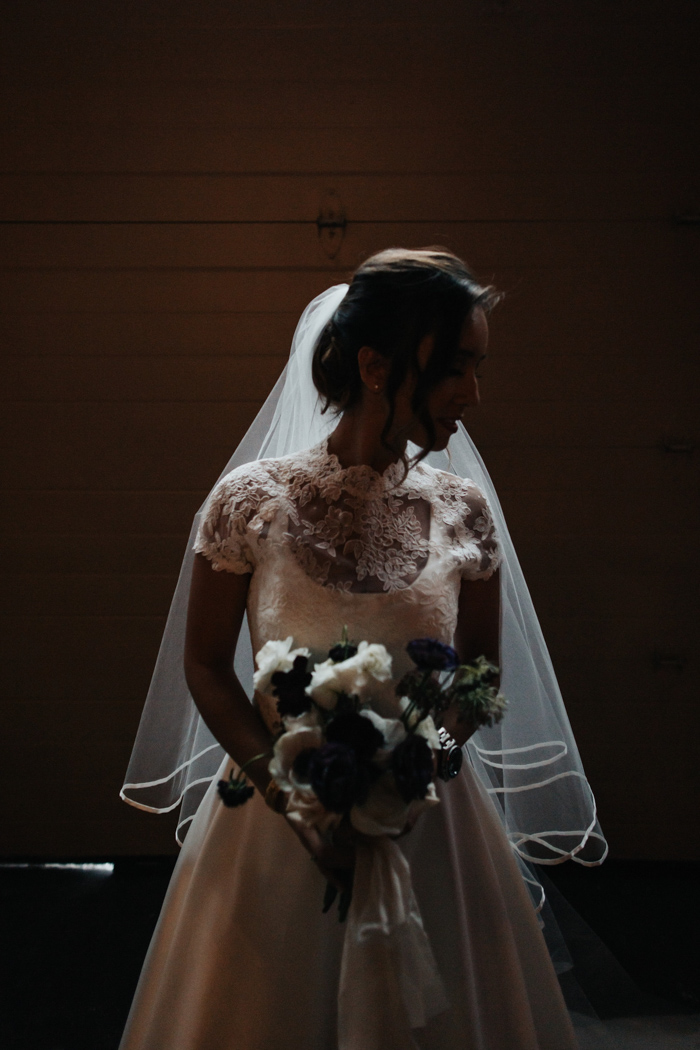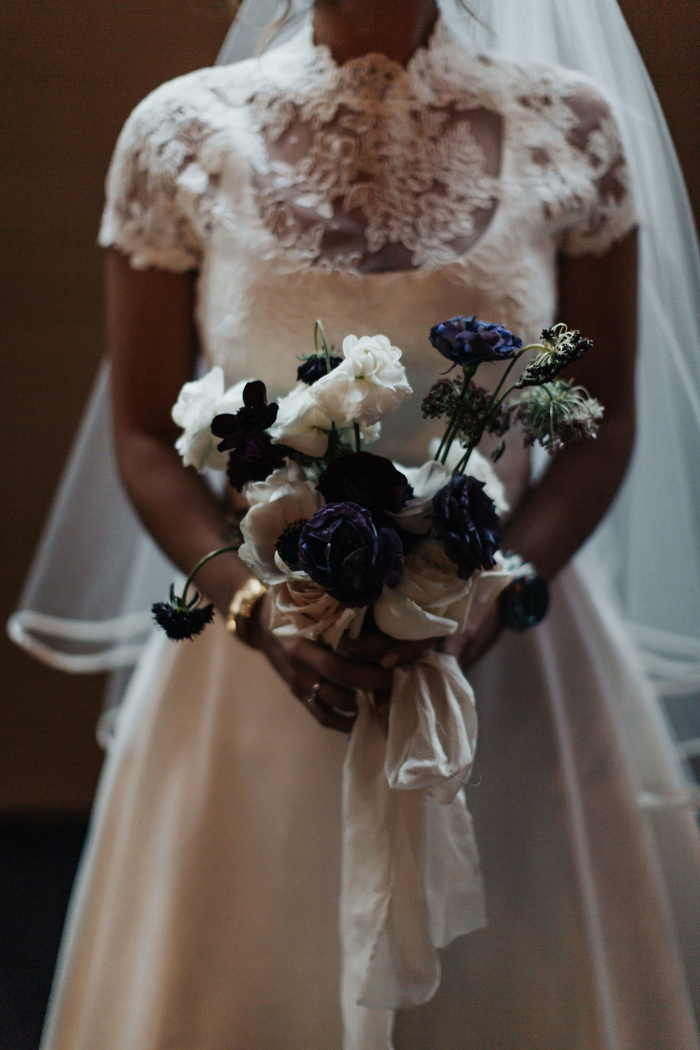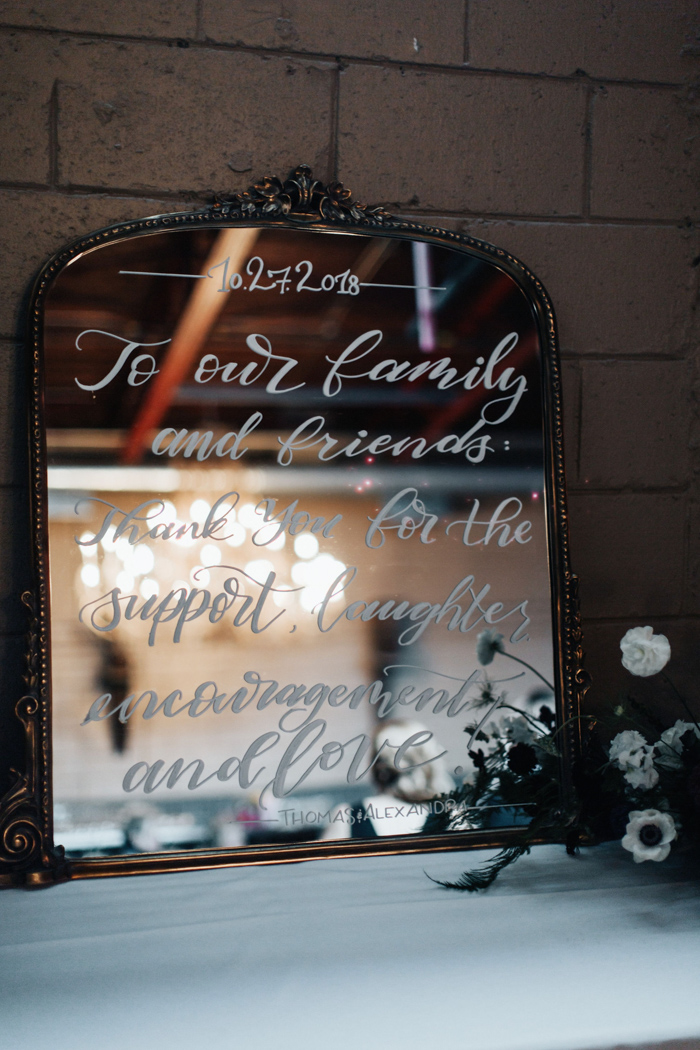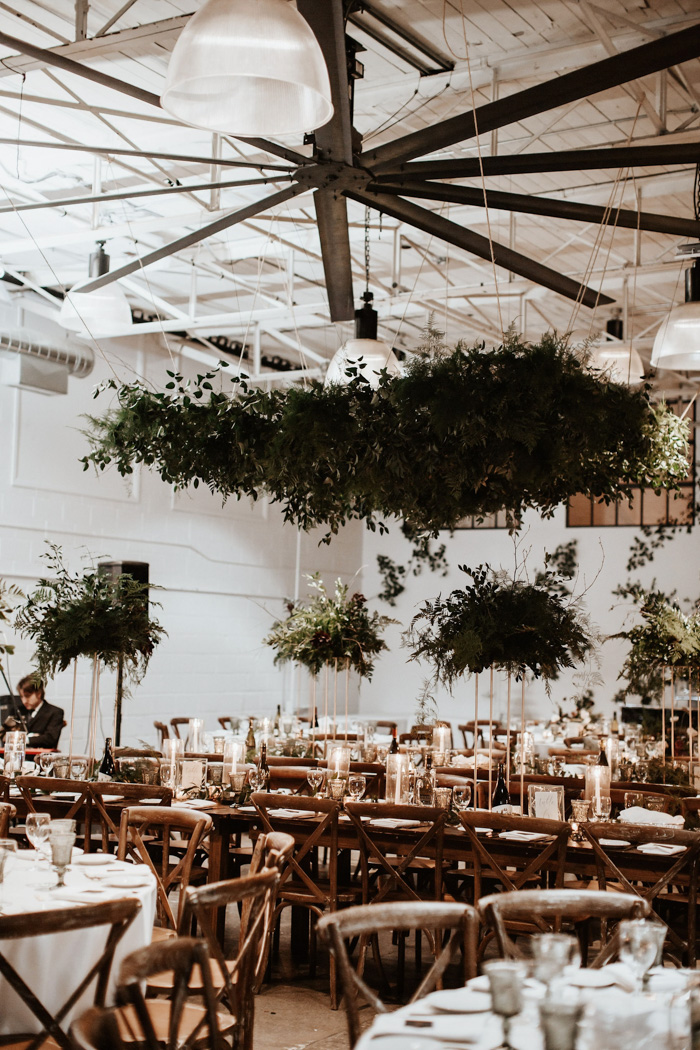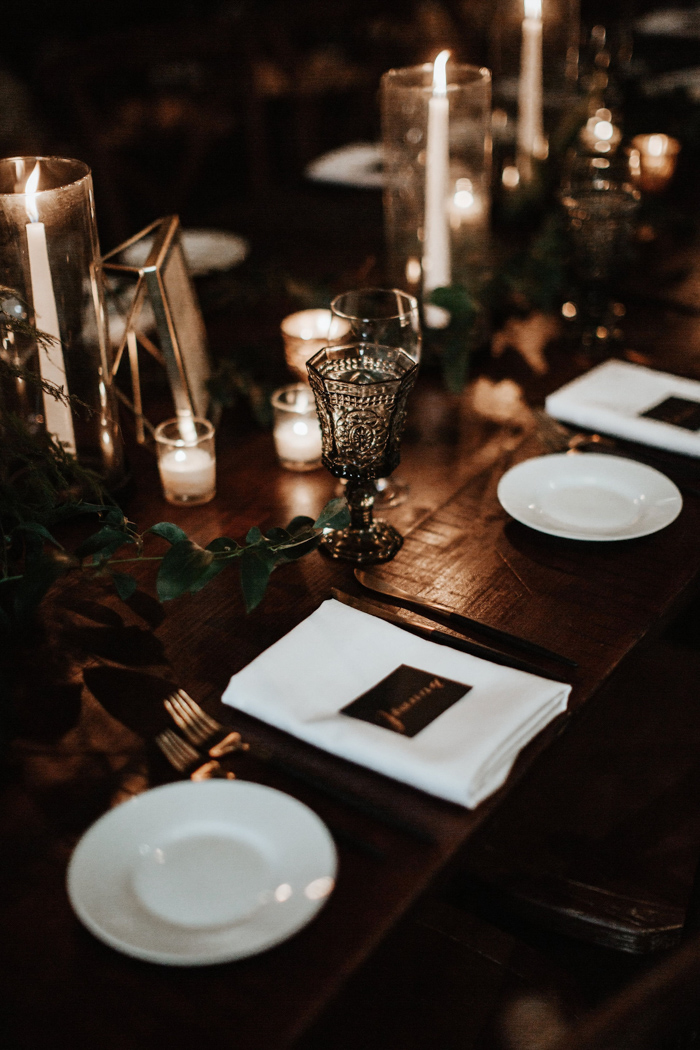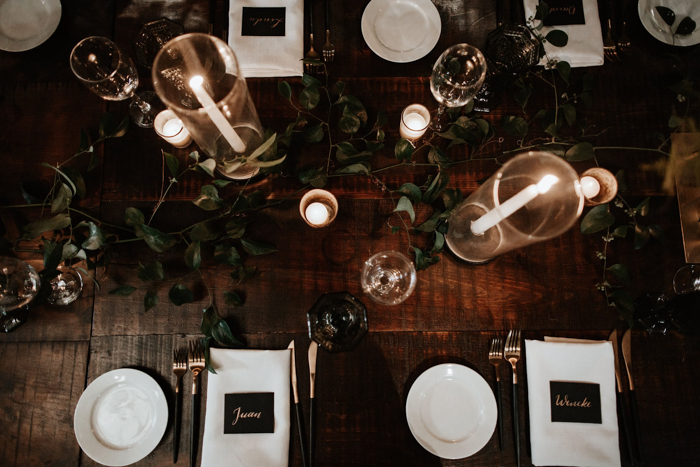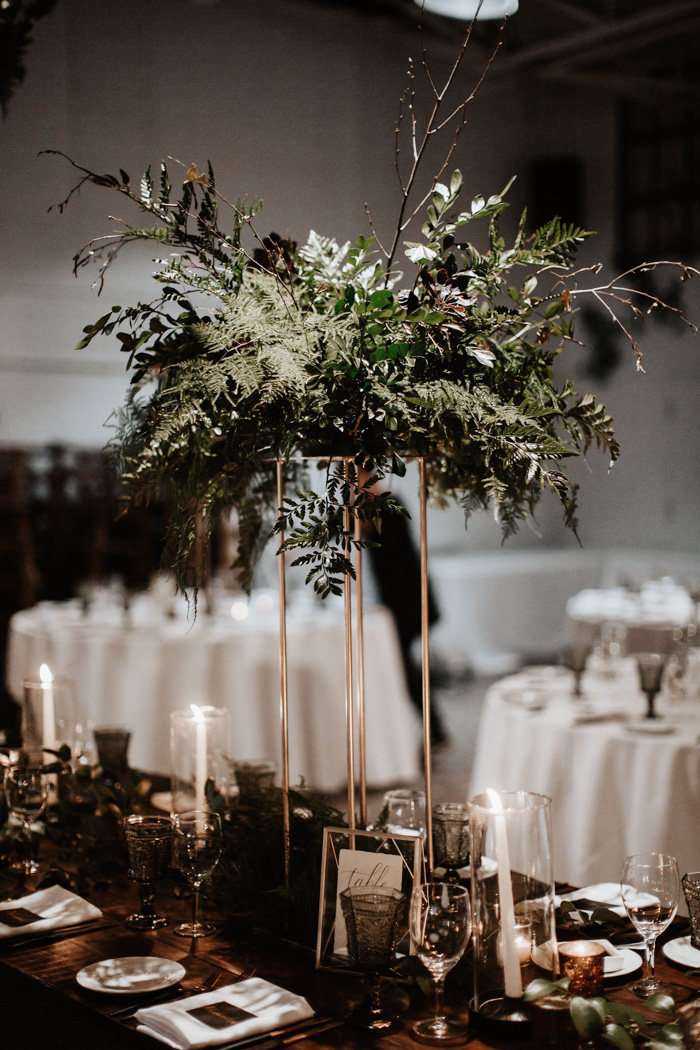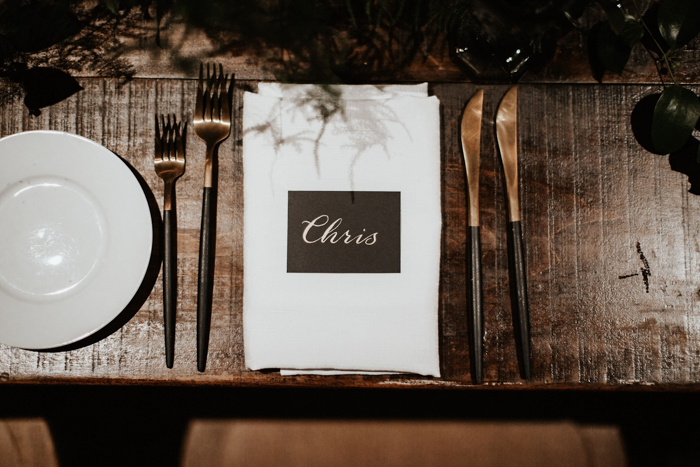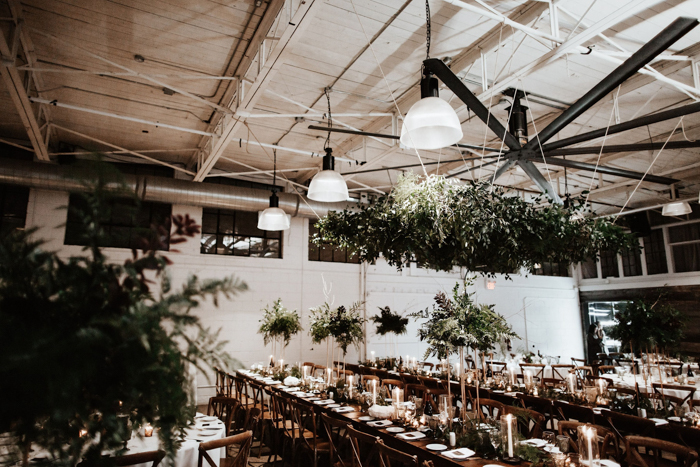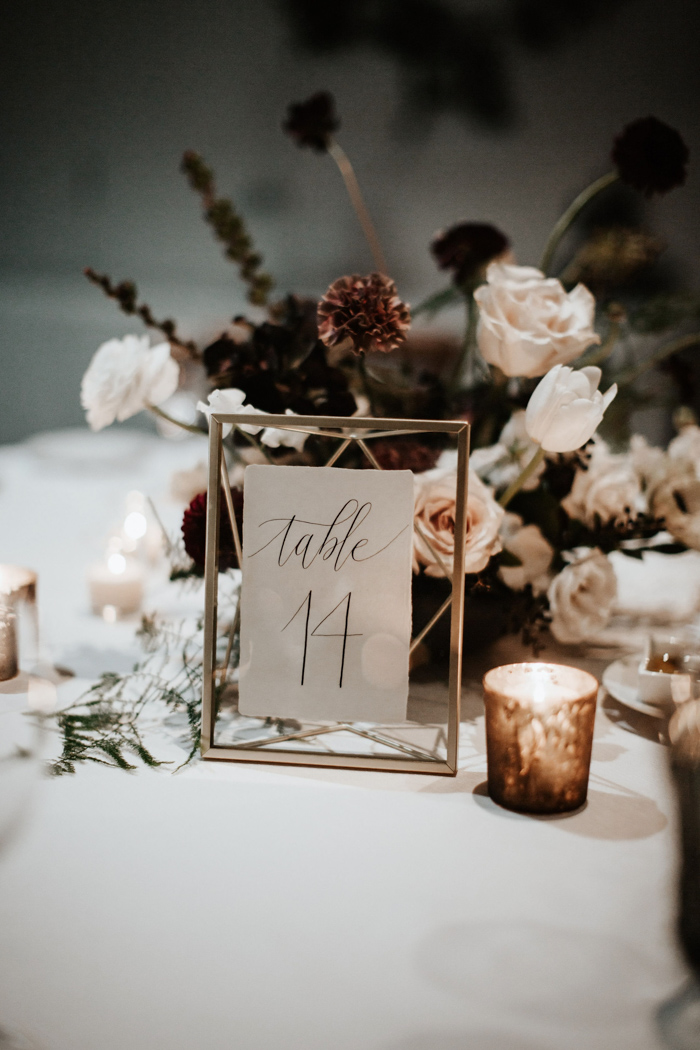 Some of my bridesmaids and childhood friends organized an amazing surprise. Their gift to us was a live painter that captured our first dance. He was there for hours painting the scene, and we didn't notice him. Once our first dance happened, he was able to paint us in and then our friends brought us over to share the finished product. We were so overwhelmed; it's the most incredible memento from the night!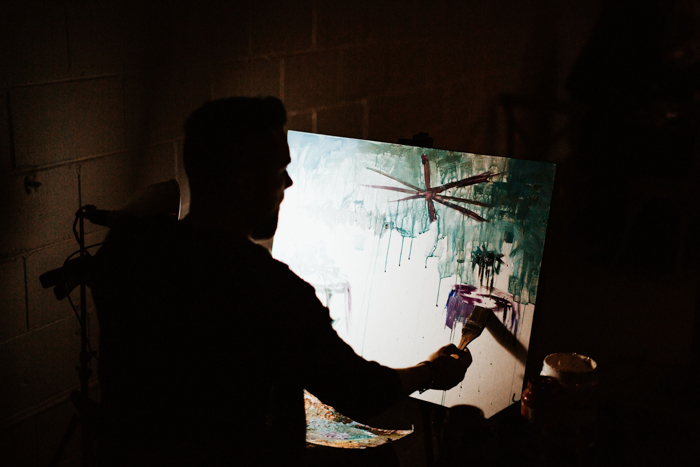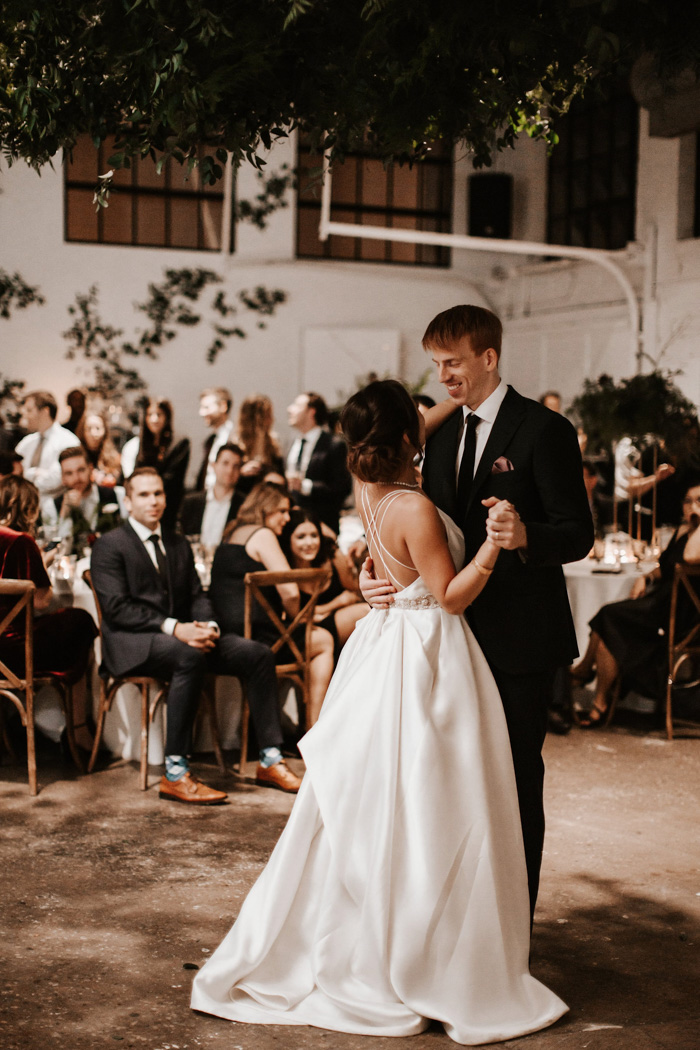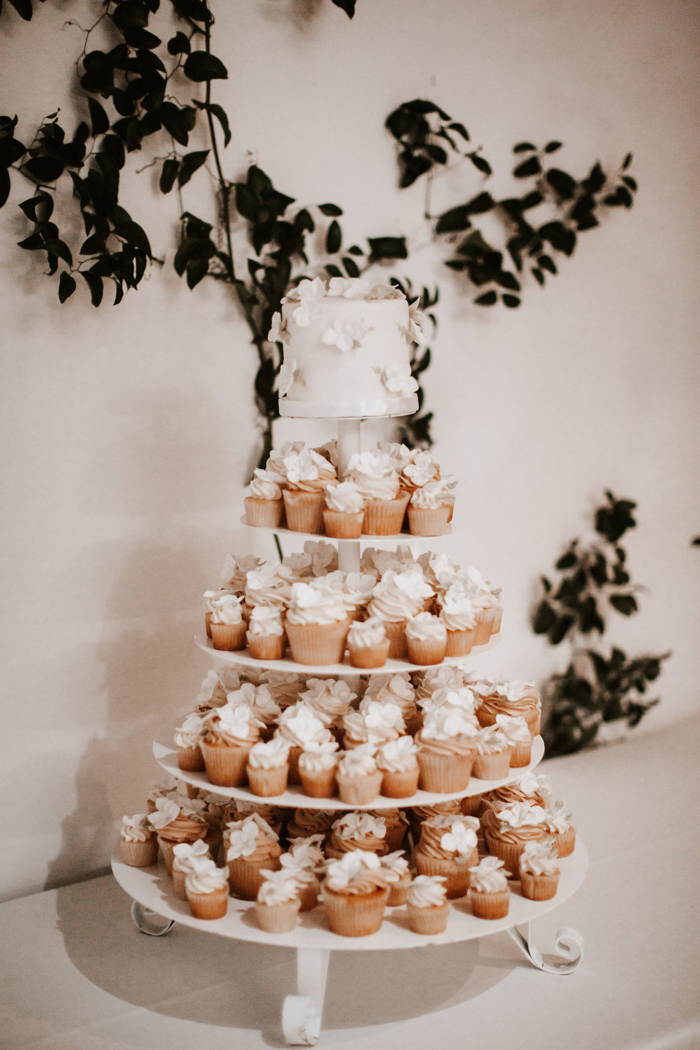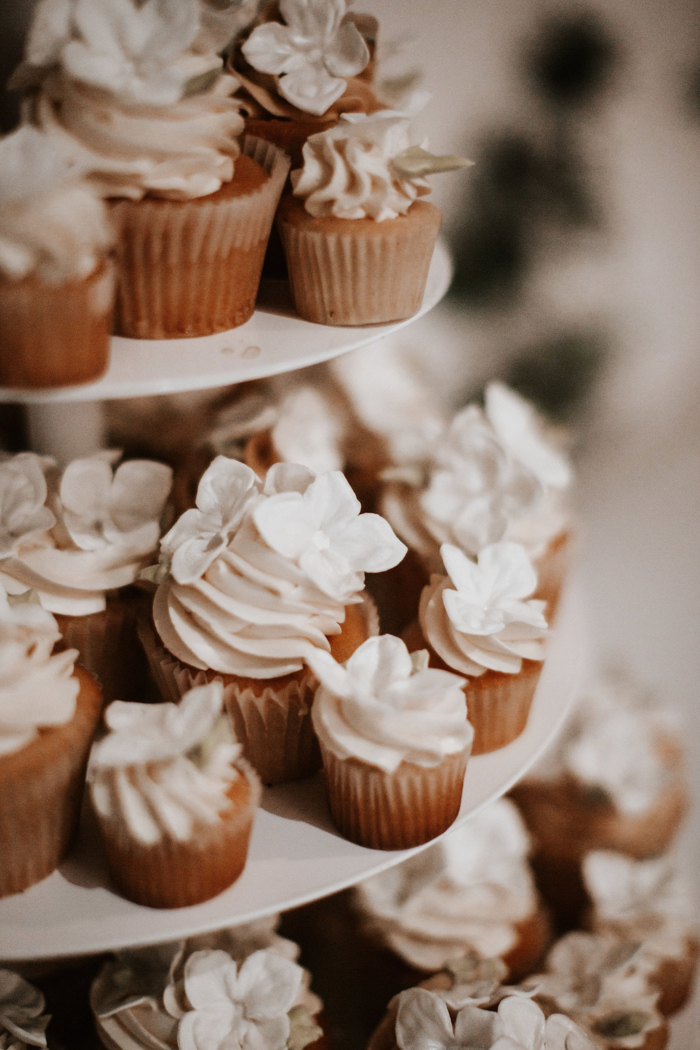 Thomas' siblings also put together a great surprise for us at the reception. They had masks of our faces made and somehow managed to pass them out to all of the guests without us noticing. Once the dancing started my brother in law gave everyone their cue and suddenly all of the guests were wearing either my face or Thomas' face. It was terrifying and hilarious. The pictures are really good!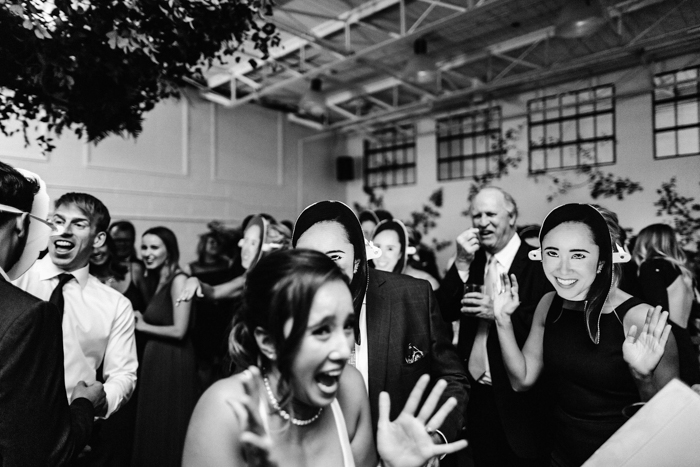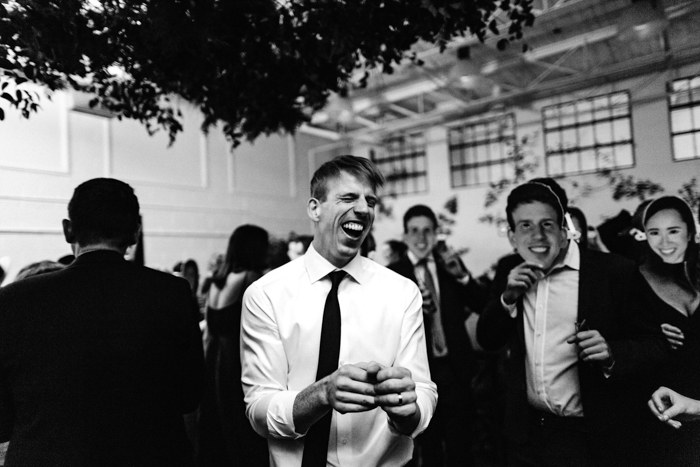 Congratulations to Alex and Tom, and a special thanks to Blush and Bowties for sharing this Airship 37 wedding! Love the hints of edgy style they used to create this magical day? This edgy elegant Portland wedding at Bingham Estate was a champagne-fueled party to remember!