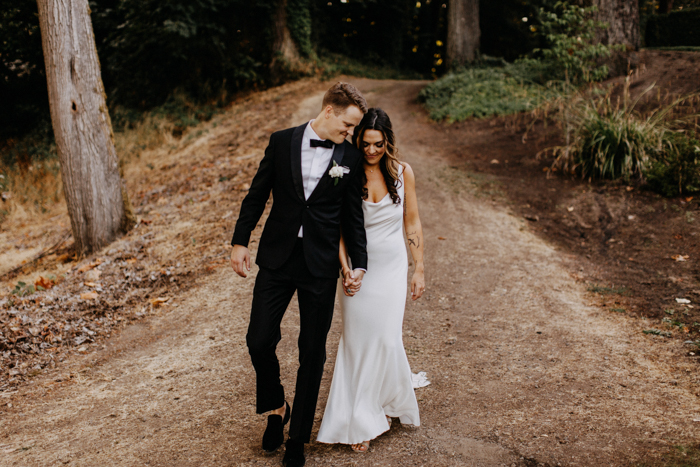 "Magical, formal, champagne-fueled, but relaxed." That was the vision behind Ali and Wil's incredible Portland wedding at Bingham Estate, and that's exactly what they got with the help of the planning team at Bridal Bliss! From the decision not to have a first look to the focus on florals and vows during the ceremony, every bit of this wedding perfectly matched the couple's unique vibe. Blum Floral Design did a phenomenal job creating arrangements that added a wow factor to every nook and cranny. And the bride's chic Meghan Markle and Carolyn Bessette-Kennedy inspired Pronovias gown and simple accessories were the cherry on top of this not-too-traditional, not-too-trendy day! We can't get enough of every unique element — especially their fun champagne tower "unity ceremony"—and love how photographers Dylan Howell and Jess Woodhouse didn't miss a beat in documenting it all!
The Couple:
Ali and Wil
The Wedding:
Bingham Estate, Wilsonville, Oregon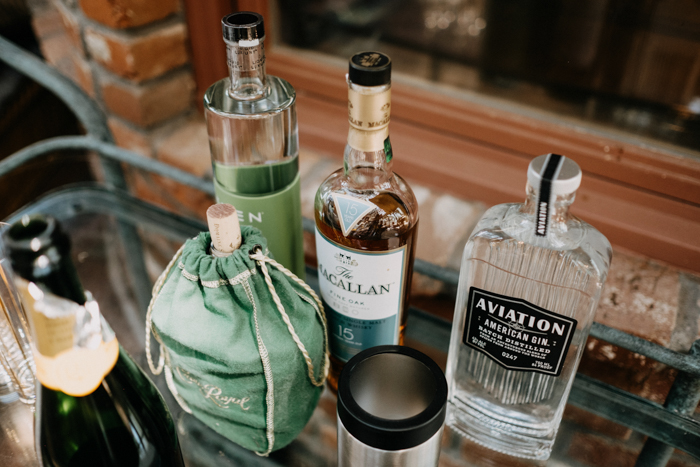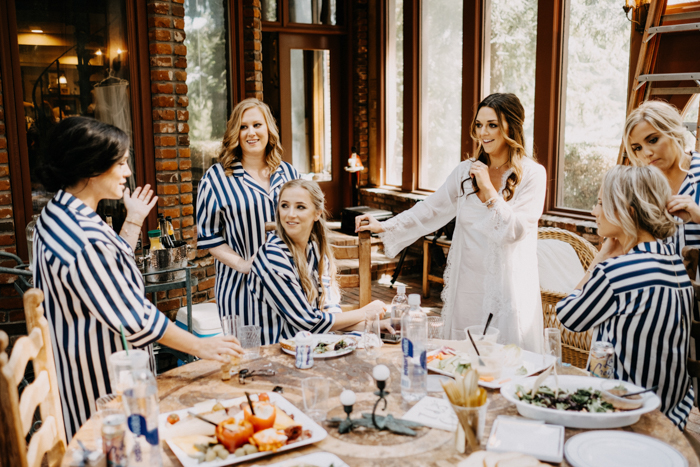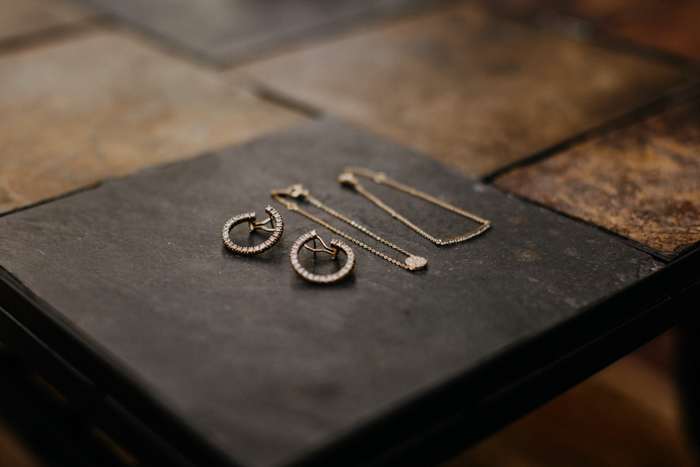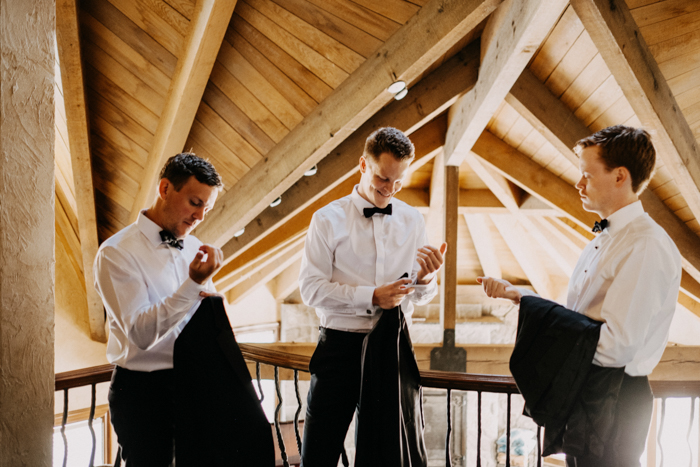 The most important thing in planning the wedding was making sure that each aspect was representative of us as a couple. From the music to the food to the flowers to the exact words in the ceremony, we wanted to make sure that each piece personified who we are. We love music so we chose the music for each moment of the day. We made changes to florals two days before to make sure each flower fit our vibe. Wil drew images used on our Save the Dates and favors. We had a massive champagne tower (even though everyone tried to talk me out of it). We refused a first look (even though everyone tried to talk me into it). We worked really hard to make the entire day representative of who we are and worked even harder to make sure it was an event that our friends and family would love! In the end, people walked away saying the two things we hoped they would: "This wedding was so you," and, "That was the best party I've ever been to!"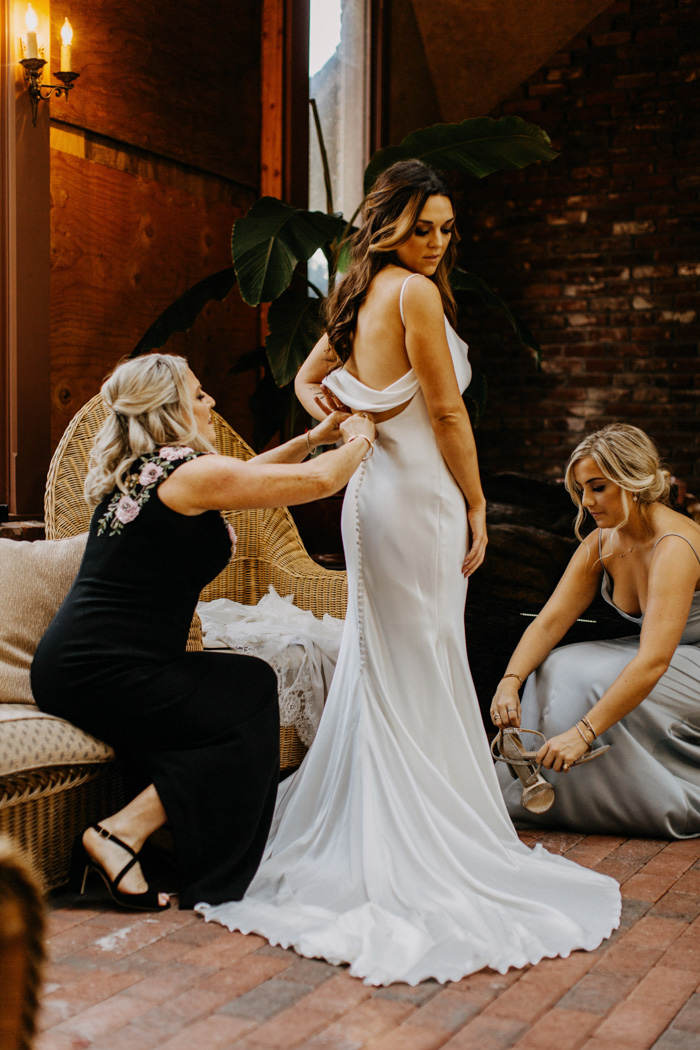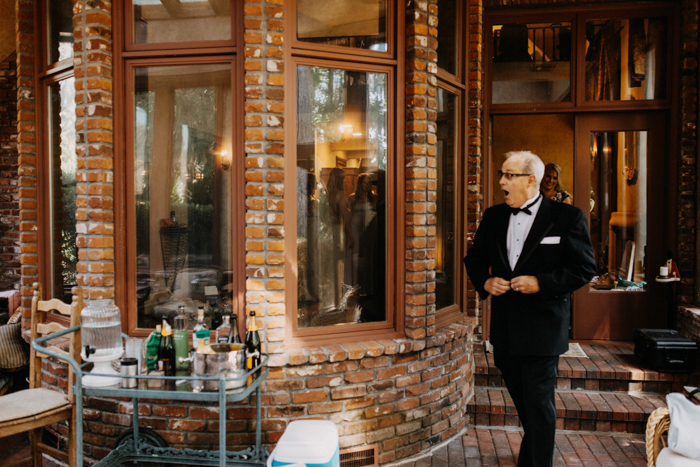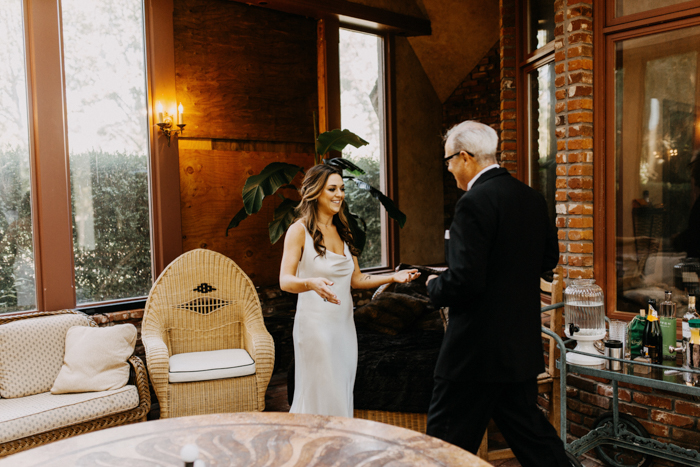 It was important to us to be somewhere outside that felt isolated but wasn't too far from downtown Portland. The second important aspect was finding a place that we could stay at until late. We love a party and we didn't want to kick our guests out at 10:00 pm. We didn't want to be too country club, and we definitely didn't want to be too rustic. This venue was unique in structure, heavily wooded, and they let us stay well into the next morning, so it really checked every box we were looking for! Being by the water added another bonus we didn't initially want but it was so great.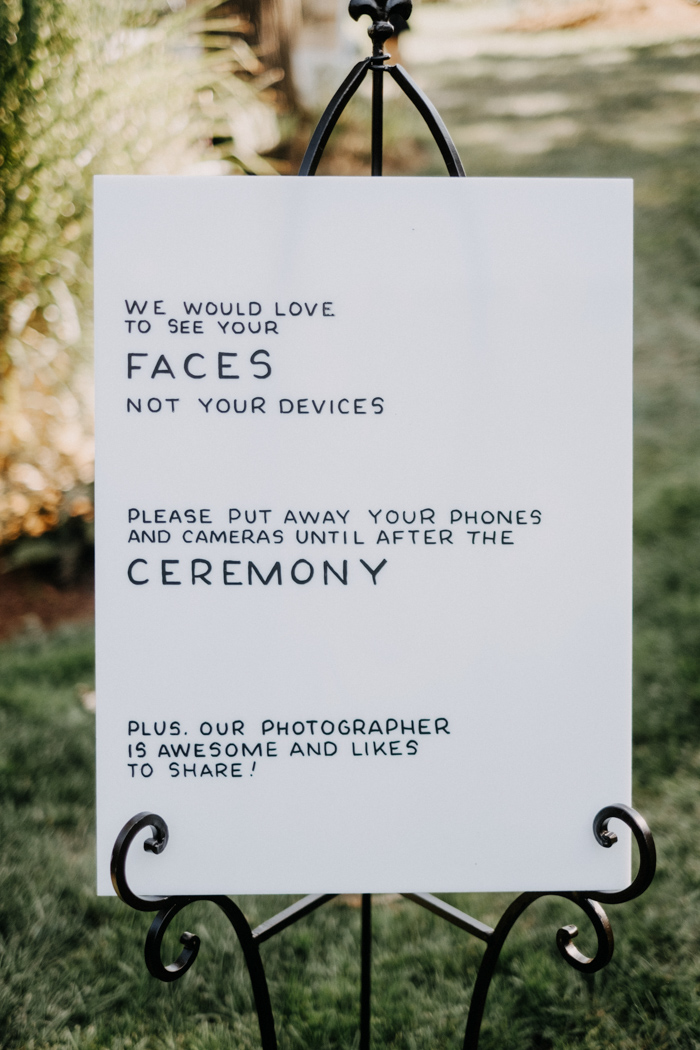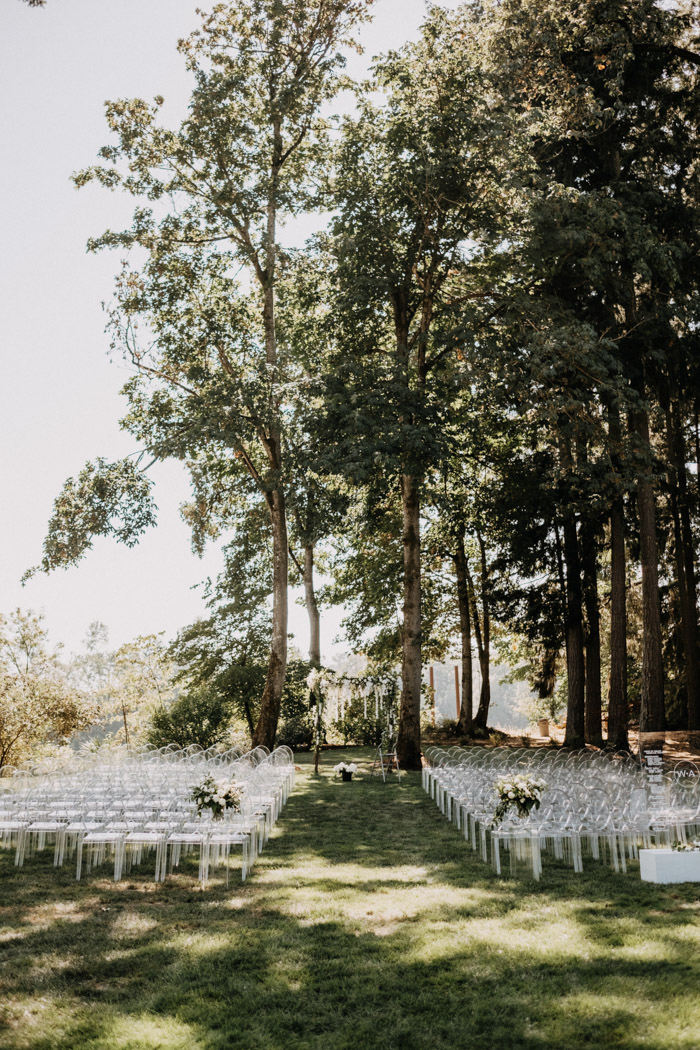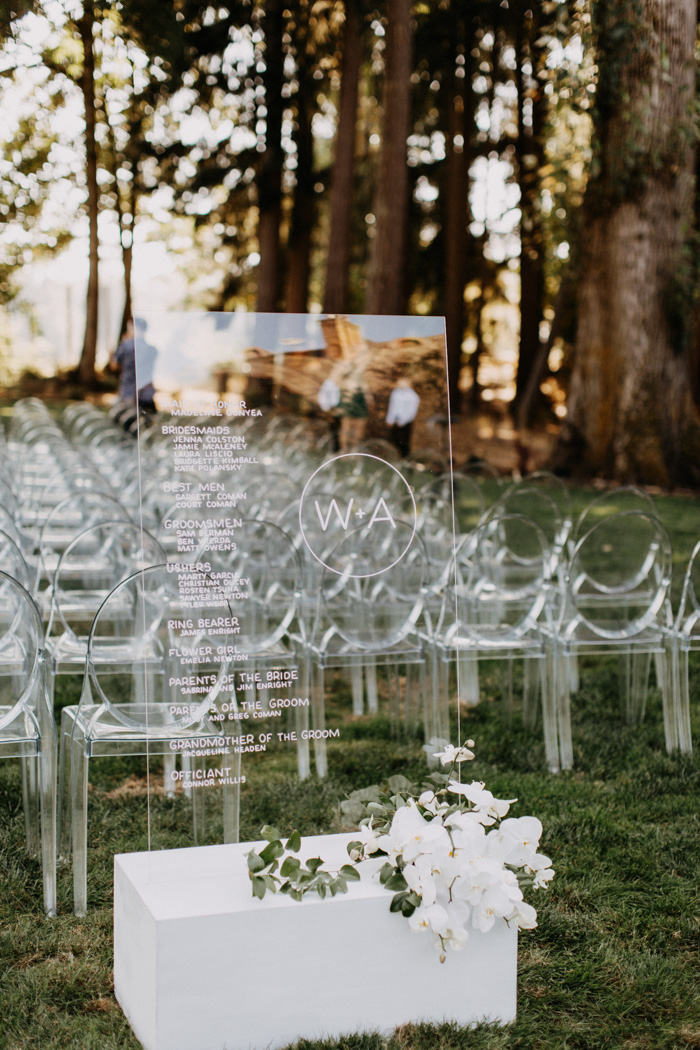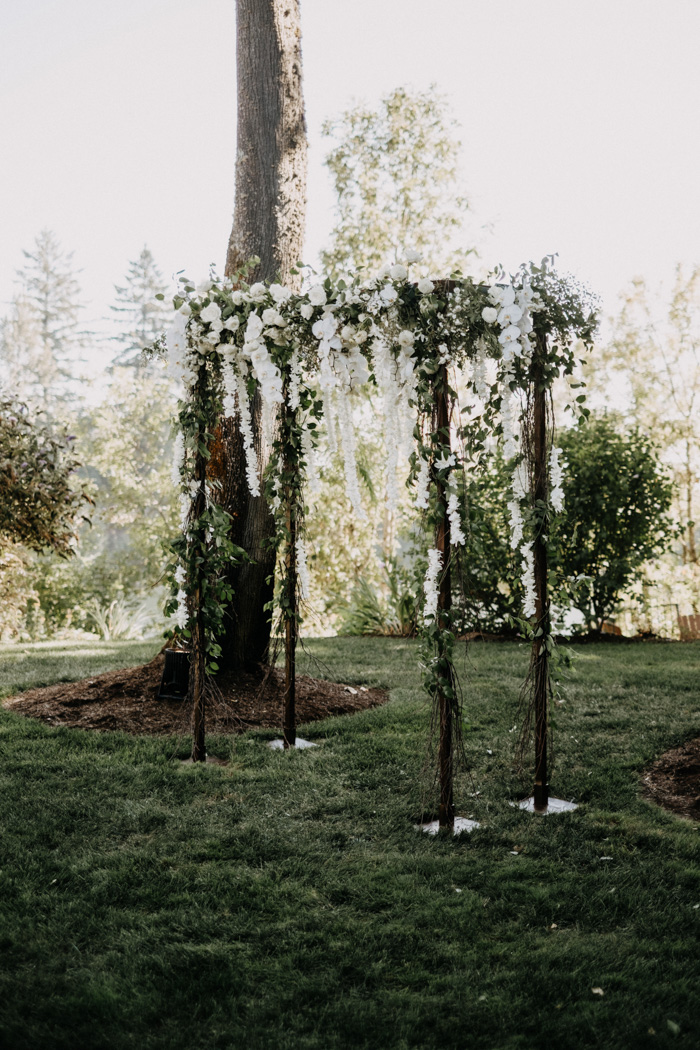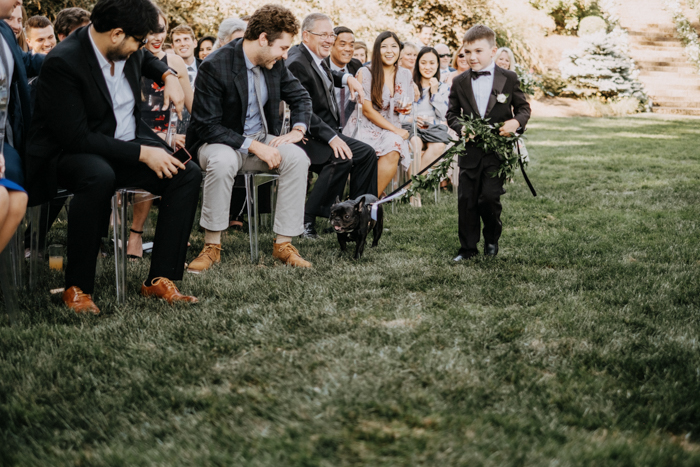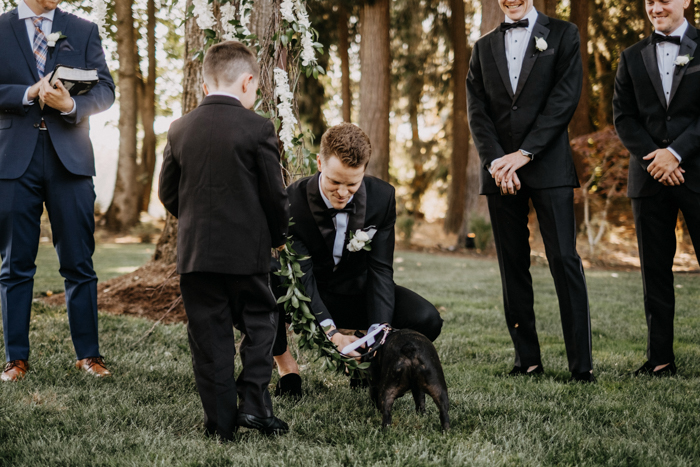 Unexpectedly, the ceremony was the most memorable part of our day. We both thought that it would be the cocktails and dancing but it ended up being the moments leading up to and the actual ceremony itself. It is a surreal moment when you are surrounded by hundreds of people all looking at you and all you can focus on is the person you are about to marry. Between walking down the aisle, reading our own vows, and that moment of sheer bliss after being announced, the ceremony was truly all we needed!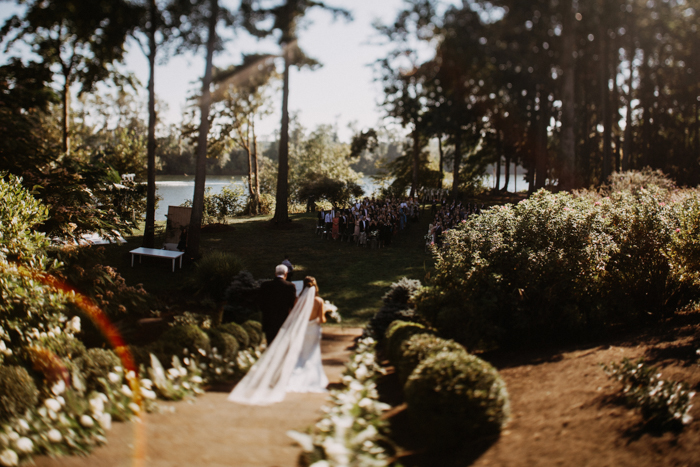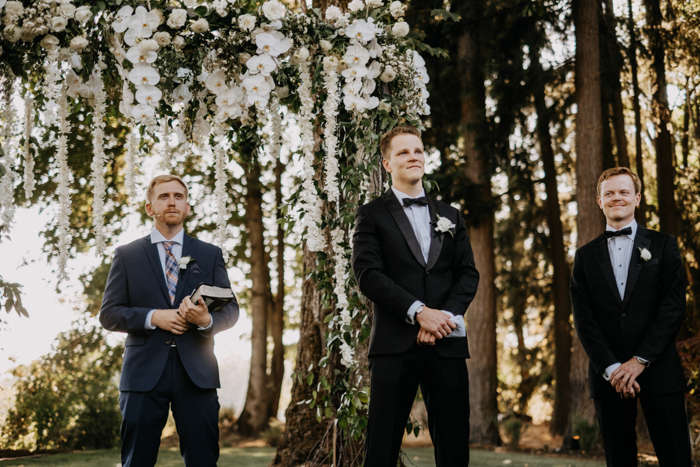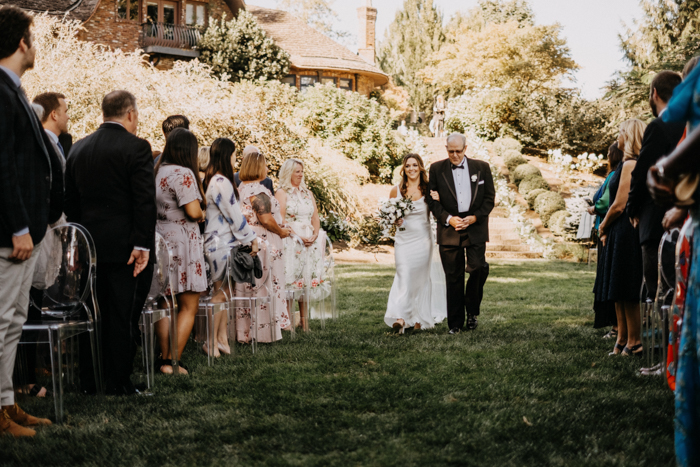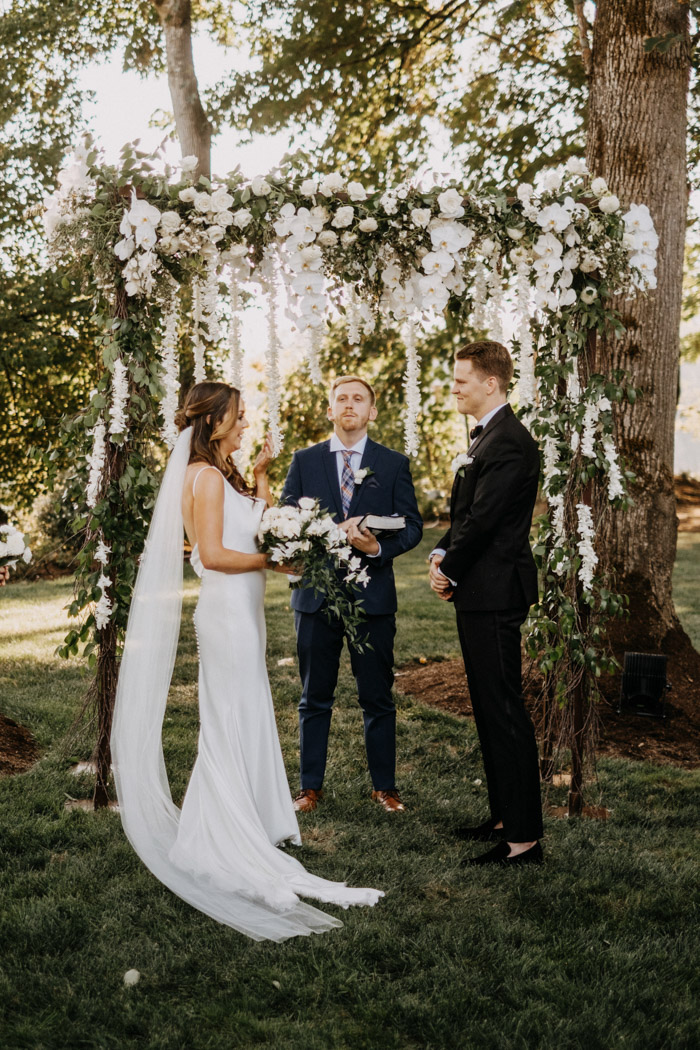 Our officiant was a friend of ours that lived with us for the first year of our relationship post-college. He really made it personal and special by sharing his stories about the two of us (playing ping pong and darts with Wil, drinking red wine and watching Grey's Anatomy with me). Neither one of us are religious, so it wouldn't have felt authentic to have a minister doing the ceremony. Conner did an amazing job of keeping it light and fun but also not cheapening it.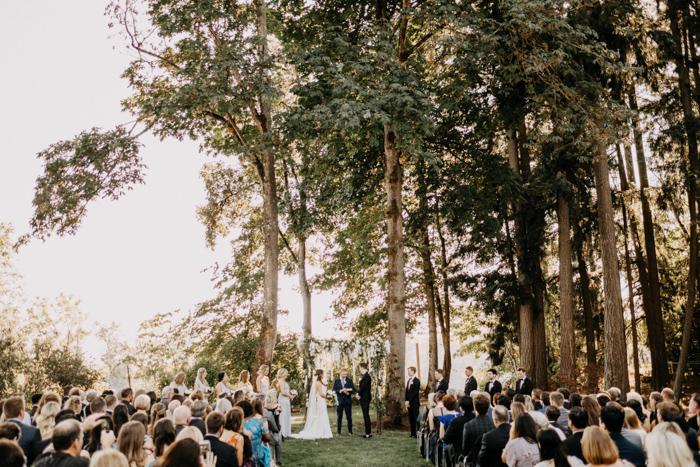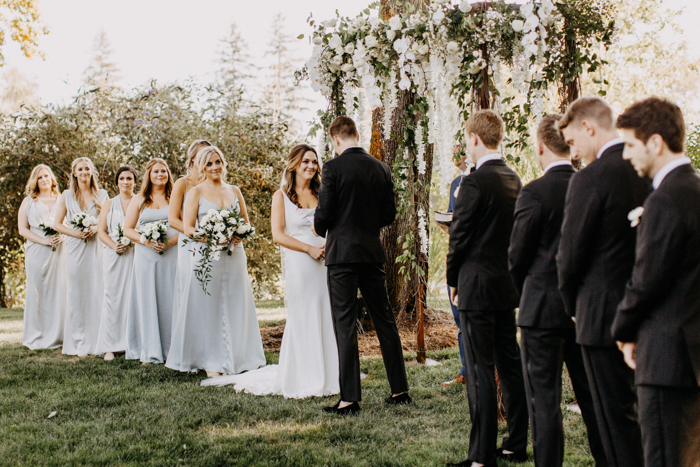 Wil and I are both writers — we actually started dating while taking Creative Writing classes in college. So, it was important for us to write our own vows. As we read them, there were audible sobs from our guests, so I feel like we succeeded! We also were really intentional not to include religious aspects because neither of us is religious. I wanted the focus of the ceremony to be our floral arch and our vows to each other. And I consider our champagne tower our spin on the unity candle — except everyone benefited!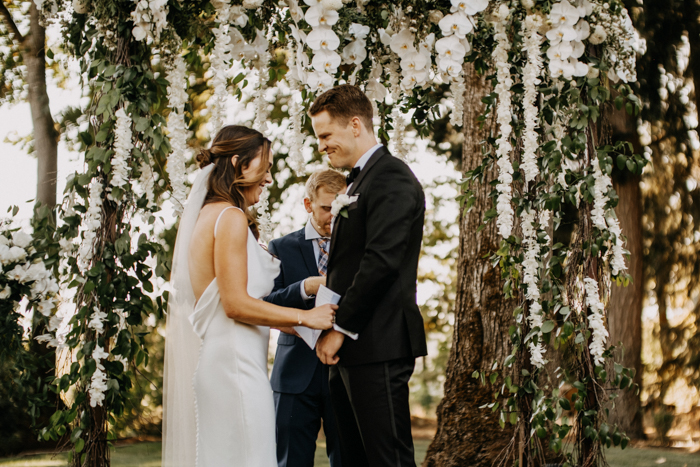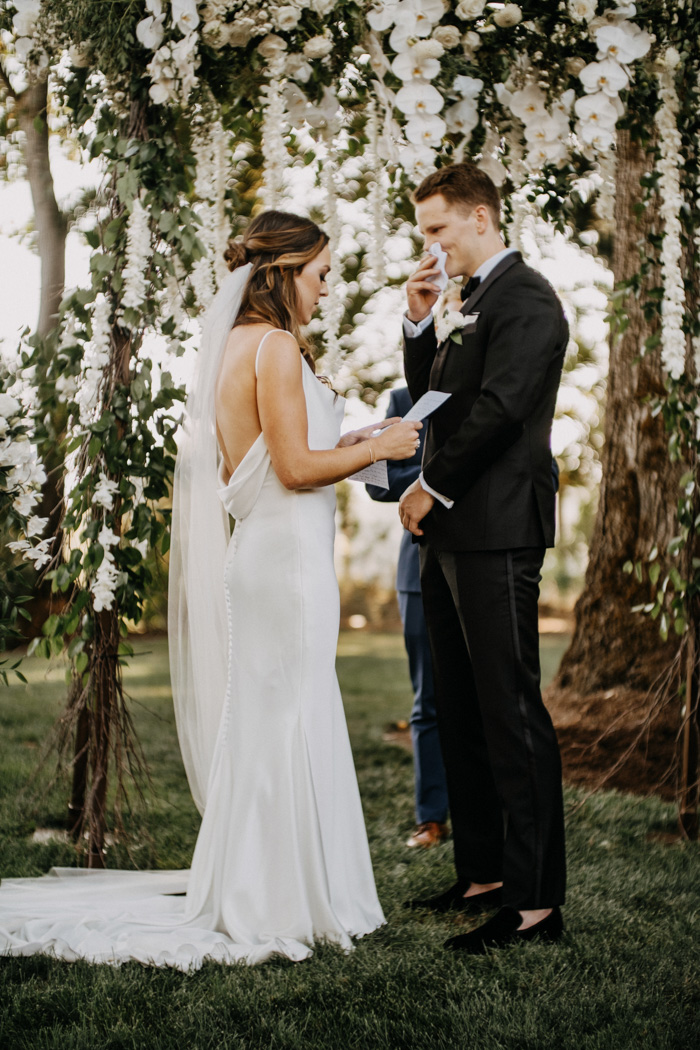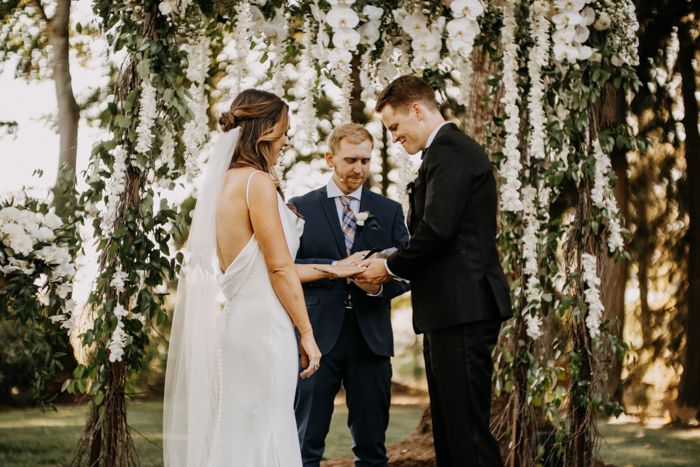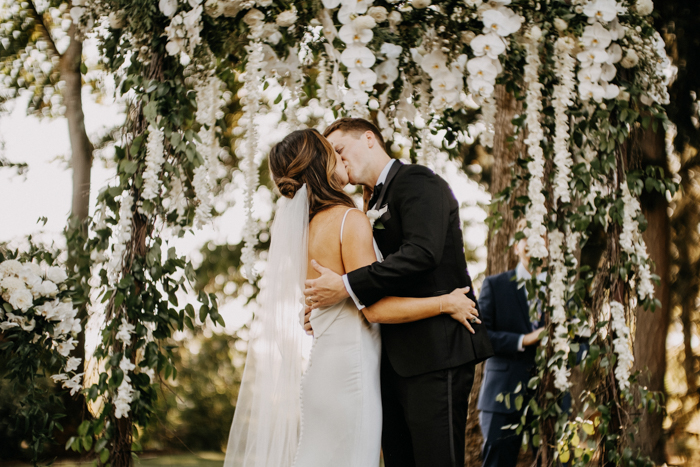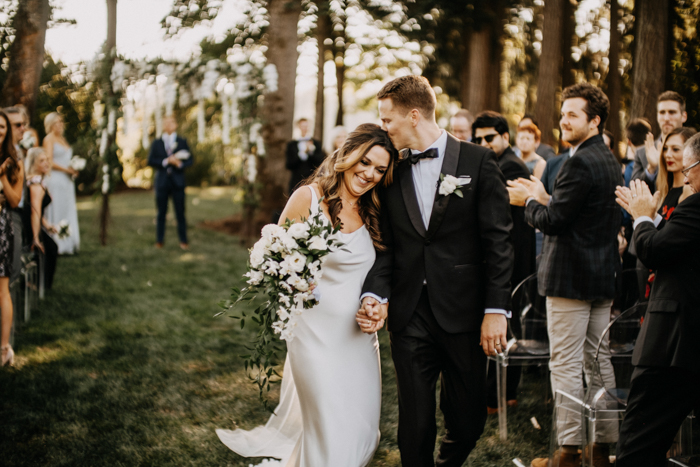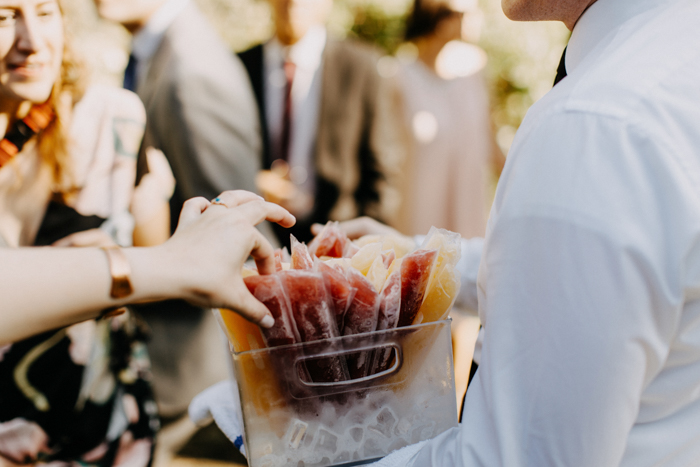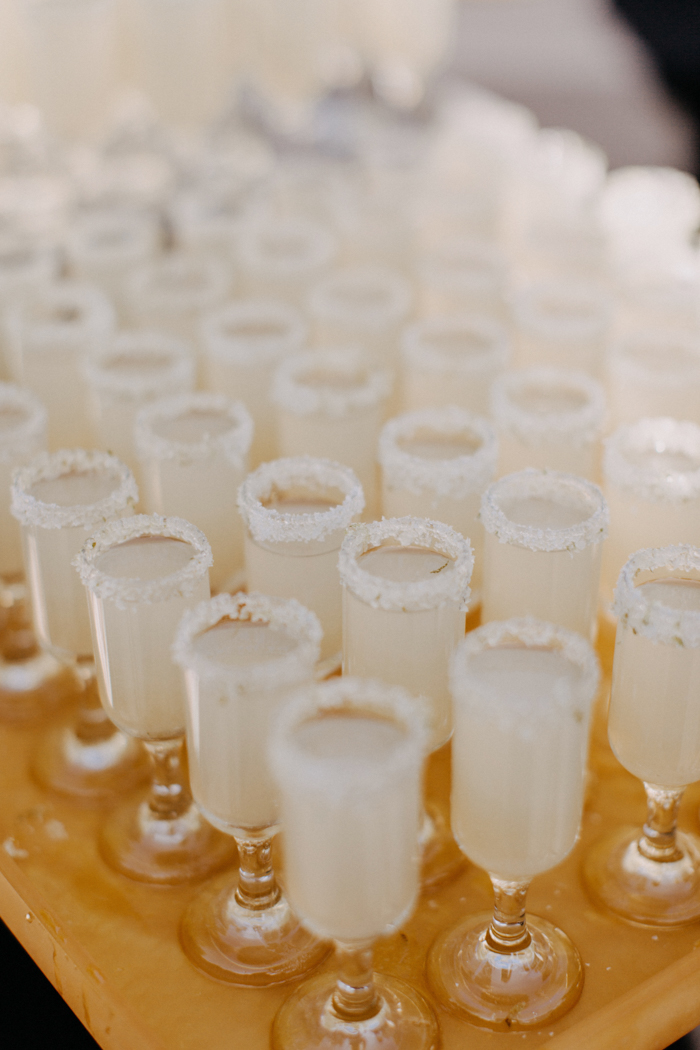 Our best advice sounds cliche, but stay true to who you are as a couple! There were a lot of moments where it would have been easy to veer down a different path based on other people's opinions and wants, but I am so glad that I was particular about every detail because that was what truly made the wedding very us. We worked hard to maintain the integrity of our vision through to the very last minute. On the other side of that coin: stay calm and be able to adapt when you can't get your way. In the end, it is just a wedding and it isn't worth getting upset over anything. Enjoy the entire planning experience! It is so overstated but it really goes so fast. Take in every floral meeting, site visit, catering tasting, and hours spent on Instagram looking for ideas because you will miss it when it is over.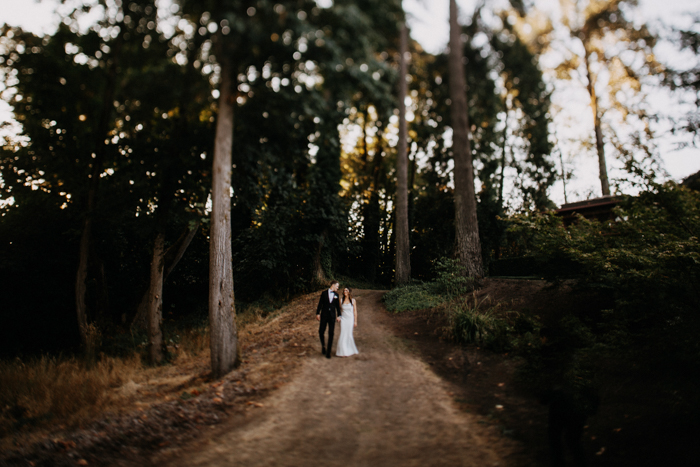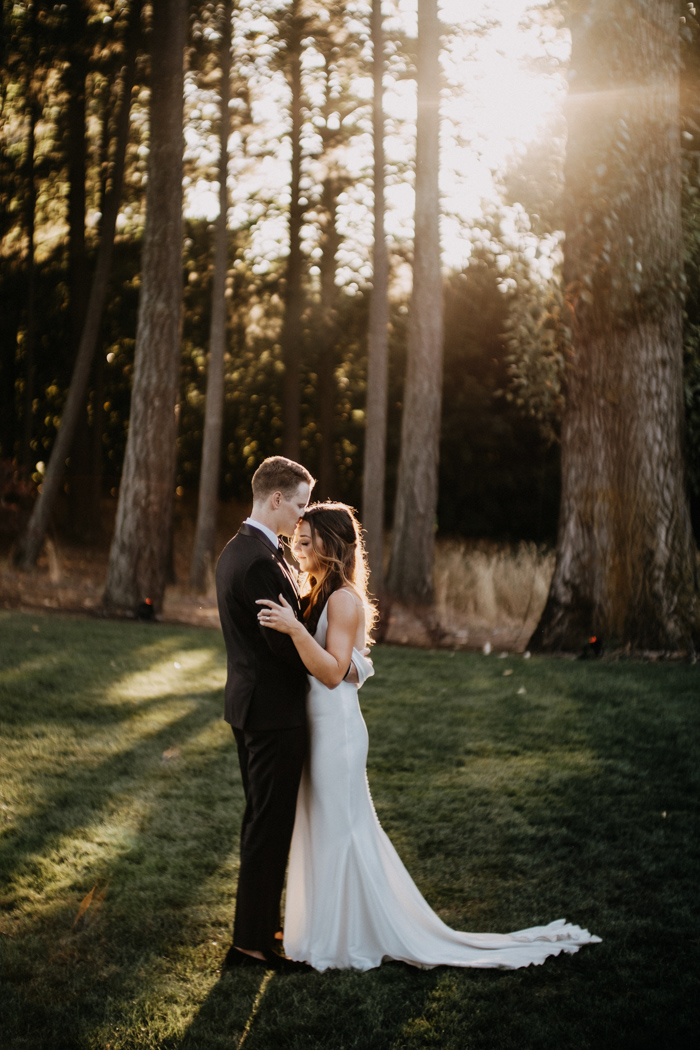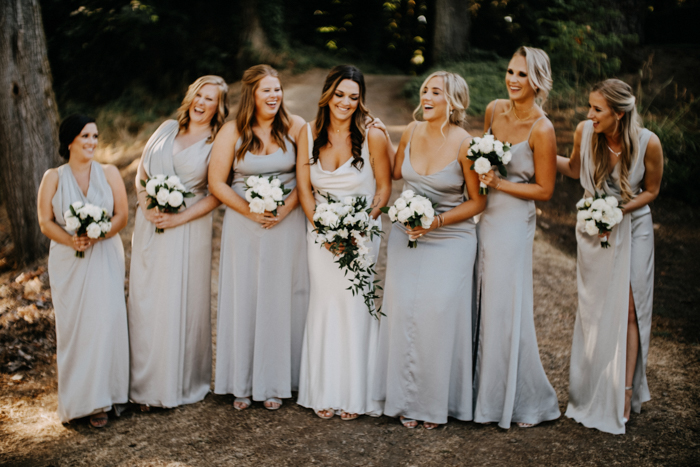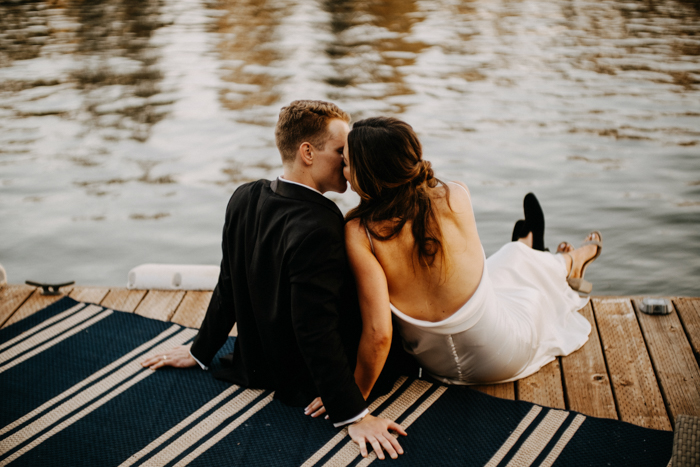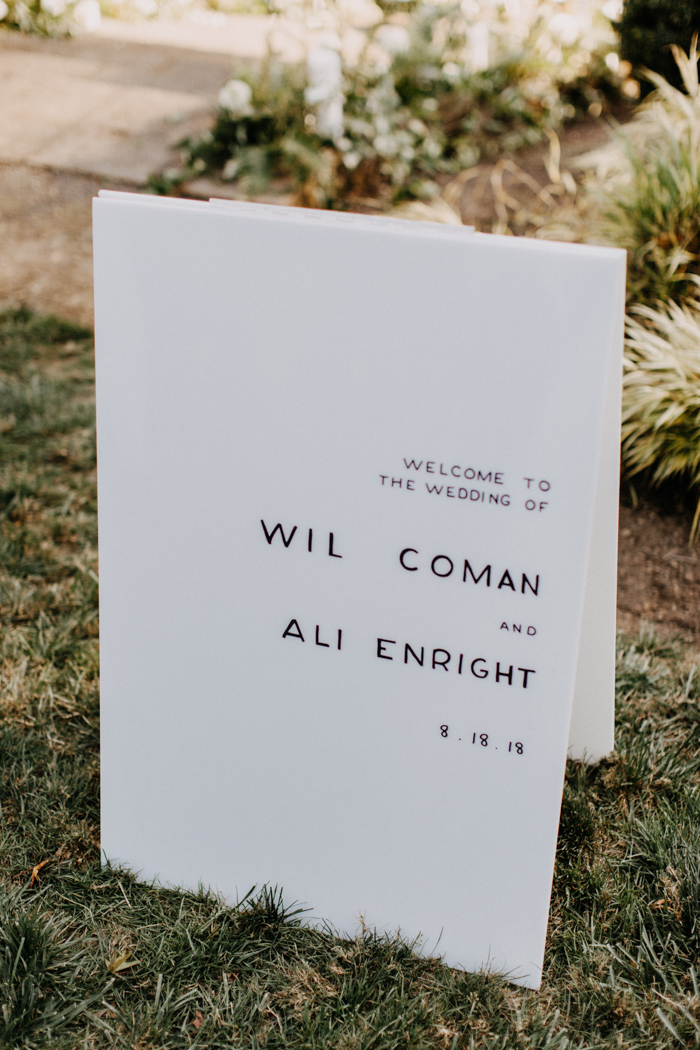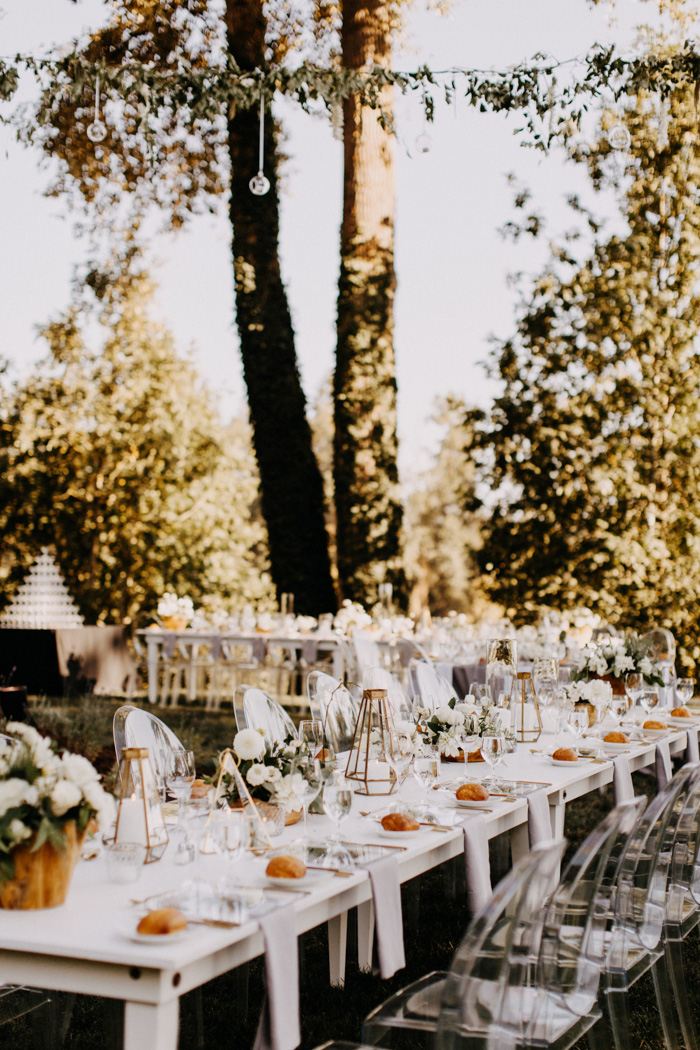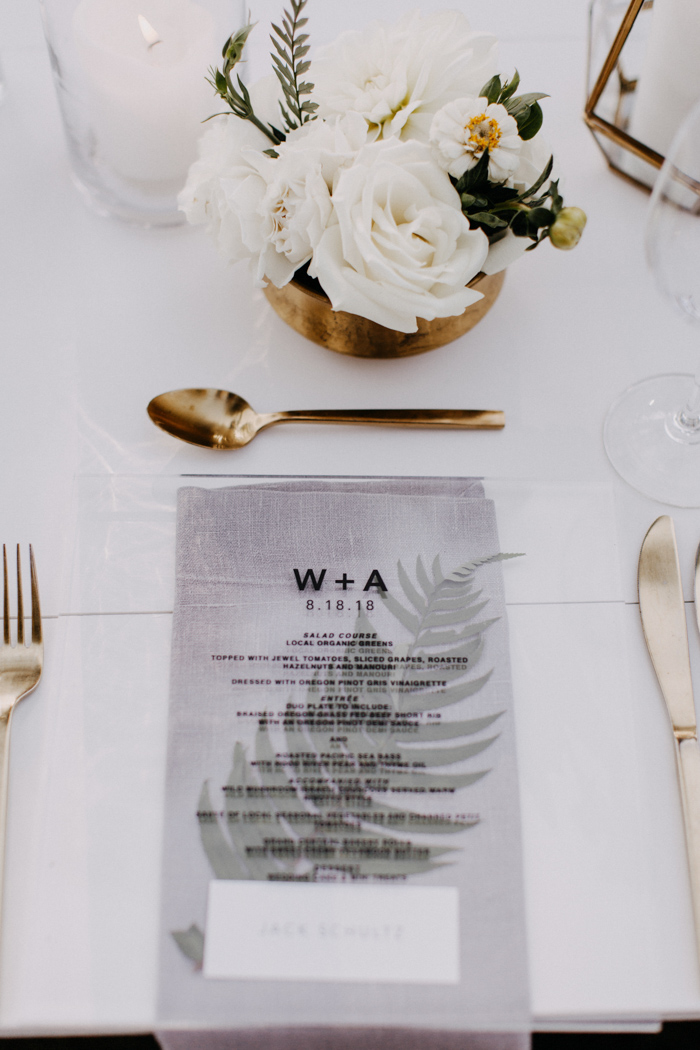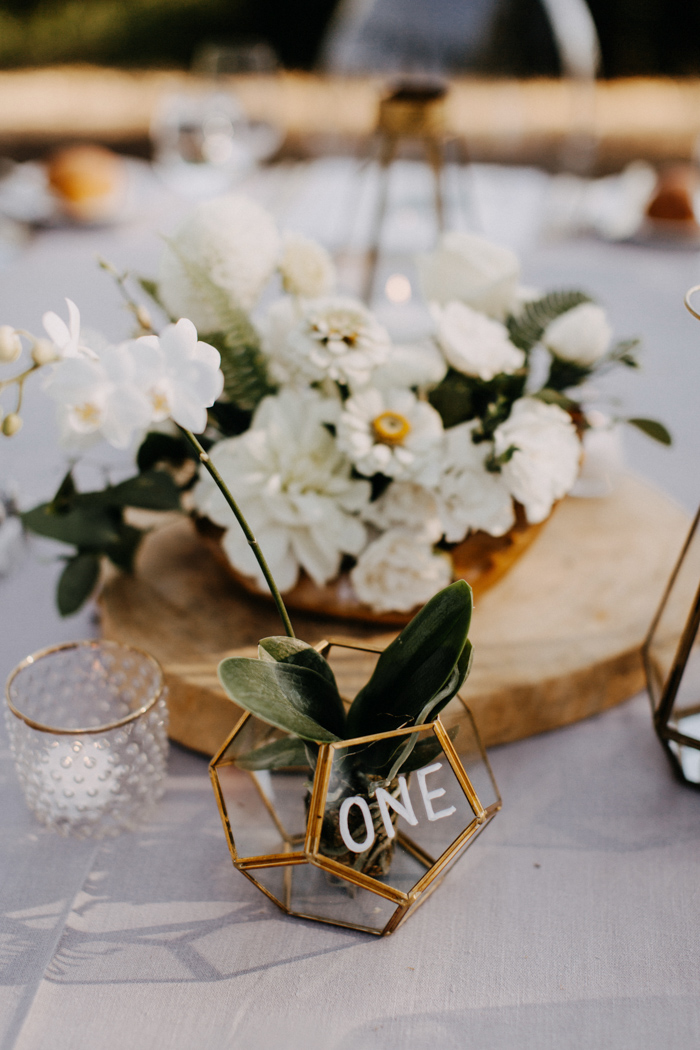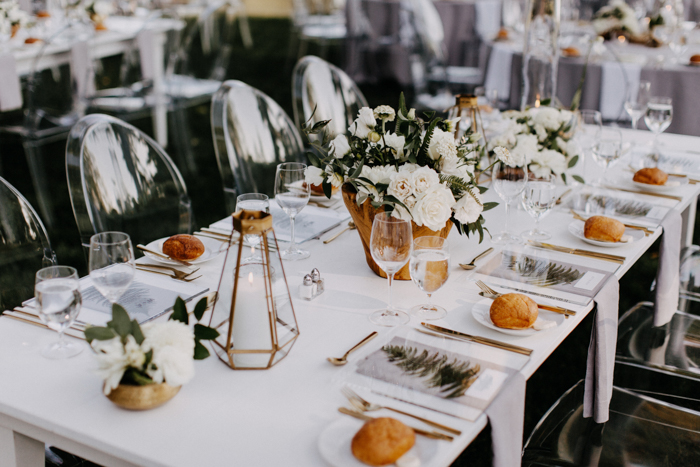 We knew that we wanted our day to reflect our personal style. We both love a simple aesthetic with an edge. In everything we chose we wanted it to be timeless but unique and fresh. Wil and I are not traditional by any means so we wanted to make sure we veered from a super classic wedding but we also wanted to make sure we didn't look back at our photos in ten years and feel like they were really trendy and dated. The word I kept coming back to was "magical" when people asked what I wanted to accomplish. I wanted the lighting, florals, and music to all contribute to an overall feeling of magic. Magical, formal, champagne-fueled, but relaxed.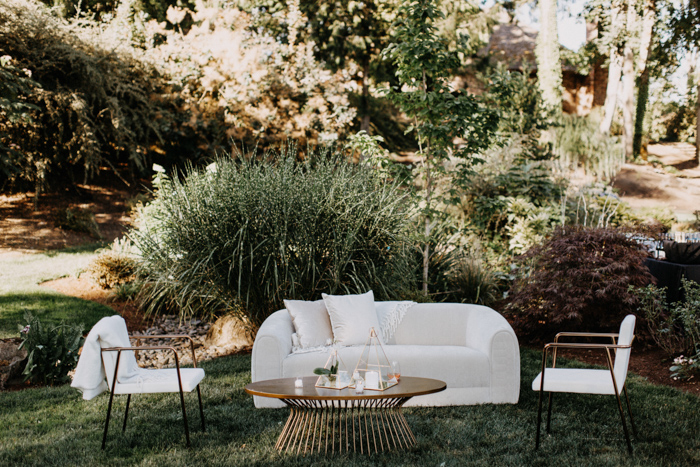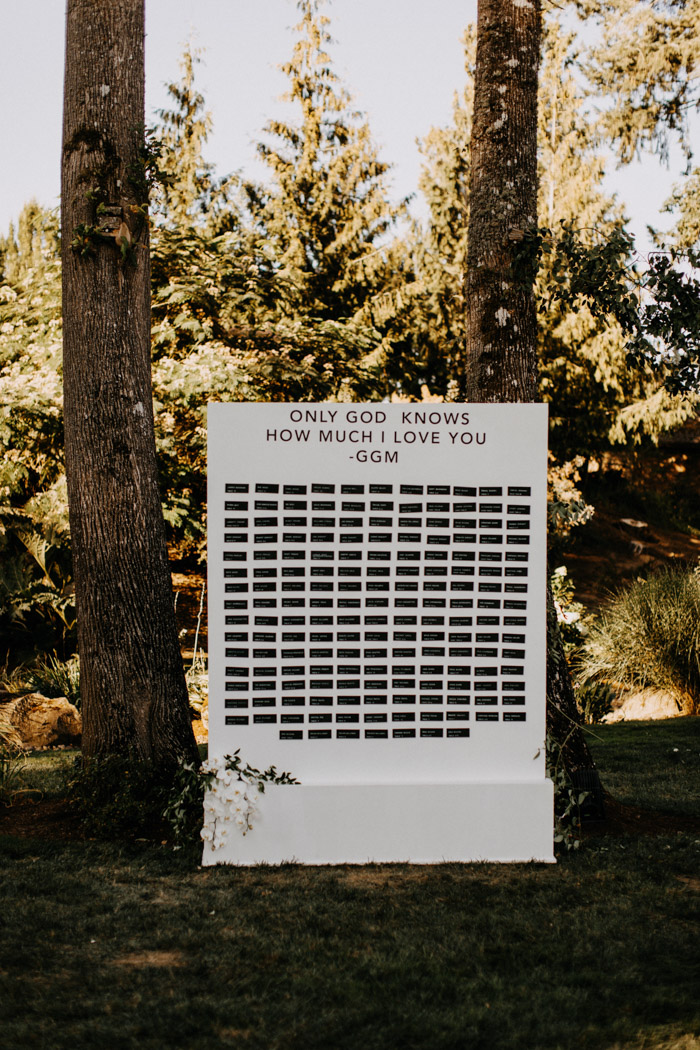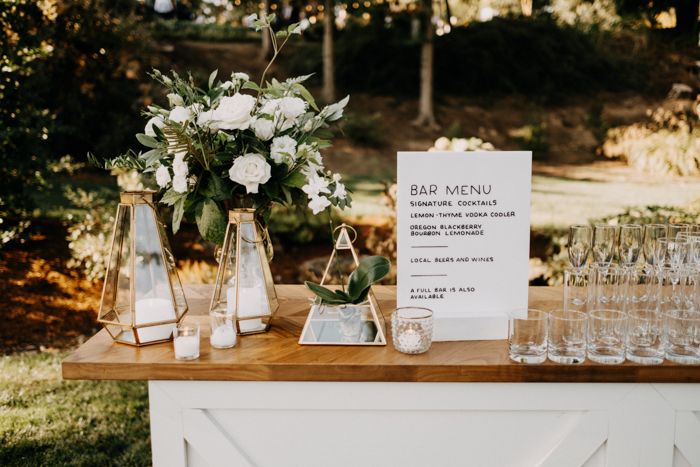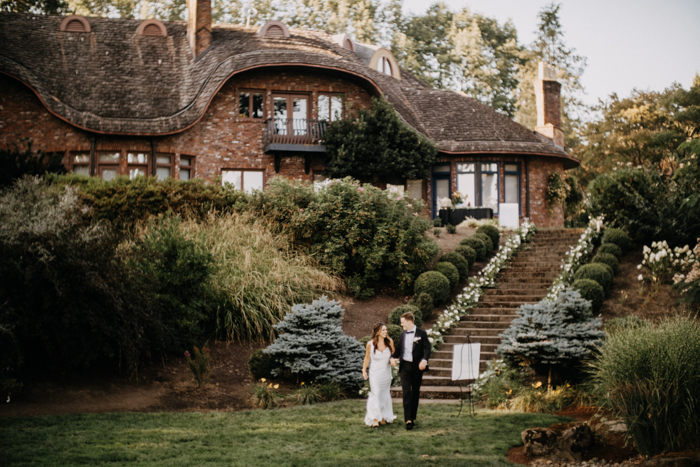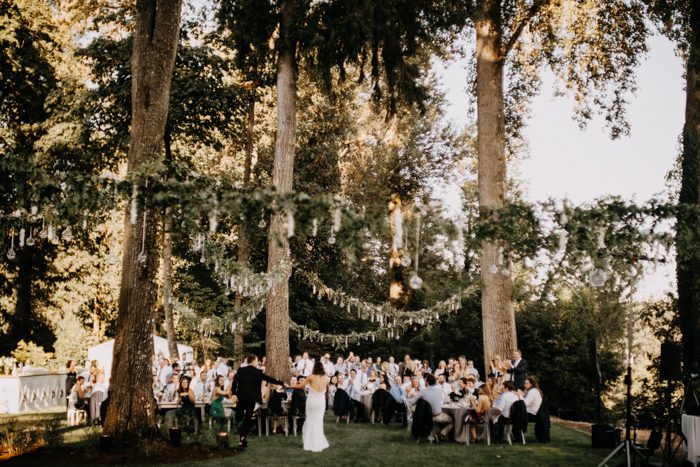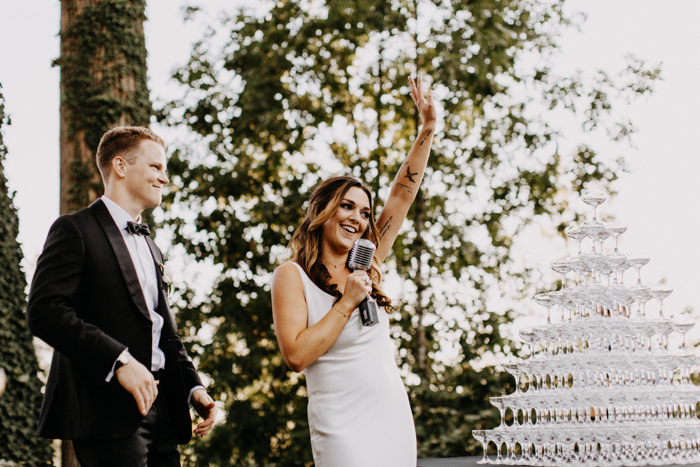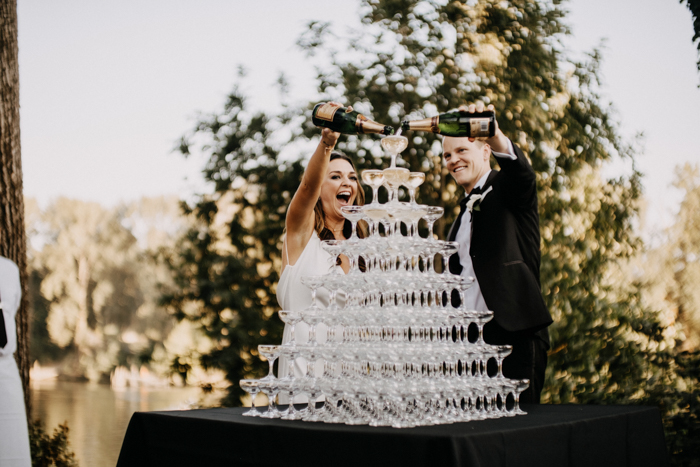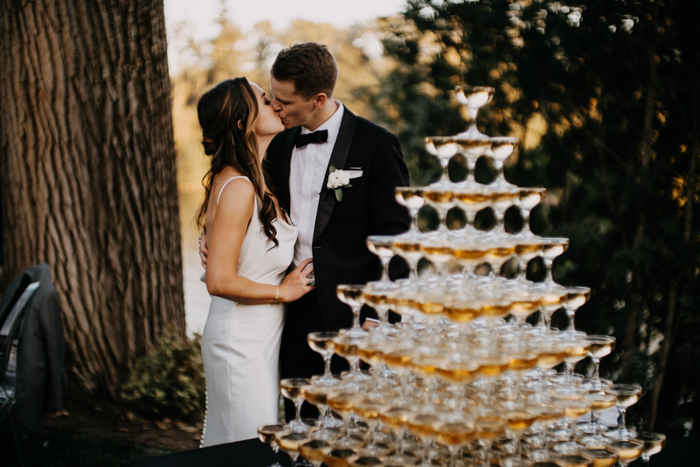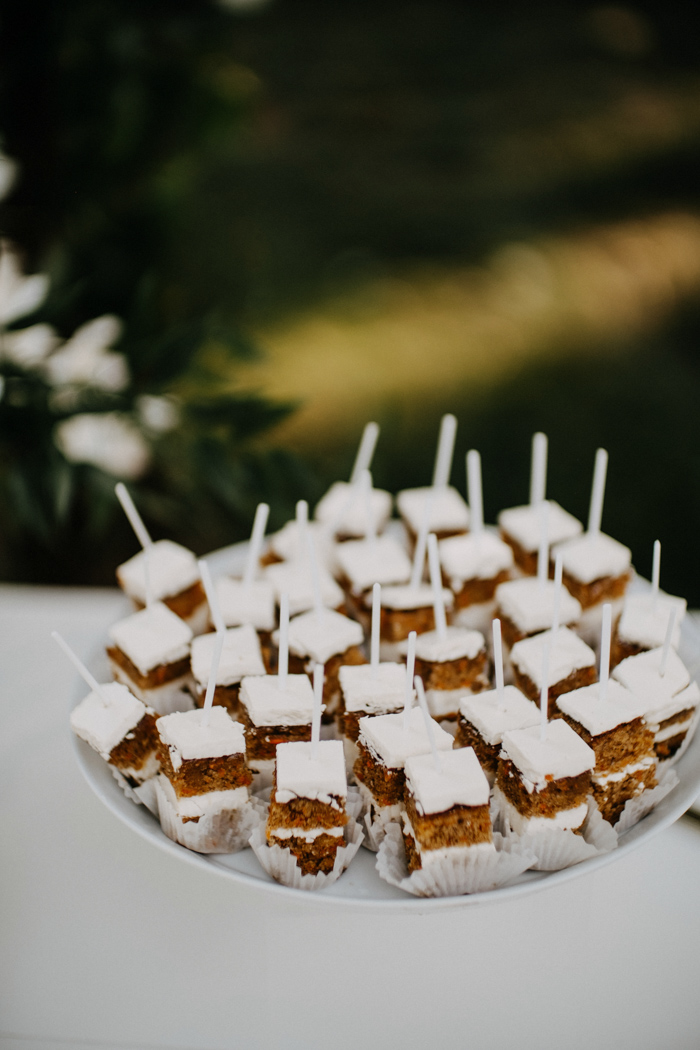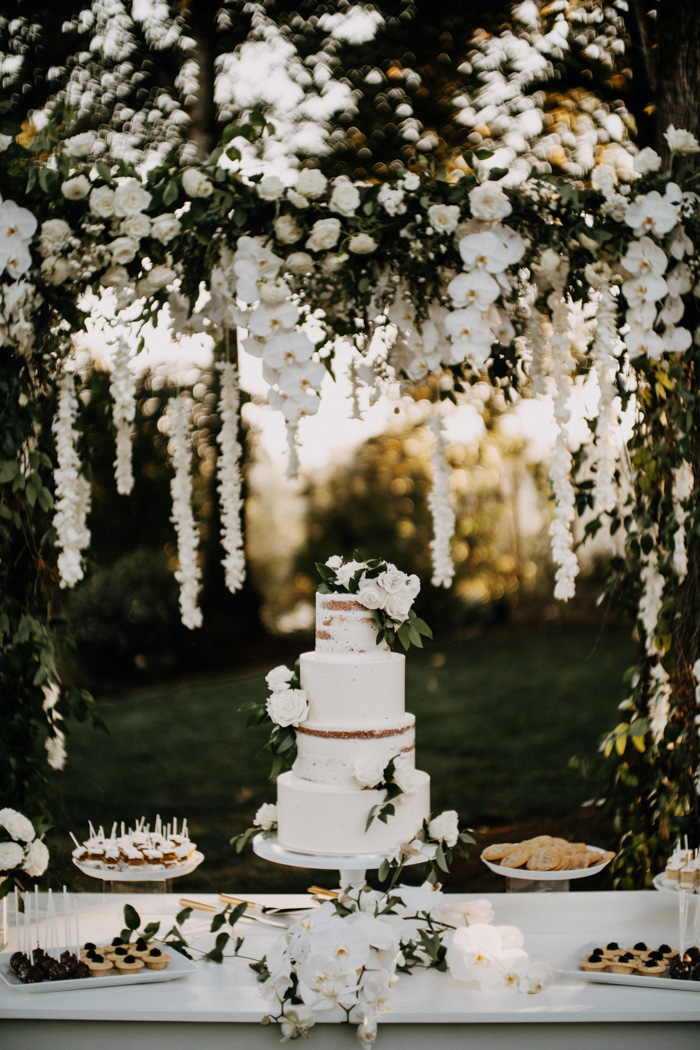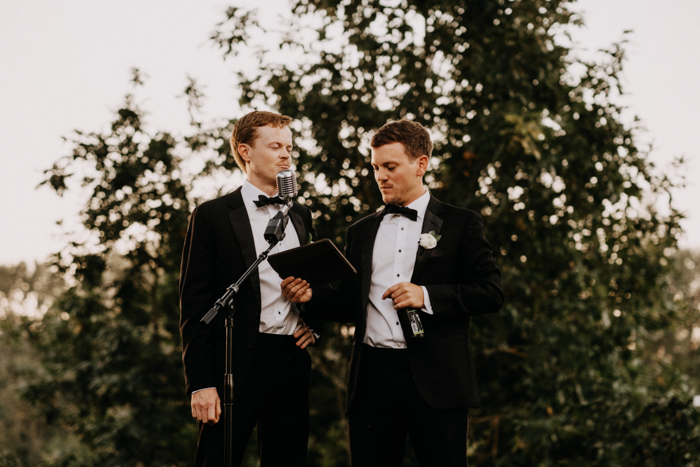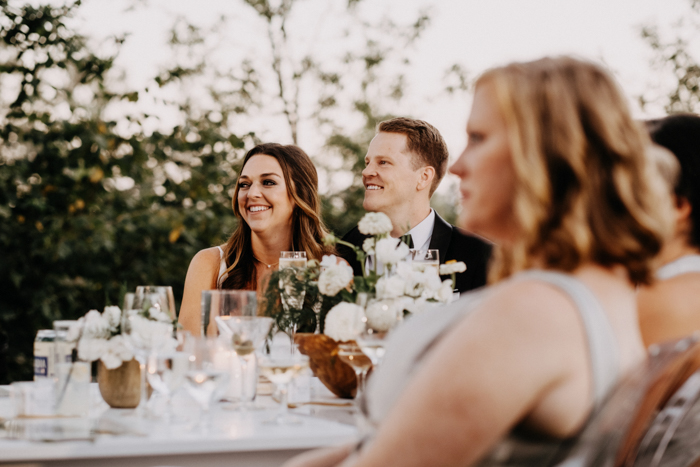 Processional – "Baby" by Ariel Pink and "Clair De Lune" by Claude Debussy
Recessional – "Wake Up" by The Arcade Fire
First Dance – "Must Be Doin' Somethin' Right" by Billy Currington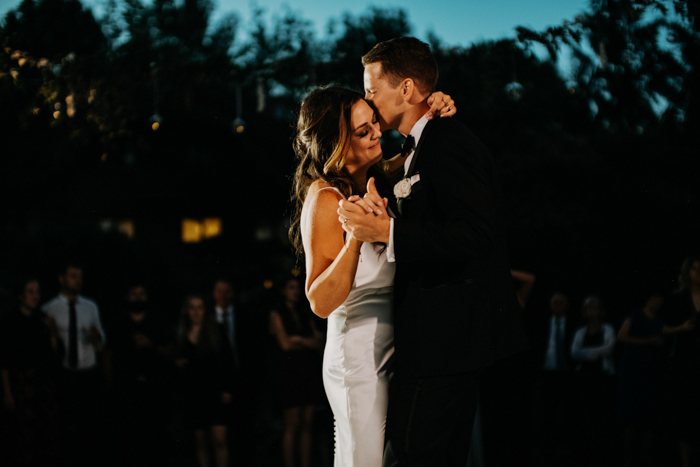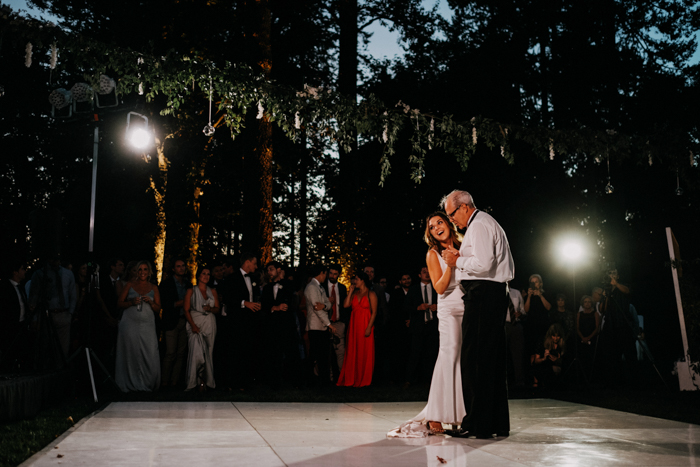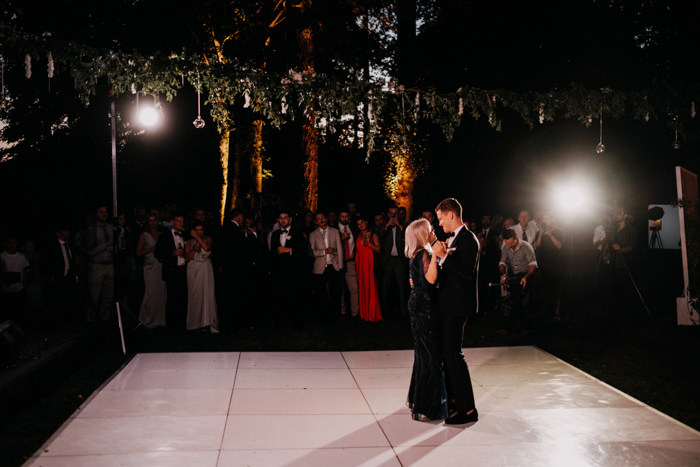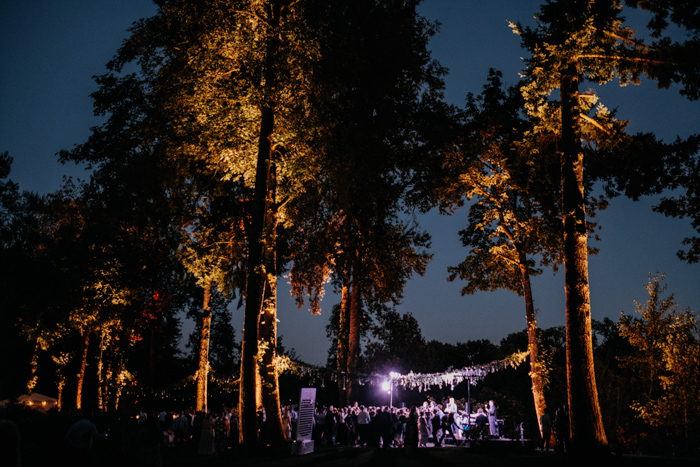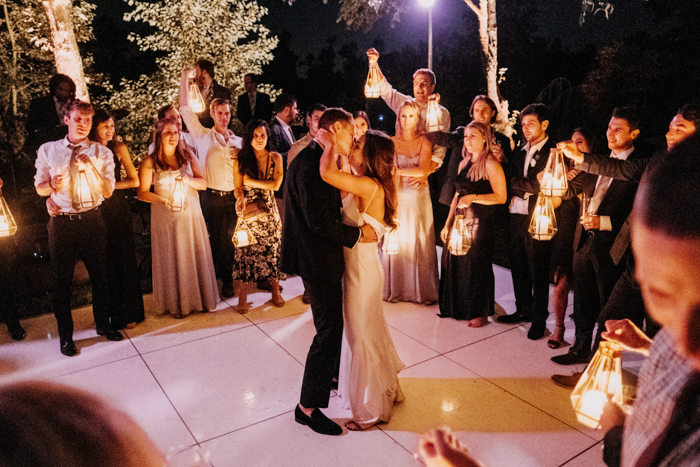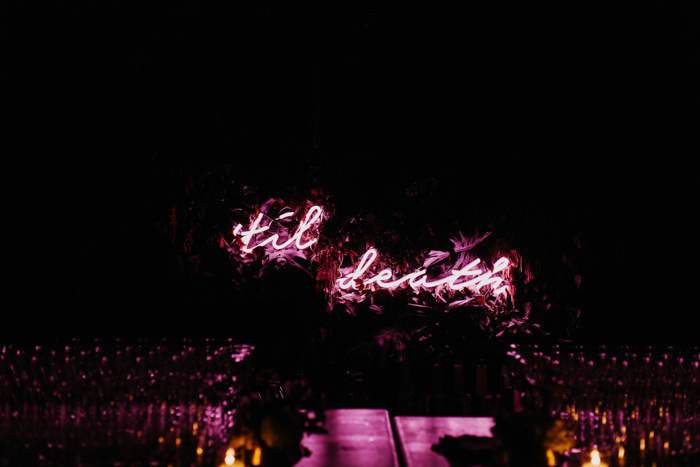 Congratulations to Ali and Wil, and a big thanks to Bridal Bliss for sharing this incredible Bingham Estate wedding with Junebug! Looking for ways to mix up traditional wedding vibes with something a little more eclectic? This Trinity River Audobon Center wedding is romantic, glam, and edgy all in one!