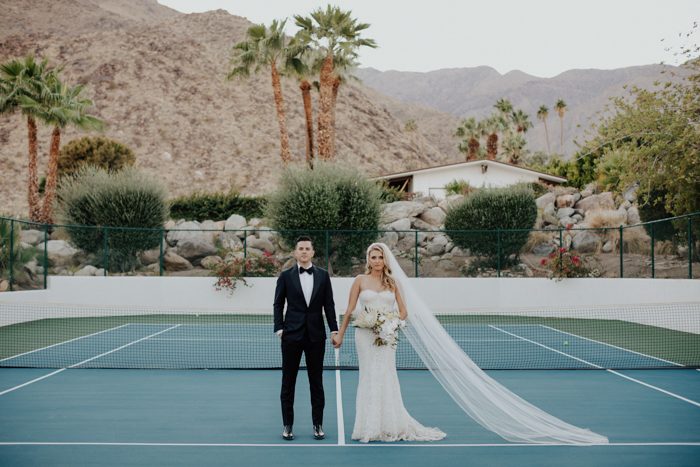 Our mid-century Palm Springs wedding dreams just came true! Karaline and Luke celebrated their love in style with a Frederick Lowe Estate wedding. Details Darling absolutely slayed every detail of this day with the most creative seating chart display, tropical florals designed by Shindig Chic, and glamorous Adore Folklore rentals. We're feeling super thankful that photographer Logan Cole and the stellar videography duo at Rora Film Co were there to capture it all! Note: Please scroll to the end to see their touching wedding film…and Luke's rad Tom Ford jacket. If you've been dreaming of those tropical, mid-century wedding vibes, this Frederick Loewe Estate wedding won't disappoint!
The Couple:
Karaline & Luke
The Wedding:
Frederick Loewe Estate, Palm Springs, California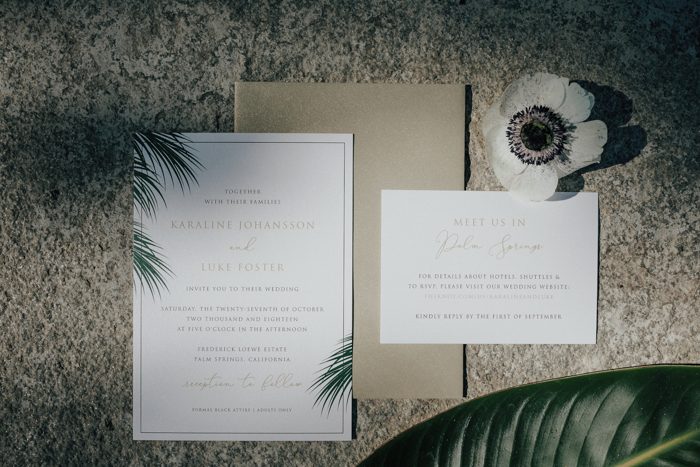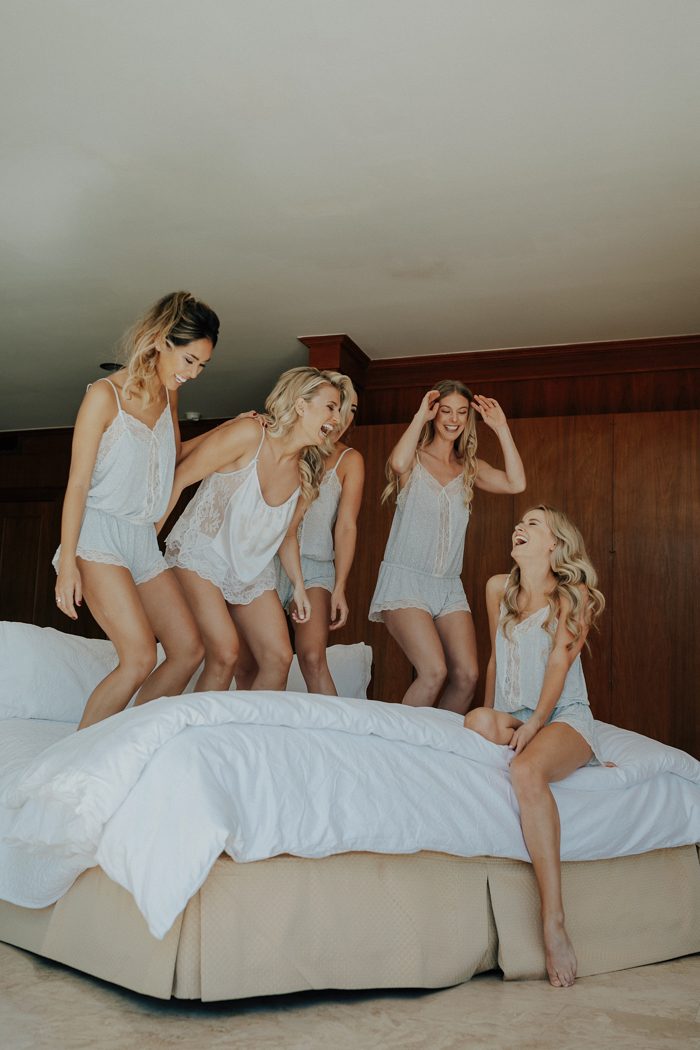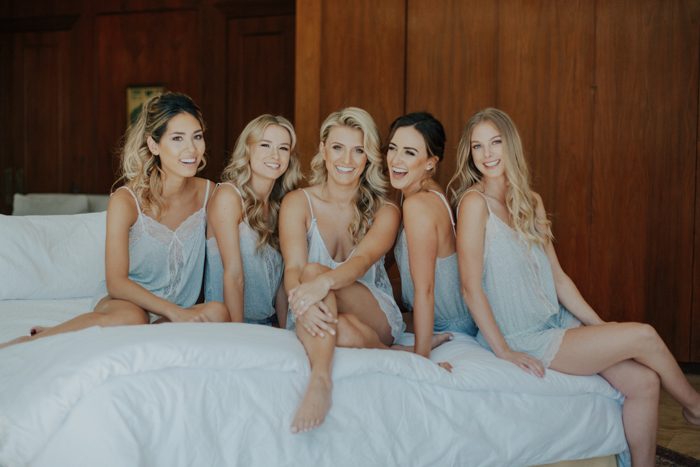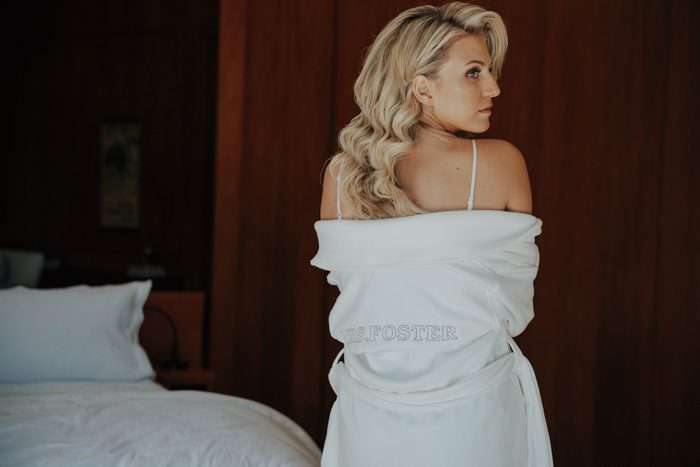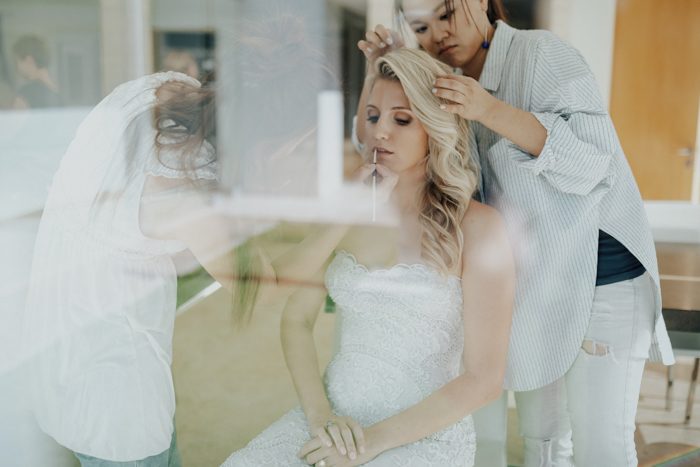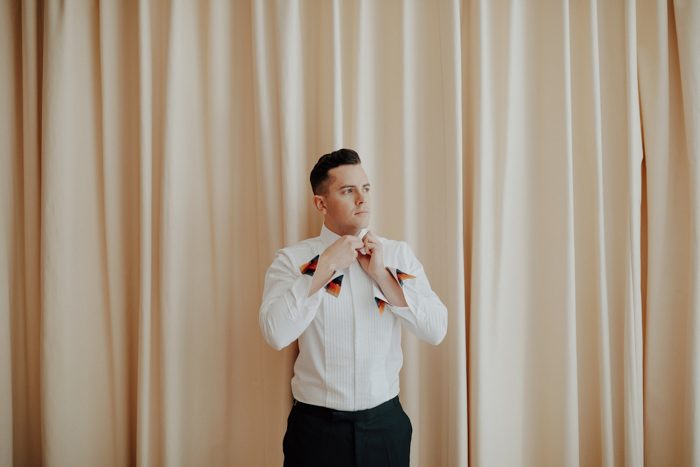 We are OBSESSED with The Office, we have seen the series start to finish a dozen times. Jim and Pam are the main love story in the show and on their wedding Michael Scott hand paints them a photo of themselves that looks like it was done by a toddler, so I found a print of that photo and framed it for him.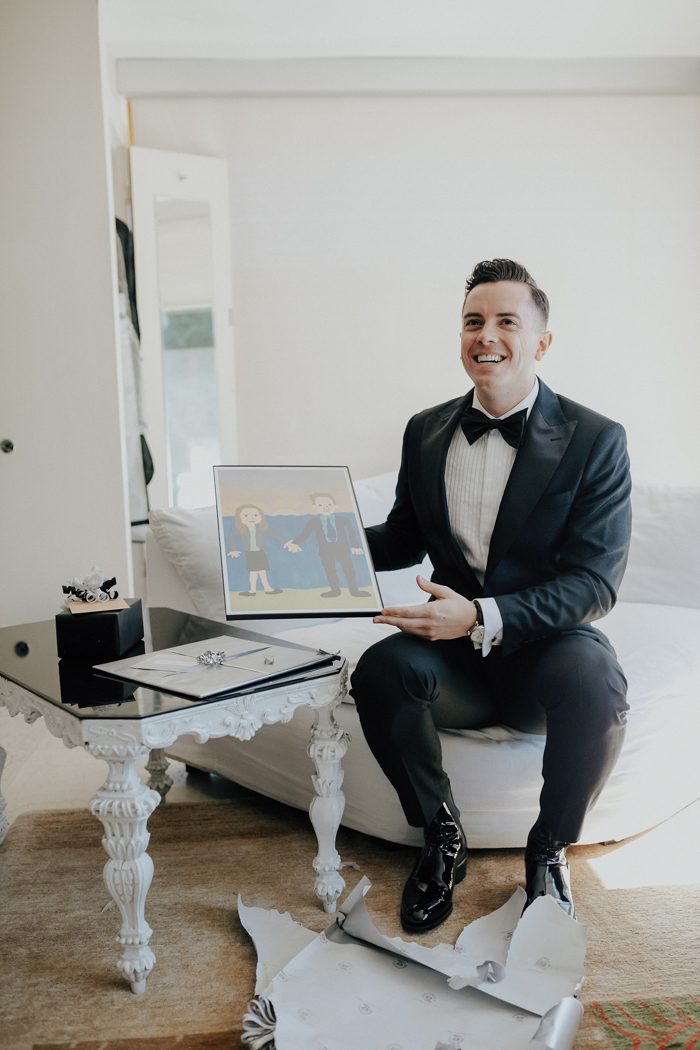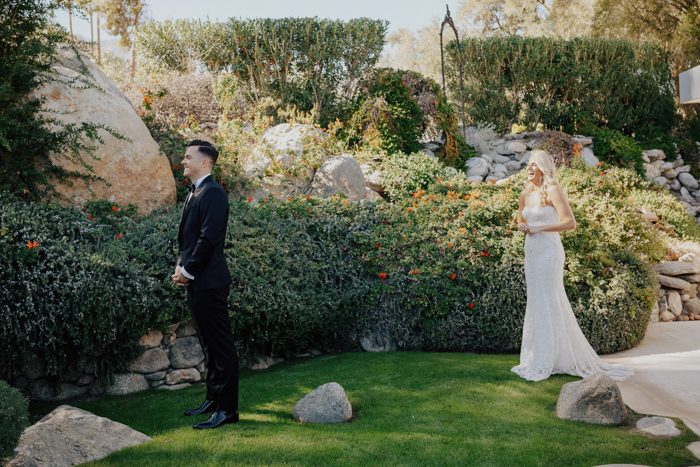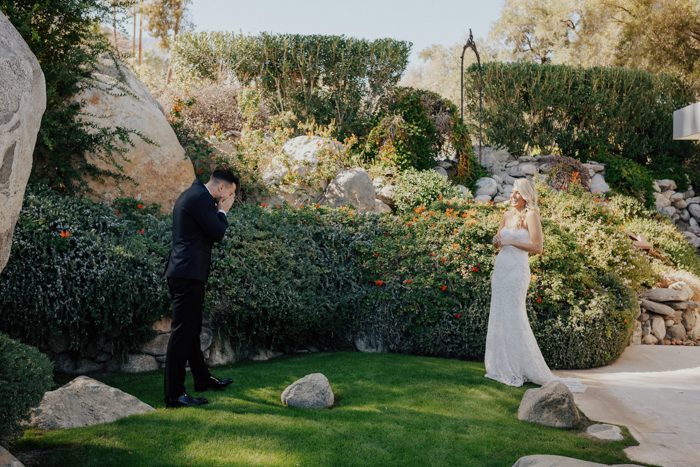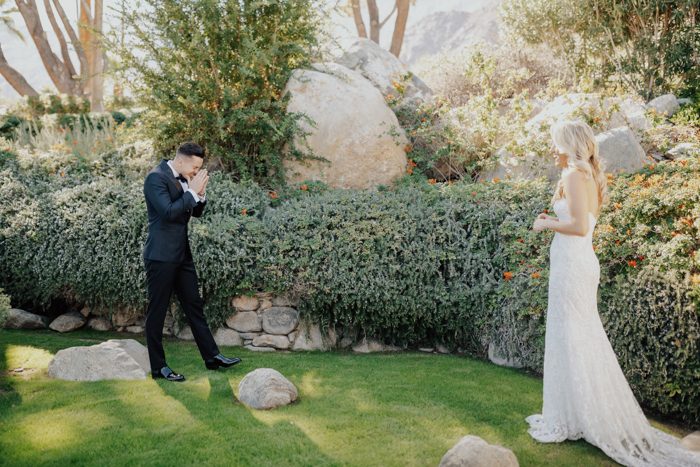 I was just SO excited to get the day started, people kept asking how I was in the morning and all I could say was "let's do this" I was SO ready to see him & soak up as much time together that we could. He had been nervous the day before so I knew his emotions were building up and he would also be ready to just be together after saying our goodbyes at the rehearsal. We did it outside at the Estate and the second he turned around he burst into tears & our friends and family all started cheering. We had gone outside to do it privately but the bungalow is all glass, so they had all pulled the blinds up and were watching us from inside. It was really special.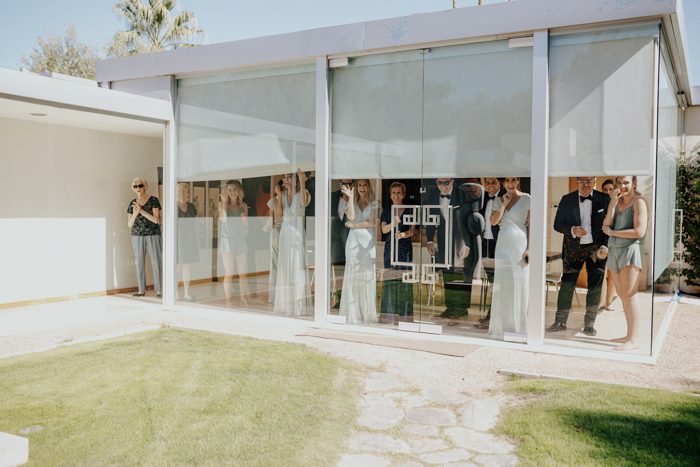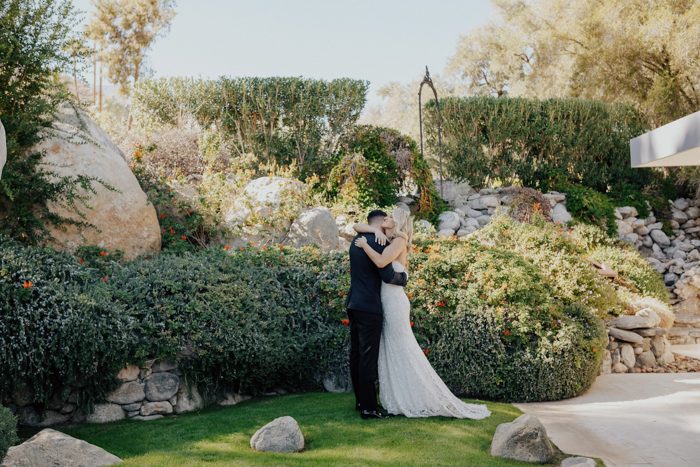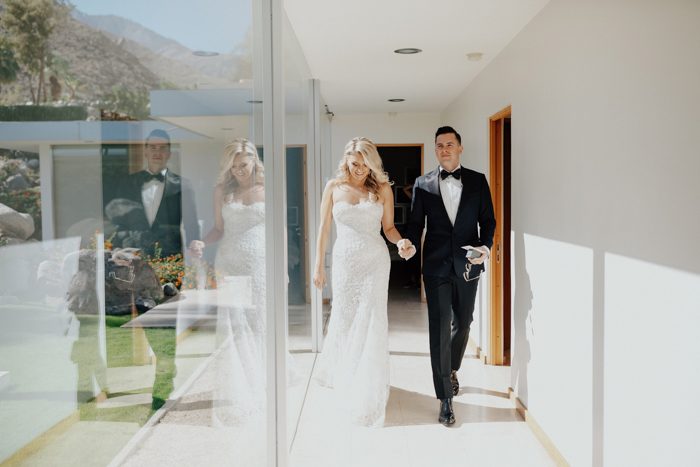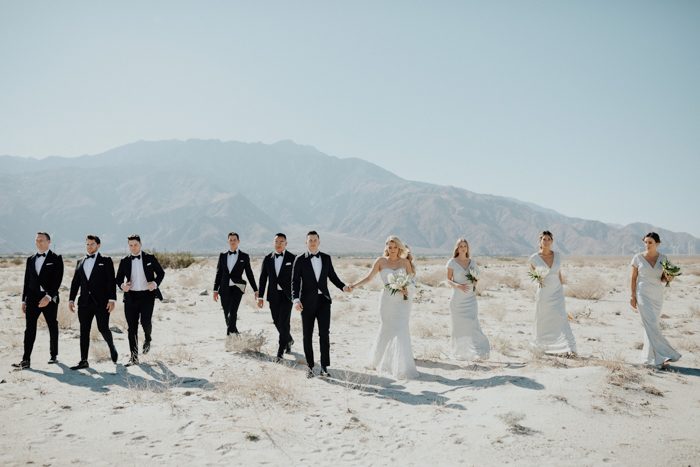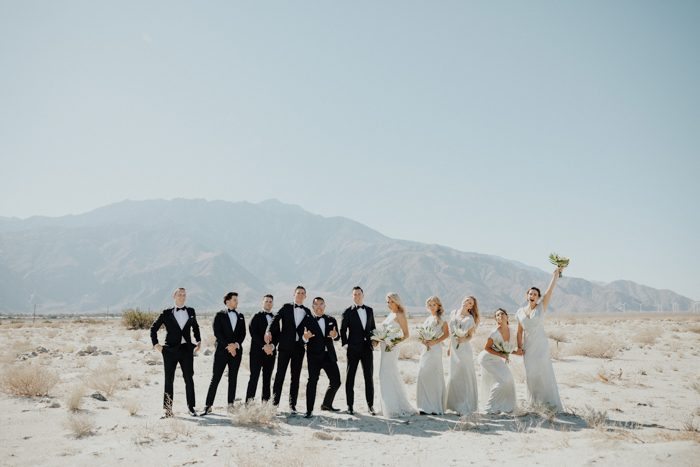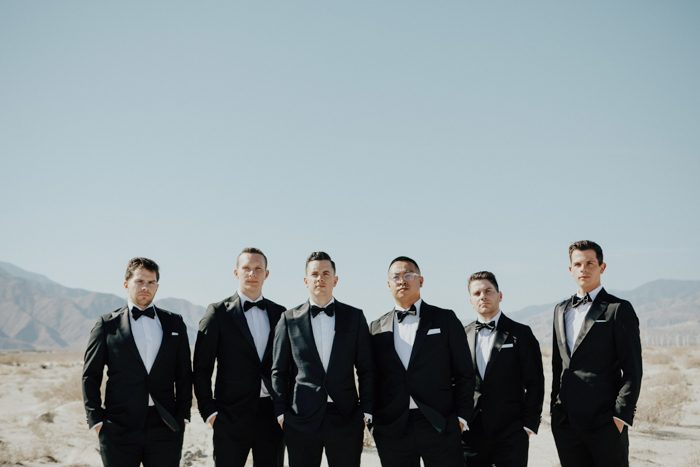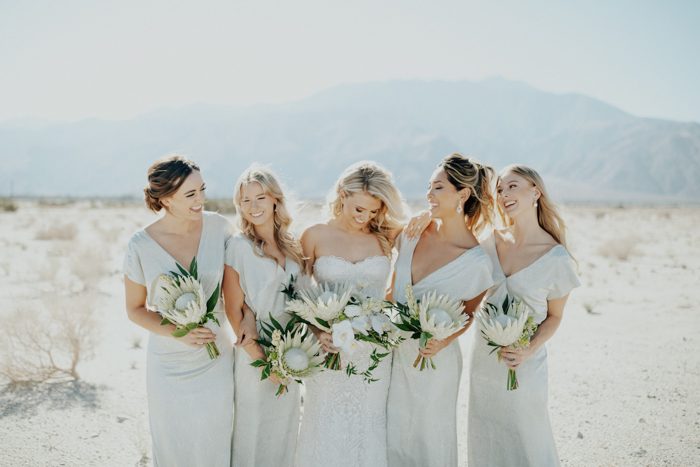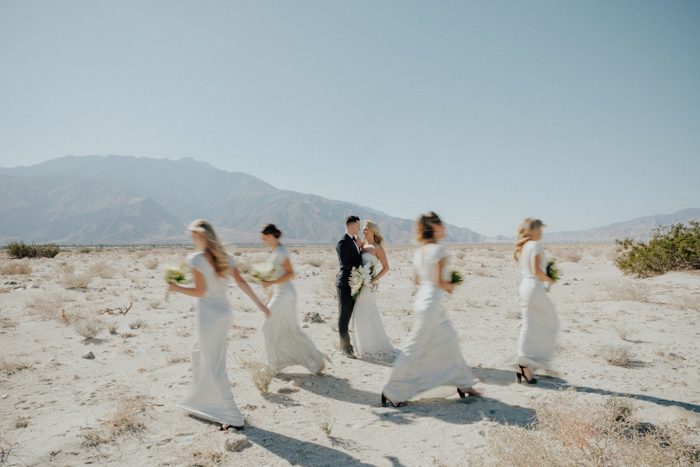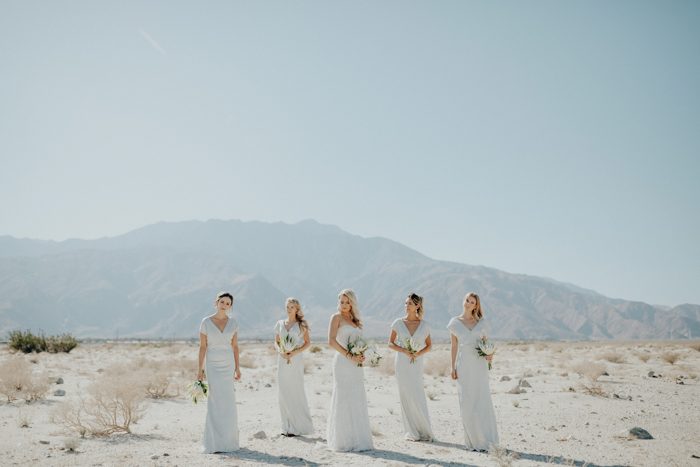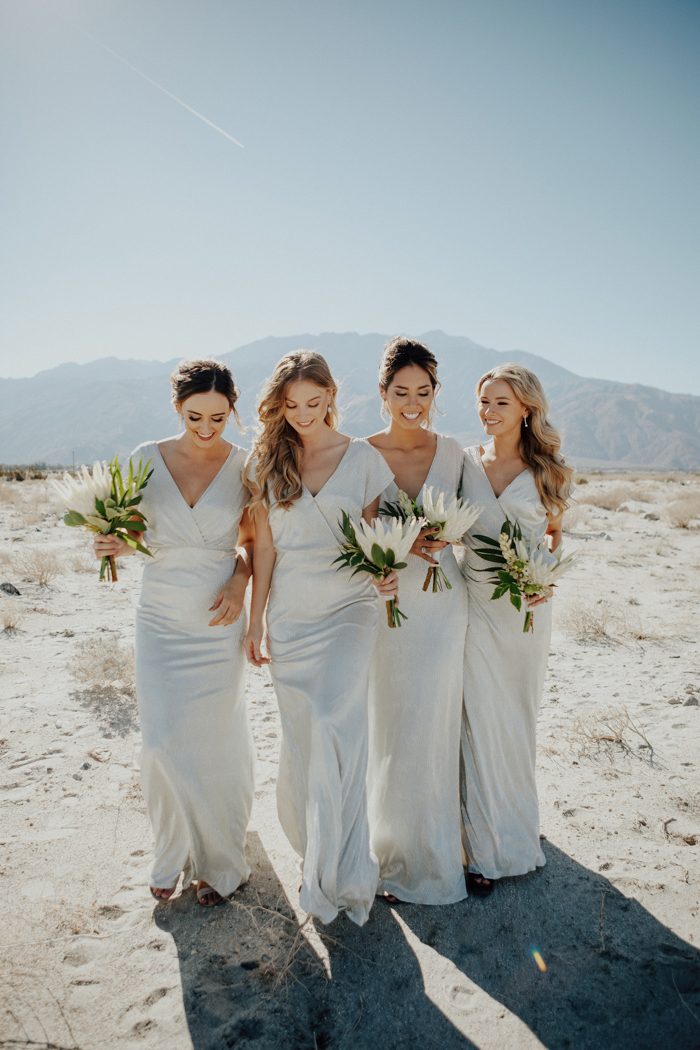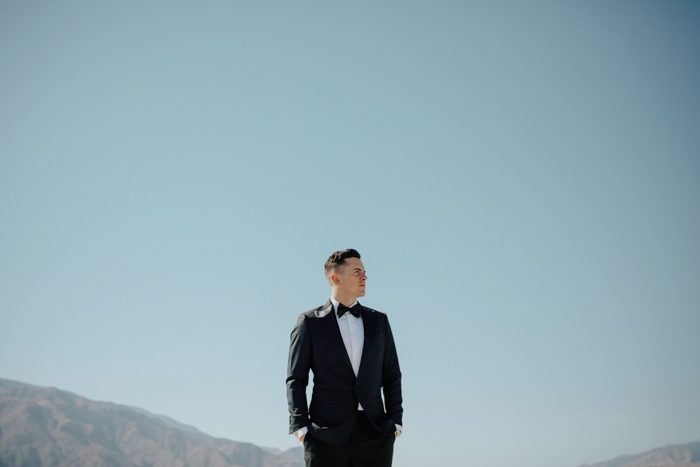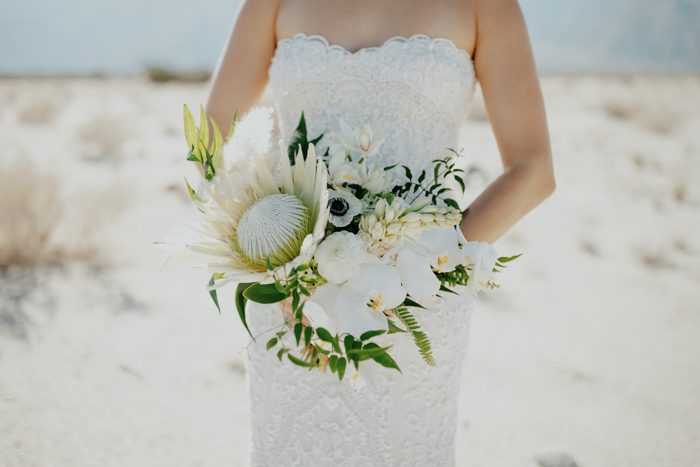 We are high school sweethearts, we had been together for 11 years at that point so there was a big build up to the day. It had to be off the charts. It was also so important to us to just have fun. I wanted to be able to enjoy every moment together. We wanted all the posed photos to be done before the ceremony, minus the few sunset shots so that we could enjoy cocktail hour and every aspect with our guests. We put so much thought into every little detail and I didn't want to miss a single moment of the day!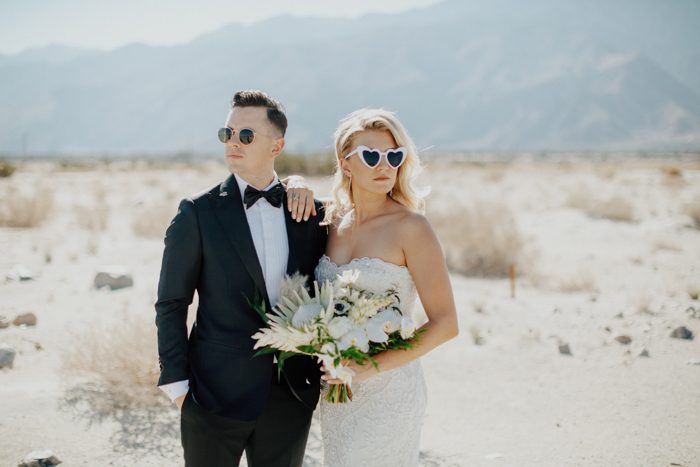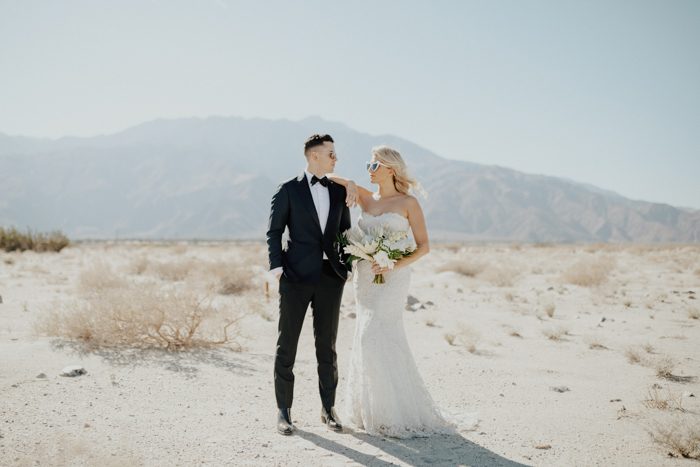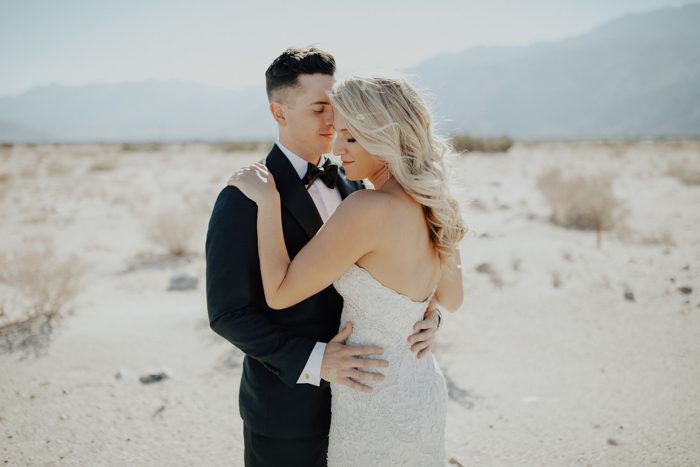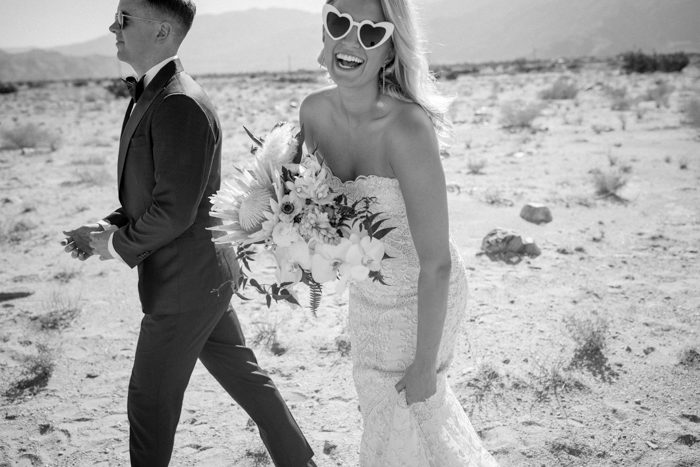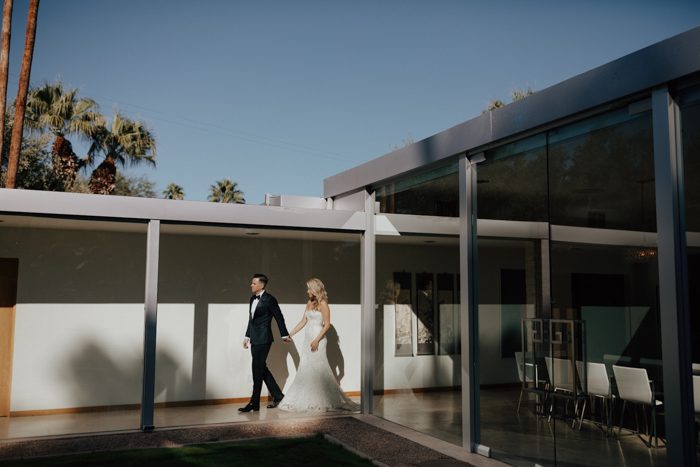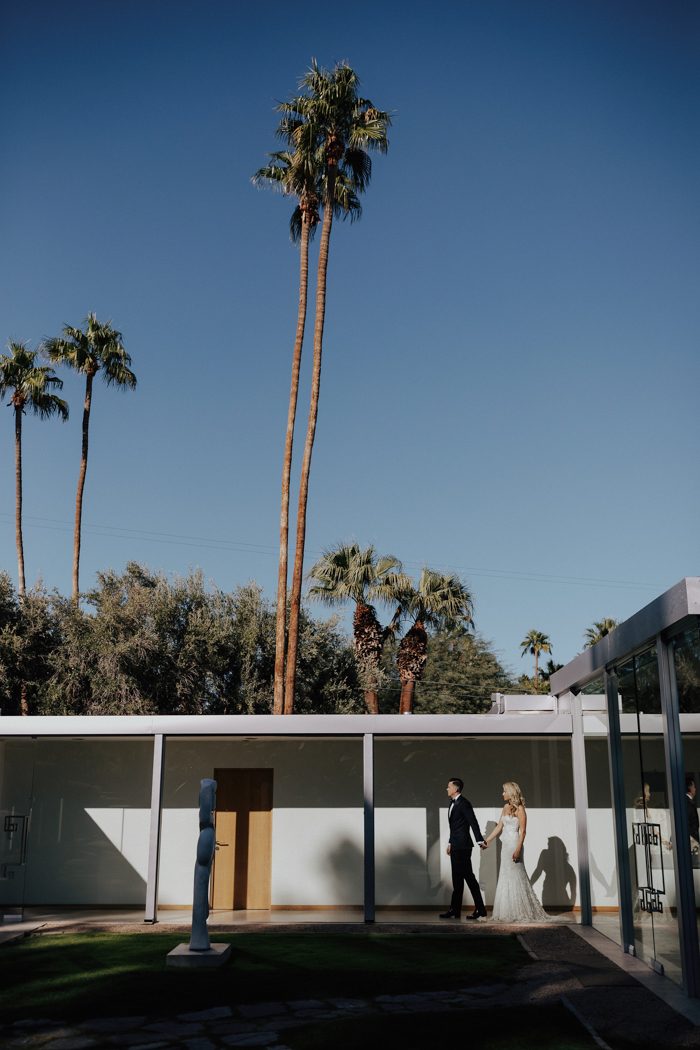 We like to think we were born in the wrong time. I love anything midcentury modern, and Luke loves playing classic vinyl. The whole goal was to mix modern, tropical vibes, and old Hollywood glam together. The venue itself lended the perfect backdrop, midcentury modern glass bungalow (can I move in tomorrow?) looking over the mountains, surrounded by palm trees. Shindig Chic added a slight tropical twist in the florals with big green palms and white orchids.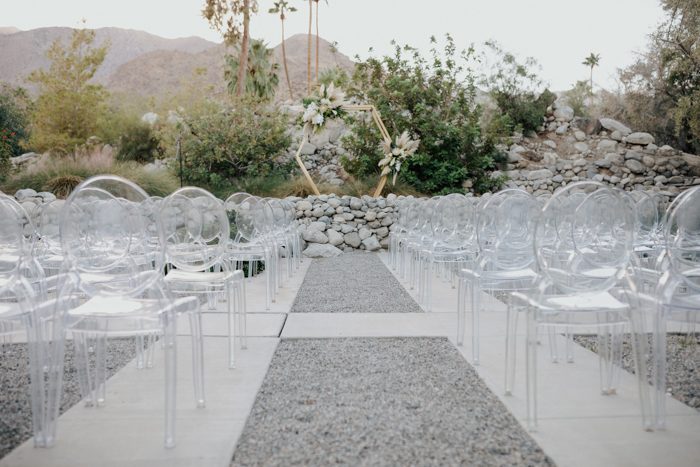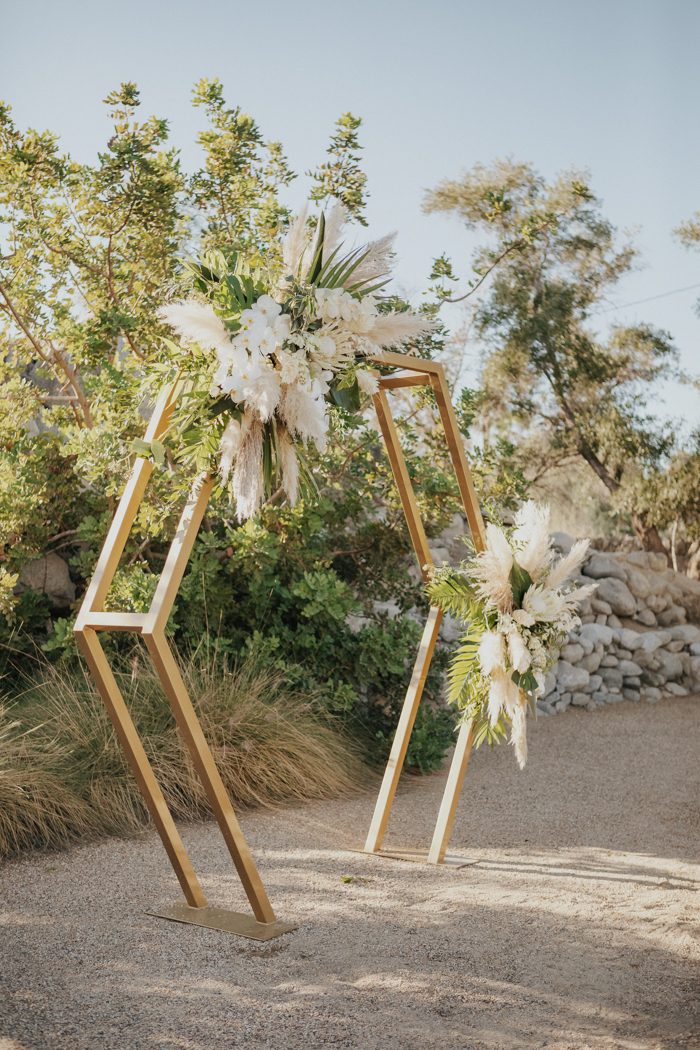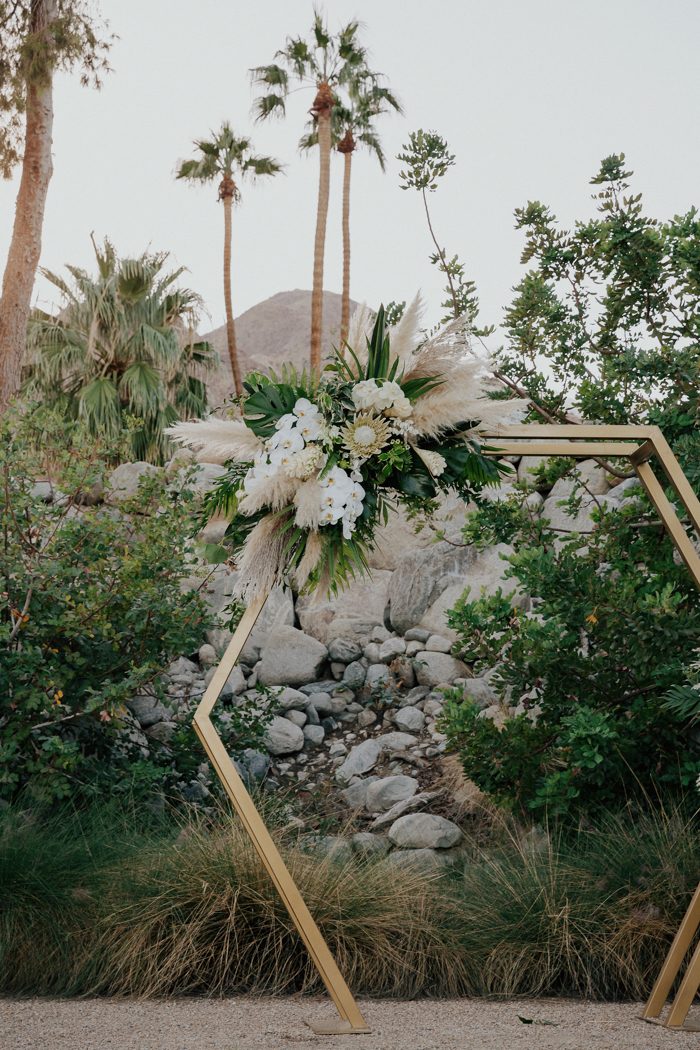 We had all of our guests wear black. We had a pretty strict dress code. We wanted everyone to be apart of our theme of black/tropical green/gold. So my bridesmaids wore silver/white to stand out, my mother wore white to match me, Luke moms wore blue with him & all other guests were in black!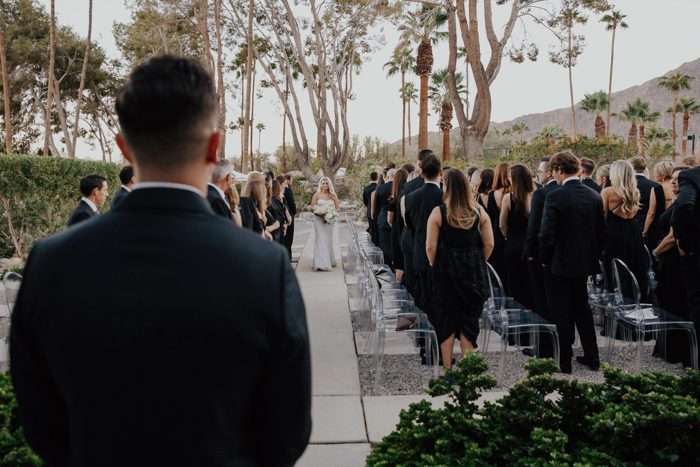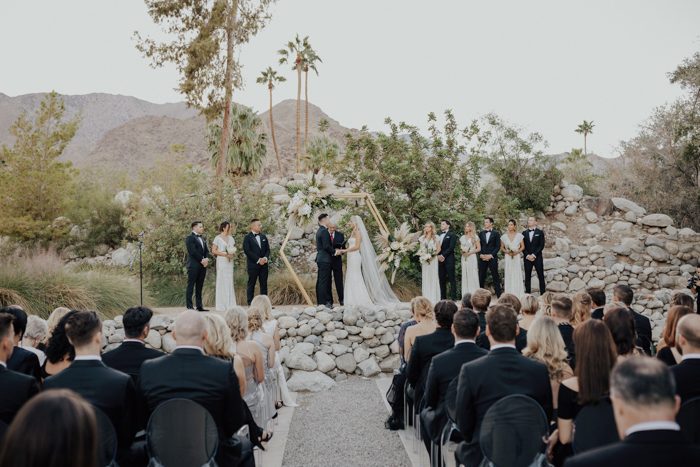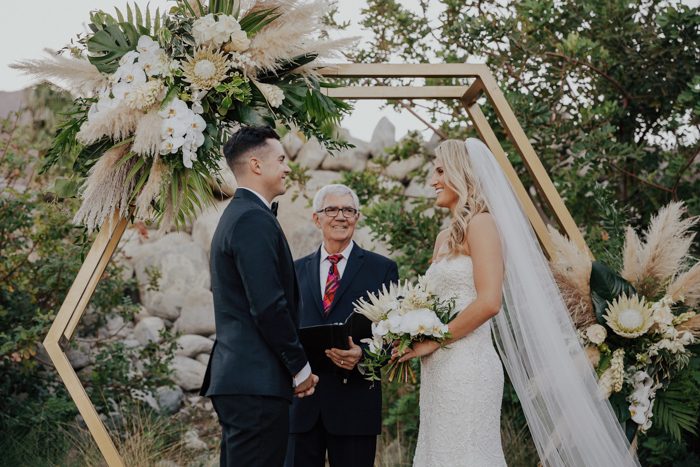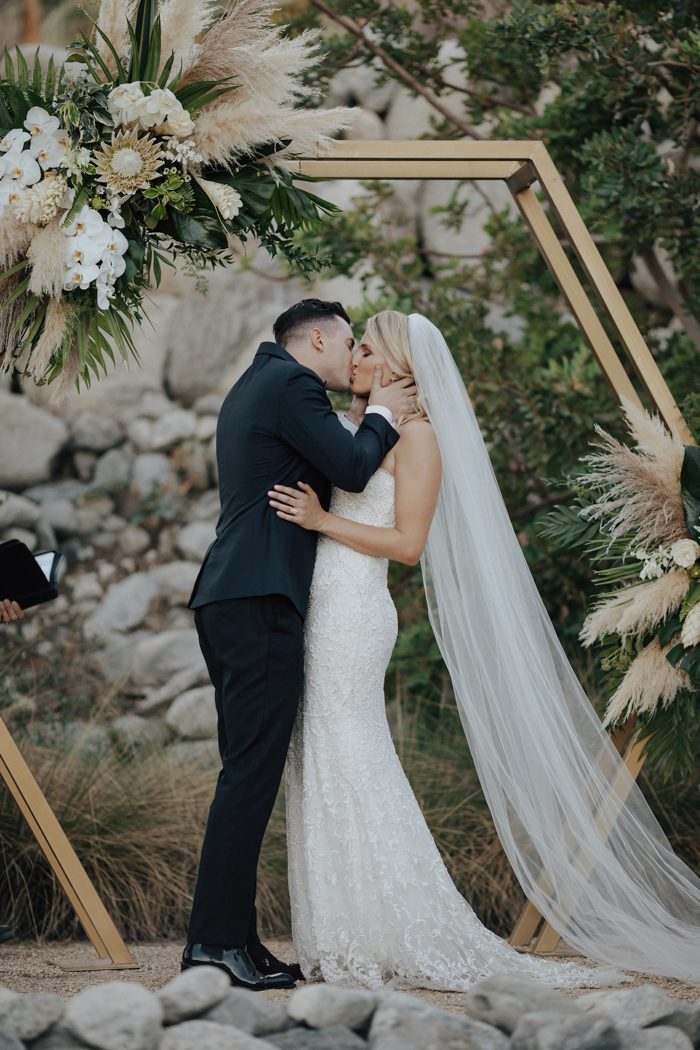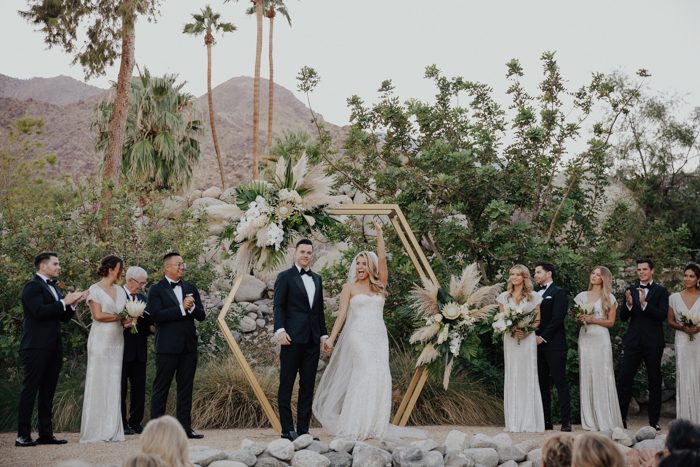 AUBREY FROM DETAILS DARLING IS AN ANGEL!!! She was such a dream to work with, the entire planning process felt like I was working with my best friend. She knew how to take our vision and really bring it all to life. When she asked about us in our design meeting about how people would describe us my mom jumped in and said "Well Luke is a geologist and Kara loves diamonds!" Aubrey knew we had to play into this unique career and came up with the concept of "You're My Rock" for a glamorous, gold fringe seating chart display. Guests found their names and table assignments listed on mini rock candy sticks that they took home as favors. The dinner menus were cut out in diamond shapes and small white geodes were placed on the tables + around the bars.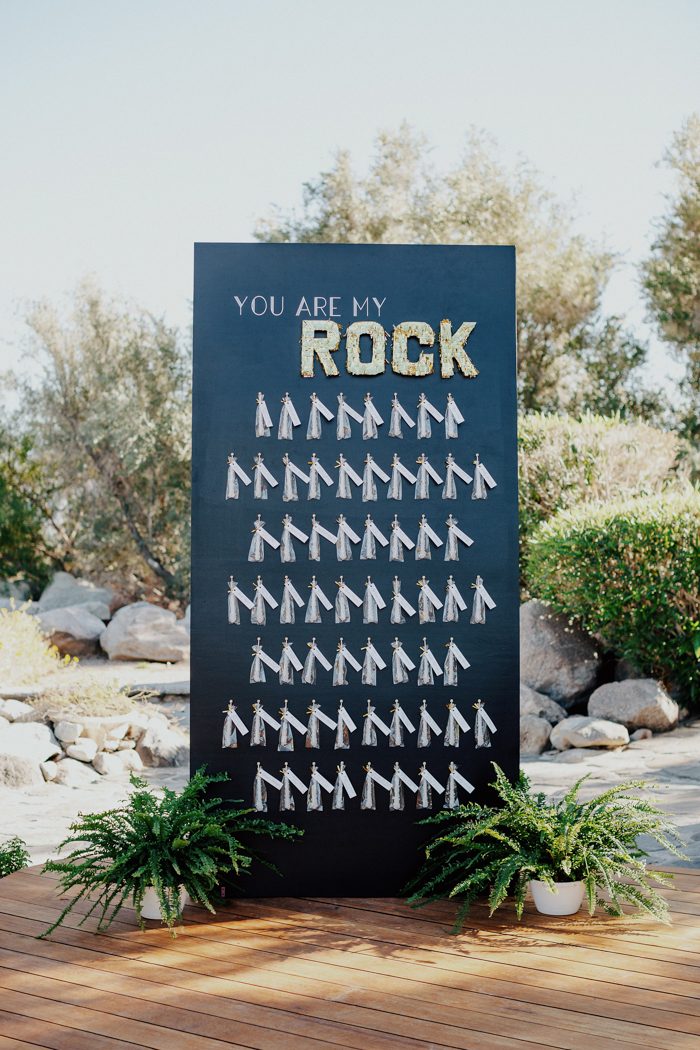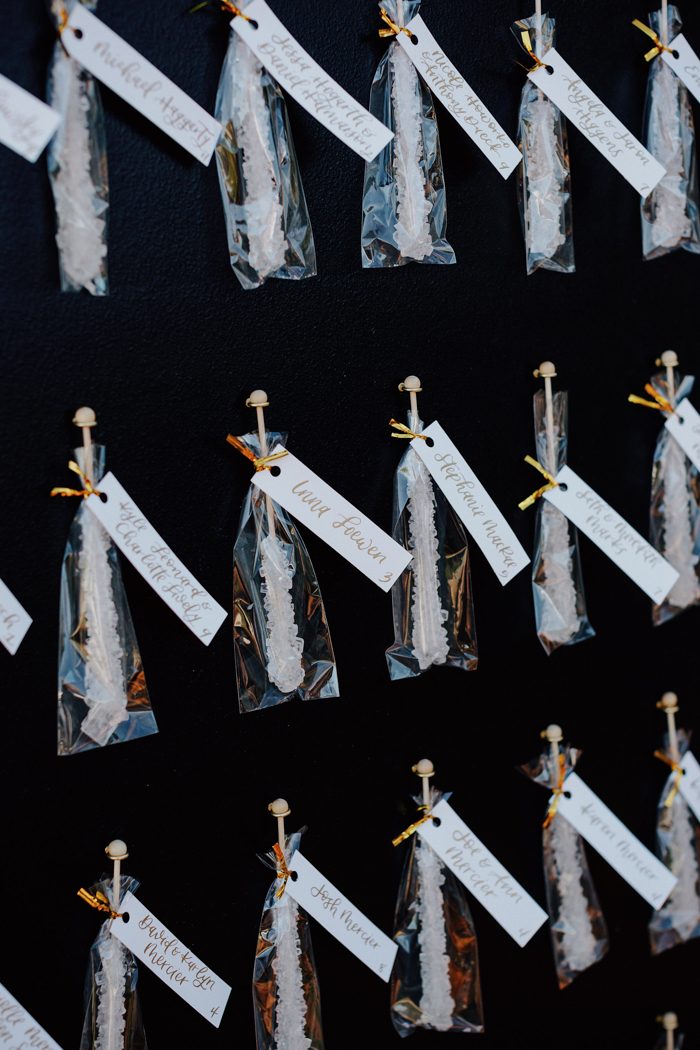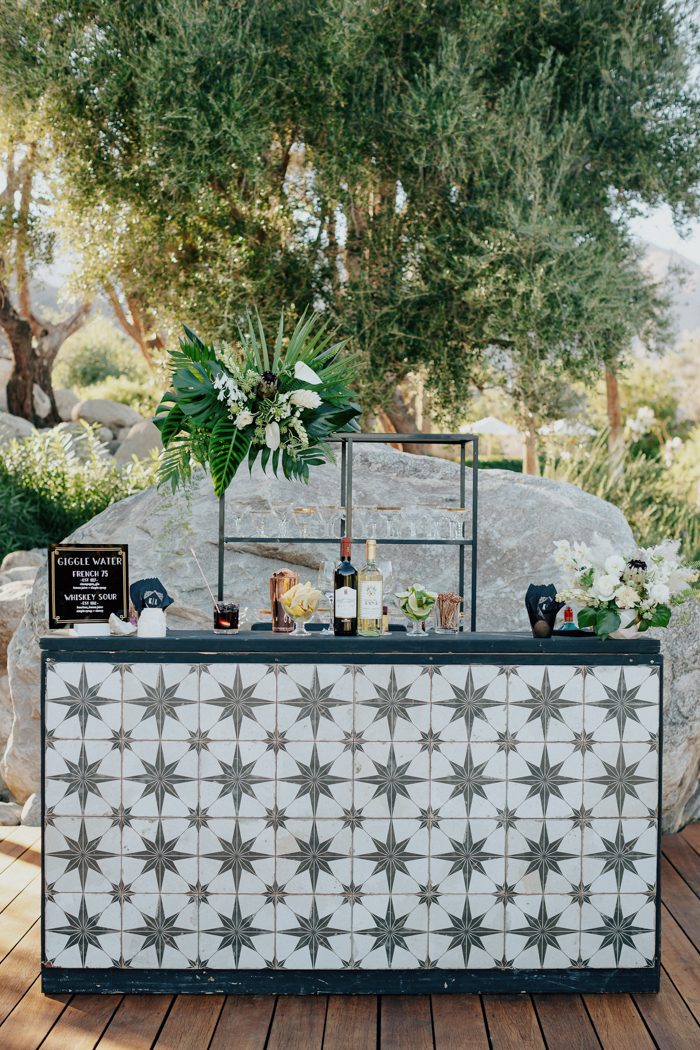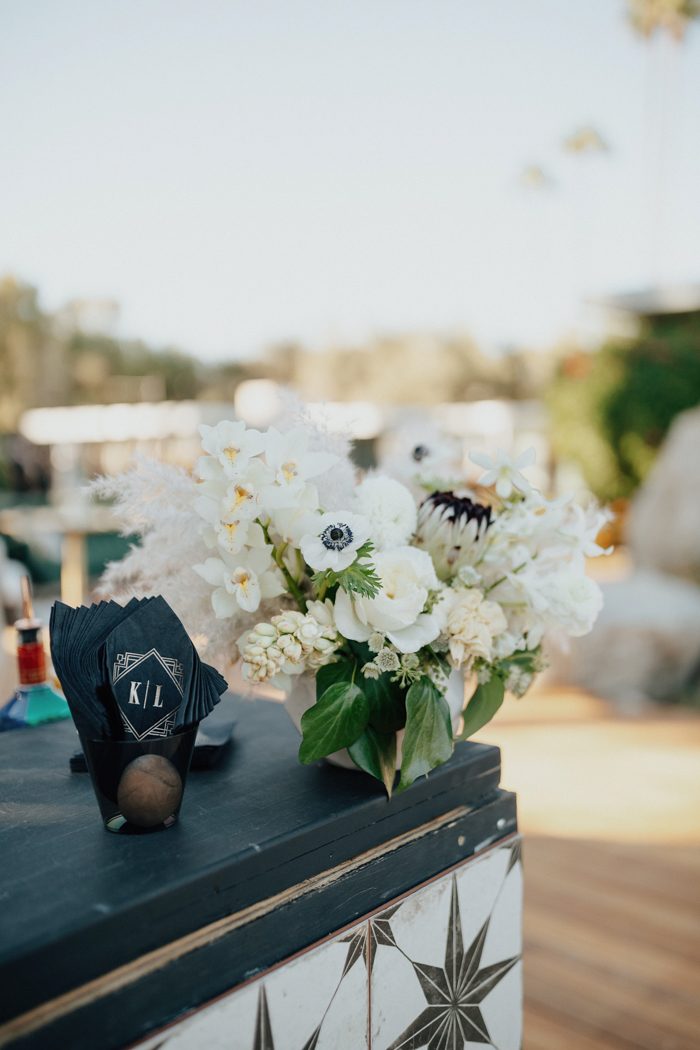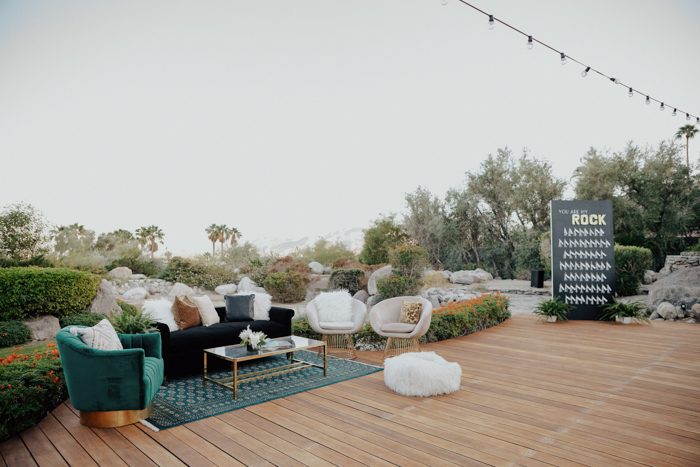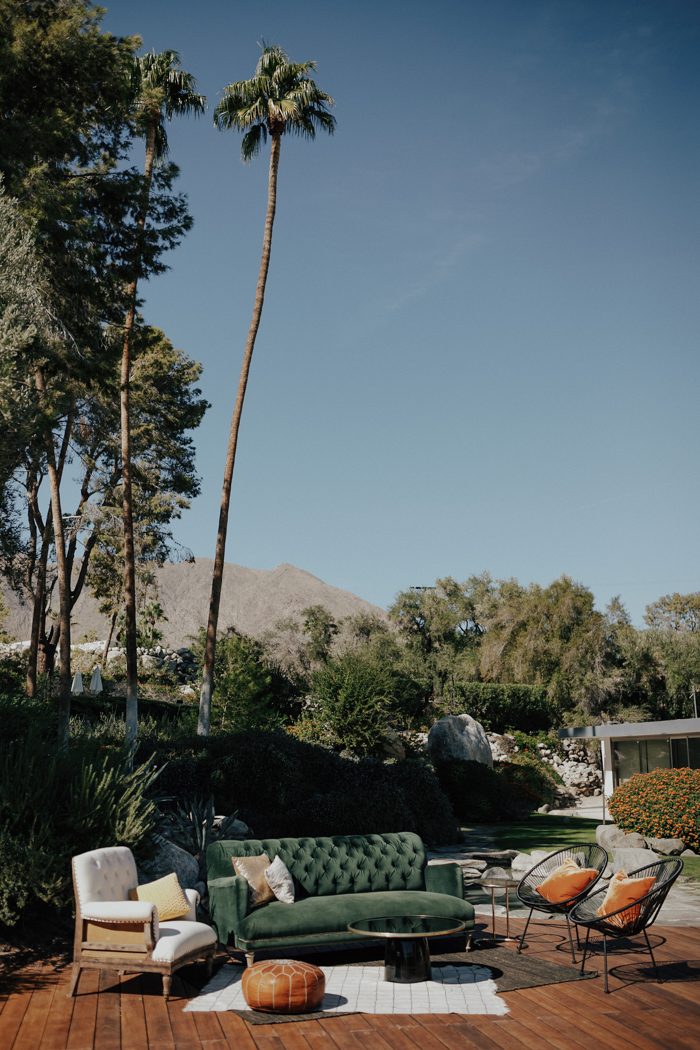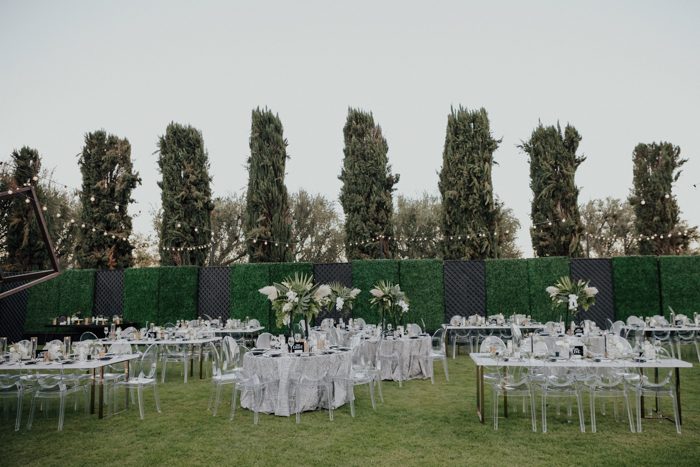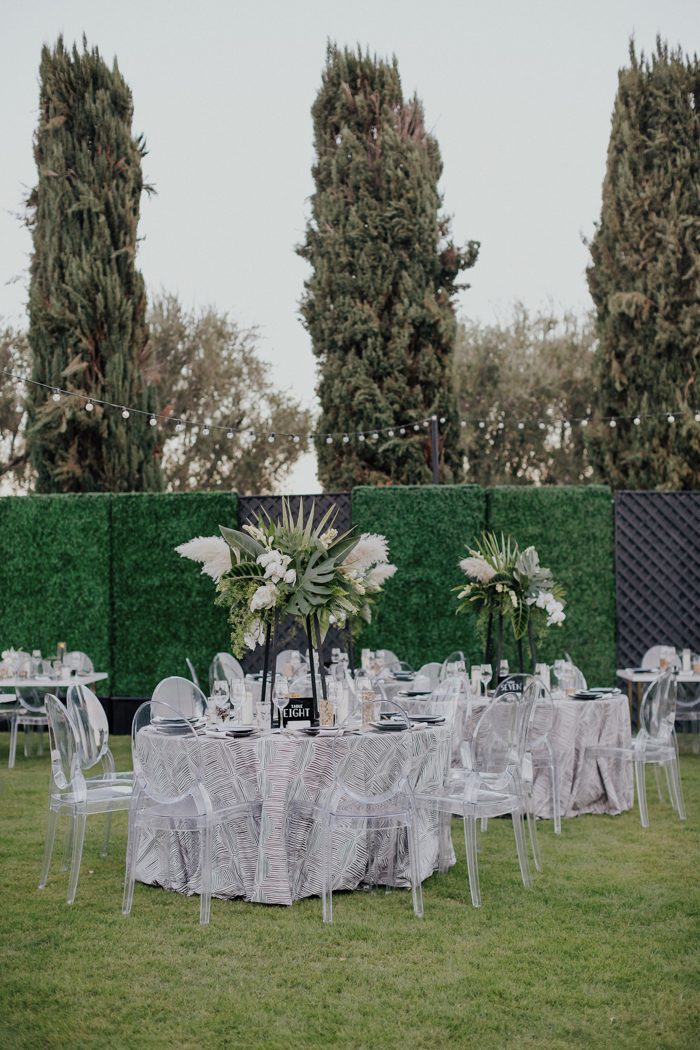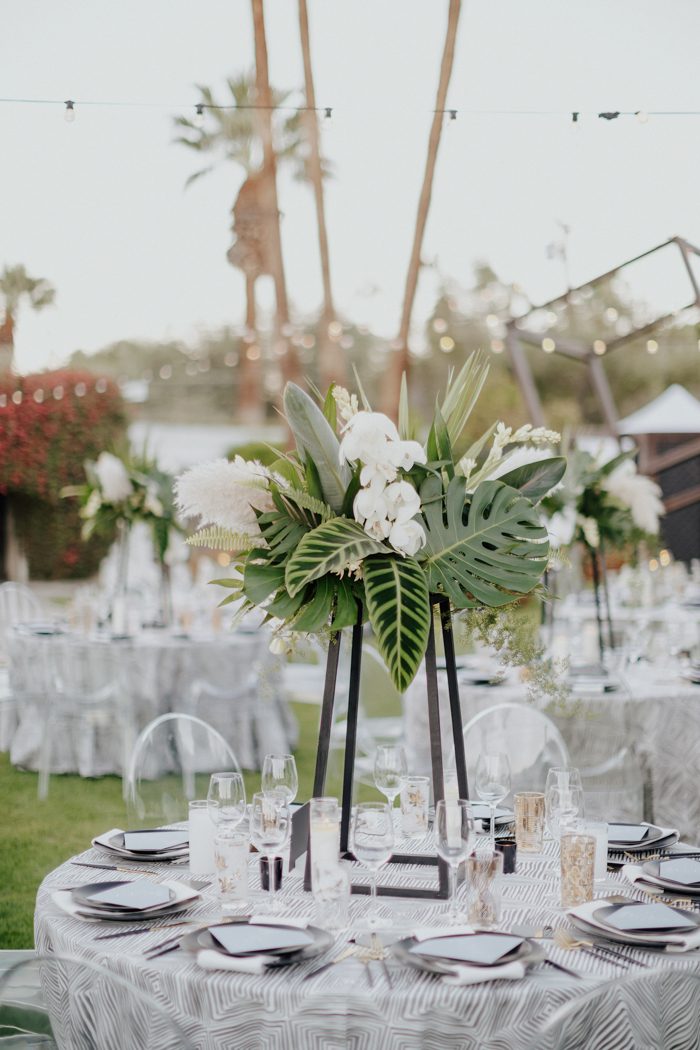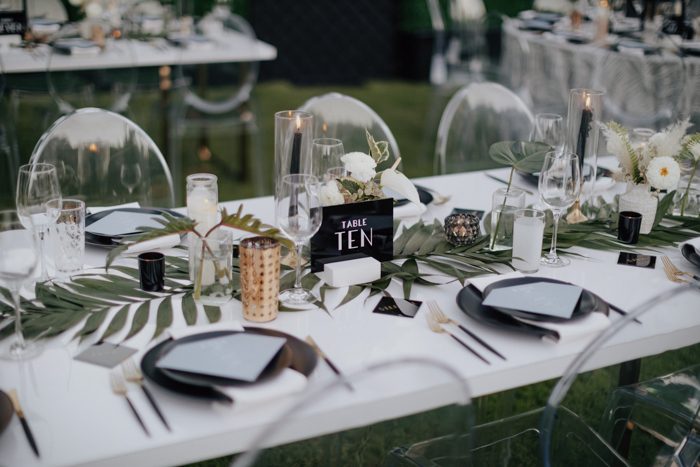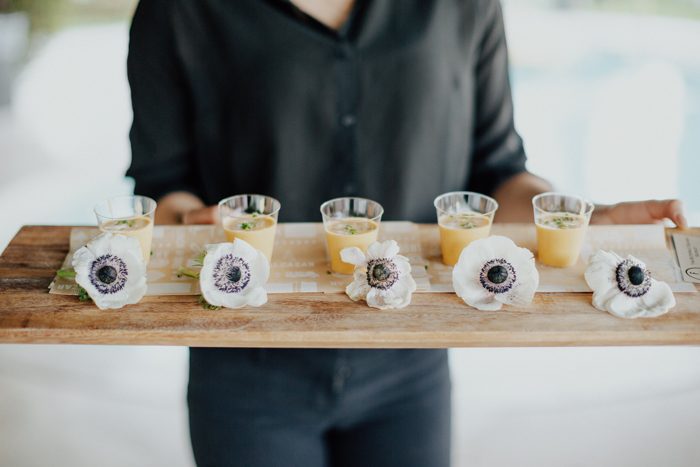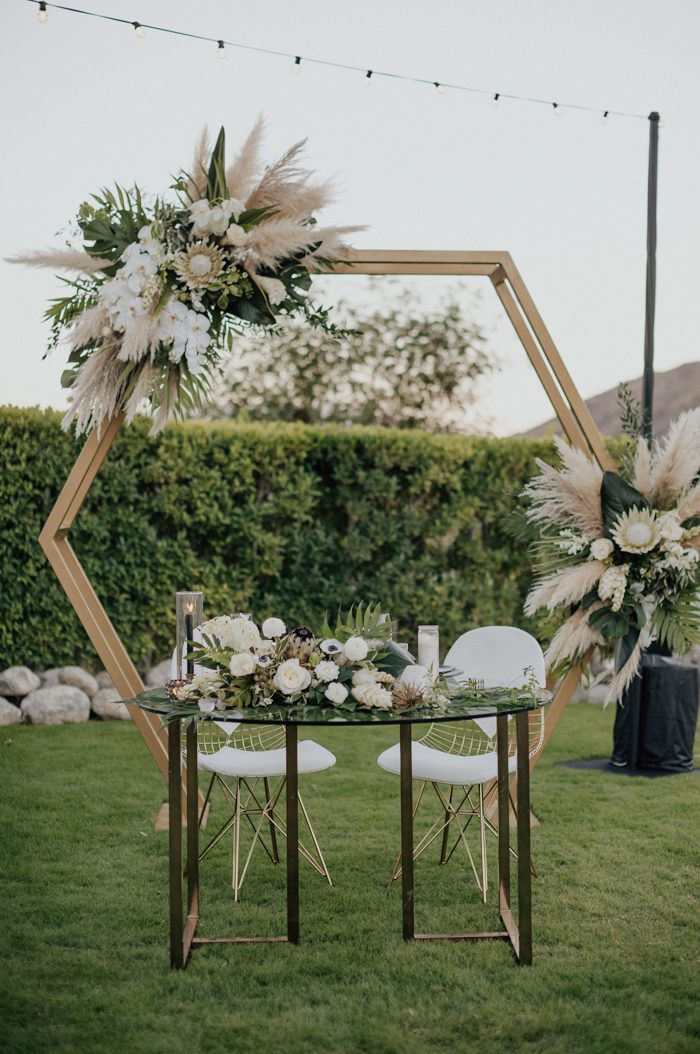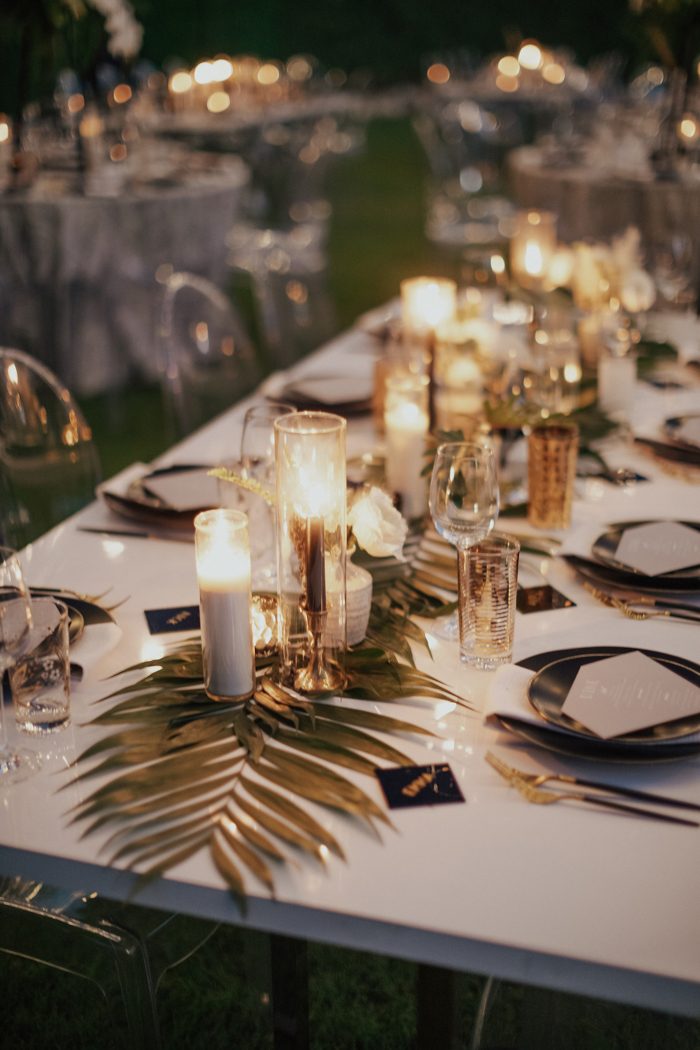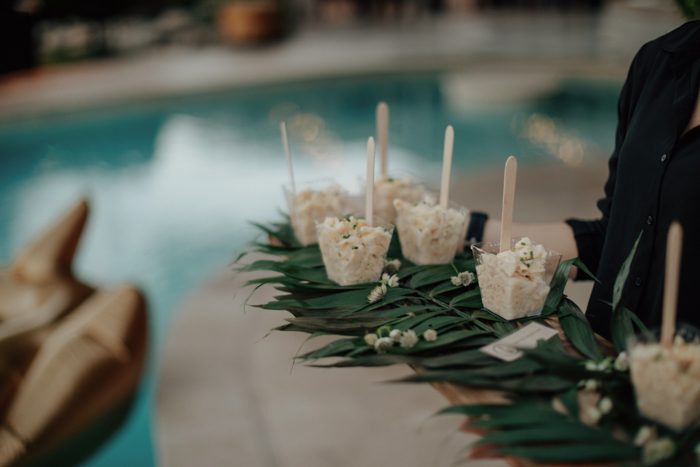 Wedding planning advice from the bride: Don't forget that at the end of the day, it really is all about you and your new husband/wife. You're never going to please every single person. So do what you want, soak up every moment, and have no regrets! Don't let the little things overwhelm you, it's all going to be perfect in the end.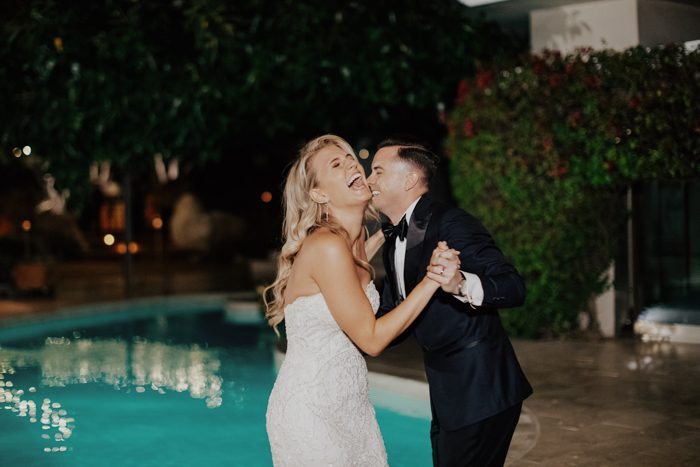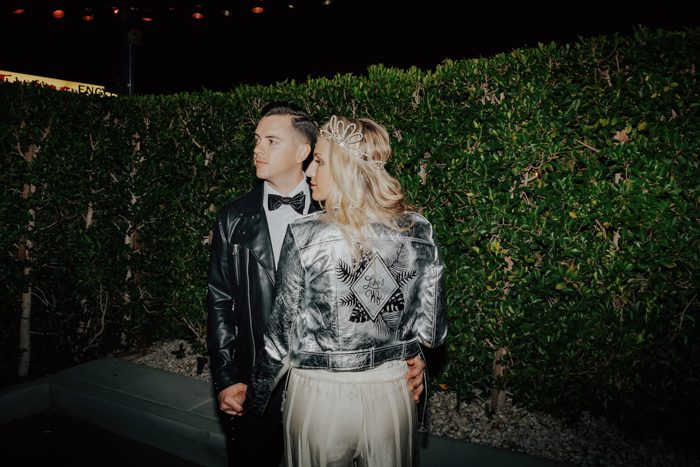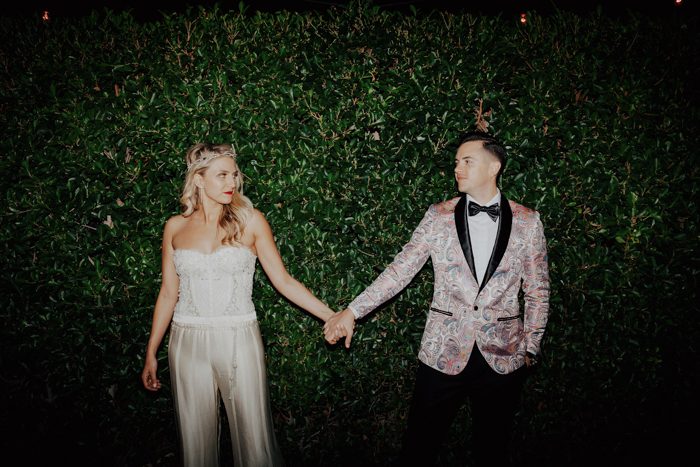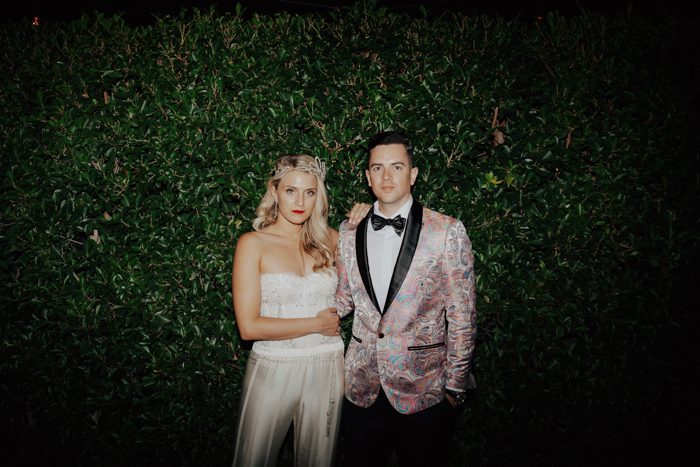 Our wedding video just blew us away. Whenever we watch our video it takes us right back to every moment of the day. We've had strangers reach out to us & tell us they cried watching it not even knowing who we were!
Karaline and Luke, you two are the coolest. Congratulations on your rad Frederick Lowe Estate wedding! For more Palm Springs wedding inspo you definitely want to see Maragret & Stefan's day at the Ace Hotel & Swim Club.