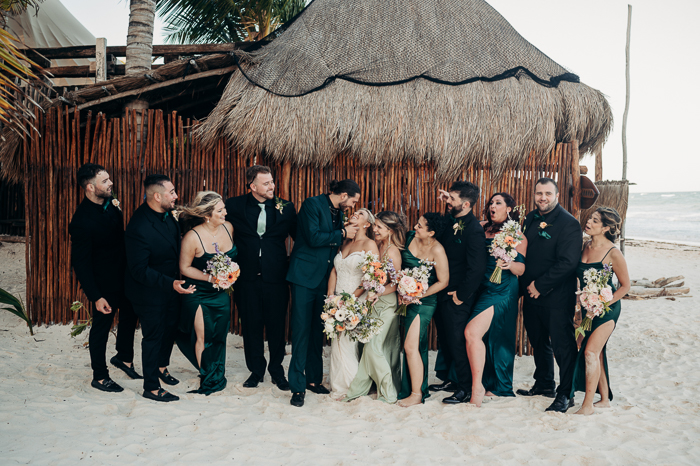 If breaking with tradition means that you can personalize your wedding and make it more reflective of your personality and style, then we say go for it! And this was precisely Alexis and Timothy's vision for their Akiin Beach destination wedding. Filled with personalized touches and sentimental details—from the birthstone color palette and DIY elements to their five officiants and a private dance on the beach—their nuptials beautifully reflected their ten-year love story.
Held in the middle of the Mexican tropical jungle, their ceremony at the hidden arches of Arcadia was truly one-of-a-kind. Spectacular ground arrangements and an installation of blooms at the altar complemented the feel of the location. And their reception in Akiin Beach echoed the same romantic atmosphere. On the beautiful white sand beach, with waves crashing in the background, they enjoyed a night of dining and dancing in the palapa under the soft glow of lights.
The talented Junebug member Julieta Rabadan captured the breathtaking scenery, the intimate atmosphere, and the love and joy that radiated from the couple. So keep scrolling and let yourself be transported to this dreamy destination wedding!
The Couple:
Alexis and Timothy
The Wedding:
Akiin Beach, Tulum, Mexico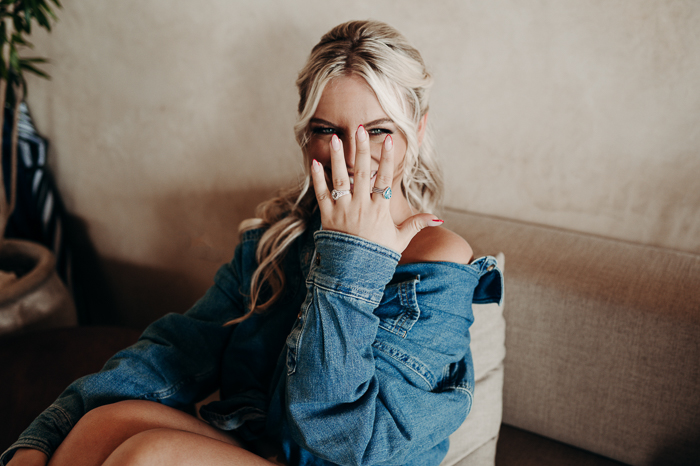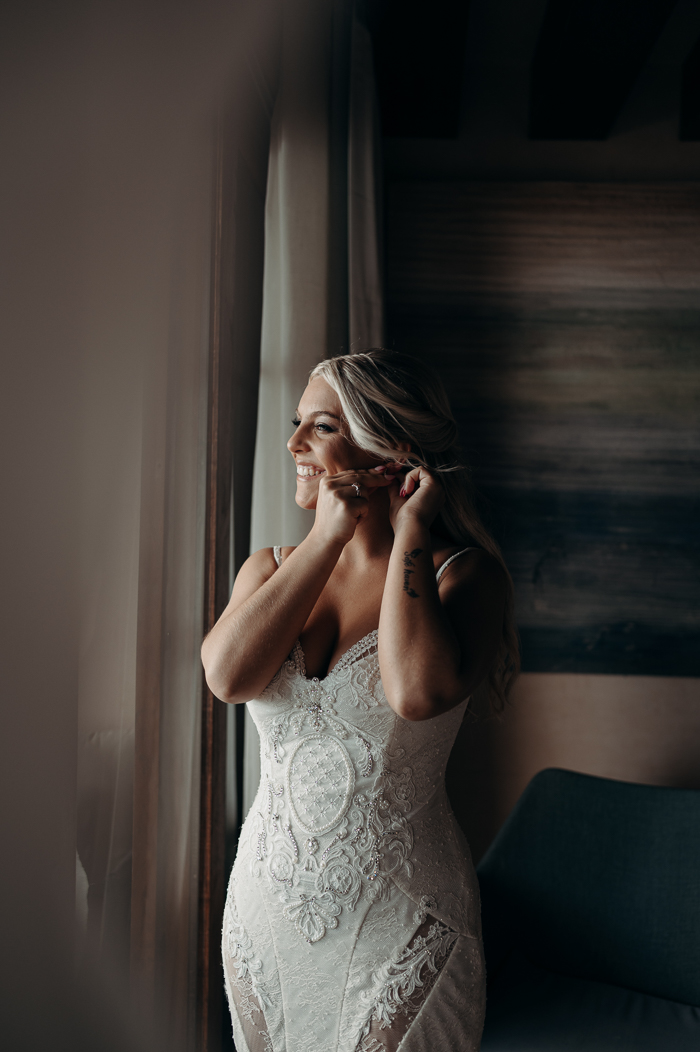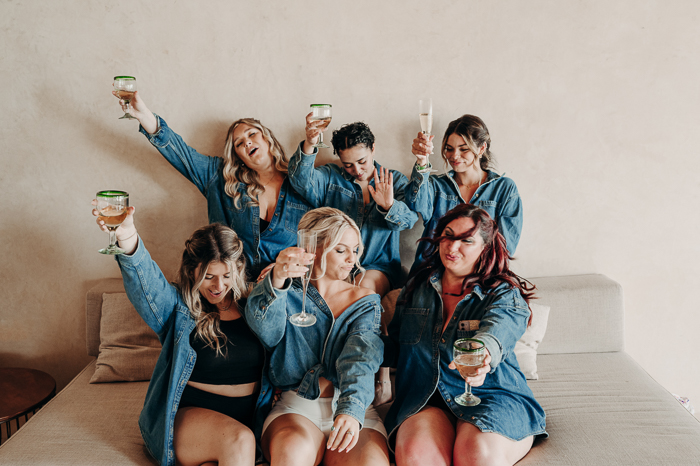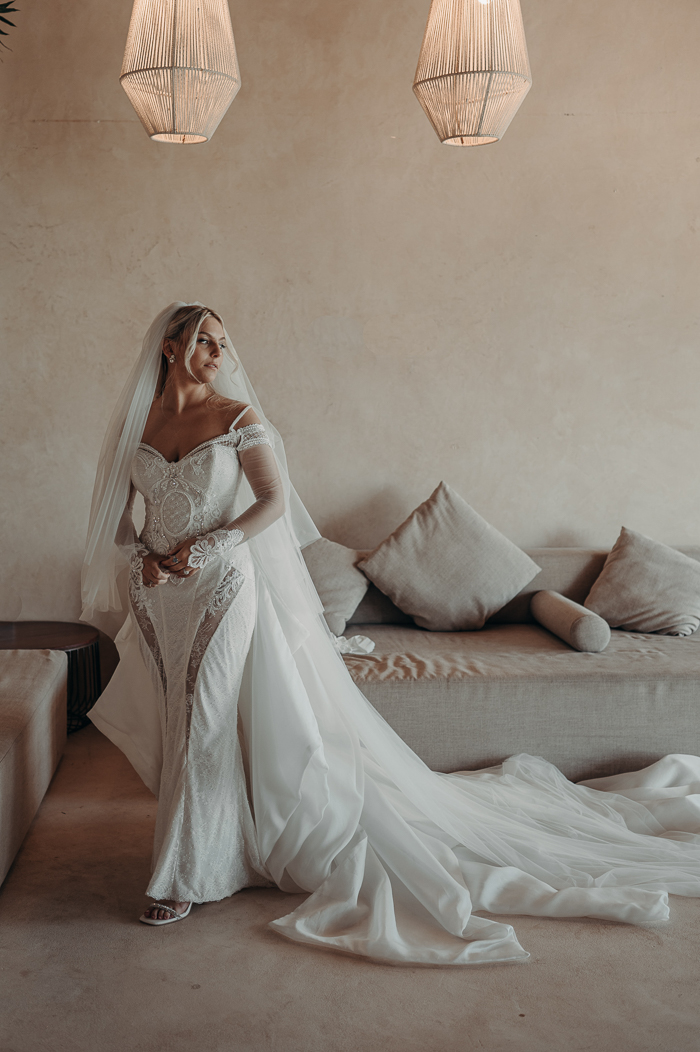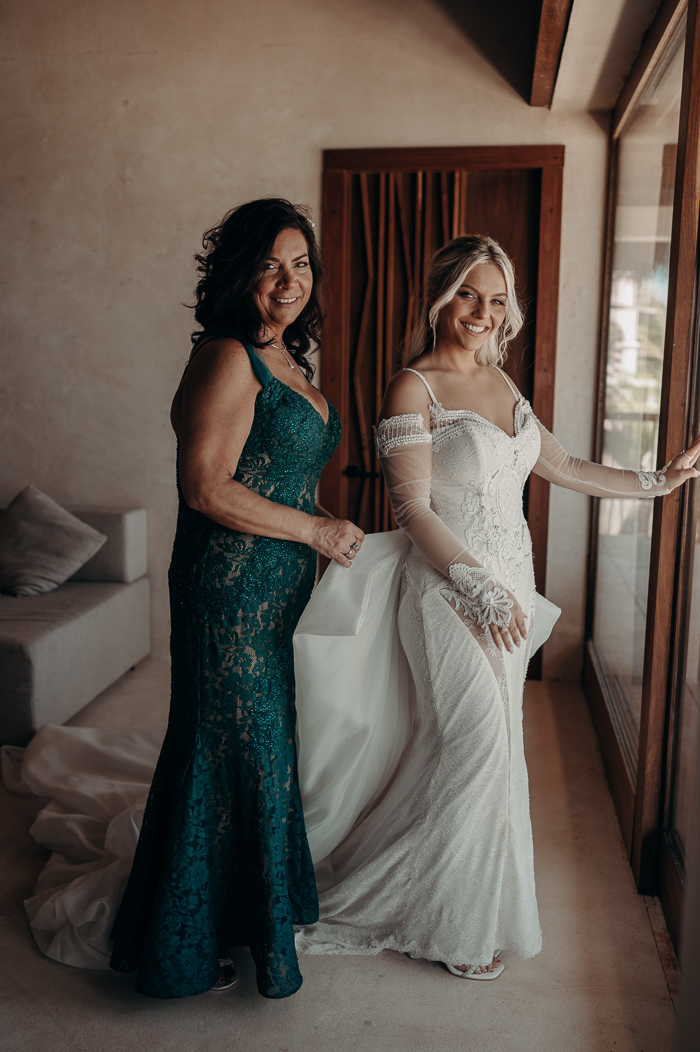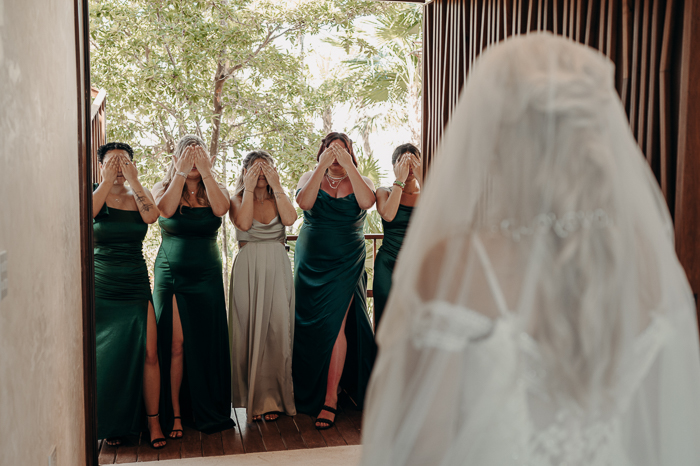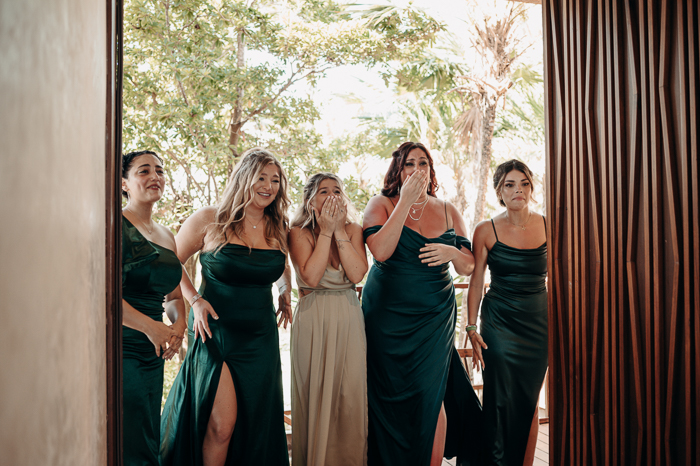 The Sweet Reason Why They Chose Their Birthstones To Set The Tone To Their Akiin Beach Destination Wedding
Our wedding planning was quite chaotic, as I was always looking to be unique, and adding sentimental details was essential for us. Our wedding had to feel like home—comforting and intimate. Being together for ten years made it impossible to capture the love. I'm also indecisive, so I went the sentimental route with the color palette and picked emerald green, my birthstone. And diamond is my husband's, so we also did silver. I have to give a lot of credit to my florist Frida Flowers. All of the guests were blown away by the flowers at Arcadia, where we held our ceremony, as we had two different locations.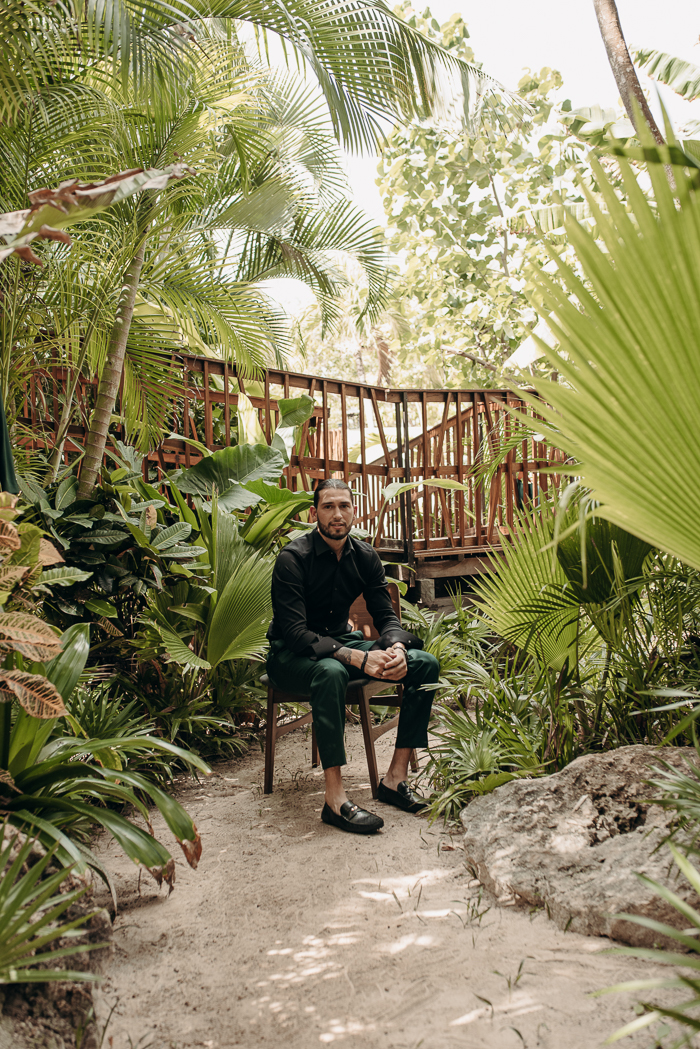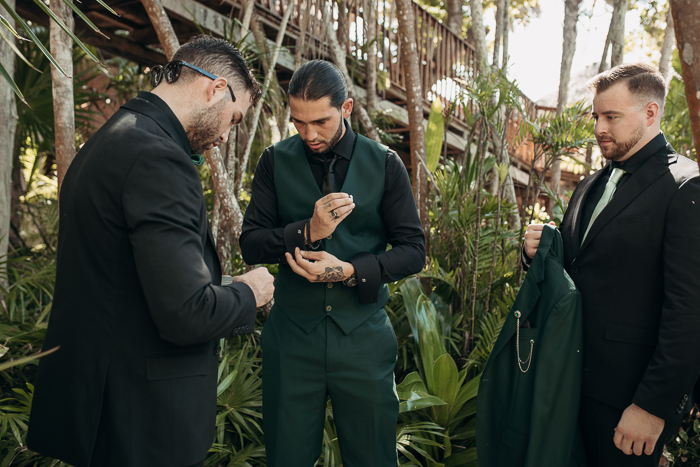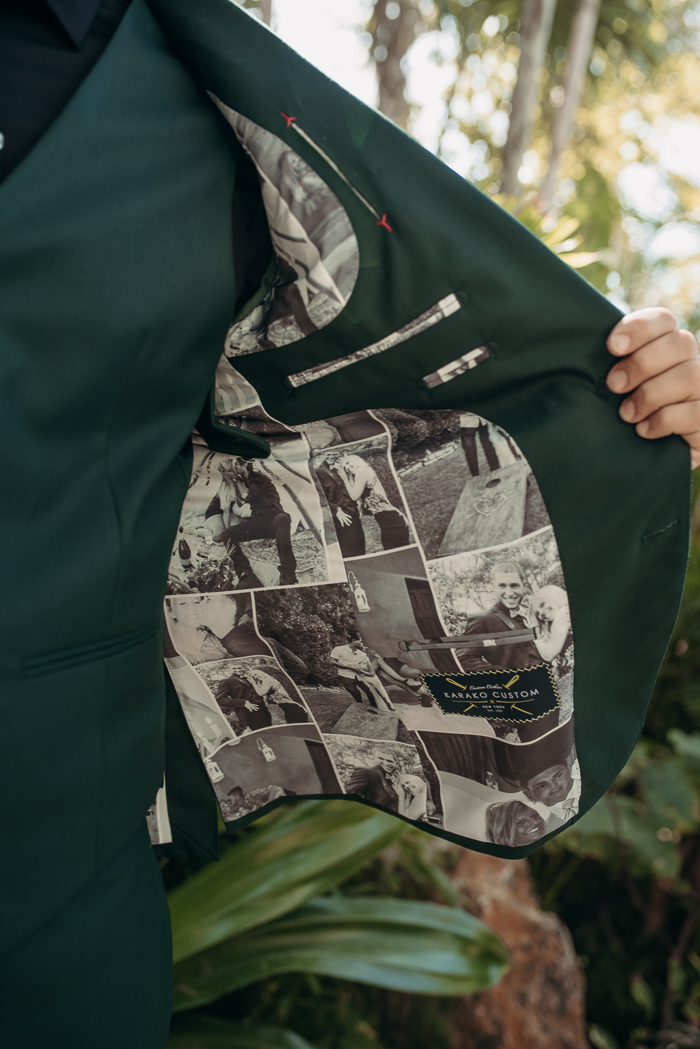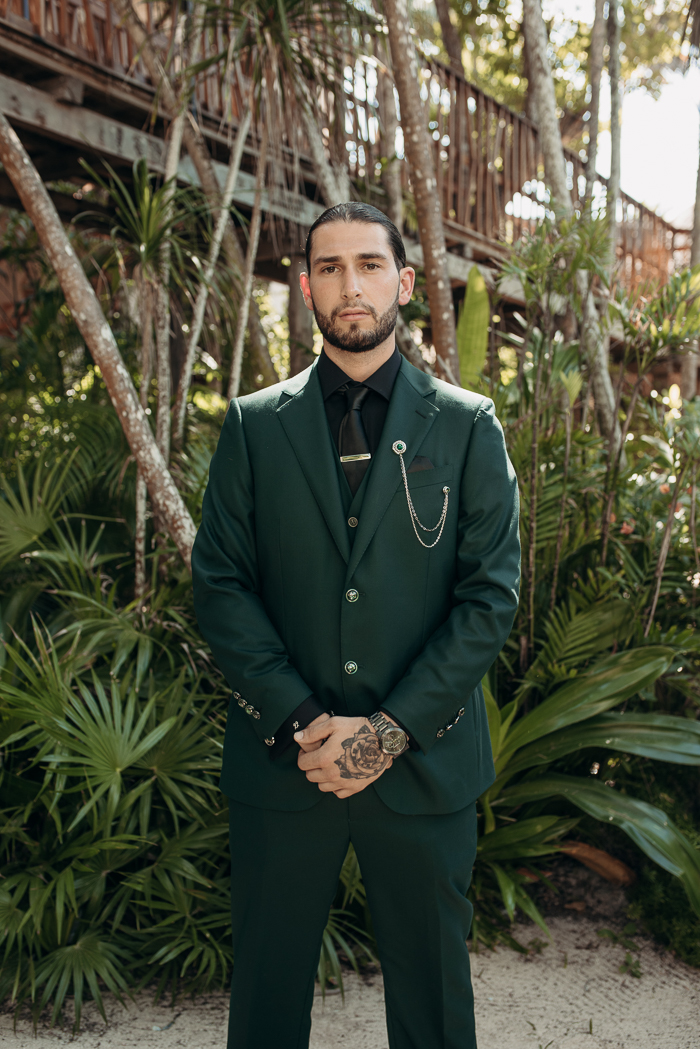 Having Five Officiants For The Ceremony
Having five officiants was a last-second crazy idea. But the whole time we were engaged, we couldn't find anyone to marry us as I didn't feel comfortable picking a stranger. We wanted someone who had been with us over the last decade and cared for us as a couple. So we had five officiants and expected nothing except for them to be their real authentic selves. Our officiants were all family members. It was so special. Especially at the end when they all said, "You may now kiss the bride!"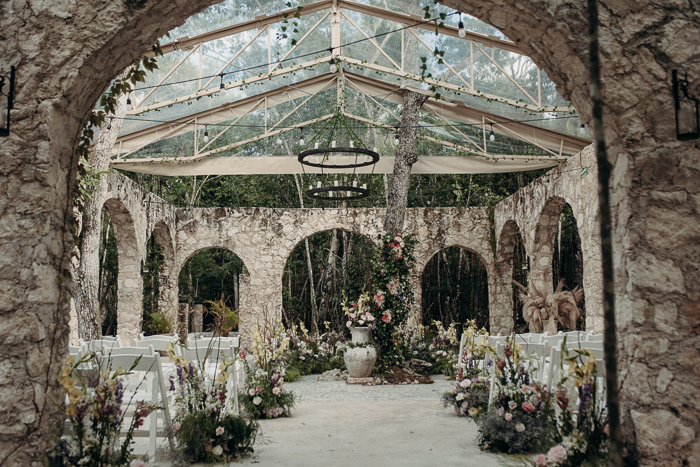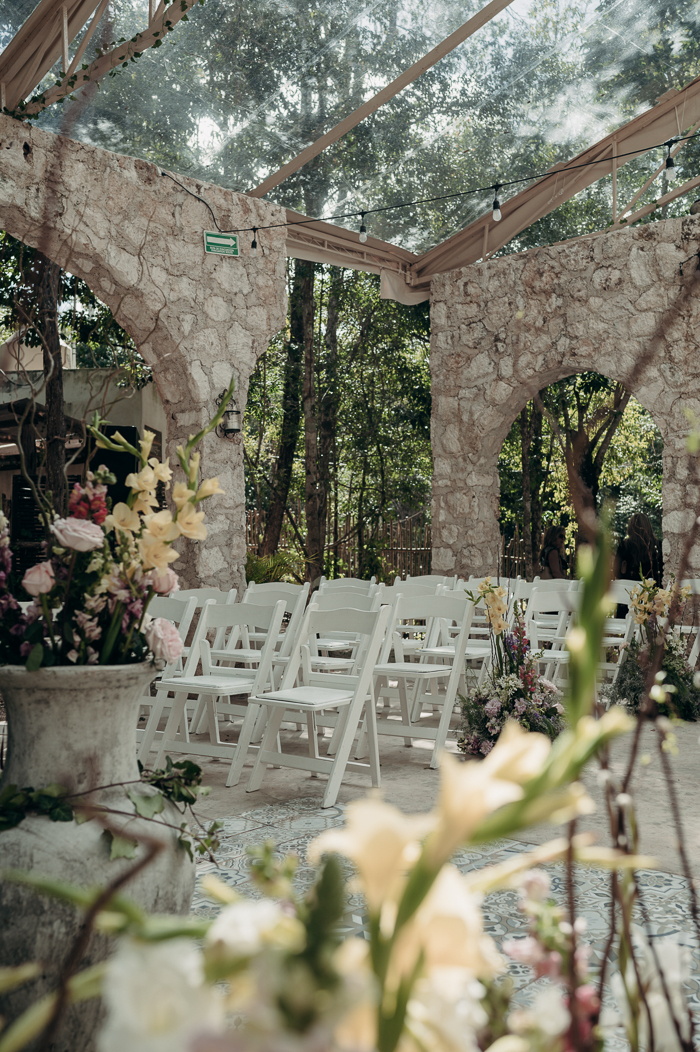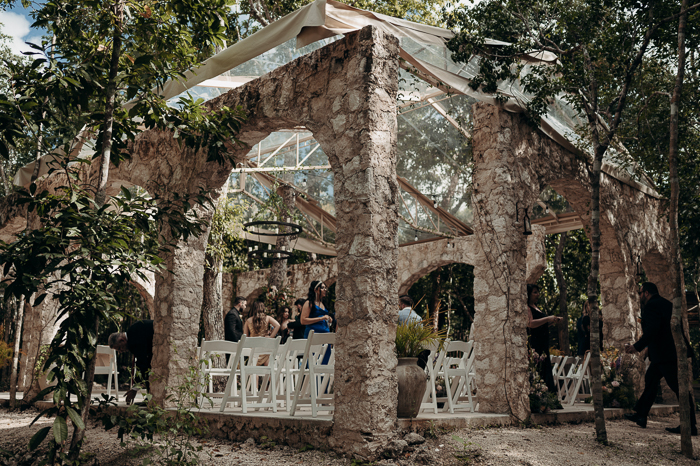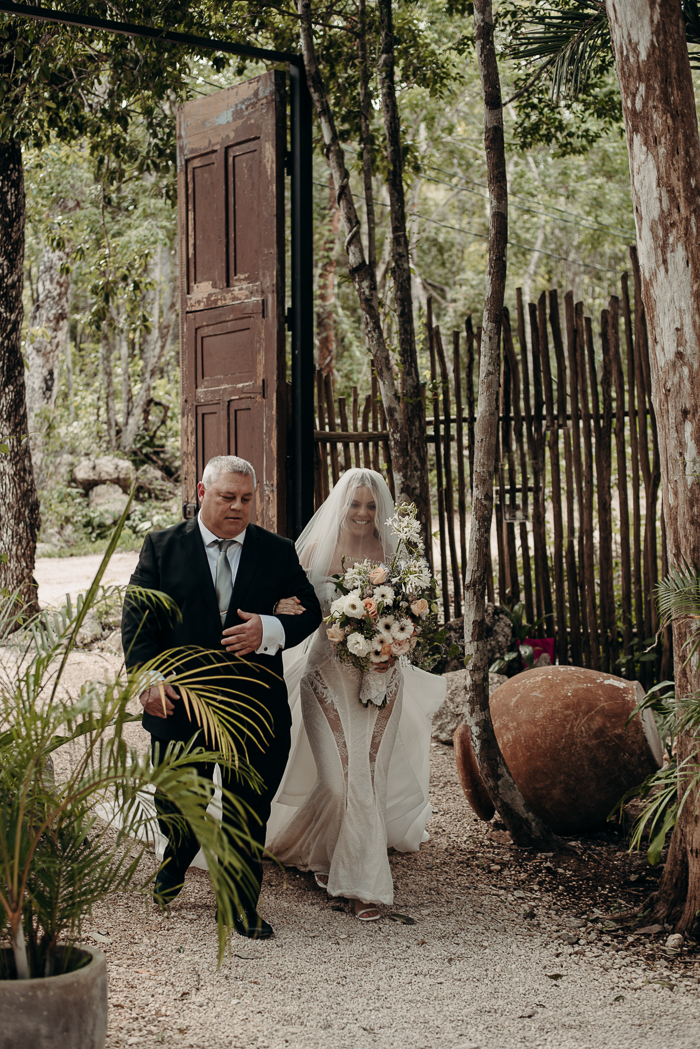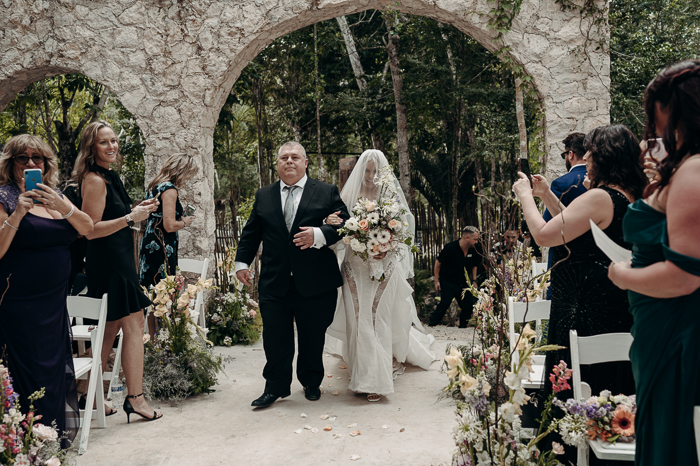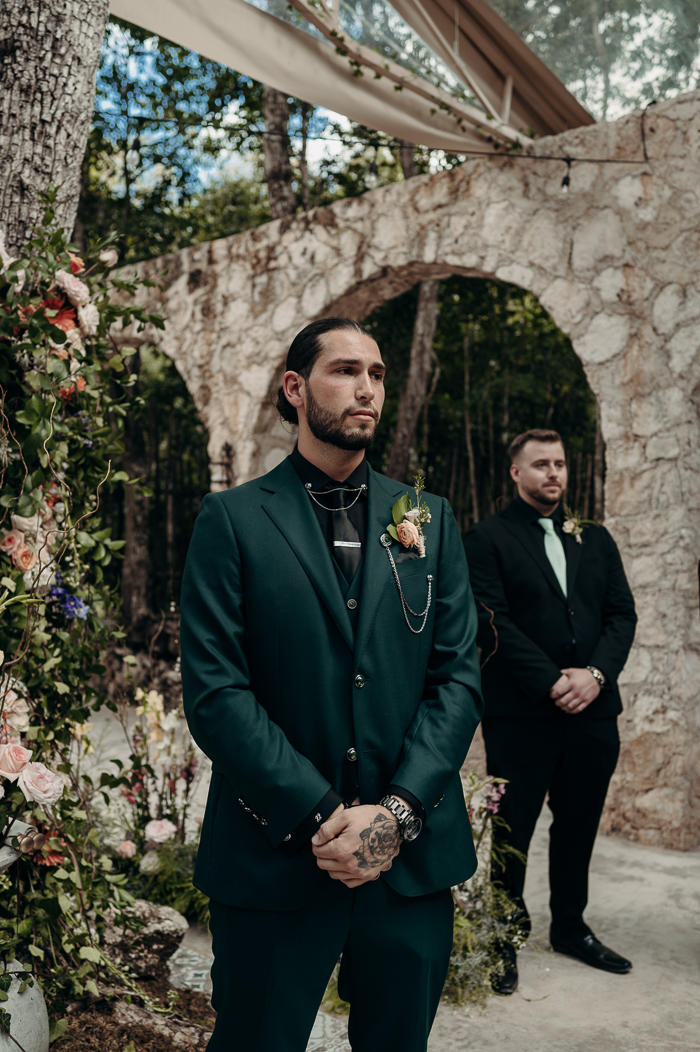 Personalizing The Ceremony By Including Their Moms And A Hand Tying Ceremony
Each of our mothers had their reading, one of which was a quote from our favorite romance movie. We also had our moms perform our hand-tying ceremony. The ribbon used for this consisted of only mementos. It was funny because none of the guests had ever experienced this, so everyone was confused and excited.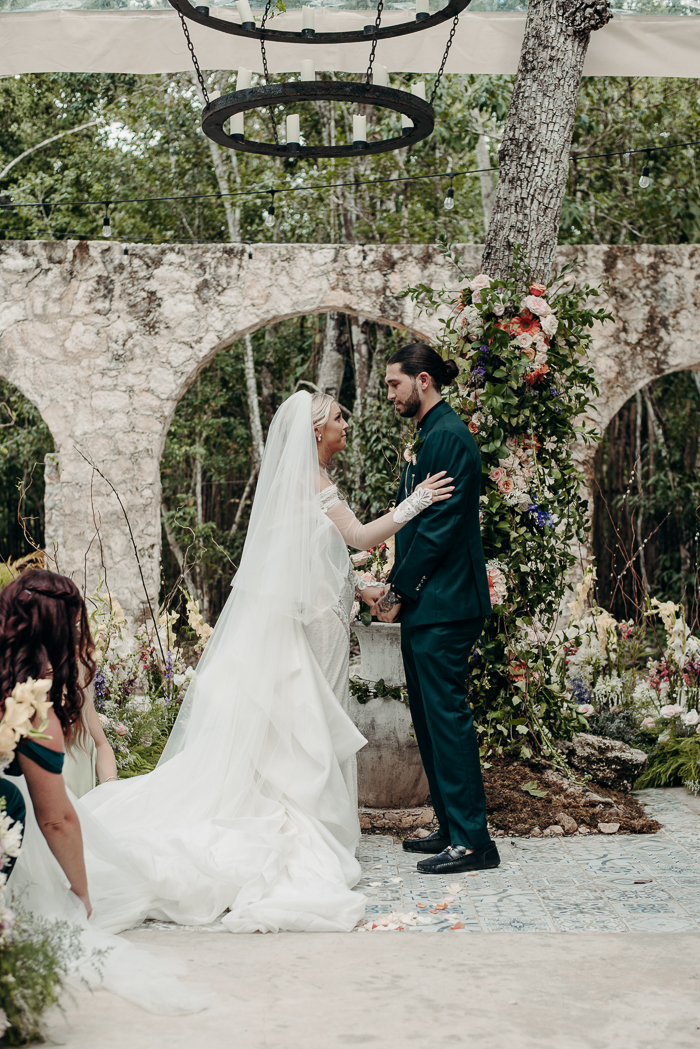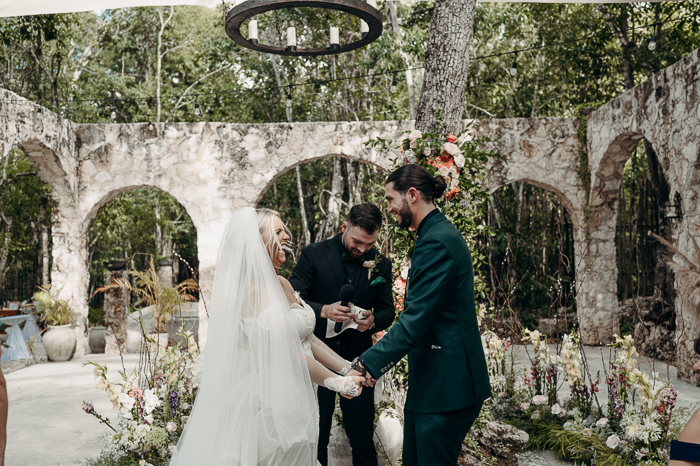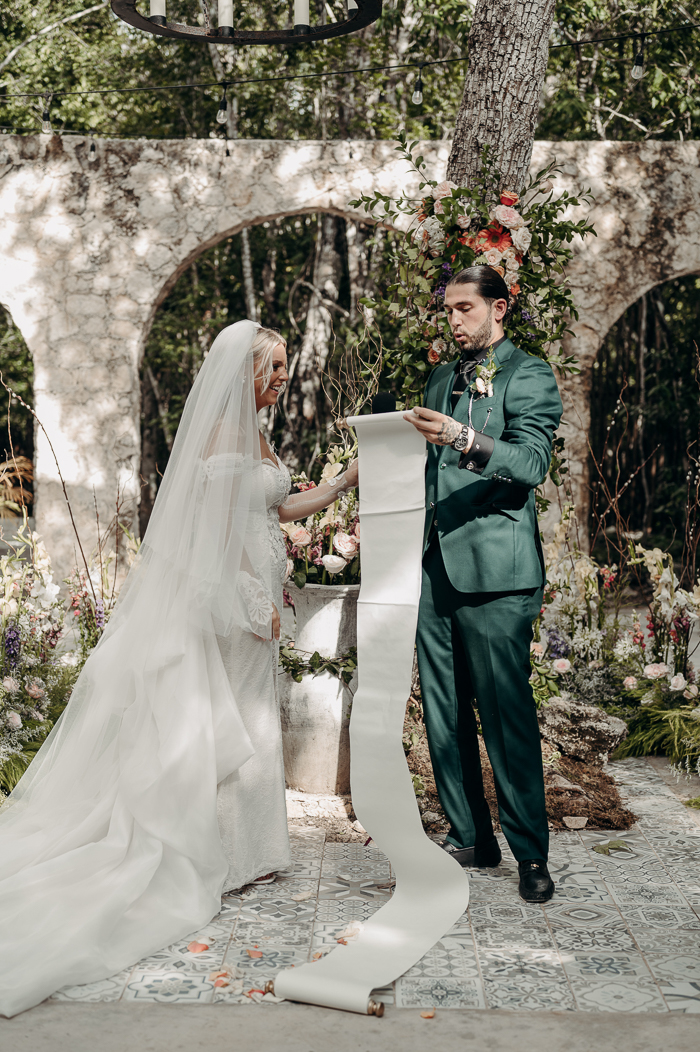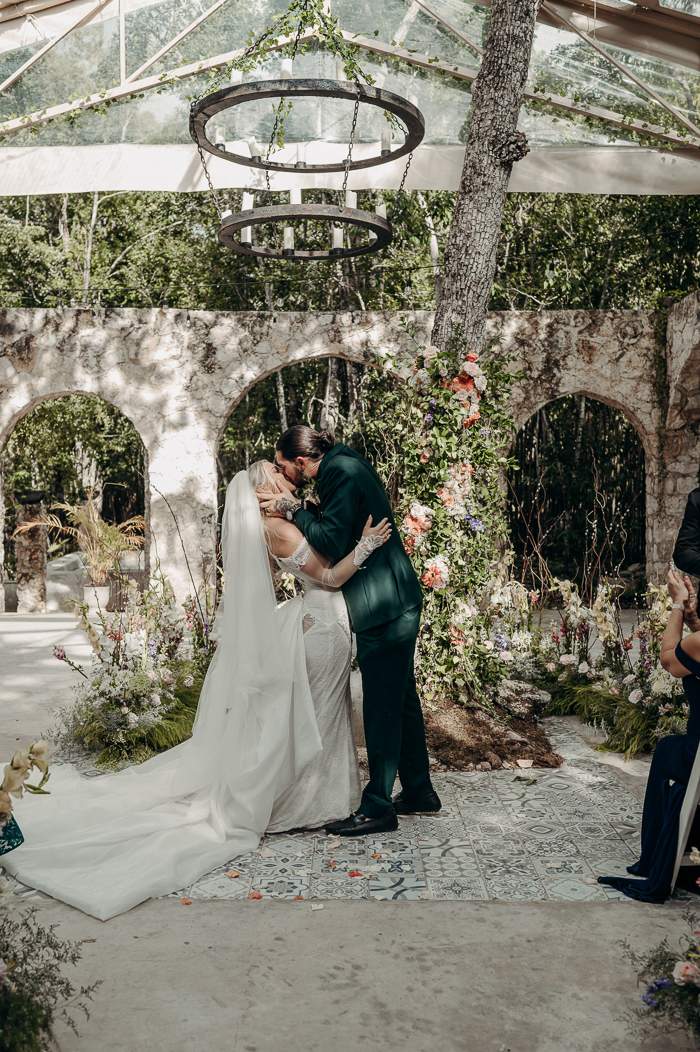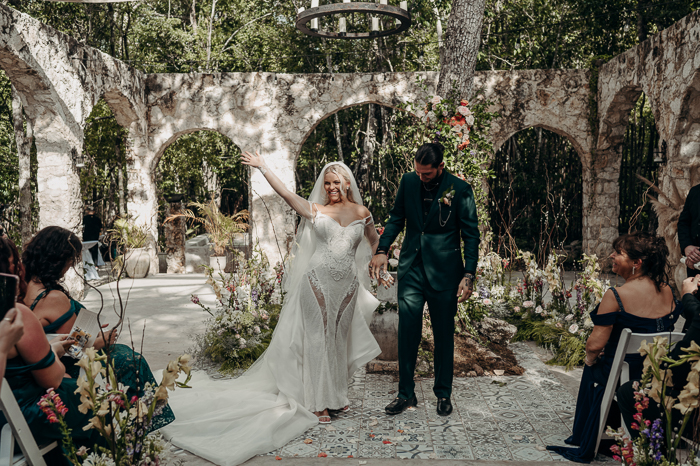 Advice: It's Okay To Think Outside The Box And Have A Celebration That Truly Reflects Your Love Story
Just because someone says "traditionally" or "usually" doesn't mean you have to do it. It's your wedding. I struggled with this for two reasons. I like being different, so that goes against tradition, and my wedding was the first full wedding I ever attended, so I had no real idea of how a wedding should be. Do something exciting and different. It's probably what you and your guests will remember most.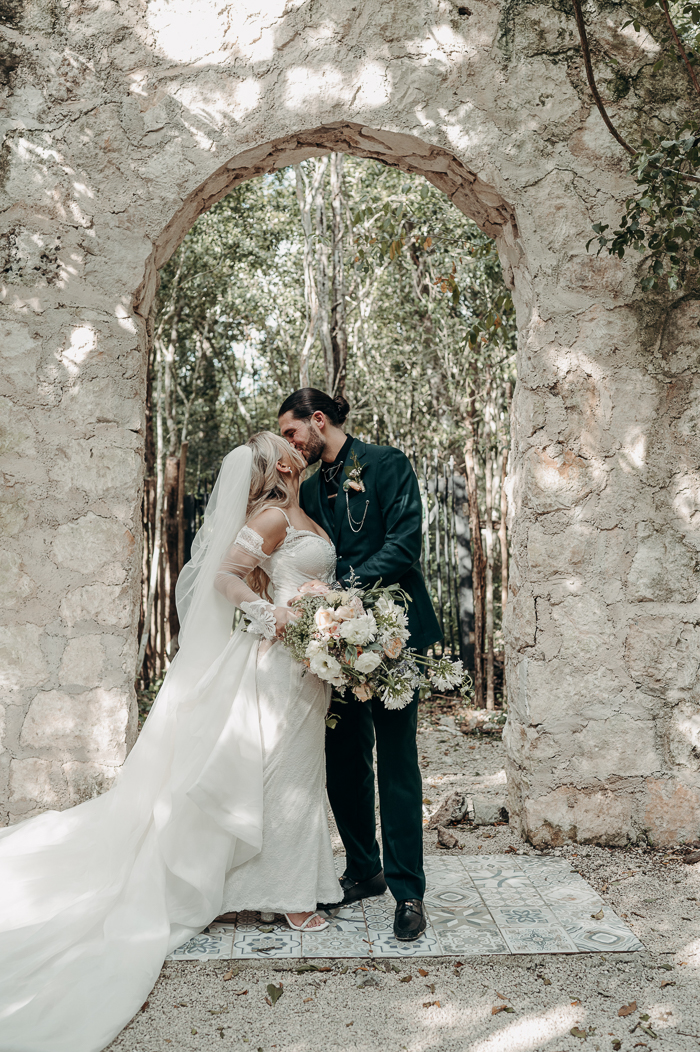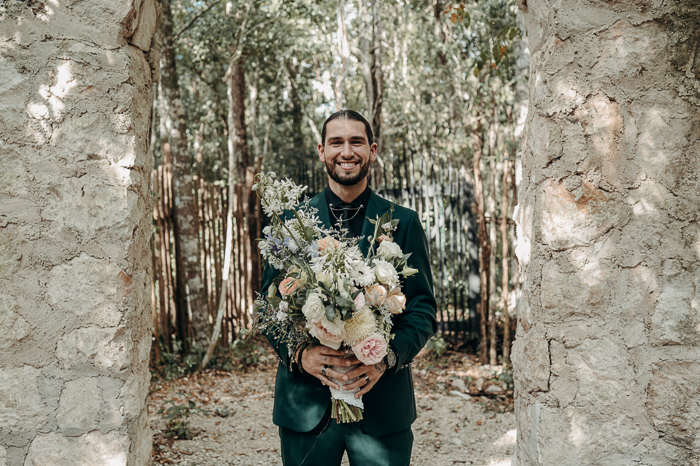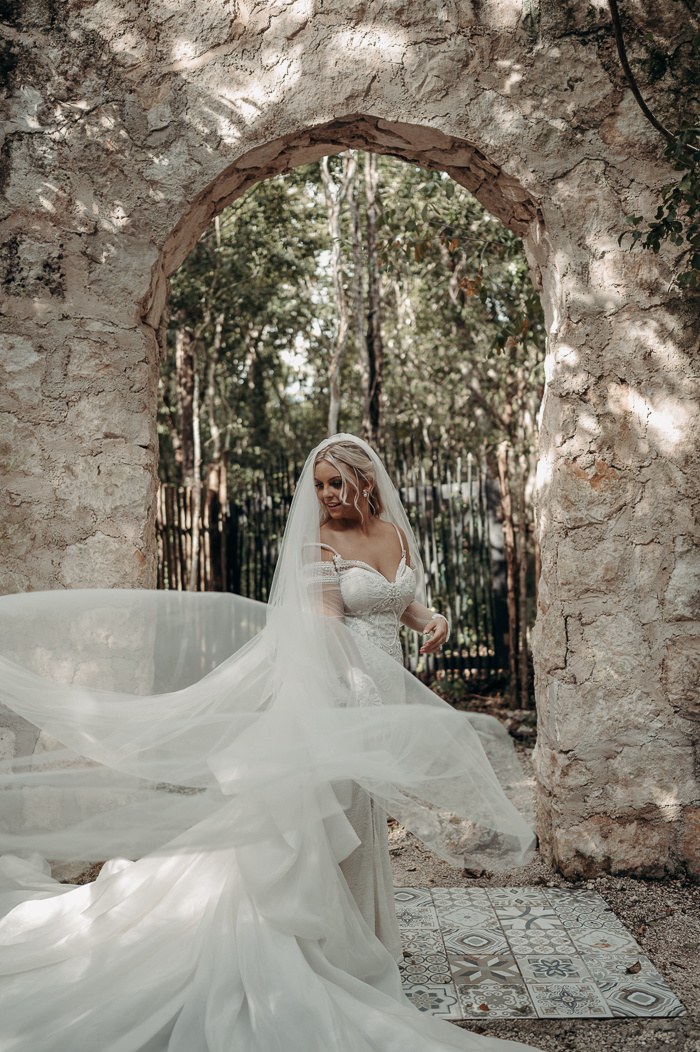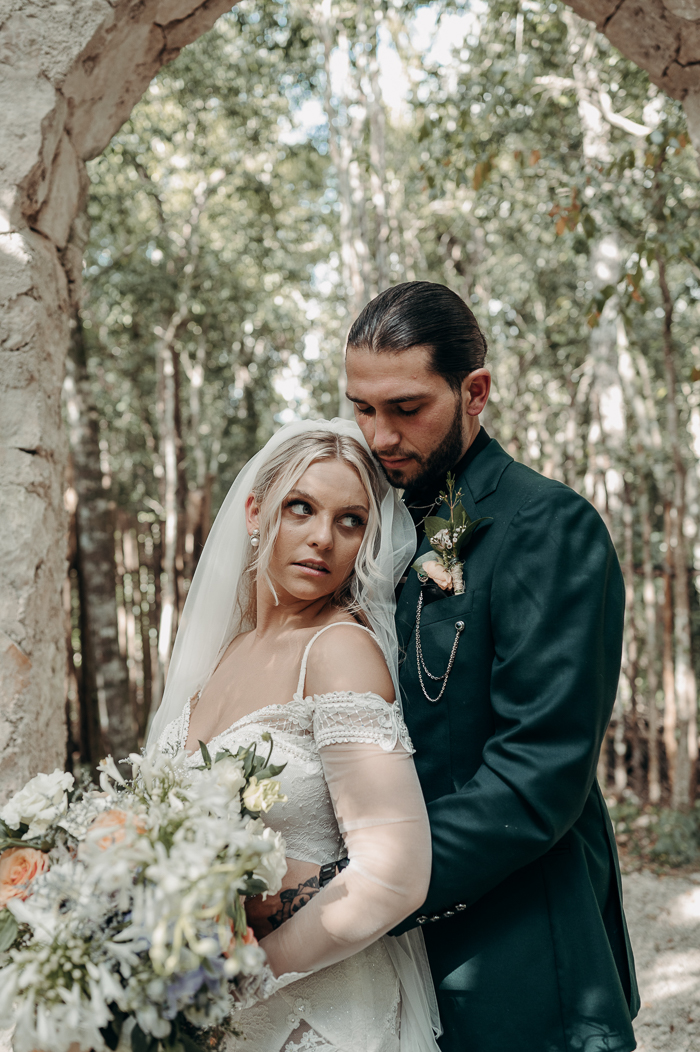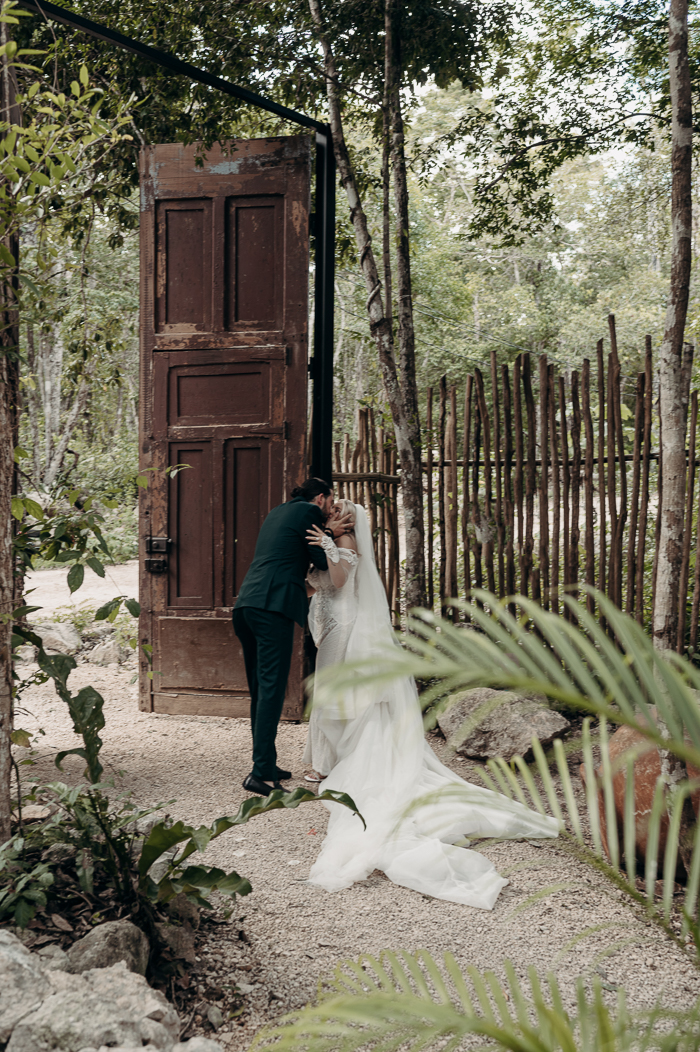 Why They Decided On An Akiin Beach Destination Wedding
We had two venues because I wanted a secluded jungle vibe, and my husband loves the beach. We ended up choosing an extremely remote diamond in the rough–Arcadia for the ceremony, and then we went with the beautiful Akiin Beach Club for the reception. It took us a little over a year and a lot of traveling to find the perfect venue. I was chasing the feeling of "when you just know, you know." And we hadn't gotten it until we went to these venues.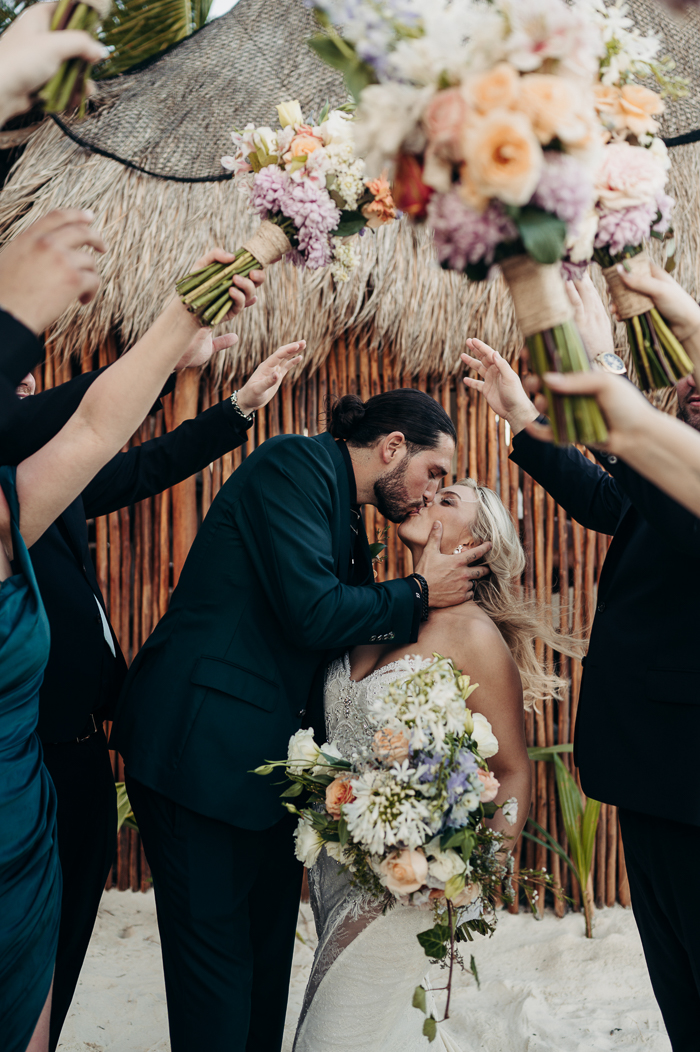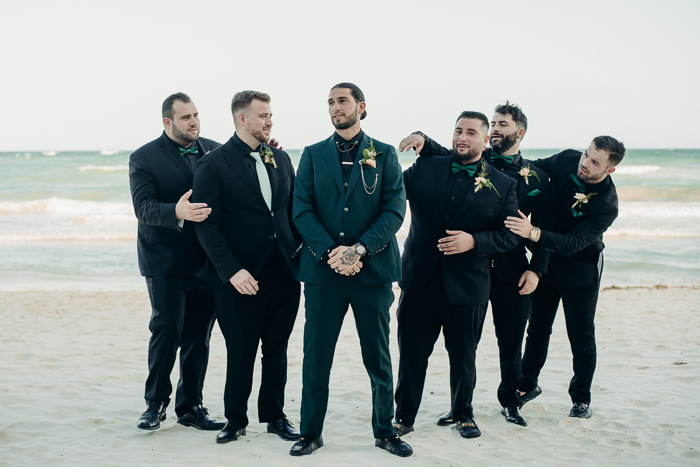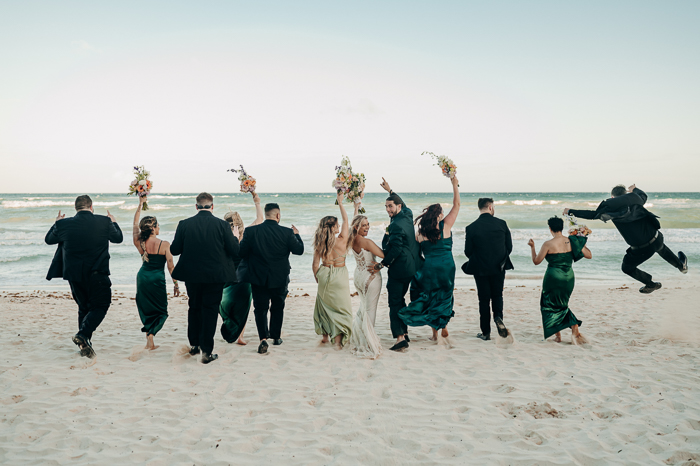 Akiin Beach Destination Wedding DIY Touches By The Bride's Mom And Aunt
My mom and aunt are big DIY people. Even though the wedding was in Mexico, that didn't stop them from carefully making each scroll for the letters, creating the menus, and table frames featuring all the different romance movies that my husband and I love.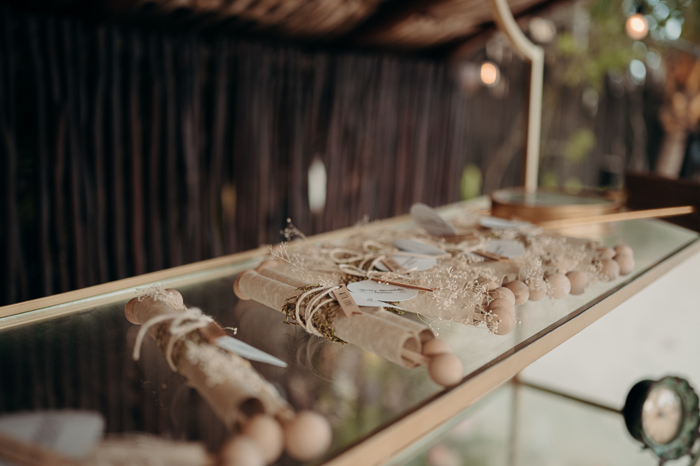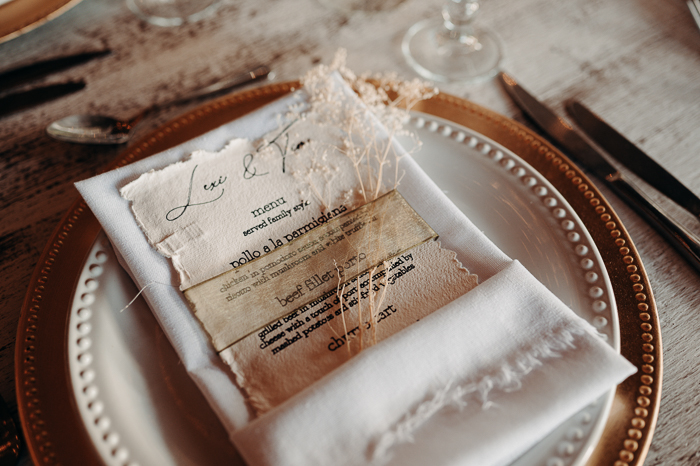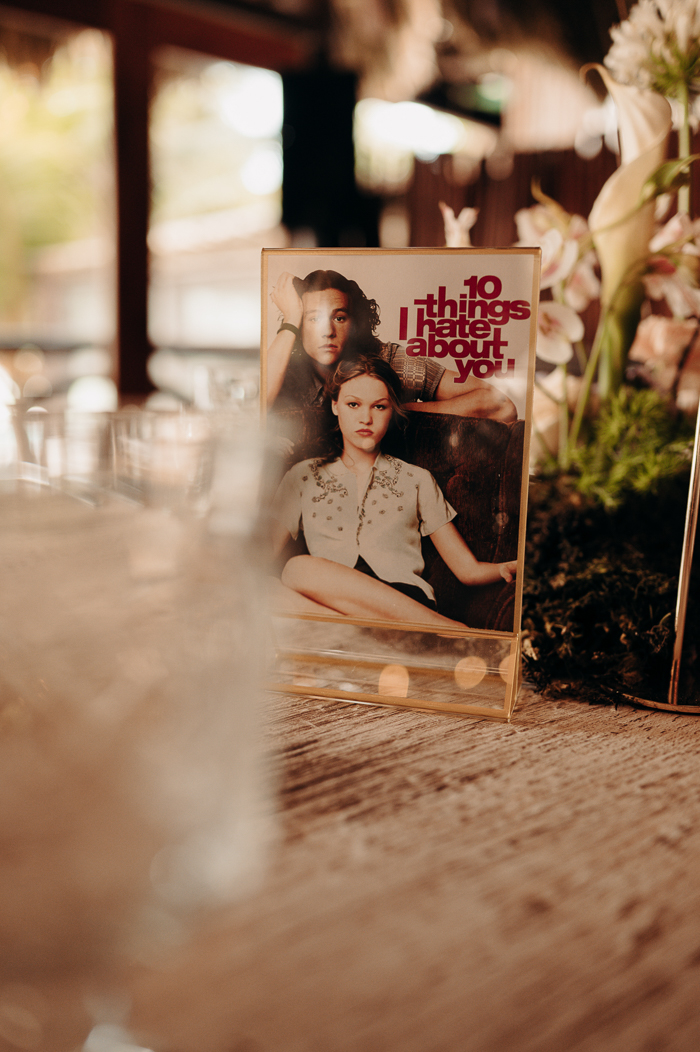 Shop This Exact Gold Sign Holder: Gold Border Table Number Sign Holders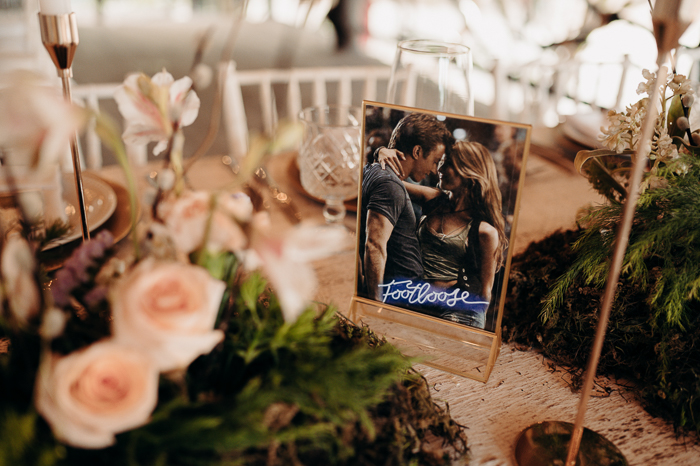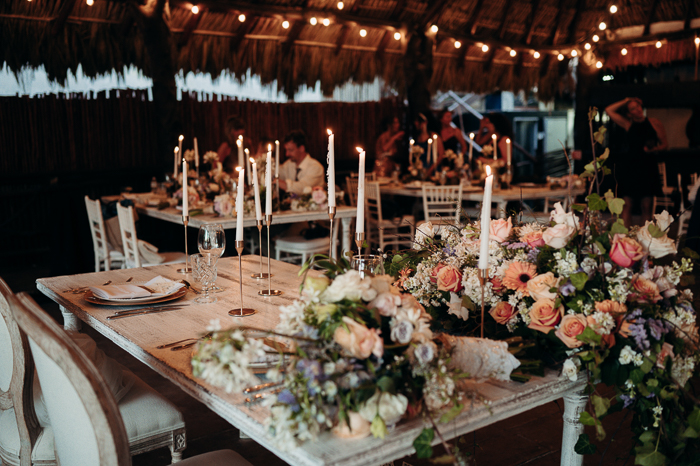 Alexis's Dream Dress Was Originally Meant For Beyoncé
I had such a hard time finding my dress. And just when I thought I had given up, I went to the place I've dreamed of since I was a little girl–Galia Lahav in Soho. I felt so lucky as it was one of the first dresses I had put on, but the brand designer happened to be there one day. Sharon worked with me to make a few changes to my dress so it felt like my own. I added "Iloveyoupastit" in Swarovski crystals onto my veil just for my husband to see. We have said that to each other since I was 15 (him 16), so it felt extra special. I later found out the dress had been designed for Beyoncé for her wedding vow renewal. I wouldn't have been able to wear it without her permission, which is pretty crazy. So thank you, Beyoncé, for my dream dress!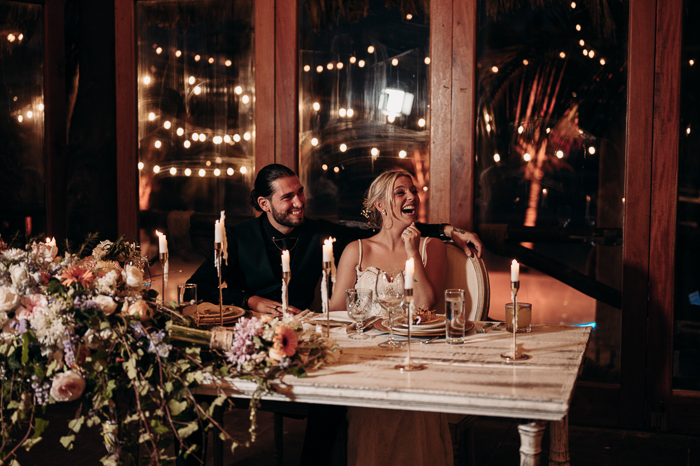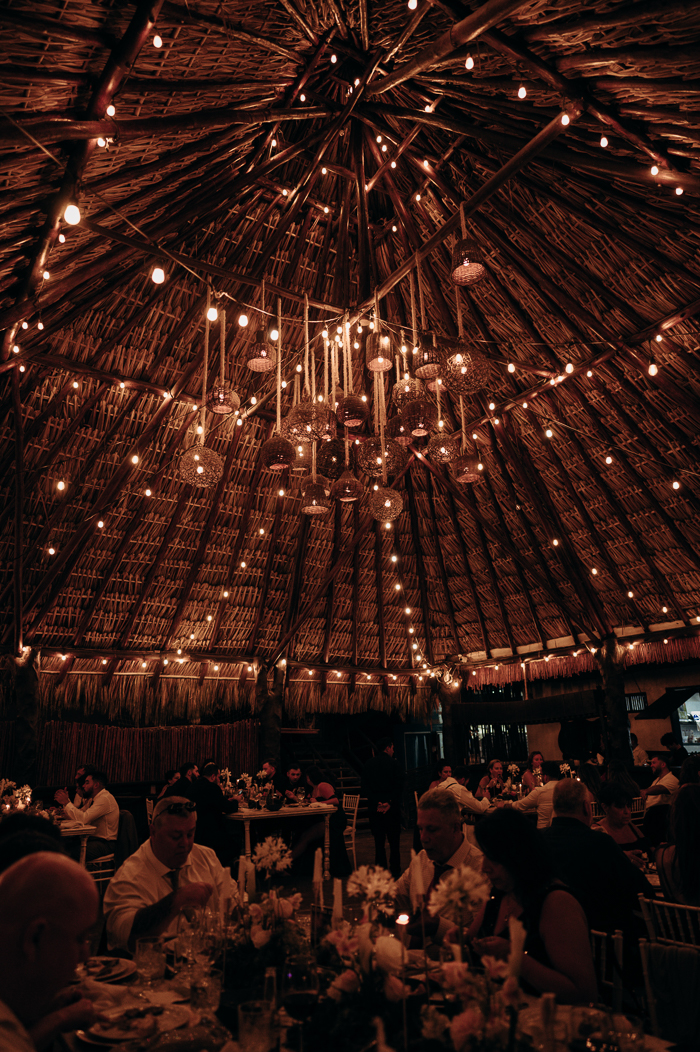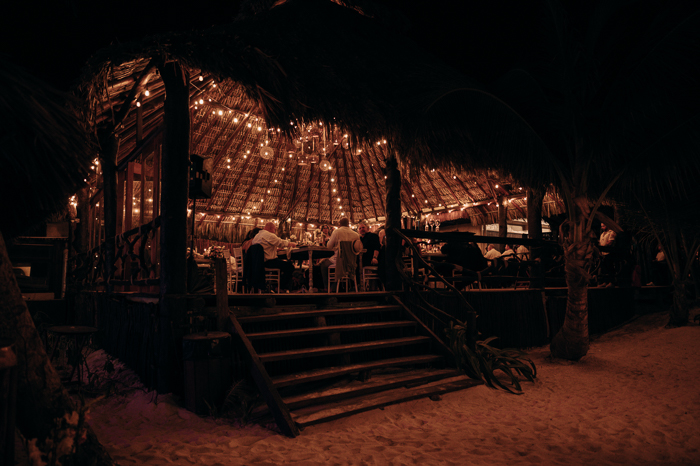 They Gave Each Of Their Guests A Personalized Handwritten Letter
Since we did a destination wedding with everyone close to us, we decided to handwrite each guest a letter and did not hold back. We carefully wrote each letter, and it was highly sentimental. Many people came up to us after with tears in their eyes, so it was definitely emotional. Every guest was so happy about this, and I highly recommend doing this for your wedding.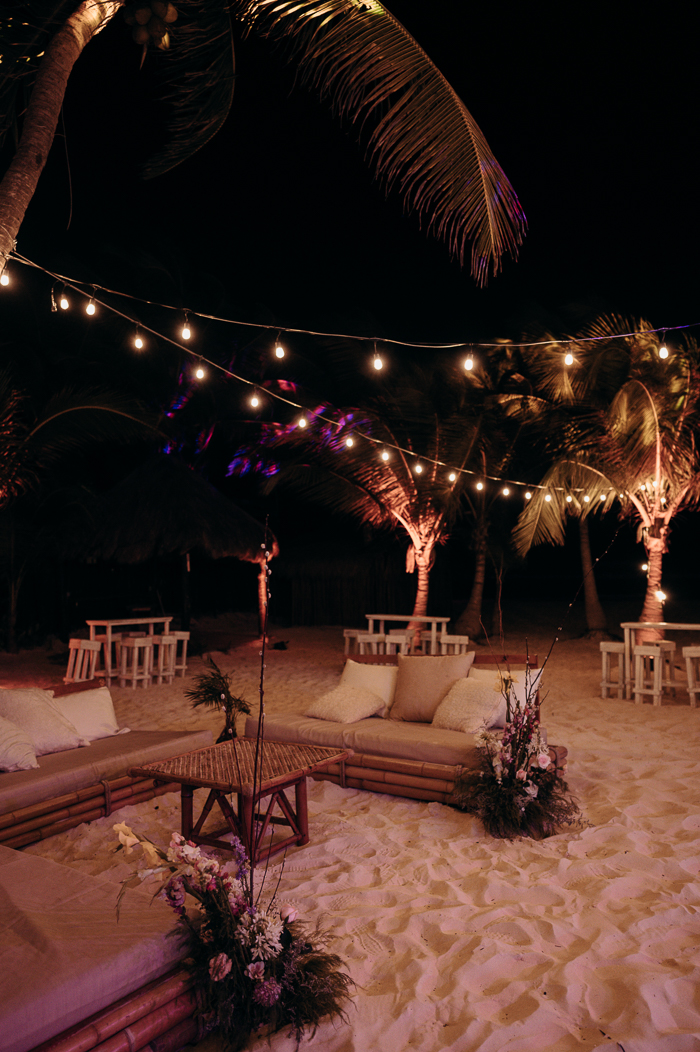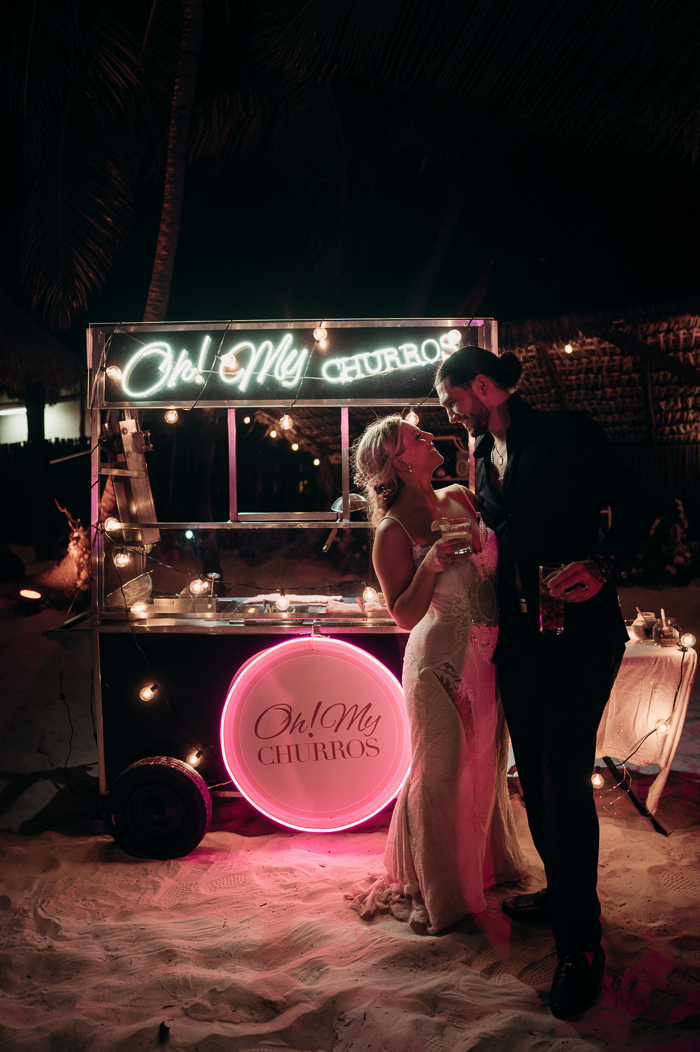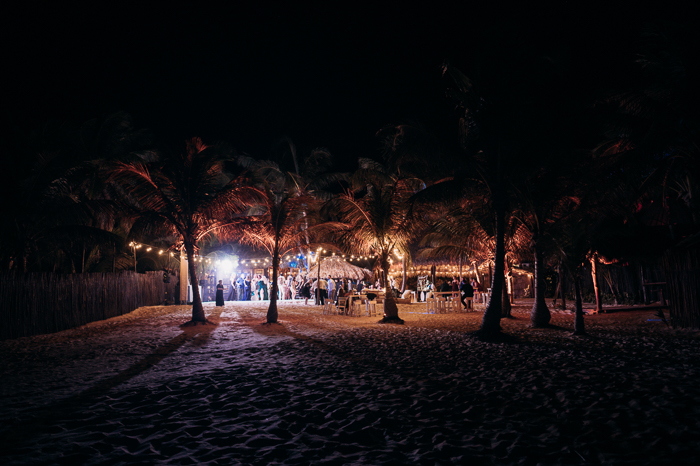 A Special Private Dance On The Beach
When my husband got a bad migraine, he needed to step away from the lights on the dance floor. I felt so bad, but looking back, we both agreed that it was a good thing because it led to us dancing alone on the beach and having that time to ourselves. We danced and laughed the entire time.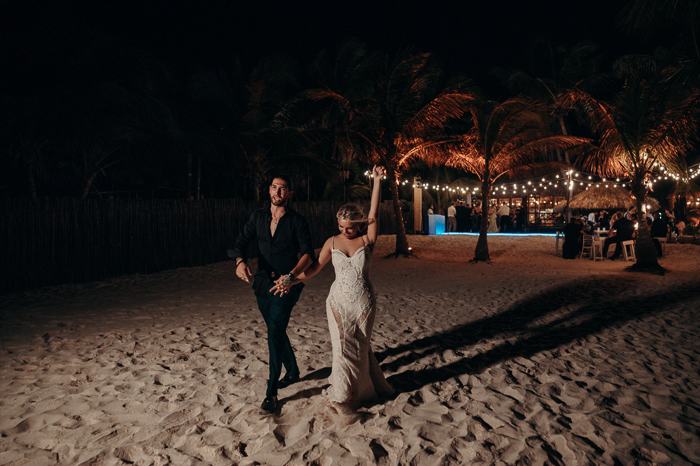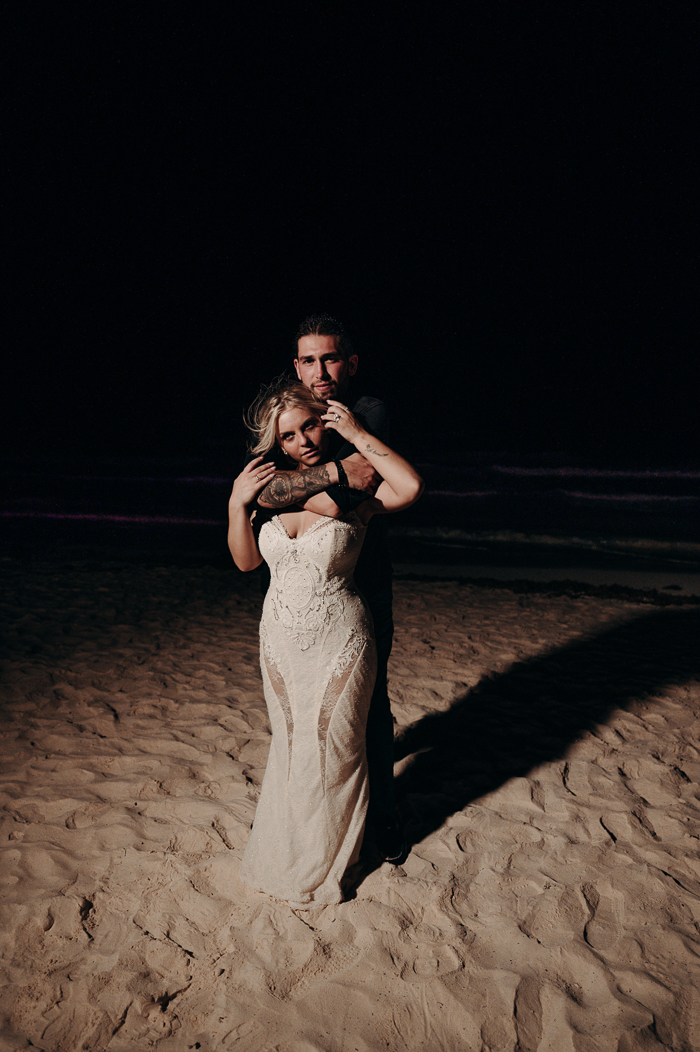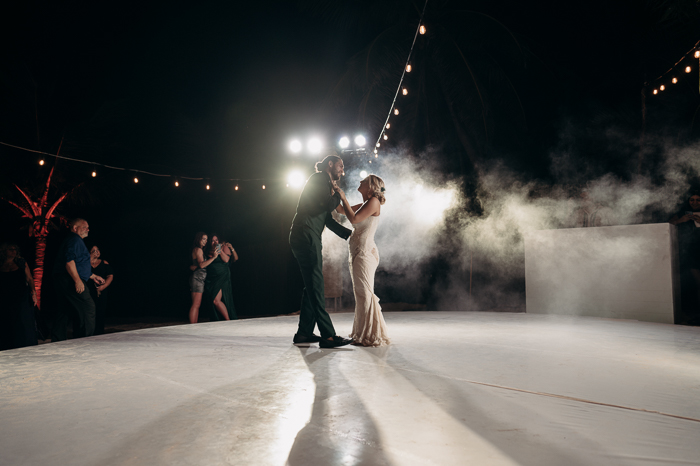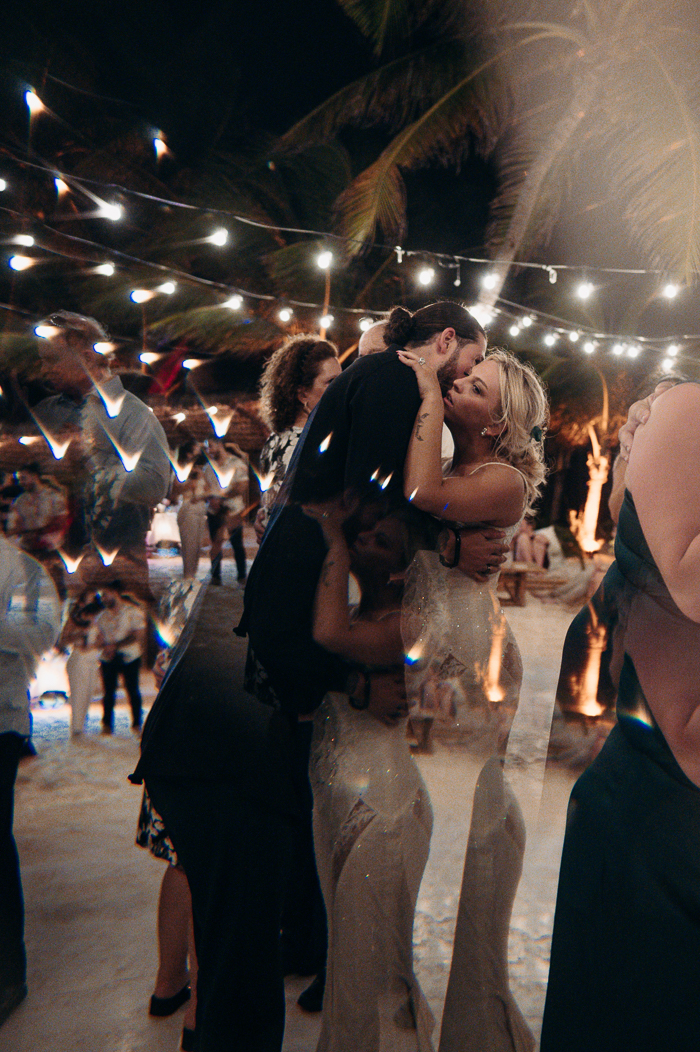 Congratulations to Alexis and Timothy on their Akiin Beach destination wedding. And a special thank you to Junebug member Julieta Rabadan for capturing every magical moment. It was a day that the couple will cherish forever. To see more of her talent, check out her profile in our directory of the world's best wedding photographers.
Whether it's choosing a non-traditional venue, serving unconventional food, or incorporating unique elements into the ceremony or reception, breaking tradition can make your wedding stand out and leave a lasting impression on everyone involved. So lean on your trusted team of vendors and bring to life the wedding you and your partner have envisioned.