Trends are ever-evolving, but if there's one thing that's consistent in the wedding world, it's florals. They're an easy way to dress up your wedding venue and make the day feel that much more whimsical. From bouquets to centerpieces, there are so many ways to include them into your special day, but the ones that have grown in popularity over these past few years and don't seem to be going anywhere anytime soon are floral ceilings.
Whether you're hosting an elegant garden wedding or tying the knot on your favorite beach, floral ceilings can elevate any space. From hanging greenery to curtains of flowers serving as a ceremony backdrop, we've rounded up some incredible installations to help you feel inspired!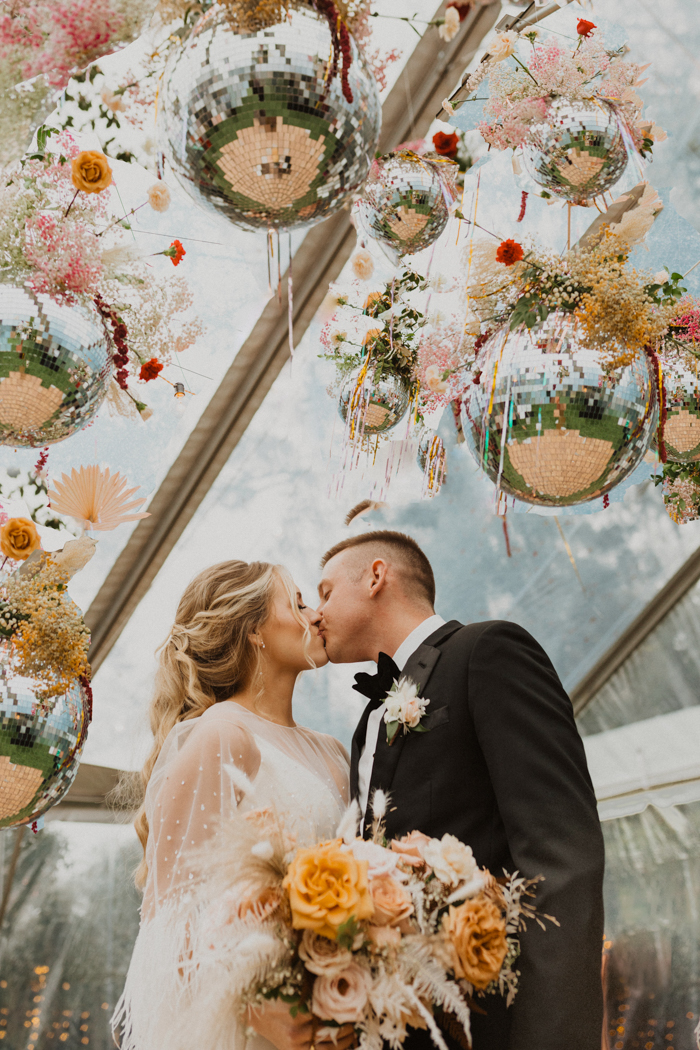 Image by The Family Films. See more of this real wedding here
Junebug Tip:
Floral ceilings don't have to be just flowers! Incorporating fun elements such as disco balls, pendants, lanterns, or hanging lights is an easy way to spruce up your display and draw the eye up.
Junebug Tip:
If you're on a tight budget and you still want to incorporate a floral ceiling, opt for greenery instead of flowers. This tends to be less expensive while still giving you the natural look you envision.
Junebug Tip:
When you think of a floral ceiling, you probably think of something that takes up the entire ceiling of a venue. However, there are so many different ways you can get in on the trend. If you want to include one on your special day but want to make it pop a bit more, have it hanging above your sweetheart or dessert table.
Junebug Tip:
Hosting a tropical wedding? Nothing looks better than a floral chandelier complete with bright florals, dried palms, and monster leaves. And the best part is that this looks great indoors and out.
Junebug Tip:
Rather than opting for a simple ceremony backdrop, consider adding florals instead. Whether you choose to do a smaller chandelier or a curtain of flowers like this couple below, your guests' eyes will be immediately drawn to you while you say "I do." Not to mention the fact that it makes for some pretty incredible photos.
Now that you're inspired to create the floral ceiling of your dreams, you're going to want to see our flower checklist to ensure that you know exactly what kind of florals you want to include at your wedding. Your florist will thank you!